Adobe Lightroom is a widely used, popular RAW image processing software, but if you are a Linux user, you need to find some alternative to Lightroom. There are many free and open source Lightroom alternatives available for the Linux community, and RawTherapee is one. This fine crafted RAW image developing software can equally fulfill the demand of hobbyist and professional photographer. There is yet another Lightroom alternative available for Linux, besides RawTherapee, that's Darktable.
I've already made a tutorial on installing Darktable in Ubuntu; today, I will show you how to install Lightroom alternative RawTherapee in Ubuntu Linux. Before going into the details, we will have a look at the main features that RawTherappe offers.
Note: The features mentioned here are not all-inclusive. The features mentioned are compiled either from their respective official websites or from my personal experience using them.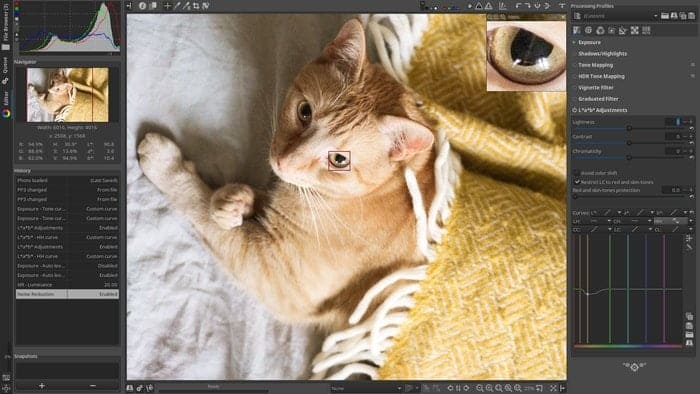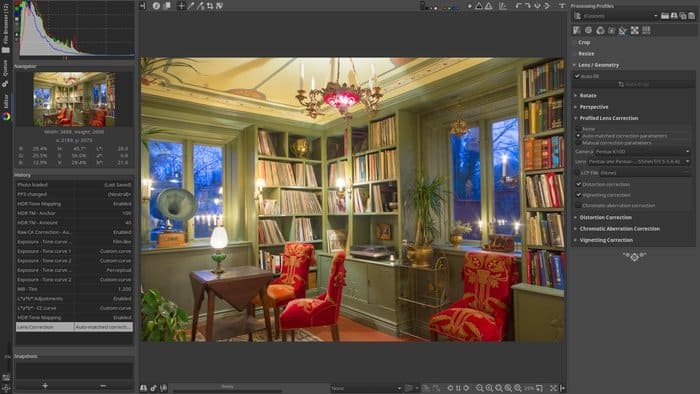 Features of RawTherapee
---
RawTherapee is a free, open source, and cross-platform software.

Offers floating-point processing engine and non-destructive editing.

Extracts most details and least artifacts from your raw images.

Image processing with Advanced color handling.

Enhanced exposure and tonality tools.

Multiple denoising methods like impulse, luminance, noise reduction, chrominance.

Several tools to enhance image details like RL deconvolution, unsharp mask, contrast by detail levels.

Multi-threaded algorithms for ensuring high performance.

Quick thumbnails, Batch processing, Copy/paste editing parameters, Parallel editing, secondary display are all for high efficiency and boost performance.

Supports all modern and wide variety of cameras.

Output can be saved or export into various modern file formats like PNG, JPEG, TIFF, etc.

Exported files can be used via

GIMP

for further image editing.
A full list of features can be found on this wiki page.
How to Install RawTherapee in Ubuntu Linux
---
In this roundup tutorial, I will share all the possible ways to install RawTherapee in Ubuntu Linux. All those methods may seem very novices types, but everyone is not an expert like you, and UbuntuPIT is for beginner users.
1. Install from Ubuntu Software Center
---
This is the easiest way to install it on your system. You just search RawTherapee on Ubuntu software center and hit the install button.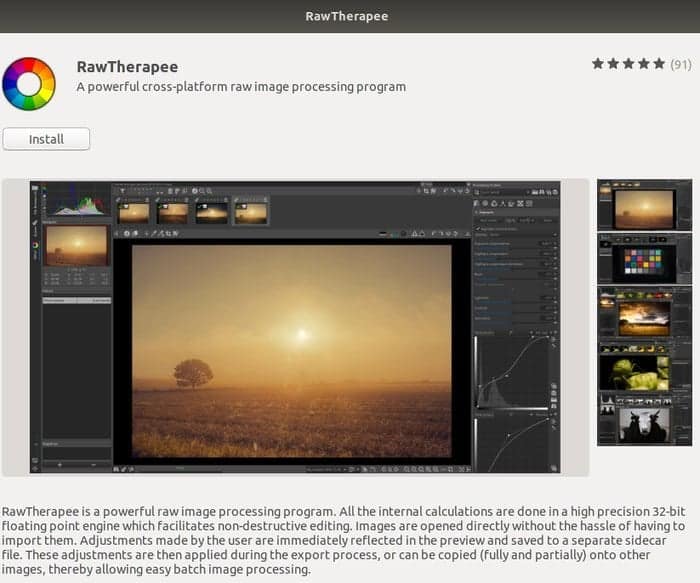 2. Install RawTherapee using Ubuntu PPA
---
You can install this Adobe Lightroom alternative RawTherapee in Ubuntu, Elementary OS, Linux Mint, and other Ubuntu derivatives using unofficial Ubuntu PPA. Run the following command into the Terminal (Ctrl+Alt+T):
sudo add-apt-repository ppa:dhor/myway


sudo apt-get update




sudo apt-get install rawtherapee
Remove RawTherapee from Ubuntu
For uninstalling it from the system, run the below command:
sudo apt-get remove rawtherapee


sudo add-apt-repository --remove ppa:dhor/myway
3. Install Using AppImage
---
AppImage is a universal file format for using the Linux Software across the distros. In this file format, you can just run the software without any local install. In case you don't know how to use AppImage, check my tutorial on how to install the software in Linux.
I hope this tutorial will help you to install RawTherappe in Ubuntu Linux. If you find this content helpful, do share this on social media. Moreover, you can see a list of the Best Linux Software for your system. Let us know your experience and suggestion in the comment below.