We are going to talk about Black Lab Linux. Obviously, it is a very popular 64 bit Linux based operating system. This operating system is very much useful for commercial desktop and server environment. The team creates this operating system for doing educational and business task with high comfort and that is why it works better on these cases also.
Not only that, this is the one and only operating system which is approved by IBM and Oracle. They develop and host their cloud technologies by using it. This operating system is also used in many states to maintain government internet and to run web applications. Aren't these examples are enough to develop dependency and believe on it?
Background History
---
Black Lab Linux is a popular Linux distribution which comes to you free of cost. In November 2013, it was first released. It is Ubuntu-based Linux distribution and made for both general and technical users. But, it is made especially for educational and business purposes. Roberto J and Dohnert renamed this operating system as Black Lab Linux but it is formerly known as OS/4.
System Requirements
---
Every operating system requires a specific configuration. Similarly, this distro requires following configuration and having of following configurations mean you are going to enjoy the best comfort.
At least 512 MB RAM (Recommended 1 GB)

Minimum 8 GB free space of hard disk drive (15 GB Recommended)

VGA graphics card

Keyboard and mouse or touch interface.
Installation Process
---
Black Lab Linux team creates the operating system user-friendly and easy to install for every user. They make the installation process easy so that every user can install it on their machine without any difficulty. As it is Ubuntu-based Linux distribution, it follows the Ubuntu installation process.
First of all download Black Lab Linux and make sure that is ISO file. After that, make a USB device bootable using UNetbootin or Rufus. Then go for the final process. Just follow the steps.
Desktop Environment
---
XFCE is contained as the default desktop environment. And it is designed to use conventional mouse and keyboard. Really, Black Lab Enterprise Linux desktop is lightweight but powerful for the business customer, power user, and hobbyists.
First Impression – Look & Feel
---
The first impression is really an important matter to someone. There are many users who don't feel comfortable to continue an operating system having an ugly first appearance. What about Black Lab Linux?
Oh dear, it looks pretty beautiful. And its first appearance is really attractive. Its environment is widely matched with GENOME 3 and people like it. Thanks, Black Lab Linux for such a beautiful impression.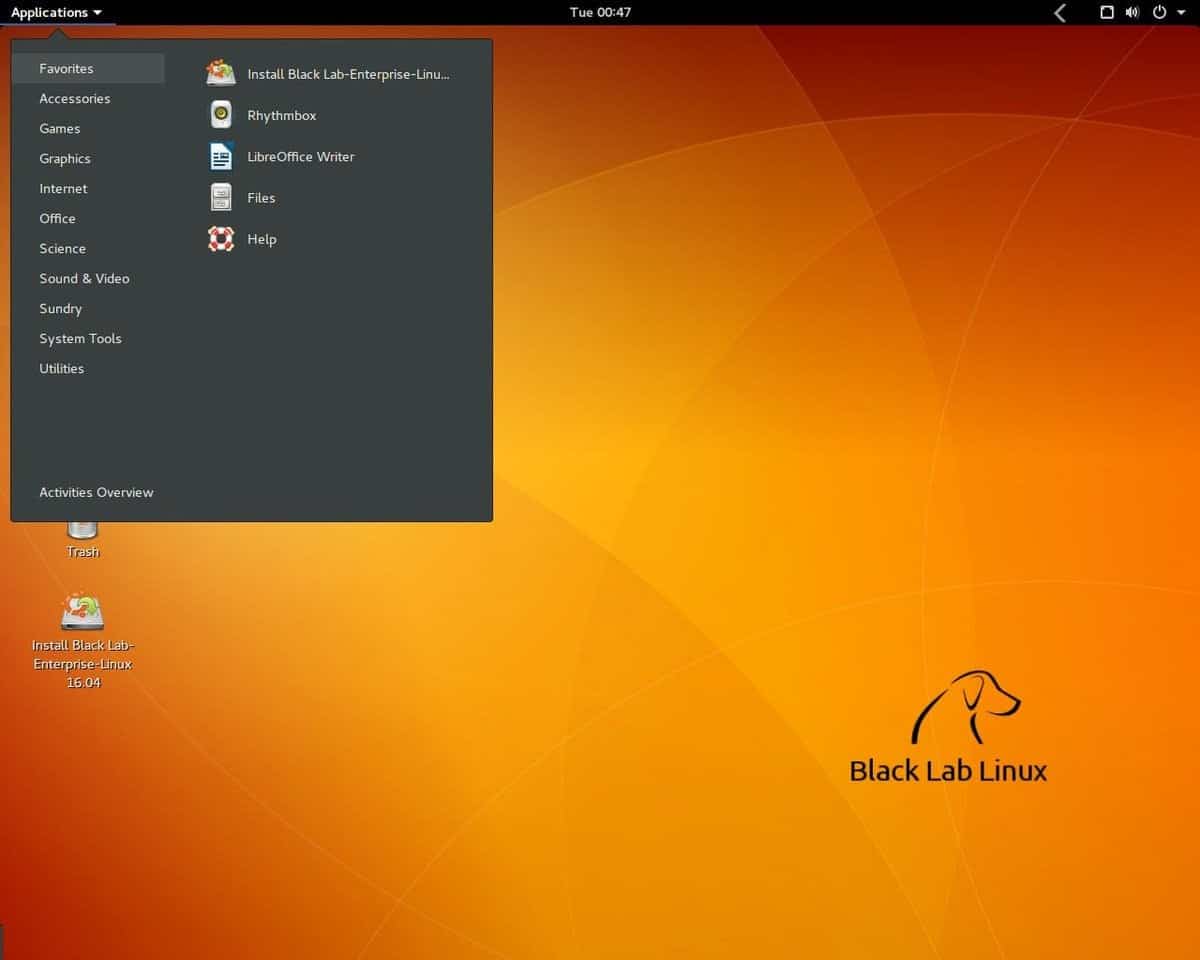 Working space is wide and large but clutters are minimized. The top panel is so narrow but enough to show the running application and important notification.
On the left side, you will find two column displays. Two columns are designed for your maximum comfort. The first column shows you the category of application and rest of the column say you about the programs.
Menu icon is placed at the left inferior position of the screen and left-sided menu column always show you running applications.
A vertical favorite bar is also located at the left edge and your favorite applications are shown only when you place the mouse pointer on it.
The first impression is not only attractive it is highly useful also. It is decorated as a way it seems you made the layout as your needs. Doesn't it?
OS Development Cycle
---
The operating system Black Lab Linux was first released in 2013 you know. From the time to now we find its many versions. Why they made one more update version time to time?
They always concern about users complain and opinion. When they feel, it's the time to make better, they make. Here is not the end, this operating system lets you update specific software when you need. More than three times in a year they release a new version. Operating system development headache is not yours, At the right time, they will offer you the latest version. Happy?
So, using Black Lab Linux means you are using the updated operating system as well as updated applications also.
Pre-Installed Key Applications
---
We told you before this Linux distro is very concern about user compatibility. This is the reason they include some essential software so that you don't need to concern about the application that you'll need just after installation.
To connect with the world you will get Chromium just after install. You'll also get multimedia apps to play music, viewing photos, etc. When you need to do official or business work you must need Office and it also comes with the OS. Except for them, you also get some necessary apps such as Synaptic, Thunderbird, Timeshift, Unetbootin, and so on. So, installing this distro means you have almost a complete package of essential application.
Software Management
---
This is Ubuntu-based Linux distro. So, the OS always allows all the apps that are compatible with Ubuntu. On the other hand, Black Lab Linux also comes with a software center by using which you can add more software as you need. So, you will never have to feel software unavailability for this distro.
What's New in the Latest Release?
---
We are saying happily that Black Lab Linux has released their last updated version in April 2018. It is Black Lab Enterprise Linux 11.60 Mate Edition. On every update, they always make some changes to make the operating system more useful to the users.
Latest version Mate 1.18.0 is used to provide an attractive desktop environment.

Do any official job more comfortably with LibreOffice 6.0.3

Kernel 4.13.0-38 for better management of hardware.

Chromium Browser 65 for the faster result.

Transfer files quickly with updated Nistroshare.

Thunderbird 52.7 ensures safe and secure massaging.

Change the font as our own style with the latest Font Manager.

VLC 2.2.8 gives you higher resolution support.

Update, remove and install new apps by using Synaptic latest version.

Samba 4.3 contains a new subsystem for FileChangeNotify.

Gdebi let you install .deb files quickly.
Download
---
Now, you can realize how much user-friendly and useful distro it is! You also get happy to know that, this effective operating system comes to you free. You can download the distro from its official platform or any other verified and secure link.
But, if your download speed is little bit slow download it from here. Before download anywhere, make sure that is ISO file.
Summary Line
---
We don't know the operating system that you are using which! If you ever used any Linux distribution, we are sure Black Lab Linux can give you the exceptional flavor. But, if you never used before, this distro inspire you to use Linux.
It is clear, you are either a Linux user or not, that is really not an important fact. It comes for both of the experienced and newcomers also. Don't forget to share your experience! We are waiting for your comments and opinion.