We cannot think of our days without taking notes for, especially study and business purposes. Keeping a memo pad or diary with pens is not even possible all the time. In this case, our device comes to be handy in a different way. We all have note apps on our devices for sure. But are they enough to give you a great experience? Of course not. There are many popular notes apps for apple devices available out there; you might be interested in checking. For that, you may visit AppStore. But believe me, it won't be a very good idea as there are hundred of note apps for iPad out there. And that will make you confused, and often you can end up installing and paying for silly and ordinary apps. Then what to do? Relax! Here, we come with the best notes apps for iPad, iPhone, and Mac.
Best Notes Apps for iPad, iPhone, and Mac
---
Taking notes is simple, although as people of today's day and age, we often become confused as you will find a dizzying array of tools and apps that do the same thing. All note apps for Apple devices come with many pros and cons, while it is not possible to identify before starting using the features in full rhythm. All types of devices of Apple are running under the same ecosystem.
And so, you will find the installation links for all platforms of the same app in one place. However, we have done extensive research to enlist the best notes apps for iOS to save your time and enable you to know about the advantages and disadvantages without downloading the actual software. Go through this article to get to know the best Apple Note alternatives available out there.
1. OneNote
---
If you are looking for a free and rich feature note-taking solution, then OneNote will probably be in your top priority list of note apps for iPad. It is developed by Microsoft, where you will experience a scrapbook-like approach for capturing data. However, I won't believe it if you say that you are not familiar with it. 
You can take quick notes, share ideas, and organize all of them just like you wish to. With this app, you can do almost every task that is related to documents or projects. And you will also enjoy access to all the Microsoft files and documents. Besides, it comes with a drag and drop user interface to allow users to play with text boxes, images, and different types of media.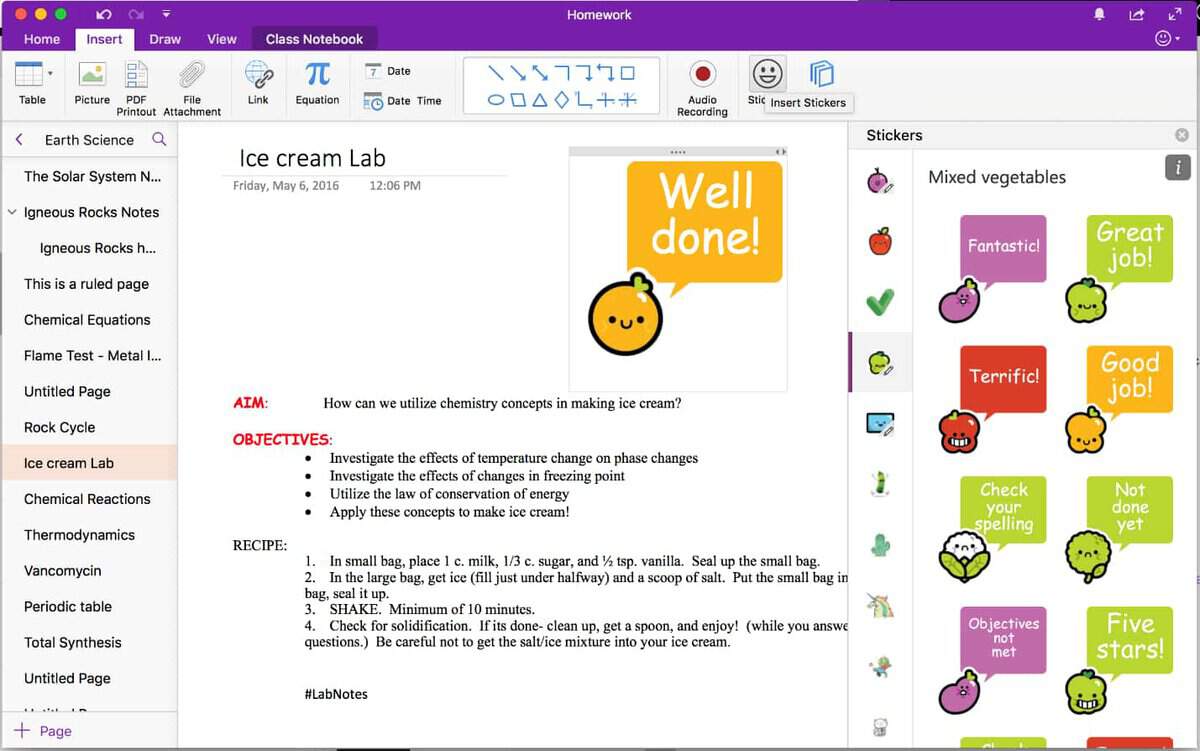 Important Features
You can write down your ideas, thoughts whenever you want, and all of them will be saved automatically.

You can search and extract any texts to make changes, and it c

an be synced with Microsoft's cloud storage service.

Create an event here with memos and make a digital sketchbook.

Audio clips, embedded videos, tables, and documents can be added in a single note.

You can also customize the notes with colorful levels and unique fonts.

Working together and in a team decreases pressure, and here, you can work together with your team with multiple access.
Pros: It can be integrated with Zapier to create notes based on the usage of other apps. Any number of notebooks can be created and comes with preloaded tags. Besides, Icons are easily recognizable, and OneNote comes with 5GB of free storage.
Cons: This app can't be synced with other cloud applications like Google calendar and Gdrive. Also, free space storage is limited, and you won't be able to track the changes.
2. Bear
---
If typography is your priority while taking notes on your mac, then Bear should be on your priority list. it is known as one of the best notes apps for iPad. This app was brought into town by Shiny Frog Ltd. This application's developers have certainly taken an extra step that is clearly visible while exploring the default fonts, text sizes, and color schemes.  
It will work to take all your essential notes. It doesn't matter whether you are a student, a businessman, or a job bolder; this app will keep all your necessary documents, quip notes, private notes, list, and others.
You can make flexible folders to take notes, and all these folders are easy to edit and delete. Plus, it is also suitable for the programmers that present your codes elegantly, and it comes for free, although you will have to face a lot of limitations.

Important Features
You can easily create quick notes here with titles and shortcuts.

A dozen themes have been provided here for customizing your notes.

You can add styles and emojis to your journals, headings, and many more to customize your notes.

Syntax highlighting is also available for programming languages and markups.

An easy sharing option has also been provided here. You can share your notes in the mail, WordPress, and similar.

The basic version is free to use, and the premium version is also there with lots of useful features at affordable pricing.

The best part of the app is its privacy. All the notes and tags can be secured with password protection.
Pros: It shows the syntax in-line and stores all notes in plain text. Also, it increases the speed of searching and rendering content to a great extent, and it comes with a customizable TagCon with each tag.
Cons: You will need to subscribe to premium to get more exporting features. There is no web version available of Bear, and the note-linking process is pretty outdated and cannot pin favorites according to the tag folder.
3. Evernote
---
Let's meet Evernote, one of the most popular note apps for iPhone. This simple app is capable of managing all your note-taking needs. You can not only write texts but also include in-line images, tables, file attachments, and checklists in your notes as this software takes an exhaustive approach for capturing everything.
Besides, it takes organization to the next level as you can open any number of notebooks, and all of the relevant notebooks will be stored together in a stack. It is a simple yet modern in-app interface section. Anyone can access it without any hassles, no matter the age.
It includes graphically pleasing notepads, to-do lists, planners, organizers, document management, and much more with an easy navigation system. You can always check that out and decide if you want to go premium, which is entirely your choice.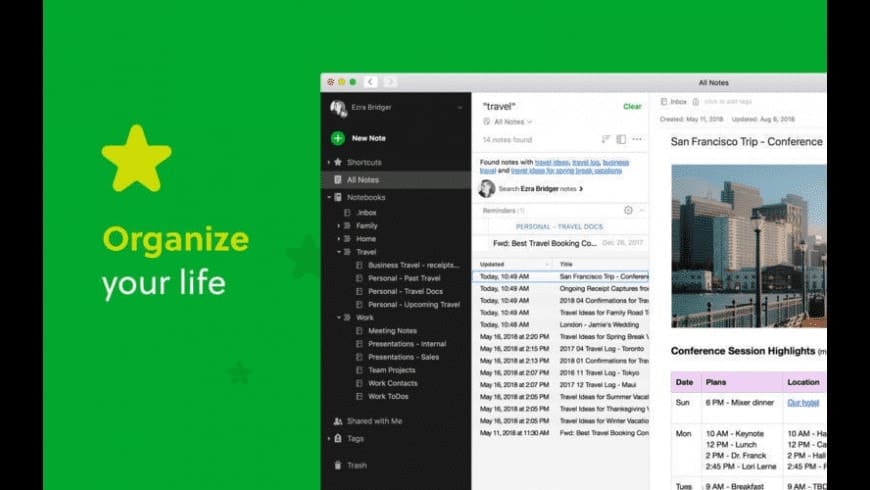 Important Features
Supports multiple device synchronization on different platforms.

Includes a fast and convenient in-app search panel.

You can add any kind of media in your notes, like sketches, animations, sounds, videos, photos, web clippings, etc.

It allows you to manage your works, business, and education with its useful document managing tools.

You can find any text, even from the pdf and images of your notes.

Supports cloud storage and advanced sharing facilities with native support to different social platforms.
Pros: A wide range of templates are available to keep it simple for you in this app. Plus, the users can add a reminder to get notifications at a specific time, and it lets the third-party apps be connected via Zapier.
Cons: There is a limit of 60 megabytes per month in the free version. For version control, tracking history, and digitizing receipts, you will need to upgrade to premium.
4. Google Keep – Notes and lists
---
I have a recommendation that will keep your emergency notes on your iOS device. Google Keep is the one I'm talking about. It's one of the best note apps for the iPhone, and it provides a lot of options to save documents and take quick notes.
With a very simple user interface, this app will let you enjoy the best note-taking experience. You can also take instant notes not by writing but just by using your voice commands. Let's see what's more it offers.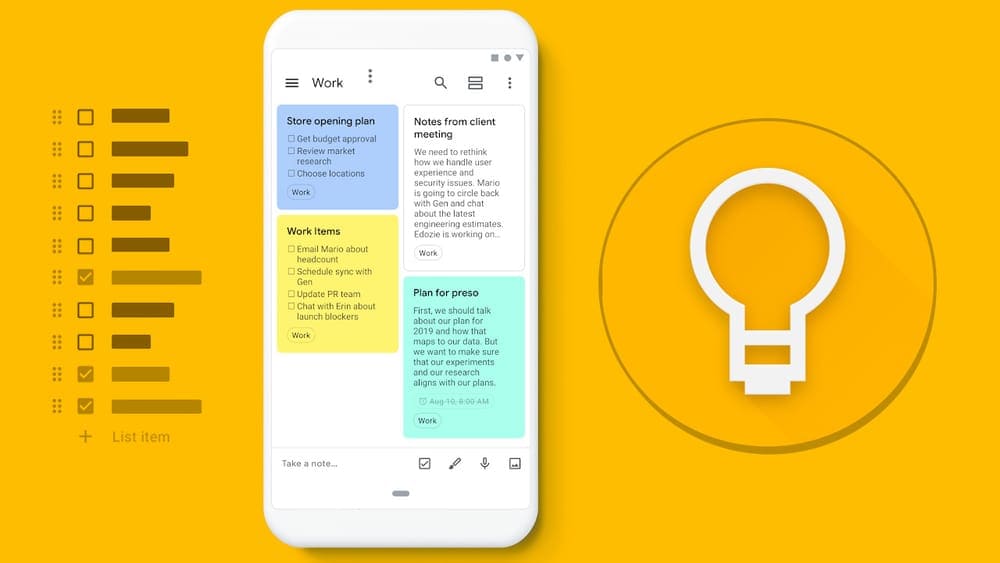 Important Features
This app can take your quick notes and save that instant with sharing options.

Editing the saved notes, making lists, and adding texts are very easy and fun here.

This elegant app offers necessary options like instant capture, collaboration, and easy sharing.

If you want to decorate your notes, you can also add labels and colors here.

Whenever you're in a hurry, you can also save your recording and have it automatically transcribed into text.
Pros: You can keep your notes in the archive folder to keep your home page free. Besides, it takes just a click to save the notes in a doc file.
Cons: You cannot use the undo and redo option if you change the folder cor once. Besides, the archive folder often works slowly on some specific devices.
5. Zoho Notebook
---
The Zoho notebook is an elegant but free note app for iPad powered by Zoho Corporation. It can also be considered as one of the best alternatives to Apple Notes available out there. The best part of this application is you can sync all of your notes automatically to your cloud storage simply by opening an account for Zoho.
So, there is no chance of losing your note by mistake. Besides, there is no advertisement that appears to disrupt your urgent note-taking time. Also, it is free of cost and comes with a bunch of similar and useful features.
You can also take the benefits of non-apple platforms as this app is also available for iOS, Android, and Windows. It stores notes as cards, and cards can be customized according to the note contents. If you are interested, just have a glance over the feature list below.

Important Features
Besides taking notes, you can add photos, paint, and sketches here too.

If you're in a hurry, you can quickly record your ideas, the meeting also your lectures too, and this app will transcribe them into texts.

Zapier's Zoho Notebook integration is also available here.

A scanning option has also been provided here. You can scan your business card, documents, and many more.

One-click editing and deleting option is there. You can also add levels and customize the fonts and colors.

Note sharing options have also been provided here. You can share notes from one device to another using a few clicks.
Pros: In this best note-taking app for iPad, notes are represented in a card like to-do lists, audio waveforms, or image thumbnails. Moreover, the Web Clipper browser extension is also available for safari, chrome, and firefox.
Cons: The number of available extensions is also less compared to other note apps for iPad. Plus, this app can not migrate your notes from Evernote as they will have resulted in blank pages.
6. Pages
---
A well-decorated word processor can define your documents externally perfect. The app Pages, available in the App Store, offer you a lot. It is free to download and offers premium-grade features in one place. This excellent app can be your daily note taker and reminder. Hence, it will make your life easier.
You can add and save posters, documents, pictures, and similar, and at the same time, you can share them with others. Besides, a very simple user interface will let you enjoy an iPhone note-taking experience.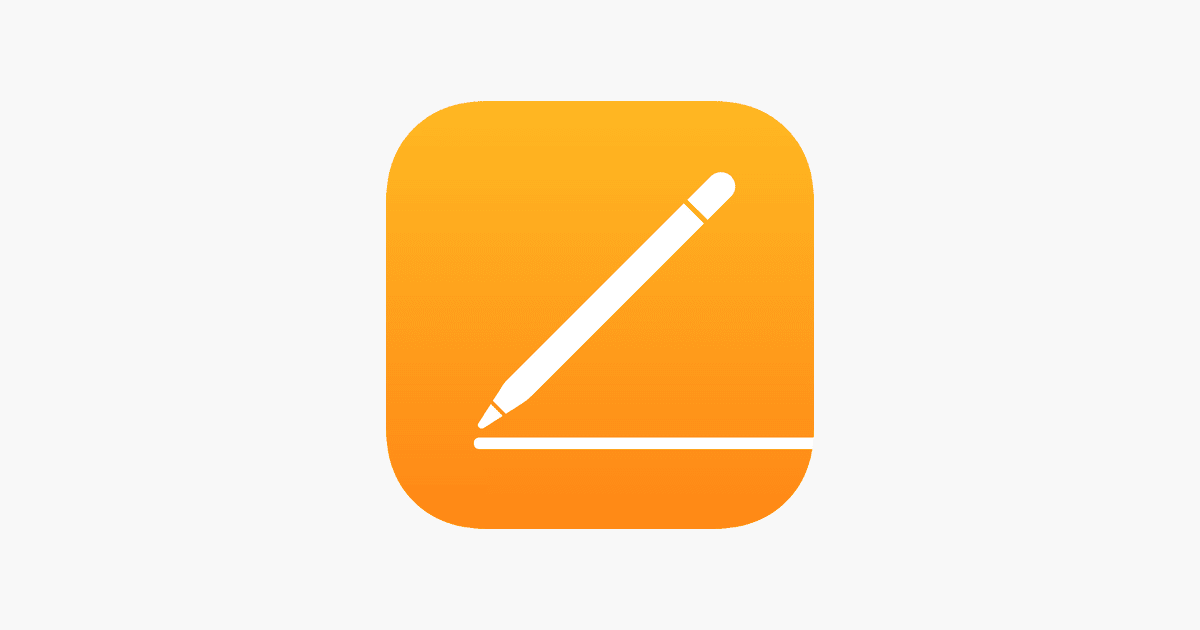 Important Features
This app provides templates for making instant reports that come with a professional look.

You can create your own design in an empty document with lots of customization options.

Tons of beautiful fonts, styles, and textures have been provided here for formatting documents.

It is very easy to add labels, pictures, edit texts and videos.

You can also share your document with the public or some specific people and also can see who is with you in the document.
Pros: This excellent note-taking app will let you enjoy access to 70 different Apple-designed templates. Moreover, you can keep password-protected documents here securely.
Cons: Some users have questioned the poor typography problem. All the notes are organized in alphabetical order, so you'll have no option to manage them as you wish.
7. Boostnote
---
As a free and open-source note-taking tool, Boostnote has got so much attention, especially from programmers. Boostnote has made storing code snippets really easy, which can be considered the primary interest of any coders or developers. You can even open multiple tabs for writing in different programming languages under a single note.
On top of that, it comes with a GitHub Flavored Markdown. The organization should also be mentioned as you can group notes by folder, by tags, adding stars to notes, etc.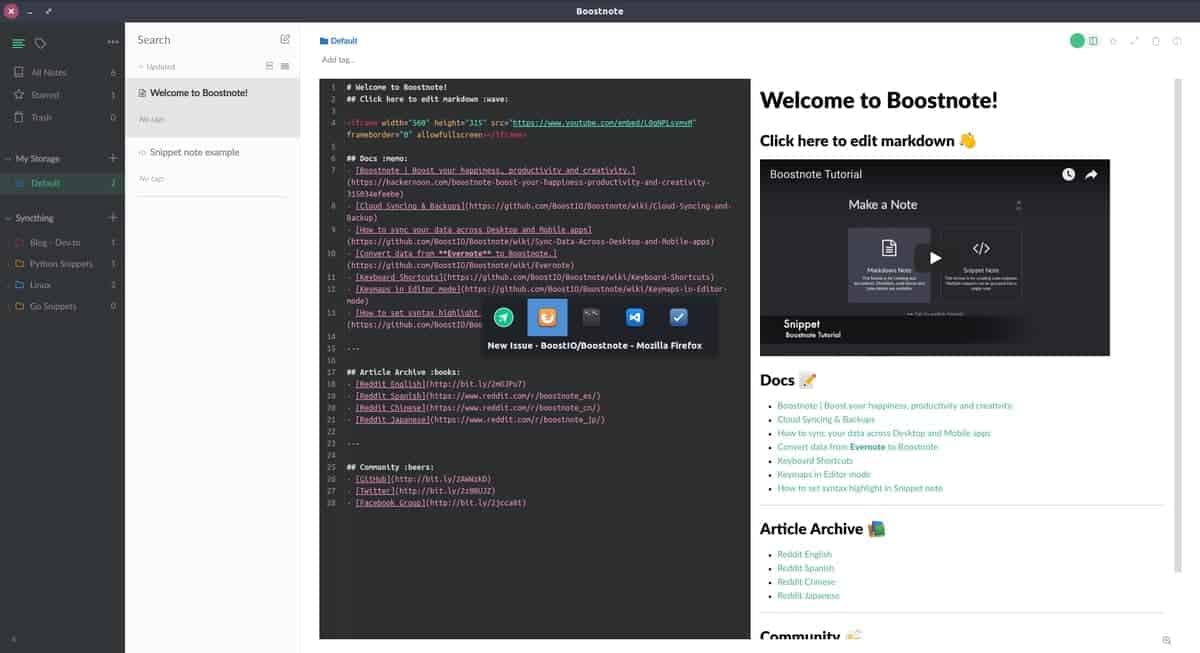 Important Feature
It c

an store multiple snippets under a single title.

Lots of themes are available to enable you to customize Boostnote according to your choice.

You can change the look and feel of the text editor, general interface, and code blocks.

It saves a lot of time as you can set up customizable keyboard shortcuts.

Notes can be shared with others, and team members can collaborate as well.
Pros: This app enables users to open the presentation mode while in a meeting. Also, the web clipper extension is available while you can control the versions as well.
Cons: It is not so powerful if you consider the markdown feature. Plus, you can not search by more than one tag at the same time.
8. Paper by Dropbox
---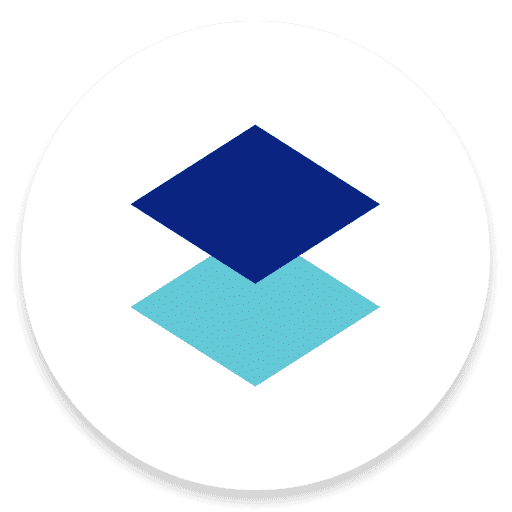 Paper by Dropbox can be a great pick if you are looking for the best note apps for iPhone with instant command receiving ability. This useful app is launched by Dropbox, Inc, a very popular app producer. With this app, you will get it easier to organize and manage all of your documents and projects very quickly. You can also share your thoughts saved in this note apps with your friends and colleagues. Still not impressed? Have a look over the following features for more details.
Important Features
Adding photos and videos to a document is very easy here.

This app is an excellent medium for teamwork as it allows multiple access in one account.

This app also provides a comment section where you can give and get comments on your projects.

Even if you are offline, you can still create new docs and share ideas with others.

As you can work with your team, you can see every task update done by your team members.
Pros: You can now highlight parts of the texts. At the same time, you can keep little quotes besides the highlighted parts.
Cons: Navigating to the other parts of a note sometimes seems to be unavailable. Also, some users complain about their poor bug fixing operation.
9. Simplenote
---
If you are looking for the simplest note app for iPhone, I have an excellent recommendation. Well, this time, I am talking about Simplenote, and it is just like its names. In this app, you can write down your notes, collaborate with the team, and stay organized with tags.
It is like an all-in-one app to extend your instant note-keeping experience. Besides, it is designed with a very simple and clean interface that takes a minimalist approach. You will find Simplenote for almost any platform like Android / iOS / OSX / Windows / Linux.
You can also collaborate between cross platforms while the interface contains a sidebar to display tags and trash filters. Moreover, you will find a dedicated button for creating a new note and get a simple list of your existing notes. 

Important Feature
This app lets you take quick notes, create to-do lists, add photos, and do other similar tasks.

Whatever you will write here, everything will be Synchronized, and you can share it with all of your devices.

You can fork the code from Github and contribute to further development.

You can share your ideas by collaborating with your team.

A strong passcode system has been provided here. All of your projects and notes will be safe.
Pros: You can track the history of your notes to go back to the previous versions. Also, users can create, edit, and export notes as documents offline.
Cons: You can not insert any embedded attachments or media files here. Also, no 32-bit version is available, and you will not get any notification of any change that has been made on the shared notes.
10. WorkFlowy
---
It is one of the best note-taking apps for iPad that allows users to focus on some particular topics known as "hoisting". You will be able to create lists for personal to-dos, notes, team projects, research papers, and so on. Besides, as all the notes are part of a specific list, an organization becomes super easy.
You can also find notes from the infinite depth of hierarchical categories. Tags and full-text search are also there for finding texts. Users can also keep track of their notes as WorkFlowy can send emails on their daily activities. 

Important Features
All the lists can be folded, while sublists can be viewed from the top level.

Many tasks can be added and manipulated rapidly.

One of the best parts is it can sync super fast across all platforms.

Backed by a great community and talented coders.

WorkFlowy can be customized with extensions and styles to a great extent.
Pros: This note app for Mac can be accessed via a web browser or desktop application. Also, notes can be imported and exported as Outline Processor Markup Language.
Cons: Mobile browsers can not run this app pretty well. Besides, it comes with a black and white interface while no color coding is available, and you can't use it offline.
11. Notion
---
Unlike other note apps for Mac, Notion is designed to render a powerful, database-driven approach for taking notes. It is compatible with Mac, iOS, Android, Windows, and Browser. Besides, it comes with a template engine that makes it easy to duplicate anything, which may include a multi-layered collection of notes as well.
Notion tables can be compared to Google Docs or Google Sheet, where each row can be updated. You can also expect to get kanban boards, wikis, calendars, and reminders with Notion alongside the database. 

Important Features
Attachments can be added easily without any sort of complexity.

One of the best notes app for Mac to preview tools and embed media files.

Images and videos can be displayed as a gallery.

It comes with a Nested hierarchical organization, and a set of texts can be set into a dropdown.

All your important notes will be saved here, and you can pin them up too.
Pros: Hybrid editor allows users to write Markdown, use normal keyboard shortcuts and UI elements to format text. Also, the personal plan is completely free here for you.
Cons: Performance is poor when it comes to formatting your texts. Besides, you will always need to be connected to the Internet to use this software.
12. Dynalist
---
It is much more different than the other notes apps for Mac available out there. Dynalist allows users to collect and store ideas and tasks in simple lists. It can be used on all the major platforms like Web/Windows/Mac/Linux/iOS/Android. On top of that, it comes with markdown support, and you can use the software offline as well. Dynalist allows users to search for anything globally, and you will be able to create a folder on top of every list. 

Important Features
This app will enable you to print perfectly formatted documents.

You can simply add hashtags to the headers to make search operations efficient.

Custom styles can be created and shared with the community.

It lets you create docs by folder and organize them by title.

It lets you

pin your favorite and important notes and find them out instantly.
Pros:  This app comes with unlimited notes, which makes it perfect for personal knowledgebase. Also, dedicated apps for Mac and iOS are available.
Cons: Exporting options are limited to text, pdf, and OPML only. Also, only the English Language is supported here.
13. Quip- Docs, Chat, Sheets
---
Let's meet Quip, a lovesome note app I shouldn't skip either. This all-in-one note app for iPhone is brought in town by Quip. Creating live documents, conversing, and making spreadsheets are full of fun here. You will enjoy quick access to your Doc files using this spiffy note app.
If you want to customize your notes, you are welcome here. Tons of interesting customizable options are here that let you decorate your notes just like you wish. Want to know more? Well, have a glance below for more information.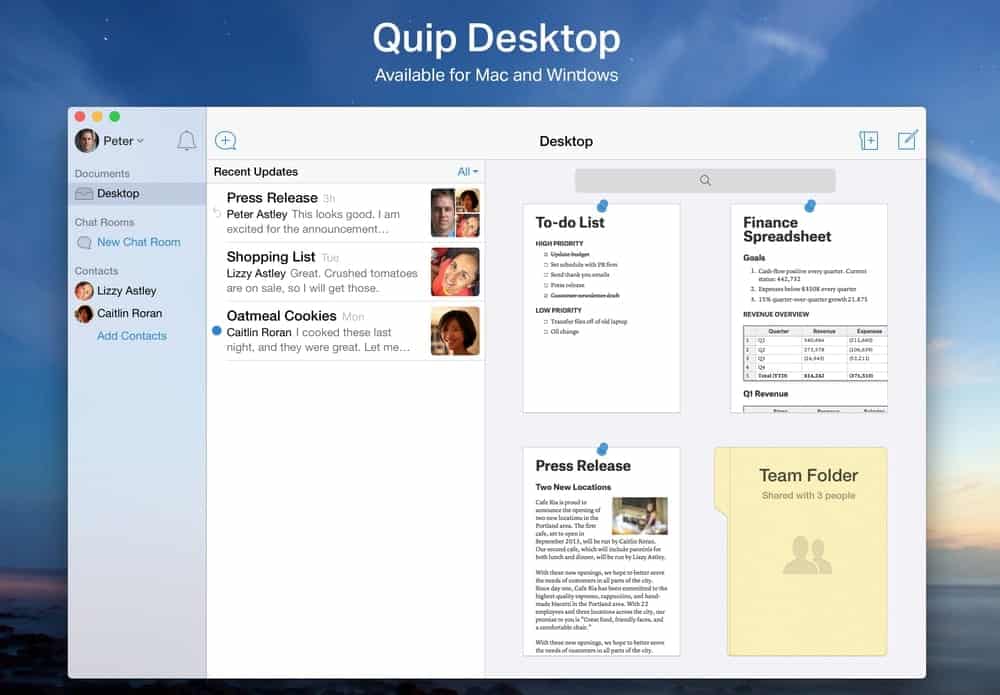 Important Features
It is the best place for creating live documents instantly.

You can make docs, slides, notes, and many more. Everything is so easy and fast here.

Over 400 functions with a customized keyboard have been provided here. You can make your spreadsheet here.

You can access your chats, lists, notes on any device, anytime.

All your documents, slides can be imported in G-drive, Google Docs, and also in Dropbox.
Pros: Enjoy the real-time chatting and messaging option with this app. Also, export and import options are very flexible here.
Cons: You cannot download multiple files at once with this app. Plus, the communication system is quite troublesome.
14. Standard Notes
---
Standard Notes is one of the best notes apps for iPad, considering the security features it has to offer to its users. It is compatible not only with iOS and macOS, but also you can use this application on other major platforms like Browser, Windows, Linux, and Android as well. Although you can use the plain text editor for free, you will need to pay for the premium version to get extended features along with a Markdown editor, a rich text editor, and a code editor.

Important Features
Most security-focused note-taking app for mac.

 The texts will be encrypted automatically as you write, and only you can access them.

 You can use the Markdown, rich text, or code editor on a note-by-note basis.

This app lets you

access your chats, lists, notes on other devices.

Images and videos can be displayed here in any notes. 
Pros:  This app is accompanied by powerful search features. Moreover, it supports a complete search operation based on different search criteria.
Cons: One of the major downgrades is the absence of in-app image hosting. Also, there is no option for drag-and-drop notes between folders and tags.
15. Noteshelf – Notes, Annotations
---
Let's check out another useful note app for iPad brought in town by Fluid Touch Pte. Ltd. The best of this app is its handwriting style note-taking ability. Just with your digital pen to take notes just you take on your diary.
This app is fun and easy as a clean and simple interface ensures the best note-taking experience. Besides taking notes, you can draw pictures, make charts and tables here too. The following features will make it even more specific to you.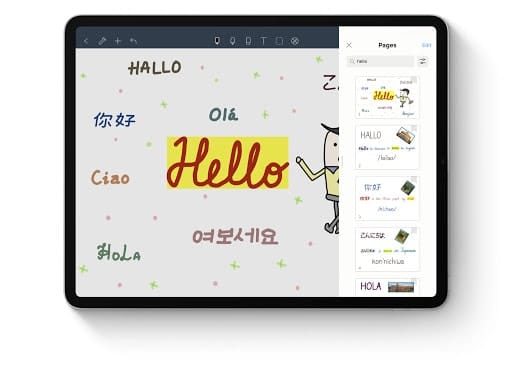 Important Features
You can Create outlines and checklists while making a note.
Don't have time to type? This app supports audio recording notes, and the audio can transcribe to texts automatically.
It lets you work with 2 notes keeping side by side.
It supports an automatic backup option for Dropbox & OneDrive.
You can import documents from PDFs and MS Office. You can also highlight text, name a folder, and keep sides here too.
Pros: You can use an Apple Watch and integrate this app with it to use it hand-free. Plus, you can use strong password protection to secure your important notes.
Cons: Some users find it harder to add and edit added pictures in this app.
16. Notability
---
Ginger Labs comes with another compatible note app for iPhone that has already gained huge popularity within a very short time. It is Notability, and as it says, it will improve your note-taking compatibility. This covenant note app can be used both on iPhone, iPad, and Mac.
This app lets you not just take flexible notes but also add photos, GIFs, web pages, and many things similar to your notes. Besides, it supports group note facilities that let you work in a team comfortably. Let's see what's more it will offer.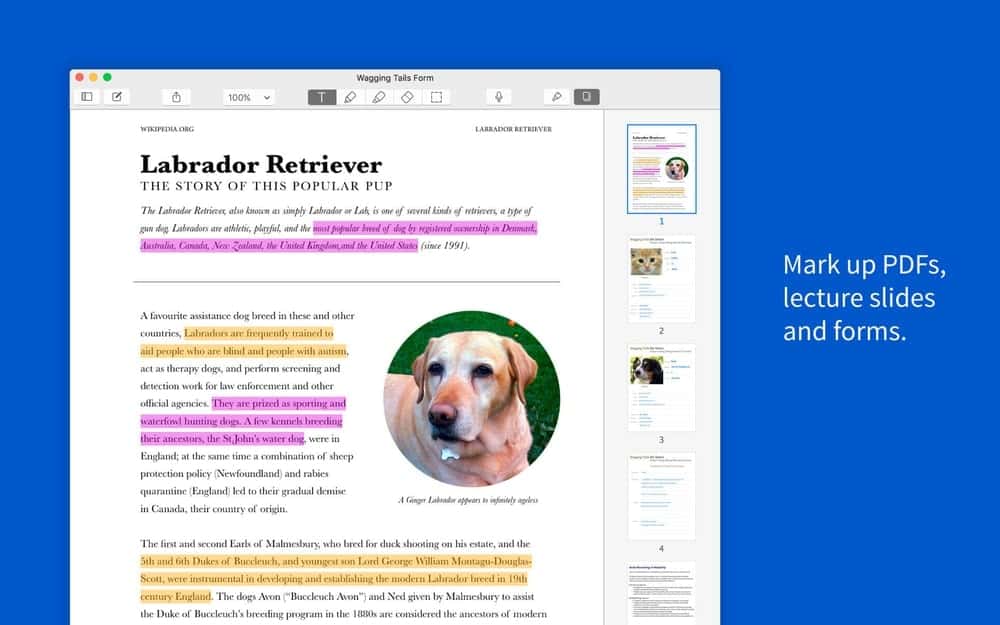 Important Features
Offers a very capable yet user-friendly note-taking and document managing platform.

Works seamlessly on iPads, iPhones, and other Mac devices.

Supports advanced sharing options and cloud synchronization on popular cloud storage, such as Dropbox, iCloud, OneDrive, etc.

You will like its superior backup support and import different kinds of files from multiple platforms.

Allows you to sketch or mark using handwriting with included tools. It also supports Apple pencils natively.
Pros: This app is capable of broadcasting presentations on external screens. It includes recording audio files with playback capabilities, which helps record lectures and sudden thoughts with ease.
Cons: Some functions require additional purchasing from the Notability shop. There might be some lags and issues while using multiple devices.
17. Joplin
---
Joplin is a free-to-use note app for iPad. It offers all the basic functions that are needed to keep notes and schedules. This app also allows you to save to-do lists it. If you are looking for a lightweight app that works on both iPhones and iPads, then download it without hesitation. You will have the sharing options and cloud storage support natively. It can also open files from other similar apps. You can open files from other platforms too, especially from desktops.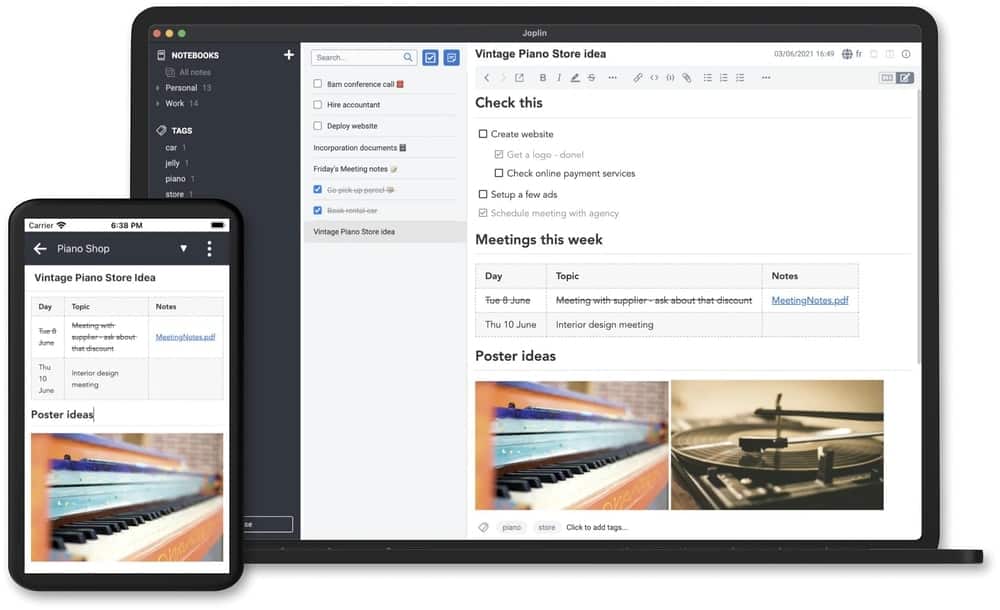 Important Features
Offers a very minimalistic app interface with wide accessibility.

Allocates a very limited amount of system storage.

It comes with all the basic tools and functions for keeping notes.

Integrates advanced sharing options.

Supports most of the popular file formats.
Pros: It offers native synchronization for cloud storage, such as Dropbox, OneDrive, WebDAV, etc. This app is accessible from other platforms, thus supporting multi-device synchronization. 
Cons: The app interface is very basic. You may face some occasional bugs while using on cross platforms simultaneously.
18. MarginNote 2 Pro
---
Sun Min gives you MarginNote 2 Pro, an all-in-one note keeping and document managing app for iOS devices. It works smoothly on both iPads and iPhones running on iOS 8.0 or greater. You will get limitless possibilities with this app. Whether you are a student or in the workforce, you will have use for this app.
This app is specially designed for students and researchers for its wide range of support and functionalities. It includes its own document management tools and built-in PDF file editor. You will be able to import and export files from other platforms with ease. The following features will encourage you more to get it on your daily devices.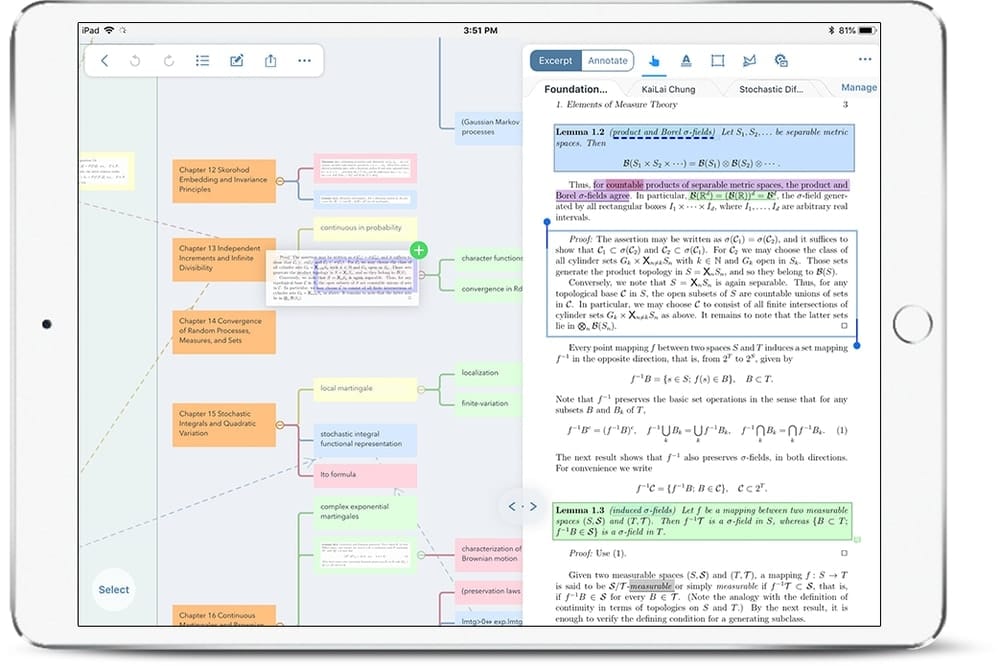 Important Features
Offers superior reading and studying environment with lots of useful tools.

Includes built-in PDF and EPUB reader with editing functions.

You can add books and articles to the notes.

Offers advanced annotations and highlighting functions.

It allows you to add different media files into the notes and documents.

Comes with Flashcards, which is very helpful for arranging numerous notes.
Pros: This app natively supports iPad Pro and Apple pencils with high precision drawing and other pen functions. You can Import web pages, books, articles, and notes from other platforms. This app does not put any limitations on your usages.
Cons: You will have to purchase the app from AppStore to use it. These are some occasional minor bugs and issues while synchronizing from cross platforms.
19. Notes Writer -Take Good Notes!
---
If you want to try a note app for IPad that allows you to write, draw, sketch, highlight, strike out, underline, and many other things similar, the best option I can suggest is Note Writer. Kairoos Solutions has brought this app to help the students, workers, and businessmen to have a great assistant.
You can take instant notes, make memos, charts, tables, etc., with this flexible app. A clean and minimalist interface will always make you happy to use this app. Check out the following features to learn more about this app.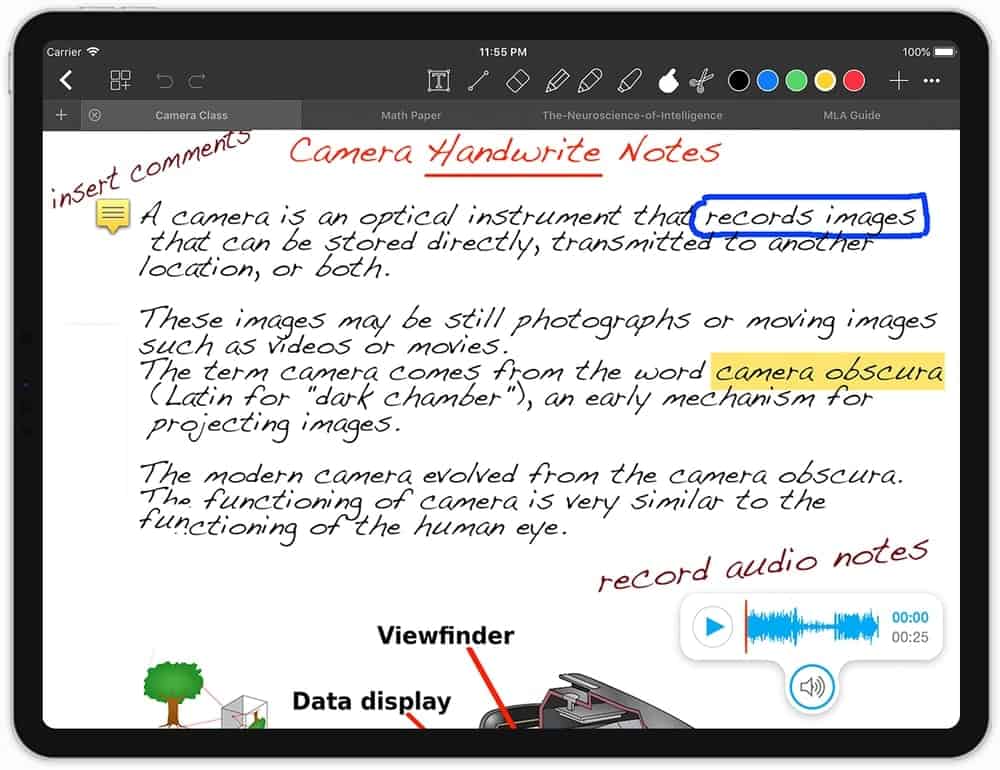 Important Features
This app supports voice commands and converts voice to texts.
You can insert web clips, clipart, math equations, figures, etc., in your notes.

You can insert audio, video, and other media files along with the general texts.

This app supports over 30 different languages.
A distraction-Free mode is there to concentrate only on your writings.

Includes a highly capable search panel and sorting out function.
Pros: It allows you to export to numerous platforms and produce files in popular formats. You can open two formats and notes at a time to work simultaneously.
Cons: Some users have complained about the poor synchronizing system.
20. Penultimate
---
If you wish to try the best notetaking apps for iPad to write with proper concentration with the distraction-free mode, try Penultimate. It is the final recommendation for today. This flexible app is full of surprises. To enjoy the real experience of taking notes on a diary, you can use digital pens and just write on display. All your notes will be synchronized automatically. Besides, You can use this app on iPhone, iPad, and Mac for free, but you have to pay to enjoy the premium features.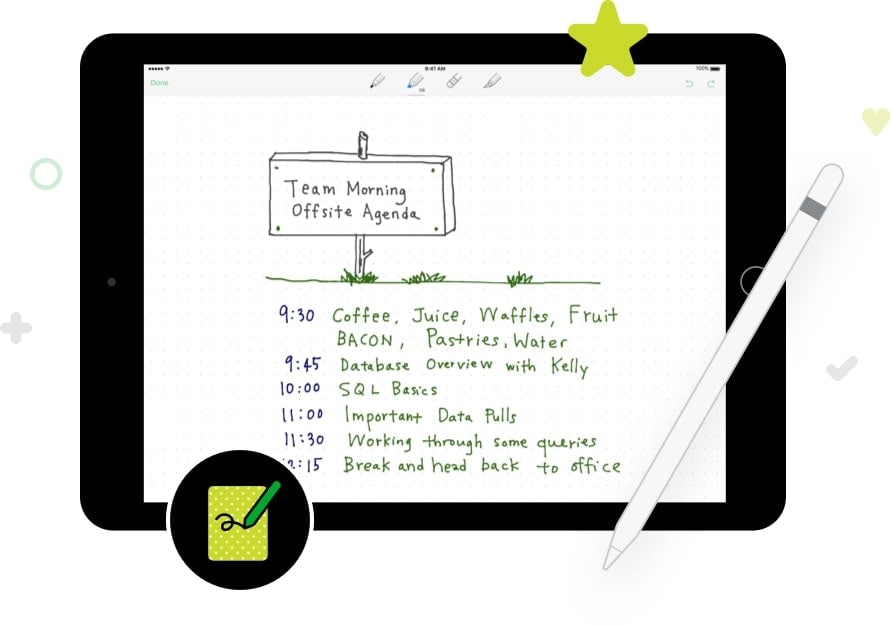 Important Features
Works smoothly with Evernote while arranging all your handwritten notes and drawings.

You will be able to write with your pen tools and supported pencils flawlessly.

Integrates advanced synchronization and sharing functions.

Allows you to use customized papers by picking different colors, styles and inserting images.

You have the freedom to arrange your creative notes.

It includes easy search and filter options for your convenience.
Pros: It is free to use, and also some affordable premium packages are available. This app is optimized for iPads and offers you one of the best handwriting and sketching environments available in the industry.
Cons: Some features need premium subscriptions to unlock. You might face some occasional issues while zooming in and sharing on other platforms.
Our Recommendation
---
This article mentions the list of the best notes app for iPad, iPhone, and Mac that you can start using without any hesitation. Although you will find many other note apps available out there, it will always depend on you to figure out which works best for you. But if you ask us to minimalize the recommendation list, we'll go for OneNote and EverNote first, as these two apps come with the most useful features.
You can try Google Keeps and Penultimate if you want to try the free subscriptions. But I cannot say the other apps are not compatible. You can just use any of these 20 best iPhone notes apps, and I am sure that there is no chance to get disappointed by any of these apps.
Finally, Insights
---
You have learned about the best note apps for iPad. While selecting one to try, you should consider the security, speed, community support, the number of available extensions, and the User Interface very carefully. Besides, each app comes with distinct features and shortcuts that you will need to learn to increase your productivity when taking notes.
I have tried to enclose all the necessary details, and if you manage to spend a few minutes on them, then you can easily find one to try. However, don't forget to share your experience with the app you have chosen. Besides, you can share your idea about the fact with us too. To stay closed, please like, comment, and share. Thank you in advance for your support.