TeXstudio is a free, featured rich and full-fledged writing software for creating LaTeX documents. This software is one of the best LaTeX editors which is a fork of famous Texmaker. TeXstudio is developed following the line of easy and comfortable use for creating and editing LaTeX documents. It provides writing support including auto-completion, custom macros, search, folding, navigation etc. It has an inline interactive spell-checking tool and built-in output viewer.
Features of TeXstudio
---
Supports cross-platform including Linux, Windows, MacOS, and all the major Linux distros.

Supports auto-completion, drag-drop of images.

Scripting support.

Template system and assistant for images, tables, formulas.

Spellchecker and Syntax highlighting.

Live inline preview and Integrated PDF viewer.

Document lexical analysis and Export into HTML.
How to Install TeXstudio
---
Recently it has been released with the new version (v2.12.10) with some minor bug fixes. In this tutorial, I will show you all the possible way of how to install this software in Ubuntu Linux.
1. Install from Ubuntu Software center
---
This is the easiest way to install any software in Ubuntu but there is one problem that the software gets delayed to update in the latest version. It takes a bit of time but eventually it comes. You just need to search TeXstudio in software center and hit the install button.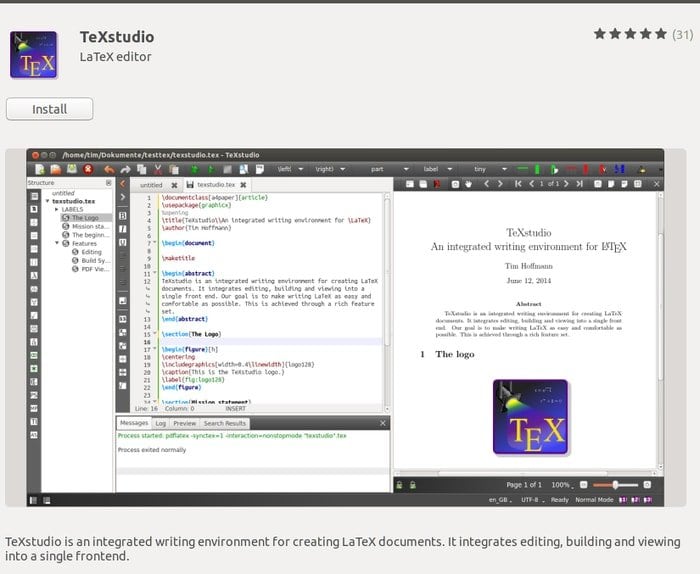 2. Install from Flathub App Store
---
This is just like Ubuntu software center but recently developed for universal package management which can be used across the distros. Check my tutorial in case you don't know how to use Flatpak in your system. Search the FlatHub app store for TeXstudio and hit the install button.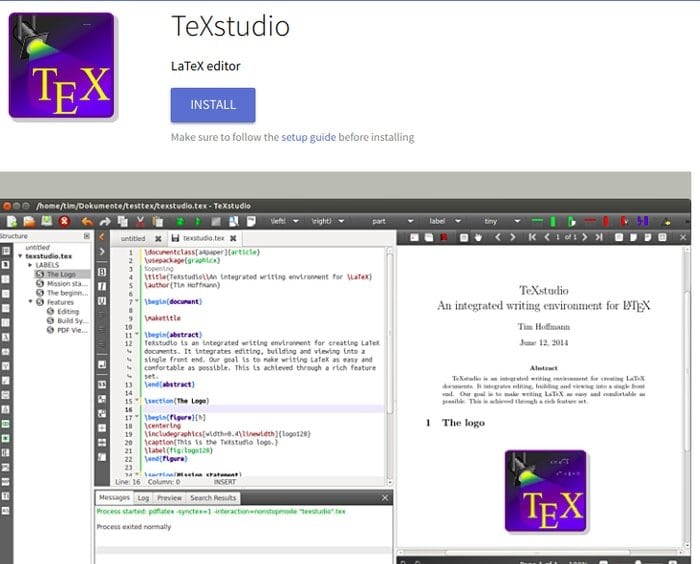 Or else you can run the following command to install using flatpak:
Install:
Make sure to follow the setup guide before installing
flatpak install flathub org.texstudio.TeXstudio
Run:
flatpak run org.texstudio.TeXstudio
3. Install Using Ubuntu PPA
---
If you are not comfortable with software center or flathub app store, then there is a PPA repository that contains the latest TeXstudio for all the Ubuntu and its derivatives. Run the below command to add the PPA:
sudo add-apt-repository ppa:sunderme/texstudio
Run the below additional command if you have installed it earlier from Ubuntu software center for removing the doc, debug packages:
sudo apt-get remove texstudio-d*
Now run the final command to install or upgrade the this LaTeX editor:
sudo apt-get update


sudo apt-get install texstudio
How to Remove if Installed via Ubuntu PPA
Run the command:
sudo apt-get remove --autoremove texstudio
For removing PPA, follow "Software & Updates >> Other Software Tab >> Select and Remove Specific PPA"
4. Install using AppImage
---
This way is the last one on our list. An AppImage file format is a relatively new one in the Linux community. It's also a universal file format for installing software across the distros. It also offers an AppImage for Linux.
5. Download .deb Package
---
This LaTeX editor is also available as .deb packages for various Ubuntu derivative. In case you don't know how to use .deb packages in Ubuntu. Check the tutorial.
Is this tutorial helpful? I hope it will help the newbie to install TeXstudio in Ubuntu following various method. Share your suggestion and experiences in the comment below.