Stellarium is one of the best Astronomy Software which shows a 3D simulation of a night sky. The users who love to know about planetary things can use it to learn in-depth knowledge about stars, planet etc. It's a free and open source educational software for all the major OS.
Features of Stellarium
---
Sky
Default catalog of over 600,000 stars
Extra catalogs with more than 177 million stars
Default catalog of over 80,000 deep-sky objects
Extra catalog with more than 1 million deep-sky objects
Asterisms and illustrations of the constellations
Constellations for 20+ different cultures
Images of nebulae (full Messier catalog)
Realistic Milky Way
The very realistic atmosphere, sunrise, and sunset
The planets and their satellites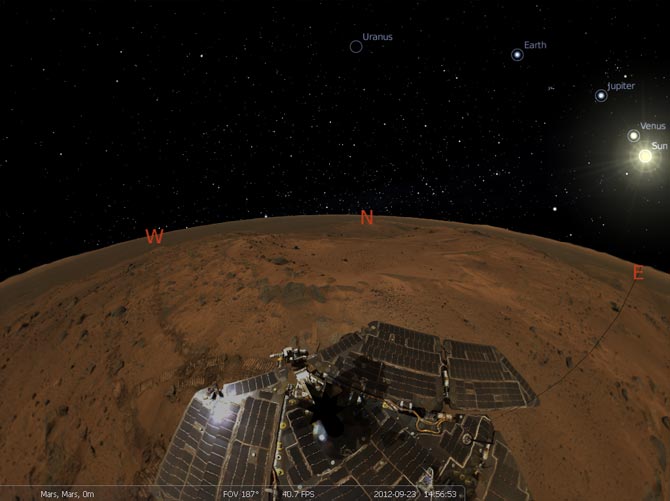 Interface
A powerful zoom
Time control
Multilingual interface
A fisheye projection for planetarium domes
Spheric mirror projection for your own low-cost dome
All new graphical interface and extensive keyboard control
Telescope control
Visualisation
Equatorial and azimuthal grids
Star twinkling
Shooting stars
Tails of Comets
Iridium flares simulation
Eclipse simulation
Supernovae and novae simulation
3D sceneries
Skinnable landscapes, now with spheric panorama projection
Customizability
Plugin system adding artificial satellites, ocular simulation, telescope configuration and more
Ability to add new solar system objects from online resources…
Add your own deep sky objects, landscapes, constellation images, scripts…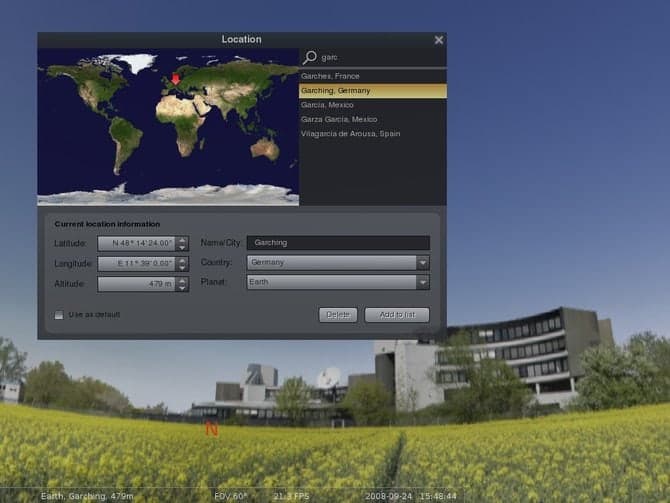 System Requirements
---
Minimal
Linux/Unix; Windows 7 and above; Mac OS X 10.11.0 and above
3D graphics card which supports OpenGL 3.0 and GLSL 1.3
512 MiB RAM
250 MiB on disk
Recommended
Linux/Unix; Windows 7 and above; Mac OS X 10.11.0 and above
3D graphics card which supports OpenGL 3.3 and above
1 GiB RAM or more
1.5 GiB on disk
Stellarium 0.18.2 release highlights:
---
Improvements and fixes for AstroCalc tool and plugins
Added support Abell Catalog of Planetary Nebulae and ESO/Uppsala Survey of the ESO(B) Atlas
Added filters for enlisted objects in Search Tool/Lists tool
Added new textures for moons
Added support Milkyway saturation effect
Added possibility to select all constellations through scripts and hotkeys
Added artwork for some Maori constellations
Added distances for some planetary nebulae
Added Lokono sky culture
Added a few new scripts
Updated code and data, and fixed various bugs.
See full changelog
How to Install Stellarium on Ubuntu
---
Here I will show you all the possible ways to install the latest GIMP in Ubuntu Linux. This tutorial is for the beginner users.
1. Install via Ubuntu PPA
---
The official PPA has been build for the Ubuntu and Ubuntu-based derivatives. Follow the below procedure to install it.
Add the PPA by running the following command.
sudo add-apt-repository ppa:stellarium/stellarium-releases
Install it for the first time
sudo apt-get update
sudo apt-get install stellarium
Upgrade if installed earlier.  Open Software Updater Utility and Install now
2. Install from Ubuntu Software Center
---
This method is the easiest way to install any software for Ubuntu. But it makes a bit delay to hit the latest packages on software center. Search the package name and hit the install button.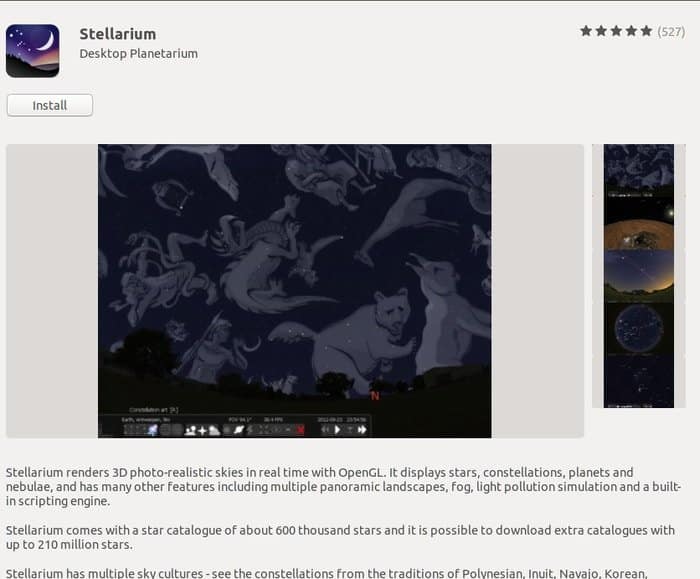 3. Install as Snap
---
Snap is a universal software package for installing software across the distros. Stellarium provides official repositories for the snap package. You can search it as a snap package on Snap store or Ubuntu software center. Check the tutorial in case you don't know how to use the snap package on Linux.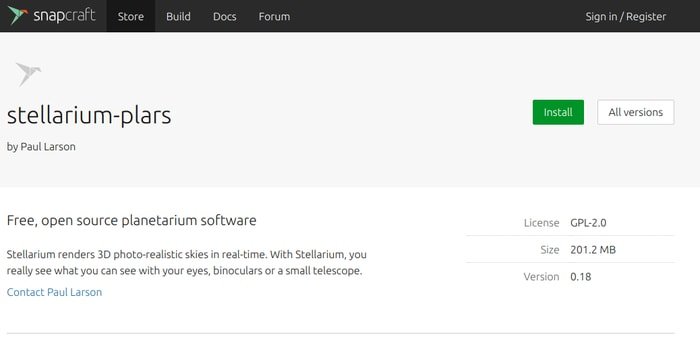 Or else you can just run the following command:
Stable version
sudo snap install stellarium-plars
Latest version
sudo snap install stellarium-plars --edge
How to Remove
---
Through System Package Manager or running the command.
sudo apt-get remove --autoremove stellarium
For removing PPA, follow "Software & Updates >> Other Software Tab >> Select and Remove Specific PPA".
Is this tutorial helpful? Please do share it with your friends and family on social media. Let us know your experiences and suggestion in the comment below.
All the information is collected from the Stellarium official site.