Do you love to chat with your close one? Bored with the typical old messaging apps? It's always fun to try something new. So, why don't you try Signal? It's such an app for communication. It's an entire end to end well-encrypted Android and iOS communication app. Don't be upset. It's also available in desktop version on Windows, Linux, and MacOS. Not only the text messages, but you can also send pictures, videos, voice messages, documents, and even voice and video calls via Signal. The most attractive part is it won't charge you an SMS or MMS fee. But you're going to need an internet connection on your device. Concerned about privacy? With Signal, there's no fear.
You already know it's an end to end encrypted app. This feature makes Signal privacy oriented. No one, even the Signal authority itself can't see your messages. It's only you and your correspondents who can see the respective messages. Now you must be wondering that how Signal identifies its users. Very simple. It uses cellular mobile numbers. Let's see other features here.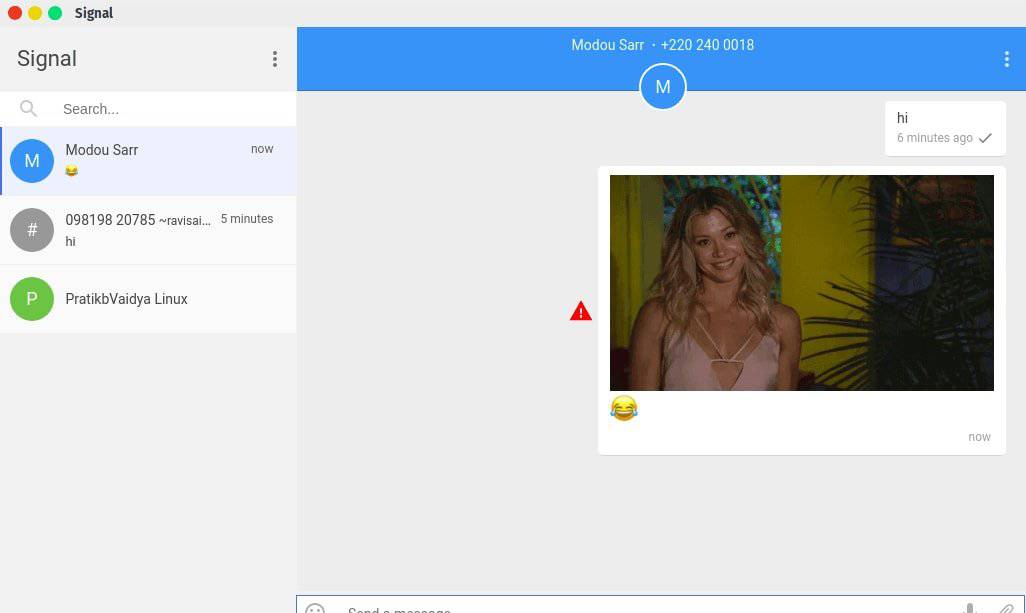 Features of Signal
---
A cross-platform application which is available for MAC, Linux, and other Windows.

An open-source instant communication app offers the contribution of its users to its source code.

A freeware that allows everyone to download it and enjoy its amazing features.

Also available on Android and iOS.

End-to-end modern encryption method.

The User Interface is of minimalist design.

Includes option to create, join and send texts on groups.

Options to select different intervals for disappearing messages.
Install Signal in Ubuntu Linux
---
Run the following command to install it on Ubuntu Linux:
curl -s https://updates.signal.org/desktop/apt/keys.asc | sudo apt-key add -


echo

 

"deb [arch=amd64] https://updates.signal.org/desktop/apt xenial main"

 | sudo tee -a /etc/apt/sources.list.d/signal-xenial.list
sudo apt update 

&&

 sudo apt install signal-desktop
Stay connected with your family or friends or the close ones via this app. Send messages or high-quality voice and video calls instantly with Signal. With the outstanding performance and amazing features, it's going to make you its fan. Don't hesitate. Give it a go. You'll get to know and love Signal yourself. It comes with minimalist design and is so easy to control or use. You're going to have great fun with this multi-platform application. Let this app serve you their best communication service with complete privacy.
Do you like this article? Have you already used Signal? Let us know your experiences with it. Drop comments in the comment section below and tell us about your opinion or give us any suggestion. And if you like it, please, do share this article on social media and let others know about it.