In this age of rapid economic growth, data is arguably among the driving factor behind success. Storing data is of greater importance for a number of reasons, including backups and security. One of the best ways of storing data is using NAS (Network Attached Storage) or Linux SAN (Storage Area Network) solutions. These are platforms that allow the saving and retrieval of data in a structured way using network-based architectures. Linux is one of the top players when it comes to offering robust and open source NAS software. In this guide, we'll outline 20 modern and innovative Linux/Ubuntu NAS and SAN solutions that will make data management easier for both individuals and businesses.
10 Modern and Innovative Linux NAS Solutions
---
Linux NAS solutions come in all sorts of flavors, and finding the right one for your needs is the real challenge. Our editors have gone over a substantial number of choices and selected these picks based on many criteria, including popularity, development status, payback, and such. We advise you to go through each one of them and try to determine the best NAS server for Ubuntu or any Linux distros based on requirements.
1. Amahi
---
If you're looking for setting up a home NAS server, settling with an open source NAS software will be a good idea. It will enable you to understand how NAS servers work and allow unlimited tweaking opportunities. Amahi is one of the top players in this regard. Their opensource solution offers powerful NAS features, including disk pooling, secure backups, file sharing, and robust software integrations. Moreover, you can manage your NAS easily using Amahi's convenient admin dashboard.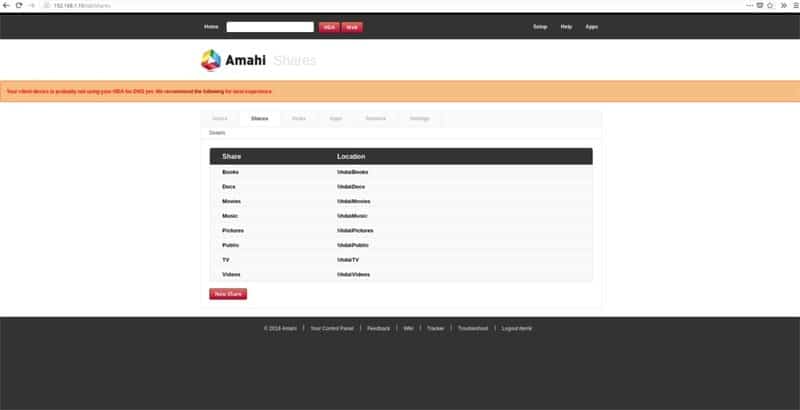 Features of Amahi
Amahi allows users to name and control all NAS-connected devices on their network by replacing the DHCP/DNS setting of their router with those of Amahi's.
It comes with a neat interface and offers robust UI management features required for convenient navigation.
Amahi offers quite a selection of backup options, including full disk network backup and scheduled backups for Mac or Windows.
It is an excellent choice for building robust home media servers due to its negligible setup time and massive resource availability.
2. Open Media Vault
---
Open Media Vault is a modern and robust NAS solution built on top of Debian. It offers a straightforward way to set up NAS servers for home users. It features an impressive web interface for accommodating this task and makes sure users with limited knowledge of Linux or Debian can manage the software very easily. It comes with default support for a wide range of standard protocols, including Samba/CIFS, FTP, NFS, Rsync, and TFTP.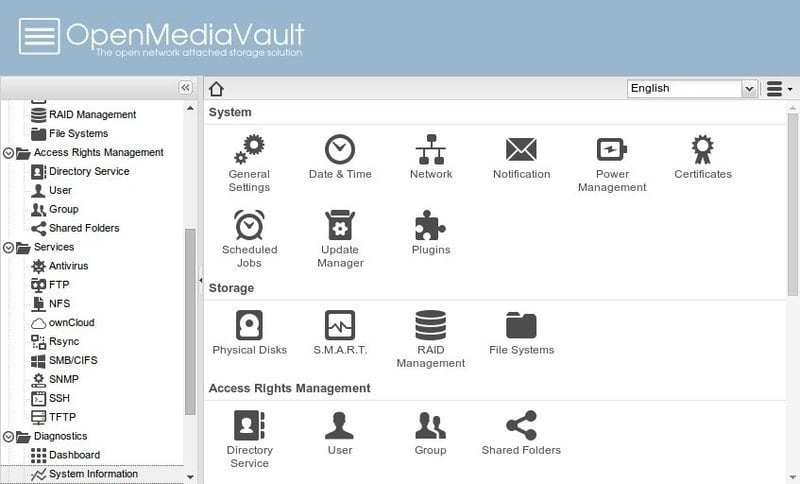 Features of Open Media Vault
It offers numerous useful NAS services such as SSH, FTP, SMB/CIFS, BitTorrent client, RSync, DAAP media server, and many more.
Open Media Vault's modular architecture allows this software to be easily extended while maintaining a lightweight build.
It makes the system updating process very convenient, utilizing the Debian package management utility.
Open Media Vault supports many volume management features, including HDD power management, GPT partitions, ACL, and Share control.
It is arguably one of the best open source NAS software for general home users or small offices.
3. Rockstor
---
Rockstor is another suitable NAS solution for home users or businesses. It offers many robust and innovative features that make Rockstor an excellent choice for starting NAS users. Among these include their open source BTRFS storage, fast vertical scaling features, impressive monitoring dashboard, instant cloning abilities, and more. Moreover, they also offer plenty of in-depth, quality documentation in their site to help people getting up and running in no time. Check out Rockstor if you're looking for open source NAS with premium functionalities.
Features of Rockstor
Rockstor features the next-gen BTRFS filesystem, which supports up to 16 times storage capacity than standard filesystems.
The Rockstor to Rockstor replication feature of this NAS makes it very easy to recover data in case of storage disasters.
It offers modern and flexible apps called Rock-ons for providing additional functionalities like media streaming and cloud storage.
Their robust and powerful REST APIs allow developers to integrate Rockstor services with third-party applications seamlessly.
4. Openfiler
---
Openfiler is, without any doubt, one of the best open source NAS solutions for Ubuntu/Linux users. It is developed on top of CentOS and provides a compelling file-based network-attached storage and block-based storage area network services. Openfiler's web-based management makes it easy to administer while allowing large-scale storage operations at the same time. The software features the free GNU GPL 2 license, which enables third-party devs to modify the software based on personalized requirements.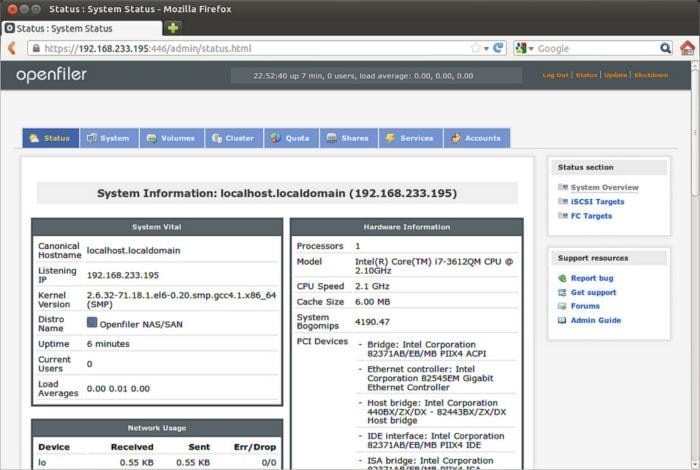 Features of Openfiler
It is one of the most solid Linux NAS solutions when it comes to performance and supports the latest CPU, networking, and storage hardware.
Openfiler is exceptionally scalable, supporting more than 60 TB filesystem alongside online filesystem and volume growth support.
It provides in-built support for heterogeneous file sharing, media streams, virtual machine storage, and exchange server backends.
Openfiler supports numerous file-based and block-based storage export protocols like NFS, CIFS, HTTP/DAV, RSync, and FTP.
5. FreeNAS
---
FreeNAS is a modern-day NAS software based on the FreeBSD operating system and uses the highly efficient OpenZFS filesystem. It provides a well-curated set of functionalities that make it a suitable option for both the general public and us Linux enthusiasts. The software has been downloaded for more than 10 million times already and continues to be a popular NAS server choice. Some of its well-received features include easy replication, snapshots, file sharing, and intuitive web interface.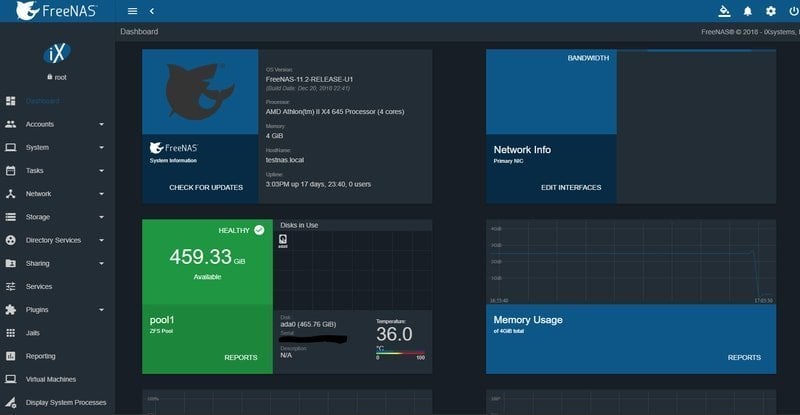 Features of FreeNAS
It supports a wide range of file sharing methods such as SMB/CIFS for Windows, NFS for Unix's, AFP for Mac OS's alongside standard FTP, iSCSI, and WebDAV protocols.
FreeNAS's intuitive and robust web interface makes administration very easy and largely simplifies day-to-day management.
It'd be an excellent choice for people who are looking for extreme data protection due to its smart implementation of the ZFS filesystem.
The snapshot taking feature of FreeNAS allows users to take a quick backup of their entire filesystem in the least amount of time.
6. XigmaNAS
---
XigmaNAS is one of the best Linux NAS server solutions for open source enthusiasts. It offers a substantial list of modern-day features that make large-scale data management easier for people with limited or no exposure to NAS. It is based on the FreeNAS open source codebase and features the simplified BSD license. Moreover, it provides experimental support for the ARM architecture while preserving the m0n0wall/PHP of FreeNAS. Don't forget to check it out if you're looking for a free NAS solution.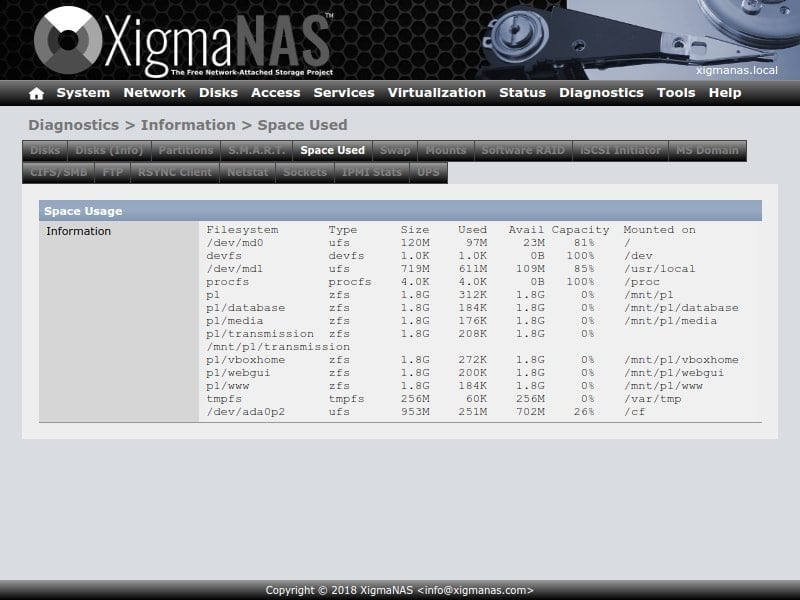 Features of XigmaNAS
XigmaNAS comes with in-built support for many popular filesystems such as Ext2, Ext3, FAT, NTFS, ZFS, and UFS.
It has default support for numerous standard network protocols, including SMB/CIFS, NFS, AFP, FTP, TFTP, SSH, RSync, and iSCSI.
XigmaNAS also offers support for BitTorrent client, iTunes/DAAP server, VirtualBox with WebSocket, convenient file manager, and many more.
It allows admins to monitor their NAS server easily via real-time network and CPU statistics, e-mail alerts, Syslogs, and S.M.A.R.T.
7. Nexenta
---
Nexenta is another powerful NAS solution with a considerable list of innovative features. They offer a full-fledged proprietary edition and a free of charge community edition. We find the community edition to be more than adequate for home users. It supports up to 18 TB of disk memory storage alongside the ZFS filesystem architecture. Since the community edition is simply a stripped-down version of the enterprise product, it also receives frequent updates and bug fixes like its proprietary counterpart.
Features of Nexenta
Nexenta's hardware agnostic, and public cloud-based backup facilities make sure that your data is appropriately protected and integrity is maintained.
It allows users to take quick storage backups using snapshots and enables granular data recovery in case of any storage hazard.
Nexenta offers extremely high performing replication methods that provide maximum performance and real-time control of the recovery points.
This NAS solution is known for its space-optimized data cloning, inline data reduction abilities, and multi-tenant file services.
8. CryptoNAS
---
CryptoNAS, formerly known as CryptoBox, is a robust NAS solution that allows users to encrypt data in a smart and effective manner. It is built on top of the Linux kernel and is available either as a Live CD or as an installable package. You can quickly set up your NAS server using CryptoNAS and proceed to encrypt it. For users with limited experience with NAS security, we suggest getting the Live CD. It will act as a standard NAS server with encryption functionalities.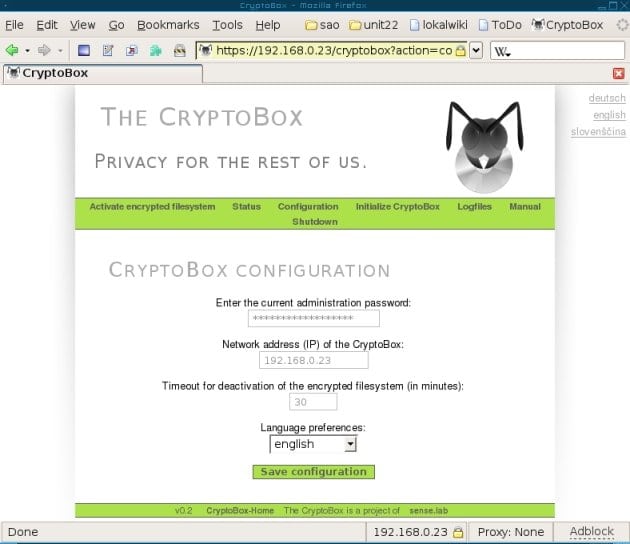 Features of CryptoNAS
CryptoNAS is dedicated to NAS data encryption and can be used in conjunction with other NAS solutions.
The CryptoNAS-Server package offers an intuitive, web-based frontend to encrypt and manage an existing NAS server quickly.
CryptoNAS makes NAS encryption easier for new users by abstracting technical details like the filesystem and file sharing protocols from the user.
The software works out of the box and requires almost no configuration, but the development seems to be paused for some time.
Get CryptoNAS
9. OpenDedupe
---
The developers of OpenDedupe claims it to be a deduplication based filesystem that can be used to develop personalized Linux/Ubuntu NAS servers. It offers an immensely useful cloud storage gateway and filesystem. SDFS, the filesystem used by OpenDedupe, can perform inline deduplication to local or cloud storage and offers numerous advanced features. Some of these features include storage space optimization, efficient scaling, and large-scale data protection. It is suitable for people who need to create efficient backups and retain data for the long-term.
Features of OpenDedupe
OpenDedupe SDFS comes with pre-built support for inline deduplication and compression through 4k-256k variable block deduplication.
It can store user data either on local storage or in cloud object stores like Amazon S3 and Glacier.
OpenDedupe provides default support for highly optimized file-level snapshots and allows the standard AES-CBC 256 Bit encryption.
It performs quite well based on standard performance metrics and is highly scalable.
10. openATTIC
---
Many people use Ceph for their home or office NAS due to its immense scalability and improved performance over traditional Ubuntu/Linux NAS servers. Ceph is a powerful storage platform that offers object storage on a single distributed cluster. OpenATTIC is a free and open source monitoring and management solution for Ceph and can be used for implementing your own NAS server pretty quickly. Servers deployed on Ceph are typically faster and has only a single point of failure. Thus finding and fixing problems is very easy.
Features of openATTIC
Its modern and robust dashboard allows users to monitor and visualize the health of their storage drives pretty quickly.
OpenATTIC enables users to view, create, monitor, and manage individual Ceph pools with or without compression.
It comes with in-built support for multiple users and provides an efficient API for easy debugging.
OpenATTIC allows users to share their storage easily using a tool called NFS Ganesha.
10 Linux SAN Software for Heavy Users
---
Linux SAN storages are the most commonly used technology by many leading cloud providers. The ability to build and manage large-scale infrastructure is what makes them stand out. We'll go over some excellent SAN server software offered by Linux in the next section.
11. ESOS – Enterprise Storage OS
---
ESOS, aka Enterprise Storage OS, is a modern-day take on Linux SAN solutions. It is an open source quasi Linux distribution built on top of the SCST project and provides robust SCSI targets using SAN. As of now, ESOS supports many different channels, including Fibre Channel, InfiniBand, iSCSI, and FCoE. If you're looking forward for building your personalized SAN, ESOS is an excellent starting point for you. It allows you to leverage a dedicated storage OS without bankrupting you in the process.
Features of ESOS
This Linux SAN software is built from scratch and consists of a lightweight Linux base that offers unparalleled performance.
ESOS is a hundred percent memory resident and allows users to boot into it using flash drives.
It supports many RAID controller tools such as LSI MegaRAID and Adaptec AACRAID for a faster configuration process.
ESOS comes with in-built support for inline data de-duplication, Ethernet bridging, NIC bonding, Block layer cache utilities, and many more.
12. PetaSAN
---
PetaSAN is, without any doubt, one of the best SAN storage software for Linux users. It is an extremely robust, innovative, and scalable SAN solution that allows us to create high-performing SANs very conveniently. PetaSAN utilizes various cloud-based technologies to achieve its goals, and the end result is a top-notch SAN platform for both home and enterprise users. PetaSAN balances the disk access loads very cleverly and is, thus, able to offer much faster load time than many traditional Linux SAN software.
Features of PetaSAN
PetaSAN is suitable for systems that require numerous I/O operations due to its extremely high-concurrency abilities.
The web-based point and click interface of PetaSAN has proven to be a big success, and many enterprises have started to adopt it for this reason.
PetaSAN utilizes the highly fault-tolerant, adaptable, and self-healing Ceph storage engine for powering its iSCSI.
It is quite easy to use and administer PetaSAN, which continues to increase its popularity among users with limited technical skills.
13. OpenIO
---
OpenIO is a compelling object storage solution that can be used for building high performing and hyper-scalable IT facilities. It is a relatively recent project that has been immense momentum for the last couple of years. If you're looking for enterprise-grade Linux SAN storage software for building large-scale storage infrastructure, OpenIO can be an excellent option for you. It is a subscription-based proprietary solution but offers an open source edition for home users who aren't willing to buy the paid version.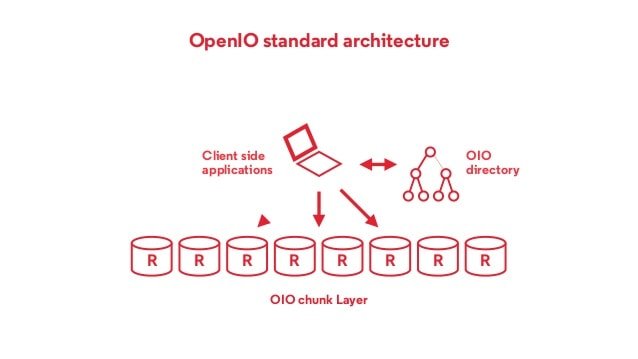 Features of OpenIO
OpenIO largely simplifies data workflows of the various available resources and is highly optimized for big data.
It comes with a pre-built set of robust system management tools that makes deploying, managing, and monitoring much more comfortable.
OpenIO comes with integrated support for many powerful big data tools such as Hadoop/Distcp, Apache Spark, iRODS, and HDF5.
OpenIO implements a policy called WORM(Write Once Read Many) for preventing users from deleting or modifying objects unintentionally.
14. Open vStorage
---
The Open vStorage project is considered as the fastest multi-datacenter block storage by many. It has shown some outrageous performance feats like supporting 500,000+ IOPS per machine, 50,000,000 IOPS per rack, and Geo-Scaling abilities. Open vStorage also has support for efficient VM/vDISK policy level engines, robust recovery pools, public/private clouds, among many more. If you're looking to set up a secure, fast, and reliable SAN with an efficient and flexible feature set, Open vStorage is a must-try.
Features of Open vStorage
Open vStorage eliminates the need for conventional backup tools/processes and provides robust integrated alternatives.
It is based on a resilient design with network-clustered error connection codes for making your data more redundant and secure.
The robust Multi Data-Center support of Open vStorage allows you to move your workload across the globe without moving the data.
Open vStorage inherently allows multi-level tiering and supports RAM, PCIe flash, SSD, SATA drives, and even Amazon S3 compatible object stores.
15. OpenStack
---
Any list discussing storage solutions can't be completed without mentioning OpenStack. It is a modern, innovative, and immensely popular open source collaboration suite that facilitates network-oriented storage. It is one of the fastest-growing open source NAS and SAN collaboration and is already used by industry leaders like Paypal. It provides many flexible components for creating, computing, and controlling network storage resources. The community is really thriving and full of new ideas that may lead to the next generation of storages.
Features of OpenStack
OpenStack is excellent for building heterogeneous infrastructure and provides all the components you need to set up your private data center.
It allows users to manage their storage networks very quickly using their web dashboard or via the OpenStack API.
The robust ecosystem of OpenStack ensures you will not have to depend on traditional tools for maintaining your workflows.
OpenStack has a great marketplace that offers a wide array of ready-made products and services at a reasonable cost.
16. OviOS
---
OviOS is one of the most efficient Linux SAN solutions for starting Linux users due to so many reasons. It is a specialized Linux distribution that allows users to create the fastest and easiest to use storage networks. OviOS abstracts away technical details and enables users with little or no knowledge about Linux, NFS, SMB, or iSCSI protocols to create a fully functional SAN. The software is free to use and can be easily installed on most Linux distributions.
Features of OviOS
OviOS comes with pre-built support for SCSI, NFS, and SMB versions 1,2, and 3 alongside AD integration, and NIS authentication.
Users can easily set up replication by creating a new backup server and allowing communication between the production server and the backup server.
OviOS implements the ZFS file system for creating its storage pools and allows users to take snapshots of them very quickly.
It can be installed on USB flash drives, dedicated hardware, or in virtual systems like Linux Emulators or docker containers.
17. TurnKey File Server
---
TurnKey is a thriving open source collaboration suite that offers more than 100 tools for creating and managing personalized Ubuntu/Linux NAS and SAN Solutions. The TurnKey File Server tool is one such utility you can use for creating your next storage infrastructure. It supports quite an extensive list of features, including but not limited to its Windows-compatible network file sharing, web-based management dashboard, public and private clouds. You can also get this software for free and modify it if you wish.
Features of TurnKey File Server
The TurnKey File Server comes with out of the box support for the SMB, SFTP, NFS, WebDAV, and rsync file transfer protocols.
It has pre-built SSL support and offers most, if not all, standard compression tools such as zip, rar, and bz2.
The TurnKey File Server allows secure access to your data from anywhere using the WebDAV CGI.
It enables the user to access their files very quickly using the Samba command-line interface.
18. Libvirt Storage Management
---
Libvirt Storage Management allows managing storage networks via storage pools and volumes. It is an open source Linux SAN solution which can be beneficial to a large number of users. It supports a huge list of storage pool types such as filesystem pools, directory pools, NAS pools, logical volume pools, iSCSI pools, among many others. No matter whether you're a home user or enterprise, if you're looking for the best software for managing your network storage, Libvirt is a must-try.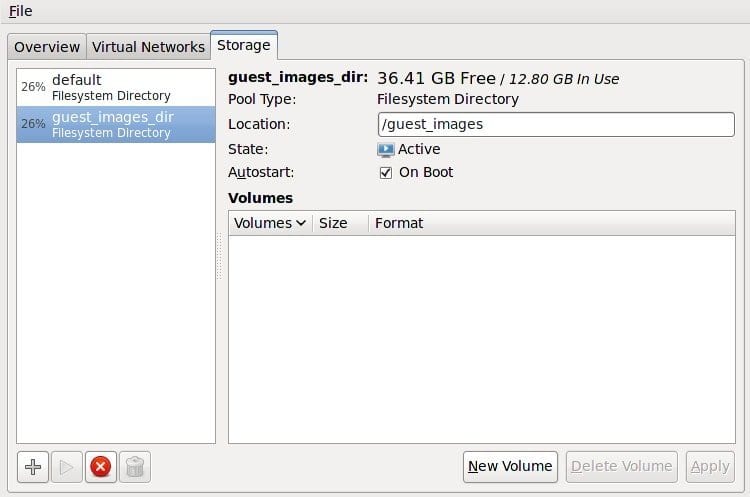 Features of Libvirt Storage Management
Libvirt has support for many different volume formats such as raw files, bochs, cow, iso, qcow, dmg, vpc, vmdk, and qed images.
It also supports most standard file systems, including ext2. ext3, ext4, ufs, ISO9660, gfs, vfat, xfs, and hfs+ alongside many more.
The official wiki provides excellent documentation to get you started and covers the essential topics gradually.
It is possible to designate system resources to specific users without providing shell access or other control channels.
Get Libvirt Storage Management
19. Lustre
---
Lustre is a straightforward yet immensely rewarding Linux SAN software you can use for creating your own large-scale storage clusters. It is a special type of parallel distributed file system which derives its name from "Linux and Cluster". Lustre is written using the C programming language and is, therefore, very high-performing. Monitoring your network storage will feel quite easy, thanks to the LMT(Lustre Monitoring Tool). You can manage your cluster on the go and observe the feedback in real-time.
Features of Lustre
Lustre runs in virtually any Linux systems and can be configured as an active/passive MDS pair or more than one MDS pairs with DNE.
It is one of the most scalable SAN storage software available right now and is used by six of the top ten supercomputers today.
The HSM(Hierarchical Storage Management) capabilities provided by this SAN software make network storage management easier than ever.
Lustre's high availability and innovative recovery features make it perfect for large-scale data incentive enterprises.
20. Raider
---
Raider is a compelling modern-day utility that allows Linux users to automate the Linux software raid conversion. It can be used for creating a single Linux system disk into a software raid 1, 4, 5, 6, or 10 system very quickly. Raider is aRaiderlso incredibly lightweight and doesn't leave any significant memory footprint. So you can use this tool without having to worry about system resource overheads. Raider is publicly available for download and enables modification of the source.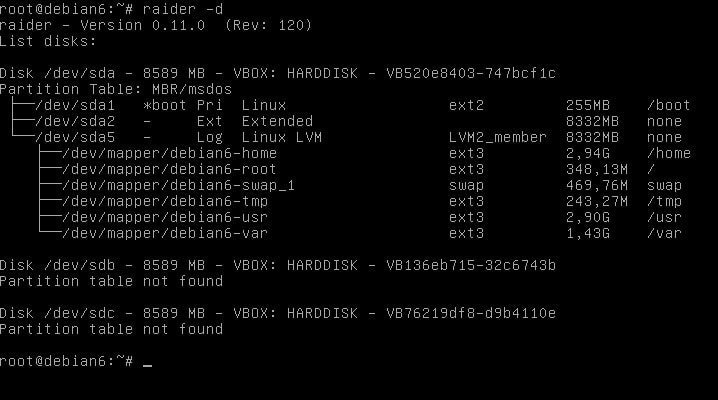 Features of Raider
Raider can convert any existing Linux system disk into different RAID systems in a simple two-pass command.
It is available on Ubuntu, Arch, Mageia, OpenSUSE, Fedora, CenOS, Linux Mint, Gentoo, and Slackware, among others.
Raider depends on the Linux kernel tool mdadm for creating, managing, and monitoring your RAID systems.
This is an open source SAN storage software and can be easily modified by scripting the bash scripts.
Get Raider
Ending Thoughts
---
Since a large number of home users depend on Ubuntu/Linux NAS servers for their data backups or media streams, our editors have compiled this guide keeping them in mind. Small to medium-sized companies can also leverage many of the above-mentioned SAN storage software. For people who are looking for something more powerful to store their day to day data, we suggest you check out Linux SAN storages. Hopefully, we were able to provide you the insights you were looking for. Stay with us to get more exciting guides on various Linux software and commands.