If you're looking for a terminal based music player or an audio streaming software? Musikcube is just the solution you're looking for. It's a free, cross-platform terminal-based audio engine. It's fast, stable and uses a little amount of resource. It also allows you to have a collection of music based on your taste. It has a default audio streaming system that runs inherently in Linux, Windows, Raspberry Pi, and macOS.  Musikcube uses an integrated server for streaming audios.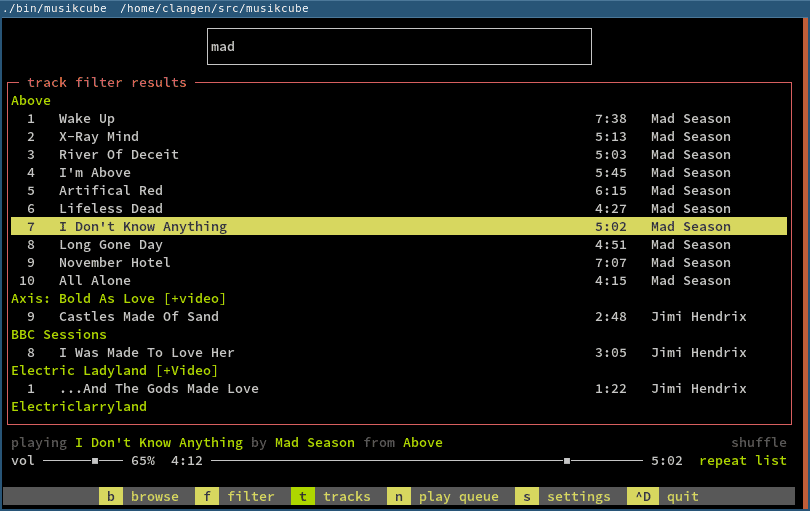 Important Features of Musikcube
---
It also provides the popular audio codecs like MP3, M4A, Ogg Vorbis, and FLAC.

SQLite database system is used in the software to make a playlist metadata and stored tracks.

A native Android app called "Musicdroid" can be connected to the servers of Musikcube. The app helps to stream the music in local and wide area networks by working as an audio client or remote control.

The most important feature about the Musikcube is the playlists are dynamic. So the users can easily make their playlists.

With all these services it also ensures you the benefits of batch tagging, drag and drops file import, fast navigation, an intuitive interface, a shallow memory footprint, and the integrated CD ripper and crossfader.

Musikcube has some special playback control buttons which are missing in other music applications.

Other music players have general searching options, but Musikcube helps you to search required music by clicking column headers which assure you to find your music fast and accurate.

Though Musikcube used 25 percent memory on average as iTunes and consumes similar amount as Winamp but still by a long shot, it has better features & functions than iTunes And Winamp.
Final Words
---
In the modern age of computing, we want all our things to be organized and tidy. By far this is one of the best terminal based apps in this category. Though, it supports many popular audio codecs but not all.
Apart of this Musikcube is useful in most of the cases. But if you face any complexity in using the software, there's a forum and also a wiki-based help section where you can seek assistance and guideline. If you found this useful share it with your community by using facebook, twitter, or any other social platform.