IP address management takes a large part in the life of modern network admins. Linux admins are expected to follow the best practices in this regard. A carefully laid-out IPAM(IP Address Management) workflow ensures better administration and sustainability. Luckily, Linux offers a wide range of IP address management tools which allow admins to perform their job much more easily. Our editors have gone through a lot of such software before picking the below 10 IPAM software for you. Continue reading in order to find out which IP address management tools for Linux best serve your purpose.
Best IP Address Management Tools for Linux
---
Our editors have selected both enterprise IPAM products and open-source alternatives for this guide. So no matter whether you are a corporation or a mere hobbyist, we have got you covered. We have tried to discuss each software in detail – labeling their pros and cons along the way.
1. Solarwinds IPAM
---
The Solarwinds IPAM solution is an enterprise-grade software with many astounding features. It is a paid software that requires professional licensing, and the company even provides customized pricing plans. It is an exceptional software with a clean user interface that makes management easier even for people with limited tech skills. Moreover, Solarwinds IPAM integrates well with VMWare and other virtual machine emulators. So, if you're a large firm looking for enterprise-grade IPAM solutions, don't forget to check it.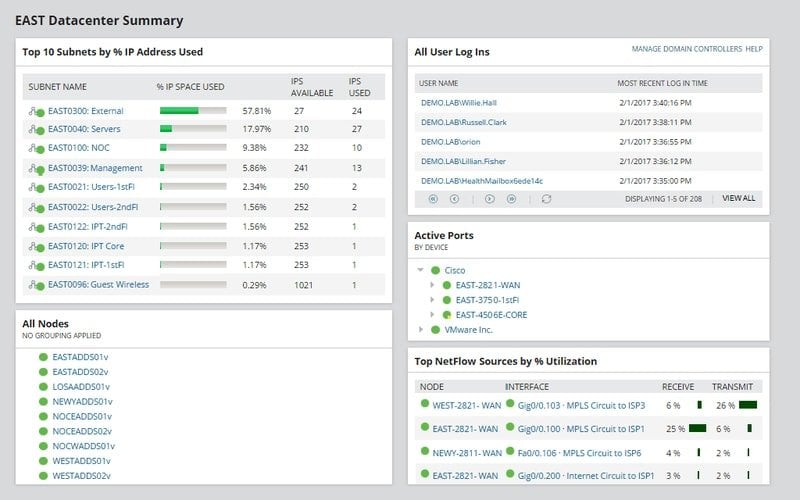 Features of Solarwinds IPAM
Solarwinds IPAM allows admins to automate IP tracking and address requests, which helps to minimize administration time.
It comes with a free 30-day trial version and an interactive demo for helping customers to evaluate the application.
Solarwinds IP address management tool supports third-party app integrations using its robust set of pre-built APIs.
It also offers useful alerting, troubleshooting, and reporting features as well as support for cloud DHCP and DNS.
2. ManageEngine OpUtils
---
The ManageEngine OpUtils suite is among the best IP address management tools for Linux-based systems. It sports some of the most exciting features wanted by modern network admins. Some of them are role-based administration, tree view, DHCP server monitoring, and so on. Although this is a professional software, ManageEngine OpUtils also offers a convenient free version for people on a budget. Enterprises can also get customized pricing plans to better support their operations. Overall, it is a competitive IPAM product aimed at network professionals.
Features of ManageEngine OpUtils
Admins can use this IPAM solution to effectively specify a hierarchy of subnets based on their usage or location data.
ManageEngine OpUtils powerful global search feature provides an in-depth analysis of IP address and subnet details.
It comes with an in-built set of robust network tools and provides excellent notification alerts for network admins.
The compelling auditing features of this IPAM make security audits much easier for enterprises.
ManageEngine OpUtils also offers some exceptional scanning techniques alongside monitoring features for DHCP servers.
3. GestióIP IPAM
---
GestióIP IPAM is one of the best open-source alternatives to commercial products like Solarwinds IPAM or the ManageEngine OpUtils. It features a web-based user interface with extra emphasis on automation and reduces many problems associated with IP management. Although open-source, GestióIP has many premium functionalities such as infrastructure integrations, robust APIs, and excellent customer support. Moreover, you can get custom development services if you feel like missing some features. So overall, GestióIP is a feasible solution for both professionals and home users.
Features of GestióIP IPAM
Users can access and manage their IP addresses using the default web interface and aren't required to install additional client software.
GestióIP IPAM has a large set of integrated tools for displaying network data like free network ranges, ping & DNS checks, and so on.
It allows network discovery using SNMP, host identification via ping, DNS, and SNMP as well as VLAN discovery.
Admins can directly import network data from spreadsheets and export then to CSV documents if required.
4. Infoblox DDI
---
The Infoblox DDI solution integrates tools for DNS, DHCP, and IPAM administration. It is a powerful, paid solution suitable for large enterprises. If you are looking for high-performance, automated network services for business clouds or virtualized environments, Infoblox DDI can be a viable option for you. This DDI solution is highly praised for its high-quality network services, which makes it extremely easy to manage complex network infrastructures. Enterprises can easily evaluate their network assets using this professional IPAM solution.
Features of Infoblox DDI
Infoblox DDI helps in increasing the performance of cloud-based business applications and SaaS products using diverse network services.
The feature-rich, integrated analytics functionalities allow admins to better manage and visualize their IP assets and helps in auditing.
Infoblox can automatically detect rogue endpoints and quarantine such devices to enhance network security and service agility.
Admins can easily customize workflow templates and create personalized reports as well as notification alerts from the centralized UI.
5. BlueCat DDI
---
The BlueCat DDI is another powerful DDI product for modern enterprises. Like Infoblox, BlueCat also offers several sought after features such as active directory integration, DHCP MAC filtering, on-demand deployments, data validation tools, and so on. It is paid software with flexible pricing plans for corporations of different sizes. Moreover, BlueCat is perfectly suitable for new users due to its intuitive user-interface. So, if you are looking for enterprise-grade IP address management tools for Linux, do not forget to check out BlueCat.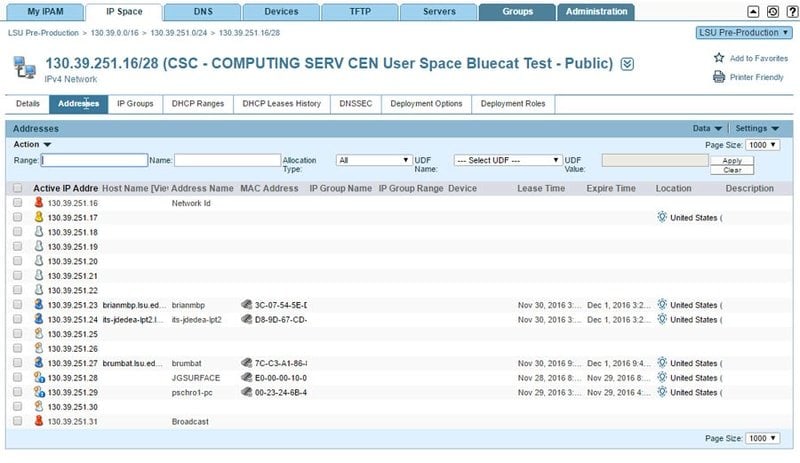 Features of BlueCat DDI
It provides a compelling network manager that supports role-based access control, IP auditing, resource tracking, and custom workflows.
The neat, centralized user interface helps admins to plan and model their IP resources based on network growth and traffic.
BlueCat employs several automated features such as on-demand deployments, scheduled network discovery, and asset reconciliation.
It offers an excellent set of API endpoints that allow admins to integrate BlueCat with existing Linux CRM solutions.
6. IPplan
---
IPplan is a simple but rewarding IP address management tool that provides a web-based user interface for managing IP resources. It allows admins to view and manage their IP allocations very easily and can be used to manage overlapping network spaces alongside simple IP resources. IPplan is written using PHP and works effortlessly on all modern Linux and BSD distributions. Moreover, IPplan is entirely open-source. So home users can easily use it as a replacement to paid IPAM software like ManageEngine OpUtils and Infoblox DDI.
Features of IPplan
IPplan is tested with conventional Linux database management systems like MySQL, MSSQL, PostgreSQL, and Oracle relational databases.
Admins can directly import network policies from TAB-separated documents, XML files, and kernel routing tables.
IPplan allows admins to split or join networks without changing the IP definitions and can easily find free address spaces.
The open-source nature of this free IPAM solution allows developers to extend or modify the software as required.
7. LightMesh IPAM
---
LightMesh IPAM is an affordable IP address management tool aimed at small to medium-sized businesses. It implements an elegant user interface that is easy to administer and increases workflow significantly. Some of its feature set include graphical IP allocation, fast network discovery, customized permissions, and effective integration of DNS & DHCP servers. Our editors really liked the simple but effective design principles of this software, which makes administration easier for people with limited tech skills. Overall, LightMesh can be a viable solution for starting enterprises.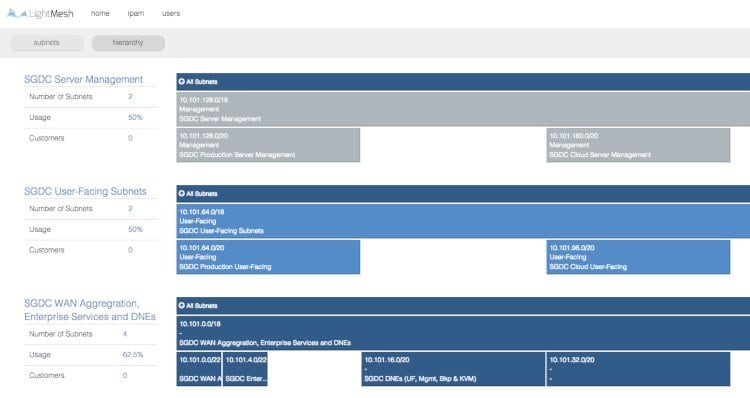 Features of LightMesh IPAM
LightMesh IPAM comes with a useful command-based console alongside the standard web interface and allows the convenient discovery of IP devices.
The time machine feature allows admins to view their audit data more accurately and review network policies on the go.
Admins can easily view all information related to IP allocations, DNS, and DHCP servers from the centralized interface.
LightMesh IPAM comes with a robust set of development APIs which allows admins to integrate it with existing business applications.
8. phpIPAM
---
phpIPAM is a free and open-source IPAM solution with an effective feature set. It is written using PHP, as implied by its name, and aims at providing a modern but lightweight alternative to paid IPAM solutions. phpIPAM also leverages the MySQL database, jQuery, and HTML5/CSS3 for its user interface. The developers provide a nice introductory demo to help admins get a better grasp of its features. Moreover, the open-source nature of this IPAM project permits third-party devs to modify the software as required.
Features of phpIPAM
phpIPAM can be used to display free network spaces and IP allocations automatically as well as domain authentications.
This IPAM solution comes with a simple but convenient IP address calculator, which makes it easy to create new subnets.
Admins can directly import network policies from XLS/CVS files and change access using a role-based hierarchy.
The REST APIs provided by this free IPAM is hard to find in standard open-source IP address management tools for Linux.
9. NetBox
---
NetBox is certainly one of the best open-source IPAM solutions reviewed by our editors. It comes with a simple but elegant user interface that packs a serious punch in terms of functionalities. NetBox was initially developed by the network engineering team at DigitalOCean and has since evolved into a full-fledged IP management application. It is very popular among open-source devs due to its extensive customization abilities. So, if you are looking for a free but powerful IPAM tool, consider checking NetBox.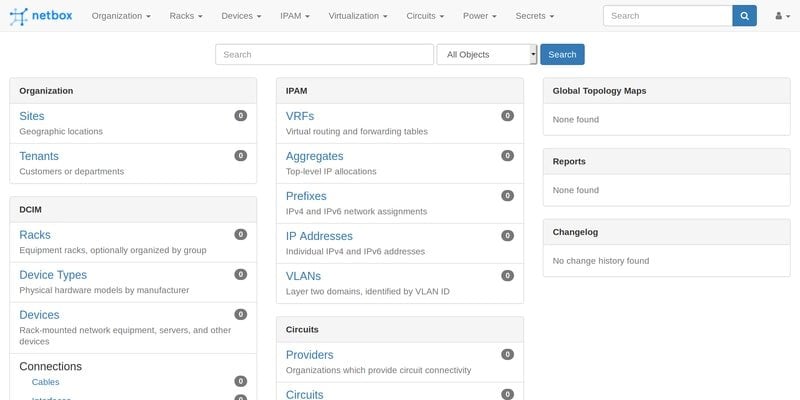 Features of NetBox
NetBox can be used for viewing the IP addresses, subnet spaces, VLANs, and VRFs alongside different device types.
It allows network admins to work with virtual machines, clusters, encrypted storages, and several types of equipment racks.
NetBox comes with in-depth documentation to help admins familiarize themselves with the software effortlessly and for modification purposes.
This open-source IPAM is developed using the Django framework for Python and sits on top of a PostgreSQL database.
10. TeemIp
---
TeemIp is another free and open-source IPAM & DDI solution popular among Linux network admins. It was developed as an alternative to enterprise products like OpUtils and Solarwinds. Although free, TeemIp is not short in features and can be used to manage small to medium-sized networks pretty effectively. Another useful feature of TeemIp is the ability to manage IT inventories using the CMDB. So overall, TeemIp is a reasonable fit for people who are searching for highly customizable IPAM products.
Features of TeemIp
It comes with a compelling network discovery feature, which makes it effortless to visualize and define IP networks.
TeemIp offers a simple but convenient IP address calculator, which makes it easy to create new subnets.
Network admins can easily import essential network policies and IP definitions from CSV datasheets.
TeemIp offers excellent customer support via their help desk applications and professional support personnel.
Ending Thoughts
---
Since there is an abundance of robust IP address management tools for Linux, many admins find it hard to choose the best option for them. We have published this guide to help them in their pursuit and have outlined 10 carefully chosen IPAM solutions that work perfectly in Linux and BSD distributions. Our picks include both commercial software and open source applications that work nearly as good. Although enterprises will surely look into professional IPAMs, free alternatives like phpIPAM and NetBox can do the trick. So hopefully, you'll find the best one that suits your purpose. Let us know your choice in the comments section below.