Google for Education makes a new partnership agreement with Figma. This new partnership will bring Figma and FigJam to Chromebook education. Figma is a designing platform, and FigJam is a collaborative whiteboard, and both tools will help students explore their creativity easily.
All US high school-going students and educators can use these tools for free. However, schools can now sign up for a beta program at the end of the Summar session or the beginning of the Fall session. Educators think the new addition of Figma in Chrome OS education will empower the next generation's creativity. We cover in detail Figma and its impact on kids' education.
About Figma
---
Figma is a lightweight web-based application that loads less power than other standard creative applications. The function of this application is similar to Google Docs. It allows the team member to collaborate on the project the similar way they collaborate in Google Docs. The only difference from Google Docs is that Google Docs enables you to collaborate on text, but Figma will allow you to collaborate on design and prototype tools.
Besides, you can annotate, take notes, make tags, and even make a voice chat with your team on the Figma platform. The educators can collaborate with the whole classroom students with Figma and find out who faces problems in designing quickly.
However, it seems Figma is less powerful than Adobe Illustrator, but its collaborative, online platform and fantastic design set are somehow more effective than Adobe Illustrator and other illustration applications.
How Does Figma Work?
---
Figma mainly has two designing tools; one is Figma Design, and the other is FigJam. Figma Design offers a set of fantastic design elements. With this tool, you can enjoy an all-in-all design solution.
This tool helps you to complete the whole design process. Drag and drop assets from the assets library, draw your imagination using a modern pen tool and apply styles- color, text, grid, or effect on your design to transform your idea into reality.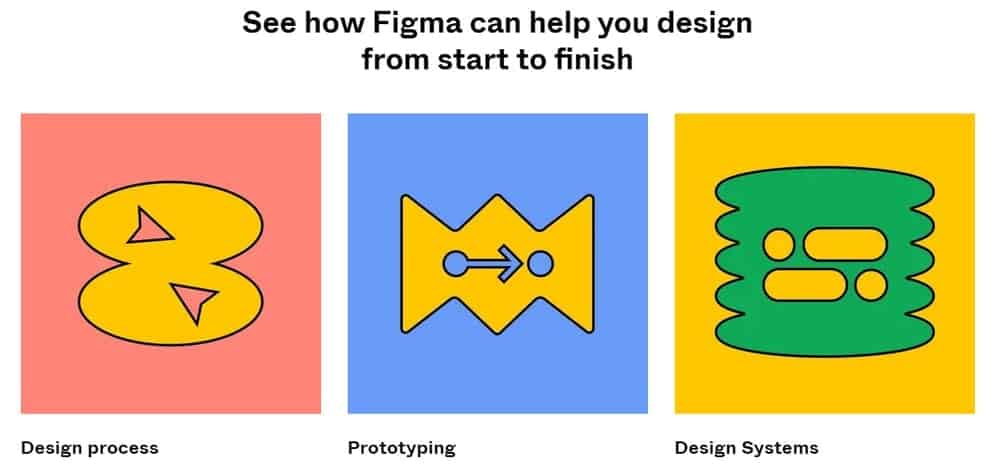 Building a website or plugin is a matter of time who use Figma Design. This tool also makes the task of web developers easier. You can use this tool to inspect your design files. Besides, you can bring life to your static design files. You can apply smart transitions, define subtle interaction, and set dynamic overlays and motions to create animation or video elements.
On the other hand, FigJam is a virtual whiteboard platform for sharing thoughts, brainstorming, collaborating, and more. In this platform, teammates join virtually, sketch their idea, map the workflow, and synthesize and organize user data. Moreover, the platform has a mode board, where teammates express their feelings through emoticons, stickers, stamps, writing chat, or audio.
Why Figma Join in Chromebook Education?
---

The primary objective of Figma is to spread the accessibility of its design tool. Chromebooks are now widely used in US schools. So partnering with Chromebook Education means connecting to a big community. By joining Chrome OS Education, Figma can make collaborative design tools available for more students and teachers inside and outside of the school.
However, after integrating Figma in Chromebooks, students' design learning scope will not be limited to school labs. Since Figma is a web-based application, students can use it on their school-provisioned Chromebooks anytime, anywhere. Partnered with Chrome OS Education, Figma helps students unlock collaborative creativity and develop design skills.
When will Figma Launch in Chromebooks?
---
The beta version of Figma will be available for students at the end of the Summar 2022 or early Fall 2022. The full version of Figma will be available in 2023.
To join the Figma beta, please go to the Figma website Chromebook section and drop your details in the prescribed form.
Why Should You Join in Figma Beta Program?
---
The world is transforming from physical to digital. Learning about digital and visual communication is more important in this changing world. While you will join in Figma beta program, you can access incredible creative tools to develop your design skills.
However, there is a misconception that Figma only teaches design, but the fact is not actual. Figma helps you develop problem-solving skills, unlock creativity, and collaborate with the team. This tool ensures more engagement and attention of the students in the classroom.
Is Figma Free for Schools?
---
Yes, Figma offers free packages for students and educational institutions, and this free offer will always be available for schools.
Finally, Insights!
---
On June 7, 2022, Figma shared a video on their website and Youtube channel about Figma and Chromebook partnership. In this video, Andy Russell, Group Product Manager of ChromeOS Google, says that "Figma is just an amazing collaborative design tool".
Figma enables kids to create early, create often, and share their ideas with others." In the same video, Dylan Field, Founder & CEO of Figma, expresses his excitement to be a partner with Chromebooks.
In the same video, educators and students also express their thought about Figma and Chromebook partnership. From the video message, we conclude that Figma makes its design easy, fun, and playful for passionate people about design, creativity, and software.
Initially, ten million students in the US schools can access the Figma in their school-provisioned Chromebooks. But Figma has a plan to expand the program internationally soon.