It's not very hard to manage web servers for most Linux powers users. However, it's certainly not a child's play, and new site owners often find it extremely difficult to manage their servers properly. Thankfully, there's a huge list of robust control panels that makes server management hassle-free even for beginners. It can also be useful for experienced server owners who're looking for convenient hosting panel management solutions. That's why our editors have curated this guide outlining the 20 best admin panel for modern web servers.
Simple yet Flexible Web Control Panels
---
Our editors have picked both proprietary and open source control panel solutions for today's guide. You can get a brief overview of each item and select your pick based on that very easily. Since each management panel has its own advantages and drawbacks, it's hard to argue which one is the best for you. You should select the one that fulfills your requirements.
1. cPanel
---
cPanel is arguably among the best proprietary management panels for web hosting servers. It rose to prominence during the WordPress boom and now supports a majority of servers across the world. It is supported in the iOS and Android platforms alongside standard Linux distros. If you're looking for a full-fledged professional admin panel, don't forget to check it out. You can sign up for a free trial that will increase your understanding of cPanel.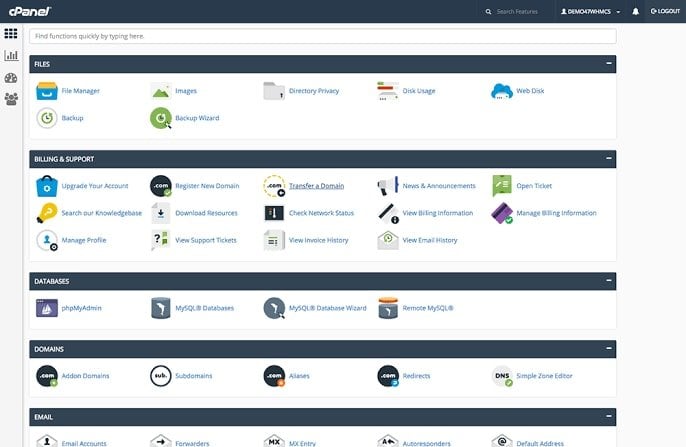 Features of cPanel
It comes with in-built support for several virtual machines, including VMware, KVM, Microsoft Hyper-V, and VirtualBox.
Mail communication is effortless and provides robust spam detection features utilizing Apache, BoxTrapper, and SpamAssassin.
cPanel offers multiple layers of security mechanisms such as password protection for directories, GnuPG Keys, IP firewalls, and SSL/TLS.
It offers a convenient file manager for monitoring disk space usage and creating backups of your web drives.
2. ISPConfig
---
ISPConfig is a popular admin panel based on Linux and is used extensively around the world. It is written in PHP and is released under the BSD license. So, you can easily tweak the application to match your problem. ISPConfig enjoys more than 40,000 downloads per month due to its rich features and versatile management tools. It allows site owners to manage their servers directly from their browser.
Features of ISPConfig
ISPConfig allows admins to manage multiple web servers using a simple, dedicated control panel.
Admins can easily manage multiple email credentials using ISPConfig's robust mailing features.
ISPConfig takes care of many essential tasks like Linux Cron jobs, DNS, Shells, and MySQL databases.
It allows admins to manage both Nginx and Apache servers and implements the Courier and Dovecot mail transfer solutions.
3. Plesk
---
Plesk is a centralized admin panel that allows users to manage multiple web servers from a single dashboard at ease. It offers many functionalities similar to cPanel but emphasizes more on security. Plesk categorizes its management solutions based on role, edition, and cloud. So, it's straightforward to choose the appropriate dashboard and getting started with this fantastic software. All in all, Plesk is the ideal choice for enterprise servers and professional project management.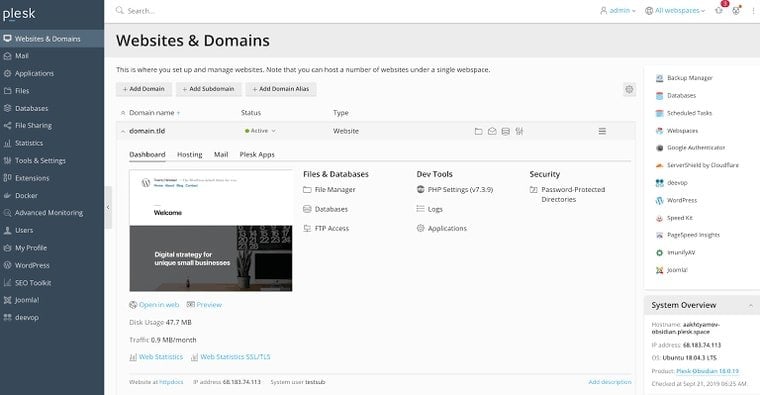 Features of Plesk
Plesk comes with more than a hundred pre-built extensions designed for making large-scale web management easier.
It's an excellent choice for WordPress site owners due to its powerful integration of this CMS, and robust, flexible toolkits.
Plesk is compatible with every standard hosting platform such as AWS, DigitalOcean, Microsoft Azure, and many more.
The web management panel of Plesk provides various built-in web utilities for enhancing security across OS, applications, and networks.
4. Ajenti
---
Ajenti is, without any doubt, among the best admin panels you can get your hands on for free. It is a popular dashboard among many Linux-based web developers and site owners for this reason. Ajenti's responsive web interface makes setting up and managing servers totally effortless. Moreover, a plethora of pre-built extensions will help you configure the admin panel based on your requirements pretty quickly.
Features of Ajenti
Ajenti is readily available on most Linux and BSD distros, including Ubuntu, CentOS, Red Hat Enterprise, Debian, and Gentoo.
It is extremely lightweight and portable software, requiring roughly 30 MB memory with an addition of 5 MB per session.
Ajenti comes with a fast remote terminal, text editor, file manager, and other utilities required for managing remote Linux virtual machines.
It is an entirely open source and can be easily customized using the Python and JavaScript programming languages.
5. OpenPanel
---
OpenPanel is undoubtedly one of the best open source control panels present in this list. Although available for free, OpenPanel offers a rich set of features that makes managing remote servers both effortless and productive. It comes with a powerful CLI alongside an intuitive AJAX Web interface that allows admins to create users, domains, emails, and other related entities. If you're looking for modern system administration applications that won't break your bank, OpenPanel is worth a try.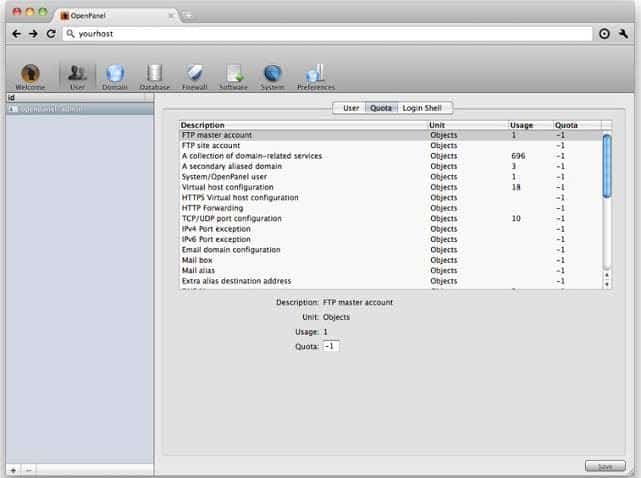 Features of OpenPanel
It allows in-built support for virtual Apache hosts, PureFTPd chrooted ftp-accounts, Courier-IMAP hosted mails and MySQL.
OpenPanel provides OpenSSH access to admins and offers compelling yet flexible Linux iptables configuration.
The modular architecture of OpenPanel encourages admins to enhance their system's functionality using custom-made modules.
OpenPanel features a simple yet attractive looking user interface with native JavaScript support.
6. EHCP
---
Easy Hosting Control Panel or EHCP is one of the best free web hosting control panel you can get. The application is full of useful features that allow admins to create and manage remote servers at ease. It comes with pre-built support for PHP-FPM and the Nginx web server. However, EHCP doesn't support Apache and is therefore not the right choice for sites that serve a lot of dynamic content.
Features of EHCP
EHCP is exceptionally suitable for managing web servers that serve an excessive amount of static content.
It allows admins to easily create and manage their MySQL databases, email accounts, domains, and FTP accounts.
EHCP is an excellent solution for low-cost servers due to its lightweight build and negligible resource consumption.
Admins can securely create a large number of users and resellers and set required permissions from the dashboard.
7. Kloxo
---
If your remote server is running on RHEL or CentOS, Kloxo might be the best web hosting control panel for you. It is a full-fledged admin dashboard packed with numerous advanced features. Although the software is currently not in active development, you can quickly get your hands on the source code. However, Kloxo requires more than 2 GB of free storage space prior to installation. Additionally, we recommend a minimum of 1 GB of RAM to supplement your performance.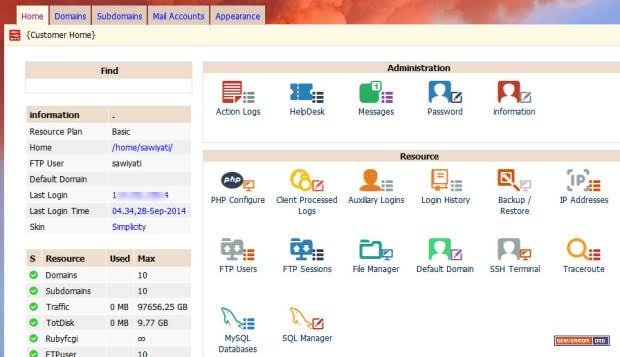 Features of Kloxo
It comes with in-built support for many conventional hosting server applications such as Apache, Lighttpd, Djbdns, Bind, and FTP.
Kloxo allows admins to easily backup their entire hosting environment using robust backup/restoration utilities.
It comes with in-built support for MySQL and allows admins to manage their databases using PhpMyAdmin effortlessly.
Kloxo comes integrated with robust utilities for billing, ticketing, and messaging and supports productive workflows.
8. ZPanel
---
ZPanel is another open source web hosting panel that admins can freely use. It is available for both Windows and Unix platforms. So if you're concerned about compatibility, ZPanel can be a good pick. Moreover, the open source GNU GPL license of this admin panel allows developers to extend the application as they want. Since ZPanel is written using PHP, it's straightforward to modify or customize this application.
Features of ZPanel
ZPanel sports a friendly user interface, which is simple to use yet makes remote hosting management a breeze.
It comes with a plethora of open source applications required to fuel web servers, including PHP, Apache, MySQL, and Filezilla.
ZPanel provides compelling web API integrations that will help to maintain automated production.
Admins can easily create and manage multiple domain names, DNS, emails, FTP accou8nts, and Databases from the dashboard.
9. ispCP
---
ispCP or Internet Service Provider Control Panel is a compelling admin dashboard for hosting providers, internet service providers, and other IT professionals. It offers many modern-day features packed with a versatile user interface. It is straightforward to install and get running with this software. Moreover, it provides all the features required by starting enterprises for free. Overall, ispCP would be a feasible alternative to paid control panels for small to medium-sized businesses.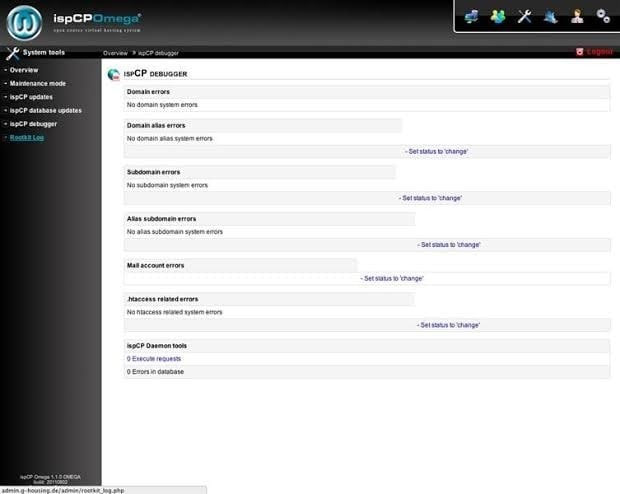 Features of ispCP
It comes with an outstanding ticketing system that allows admins to automate customer service managements.
ispCP will enable you to easily create multiple user accounts, resellers, and other associated entities required for remote servers.
The email management features included robust antivirus and antispam utilities alongside standard items.
ispCP comes with in-built support for Apache, ProFTPd, Courier, Postfix, PHP, Perl, and the MySQL database.
10. VHCS
---
VHCS is another one of those open source control panels that make you wonder whether you should really pay for a proprietary dashboard or not. It offers exceptional features that are more than enough for new hosting providers and other related businesses. It is extremely easy to manage remote Linux VPS using its robust and intuitive web interface. Moreover, it comes with default support for PHP, Linux file manager, online support system, and many more features required for remote hosting management.
Features of VHCS
VHCS comes with in-built support for numerous applications that allow users to create and configure Apache servers instantly.
Resellers can add an unlimited number of domains, sub-domains, aliases, email accounts, and MySQL database instances.
It comes pre-equipped with SSL/TLS and can be used for efficiently managing a large number of SSL certificates.
VHCS's open source license allows IT professionals to extend the software based on their requirements.
11. Webmin
---
Webmin is a modern-day control panel for remote servers, and hostings. It is written in Perl and comes with the BSD Clause 3 license. So you can modify the software for personal distributions without any problem. The web-based user interface of Webmin allows admins to manage their Linux virtual machines entirely from their terminals. Another great thing about Webmin is that it's under active development. So, you can always get free bug fixes and new functionalities.
Features of Webmin
Webmin offers a plethora of standard modules that allow admins to extend the functionality of their control panels as they want.
It ships with the mighty powerful Fail2Ban intrusion detector, which protects your server from brute-force and blocks malicious IPs.
Webmin offers a Perl-based simple, fast, and lightweight file manager alongside a compelling backup utility.
Admins can easily create and manage DHCP, Clusters, Linux Cron jobs, mails, and mail configuration software.
12. RavenCore
---
RavenCore is a simple but useful open source control panel for Linux. It was developed as an alternative to premium control panels like cPanel. Although not suitable for managing large-scale IT infrastructure, RavenCore still offers plenty for small and medium-sized IT businesses. It is developed using Perl and Bash in the backend and PHP for the web interface. So, if you're looking for a simple dashboard that can manage basic infrastructure, RavenCore is worth a look.
Features of RavenCore
RavenCore ships with Apache, MySQL, PhpMyAdmin, Postfix, and other essential web server applications.
The software is exceptionally lightweight and resource-friendly, thus an excellent solution for old legacy hardware.
Developers can extend its functionalities without any further permissions due to its open source license.
RavenCore is not the ideal solution for creating modern, large-scale IT facilities due to its legacy feature set.
13. Virtualmin
---
Virtualmin is among the most lightweight but effective control panels for managing remote Linux servers. It is specially designed for managing Apache servers. So if you're going to serve a lot of dynamic content from your server, Virtualmin could be the perfect solution for you. Moreover, it comes pre-installed with MySQL, Sendmail, Postfix, BIND, and other essential utilities required for configuring servers. Overall, Virtualmin is a viable solution for domain hosting and resellers.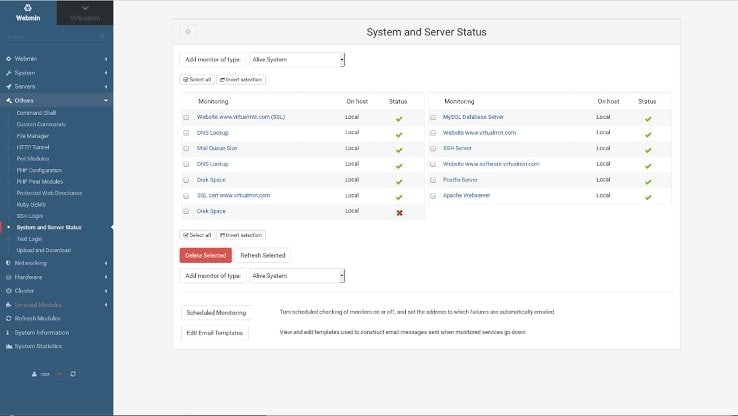 Features of Virtualmin
Virtualmin is written using the Perl programming languages and can be used even on legacy hardware.
It allows admins to easily create and manage a large number of domains, virtual servers, mails, databases, etc. from the web interface.
Virtualmin comes with out of the box support for several third-party utilities for managing domains and resellers.
The monitoring features of this server control panel allow admins to visualize their server usage using graphs, logs, and alerts.
14. DTC
---
DTC or Domain Technologie Control is another simple but productive control panel that allows site admins to set up virtual web servers very fast. This web server software is built to meet the demands of modern hosting providers. It comes pre-built support for chrooted CGI-bin. Additionally, the web interface is easy to use and provides all the essential features needed to create and manage large-scale domains, sub-domains, user accounts, mails, databases, and so on.
Features of DTC
It offers robust store integration with registration forms and payment gateways pre-installed.
DTC comes with in-built support for several billing mechanisms for invoices, renewals, and other such tasks.
This hosting control panel allows admins to monitor the server's bandwidth usage in real-time.
DTC allows admins to set up automated backup jobs and offers powerful antivirus and antispam tools.
15. DirectAdmin
---
DirectAdmin is a proprietary web hosting control panel for hosting retailers and resellers. It runs perfectly on Linux and FreeBSD but isn't very portable. DirectAdmin comes with separate admin panels for administration, users, and resellers. It's also quite easy to create different entities and specify their roles. Admins can quickly see all the user accounts and pinpoint any potential problems. So, if you're looking for professional dashboards for managing your hosting business, don't forget to check DirectAdmin.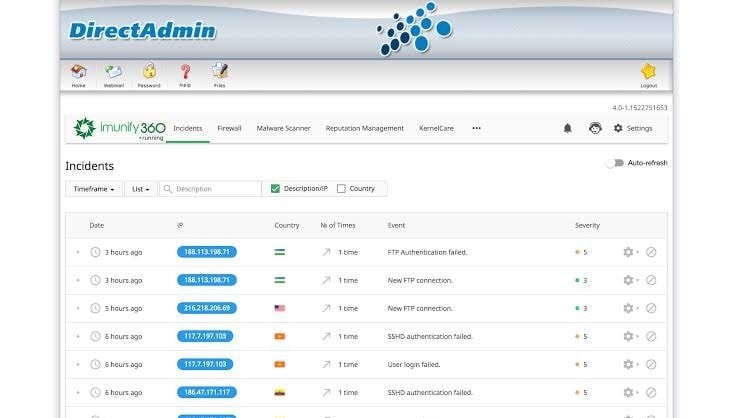 Features of DirectAdmin
The compelling IP manager utility of this control panel allows admins to allocate, view, and change available IPs very quickly.
DirectAdmin comes with a handy Mail Queue tool, which allows better handling of email communication.
The DNS administration feature is robust and can be used for creating, modifying, or removing DNS records very fast.
DirectAdmin features a massive selection of robust antivirus and antispam protection alongside efficient monitoring tools.
Get DirectAdmin
16. InterWorx
---
InterWorx is yet another paid solution for managing hosting businesses and personal sites. It is a modern-day web hosting control panel that is divided into two different interfaces. The NodeWorx interface is used by the server administrator for managing the infrastructure. And the SiteWorx interface is for managing a particular website by its owner. Overall, InterWorx provides a capable solution for both site owners and hosting providers.
Features of InterWorx
Hosting providers can use NodeWorx for viewing system services, server information, and other usage statistics with dynamic graphs.
The SiteWorx interface allows site owners to easily create and configure domains, users, emails, databases, and so on.
Admins can easily backup their websites using the one-click backup feature present in the SiteWorx interface.
NodeWorx enables hosting providers to configure their hosting plans based on available resources easily.
17. BlueOnyx
---
BlueOnyx is a full-fledged server distribution based on CentOS and Scientific Linux. It aims to provide a capable open source hosting panel that can be used by hosting retailers without any further modification. BlueOnyx provides a turnkey web server with all the features required by modern web applications. It sports a friendly GUI interface, which allows admins to create and manage site resources easily using mouse clicks.
Features of BlueOnyx
Admins can simply download the ISO files of their choice and install BlueOnyx on their hosting.
BlueOnyx comes with support for chrooted jails with SSH or SFTP access alongside Nginx SSL proxy.
It offers in-built support for Apache, MySQL, Sendmail, ProFTPd, Dovecot, and many more server utilities.
The robust Net2FTP integration allows admins to manage the file transaction of their users easily.
BlueOnyx implements several layers of security, including brute-force detectors and IP firewalls.
18. Froxlor
---
If you want to build a full-fledged Linux server out of your average Linux machine, Froxlor is an excellent solution for you. It is a simple and lightweight server dashboard known for its low resource usage. Although not as powerful as cPanel or Plesk, Froxlor offers many robust features that can easily live up to the expectation of starting hosting enterprises. Our editors found it to be one of the best open source control panels for small to medium-sized businesses.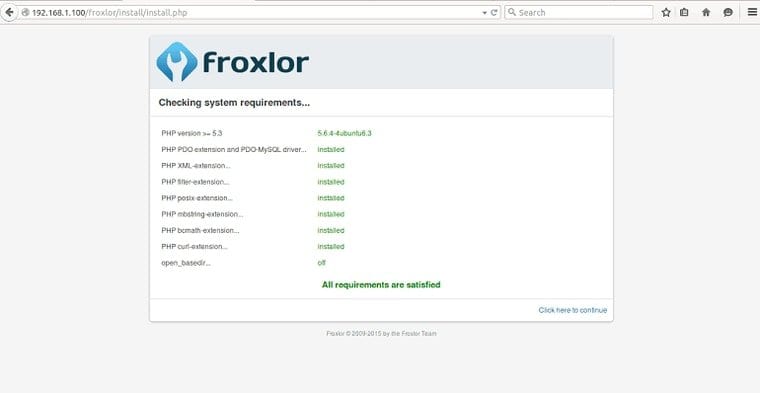 Features of Froxlor
Froxlor comes with advanced SSL support that allows admins to specify their secure ports.
Admins can efficiently work with and save different PHP environments and define which one to use for which domain.
It's incredibly straightforward to manage and limit the hosting resources to resellers and customers from the dedicated panel.
Froxlor's robust web APIs make it very easy to integrate it with third-party applications and modules.
19. ISPmanager
---
ISPmanager is one of the best proprietary control panels for large-scale servers. It is a great platform that provides several useful features, including support for both Apache and Nginx, easy backups, secure databases, and so on. A lot of startups are using ISPmanager for its diverse feature set and competitive price tag. So, if you're new hosting provider browsing for the best hosting panels for your business, ISPmanager is worth a look.
Features of ISPmanager
ISPmanager offers effortless integration to Let's Encrypt certificates, Imunify AntiVirus, and many more external modules.
This hosting control panel allows sites to be hosted on both the Apache and Nginx web servers.
Admins can easily create and manage their site's DNS records using ISPmanager's flexible GUI interface.
New customers can use the free trial demo of ISPmanager to see how much it lives up their requirements.
20. VestaCP
---
VestaCP or Vesta Control Panel is another open source server management software you can use for your hosting business. It comes with quite some useful features, including a fast web interface, easy site management, superior scalability, and so on. VestaCP implements a freeware business model where you get all the core functionalities for free but may increase features at any time using commercial plugins. We highly recommend VestaCP for new hosting providers.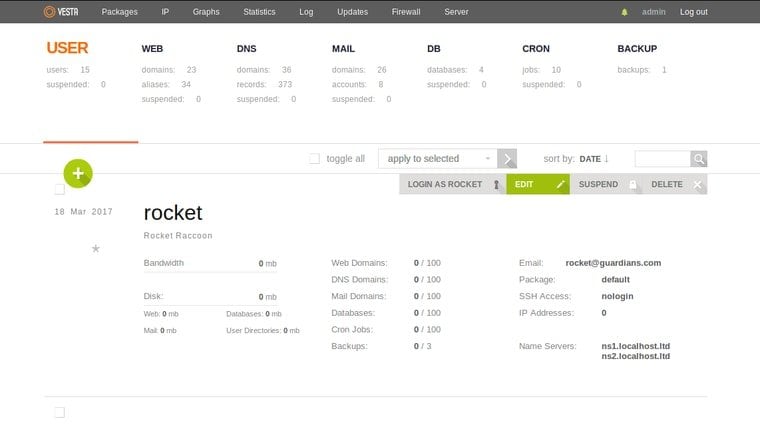 Features of VestaCP
The robust web interface is developed with PHP and JavaScript and provides many flexible web APIs.
VestaCP comes pre-configured with Fail2Ban, PHP-FPM, SpamAssassin, Exim, and other essential server tools.
Admins can easily create and manage Linux Cron jobs alongside the MySQL and PostgreSQL databases.
VestaCP provides a fast terminal emulator for managing the webserver from remote command shells.
Ending Thoughts
---
Since there're multiple control panels for webserver management, it's hardly an easy job to find the best one. Moreover, the right management tool often depends entirely on the user's criteria. Thus our editors have gone through a long list of such software comprising of both proprietary and open source control panels. You can try out the ones that seem appropriate for your use case before determining a specific one. Hopefully, we were able to provide you the essential you were looking for. Bookmark us for getting new Linux and open source guides to read in your free time.