Netbeans is an open-source IDE known for its easy usage, intuitive interface, and Java implementation. However, users sometimes have their own preferences for which they might wish to use one of the other NetBeans themes. And there are plenty of options to choose from!
That said, themes aren't just used to make the software look pretty. They have a lot more to them and actually contribute much to the user experience besides the UI. Different themes in IDEs work to keep the codes organized and enhance their readability, among other benefits.
Best Netbeans Themes and Color Schemes
---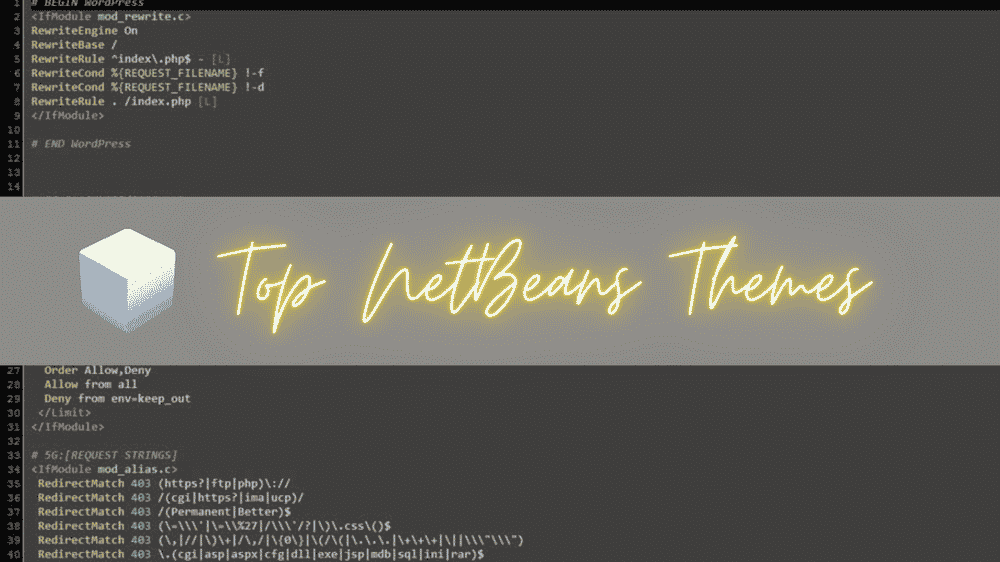 So, if you want a change of scene for your NetBeans IDE or simply wish to enhance it, let's explore some of the best themes we know of to help you choose which suits you best from fifteen of them, as discussed below.
1. Obsidian Color
---
Many users like their Netbeans themes dark – and the name Obsidian Color just screams "dark!" In that regard, Obsidian Color is a Netbeans theme plugin that will turn your regular and bland-looking editor into a world of black, green, white, and orange. That said, the theme has a lot more to offer – so let's take a look at the theme's most significant features below.
Key Features
DejaVu fonts allow users to use a wider set of characters from the Unicode Universal Character set without changing the IDE's original feel.

Boosts the performance of your IDE if you're using Netbeans version 8.0 or higher.

It comes with different coloring for different programming languages such as Java, PHP, Groovy, JavaScript, and more.

The theme plugin can run cross-platform smoothly since Netbeans is mostly designed to work with Object-oriented languages.
2. Sublime Text Theme
---
Sublime Text is another IDE, much like Netbeans, and has a default theme that was a hit with the IDE users. However, Netbeans has a ton of benefits when it comes to programming compared to Sublime – so many users inevitably need to switch. If you are one of those people, no worries; you can get the same feel while enjoying Netbean's easy functionalities by installing this theme.
Key Features
Multi-cursor features allow users to work with increased efficiency and advanced selection features.

It has an exciting code highlight feature so that you don't forget important parts of your code.

Allows you to customize the colors of different actions of your code to your convenience so that you can easily refer back to them when necessary.

The theme has a variety of fonts that can improve your code's readability and make it look neater.
3. Dracula
---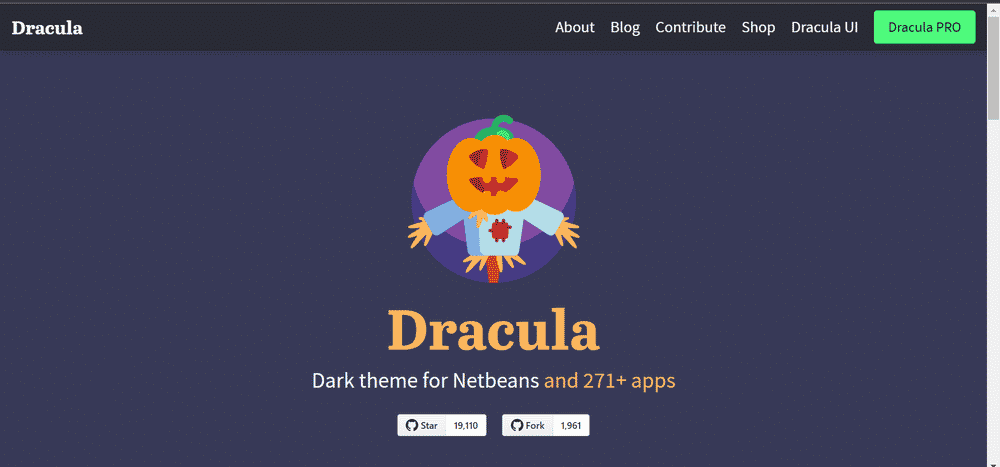 The name Dracula comes with a strong reminder of Count Dracula – the infamous blood-sucking creature of the night. That said, the Dracula Netbeans Theme will also coincidentally remind you of the night with its dark blue background that highlights texts like city lights and makes coding a better experience with added functionalities.
Key Features
Dracula is a verified theme, meaning it is highly secure and will not wreck your IDE with any embedded malware.

The theme can be paired with the Dracula LAF plugin for extra flexibility, such as customizing colors to make them more readable.

It is compatible with the latest JDK versions to ensure you get the smoothest performance even while running heavy Java codes.

You can also integrate custom fonts into the theme to get a more personalized feel while working.
4. Avanzzzi V3
---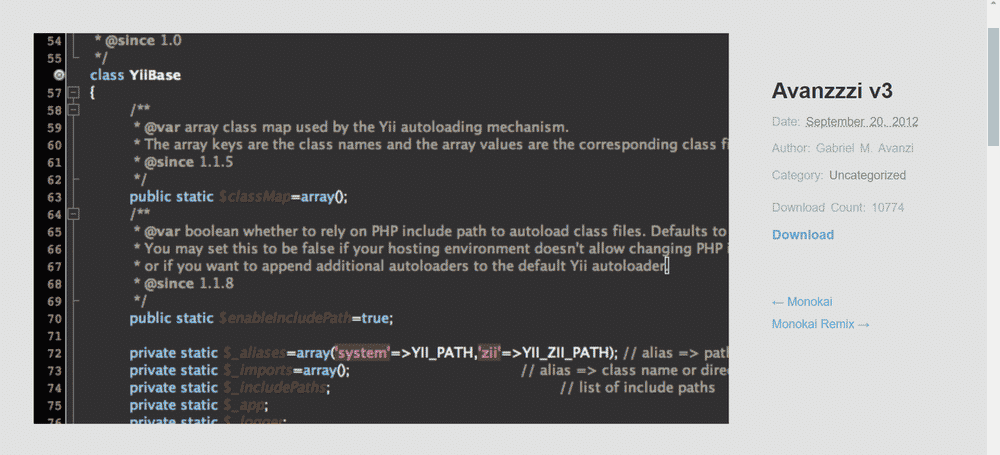 The Avanzzzi V3 can really make your Netbeans themes dark for those who like monotones but would still like a touch of color and darkness. It is a cool theme with features that allow different customizations, adding to the user's convenience. So let's take a look at what it has to offer to give you a clearer context of this theme.
Key Features
It can highlight code elements with a variety of colors so that you can let your teammates understand which points you want them to focus on while working together.

The theme works smoothly for Java and PHP, two of the main languages for which users come to Netbeans.

It has a dark yet subtle look that reduces eye strain so users can work longer without tiring their eyes too much.

Although third-party, the theme has over 10K active users – so you can be sure that the theme is safe to use.
5. Monokai Sublime
---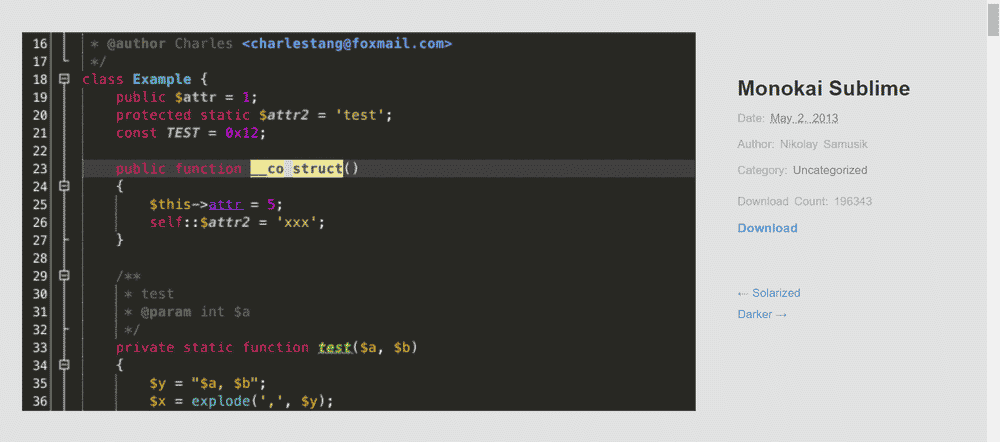 Even though we already covered a Sublime Text-related theme in this discussion, our list of top Netbeans Themes will be incomplete without mentioning the legendary Monokai Sublime theme that feeds on true Monokai-tuned colors and has advanced features that make it a user favorite. So, let's dive deeper into its features below.
Key Features
Different code elements can be assigned different colors to help format the code better and enhance readability.

The theme's negative Space indication allows you to create neat-looking codes without making your program resource-heavy.

Anti-aliased feature for Windows fonts lets you enhance your display resolution and is better than traditional font arrangements.

It is a GUI plugin theme that was made to enhance your all-over coding experience.
6. Zenburn
---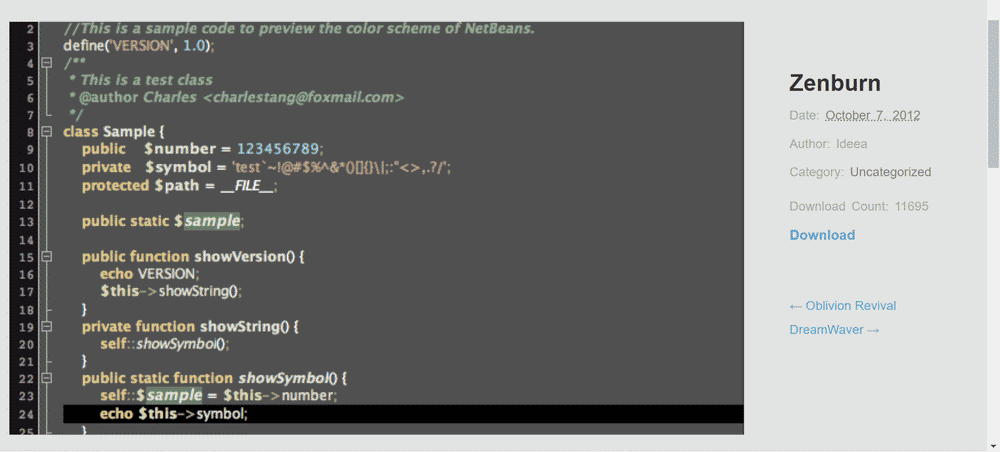 Zenburn is a theme for Netbeans known mostly for its unique color schemes and flexibility in usage. It gives users an enhanced coding experience and tires them less due to its dark background with readable fonts. The inspiration for the theme was obviously taken from the word zen which refers to peace and calm.
Key Features
The theme isn't limited to Netbeans only and is completely compatible with other IDEs, which can prove to be helpful in certain scenarios.

The theme is integrated with a ton of highly-readable fonts, which help users understand codes without straining their eyes.

One can change the theme's colors as per their needs to easily understand code elements.

You can even use it on Notepad++, which is a text editor, so it is a versatile theme.
7. Icarus
---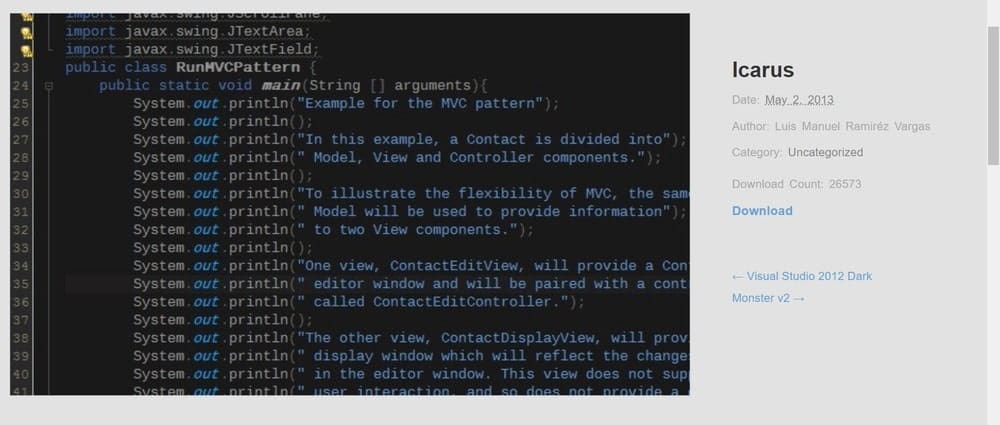 Have you heard the Greek tale of Icarus, whose wax wings melted as he didn't heed his father's advice? Rest assured, this theme will not be a foolish choice like Icarus's tale, but you can certainly get the Greeky to feel with its blue and white color schemes. So let's take a look at what more it has in store to be worthy of your time.
Key Features
It comes with a syntax highlight feature that helps with code readability.

Its neat minimalist outlook makes your program look more organized.

The theme works well for both structured and object-oriented programming languages.

It has color customizations for different languages so you can better organize your syntaxes.
8. Solarized
---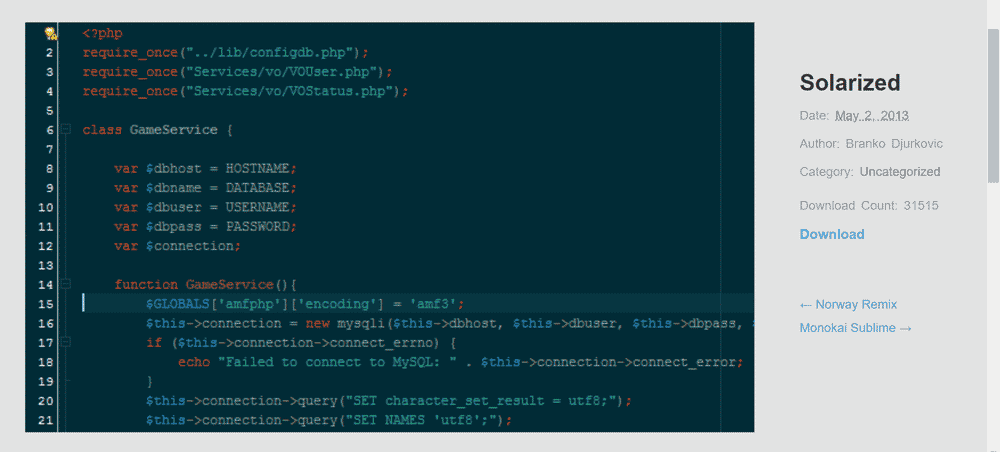 The solarized theme improves your programming time with its dark tone and perfect contrast between the texts and the background. Many have appraised its open-source nature and smooth functionalities, among other praise-worthy features. So let's explore what key features the theme has to offer below.
Key Features
Highlighting elements help you remember important code segments and method sources.

There's a special focus on being eye-friendly, so its colors are well-balanced.

It comes with neat-looking fonts that give your code a neat outlook.

The monospace-repacked theme further enhances your user experience with Netbeans.
9. Brighter Tilight
---
VietTQ's Brighter Tilight makes use of a well-balanced contrast between a dark eye-soothing background and earthy tones for font colors. It is the polar opposite when you think of NetBeans' default outlook that reminds us of hospital color schemes. However, users welcome the color change, which is a favorite of many.
Key Features
The theme is more secure as you need to extract the config folder and build info further after extracting the zip file in order to import the theme into your Netbeans.

It's a brighter version of the twilight theme, so it has better readability with the same functions.

Brighter Tilight's casual-looking font gives you a laid-back feel that de-stresses your mind a bit while programming.

You can easily assign different color schemes to your code elements to distinguish them from one another.
10. Visual Studio Dark
---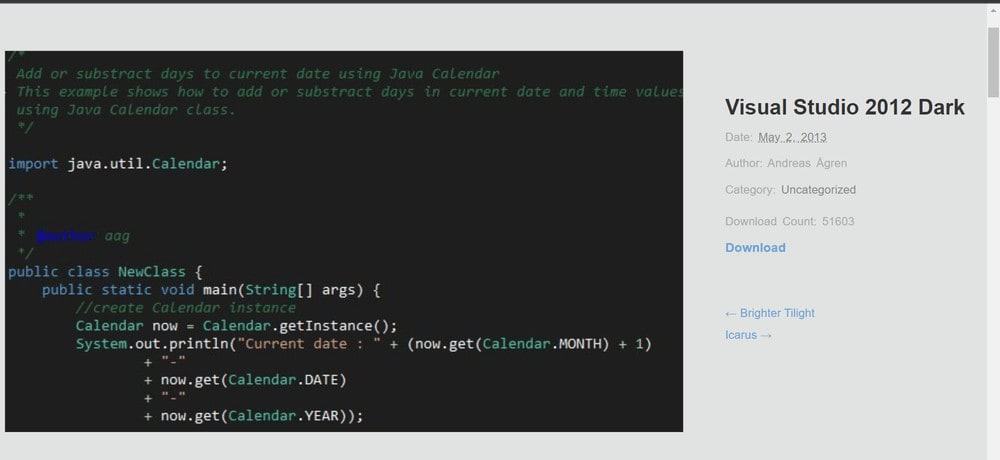 If you are a fan of VS code but do not like its hard-to-navigate features, you can still get the same feel while using Netbeans by using the Visual Studio Dark theme. All you need to do is download the theme, go to Netbeans, navigate to menu >> tools >> Options >> Fonts&Colors >> Theme Download, and then restart your IDE.
Key Features
The theme works for both VS and Netbeans – however, you can get a light version for VS but not for Netbeans.

You can integrate the theme with custom font choices for better readability.

It can be set as the default theme for your Netbeans so that you can use it with languages other than Java.

The theme is compatible with Netbeans version 8.0 and higher.
11. Atom Color and Fonts Theme
---
Atom is a versatile code editor developed by Github that runs on the Electron framework. It supports cross-platform and language compatibility and has embedded Git control. The Atom color and font theme lets users get the same feel and functionalities as you would with Atom's editor interface.
Key Features
The theme's UI aspect lets you adjust the color of your Netbeans to a well-balanced color scheme between the dark background and light text.

Syntax highlights are available to enhance code optimization by helping users distinguish between different code elements.

It is compatible with all Atom fonts along with any other custom fonts for your convenience.

The theme plugin is easy to install and quicker to set up, which is a great start for new users.
12. Norway remix
---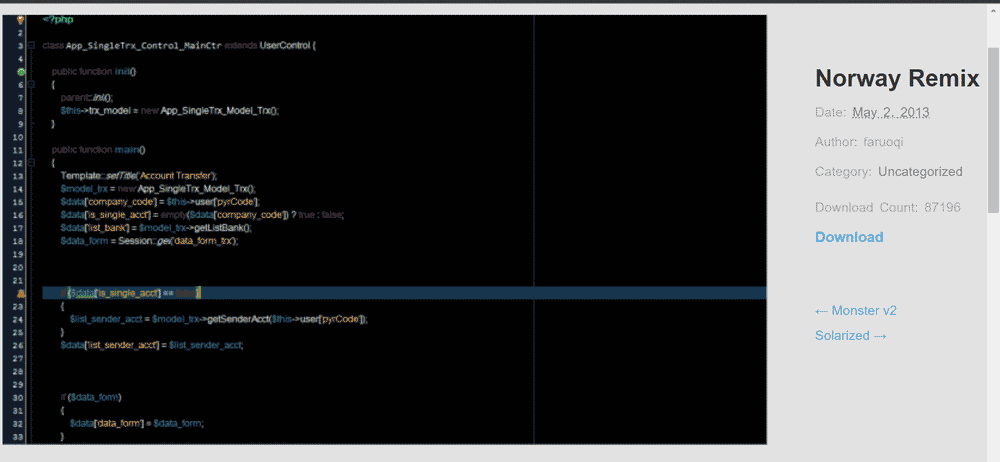 Norway remix is a theme inspired by the Norway Today theme. However, one can consider it to be a better version which is why we are mentioning it instead. The Netbeans theme has cross-platform compatibility, which can help when working with different operating systems or even doing peer programming.
Key Features
Colorful variable highlights make them easily accessible and readable, while the dark background reduces eye strain.

Highlights the hint icons to fix errors with the program as soon as you make them.

It is compatible with different fonts and can be color customized per user needs.

The theme is lightweight, so it does not hinder your experience with Netbeans.
13. Monster V2
---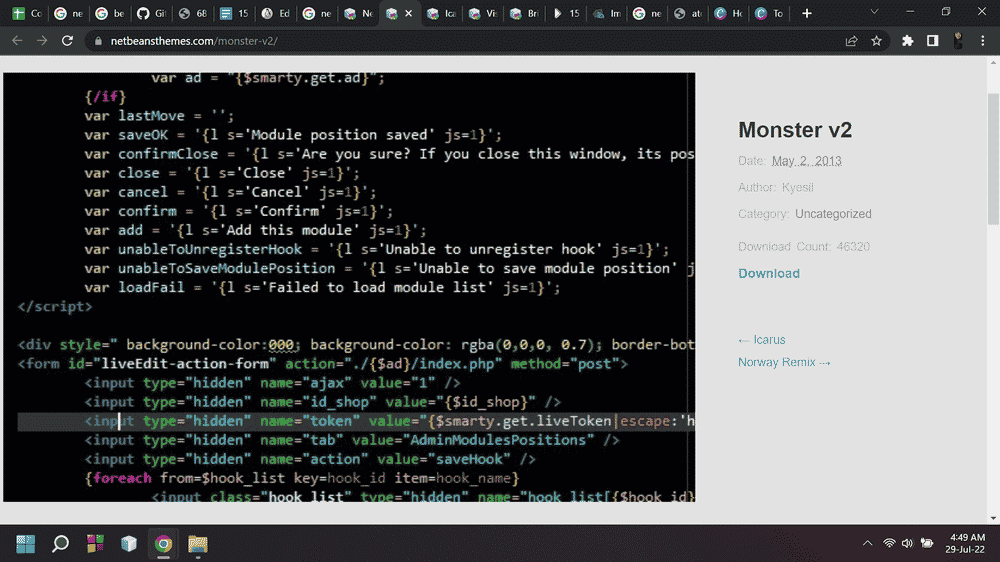 Next on our list of best NetBeans themes is Monster V2, a strong reminder of the Monsters Inc. movie due to its color schemes that match well with the movie's lead characters. What's even more fun is that programming concepts use logic gates to obtain reliable outputs, and gates play a big role in the Monsters Inc movie. That said, let's see what makes this theme so great!
Key Features
Works on Netbeans version 8.0 and higher even though the theme was developed in 2013.

Includes a highlight feature for different code elements that is customizable for different languages.

One can integrate custom fonts with the theme for convenience and readability.

It works well for all languages supported by the Netbeans IDE.
14. Cyberpunk 2077
---

If you are a gamer, the name Cyberpunk 2077 is nothing new to you, and we can guarantee that you'll totally fall in love with this Netbeans theme in seconds. The Cyberpunk 2077 theme is perfect for those who find themselves more productive at night due to its eye-friendly color scheme and dark background.
Key Features
You can highlight code elements with noticeable neon colors that you can recognize from far away.

It is easy to integrate the theme with custom fonts and colors as per your liking to give you better comfort while working.

The theme is versatile with its programming language support and works excellently cross-platform.

Its lightweight nature and open-source features make it more attractive to programmers.
15. Vim Desert
---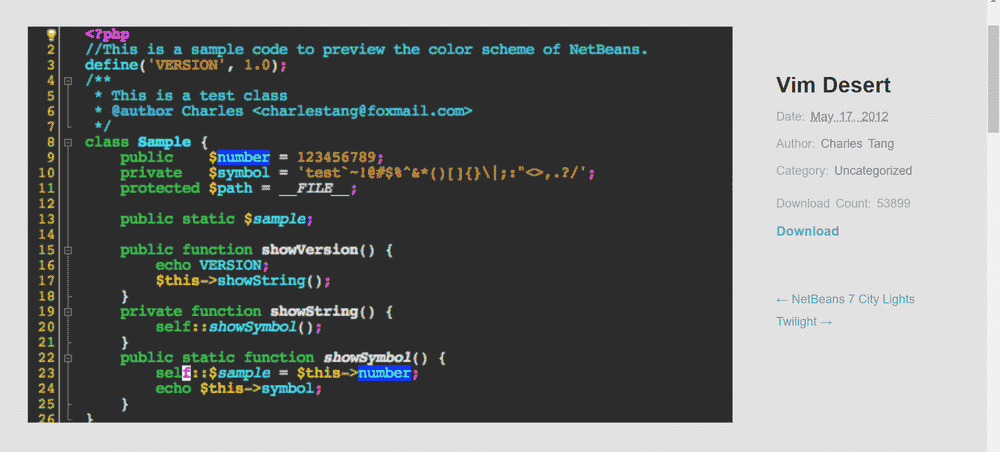 Vim is a highly configurable text editor that works well for Unix, BSD, and MacOS platforms. Although Vim's user count has significantly decreased as many find its interface hard to work with, the editor still has a large cult following. Vim Desert is a take on bringing back the Vim feeling with easier Netbean functionalities.
Key Features
The easy installation process saves your time and motivates you to code longer.

One can easily customize fonts and colors for better organization and readability.

The theme's dark background with Vim's color scheme makes an eye-soothing combination.

It supports all the programming languages compatible with Netbeans and allows you to customize color schemes for different languages.
Ending Words
---
That was all that we had to talk about regarding the best Netbeans themes, even though there are tons of other options to talk about. However, that's a story for another day. For now, you should definitely take a look at the ones above and let us know which you liked best.
You can also contribute your own theme to the Netbeans community by going to the Apache Netbeans Plugin Portal or uploading to and downloading one of the above from NetbeansThemes.com. That said, do leave us feedback if you enjoyed this write-up. Thanks for reading!