The competence of any corporate worker or any software engineer, or any highly paid programmer depends on how well he or she can manage the working time. The professionals pay their employees based on their hourly work. To enhance efficiency, the proper project management, the liability towards work – time management is the must. To control time expenses, numerous time tracking software will work as a panacea. Among them, Linux time tracking software will work as an amelioration for the programmers or any people of other occupations.
Leo Tolstoy said, "the two most powerful warriors are patience and time."
Linux time tracking software is gaining eminence for its facile to install and reliable features. This computer software removes the inconvenience of billing and invoicing clients and provides supervising of different projects and tasks. Proper computer software needs to be expeditious, and the betterment of any project depends on this kind of software.
List of Best Time Tracking Software
---
To assess the workflow for better productivity, we suggest the top 20 best time tracking by scrutinizing and taking reviews from all over. We hope you will get the ins and outs of 20-time tracking software by exploring this article, and this list of the insights of the software are presented neither in any quality order nor in any individual rate. But above all, the choice of any software depends on the user's requirement. Hopefully, it will be advantageous for those who want to keep track of time spent on tasks.
1. actiTIME
---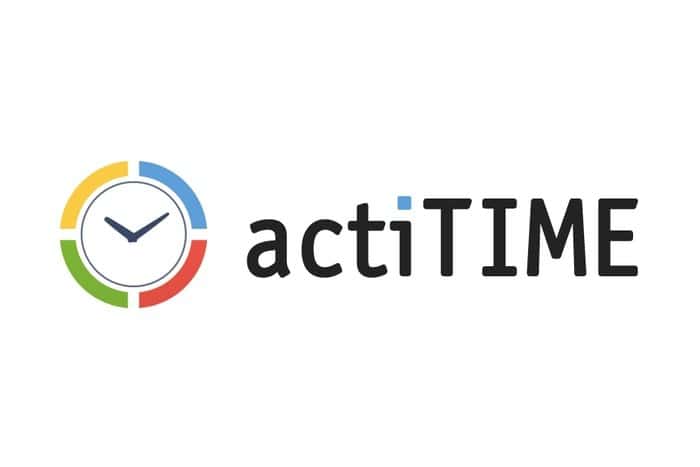 An innate time tracking and work management system which runs as a web application in the cloud or on the company's internal service is known as actiTIME. When you connect your device with the Internet or any WIFI, you can easily enter the cloud solution. It is reconcilable with both Windows and Linux platforms. It is also suitable for not only individuals but also teams. It is completely free, and you can start a timer in a mobile app without using Excel and other paper timesheets.
Features of actiTIME
Track time with full enthusiasm.
Handy for managing user accounts.
Swift in sorting reports in one click.
Accurate Client Billing and statement maintenance.
Useful for email reminders and tracking of absent employees.Beneficial for accountants and Human Resource.
2. Project Hamster
---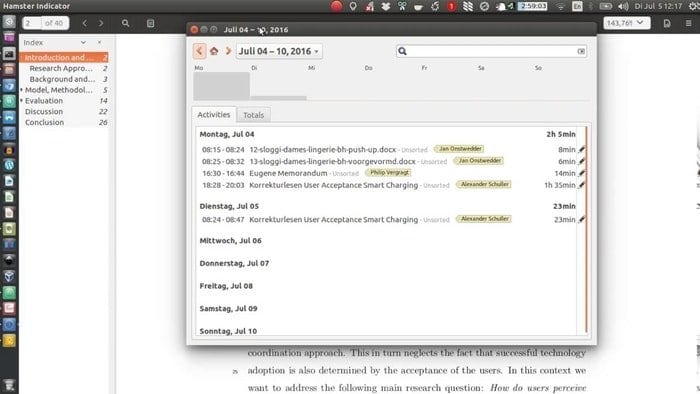 A time tracking software appropriate for individuals and as a Gnome application supported by a mature community of more than 100 contributors – is none other than Project Hamster. Its simplicity, tracking all the data into an HTML report, tagging all the activities for easier sorting, editing -all of these features make it exceptional. As it is designed only for Linux, we hope to get updated. Here everything is instructed in a simple Activity window. We have to keep in mind that once we change the activity, Hamster will stop tracking it, and we have to add the new manually.
Features of Project Hamster
It is all about three things: tracking time while doing tasks, calculating in total, and then converting data into an HTML report.
By tagging, the results will be split and depicted in the Statistics slot.
Has an intuitive graphical interface.
Configures idle/off detection.
3. Kimai
---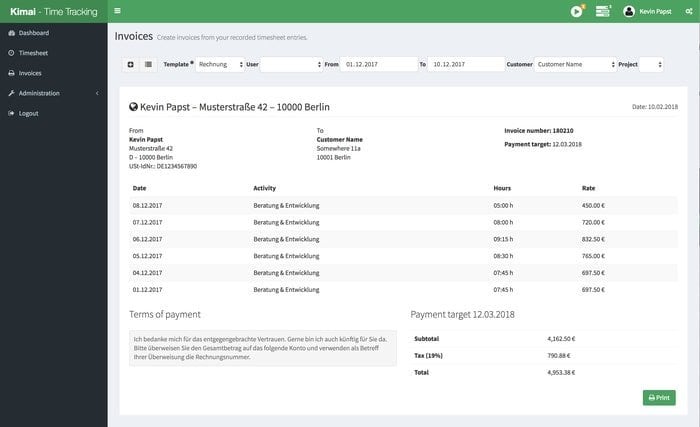 The open-source time tracking software, which works as a manifold working folder manager and classifies time, is known as Kimai. We can print the timesheets according to our daily projects, customers, and actions. Experts recommend it for its cross-platform, cross-network. It supports 15 languages and also records the time when the device is closed. It can customize invoices, entries, expenses.
Features of Kimai
It is web-based software.
We can install it as a web service and operate it where the internet connection is available.
Multiple consumers: Customers, Workers, Admins. It has many extensions, which make it more equipped.
Kimai underpins entry of project budgets, expenses, invoice experts.
4. Rachota
---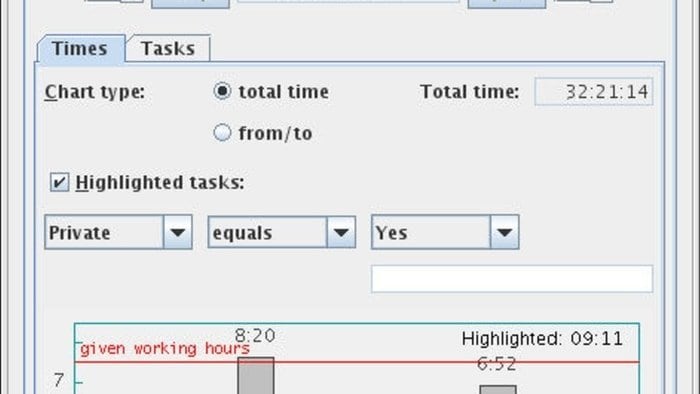 It is compatible with individual work. Rachota is an open-source portable time tracking software for Linux, Windows, and Mac OS X. It is totally out of cost. We can operate it everywhere- it is the aspect that makes it extraordinary. The reason behind it is that it permits keep time tracking data on a USB drive. It is a Czech word that means manual work. It is a Java application and extremely compact. It has feedback capability. The software presents time data in diagram form, analyses the work, and suggests how to manipulate their time.
Features of Rachota
It formats reports or invoices as HTML, CSV, or TXT files.
The scrutinizing capability is quite good.
The security of the personal time tracking tool is also good.
The data mining features are well known. It supports internationalization.
5. KTimeTracker
---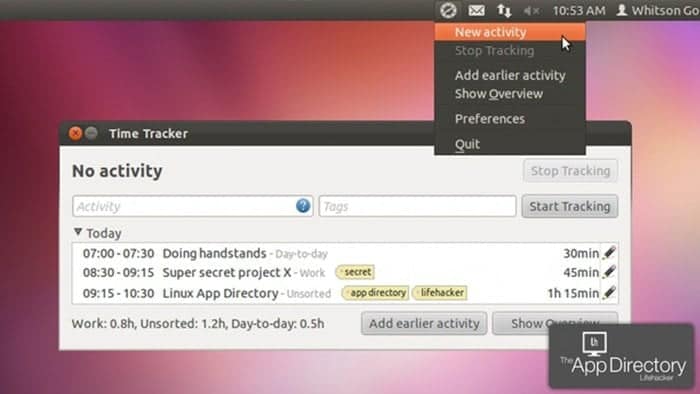 Software suitable for Linux distros and the app which is part of Kontact(the personal information manager for the KDE desktop environment) is KTimeTracker. When billing your customers, you are facing problems- KTimeTracker is the ultimate solution. Whenever you switch your task, double-click on your task and see how much time gets tracked. Thus at the end of the day or month, you can get the sheet of task schedule. This software is not jam-packed and appropriate for individuals. This time tracking software is suitable, especially for restless people, because of their switching task to task.
Features of KTimeTracker
Its unique characteristic is "pause detection," a set of configurable settings. When the user is away from the desktop, KTimeTracker will stop tracking until the user comes.
 Has CSV exporting feature for timesheets to share via email or cloud storage.
If necessary, this application allows editing recorded time or history. And also adds a comment to every finished work.
The more configurations features are- time-saving frequency, displayed details.
Divides your task into subtasks, organizes your job as a to-do list, and serves as a makeshift project manager.
6. GnoTime
---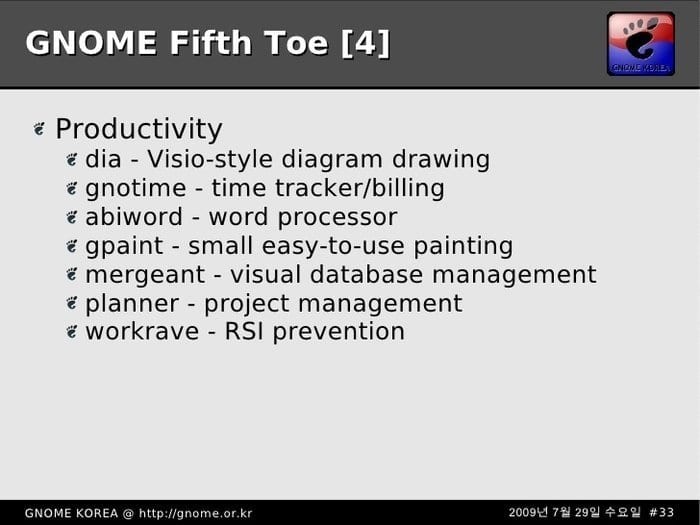 The architecture of GnoTime(GTT)  supports not only Linux but also Mac OS X, and  It keeps tabs on how much time you spend and creates reports or statements based on that time log. It is out of cost and distributed under the GNU GLP license. You start the timer by clicking on the task; then, the timer notifies you if the timer stays stopped for a long time. It has various features like simple interfaces, billing functionality.
Features of GnoTime
The specific feature that makes it stand out is "auto-merging " of the short time intervals recorded for one task, and users fix the length of the time intervals.
There is a "billing status" indicator. This software can point out billable or non-billable entries.
Shows various data, amounts, statements in HTML reports.
A pre-compiled package in Debian, Ubuntu, RedHat, Suse, and Gentoo distros.
7. Fanurio
---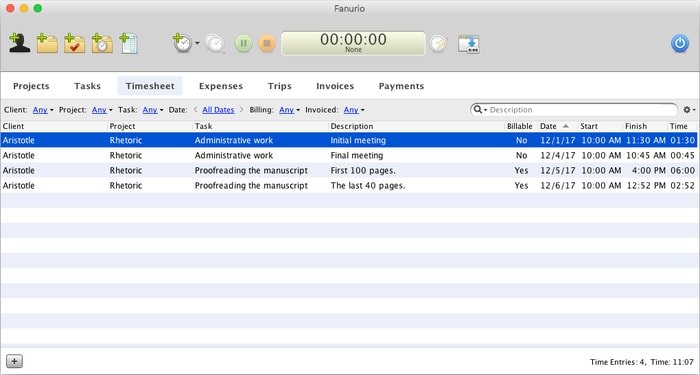 Fanurio is suitable for both the individuals and the team. You can track time with Fanurio manually or using a timer. It assists you in the time of staring, resuming, or stopping the timer automatically. It underpins Windows and Unix systems and can operate from a USB drive which is helpful for those who do the task from different locations. There are paid Fanurio plans for the customers. The providing detailed invoices, Fanurio updates you on the productivity level of your company.
Features of Fanurio
Helps to make critical decisions about projects.
Fanurio differentiates external projects and internal projects.
And it also helps to organize expenses, products and offers the right tools to the bill.
It has the functionality of idle time detection and reminders as well. Get multiple currencies with this time tracking software.
8. arbtt
---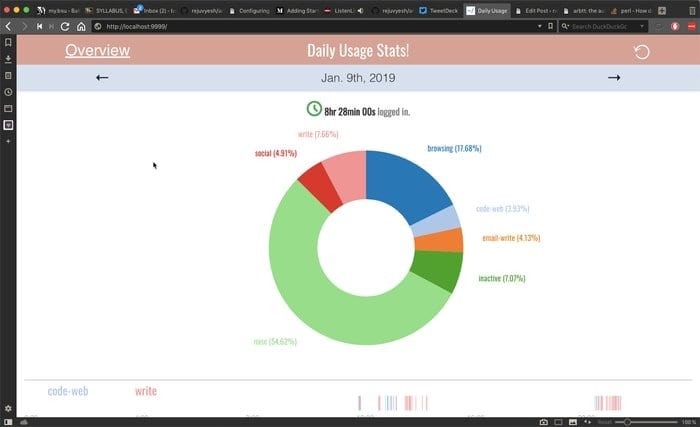 The software which spontaneously tracks time and lessens our labor is arbtt. That's why the abbreviation "arbtt" comes from "Automatic rule-based time tracker." The software detects the active time of windows and how long they are open. The essence of this software is a desktop daemon that captures the data and stores it in a log file. A material named arbtt-stats inquires the truthfulness of data by simple text-based rules.
Features of arbtt
Suitable for individuals and supports both Windows and Linux and operates under GPL license.
As the program implements rules when you are evaluating your data, this keeps your original data unchanged.
Customizations of rules, patterns, information is available.
The most straightforward way to download it is with the terminal command (sudo apt-get install arbtt). You can download it from the source via cabal-install or the source repository.
9. jTimeSched
---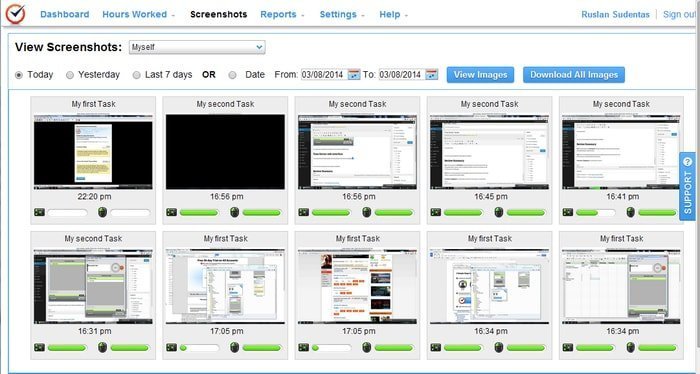 This software is suitable for individuals. Moreover, its lightweight and minimalistic interface allow it to create projects, track time, jot down the timing, and secure the data into log files. It can run from a USB stick which makes it portable. The software secures its configuration data per-directory- a unique characteristic. It can also calculate the time needed for any task in advance.
Features of jTimeSched
This app or software only combines with one .jar file to do the job.
Other essential aspects – differentiating tasks by title color, date, states, etc.
You can start a task with a single click and remove it with a double click.
The jam-packed works will not go with this time tracker; on the contrary, it is fit for a simple task.
10. GTimeLog
---

A small time-tracking application for GNOME which does not infringe on any task is known as GTimeLog. You have to type "arrived" at the time of commencing, and after completing the work, enter the name of the job. And this naming of the job is a crucial task. The software categorizes two types of work: billable and non-billable. The software detects the expenditure time and makes a report.
Features of GTimeLog
Stuffed with high-end features.
Capable of editing by pressing Ctrl-E.
Uses simple configurations- commands to detect the task which is not related to work can omit the unnecessary details.
Includes three fundamental views- 1.consecutive views of all tasks, 2.with starting time, 3 with ending time.
11. TimeSlot Tracker
---
A tool is written in Java, and the architectural design is unique- it is none other than TimeSlot Tracker. It sorts all the work chronologically according to the time in a hierarchical tree. If you are looking for diversified software that does time tracking and task management, you come to the right place. The hard job is to learn how to use this app as this app combines two significant tasks. It has an intuitive keyboard shortcut.
Features of TimeSlot Tracker
It is an efficient app, but the installation might be tough depending on the distro's repository.
Includes customized reports like HTML summary, HTML timesheet report, CSV report, and timesheet.
Incorporates with Jira and iCalender.
Availability in this software -Seven localizations, Native Windows installer, Native Debian package.
12. Task Coach
---
Another simple, open source personal time tracking and managing software is Task Coach. It is compatible with compound tasks. It gives a structure to the task such as a subject, description, priority, start date, due date, finishing time, and reminder. It can keep track on a daily, weekly, or monthly basis. Various notes and comments can be attached to the tasks.
Features of Task Coach
Has a multi-platform design.
Can distinguish various tasks depending on subjects, budgets, due dates.
Sorts out the finished job and completed job with filters.
Underpins HTML attributes and can add budget and advertisements to the task.
13. TimeCamp
---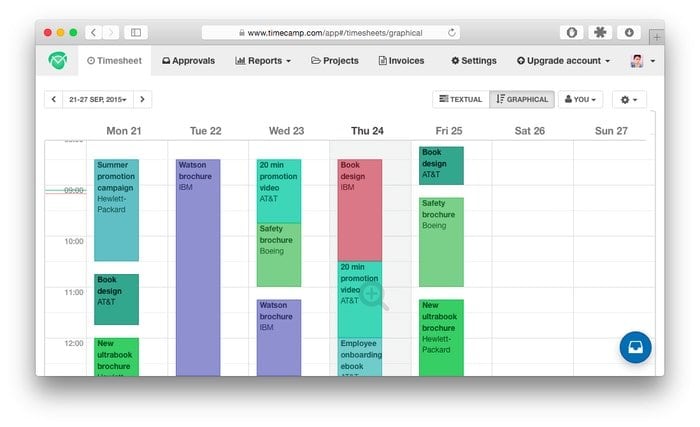 An efficient timesheet software that is a proprietary time tracking app for Linux and other platforms is none other than TimeCamp. It offers excellent aspects like automatic time recording, drag and drops options. It has the power to analyze the absence between two tasks. TimeCamp doesn't need a click to assign a time to the project. It can work not only as a project manager but also as a time manager.
Features of TimeCamp
Very popular among the customers for its mobile app and desktop app. You can fix your task by just clicking on the app and manipulate it according to your want.
Tracks time of all backend activities synchronizes across device and underpins different OS(Windows, Mac OS, Linux Ubuntu)
The paid version is equipped with features like productivity, team organizing, and even more. It can easily monitor the attendance, vacations, or any work left.
There is a built-in billing/invoice system to minimize the budget.
14. Klok
---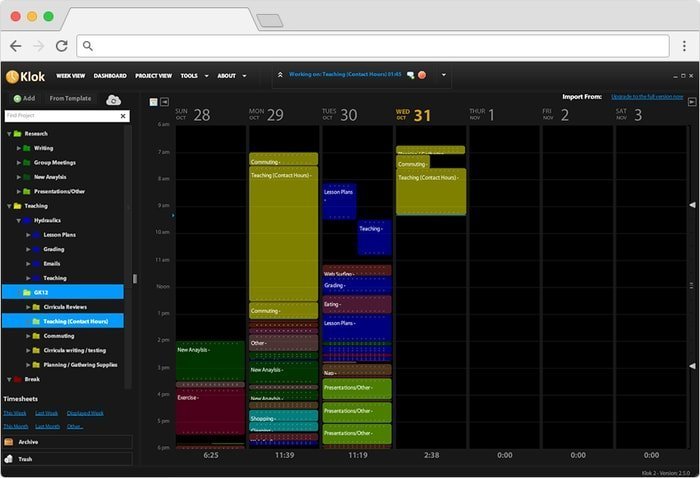 Klok is a Linux time tracking software with a visual reflection of timesheets. You can work in teams with this desktop app and don't need a host or servers to utilize this app. Klok supports Mac or Windows. To start a project, firstly click Add, then write a name, and merge it into the weekly timesheet. From then, we can manipulate it, give details on it and add budget according to your need.
Features of Klok
Can color-code projects to figure out the weekly job quickly.
Automatic time recording.
Eye-catching interface.
Still a novice, some developments are yet to make.
Divides a large project into smaller portions and works on it individually.
This software depicts all the work in the app so you can know your growth.
15. Hubstaff
---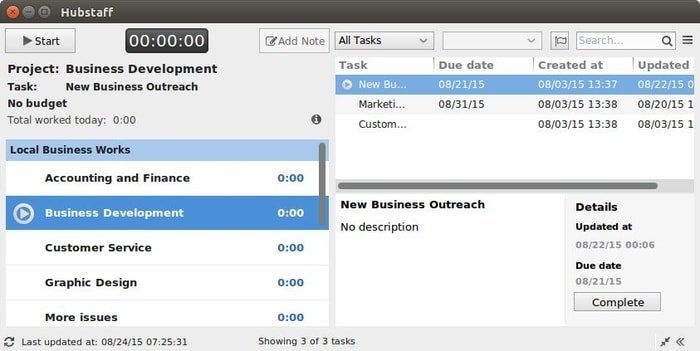 It takes a screenshot at random times, detects mouse and keyboard movement, gives an insight into the whole work- this is how Hubstaff works. This time tracking software can also catch the idle time, and you aware to stop the timer. The app can synchronize with the cloud and show reports about the activities registered by the desktop app. By using this app, the manager can quickly clarify who is working on what project.
Features of Hubstaff
The main benefit of using this software – simplicity and the cluster of various themes.
Underpins Mac, Windows, Linux platforms.
Supports automatic payroll and payments so that you can operate your business process yourself.
Works for not only time management but also project management.
16. dotProject
---
dotProject is formed to be a project management tool rather than a time tracker. It is diverse and multi-language project management, which is written in PHP. It serves as an information gathering and reports tool rather than a planning tool. The usage of this software is versatile as it is used by small companies to the government offices. It was recognized as SourceForge.net's Project of the month in 2009. It shows the work in hierarchical order and Gantt charts.
Features of dotProject
Tracks data and can differentiate the tasks by date.
Prompt in color-coded.
Assists in report generation and time logging.
Works as a Calendar.
Built-in invoicing system.
Changes are possible according to the project designers.
17. Toggl
---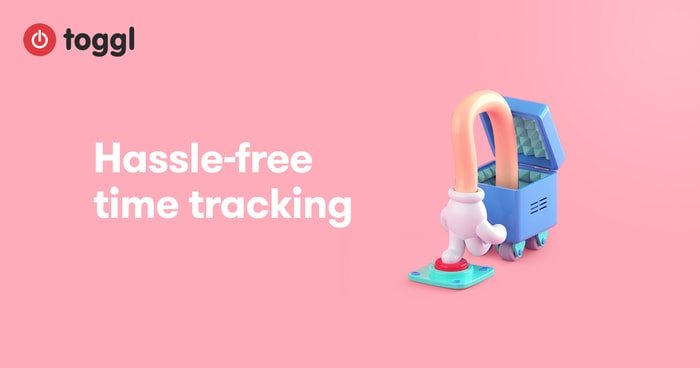 It is a prominent time tracker with an efficient desktop app that works manually and automatically. It is also active when there is no net connection and synchronizes with the servers when they are online. In the window of this app, you can fit any information according to your need. It works as a reminder when you need to start the timer and idle time. You can also mark and tag your project according to category. It is a hassle-free time tracking software.
Features of Toggl
Toggle can track time in 80+ online tools.
Has the capability to adjust the vast works and get more time.
You don't need to organize the timesheets and waste time. The toggle is there.
Every statement can be tagged to make supervision easier.
18. Intervals
---
This app works like two in one because time management and project organization happen in one place. You get timesheet submissions weekly, and it works as a reminder which stimulates the urgency to finish any task within the deadline. This software can handle a massive amount of work, but it doesn't need multiple apps. Users can import time, create detailed invoices. It has the power to alert overdue invoices.
Features of Intervals
Accountability increases for billable time, and revenue increases.
Collaborate effectively with your team members to make the right decisions and reports.
Can manipulate the templates of reports.
Detailed task histories, drag and drop rescheduling, data storing, and archiving -all the aspects are here.
Visual and tabular reports, transfer to CSV and XML formats, Gantt charts- nothing left here.
19. Xpert-Timer
---

A professional time tracker which figures out the wastage of time in any task and makes the best use of time is known as Xpert-Timer. By using this app, you can easily have a 'to-do list and bill your projects simply. If you do a task in a team, this timer will work as a pro because it can track the time of all at the same moment. Here, you can operate it manually or as an automatic time recording.
Features of Xpert-Timer
Open attachments from the to-do lists.
Drag and drop feature from Windows Explorer.
Converts to code through a connection over SSL using XTSyncServer.
Follows CTI-Module
20. Freckle
---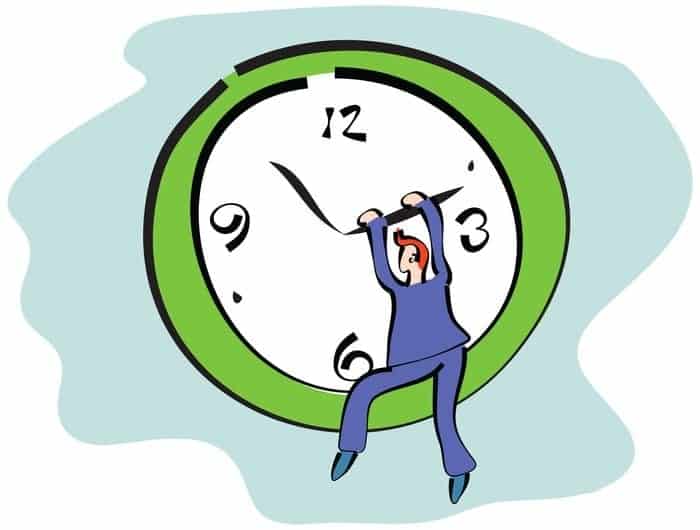 Freckle is a time tracking software and project management software as well. It secures our valuable time. And mainly it assists us in monitoring and invoicing. It is very swift as you start working, and within 3 minutes, it will start to track. It offers long-lasting login sessions. Developers design it for freelancers, small groups, small businesses, etc.
Features of Freckle
Scrutinize the budget sections.
Rounds up the minimum billing increment.
Who works, how much time he works, when he works – Freckle checks all these things.
Decorates the layout with colors, icons, codes, etc.
Final Words
---
We all know that lost time will not come back. Time maintenance is so crucial because the productivity of our work depends on it. We have to be conscious about time so that we are not out of it. From any small freelancer to prominent corporate officers, time is the money. So we can control our time by using this time tracking software. Again, Linux time tracking software would work as a good guardian.
In the words of Anthony Doerr
"Time is a slippery thing: lose hold of it once, and its string might sail out of your hands forever."
So choose your time tracker wisely according to your individual need or your team members' needs.