In this world of business and commerce, project management tools are an inseparable part of human life. The reason lies in these tools' excellent assistance capability of organizing work and managing tasks and projects efficiently for individuals or teams. If you are a Linux user, you can certainly find a lot of Project Management Software for Linux. But all of them may not fit well for your particular projects. Well, if you are looking for one that fits most project types, we can help.
As it is a crucial issue, we took it seriously and researched the 20 best project management applications that you can use comfortably with Linux. Here, we divided the list into two groups; where the first one will introduce you to the best installable project management software, and the next one is for the web-based project manager. We hope you will go through the entire section to enrich your Linux experience.
Best Project Management Software for Linux
---
The list of the best Project Management Software for Linux follows below in detail with as much information as you need to know to add a new dimension to your business or project management skill. Here, all the ordinary and open source project management tools have been listed based on their capability of functioning with Linux. Hence, we believe that each of these tools will benefit you much.
1. ProjectLibre 
---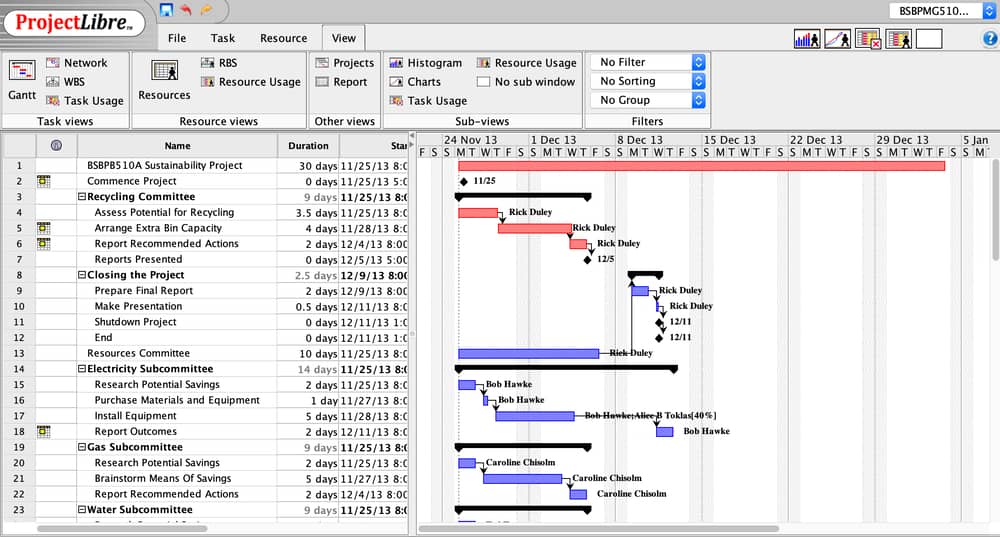 You can use ProjectLibre if you often have to manage Microsoft Projects in the open source world. This powerful Linux Project Management Software presents you and your squad with an easy-to-function and combined system for managing the project you want to achieve for your clients.
With it, you can use resource calendars, baselines, cost management, and scheduling tools. It also lets you export and import project files from MS Office. ProjectLibre must be your perfect solution if you want to execute and manage small and medium projects for your business.
It offers WBS Work Breakdown Structure, Gantt chart, and value costing EVM. Also, it lets you handle network diagrams, resource histograms, and performance management tools. You can initially manage different types of complicated Microsoft projects with this tool for sure.
2. My Collab
---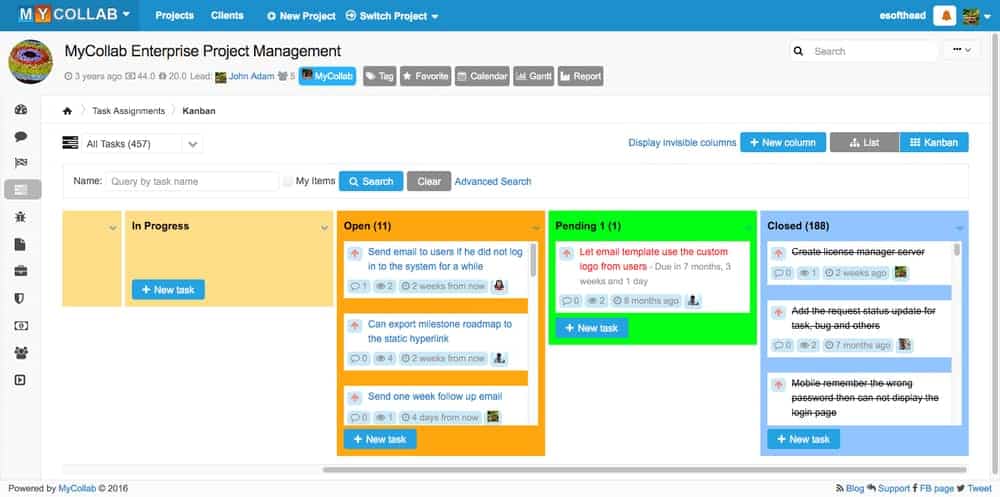 Our next option is My Collab, and for sure, it can be your best option to handle a big team-based project. This tool makes things easier for large projects, and the team members can easily communicate and discuss directly from this tool.
It also lets the users get the roadmap view of projects' goals and milestones. Also, there are particular tools for tracking time and managing documents, assignments, and issues.
With My Collab, you can create the Kanban board that lets you provide the team members with a different view of all the information directly related to the project.
Also, you will get all the basic information about the project on the activity log and by steaming the workers' activities. Eventually, this tool comes with an intuitive task manager and tacker system to investigate the risks and scope creeps regarding the projects.
My Collab Official
3. OpenProject
---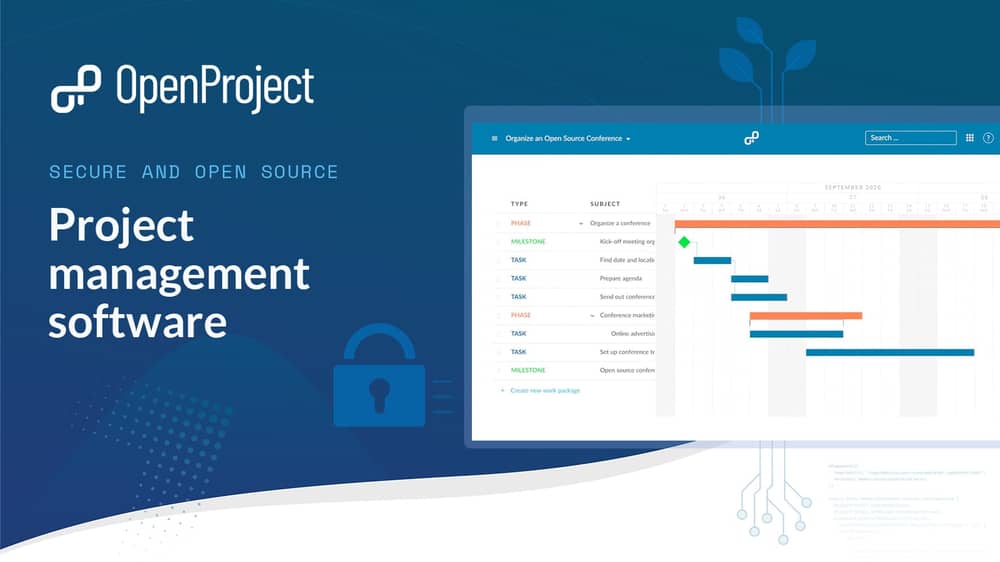 If you are looking for free but powerful project management software for Linux, I would definitely suggest using OpenProject. It was basically developed in 2012 as a web-based project management tool, and later on, the developers launched the official software for multiple operating systems, including Linux.
However, it lets you create an independent team collaboration for a large project. Though it has a free version to use, it also offers a premium version for more functions.
Indeed, this powerful software lets you get all the real-time updates on the project and check what the other collaborators are doing for it.
Additionally, it comes with a scope based on user permissions and multi-project road maps. Besides, you can assign persons to different tasks and also analyze the status and priority of the projects. As you can use it for free, I think giving it a try won't be a matter to regret.
4. OrangeScrum
---
This is one of the best open-source project management tools, including the Gantt chart, kanban view, time tracking, sub-task, and task. With its amazing management features, you can easily control your smaller to bigger tasks. In simple words, the software has everything you need to operate successful and cool business projects.
OrangeScrum lets you keep your business data secured. Also, the program is skilled enough to schedule all of your tasks with excellent time management. Hence, you can keep pace with the forwarding business world. Moreover, the program has great file sharing and project-delivery capabilities.
5. TaskJuggler
---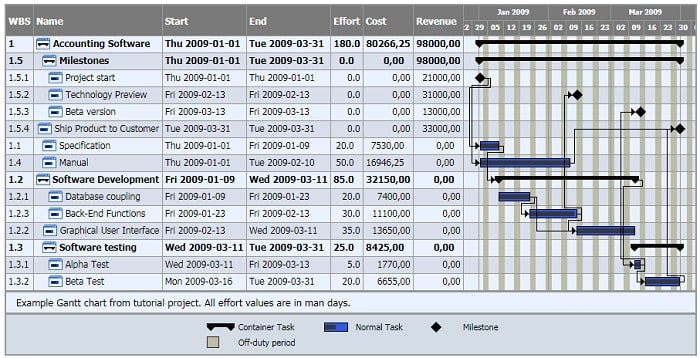 One of the strong and up-to-date open source project management software for Linux is TaskJuggler. Its dominant reporting and filtering algorithms allow you to produce statements of project accounting, task lists, project calendars, resource usage tables, and status reports.
The process of this tool might seem a bit manual and outdated, but it works like a charm with all types of digital resources. 
A project in Taskjuggler is always marked in a text format, so you don't need to click any dialog box that you may need to do in other tools.
Its tracking and project planning methodology is greater than the frequently used "Gantt chart editing tools." However, the application has already been effectively utilized in numerous projects.
6. OpenProj
---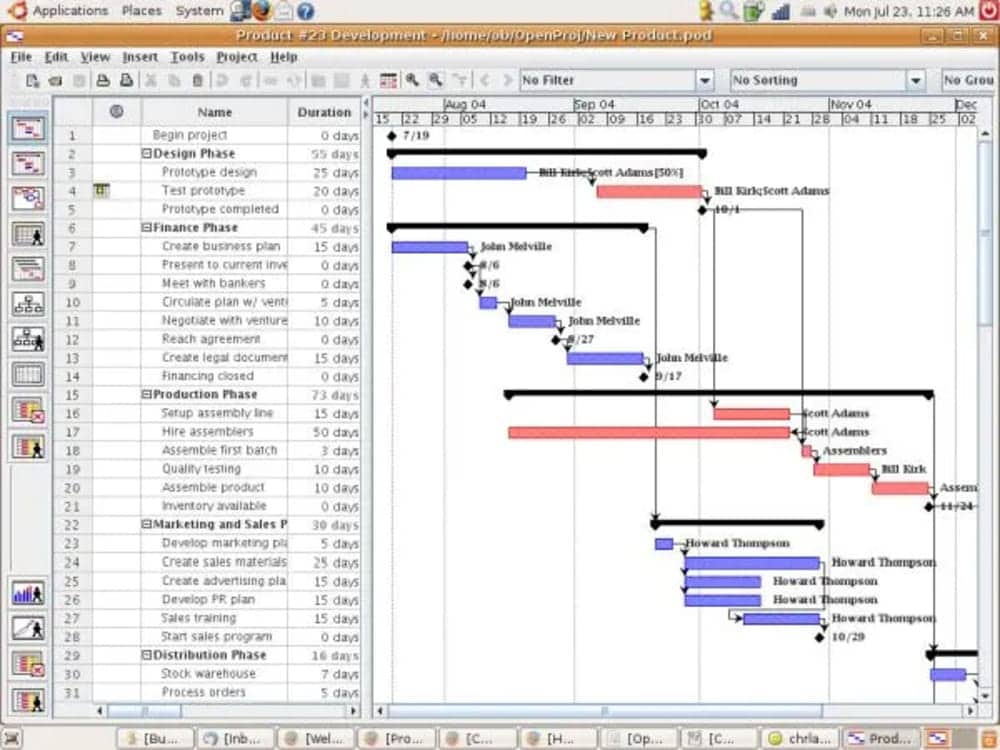 OpenProj is a great open source project management software that you can use as a substitute for the Microsoft Project. This Java-based program is ideal for the management of a desktop project. Even it backs the opening of both Primavera and Microsoft files.
It is adaptable to multiple languages and highly compatible with Microsoft Project files. Project managers can see the reports of task utilization and progression. Moreover, you will find advanced Gantt charts and diagrams of networks within the app interface. Besides these, there are some more cool features with which you can add a new dimension to your project management skill.

7. ProjeQtOr 
---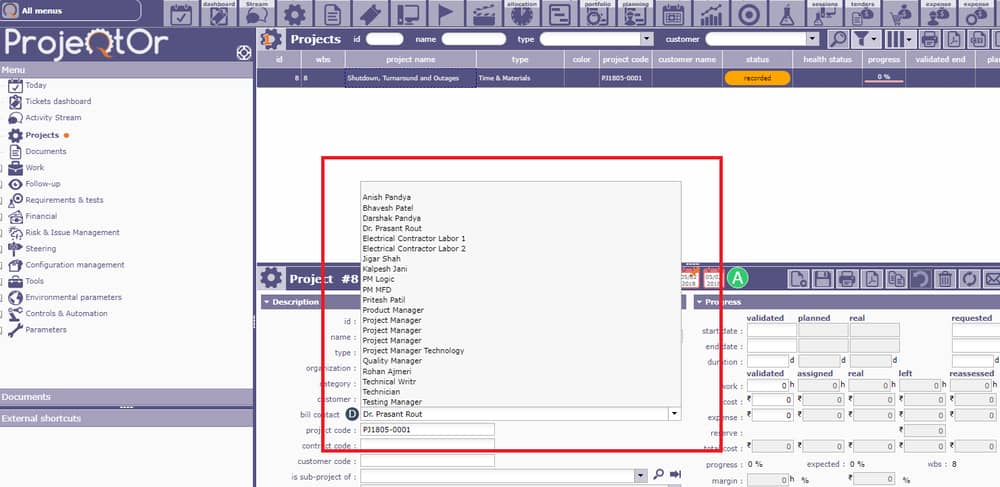 ProjeQtOr is an outstanding Linux Project Management Software for teamwork. It is perfect for medium-sized business firms and initiatives. This open source tool assists operation teams, IT, and marketing in interchanging the bulk of emails.
It also helps you to integrate the best practices to meet the quality requirements of your projects. Also, it lets you observe the real-time status of your assignments, keep the staff responsible and foretell the availability of the resource.
This quality-oriented project manager facilitates managing huge projects with planning and scheduling tools and many essential management features. As a user, you are also allowed to form and save templates for a project.
It also comes with a very intuitive risk and opportunity management tool. Some other fabulous features of ProjeQtOr are the planning of resources, incident management, cost management, budgeting of projects, and so on.
8. Redmine
---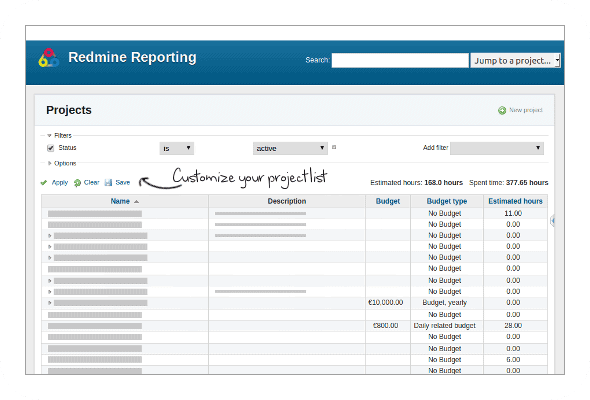 Redmine is one of those rare project management tools you can use for sure. However, it is a cross-platform and cross-database type of software and is good for managing multiple tasks. The developers wrote this software using the Ruby on Rails framework. This marvelous feature provides enterprises with the much-required coziness of picking what goes with their organizational environment the best.
There are important features like flexible role-based access control, email notifications, feed info, time tracking, and pre-project forums. Also, it lets you manage multiple documents, news, media, and files using this software.
It covers all the necessary items to aid your business in achieving the best from the tool investment of project management. Furthermore, Redmine integrates a highly comprehensive client portal and issue-tracking system to execute immediate tasks quickly.
9. ONLYOFFICE 
---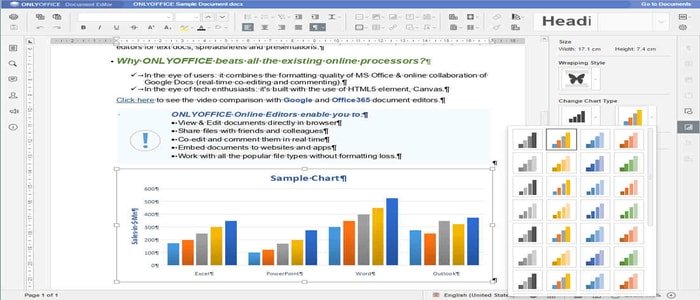 ONLYOFFICE is a swift and protected web-centered office collection that amalgamates influential editors of online documents for presentations, text documents, and spreadsheets. Also, it combines large cooperative features such as chat, blogs, contacts, forums, CRM system, mail server, document and project management toolset, and polls in one station.
With this tool, you do not need to jump between several applications to perform numerous tasks. In it, you will get a single "feature-rich system" that aids you in informing every stage of your project, enhancing your output, and adjusting hard work for success. Additionally, this tool offers a wide range of compatibility for Linus and other ecosystems.
ONLYOFFICE Official   Snapcraft   Flathub
10. GanttProject 
---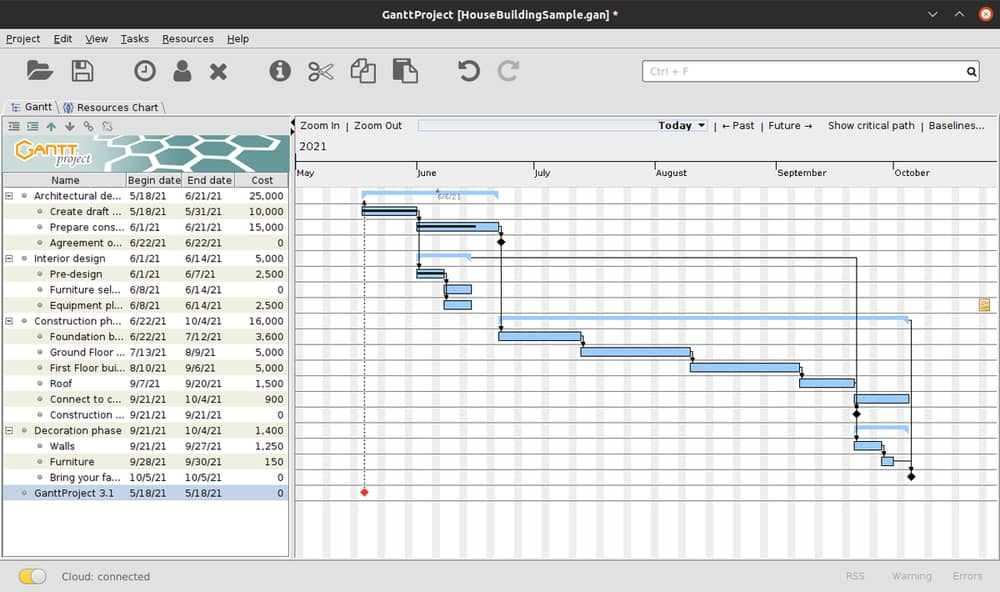 Basically, GanttProject is more of a project scheduling software than a full-featured Linux Project Management Software. Still, it offers you a complete set of tools, diagrams, symbols, and templates to let you design anything.
This application is best for Gantt-based project management techniques, and it supports PERT charts and a program evaluation system. Also, it lets you collaborate on your project files via WebDAV.
GanttProject was first released in 2003, and still, this year, it is getting regular updates. With this easy-to-use software, you can easily break down complicated work or tasks and calculate project costs. Besides, it lets you build a Gantt chart and assign resources for your projects.
Additionally, you can export any of your files to PDF just within a few minutes. To do all these tasks, you don't even have to read the user manual as well. Indeed, exporting and importing files from MS Projects and Excel is easy here too.
Best Web-based Project Manager Tools
---
On the above list, all 10 software are installable software that you can use without an internet connection. And here, we are going to share another list of the best web-based project managers. This section must be important for those who don't like to install the software. Those who have an internet connection all the time can also use these tools for sure.
1. Confluence 
---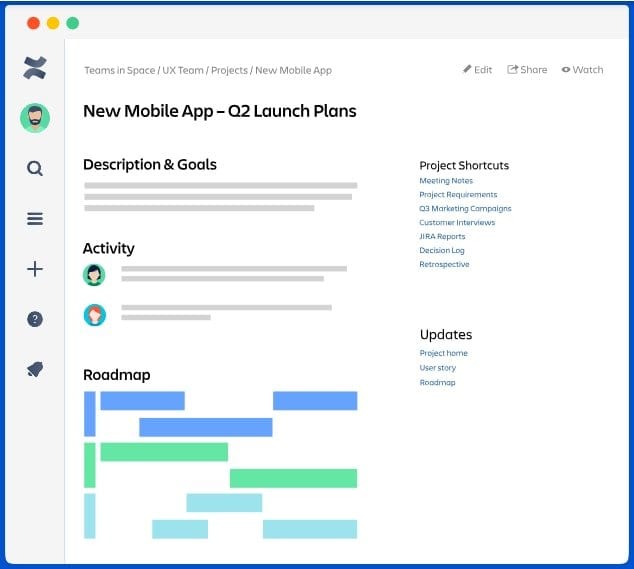 It is a joint workplace that lets you form and control all of your projects. Confluence is different from any average file-sharing and document tool. The reason lies in the sense that it is both exposed and cooperative.
Thus, it helps your group and company carry on the best together. This is one of the free project management tools that help you arrange and find the statistics and facts you may require.
Also, based on approvals, space can be made available on Confluence either to you or the whole company. Moreover, the page trees generate a categorized page list inside a space.
Target space focuses the topics on the parent pages and assists in keeping your work organized. The more the technical, marketing, project management, finance, and HR teams use the tool, the more competent and necessary the teams get.
2. Feng Office 
---
Feng Office is one of the coolest free open source project management tools that can also function as a collaboration tool and web-based office. The program is an entire online solution focused on improving management, productivity, communication, and collaboration. Additionally, Feng Office offers a 24/7 support team to facilitate the users with proper help if required. 
This application offers you each of the tools required to manage the tasks of all office units. With it, you can manage your projects easily just by keeping an eye on the status of tasks.
This project management tool for Linux contains email, contact, time, project, and document management. Also, you can create and edit presentations and text documents online. Moreover, you can upload, organize, and share files easily.
3. Pivotal Tracker
---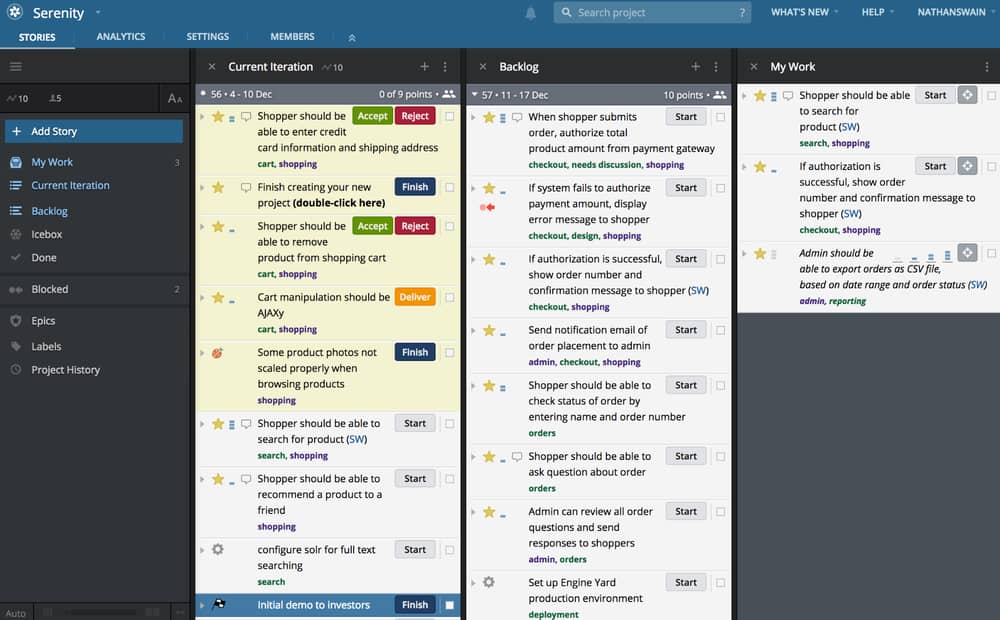 Pivotal Tracker is a simple to utilize and active Linux Project Management Software that can bring concentrated teamwork to software development teams. This useful tool embodies verified agile approaches founded on knowledge of many effective bulky projects.
You can certainly see the visible difference to many other similar applications for Linux, which are mostly positive for overall productivity. On the software, each group member shares a similar view of what is being carried on in each project in real-time and what is needed to be completed afterward.
Besides, this project management software allows the product owners to be alert to what the staff is doing without permission. It lets the developers spend quality time on a project instead of merely reporting the general task. Moreover, users can quickly check the progress of each individual on a team using its built-in inspection mechanism.
4. ProProfs Project 
---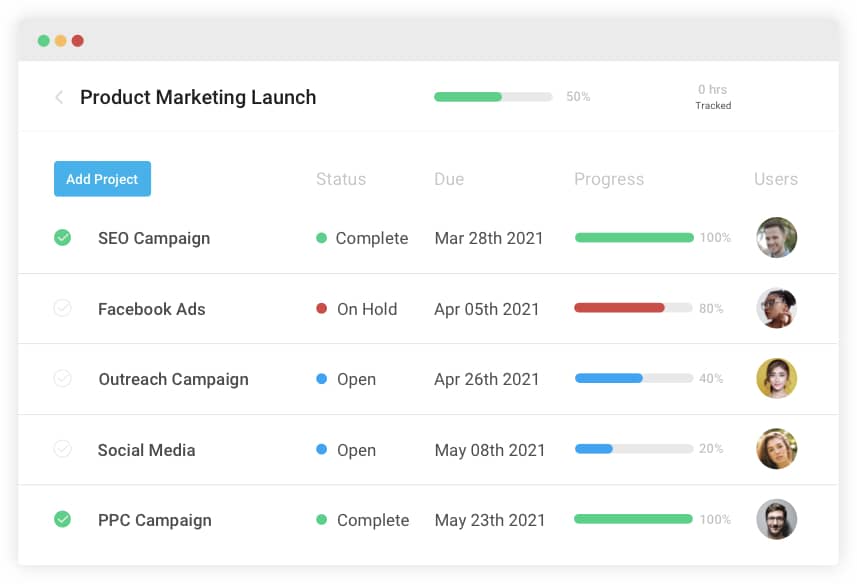 Let's meet ProProfs Project, a Linux project management application that lets you and your squad arrange assignments, and envoy tasks, track advancement, cooperate, make reports, and more. Your project management becomes simpler with its advanced features like a Gantt chart, project calendar, invoicing, and time tracking.
You may be a project manager or freelancer; this fantastic tool keeps you on top to accomplish tasks and delivery. The overall UI is straightforward and materialistic, which is appreciable. It offers a single dashboard where all the updates are provided for quick review. Moreover, this tool is excellent for marketing workloads and creative designs to cope with modern demand.
5. Intervals 
---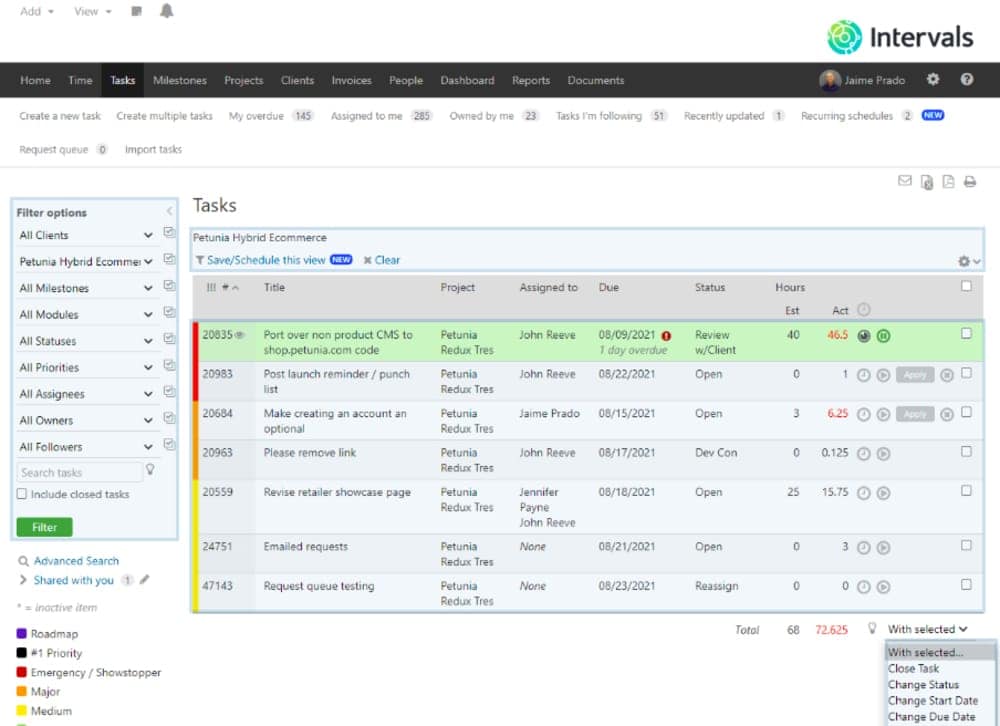 Intervals are listed among those project management tools that let you concurrently track time and manage tasks efficiently. The tool is intended for freelancers and owners of small businesses across several industries.
It is the perfect software for you if you need to bill projects centered on the hourly rate. One of the unique features of this tool is mass document updating according to versions and types of files.
Most importantly, if you don't bill hourly, even then, Intervals offers you a detail of your time and money. With the data, you can order the tasks and reorganize phases and project management as well.
Besides, Intervals provides you with solutions for time-tracking and reporting, project management, personalization, task management, and invoicing. Moreover, it's an entirely hosted online package; you need not install any software.
6. Agile CRM 
---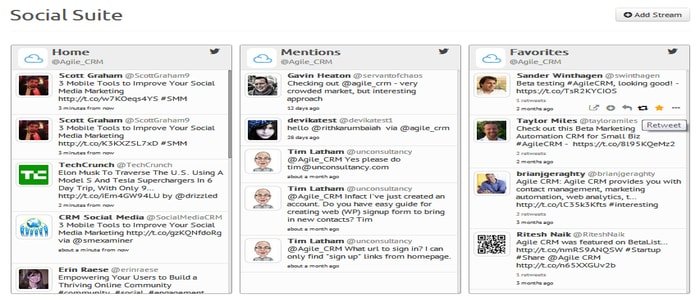 Agile CRM is an excellent all-in-one platform among the best Linux Project Management Software with committed marketing, service, and sales features. So, there is hardly any chance of any leakage of your important data.
This also enables a reliable messaging facility. To be included on the list of the best, this project management utility serves you swiftly. It also includes a Cloud-founded SaaS service so that you can find it with ease.
You can even use it to have a turnkey that brings a fabulous solution for overcoming ineptitudes and mechanical complexities. This handy tool helps you assimilate marketing, sales, and service exertions flawlessly.
The turnkey comprises combinations of more than 60 prominent third-party programs. Furthermore, this project management software includes reporting and analyzing features that can outstandingly monitor your business performance.
7. JIRA Software 
---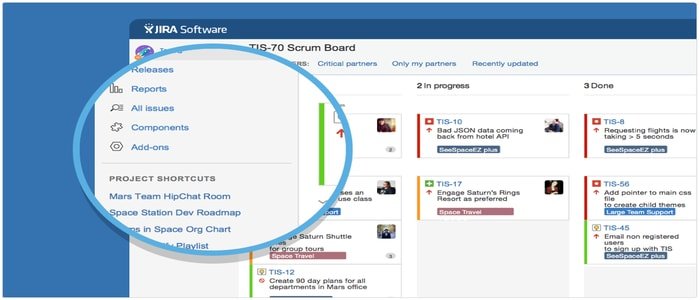 JIRA is a great tool that helps your squad gets anything done, irrespective of time and distance. You can use JIRA to capture and organize your team's concerns, prioritize, and make resolutions considering the importance.
Moreover, you can also keep yourself up-to-date about ongoing tasks. Additionally, it includes workflows to match the prevailing processes that can simply be adopted as soon as your group advances.
Remember that you should utilize the tool that goes with your team instead of changing your group to fit the tool. Besides, the software ensures everyone on your team is aware of precisely what requires to be followed and accomplished.
Using this tool, you can easily collaborate with your team and gain agility in performing your role. Then, the extra features make this project management tool for Linux convenient and comprehensive.
8. Odoo 
---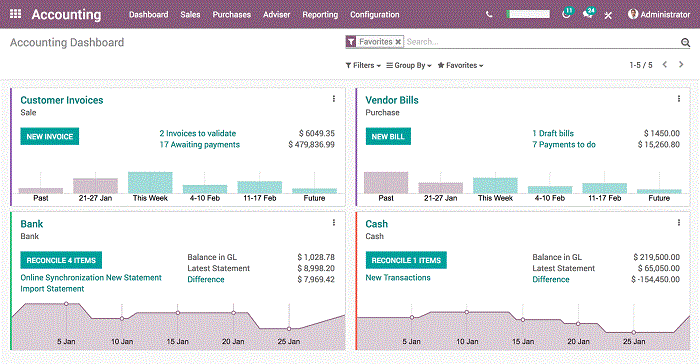 Odoo is a complete set of business applications, among which open source Linux project management software holds a position. It is a multiplatform resolution that is supportive of some Linux distributions, windows, and other similar operating systems.
Odoo's comprehensive ecosystem made it one of the best tools in its genre. Moreover, it offers proper tutorials for new users to cope with the software ecosystem. 
Though it's a community version that is open source and free, it is narrow in offering features if you compare it with the enterprise edition.
It is one of the very few open source project management tools that include a number of exciting features like Kanban view, Gantt chart, graphs, tasks, issues, etc. The app offers a modern outlook with a unique approach to feature-rich tools in one place. 
9. MangoApps 
---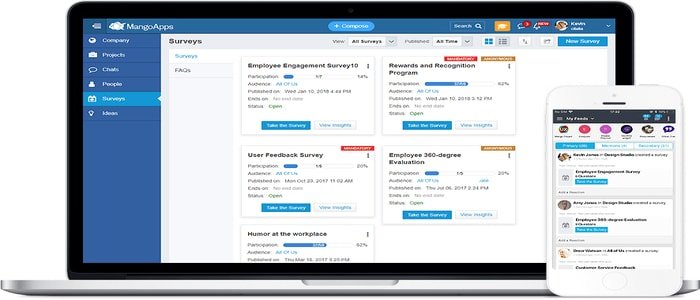 All the solutions of MangoApps are based on the worker platform, so you can simply begin with the thing you should now. You can also add something more to it subsequently if the workload needs it.
The intranet solution of MangoApps provides you with a function to utilize the content-making tool for creating and organizing both potential and rich posts and pages for each of the departments of your organization.
Then, the group and seller teamwork solution of MangoApps makes it stress-free, appealing, and prolific for staff, associates, and sellers to cooperate. Also the initiative messaging solution can also be considered the WhatApps of your business that is equipped with complete security, management tools, and partnerships. Besides all of these, there are some more effective solutions brought by this project management tool for Linux.
10. Sciforma 
---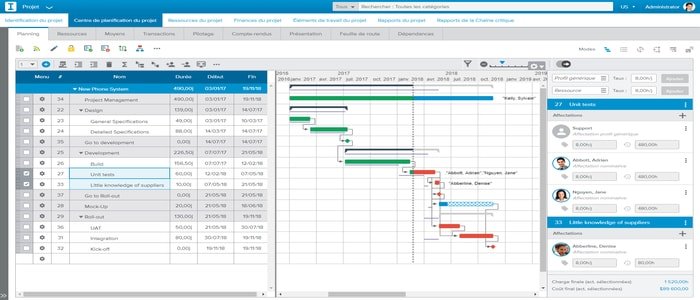 Sciforma is an exceptional tool among many project management tools as it has already won awards for offering excellent project management and portfolio facility. The application is installed by more than 300,000 users and 3,000 customers worldwide to achieve lucrative development and planned objectives.
One of the key reasons is its inclusion of a more well-organized and operative administration for project resources. The tool concentrates on the serving of 'Enterprise PMOs' within medium and huge size of enterprises.
It flourishes by offering a supply stage to manage several project settings comprising public sector and professional services, NPD/R&D, IT, and functional scalability to accommodate some maturity levels.
Because of owning such an excellent performance, it has got Deutsche Telekom, Boeing, Netgear, EADS, T-Systems, and NXP as customer partners. So, Sciforma will generate a positive outcome without a doubt.
Finally, Insights!
---
We hope that you also have found both the web-based and open source project management tools resourceful after going through each tool. The Project Management Software mentioned above is the most compatible with the Linux system.
So, we humbly recommend you use any of these with Linux to get the best output. We also request you to encourage our initiative by leaving a comment and sharing the article as many times as you can.