When it comes to communication over the internet, video calling/conference has significantly improved how we interact with each other. On top of that, we could not even think of the recent phenomena of working from home or remote office without video calling features. A great webcam software can improve your experience to a great extent. There are many webcam software for Windows 10 available for conducting stream videos, screen record videos, or chat on skype, google meet, zoom, or other popular platforms as well. While some of them are available for free, still, you may have to pay for unlocking advanced features. But to get high-quality images, smooth streaming, and videos, you can use any of these software. 
Best Webcam Software for Windows PC
---
You should always consider webcam features and purpose as the top priority before mounting on your PC. The complexity of use and pricing can be other important things, but you will finally decide what is best for you. I can guarantee that this list of best webcam software for Windows PC will help you a lot in this matter.
1. Cyberlink YouCam
---
If you are looking for a feature enrich webcam software for Windows 10, then nothing can beat Youcam. This professional-grade software can be used for streaming, business, and also home uses. You can use it on any popular platform like Skype, Zoom, U Meeting. It allows users to test the features in the trial version, which may help to make a better decision before going for the payment. You can also participate in Facebook or YouTube Live.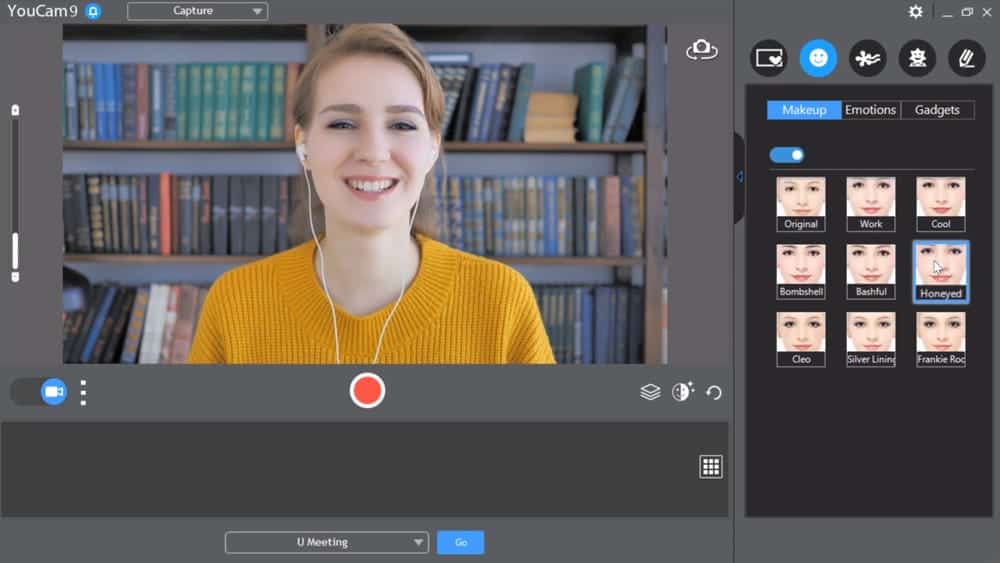 Important Features
If you are a streamer, then you can choose this software due to its incredible control and easy integration with all major suits. 

Another great thing is you can edit your photos in real-time and enhance the beauty of your photo. 

Equipped with more than 200 augmented reality effects, customized titles, and images. 

Advanced features like AR makeup and animated emojis are also included. 

You can log in and log out from your PC using Face as the password. 

It will allow you to transform your presentation into engaging presentations. 
Pros: One of the best Windows camera apps available out there for home users as it is convenient and adds fun with the Particles, Filters, and Distortions effects.  
Cons: User may find it difficult to install and integrate with Skype sometimes. It may unexpectedly crash sometimes as well. 
2. Logitech Capture
---
Logitech Capture can be considered as the all-in-one content creation platform for Windows PC. It has a great user interface and multiple source recording feature. You can use it for 1080P PRO STREAM, BRIO STREAM, C920s HD PRO, and C922 PRO STREAM webcam. It is intended to provide an excellent experience from recording, customizing, and even streaming on the most popular streaming sites. If you are using Windows 10/8/7 on your PC, this software will certainly be a great choice.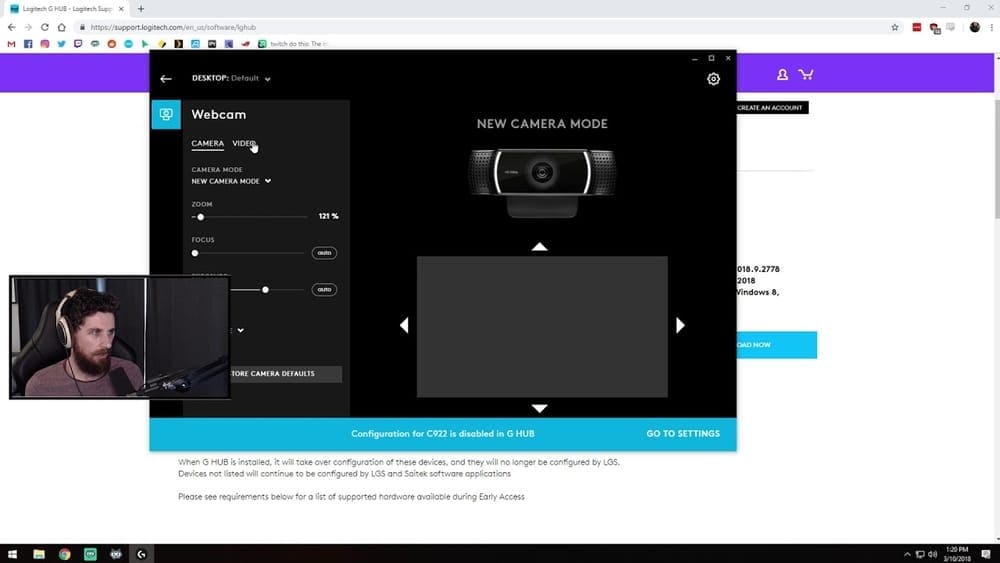 Important Features
You will find a few webcam software for PC that offer such high-quality studio controls for video recording. 

Users can not only adjust the image or create frames but also adjust transitions and focus. 

ChromaKey can also be enabled, and filters can be applied while recording. 

Comes with a portrait optimization feature for your mobile and other smart devices. 

After capturing the video, you can strap the video with the in-built functionality. 

It will also allow you to capture passport-sized and still images. 
Pros: Live Text Overlays and Vertical Video Capture are the other things behind Logitech Capture's place in this list of camera software for Windows 10. You can use it completely free as well. 
Cons: While it is limited to the youtube channel, you will also have to share your personal information like name, email, etc., for registration. 
3. ManyCam
---
Manycam can be an excellent solution for businesses of any size. Its cross-compatibility is the main reason why I have chosen this software while making this list. It can be considered as a full-blown video-editing tool; also, it is available for free. But you can also claim the limitless exciting features if you upgrade to pro. Starting from Windows 7 to Windows 10, you can use it on your PC effortlessly.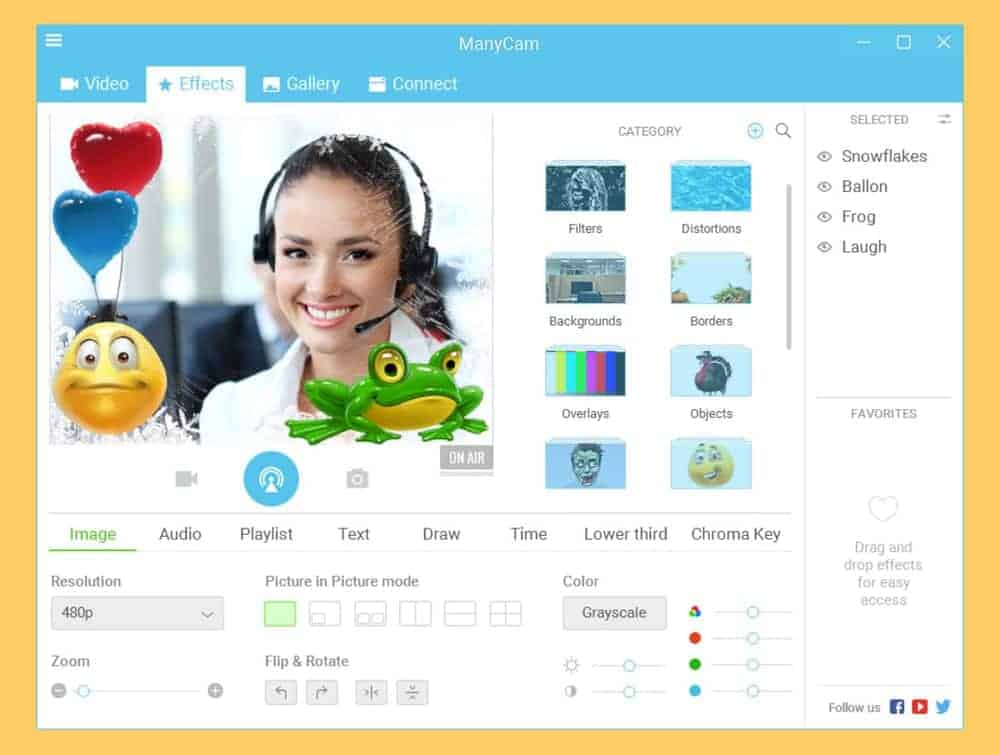 Important Features
You will be surprised after exploring the list of a massive number of presets, filters, and effects.

Comes with beautification effects like emojis, face masks, transitions, and stickers.

You can add different backgrounds for your video call from the preloaded list.  

Users can record videos at 240p, 480p, HD, and FullHD resolution. 

Even you can open multiple windows for multiple sources to engage your audience. 

Allows you to remove your background using the Chroma Key tool. 
Pros: If you want to increase the reach of your digital content, then Manycam can be a good choice as it allows you to stream on multiple platforms simultaneously at the same time. 
Cons: The only con that can be mentioned is the limitation of adding effects to the favorite list and the absence of HD resolution. 
4. SplitCam
---
Another great app in this list of popular webcam software for Windows PC is SplitCam. It has some unique features that have set it apart from the other virtual video capturing tools. It unlocks the limitation of connecting just one video source as it says each video is separated from the client source and then add to another application. You could never think of it with any standard options within Windows.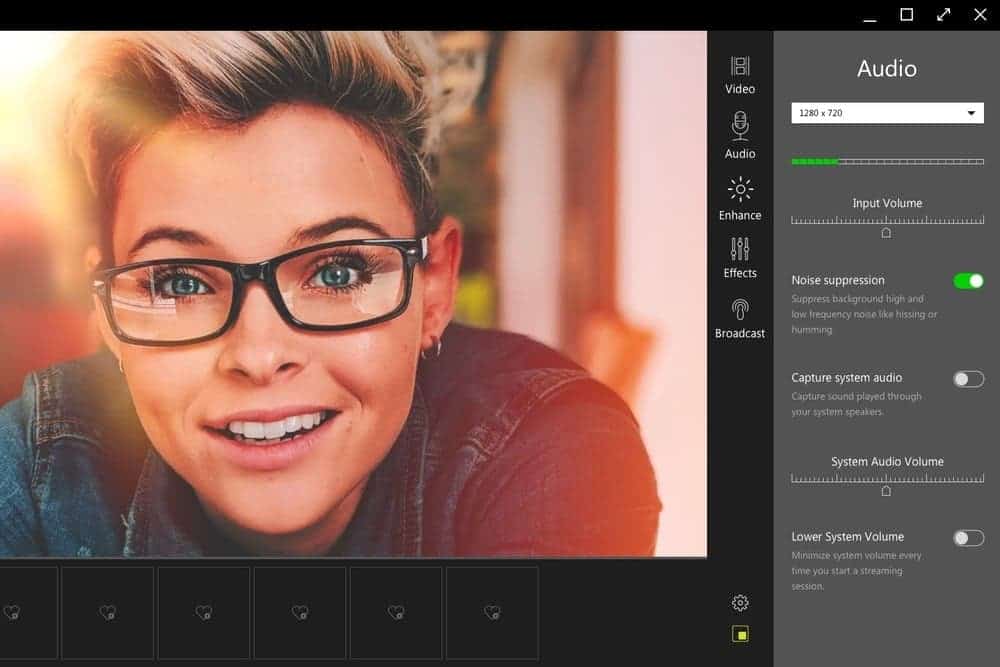 Important Features
The best part is you can add almost 64 clients simultaneously with a single video source. 

It comes with a wide array of effects that can enhance the quality of your video. 

3D masks are more realistic now in the latest edition than the predecessors. 

This software can be used for all video sharing sites, and you can stream as well. 

You will become amazed to see the available list of filters and effects. 

Many video resolution is supported while 1920×1080, 1920×1440, 20488×1536 are most popular. 
Pros: It is equipped with incredible controls to add zoom to a specific part of your video. You can use an IP camera also for recording videos using this windows camera app. 
Cons: You will face problems sometimes when capturing a half-frame shot in the landscape orientation. 
5. OBS Studio
---
If you are looking for an open-source video recording and live streaming software, then no software on this list can beat OBS studio. It is not only a regular webcam software for computers; rather, it can also be considered as a studio that can produce professional-level productions.  It is one of the most advanced desktop camera apps also. While it offers a powerful API, you can increase the functionality and do further customization by enabling plugins.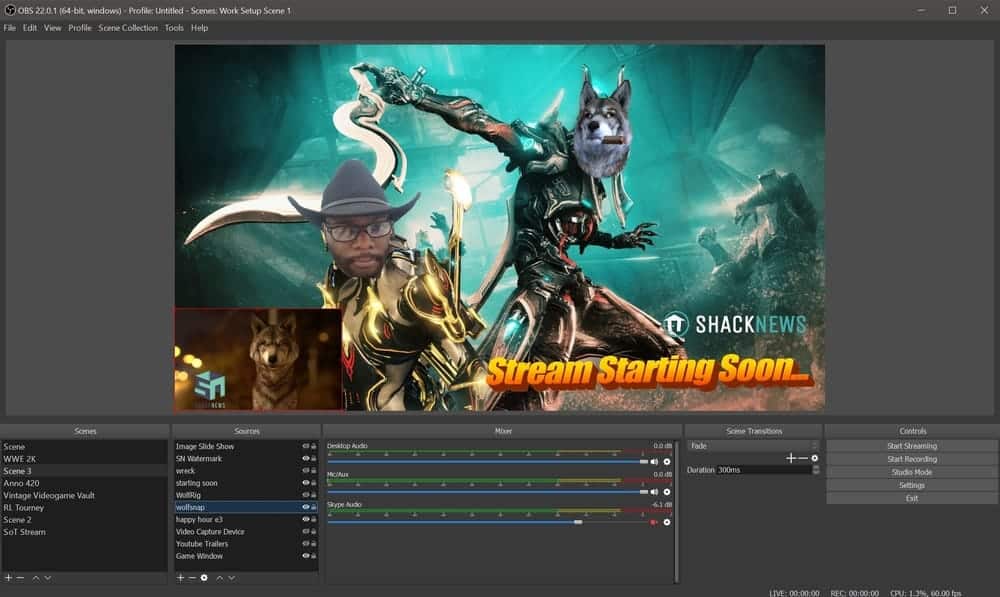 Important Features
Ready to meet any of your requirements as native Lua or Python written plugins are also available. 

Backed by a massive streaming community where everyone tries to contribute to improving performance. 

You can create the main scenes using videos from multiple sources like images, text, etc. 

Comes with real-time video or audio capturing and mixing.




You can switch between the multiple scenes seamlessly. 

Get full control with the VST plugin support and built-in audio mixer comes with noise gate, noise suppression, and gain. 
Pros: The configuration options are powerful yet easy to handle. Adding new Sources or duplicating existing ones as well as adjusting properties can be done effortlessly.
Cons: Although the user-interface is highly functioning, it could be improved significantly. You will get so many updates that it will become annoying eventually. 
6. Windows Camera
---
If you are running Windows 10 on your PC, then you will not find an alternative faster and simpler than the Windows Camera. It is so simple to use that even those who are completely new to using computers can record video flawlessly. It has been developed by Microsoft, and you can use it to shoot pictures on any tablet or PC running on Windows 10. On top of that, all of your pictures will be automatically uploaded to OneDrive.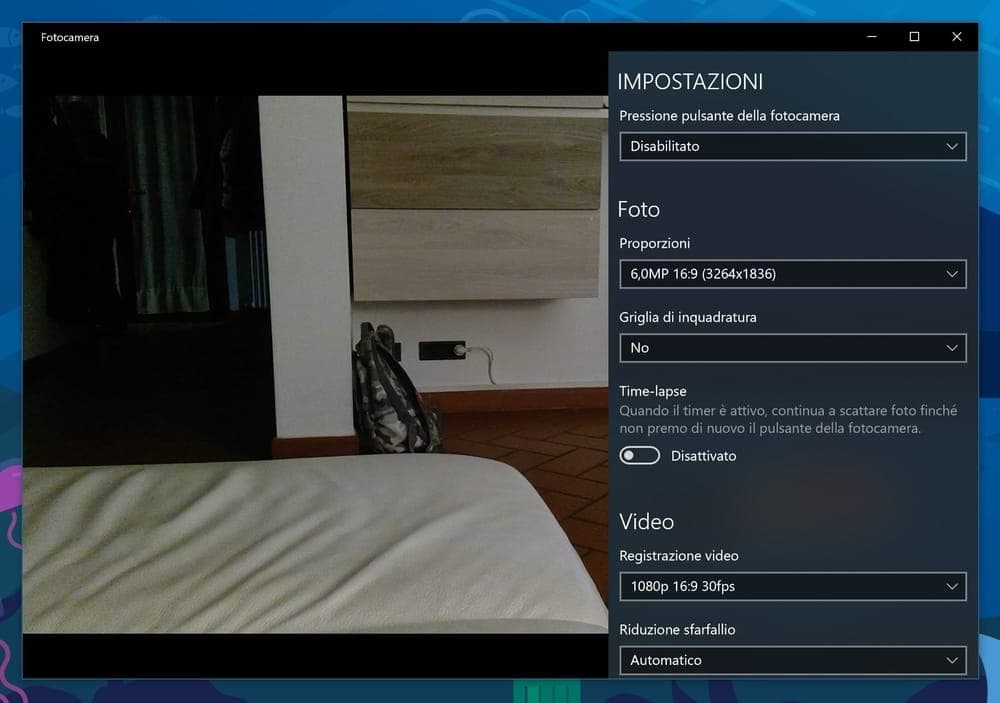 Important Features
Allows users to pause and resume shooting videos whenever they want. 

This software can produce resolutions up to 1080p and can stitch the videos automatically. 

Self-timer functionality also comes within the package to get yourself into the frame. 

One of the webcam software for Windows 10 and designed for photographers. 

There is a feature names function grid which helps to compose gorgeous shots. 

You can also take panorama shots to capture more of the screens. 
Pros: Equipped with digital video stabilization that produces smooth videos and supported platforms include Xbox One and Windows.
Cons: The absence of the built-in virtual webcam is a major drawback, while you will need a camera for 4K videos. 
7. Bandicam
---
No list for the best webcam tool for PC can be made without mentioning the name of Bandicam. It is super useful if you want to record your gameplay, video calls, screen, and so on. Besides, this software will allow you to capture videos directly from PlayStation or your Smartphones as well. It is one of the most reliable desktop camera tools available out there. You can start using this app anytime, while both the free and paid version is available currently.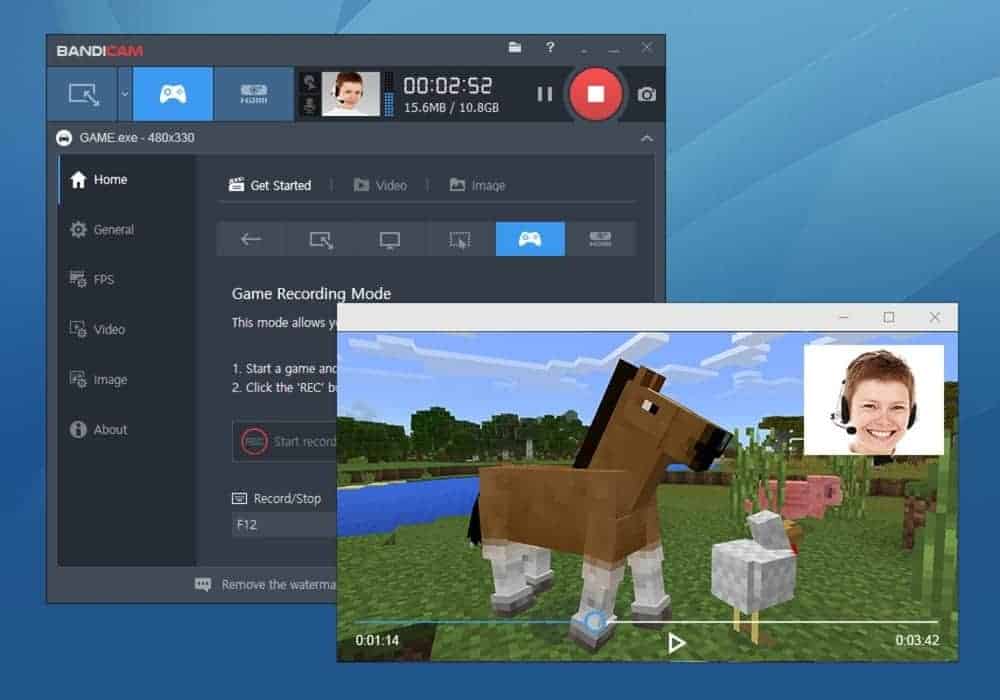 Important Features
You can use this tool on any version of Windows OS like Windows Vista, 10/8/7.
Supports a wide range of file formats such as AVI, MP4, JPEG, TIF, GIF, PNG.
Two or more videos can be merged together, and you can remove the unwanted parts also.
Even the free version offers so many features that you will not need to upgrade to pro anytime soon.
High compression videos and games can be recorded from your PC screen.
Tools like a real-time drawing tool, webcam overlay, sound mixer, and Chroma Key are also available.
Pros: You can use this software to record your live-streamed videos for more than 24 hours, which can really help when you can not manage enough time for your favorite shows.
Cons: You can not conduct live videos with this software, and also, the beginners will face trouble while handling the software for the first few hours.
8. Debut videos capture
---
Debut video capture is an advanced camera software for windows 10 that can work as a webcam and can be used as a video capturing and editing tool. It can work as a screen saver which can record display with sound, photos, etc. It has the capability to modify the output of the video by modifying video quality settings, color settings, texture settings, timestamps, and many more. You can download this software from their website and start using it without any hassle.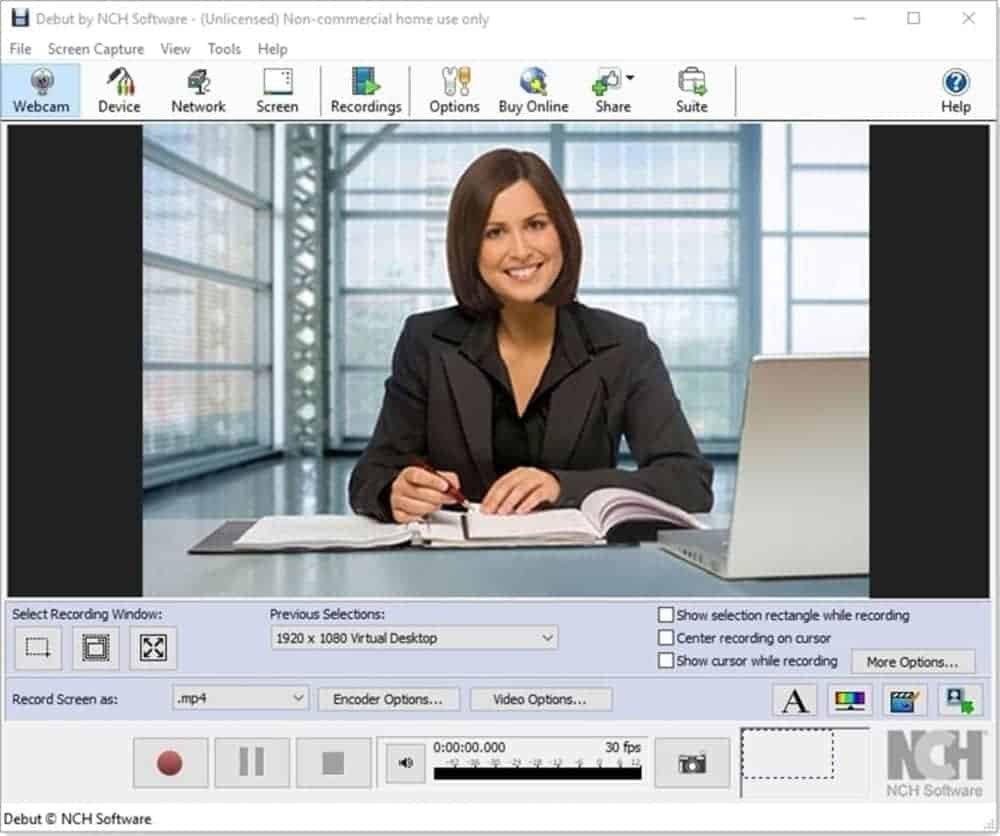 Important features
It Can work as an entire screen saver or any specific portion as selected by the user. 

You can save the video output as avi, WMV, Flv, mpg, or mp4.

This software will allow you to upload the videos to Youtube from the app directly.

You can manually add customized text captions or time stamps.

Gives user full freedom to add logo or watermark as well. 

It has a dedicated option to allow users to take snapshots at any point of the video. 
Pros: Very advanced software with plenty of manual settings giving the desired outcome for its user. 
Cons: There is no free version of this software currently, so you will have to spend trying this app on your PC. 
9. Webcam Toy
---
Webcam toy is a user-friendly Windows camera app that allows access on any computer from any browser. It is very simple to use and also fun as it has some cool face filters. It can record captures and videos, along with various effects. Unlike other webcam tools for PC in this like, you will not need to download and install it before you start using it. One can directly share images to the desired social networking site just by clicking the icon from the app.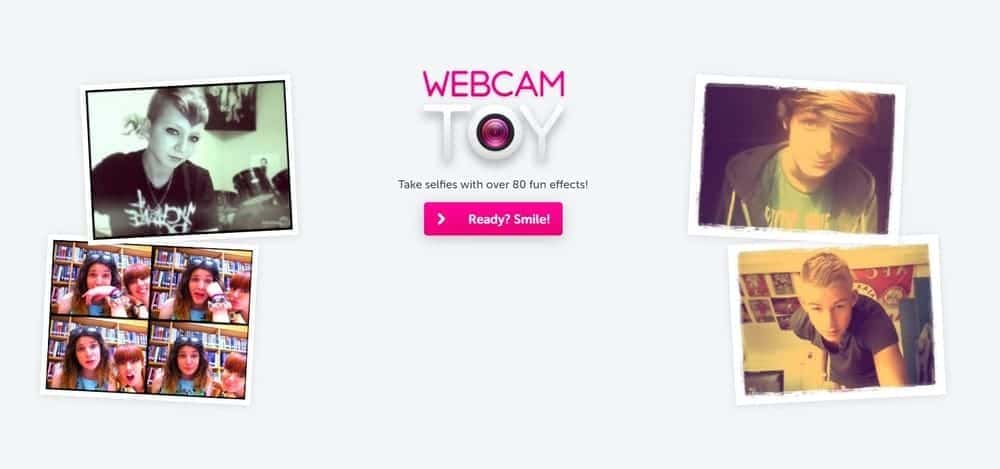 Important features
It is extremely easy to use, and adding effects to the videos is simple as well. 

Functionalities are powerful that will meet your requirement.

Can work as a photo editor to sharpen or softer images along with professional tools like color grading filters or effects. 

A premium subscription is available if one needs to remove ads or to have more steps recorded in the past. 

You can also share your digital content on social media channels and save them on your PC in JPG, PNG, or GIF format.  

Users can print the photos straight from the app by applying the print command.  
Pros: It can be used as a tool of social media for video chatting & photo sharing. 
Cons: You will need a stable internet connection for using this software without any interruption. 
10. GoPlay
---
Although I have mentioned this software at the end of this list of best webcam software for Windows 10, GoPlay is nothing less than other software mentioned above. It can go beyond your expectation when it comes to recording professional videos for any project. It will also record your voice while shooting a video. Picture in Picture Recording is there, which allows you to add yourself through the webcam on top of a video. You will also find an effect store on their website.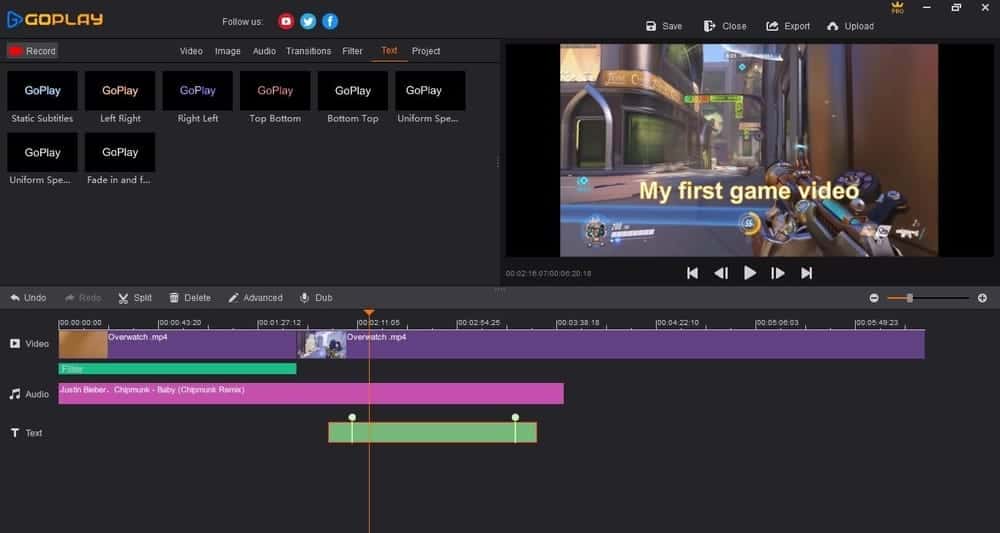 Important Features
Suitable for recording fast-paced games as you can record at 4K-60 FPS. 

You can consider this as a 2-in-1 program for recording and editing videos on your PC. 

Comes with custom screen recording, and anyone can trim, crop, cut, and merge videos.

Allows users to remove the unwanted noise from videos effortlessly, and you can adjust audio as well. 

You can take advantage of a wide variety of video effect tools included with this tool.

Besides, you can adjust the audio and video speed according to your requirement. 
Pros: It can be used on Windows, Android, and iOS running devices, while videos can be shared on Facebook, Instagram, and YouTube seamlessly. 
Cons: Although capturing video is simple and easy to use, when it comes to editing videos, you will find it more complex than its competitors. 
Our Recommendation
---
Webcam software does not only capture selfies or for having video conversations. Rather, you can utilize your webcam software in so many different ways. Among all of them, video streaming on popular platforms, recording videos, adding funky effects, texts, and overlays are mentionable. 
We have run a thorough assessment to make this list of best camera software for Windows PC. We have given the usability, user-interface, availability of advanced functionalities, editing capabilities, and the number of features the top priority. Based on these parameters, I am declaring Cyberlink YouCam and OBS Studio as the best webcam apps for your PC. 
Finally, Insights
---
So these are my top picks as the best webcam software for Windows PC that you can start using right now. These software do improve not only the video calling experience but also increase your video recording quality. You can insert animated emojis, customize images, and titles, use chroma filters for removing the background, and capture moments at a specific time.
We have tried to cover as many requirements as possible, keeping in mind how the demand may vary from one person to another. You can download and start using any of these software to make the most out of the webcam of your PC.