Due to the recent growth of internet usage and smart devices worldwide, people are now more interested in IPTV. While it does not require traditional support from antennas, satellite dishes, and fiber optic cables to broadcast channels, you can record your tv shows to watch later as well. Besides, IPTV has brought all the popular TV channels to your doorstep and has made watching tv more flexible by all means. Here in this article, we will describe the best IPTV players for Windows PC that you can start using anytime. 
A great IPTV player can render a great experience while watching tv from your desktop PC. Besides, you will be able to boost your entertainment by watching exciting shows, sports, movies, video on demand, and many more. There is no sort of obstruction, as you will have just to log in and play.
Best IPTV Players for Windows PC
---
IPTV players take support from multimedia streaming services and deliver tv channels, videos, etc., through the internet to the end-users. We have completed a prior assessment on the important features, how they work, pricing plan, streaming protocols, pros, and cons to make this list of the best IPTV players for Windows PC. Understand your requirement, and go through this article before choosing the best-suited one from the shortlist displayed below. 
1. MyIpTV
---
If you are running Windows on your PC, then you can get this app within the package. It is completely free, and you can get it anytime from the Microsoft store. You can have full confidence while using this tool to watch IPTV on your PC as it is extremely stable and reliable as well.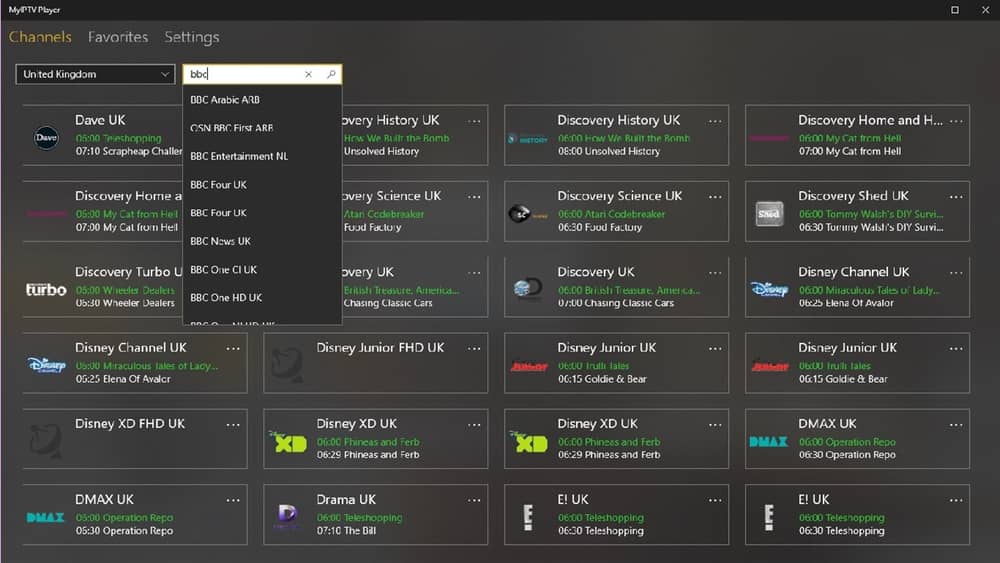 Important Features
Comes with m3u playlists that let users play live TV programs and videos on their PC.

It is equipped with an easy to use interface and can be used as an m3u player as well. 

You will just need to visit the setting tab to add a new playlist and EPG source. 

Supports HTTP Live streaming and MPEG TS while the channels are automatically grouped based on the data. 

Features a powerful built-in management tool, and you can record favorite shows also. 

Enables users to download on-demand videos along with center and history for VOD. 
Pros: You will also get the option to manually add channels in the app settings, while PIN protection and channel filtering option are also included. 
Cons: Sometimes, authentication becomes so clumsy that it may become annoying for any individual, while some channels can not be watched smoothly.
2. VLC Media Player
---
It is one of the most widely known names for people who use a desktop computer or laptop. Although many people use it as their primary tool for playing video or audio, it has exciting features for IPTV streaming as well. This open-source multimedia player is well equipped to handle all your local resources and streaming sources. You can also install this application on your Android smartphone to experience streaming on the go.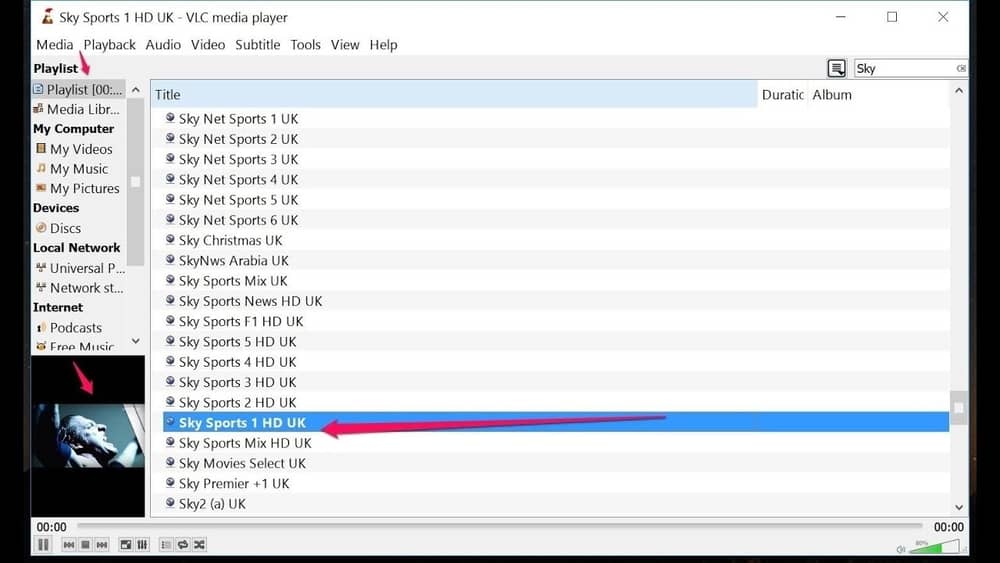 Important Features
Features support for 0-copy on the GPU while it has hardware decoding on most platforms. 

Capable of playing any video format and renders great quality with no interruption. 

Get full control over your videos with the advanced control sets offered by VLC. 

One of the best features is your privacy will remain safe as VLS does not include any spy, tracking code, or ad. 

You will be able e to play all Files, Discs, Webcams, Devices, and Streams effortlessly.

Visit the setting's option and add your video source under Open Network Stream, and you are good to go.
Pros: One of the best Windows 10 IPTV players with powerful features for every multimedia source, and the number of Built-in codecs are countless. It runs on all the platforms. 
Cons: Customer support is awful, and connecting with WiF is painful also. There are some other problems like atmospheric absorption, shadowing, and beam dispersion.
3. Plex
---
If you are looking for a modern IPTV player for your PC, then Plex will be the best choice for you. You will be just blown away after visiting Plex's appealing user-interface. You can keep a collection of your local media resources along with the videos from streaming platforms.
It is designed to take your tv watching experience to the next stage with the stellar streaming contents. It is not also paying attention to enriching their web collection with new shows, videos, audios, etc.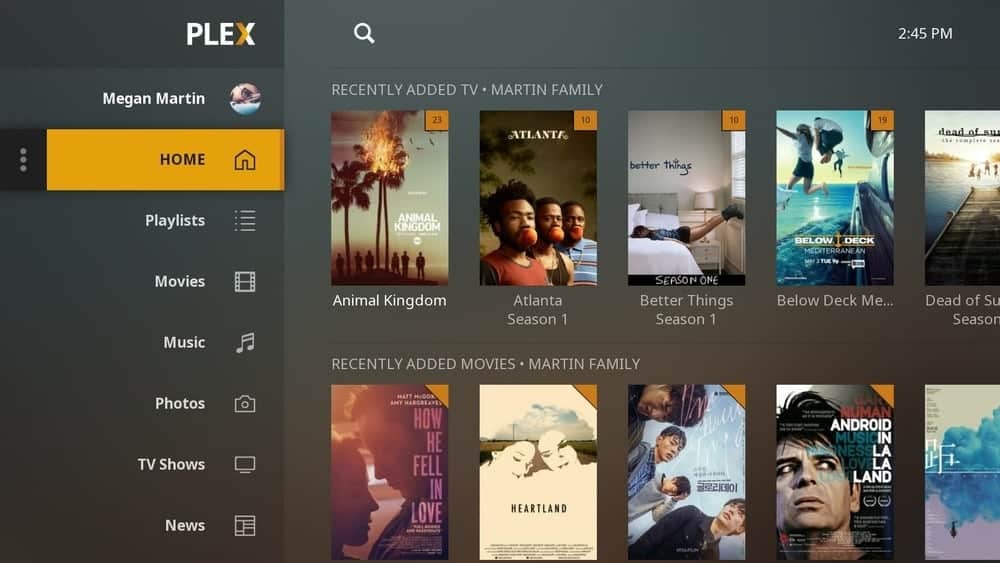 Important Features
It is available on every platform out there, including ROKU, Chromecast, PLAYSTATION, XBOX, NVIDIA, etc. 

Enable users to watch tv on any screen-sized device and always renders great quality. 

You will just have to sign up, get plex on your device, and start experiencing. 

If you want to unlock the best content, you can upgrade to Plex Pass. 

200 + free on-demand movies and shows from different production houses are available. 

You can watch up to 100 channels with the free version, while if you want to record, then a premium subscription is required. 
Pros: Backed by a great community and a huge number of active customers. Also, its collection feature for listing favorite movies, videos, or audios is outstanding. 
Cons: One of the major downgrades is streamlining local videos while most of its alternatives can stream worldwide freely. 
4. Kodi
---
Kodi can be considered a 2 in 1 platform that allows users to play all the local files and works as a great alternative for the IPTV players for your desktop. It is a stunning application, and you can directly enjoy your favorite channels from your computer.
Besides, third-party channel integration is straightforward and simple, which makes us motivated to include Kodi in this list. It has a great community, and the developers have been working really hard to add advanced features continuously.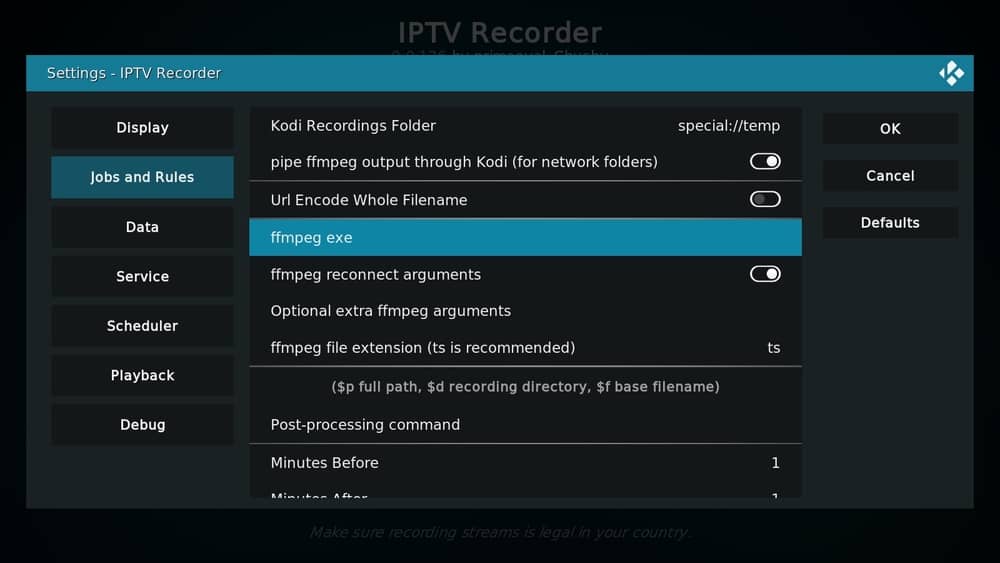 Important Features
To watch IPTV, you will just need to launch the Kodi application and then click on the radio or tv. 

Just copy and paste the URL of your TV show or on-demand video and click on the play button to start enjoying. 

To customize and tweak your entertainment setup Kodi features a huge number of add-ons. 

When it comes to cross-compatibility, no WIndows 10 IPTV player can beat Kodi. 

There is an add on offered by Kodi known as PVR addon that allows recording tv shows. 

You can also change the skin to get a new look frequently. 
Pros: Continuous development to meet the customer's demand set Kodi apart from other IPTV players in this list. Again, it is 100% open-source as well.
Cons: If you compare its UI with other IPTV players like Plex, then you will find it complicated. Besides, when it comes to streaming Kodicontent, you will have to face difficulties at times. 
5. ProgTV
---
If you are considering only the well-known IPTV player for Windows PC, then you can become interested in starting using ProgTV. Besides watching your favorite TV shows' live streaming, you can also listen to the Radio using this software. You can expect to get a great experience from the outstanding User Interface. At the same time, easy access to a considerable about of digital content motivated me to include ProgTV in this list. It is also known as ProgDVB.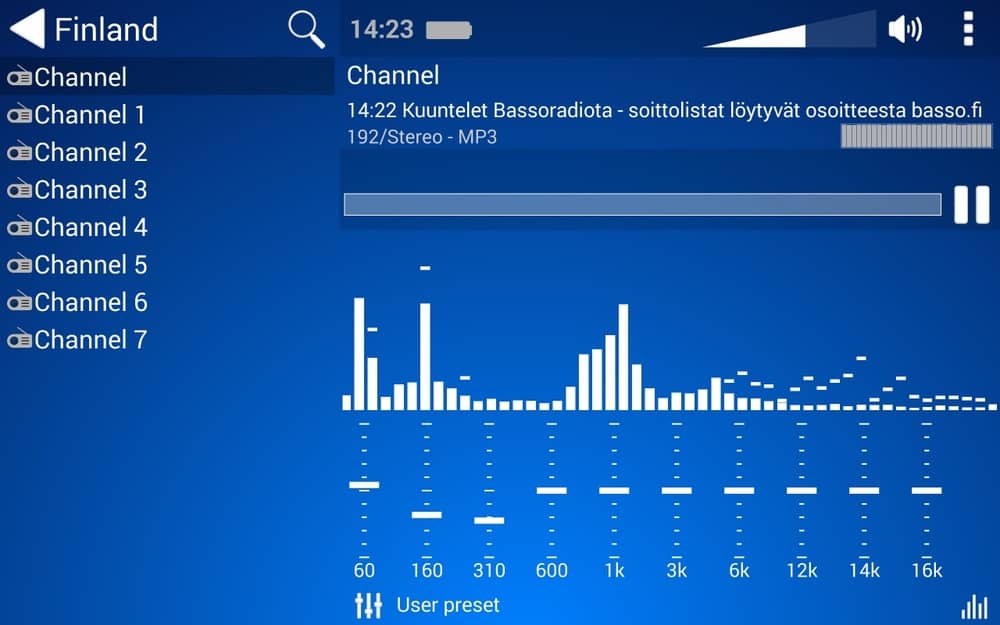 Important Features
Comes with two independent interfaces to ensure a comfortable customer experience. 

Besides, this software will allow you to control your Home Theatre or  PC remotely. 

Functions pretty well with a mouse and will improve the controllability to a great extent. 

Along with IPTV channels, Rodina TV, Sovok TV, DVB-S, DVB-S2, DVB-T2, and many other data sources can be used for streaming. 

One of the most important features is Network Broadcasting, while Teletext is also there. 

From the menu selection, select a source and click on IPTV, enter .m3U URL, click to play, and enjoy. 
Pros: ProgTV is equipped with a 10 Bands equalizer, and users will be able to experience a fast preview of Mosaic channels. 
Cons: EPG does not work sometimes, and you will need to reload the list of channels manually. 
6. OttPlayer
---
If you are making a list of the best IPTV players for Windows, then you will have no other choice but to include OttPlayer. It is one of its kind and will help you to get rid of the burden of paying the monthly subscription fee for your television channels.  It is so simple to use that even a novice will find it smooth while functioning. The user interface is pretty modern and clean. 
Important Features
It is completely free, so you can enjoy your favorite tv shows, channels, movies, or series without spending a penny.  

You will able to enjoy streaming on your phones, tablets, and set-top box or TV. 

All the facilities are connected, controllable, and centralized together via a website. 

After making a list of channels, you will just need to find a source that suits you best. 

Various protocols are supported by OttPlayer, which include HLS, RTSP, TS by UDP RTMP, and so on. 

Besides, playlist support M3U8 will also be included within the package. 
Pros: The best part it does not contain any ad or spread spam. Besides, you will get next-level channel management, where each channel is accompanied by its respective icon. 
Cons: Although this application is quite interesting, you will find this app often crashes unexpectedly, and it cannot remember your favorite shows or channels. 
7. SimpleTV
---
It is another great IPTV player you can start using right now. There are so many reasons why we have put this on this list of the IPTV player for Windows. Among all of the reasons, I want to mention its 64-bit streamlined video from various sources, designed to take your IPTV experience to the next level. You will not only get popular tv channels and record live programs, but also you will be able to create your own playlist. 
Important Features
There are four different pricing plans available, which include Basic, Byte, Giga, and Tera. 

The number of channels will vary depending on the payment plan ranging from 72 channels to 211 channels. 

It has a huge number of customers and is trusted by many industry leaders. 

Simple TV can play any kind of multimedia files, including your local resources. 

Playlists can be organized according to your requirement. 

Streaming is smooth and can help to keep track of all the popular shows under one umbrella. 
Pros: You can customize the video streams. Its neat and dynamic user interface is also there to provide a great experience. 
Cons: The major downgrade is you cannot use this software for free. Again, it consumes a lot of power, so it essentially becomes bulky at times to operate. 
8. IPTV Smarters Pro
---
It is one of the most popular IPTV players for smartphones available out there. You will be glad to know that they have recently launched their dedicated Windows version, which you can use on your PC. That means with only one app, and you can watch streams on your mobile, on your desktop/laptop, and firesticks as well. Although it does not come with its own contents, you can contact your service provider to get tv channels.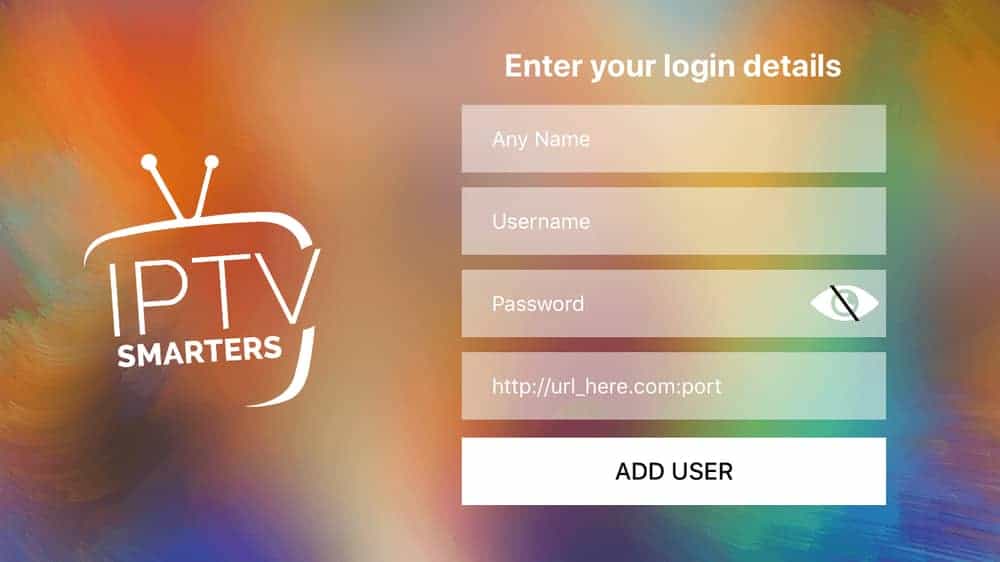 Important Features
If you have a streaming subscription and wondering where to watch shows, then IPTV Smarters Pro will be a good choice. 

You can use the free demo before finally paying for the full version. 

Comes with no third-party affiliations, which mean there is nothing to worry about privacy. 

Equipped with in-built subtitle support to remove the problem of the language barrier. 

Can be considered as Xtream codes suitable for watching Live TV, Movies, and Series. 

Parental controls are also there, which makes it suitable to use at home. 
Pros: You will be surprised to see the layout of IPTV Smarters Pro while the dynamic language switching is also included within the package. 
Cons: The only setback is this is only a player, and you will not find any content unless subscribing to any of the sources. 
9. Free TV Player
---
You can probably guess the reason why we have put this software in this list of the best IPTV players for Windows by reading its name. It is completely free, and on the other hand, it will not ask for any email or name, just like every other software mentioned above on this list. And also, if you ever decide to upgrade to pro, you will cancel the subscription at any time, which makes it convenient for all sorts of users.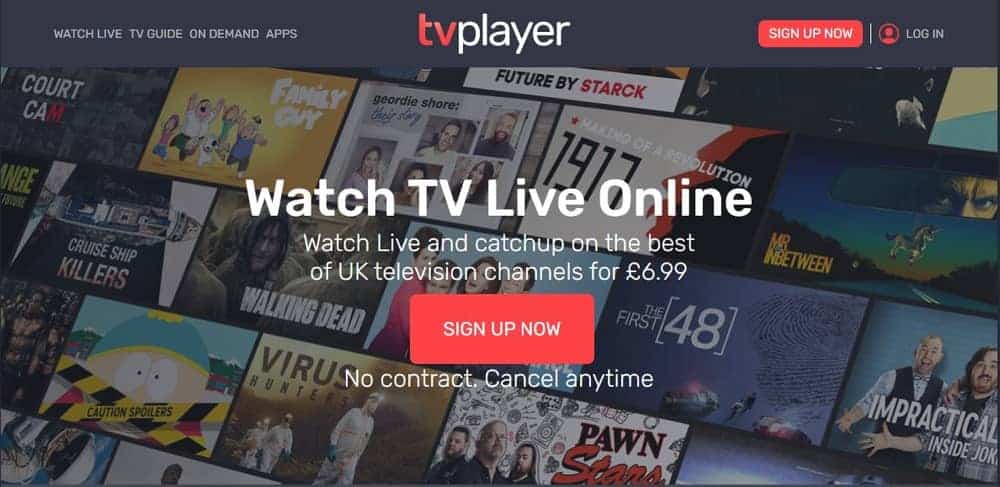 Important Features
Allows users to watch favorite tv channels, shows, series music, or videos anytime, anywhere. 

The website is so lightweight that you can access it even with a weak internet connection. 

You can use this software on any device, while the recent update has included the Chromecast as well. 

You will get access to more than 40 channels, even with the free plan. 

If you do not find anything on its m3u playlist, you can search over the internet and paste the URL. 

Comes with a massive list of additional features, which include 100+ shows also. 
Pros: This software will let you download your favorite shows or episode so that you can save your data. 
Cons: Although it is delivering its own unique content, they are not as appealing as Netflix; thus, you may lose interest at a certain point. 
10. IPTV
---
Although this software has been mentioned at the end of this list, that does not mean this software is of no use. Rather, it is a kind of software that suits the list of best IPTV players for Windows flawlessly. It is packed with supreme quality features that are programmed to render the best user experience. On top of that, it comes for free, so you will not have to waste money if you do not like this app.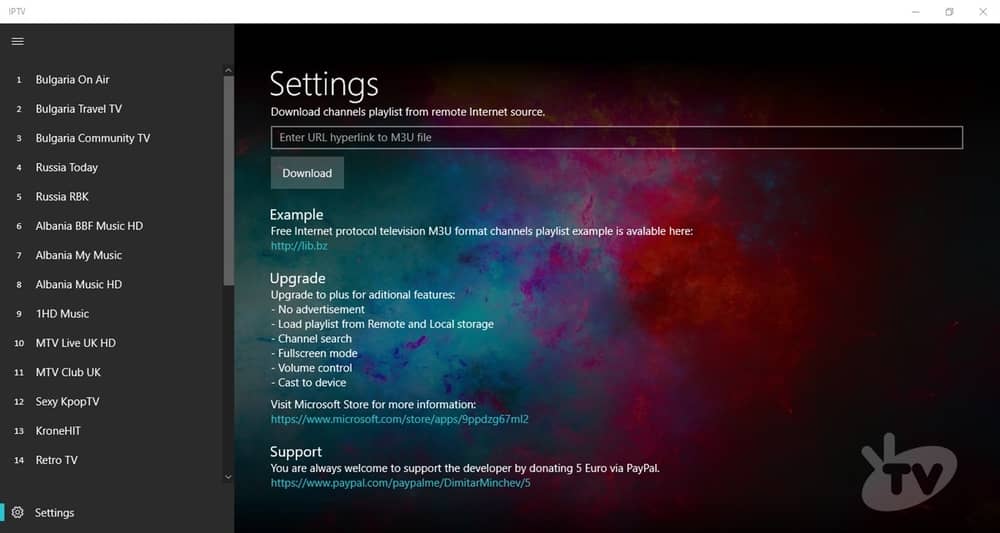 Important Features
This software is perfect for people looking for an app for watching live TV programs or playing multimedia as well. 

Enable users to play  m3u playlists videos quite effortlessly. 

The user interface is modern and easily understandable, which makes sit convenient for all users. 

For watching streams, just head to the setting and add a playlist or any EPG source. 

You can add video or music using URL or local channels. 

It comes with a great number of channels to make you satisfied. 
Pros: Wath all the free resources available on the web without any interruption with this IPTV software.
Cons: The processing speed consumes a high power, resulting in poor performance and slow response time. 
Our Recommendation
---
It was a tough task to make this list for representing the best IPTV software for Windows. There are so many alternatives that you can choose other software which is not included in the list depending on your requirements. But before putting it in, we have considered the features, supported protocols, advantages, and disadvantages of each app carefully. 
We are declaring Plex as the best IPTV player for your PC. If you consider the community and support, then you will hardly find any app that can come closer to Plex. Through a painless experience, quality content, great performing servers, and podcasts, no matter who you are, you are going to love Plex. 
Finally, Insights
---
So here is the list of the best IPTV players for Windows. You can start your journey with IPTV with any of this mentioned software right now. We have given the features and usability top priority to help you to make a choice easily. If you want to transform your PC into an amazing entertainment gadget, you can start with any of these software.
But again, the pricing plan and the number of contents can play an important role in making a decision. So consider your requirements, and visit their website to get in-depth offerings before picking your IPTV app.