Imagine yourself on vacation in Hawaii, enjoying the sunlight on the beach, and relaxing your mind. But suddenly, you get a call that tells you to attend an important meeting. But you are thousands of miles away from your office! That's when you finally realize how important video conference software is. If you are a Windows user like me, then you might start looking for the best video conference software for Windows to attend your meeting!
If we think about the latest communication system, video conference tools are the most popular and essential ones. Whether you are on a smartphone, tabs, or PC, you need better video chat software. This software enables us to join international meetings, collaboration, seminars, and award ceremonies despite physical location and restricted traveling from various locations.
It also allows remote employment and flexible schedules, providing employees to spend time with their families and work in between. So, if you are looking for the best video conference software for PC, you are on the right track.
Best Video Conference Software for Windows
---
There are several video conference software available near you that you can access with just a click of a button. But trying out all and finding out which is right for you can take up much of your valuable time. And our duty is to save you time by suggesting a list of software that will never disappoint you.
In this article, we have listed about 10 software for video conferences. You will get the necessary details of each tool adjacent to the list to pick the right one easier for you.
1.  Zoom
---
Zoom is one of the best free video conference software for Windows PC, popularly used worldwide by many well-known companies. Besides providing clear video and audio, it comes with some incredible instant-sharing abilities.
This software is really easy and straightforward to operate and is compatible with almost all kinds of devices. The Secure Socket Layer (SSL) encryption ensures your data's safety and provides online support for a better customer experience.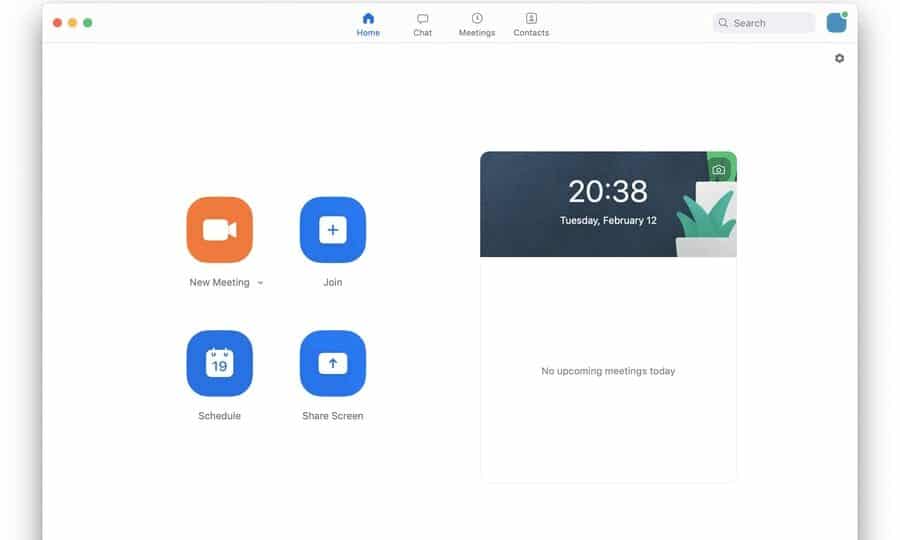 Pros and Cons
+ It enables sharing screens for tablets, desktops, and mobile devices.
+ The whiteboard function can be used to make understandable illustrations using the cursor of the mouse.
+ It can be used for unlimited meetings each day.
+ Excellent HD video and audio quality without noise distortion.
+ Advanced safety with Security Socket Layer (SSL) encryption and online support is available for any inconvenience.
+ Video or audio sessions can be recorded for later usage.
– Security is reported to be flawed and needs improvement.
– The free plan's meeting time is restricted to only 40 minutes, causing an interruption during a session.
2.  Microsoft Teams
---
Microsoft Team is another excellent software capable of efficiently handling participants as massive as 10,000. As Microsoft Office and Skype are from the same company, they can be integrated with Microsoft 365, increasing the software's functionality at a higher rate.
You can receive or make calls with its Direct Routing system and share or edit using PowerPoint, Excel, and Word simultaneously while attending a conference. Moreover, it features the functionality to blur the background or use custom images.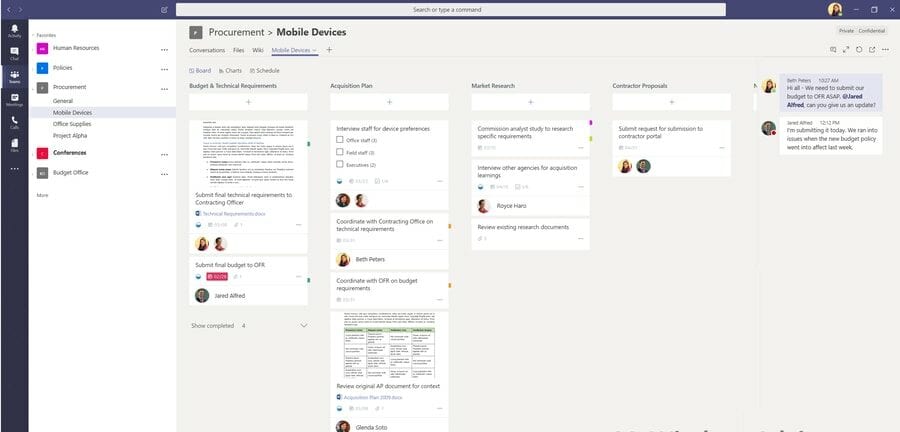 Pros and Cons
+ Microsoft 365 integration with Office and Skype with Advanced Security and Data Protection.
+ Can handle up to 10,000 participants providing HD video and audio quality.
+ Background can be blurred, and customized images can be used as well.
+ Scheduling Invitation and captioning in real-time.
– It is convenient mostly with Microsoft Operating System but does lack in other OS.
3.  Google Meet
---
Google Meet is included with the popular Google Workplace while providing a high-quality conferencing service. It is one of the best video messaging apps for Windows, which is really easy to access and use no matter what browser you are using.
Google Meet can handle an enormous number of users and offers a smart participation system for fast joining. It also has a dial-in feature that enables attendees to join while traveling anywhere in the world.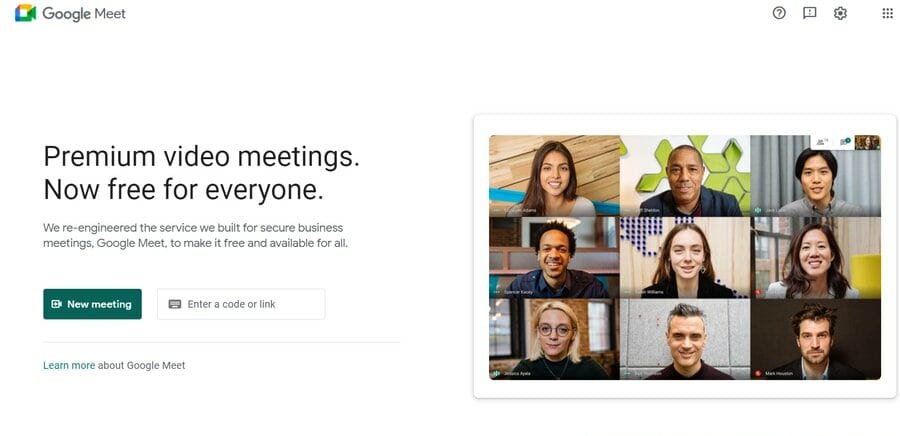 Pros and Cons
+ Does not require downloading software as it can be used through a browser.
+ Handle a large number of participants and faster joining with excellent customer service.
+ Easy to use and integrate with other Google services like Google Calendar, all coming at a low price.
– Google meets only works in Google Chrome, Microsoft Edge, and Mozilla Firefox.
4.  Skype
---
Skype has been providing video conference services since 2003 and is used by almost 300 million people worldwide. It is one of the free video chat apps for Windows and is excellent for in-video chatting. Microsoft has made this superbly user-friendly and provides great features for free.
Though the paid version has some advantages, it's not very much significant as the free version. Skype has a feature called Skype Credits to call mobile or landline numbers and be used for SMS messages.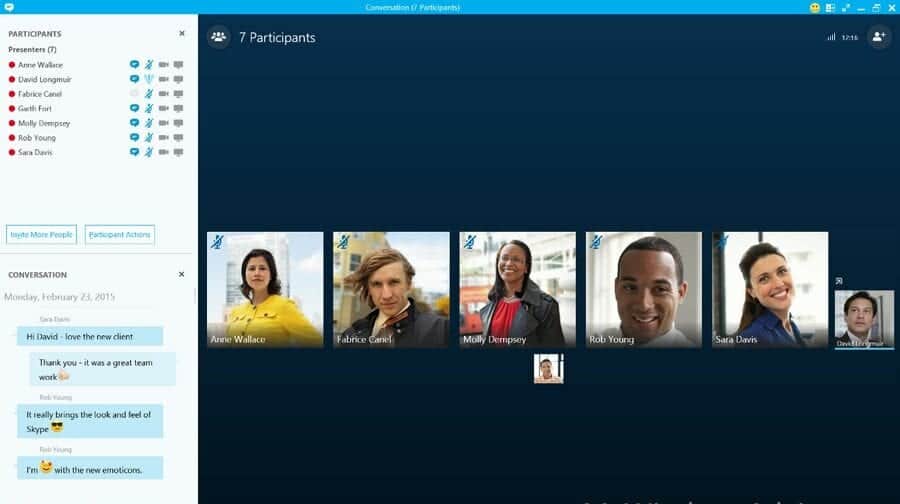 Pros and Cons
+ Excellent User experience and advanced features operate efficiently.
+ Almost all the features for free and Skype Credits to make low-rate cellular calls.
+  Amazing video and sound quality with real-time translation.
+ Supports messaging pictures and video sharing.
+ In software, audio quality tests ensure your microphones are working.
– SMS can only be sent but not received.
5.  Cisco Webex
---
Cisco Webex Video Conference software for Windows provides an excellent free plan, and the premium version's plan has quite a lot cheaper than in the past years. This software offers a wide range of services, including support centers, training, and webinars. It includes unique features and dial-in coverage in more than 45 countries.
The free plan can handle up to three persons, no dial-in, document and screen sharing, whiteboard feature, 250 MB of cloud storage, and standard video quality. However, the premium version can handle almost 25 people and provide HD video quality along with dial-in numbers.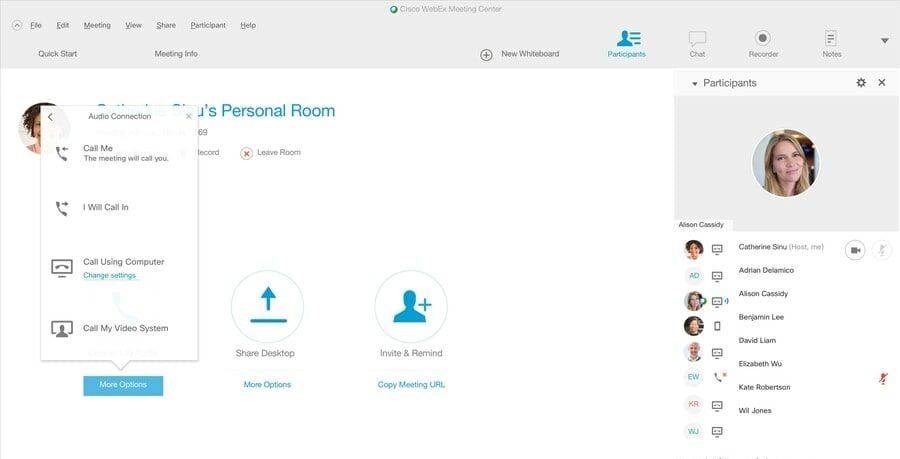 Pros and Cons
+ Advanced data security and unique features.
+ Free plan availability with minimal video and audio lag.
+ Easy and simple to use.
– "Call-Me" feature requires additional fees and is expensive relative to other competitors.
– The interface is old-looking and requires improvement and modernization.
6.  GoToMeeting
---
GoToMeeting video conference software is ideal for small businesses or startups. This software offers excellent management features and is very easy to operate. It also provides a toll-free dial-in number in more than 50 countries, which requires you to pay per usage. In brief, GoToMeeting comes with all the essential features and can handle almost 25 attendants simultaneously.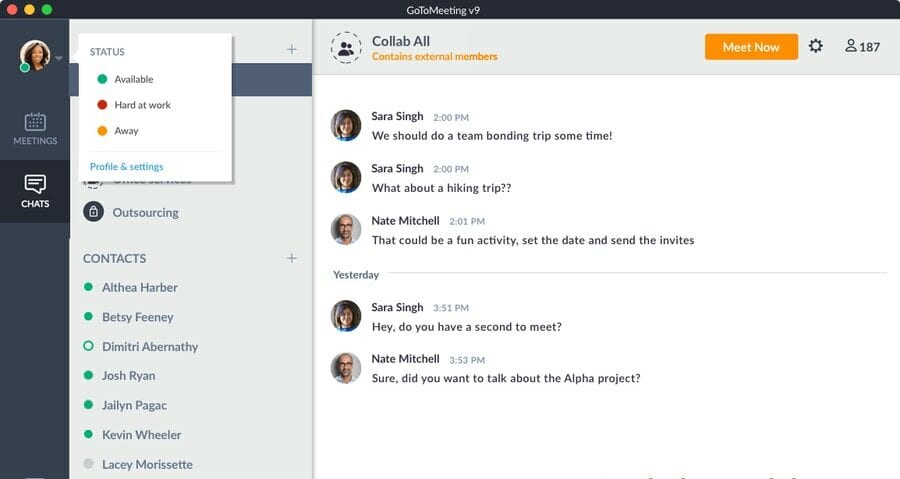 Pros and Cons
+ Easy to create meetings and a simple user interface.
+ Free Trial is available without the need for credit card information.
+ Up to 25 video feeds operate simultaneously and real-time transcription.
– Lacks some advanced features, such as voting.
– Features for Webinars are not included and require using GoToWebinar.
– Very Stable Connection is required for the software to operate smoothly, and it has limited chat capabilities.
7.  BlueJeans Meetings
---
BlueJeans is well known for its excellent Dolby-powered directional audio that allows you to have a lively experience. It has impressive scheduling features and is easy to use. This software can be integrated with Microsoft Office 365 and can handle up to 50 – 70 participants while offering cloud recording for up to 10 hours. Moreover, you get a user-friendly dashboard with useful information, such as the number of attendees, statistics, and average usage time.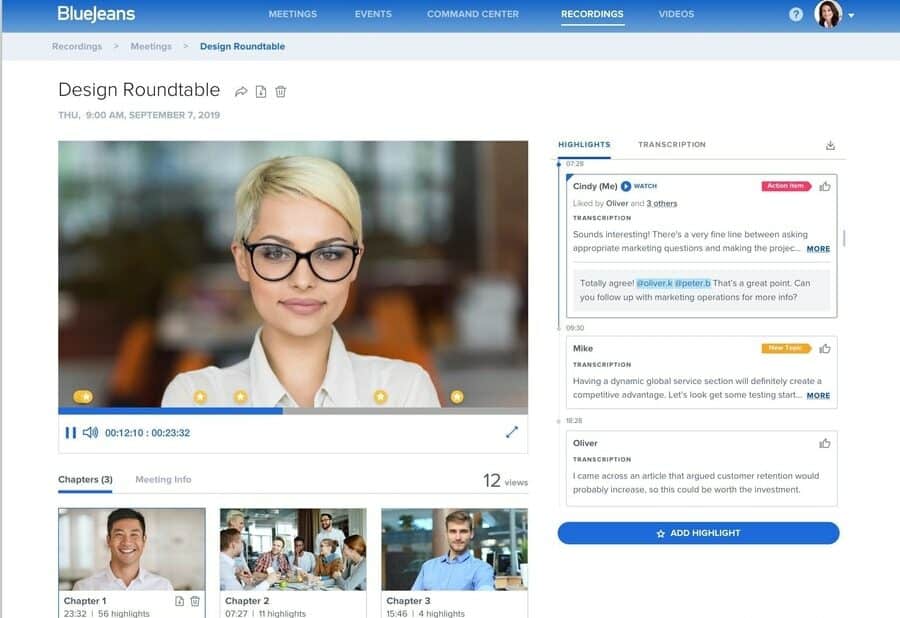 Pros and Cons
+ It has Dolby-powered direction audio for an uninterrupted conference.
+ Dashboard with usage time, attendees, and feedback statistics.
+ Supports browser usage without the need to install the software and load up your hard disk.
+ Encryption access only for safer security.
– The recording is not available in some plans.
– Lacks file-sharing capabilities and basic webinar features.
8.  ClickMeeting
---
ClickMeeting is one of the best among the best video conference software for webinars. This software offers high-quality video and audio and additional controls for webinars. The primary plan can handle two hosts and 25 attendees, whereas the topmost plan can handle four hosts and 5,000 attendees.
It is user-friendly and provides an account panel to monitor attendants, usage, feedback statistics, and many more. You can buy a dial-in number, but it can be limited to only a few countries.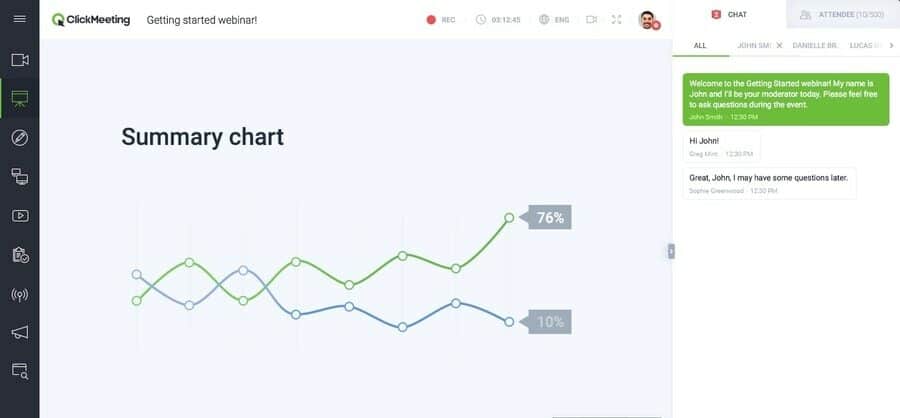 Pros and Cons
+ Credit Card information is not required for a free trial.
+ Simple and easy to use and provides additional features for Webinars.
+ Account panel to view stats of the conference and make analysis reports.
– Does not support mobile devices and can handle a smaller number of participants.
– Needs improvements to certain features.
9.  ezTalks Meetings
---
ezTalks Meetings is one of the most frequently updated software and has a set of unique and incredible features. It is easy to use and provides unlimited meetings for 40 minutes with almost 100 people.
Not to mention the HD-quality video conference. Conferences can be scheduled and have a dial-in feature and all the common video conference software for Windows, such as screen sharing, whiteboard, in-conference chatting, and many more.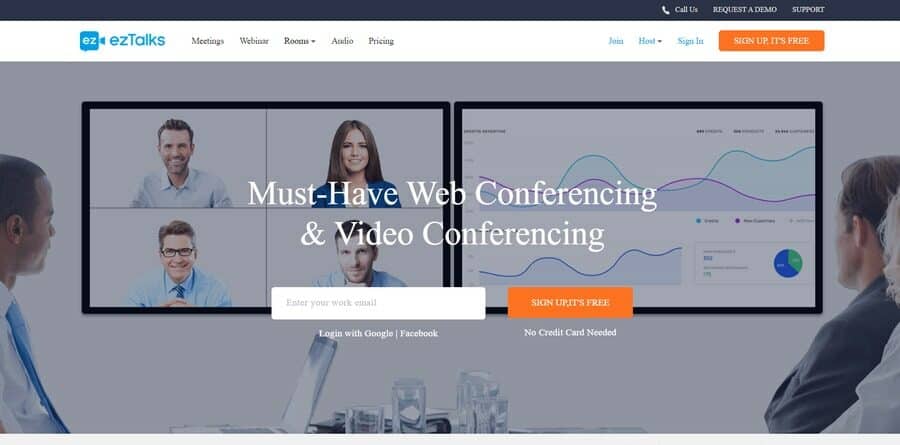 Pros and Cons
+ Unlimited meetings either instant or can be scheduled for a later time.
+ HD video and audio quality with the dial-in feature.
+ Screen sharing and interactive whiteboards for easier understanding.
+ Impressive Customer support and response within 1-2 days.
– Does not support MP4 format.
10.  Zoho
---
So last but not least, Zoho is another great video chat software for Windows that comes with free and professional versions. The free version can handle only one host and up to 5 attendants; however, the premium version can handle one host and 100 attendants.
It offers scheduling meetings, sharing screen,s and allow an attendant to take complete control of the host's computer with permission. Zoho is among the cheapest software available in the market.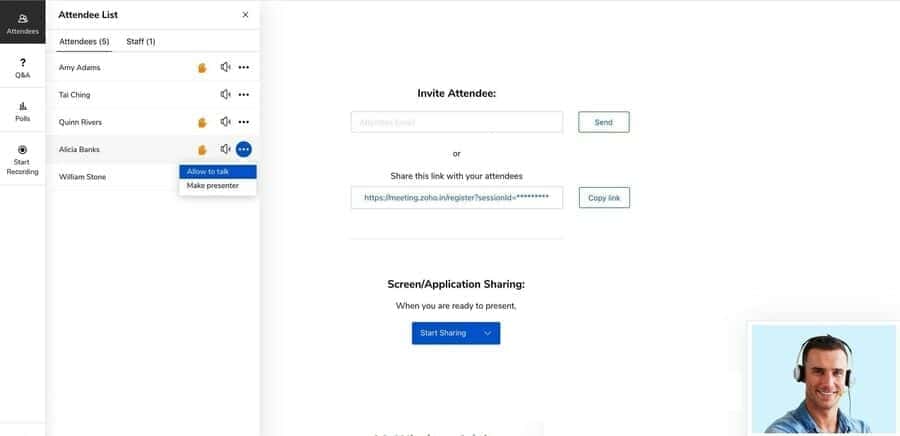 Pros and Cons
+  Impressive free version and integration with Google and other software.
+ Affordable and complete platform for anything
+ You can get the whole image fast and easily, no matter wherever you are.
– Attendee's information cannot be customized and lacks some features
– Hidden costs add up to the base price, making it a lot more expensive.
– Lacks good customer support.
Our Recommendation
---
If you ask me, Zoom is the best video conference software for Windows available. This software is compatible with almost all kinds of devices and can handle a huge number of attendees. It can provide you with HD-quality video with excellent quality, no matter where you are in the world. However, all the other software we mentioned in the article can provide you with a quality video conference.
Finally, Insights
---
Video conference is really important in this busy world to work on the go. In this competitive world, there is various video conference software for PC, and they are all developing and competing continuously to be better than each other.
Many of this software is free, and the rest comes at a very reasonable price. Before buying or downloading software, you need to keep in mind three important things: features, user experience, and the number of attendants you need it for.
We hope this article helps you to decide which software you should use. If you have any recommendations, do not leave a comment below.