Video editing plays a major role in creating movies, music videos, advertisements, and so on. The importance of videos cannot be ignored, as videos are the soul of stories, products, marketing, songs, and any visualization. And video editing software is one of the main prerequisites for creating a stunning video. This software is usually made for pairing more than one video clip or photo together and trimming clips from and to wherever you want. You can also add background music, transitions, and effects to bring life into any video. This article prioritizes all the great video editing software for Windows available right now. This software can also focus on the key subject in a scene and draw the audience's attention and fundamental operations.
Best Video Editing Software for Windows PC
---
This article is going to discuss the best video editing software for Windows available out there. Although there are many other options for editing video on your Windows PC, we have taken the number of available features, cross-platform compatibility, hardware requirements, customer service, Special effects, music, supported video formats, budget, and pricing into consideration.
1. Adobe Premiere Pro
---
Adobe Premiere Pro is now the leader in the market of video editing software for Windows. Both beginners and professionals use this software. From commercial movies to general video clips, this software is tested in many cases and renders great performance in every aspect. Moreover, the number of advanced functionalities sets it apart from others. VR Editing is also available, powered by tools like VR Audio Editing, VR Rotate Sphere, etc.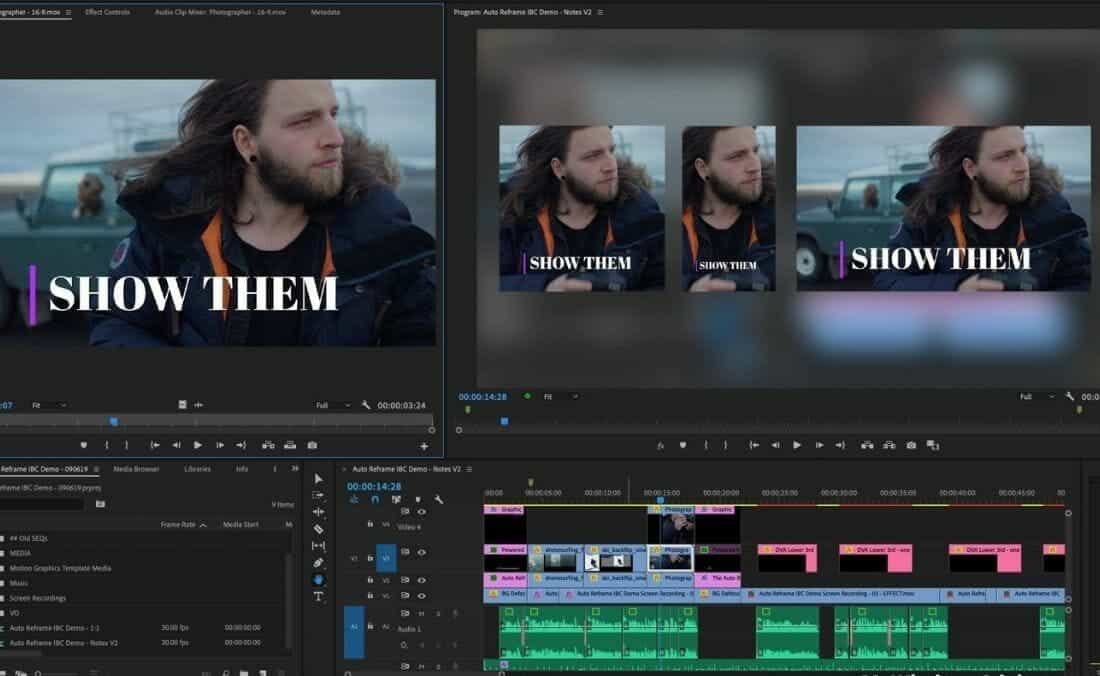 Important Features
Come with a responsive user interface that can eventually increase your productivity, effectiveness, and efficiency.

A variety of projects can be opened simultaneously, and you can switch between scenes simultaneously.
Can be integrated with any product from Adobe, and you can expect smoother workflows and fewer interruptions.

Adobe releases frequent updates for this software as the solutions to bugs reported by the users.

The conversion process is not required, as you can add any video directly from your device.

It is unique because of the flexible virtual reality support.
Pros: Backed by Lumetri Support, you can directly publish videos from the software. It also takes very seriously the type tool, libraries, and regional closed caption standards.
Cons: This software requires a highly configured computer and can be used free only for thirty days.
2. DaVinci Resolve
---
DaVinci Resolve is one the best video editor for Windows that can render high technological functioning, and users can get their desired output from it. Starting its journey in 2004, DaVinci Resolve has become a giant in video editing software through continuous development. Along with Adobe Premiere Pro, it is another widely used video editing software around the world.
It has a reputation for delivering a great user interface and has been used for editing many Holywood movies. This software performs fantastically when it comes to color grading, and many creative professionals cannot think about a day without this tool.

Important Features
One of the newest features is you can now hide page icons to get extra pixels of the graphical interface.

It can be integrated with the Frame.io cloud-based platform to share your videos with your team or get approval from the client.

The music composition section lessens the hassle of editing music in another software.

The functions in this software are adequately organized and easily accessible.

Provides frequent updates to its users with solutions to the bugs reported by the users

Equipped with powerful 3D tools, Resolve Fx, and YRGB 32-bit float image processing
Pros: Advanced color correction helps to get the desired color. Simultaneously, you can invert any color channel and the alpha channel, which is proved to be important for inverting any footage color.
Cons: Hard to understand the advanced functions, which makes learning this software pretty difficult. Besides, the motion graphics portion named Fusion does not work well up to the expectation.
3. CyberLink PowerDirector
---
CyberLink PowerDirector is a simple solution to video editing equipped with all the essential functions, just like Adobe Premiere Pro. This consumer-level application includes fundamental functionalities and helps newcomers edit their videos more easily.
A free version is available, although you can upgrade to premium to unlock all the exciting features. You can also take advantage of the innovative technology of Cyberlink to process 360° footage.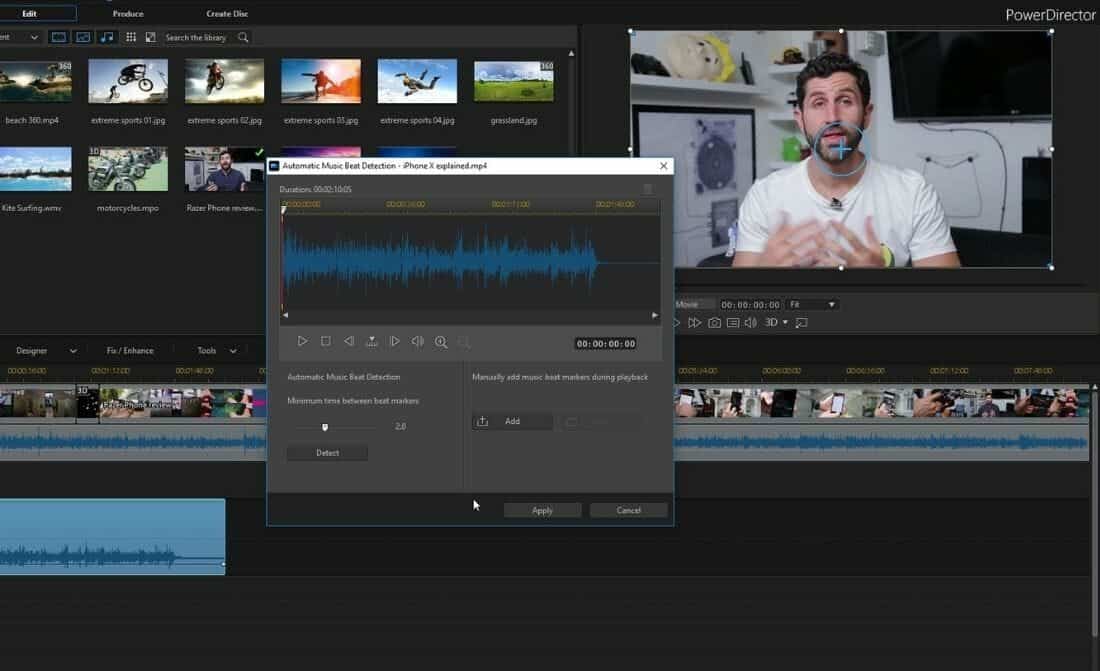 Important Features
It can be used on low hardware specification, and a minimum of 4 GB RAM, 128 MB VRAM and an Intel Core i processor will be required.

Comes with tools like Magic movie wizard and can track motion to produce great videos

A wide range of Encoding and exporting options are available.

Pre-programmed video templates are also there to help you process, select and sort the best shots.

Enable users to stabilize shaky videos while basic functionalities like zoom, pan, and setting anchor points are included.

True Theater Color is another awesome feature that can analyze your footage and automatically enhance the brightness, contrast, saturation, and so on.
Pros: Action camera tools set this software apart from other apps while you can manage your project more efficiently through the express project module.
Cons: The unavailability of audio track panning is one of the major downgrades of this software. You will also find bugs sometimes which appear at the beginning of the exported videos.
4. Vegas Pro
---
Vegas Pro is a professional video editing software widely used around the world. Compared to other video editing apps, it has a more reliable ecosystem and is backed by multiple resources. You can just drag and drop to cut or pair your videos to make a video ready for showcasing. While video fx can be implemented, you can enhance any video's quality through the external plugins Vegas Pro offers for its customers.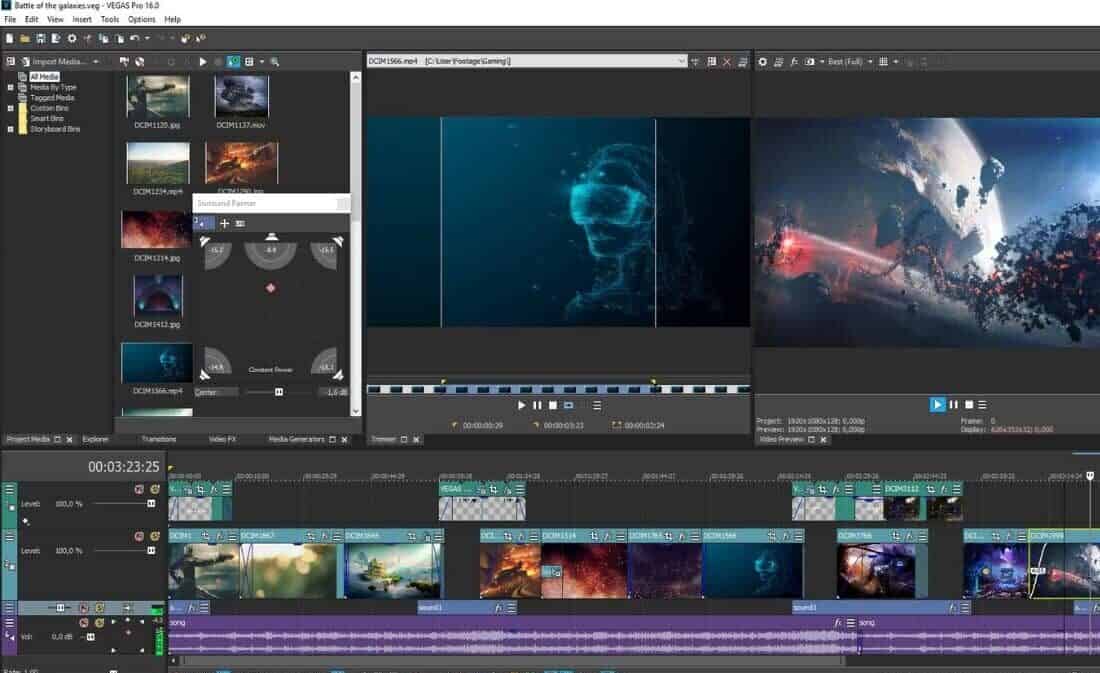 Important Features
It can be used on any PC with minimum requirements without interruption, making it convenient for beginners.

A massive number of effects, filters, and transitions for both video and audio are present, making it a popular video editing software for Windows.

Inbuilt video stabilization is powered by state-of-the-art technology that can produce smooth videos.

It comes with Planar Motion Tracking, which makes it easy to track and pin text or apply color grading on the objects.

This software's nested time functionality can help organize your projects and speed up your workflow.

You can expect to get complete HDR color support and a unified Color Grading workflow.
Pros: Improved color curves help to keep the balance between colors automatically, and the sophisticated Lens Flare is also there to create different styles and looks as well
Cons: It is not efficient for handling 4K resolution videos, and modernistic transitions could be added to produce better-looking videos.
5. Adobe Premiere Elements
---
This is usually a very basic level of software compared to the giant Adobe Premiere Pro. It can be considered one of the best video editing software for beginners available right now. Amateurs are the main target customer of this software.
It can enable users to create stunning videos and share them with friends and family instantly. It comes with a video and photo organization tool that allows us to access a certain video and clip and organize them according to our wishes.
Important Features
It comes with step-by-step guidance to enable beginners to create professional-grade videos and gain confidence as well.

Two videos can be fused to match similar moments through its intelligent editing feature.

Offers a Candid Moments feature, which will allow you to capture any moment from your footage

This software can automatically select the best shots to save a lot of time for you while editing a video.

Besides, automatic adjustments and automatic slideshow creation are also included within the package.

You will also get a chance to explore advanced tools like Smart Video Trim, music remix, and so on.
Pros: This software is a one-stop solution for producing professionally graded videos on the go, and you can switch to expert mode to meet additional requirements.
Cons: The toolbox is limited, and you will not set the ratio of your videos with this software. And. More plugins could be added to enhance its capabilities.
6. OpenShot
---
OpenShot comes with an easy-to-use interface for editing videos, films, and animation. With a rich set of features, OpenShot is completely open-source and can be used on Linux, Mac, and Windows platforms.
You will get support for both opacity keyframes and volume keyframes when it comes to importing and exporting. This software can also export in Final Cut Pro XML format, making it unique along with the advanced animation-creating features it can offer.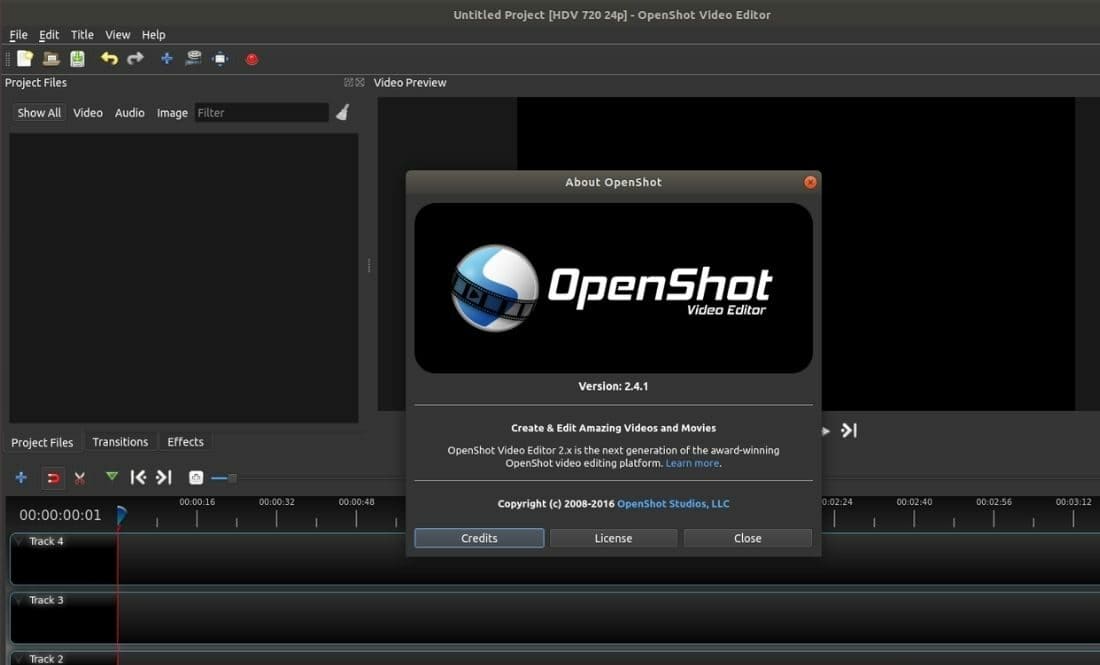 Important Features
This cross-platform video editing tool can provide support for many videos, audio, and image formats.

Equipped with powerful curve-based Keyframe animations while drag and drop interface is also there

Comes with basic operations such as clip resizing, scaling, trimming, snapping, rotation, and cutting

It needs only 4 GB of RAM, and you can also add 3D animated titles and effects.

Users can switch to the advanced mode from basic with one click and switch back as well.

Advanced digital effects such as brightness, gamma, hue, greyscale, and chroma key can also be completed.
Pros: This video editing software is one of the best editors for youtube users. You can also do time mapping (slow/fast, forward/backward) on your videos.
Cons: The post-processing of OpenShot is slow and comes with no Hardware Acceleration. Unstable performance is another major issue, as many people have reported freezing, lagging, and suddenly quit of this software.
7. Magix Movie Edit Pro
---
Magix Movie Edit Pro is one of the most powerful video editing apps for Windows available out there. It is only available in the Microsoft Store. It provides frequent updates for its users and solves the reported bugs. This application will cost you $99.99, which is very high for a newcomer.
Still, you can raise no questions when producing professional-grade multimedia projects and awesome user experiences. Besides, it is easy to use and includes industry-standard shortcut keys as well.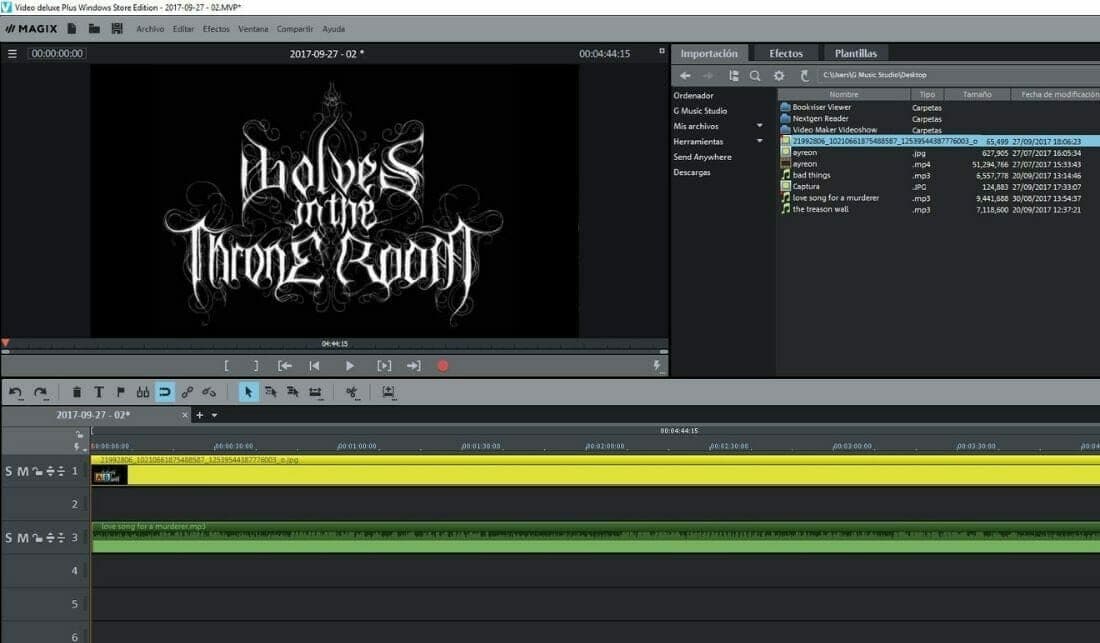 Important Features
It will allow you to import footage, organize it in bins, label it, and process it accordingly.

The user interface is designed to keep video editing simple and straightforward.

You will be able to trim clips and move them around. Besides, all the traditional video editing features are also available.

There is a tool called media pool, which allows you to insert transitions, 3D effects, and titles.

Offers a wide array of quality templates with attractive text styles required to create a stunning video

Specific looks can be applied while color correction, blur, distortion, speed, and chroma key tools are also included.
Pros: Comes with premade templates that can be used for making trailers. So youtube or social media videos can be made with just a few clicks.
Cons: You will find no tool for importing and organizing clips, and its performance is often questionable when it comes to rendering large video files.
8. Corel VideoStudio Pro
---
Corel VideoStudio is one of the widely known video editing software for Windows available out there. Due to its advanced functionality, it can be easily compared to Adobe Premiere Pro. This software has many handy features and tools required to convert any video into a professional multimedia project.
Besides, newcomers will find this tool relatively easier to use because of its dynamic user interface. Advanced features like chroma key and VR video editing are also packed within the package. This software is highly recommended for making videos for social media channels.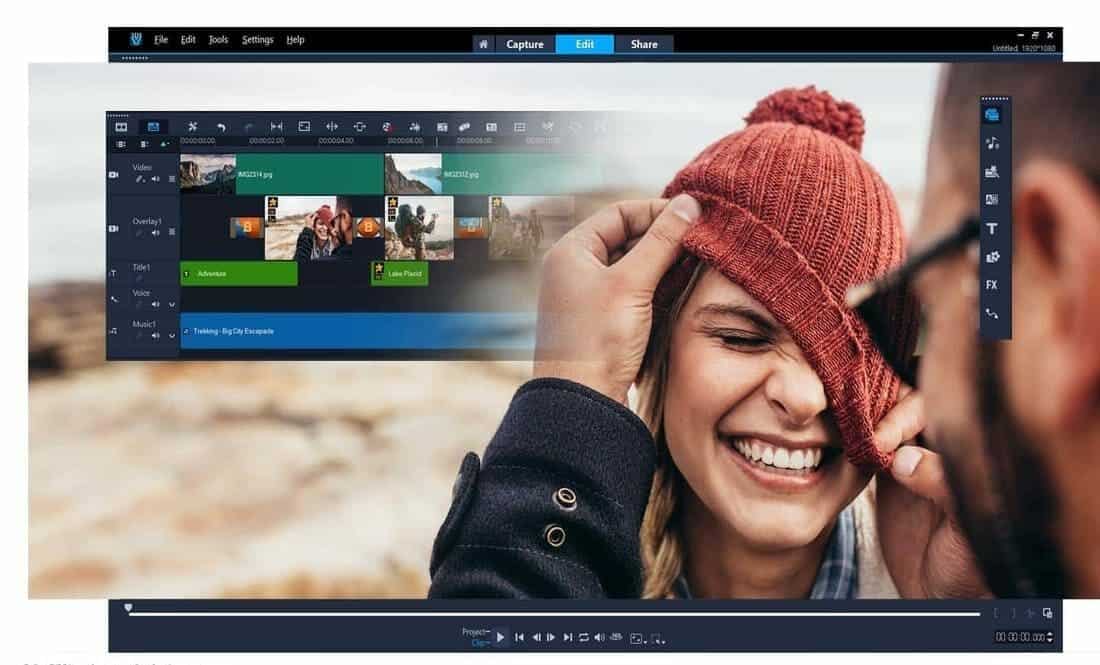 Important Features
This software requires a minimum of 4 GB RAM and 1024*768 display quality.

It offers the editing of 4K videos, 360° videos, and Multicam video clips.

Take advantage of inbuilt features such as pan & zoom, Stop motion animation, and Color correction.

Tool for lens correction is what separates it from other software.

It has almost 2000 effects, the feature of stop motion, and a three-dimensional (3D) shape for texts.

The software provides a faster experience in rendering files.
Pros: Accompanied by a great number of project templates along with Smart Proxy editing and Batch Processing.
Cons: This app needs to be updated frequently, and users may face unpredictable crashes sometimes.
9. HitFilm Express
---
Although HitFilm Express is not a common name, this software has claimed its place because it is completely free. It helps beginners work on their projects without interruption and is also packed with professional-grade VFX tools. You can download additional features according to your requirement, making it budget-friendly.
People like film students, gamers, YouTubers, and content creators are the main target audience of this software. It includes more than 410 effects and presets to keep video editing simple and straightforward.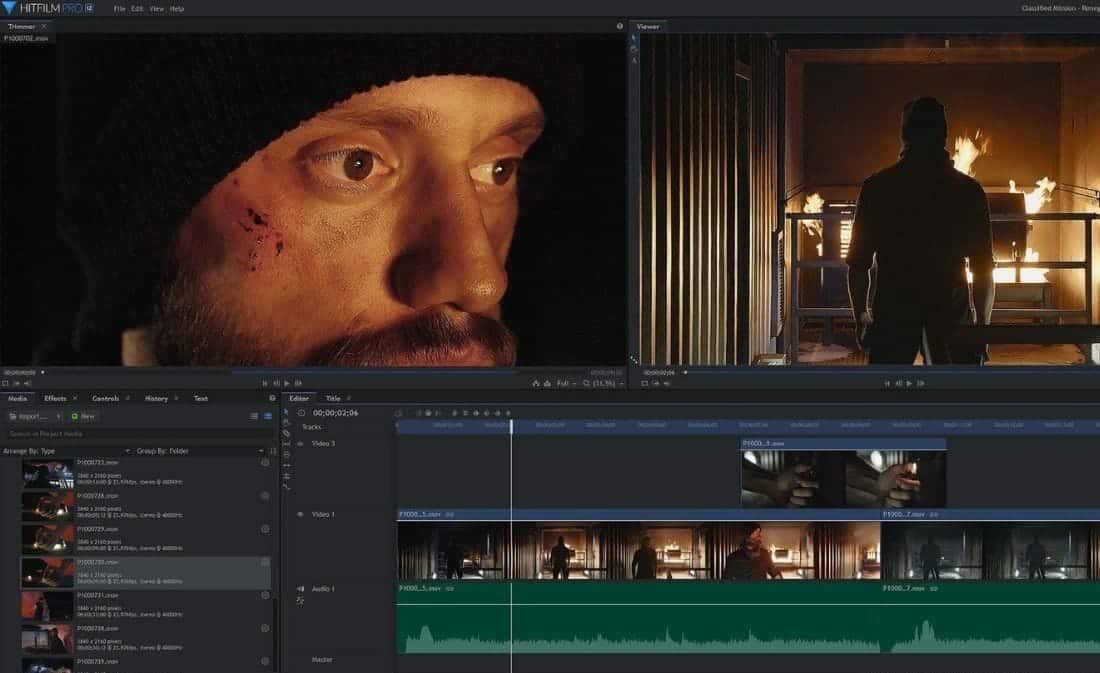 Important Features
Users can customize their interface according to their choice.

Individuals can embed effects on videos just by dragging and dropping.

Comes with free video tutorials and projects to provide a solid understanding of video editing for newbies

You can insert 360° effects on videos and select music from unlimited tracks and transitions.

Provides PiP (Picture-in-Picture) feature along with color grading instrument

It supports full 2D and 3D compositing and is backed by an international filmmaking community.
Pros: HitFilm Express has made file handling super simple while you can take advantage of Keying & extraction fracking, 3D model import, and Specialized effects.

Cons: Special effects could be included for every playback option, but the performance is not also adequate while exporting a file.
10. Wondershare Filmora
---
Filmora 9 is the best video editing software for beginners who are very keen to learn video editing. This can be called professionally made basic software to start the journey of video editing. It can be downloaded from the website for free, but it will contain a watermark of Wondershare Filmora in the free version while exporting.
To get rid of the watermark, the only solution is to buy it for $59.99. The annual fee Wondershare offers for Filmora is $39.99. If you are interested in this field, you can take advantage of its YouTube channel for free, as it is packed with a ton of videos on how we can use Filmora's features and video editing tutorials.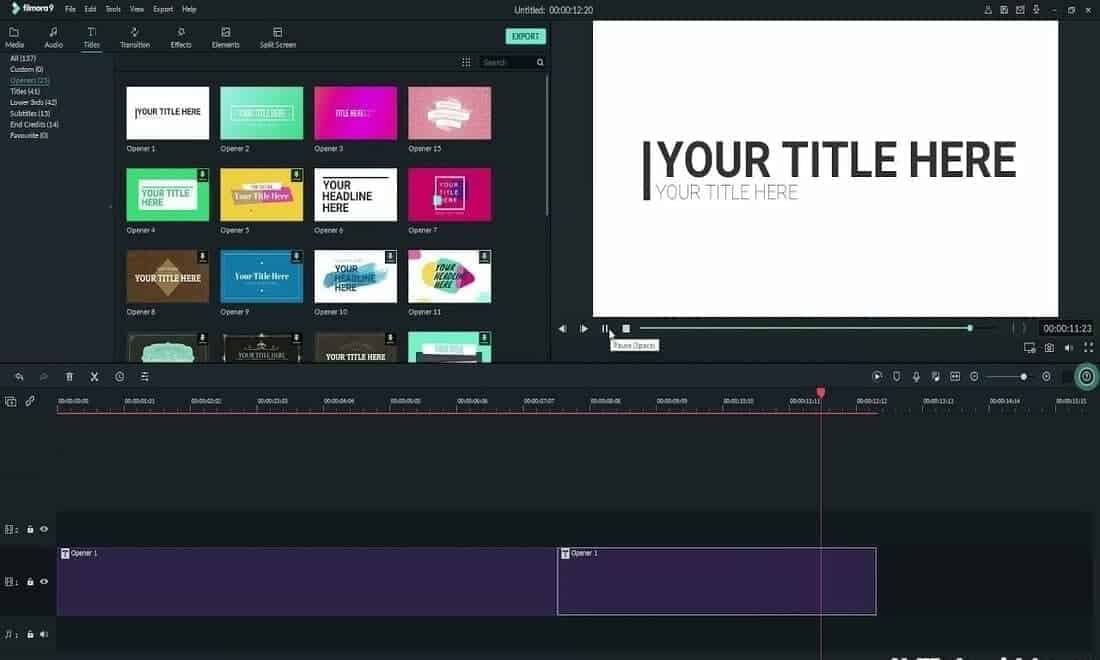 Important Features
The interface looks simple and includes every possible feature, so learning becomes easier.

The library is enriched with many effects and transitions, while it also offers royalty-free music to use in your video.

Like other video editing software for Windows, you can Split Screen, tune color, Pan & Zoom with Filmora.

Renders great performance to make the exportation process faster than other software

It doesn't require highly configured PCs, as 2 GB of Ram is quite enough to run this software smoothly on your Windows PC.

Advanced Text Editing, Video Stabilization, and Screen Recording are also included in this tool.
Pros: Unlike other video editors, Wondershare Filmora can process files in GIF format, which makes it unique.
Cons: It will continuously push you to upgrade to premium, which eventually becomes annoying. You may also experience Lag/flickering within the videos sometimes.
11. Blender
---
Blender is a great choice for editing videos when you are on the go. It does not cost anything and is available to use at any time. This open-source 3D creation suite can is recognized as one of the most powerful video editing software for beginners. Starting from the basic level to the advanced or complex level, many features are available there.
Though it is called video editing software, it is basically based on 3D animation. If you are an advanced-level editor, you may be interested in creating games using Blender.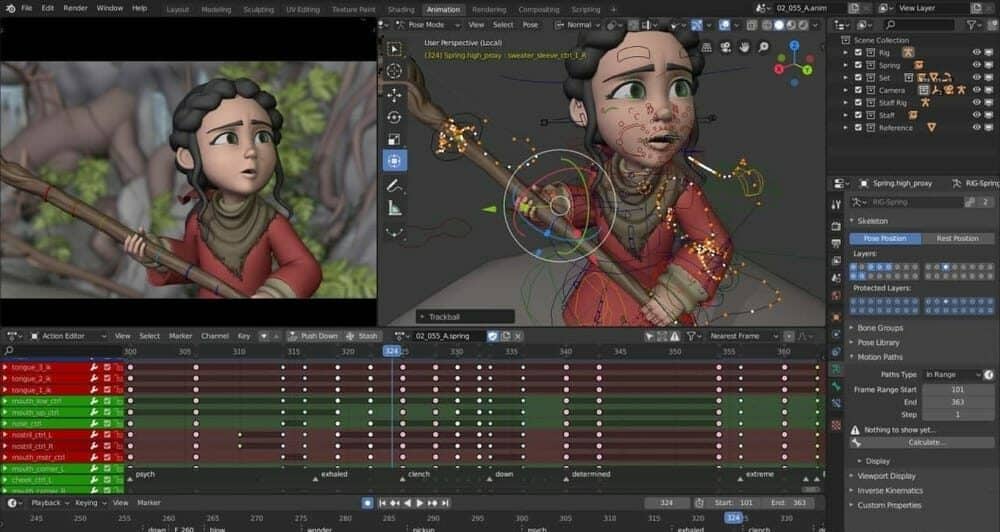 Important Features
Advanced features include UV unwrapping, texturing, raster graphics editing, rigging, and skinning.

Provides benefits for its users with 32 slots for assembling video, audio, image, and text

One can change the speed of a video or audio and also put the layers accordingly.

Users can mask their videos, which is a mandatory step for advance level video editing.

Suitable to work with animations and Modelling with super Fast Rendering

Equipped with advanced tools like Grease Pencil, VFX, Pipeline, Simulation, and Sculpting
Pros: This software shows the waveform while mixing audio that help users understand the frequency and amplitude. Besides, Blender's user interface and shortcuts can be fully customized.
Cons: As this software is intended to make 3D animation, the video editing features were never easy. This is not recommended for beginners but can facilitate many opportunities for professionals.
12. Lightworks
---
Lightworks is a great competitor in the field of video editing software. Windows users will get this software for free with many features, but there is a paid version too, where more features are included. Talking about video editing software for youtube, Lightworks comes in the top 3 because it is easy to learn. You will also get access to amazing royalty-free audio & video content to make standout content for your social media channels.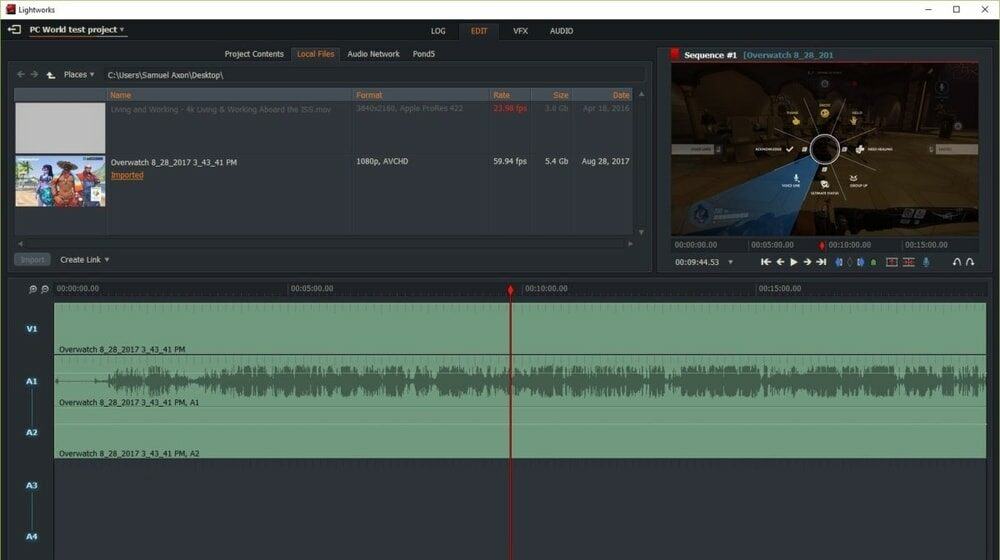 Important Features
This video editing software includes a Multicam facility, which sets it apart from others.

All kind of formats is supported while the user interface is simple and intuitive.

Can export videos in 720 pixels without facing any trouble, which makes it suitable for the YouTubers

It has made editing and trimming super simple, and you can take advantage of using audio and video FX in real-time.

Though the 4K editing feature is available in the free version, Vimeo video exportation is only possible in the paid version.

Sequences can be professionally graded through its 32-bit GPU precision and histogram tool.
Pros: Beginners can make their hands dirty without paying a penny. And like other free video editing software, it does not really restrict editors as most of the features come with the free version. It has also released a tool known as Lightworks Console that can provide a tactile approach to editing.
Cons: Pricing becomes a major concern if you upgrade, while a smart content analyzer could also be included.
13. Shotcut
---
Just like Blender, Shotcut is another great video editing software for beginners. It comes for free, and users can get access to all the features available in this software. It supports a wide range of video formats and comes with video tutorials to facilitate your learning to a great extent.
If you explore this app, you will surely identify the developer's intention to maintain a balance between the output's quality and the features' quantity. Besides, Shotcut's cross-platform compatibility makes it suitable for users as well.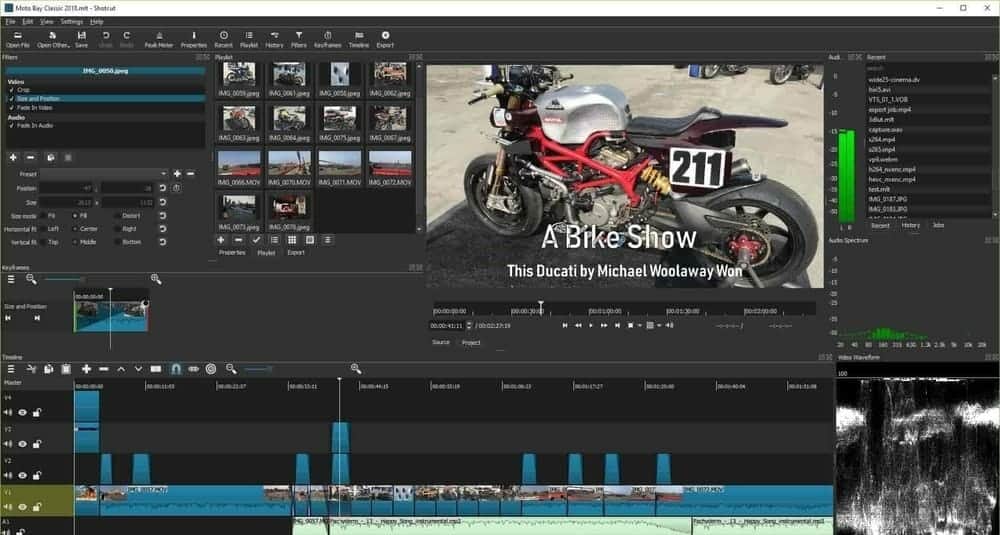 Important Features
Can expect to get powerful support from Shotcut when it comes to processing 4k-resolution videos

The user interface is pretty simple but packed with a complex array of features and tools.
Allow users to add any number of media files just by dragging and dropping.
Adding keyframes to any value in incredibly easy and can be altered anytime
It offers a vast assortment of presets, which can be pretty helpful for exporting projects.
Basic Joining and Trimming, effects, and chroma keying are also available.
Pros: This open-source video editing application has a highly customizable interface to meet your needs.
Cons: Many users have reported that Shotcut may sometimes crash while processing videos in high resolution.
14. Avidemux
---
Without any second thought, Avidemux can be called the easiest software ever to start learning video editing. Besides, this software is free of cost and does not require a lot of hardware requirements.
Although all the basic stuff like trimming, pairing, inserting transitions, or adding background music can be completed without any trouble, you can not really depend on its capabilities for handling professional-grade projects. It is equipped with excellent encoding options, and if you are new to this domain, you can give this video editing app a go.

Important Features
The user interface is different from other video editing apps as a central pool importing video clips, images, and audio files is not available.

You can just add a start and end marker for clipping videos.

It comes with a wide array of premade filters and transitions that you can use to make a great video.

Audio tracks can be filtered, and videos can be zoomed smoothly when windows are resized.

A good number of video exporting formats are available in Avidemux, along with task automation features.
Pros: Users can go through Avidemux's Video menu to explore tools like noise reduction, deinterlacing, pop-art effects, and so on.
Cons: There is no option for social sharing, and it also restricts users from collaborating with other users. Besides, features like Video Stabilization, Text Overlay are also unavailable in this video editing tool. It does not support HD resolution as, well.
15. InVideo
---
InVideo is a high-performing video editing software for Windows. It tries to keep things simple and straightforward, making it suitable for people coming from any background. As a result, if you look at the number of positive reviews, you will surely understand the enormous supports it has got from its consumers.
Its awesome customer supports also proved to be a major reason behind this huge customer base. The developer team of InVideo has indulged itself in continuous development to offer better features like Animation, Collaboration Tools, and Customizable Branding for their customers.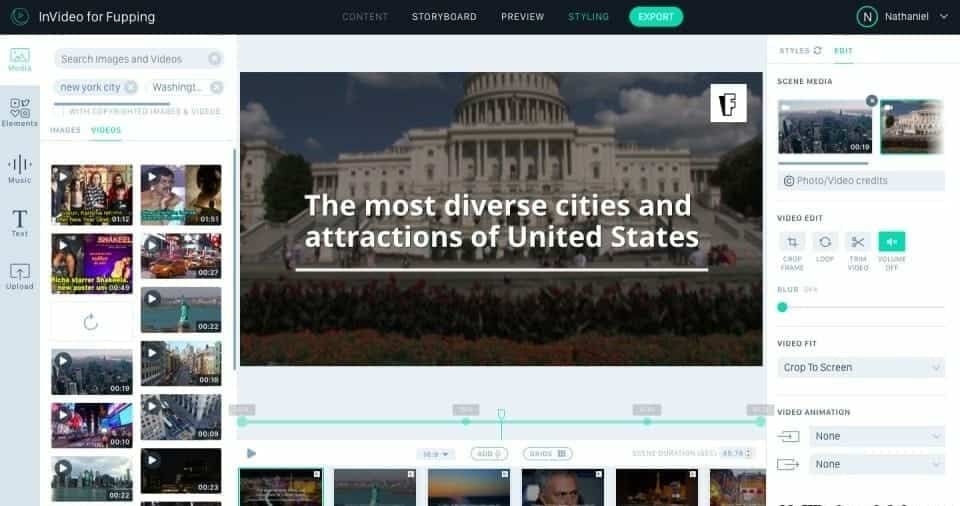 Important Features
Equipped with all the basic functionality like Media Library, Privacy Options, Social Sharing, Audio Editing, and so on.

It comes with inbuilt Video

Stabilization to get rid of jerky video clips.

Videos can be split or merged, while text overlay and a wide array of templates are also available.

Can process and export videos in HD resolution, and you can convert texts to videos to make quick social media content.

You can also take advantage of Speed Adjustment, Video, and image management tools to extend the video quality.
Pros: Users can make short videos for their presentation without spending a lot of time putting in any effort. And 1M+ royalty-free images, video clips, and 400+ custom-built templates are also mentionable.
Cons: This is a web-based application, which means it does not work well when the internet connection is slow. Also, video editing can eventually become boring as it keeps lagging sometimes.
16. VideoPad
---
If you are a newbie in this domain, then you can surely choose this software to get going. It can be easily considered one of the best video editing software for beginners available out there. VideoPad tries to keep it simple for you when taking your first step in video editing while it is affordable and powerful.
You also use this as a video editing app for Instagram, YouTube, or Facebook as well. You will also be able to publish your video directly from the application, along with meta tags, descriptions, titles, and so on.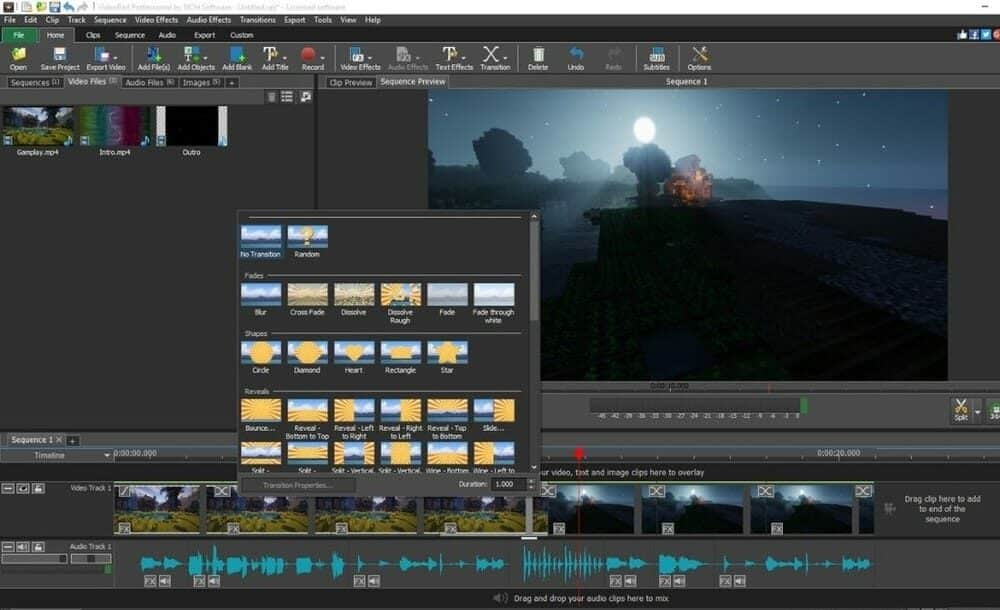 Important Features
This entry-level video editing software comes with all the basic home editing features.

A free version allows beginners to dirty their hands, even without paying a penny.

Accompanied by a significant library of tools and plug-ins, which makes it more effective for particular tasks

Users can take benefit from the ample amount of supported software.

You will be able to explore exclusive features like audio mixing to photo tools.

Videos can be exported in multiple resolutions, while 3D Video Editing is also supported.
Pros: There is a built-in stabilization system that can reduce the camera shakes to a great extent. Besides, pre-made transitions are also there, alongside a great sound library.
Cons: Advanced users will find this software too simple, while advanced technologies like machine learning and facial recognition are not present.
17. Machete Video Editor Lite
---
If you are considering the best video editing software for youtube, then Machete Video Editor Lite comes with one of the most user-friendly interfaces available out there. It is suitable for amateurs and can process multiple audio and video formats.
It is a lightweight video editing software for Windows that can complete any operation, such as splicing, joining, moving, mixing, and saving individual clips to build an entire video project. Among other exclusive features, Metadata Extraction and Windows Clipboard should be mentioned as well.

Important Features
It can save you a lot of time as Machete will save files

after every change.

Does not re-encode files before saving them so that you will get Lossless Renditions.

Navigating through the Machete interface is super easy and takes no prior experience in video editing.

A wide range of video and audio file formats can also be played and edited.

Currently supports AVI, FLV, and MP3 video formats, and they have promised to include more video formats in the upcoming updates.

Video can be edited with audio effects and background music, and they can mix on their own
Pros: Allows users to edit metadata for all file formats while integrating one video into another. Besides, videos can be streamed and extracted as individual files.
Cons: Machete will not support any kind of audio editing, and the file formats are limited. You can unlock more features with the full version, which will cost you $19.95.
18. VSDC Video Editor
---
The VSDC Video Editor has a pro version, although it has a free version specially designed for beginners. It can be considered one of the best video editing apps for Instagram, while the learning curve is also easier than most other software in the market. VSDC Video Editor is only available for Windows users.
You can also expect to get technical support, but you will need to pay $9.99 for a single month and $14.99 for one year. If you want to unlock all the features and tools, you can upgrade to the pro version only for $19.99.

Important Features
The filters are similar to Instagram's filters and suitable for editing videos on the go.

Video clip masking is present, which is essential for content creators on social media platforms.

Color correction is super easy, and this tool is equipped with a massive amount of codecs, videos, and audio formats.

An audio mixing feature is also present, while the Chroma Key tool can be used to remove the green background.

Users can expect to get all the basic options like zoom, charts, 360 video editing, video effects, and filters within this video editing app.
Suitable for outdated PCs as the hardware requirement is not so demanding as other video editors
Pros: It has a reputation for rendering great performance when you are exporting a media project. You can also add multi-colors and work with waveforms as well.
Cons: Free version does not include many important features, while hardware acceleration features are not available even in the pro edition of this video editing application.
19. Icecream Apps Video Editor
---
This video editor is a very basic one. It doesn't have more features like other powerful video editing software for Windows. But it can do all the basic operations required to produce a stunning video pretty smoothly.
This software is convenient and can save a lot of time as it has an easygoing and understandable interface. If you are on the go and want to make a video within a short time, Icecream Apps Video Editor is the one you can choose anytime.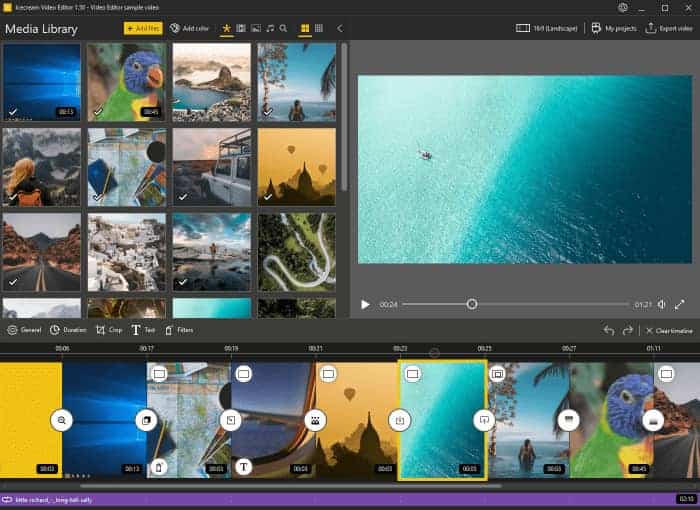 Important Features
Videos can be trimmed with a few clicks and come with a whole page of transitions.

Videos are edited in one timeline and equipped with a full editing suite with all the traditional functions.

Allows users to add transitions, effects, filters, and background music

You can export files in a wide range of formats where 4k is also included.

Just need to drag and drop files to get a production-ready video project.

Hardware requirements are pretty low to edit video without any interruption.
Pros: This is one of the best video editing apps for Instagram because of its easy functionality for putting videos together. Moreover, it's free of cost.
Cons: Developers could include automated features, while the premium version's pricing plan is quite expensive compared to the standard competition.
20. Camtasia Studio
---
Camtasia Studio can be used to make professional videos. It is not free at all. Camtasia Studio costs $249.99, which is very high. This is not at all suitable software for beginners. Camtasia Studio has a variety of functions and readymade sets of resources to get the highest benefit from it. Besides, it comes with a variety of options for applying the screencast to output to your screen.
Important Features
Animation videos can zoom in/out and pan from right to left and vice-versa.

It has attractive title blocks, notes, and callout presets to use in videos.

There are over 900000 stock footages, photos, and music that are absolutely royalty-free.

It can be integrated with PowerPoint, enabling users to show recordings during presentations.

Camtasia Studio helps to edit audio clips, and you can also add graphics to draw the viewer's attention.

Editing effects can be implemented while sharing the files on social media platforms directly from the editor.
Pros: It comes with a recording plugin that takes screencasting to the next level. This also makes this product suitable for making video tutorials, Presentations, and so on.
Cons: It is a relatively expensive option considering Windows's standard video editing software market. And also, Camtasia could include more cloud options to integrate while large file-size outputs often become clumsy.
21. VEED Online Video Editor
---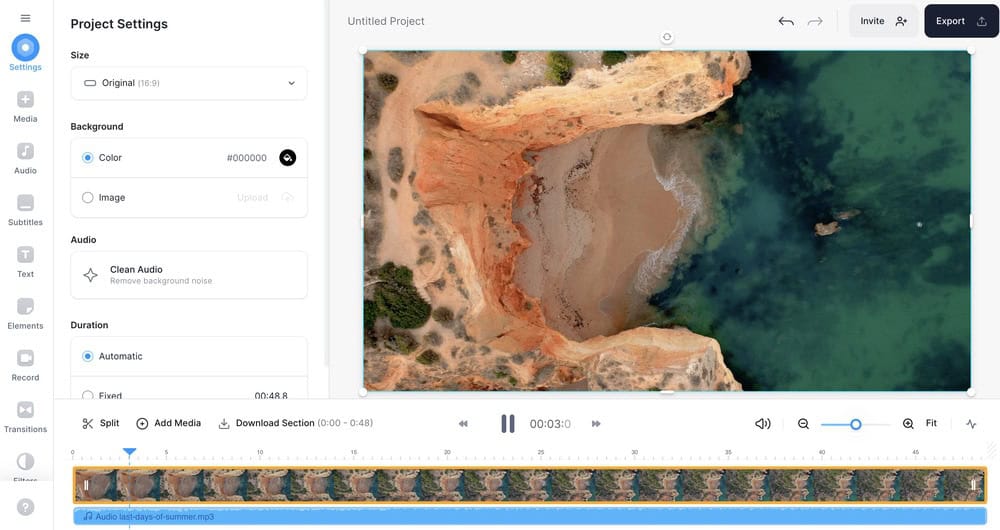 VEED.IO is an online video editing tool that you can use on your Windows PC. Marketers mostly use this tool to create engaging videos for their marketing campaigns. And also loved by content creators to create effective video content for their channels. The reason why users love using the VEED video editor is that it has many important features.
Important Features
VEED is a no-need-to-download software. You can start the entire editing process once you browse VEED.IO on the search bar. It saves both your time and storage space by not downloading the app.
With the easy-to-navigate user interface, users can start and finish a video editing project early.
One of the features that VEED can be most proud of is its online screen recorder. The online screen recorder lets the user record their screen tab, browser, or the entire window. It also allows webcam recording, which content creators mostly use.
VEED is accessible for free. But if you want to elevate the experience with this editing tool, you may avail of the other plans such as the Basic, Pro, and Business. All come at affordable and good prices.
It also features video guides that can help you with a fast and quick tutorial on using the VEED video editor tool.
Pros
VEED is an all-in-one software. It is packed with a complete set of video editing features such as editing, live streaming, subtitles, and transcription.
Cons
You can only use VEED when connected to the internet. Unlike any other tool, VEED is accessible only online.
Our Recommendation
---
It is hard to declare a video editing software as the best as some people are looking for professional-grade videos, whereas some simply want to learn video editing. You may also find people who are interested in editing videos on mobile only.
Adobe Premiere Pro, DaVinci Resolve, and Camtasia can be the best choice for professional video editing. But to start the journey with video editing, one may choose OpenShot, HitFilm Express, or Wondershare Filmora video Editor.
These are designed to keep things simple and straightforward, so you will just need to explore the tools and features to get going. Eventually, you will be able to dive deep into the field of video editing with the most advanced applications. But overall, Adobe Premiere Pro and DaVinci Resolve are the two best video editing software for Windows.
Finally, Insights
---
Video is the most popular form of representation, entertainment, and projection and one of today's world's most common phenomena. It has not been limited only to blending images and sounds together nowadays; rather, videos can be considered the key to drawing your target audience's attention in this competitive world. Starting from commercial purposes to the education sector, Videos are really important.
Even when it comes to content marketing, blogging, SEO, or social media interaction, video is important to focus on the more important things for keeping the message clear. Video editing software helps us bring light to our desired matter and engage the audience.
We have done an extensive research to make this list of the best video editing software for Windows. Whether you are a digital marketing specialist, professional editor, or beginner, you can check out this software to create amazing video clips.
But it is advised that you keep your budget and current level of expertise in mind to choose the most suitable app for you; how much time you will provide for learning a new software should also be considered to make it yours.