I have been using Windows OS for a very long time, oops, primarily from my childhood when I first came to know what is a computer. And I used Mac OS for any development work. But now Linux has changed my entire experience regarding any OS or Desktop Environment. 
Though Windows OS is very easy to use and great OS. And MacOS stands out because of its beautiful look and cutting-edge features. But both the system has created a closed chain that can't be broken or modified if any users want to as per their requirements and interest. Both the system hinders me from making my system as like as it should be.
Recommended Post: Top 5 Best Lightweight Linux Distros To Boost Up Your Old Computer
So what to do if I want to flourish my creativity and make a bloat free system. Here the answer is to use open source Linux which, both the way, provide me a smooth, customizable, user-friendly OS and also offer me a beautifully crafted, best looking system for my development work and as to use for the daily driver.
Best Looking Linux Distro
---
Now here I am going to make a list of 5 Best Looking Linux distro which I believe many of our new Linux users may like. But if you are a power user, then I prefer to follow the Best Linux Distro that I recommend to use. The below list is based on the best looking, gorgeous and beautifully crafted one. For many Linux users it may not be perfect, but for average users, it will do the daily job. So let's go ahead with the list and get the best one for you.
5. Linux Mint Cinnamon
---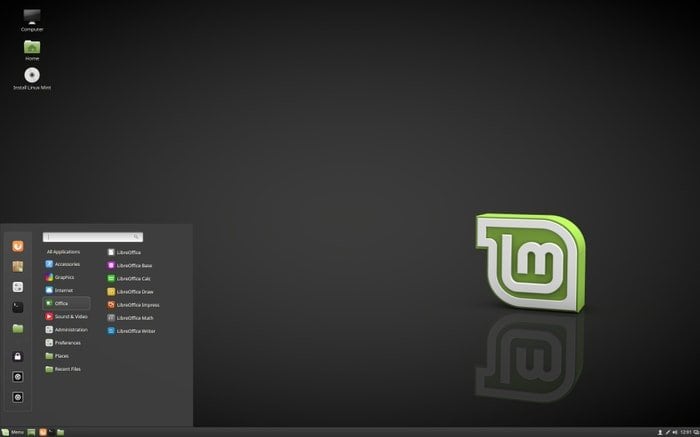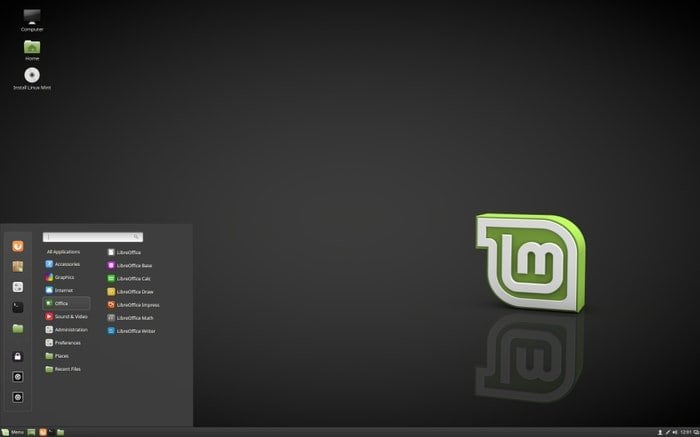 Linux Mint Cinnamon is one of the best-looking Linux distros out there. Linux Mint is a fork of Ubuntu, having two variations – Linux Mint Mate based on Gnome 2 and Linux Mint Connection based on Gnome 3. The Cinnamon desktop environment is developed by the Linux Mint team. The primary goal of this team is to bring the best desktop users experience with a traditional feel and look following the modern interface and sleek beauty. If you have a proper configuration, then go for Cinnamon desktop environment otherwise follow Mate.
Recommended Post: Top 5 Best Linux For Laptop: Choose The Best Fitted One Now
Main Features
Comes with some predefined optimization.

Regularly updated repository.

Offers sleek modern beauty and cutting-edge features.

Requirement decent hardware configuration.
Minimum System Requirement
512MB RAM (1GB recommended for a comfortable usage).

9GB of disk space (20GB recommended).

Graphics card capable of 800×600 resolution (1024×768 recommended).

DVD drive or USB port.
Official Homepage Screenshot Download
4. Bodhi Linux
---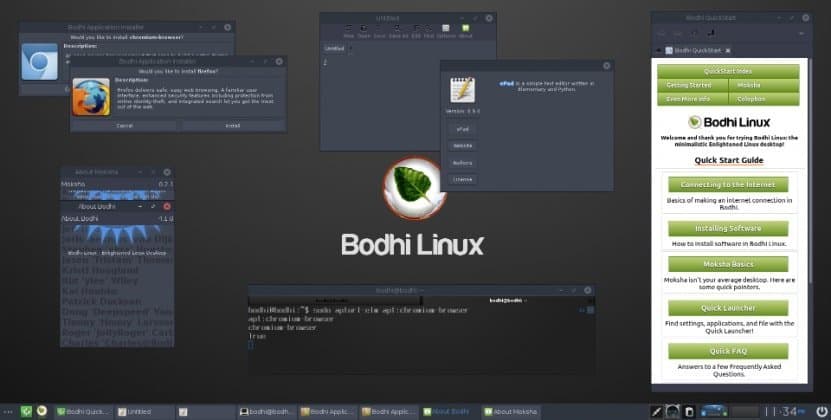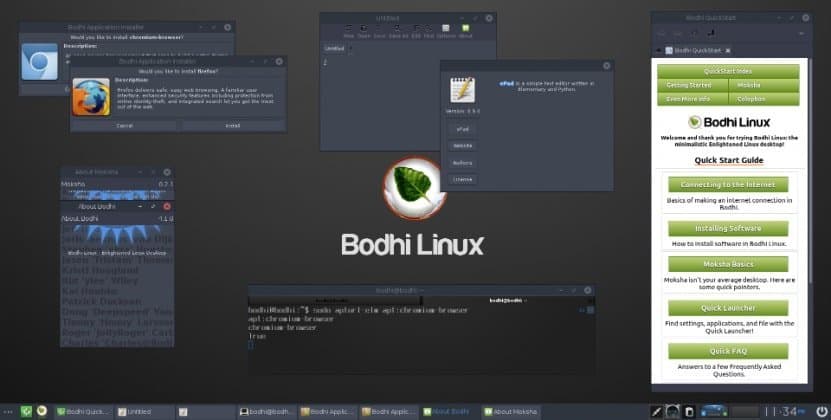 Bodhi is a lightweight Ubuntu-based derivative which offers Moksha, an Enlightenment-17-based desktop environment. This system provides decidedly less no applications pre-installed. But that doesn't mean that it supports less usability and flexibility. Bodhi is a beautiful looking OS with a regularly updated repository. As it's based on Ubuntu LTS, so users get all the cutting edge features and stable support.
Recommend Read: Best Linux Gaming Distros: 5 Shortlisted Recommendation
Main Features
Based on Ubuntu. Offers Best Linux Experience.

Software use the Enlightenment Foundation Libraries (EFL) rather than GTK or Qt etc., so they have a unique yet consistent look.

Nicely and adequately supports the old machine.

Comes a set of pre-packed lightweight applications (Midori, Terminology, PCManFM, ePhoto, and ePad)
Official Homepage Screenshot Download
3. Chrome OS
---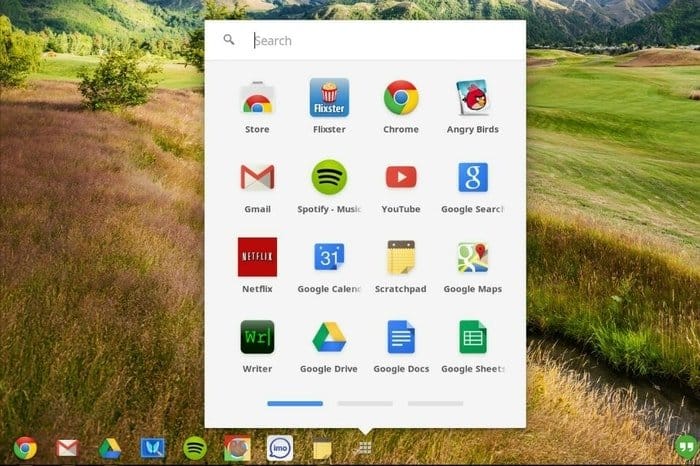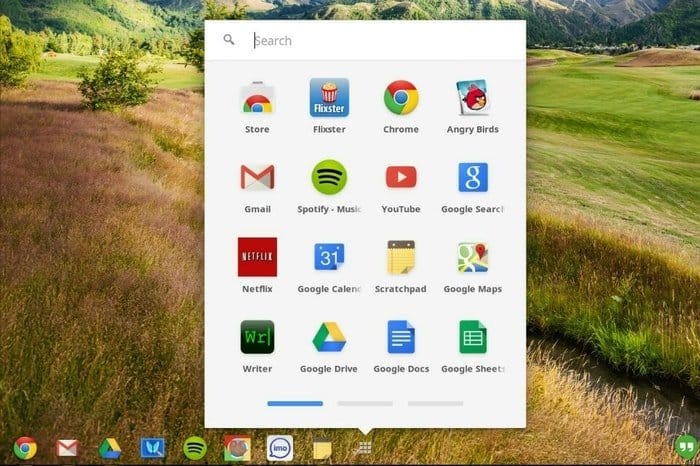 Many of the Linux users might be astonished to see chrome os on the list. But believe me, Chrome OS is one of the best looking Linux distros which is entirely out of the box in regards design, desktop environment, app process, cloud-based synchronization and much more.
Recommended Post: Best 5 Linux Distros for Developers and Programmers
Chrome os is a Linux kernel based open source os which has been designed and crafted to keep in mind of those users who remains most of the time online. It's made cloud-based to offer a simple, fast and most secure computing experience to the users. Moreover, this OS is created by tech giant Google Inc.
Main Features
Provides simple, fast and secure computing user experience.

Cloud and web-based OS.

Support android apps and games (Selected Devices)

Regularly updated and well documented.
2. Solus OS
---
Solus OS is one of the decent looking and having minimalistic interface Linux distro out there. This new distro comes with Budgie desktop environment which is designed and made from the scratch and aims to integrate with Gnome. Solus OS is not based on Ubuntu or Debian instead it has been made from the scratch. It is considered to have the same minimalistic interface as Google's Chrome OS.
Main Features
Solus OS is as modern and crispy looking like Google's Chrome OS.

It offers a minimalistic and simple user interface with Budgie desktop environment.

It let users have an entirely new and stunning computer experiences.
Official Homepage Screenshot Download
1. Elementary OS
---
Elementary OS has got the No 1 trophy of Best Looking Linux Distro. This OS has both the beauty and crafted Looks of Windows OS and Mac OS. Moreover, it is a self-declared as "A fast and open replacement for Windows and macOS" on the official website. Elementary OS is an Ubuntu LTS based open source OS which is powered by the Pantheon desktop environment.
Main Features
Offers Clean and sharp beautiful UI experience.

Comes with vibrant wallpapers and crisp icons.

Supports multi-desktop mode

Very stable to use as it based on Ubuntu LTS

Well documented and regularly updated
Official Homepage Screenshot Download
Honorable Mention
---
Some Honorable Mentions of best looking Linux distros are given below:
Deepin
Remix OS
Papyros
Zorin OS
Trenta OS
Pear OS
At last, I must say it is complicated to choose the best looking Linux distro from no of Linux variations. There are lots of Linux distros which are simple, beautiful, sleek and offer cutting-edge features.
Recommended Post: Most Stable Linux Distros: 5 versions of Linux We Recommend
So which one did you like from the above list of Best Looking Linux Distro? Or do you have some other Linux distro to choose? Let us know your choice and suggestion in the comment box down below.