Artificial Intelligence has brought a revolutionary change in every aspect of our life in this era of technology. When you see autonomous cars, smartphones, electronic devices, or robotics around us, you can easily discover a glimpse of the opportunities created by incorporating AI. Besides, new generation AI processors are much more powerful, and tasks like Image processing, machine vision, machine learning, deep learning, and artificial neural networks can be done more efficiently. The list of top AI chip manufacturers also displays the interest of big players like Intel, Apple, Nvidia in this industry and establish themselves as key contenders in the AI chip market. So it can be easily assumed that as the leading tech giants are involved, we can expect the growth of AI technologies to a great extent in the coming years.
Best Players in AI Chip Market
---
There are many companies out there that have been successful and hold prestigious positions when it comes to manufacturing AI processors. You can look at the below-mentioned list to get a brief idea of the current AI chip market and which companies are playing a big role.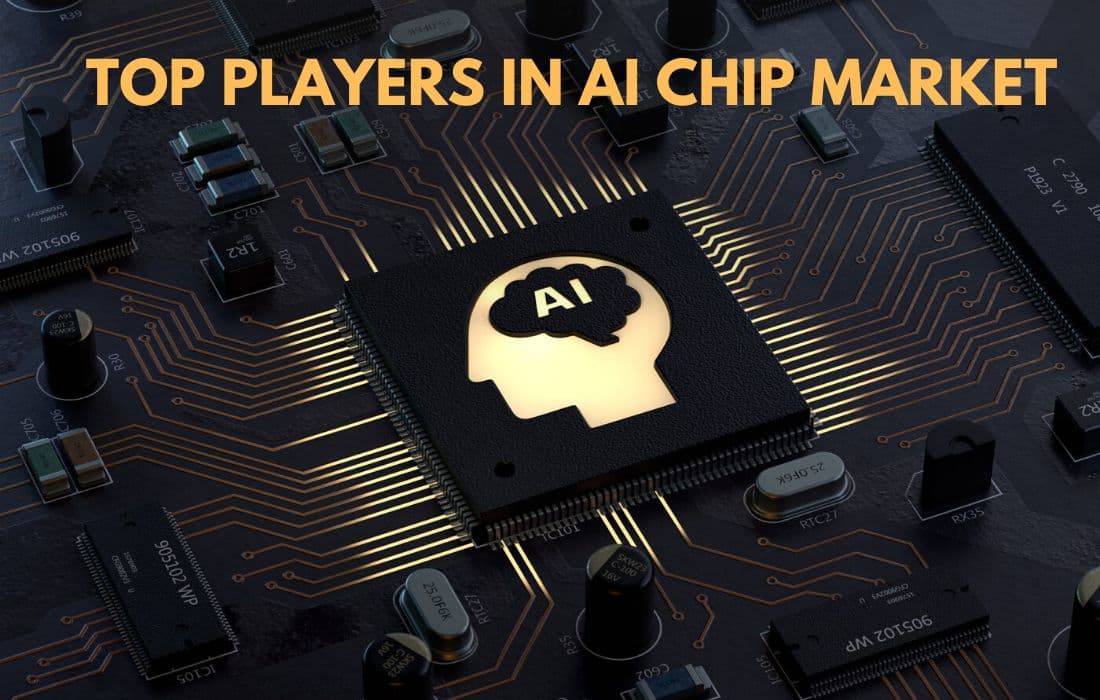 1. ARM
---
ARM is in the AI chip market for quite a long time now. Currently, many leading tech companies, alongside Apple, are using their chip for developing their products. ARM is known for producing high-quality products that include sensors, servers, SoC designs, a wide range of IoT solutions, software, and tools.
They are also working on security intelligence is known as Platform Security Architecture, to be employed in devices to fight against hazardous environments.
Besides, ARM is working to enable the future of computing by driving the fifth wave of computing. At the same time, the social sectors, business operations, IoY endpoints, industrial efficiency remain the main priority.
Currently, Cortex-A Processor Series, Cortex-M Processor Series, Mali Graphics Processors, Ethos Processors, and ARM NN are in their product line. At the same time, they focus on ultra-efficiency and scalability to work with machine learning applications and deep learning frameworks.
2. Google
---
The tech giant Google has also entered this list with its AI-powered Edge TPU. Although they are not using this hardware in any of their products like smartphones or tablets currently, this coin-sized hardware has already grabbed many people's attention due to its capability of interference at the edge to enable high accuracy AI.
It is also important to connect with the data center known as Google's Cloud TPU. The main purpose of building the Edge TPU is to leave its footprint in the AI chip market and make programming easy in Google's TensorFlow programming framework used for machine learning and deep learning.
The performance of this tiny hardware is amazing, yet it consumes low power and provides end-to-end, cloud-to-edge hardware and software infrastructure and customer-centric AI solutions. Also, some companies are using Edge TPU in the high-end, enterprise, and expensive machines.
3. Intel
---
Intel is one of the leading manufactures in the AI chip market. They have already lost their position to other companies, but Intel® Xeon® Scalable Processors are still great for handling AI better.
Xeon is not an AI processor, but one can easily include memory analytics, autonomous driving, high-performance computing, and network transformation alongside hardware-enhanced security and the deployment of dynamic service delivery.
On top of that, the 3rd generation of Xeon processors come with built-in AI acceleration to provide a better business-to-business and business-to-consumer experience.
Recent reports suggest that Intel is raising the bar again to claim their position as they are offering a wide range of AI hardware such as Intel® FPGAs, Intel® Movidius™ Vision processing units, Intel® Xe® based GPU, INTEL® NEURAL COMPUTE STICK 2, and Intel® RealSense™ depth and tracking cameras. While FPGAs can handle any kind of workload and datasets, the VPU is designed to work with computer vision and neural network applications.
4. Apple
---
Apple is considered as one of the most selling smartphones manufactured available out there. They were using chipsets made by Intel in their smart devices, but now they are determined to develop their own Artificial Intelligence Processor to bring a huge shift in their business.
They invest more in machine learning research and have already started using A11, A12, and A13 "Bionic" chips in the latest phones and tablets.
These chips are way faster than the previous incarnation while using half of the power. The latest A13 comes with a quad-core graphics processor, an Apple-designed image processor, and an octa-core neural engine, which lets you complete five trillion operations within a second.
But the only limitation is that you can not work with any third-party applications or buy one for yourself as Apple has not yet entered the AI chip market. However, it has a readymade market and dedicated followers.
5. Advanced Micro Devices
---
Advanced Micro Devices, which is commonly known as AMD, has gained a huge reputation for its products capable of producing high computing power. They are always focused on employing machine learning and deep learning to get human-like reflexes from intelligent applications.
They are highly dedicated to building machine learning processors that handle complex data sets coming from thousands of input streams that come with open core ecosystems to help software developers bring the most out of it.
If you are an artificial intelligence enthusiast, you will admit that, in most cases, the performance of an intelligent application depends on the speed, capacity, and organization managed by hardware.
AMD focuses on releasing the high-end microprocessors and associated software to facilitate the ML and DL testing and development process. Recently, AMD has released 2nd Gen AMD EPYC™ that can optimize enterprise workloads and is equipped with 7nm technology and works 4x faster than the 1st Gen AMD EPYC™.
6. Graphcore
---
This is a start-up company that started its journey to build and supply AI Processors of a wide range. Their main priority was to go to any level of computation to handle data of any quantity. Although Graphcore is a relatively new player in the artificial intelligence chip market, it is backed by companies like BMW and Microsoft, who invested $300 million to start its operation.
After successful operations over the years, the valuation of this company can go up to $2 billion in today's day. The main product of this company is Rackscale IPU-Pod™, which comes with scale-up and scale-out features, and you can accomplish any sort of machine intelligence training tasks.
Besides, due to its elastic design, it can support massive levels of computation while you can do training and inference on the same hardware. It consists of over 30,000 parallelly working independent IPU program threads that reside inside the memory.
7. Nvidia
---
You may have already heard the name of this company due to the extreme popularity of its graphics card. They are already in the leading position among the gamers who choose the Nvidia Geforce graphics card in the first place.
Again, the GPUs can process faster and better than the all-purpose chips, making it obvious for Nvidia to fold a strong position in the AI chip market. Nvidia offers chipsets that are compared with AI accelerators, while the advanced GPUs boost AI development.
You will discover that Tesla chipset, Volta, and Xavier are all powered by Nvidia if you see the market. At the same time, Xavier provides a solution for autonomous driving and Volta powers data centers.
However, these are graphical processing units packed with hardware and software solutions to provide AI solutions. Alongside machine learning, deep learning is the main interest of this company. They are investing regularly to get data-driven decisions derived from a huge data set and examined over a longer period of time.
8. Baidu
---
It may sound interesting that some people compare Baidu to Chinese Google, although Baidu is also a search engine used mostly by the people living in china. Baidu is only available in China and offers applications like Maps, keyword-based discussion forums, and many other community services.
Baidu has declared their vision and goals to distribute business in other sectors like driverless cars, and they need powerful microprocessors to reach the target within the expected time.
Like Nvidia, Baidu is also interested in deep learning. They are working on machine learning algorithms to integrate with a platform called PaddlePaddle. They focus on Machine Learning Processors, which can train themselves from interactions with humans and the environment.
Besides, they are also working on Natural language processing-based products, Baidu Mobile Assistant, voice-activated assistant, production-quality text-to-speech system, AI-Powered Transcription Software, etc., the path smoother for Baidu to enter into the Machine Learning Chip Market.
9. Mythic AI
---
Mythic started its journey to make AI available for everyone. After successfully raising more than 40millions funds, Mythic implemented a data center to match their philosophy to make borderless AI technologies.
Their current projects include smarter cities and spaces, personalized devices and services, safer and simpler vehicles, intelligent machines and robots, and so on. When it comes to deploying accurate, powerful AI anywhere anytime, Mythic can be considered one of the best.
Intelligent processing units offered by Mythic can be considered to produce more power and better performance at a lower cost, which can enable many people to generate AI solutions.
These Artificial Intelligence Processors come with a unique architecture for leveraging analog computation. Mythic has recently attracted many AI developers as their processors can deploy sophisticated neural networks to connect data centers and edge devices.
10. Zero ASIC
---
This company is exceptional and unique. Unlike other companies in this list, they focus on building the cheapest AI processors to enable people to work with AI technologies, which have a great interest in it. As a part of this, they have already released the cheapest supercomputer available out there.
After starting its journey back in 2008, they released 16 core 65nm SoC and 64 core 28nm SoC respectively, in 2010 and 2011. In 2017, the company was known as Adapteva before relaunching as "Zero ASIC" in 2020. The most successful product of this company is known as Epiphany, released in 2014.
More than ten thousand AI developers are using this 5G licensed and 16 core SoC. Epiphany got the attention due to its capability of parallel and heterogeneous computation. Besides, it can be scaled to billions of processors, making it the only open computing platform. The success of Epiphany will surely help Zero ASIC to re-enter the Artificial Intelligence chip market.
11. Qualcomm
---
Qualcomm is quite a familiar name among AI developers due to its interest in making AI ubiquitous for expanding its usability beyond smartphones. They have made a lot of money as they were the primary chip supplier for Apple from its Smartphone production journey, which eventually helped them hold a strong position in the AI chip market and invest more in R&D for exploring new opportunities.
Their main interest lies in ensuring user privacy, immediacy, and enhanced reliability through the use of AI augmentation.
Gaining efficiency in the existing processes is also highlighted. After they have released Cloud AI Chip, you can sense that it has brought a revolutionary change in fifth-generation telecommunication. Besides, they are also working on delivering AI hardware, software development kits, Power Efficiency, and seamless personalization to make AI available to people of all kinds.
12. Blaize
---
Blaize, which has recently changed its name from Thinci, has been there in the AI chip market for quite a lot of time. They started their journey to make AI widely available to not only the enterprise but also the people.
They have introduced a silicon architecture-based Artificial Intelligence Processor that comes with innovative software to enable engineers to extract the maximum benefit from AI. Besides, they are also expecting to release the best tech transformation of today's world.
Their BLAIZE GRAPH STREAMING PROCESSOR is extremely powerful enough to break the limit of any amount of computing required to handle machine learning, deep learning, and artificial intelligence at a time.
Also, Blaize offers a software platform known as graph-native Picasso, which is radical and simple. Users can deploy any AI application from data centers to the edge of anywhere anytime. GSP-based hardware is also available to the selected customers.
13. Taiwan Semiconductor Manufacturing Company
---
It was one of the leading companies under the light when they started supplying AI chips to Apple. They are backed by some investors, although this company does not want to show off their actual work.
But if you explore their website, you will discover that building an intelligent manufacturing environment is what they are interested in through the application of integrated artificial intelligence, machine learning, expert systems, and advanced algorithms.
They are working on maximizing the innovation to optimize quality, productivity, efficiency, and flexibility. Besides, TSMC has become interested in developing applications to enable AI intelligence in mobile devices, IoT, and mobile robots.
It is also known for its data collection, stable manufacturing, and efficient use of resources to render fast ramp-up and quality satisfaction to worldwide customers. You can also get support f to reach your goal if you choose to become a user of its products.
14. Samsung
---
As people of today's day and age, we already know Samsung as one of the largest smartphone manufacturers available out there. But you will be surprised to see that they have also overtaken Intel and become the largest Artificial Intelligence Processor creator around the world. Alongside smartphones, the Exynos processors are also used in smart speakers, smart tv, and other electronics and home appliances.
Samsung R&D is developing AI core algorithms and expanding the use of on-device AI and home edge platforms. Samsung started its journey in the Artificial Intelligence chip market to extract meaning from users' visual, tactile, and emotional cues and use it on their products, which helped them boost the business growth to a great extent.
Besides, Samsung examines the lifestyle and behavior of its global consumers regularly to add more to their AI features. It has enabled users to integrate AI into the IoT and unlock boundless opportunities. As a result, no other company like Samsung has contributed more to the new era of technology and living.
15. Xilinx
---
Xilinx can be considered as the manufacturer of the microprocessor that contains the maximum number of transistors. They have declared that their chipsets will include up to 50 billion transistors, which are quite astonishing.
Besides, they are also working on several hardware products such as Vivado Design Suite – HLx Editions, Intellectual Property, System Generator for DSP, Model Composer, etc. You can also get the industry-standard AI inference acceleration from them.
It has also introduced the Xilinx Edge AI Platform, capable of handling machine learning and AI models. You can classify objects, process images, and complete segmentation using this intelligent platform as well.
Face detection, Landmark Localization, Face recognition, Face attributes recognition, Pedestrian Detection, Pose Estimation, Car Attributes Recognition, and Lane Detection are also made easy through this platform. On top of that, the developers can also access the AI solutions offered by Xilinx.
16. HiSilicon
---
If you have not heard the name of this AI player yet, then you do not need to be surprised because you are surely familiar with the name of Huawei. They are one of the largest smartphone manufacturers around the world, where AI chips play the most important role.
Huawei introduced its Kirin chip as a Machine Learning Processor, which eventually boosted its revenue of smartphone business to a great extent between the years of 2018 and 2019.
HiSilicon is currently working on its artificial intelligence chip to render end-to-end video capabilities. It comes with the most advanced image processing unit and can detect any object with the help of AI and ML.
It can generate 4Tops computing power, enabling users to get 8K real-time encoding and shoot 4K60 HDR video. Being the business unit of Huawei, HiSilicon will surely help them to accelerate the number of consumers and establish a strong position in the AI Chip Market.
17. LG
---
LG has held a special place in the consumer's heart as a reliable and leading supplier of home appliances and smartphones. To remain on the top in the Machine Learning Chip Market, they were one of the early achievers of AI to bring it to the edge.
They have recognized the importance of AI and have been working to make life smarter and easier for the consumers for quite a lot of time, while their smart tv can be easily considered the best AI TV available out there.
They are working on behavior patterns of users and proprietary AI algorithms to improve the performance of the data. LG is trying to integrate AI experience in all aspects of life. Alongside home, vehicles and public spaces are also part of their project.
They have a goal to render maximum convenience for their users so that a sustainable change can be brought for a longer period of time, which they term as Evolve, Connect, and Open.
18. IBM
---
You can probably expect the name of this company in any list of top technologies. They are a big player in this field and have a reputation for conducting well-funded research and development.
Their innovation and contribution to the growth of the artificial intelligence chip market are unimaginable, and no one can doubt it. They are currently working on infusing artificial intelligence in Automation, Cloud Computing, IoT, IT Infrastructure, Security, and Supply chain.
They have also introduced a platform known as IBM Watson, a computer system that can predict future outcomes, automate complex processes, and optimize time. You can easily integrate AI in any organization to increase efficiency.
Besides, this will help you to detect hidden problems, find solutions, and take necessary actions. It comes with a multi-cloud platform designed by ML to build powerful models from scratch. To facilitate the health sector, they have also introduced Watson Health that uses AI for advanced health.
19. Imagination Technologies
---
If you consider PowerVR GPU, then Imagination Technologies can be considered the best player available in Machine Learning Chip Market. This company solely focuses on the highest efficiency, lowest power, and smallest area silicon IP cores.
They are in the market for more than twenty-five years now and render processing solutions for graphics, vision, and artificial intelligence. Many leading tech companies have partnered with them to generate innovations for solving key problems through technologies.
Their PowerVR GPU comes with a complete neural network accelerator solution for AI chips that can complete four tera operations within a second. With the support of a wide range of neural networks and low-power and low-bandwidth architectures, they play a big role in the mobile, consumer, automotive, IoT, AR/VR, security, and AI segments.
They are also delivering EnSigma Communications, Ethernet, SoC, Design optimization kit, and Products demos. They have a goal to deliver AI in the palm of your hand, industrial robots, and cloud servers as well.
20. Via
---
Via has named their AI chip as Edge AI Developer Kit, which can develop any kind of smart camera, signage, kiosk, and robotics systems. Besides, it can significantly reduce production time, and the developers can release products faster.
Edge Kit has made testing and deployment easy for the systems and devices that use Artificial Intelligence alongside the design. On top of that, manufacturers can reduce the cost and complexity for maximizing efficiency.
The Edge Kit comes with VIA SOM-9X20 SOM Module and SOMDB2 Carrier Board. At the same time, you will also get a 13MP AI camera module, intelligent real-time video capture, image processing, and edge analysis with the package.
You will get this product in the VIA Embedded online store, where you will find two variants. However, Via has already contributed a lot to AI, IoT, computer vision, autonomous vehicle, healthcare, and smart city applications through its high standard embedded systems and solutions.
21. Amazon
---
In this world of digitalization, we will probably not find anyone who has not heard the name of Amazon – the best online retailer in the world. They have already created a massive impact in the field of AI technology through their AWS platform.
Every tech enthusiast out there knows that Amazon is working on deep learning, machine learning, and AI for many years to make Anomaly Detection, Fraud Detection, Image, and Video Processing, Speech Recognition, Natural Language Understanding easily available to their consumers.
Besides, they have also released a custom-built AI chip to accelerate deep learning named AWS Inferential. It comes with four neuron cores, which can process 128 trillion operations per second.
You will be surprised to know that Inferential can take a 32-bit model as input and run as a 16-bit model using BFloat16. Also, you can expect to overcome the latency and any kind of computational issues to improve the performance of ML algorithms.
22. Wave Computing
---
This company is known for accelerating AI to the edge of the data centers. They have also gained a reputation of being the specialist AI platform provider and well known to the industry leaders.
They have already introduced an artificial intelligence chip known as TritonAI, which comes with a 64bit Platform dedicated to AI-enabled Edge SoCs. On top of that, it is supported by Linux, and a driver layer is integrated for technology mapping.
TritonAI is known for three key features, which are MIPS64 and SIMD Multi-CPU, WaveFlow Technology, and WaveTensor Technology. While wavetensor makes it a highly-efficient processing engine, waveflow works as a scalable dataflow platform that can execute the existing and new algorithms.
Besides, Virtualization extensions and Superscalar 9-stage pipeline sets it apart from other AI chips. However, embedded, RISC, and multi-threaded CPU IP alongside the AI-Native Platform offered by Wave Computing will surely take you to the next level of computing.
23. MediaTek
---
MediaTek has become a familiar name in AI Chip Market like Qualcomm after the industry of Smartphones has seen huge growth. Although they do not build AI chips, they design and develop the chips by themselves.
Like other industry leaders, MediaTek is working on the ecosystem of Edge-AI hardware processing, which comes with a combination of a wide range of software to make the most out of it. MediaTek AI chip is being used in smartphones and smart homes, wearables, IoT, and connected cars.
It has released an AI Processing Unit known as MediaTek NeuroPilot. It comes with a huge computation ability yet consumes less power, making it ideal for devices like smartphones and tiny gadgets.
Besides, it comes with AI operation processing, and the SDK is supported by all MediaTek-enabled hardware. Developers can work on any application and use all the best frameworks available out there, such as TensorFlow, TF Lite, Caffe, Caffe2, Amazon MXNet, and Sony NNabla.
24. Kalray
---
This company has already created an impression of being enthusiastic for Robotics and Automation. They understand the necessity of high computation capability at low power and focus on real-time low-latency processing operations.
Alongside artificial intelligence, they are currently involved in improving technologies like computer vision, autonomous vehicles, and aerospace as well. Kalray has a goal to enable customers to take advantage of deploying AI in embedded technologies. This European company is also accelerating the German automotive industry.
When it comes to deep learning, Kalray offers one of the best processing solutions available out there, which they call MPPA®. This manycore architecture comes with high-performing deep learning inference that allows the Neural Network layers to work concurrently.
Besides, the built-in on-chip memory can process any number of frames per second. Its CNN capability can provide an embedded solution rather than only running CNNs. Besides, fast communication between layers and NoC multicasting has helped this chip to get all the attention.
25. Groq
---
This company was founded by some of the former employees of Google, so you can undoubtedly expect great quality. They have already got many people's attention through their high computing hardware designed for working with next-generation machine learning.
The hardware offered by this company is known for using less power to compute any number of units. It can also help to reduce the CO2 footprint and provides zero overhead in context switching.
Groq has a goal to make computation easy and accessible from anywhere, anytime. As a part of this goal, they offer the fastest ResNet-50 performance among any other hardware available out there. You can even complete 400,000 multiplications without using a single byte from the GPU.
On top of that, Groq offers a cloud platform for maintaining on-site machine learning infrastructures. With the combination of AI and cognitive computing, you can easily avoid the cost of investing in machine learning processors for ML.
Finally, Insights
---
Artificial intelligence is the future of technology. You can expect not to find a single device that does not come with AI capabilities in the near future. As a result, all the leading companies invest and research more to establish a strong position for the coming war in the AI Chip Market.
Besides, machine learning and deep learning also play an important role in making AI more powerful and improve performance to a great extent. As mentioned above, the companies are bringing AI processors every year, which has made it easy for the manufacturers to bring AI to the edge of the data centers. It does not matter which company will lead the race; the consumers will benefit from every aspect.