There is hardly anyone who is not acquainted with comic books. Most of us grew old reading these books. These helped us to pass our leisure time with joy and delight. But if you are not a regular comic reader, let us introduce you to it. I assure the beginners that you will easily spend your mundane time if you start reading comic books.
So, guys, a comic book is actually a book containing the images and caricatures arranged sequentially, which beautifully represents a story and in balloon-like shape, their conversations are given. The images make the magazine funnier, and through this, you will be able to see the portrayal of their reactions while talking. Here, in this article, we will be focusing on the Linux platform with a list of the best comic book viewers for Linux. I hope it will be useful and helpful for Linux users.
Best Linux Comic Book Viewers
---
Actually, these comics have a specific file format that is not suitable for every browser. So, if you want to read it peacefully in Linux, you will need some applications. Well, Linux is not only the platform for doing hard jobs. It is a great platform for entertainment too if you have a proper idea about its fields. So, no further talk, let's have a quick discussion on the top 10 Linux comic book viewers.
1. MComix
---
If you are looking for a user-friendly image viewer, then this is the best for you. Among its various features, the most remarkable is that it supports multiple container formats in which CBR, CBZ, CB7, CBT, LHA, and PDF are notable. MComix is also customizable. It is one of the most suitable comic ebook readers for Linux.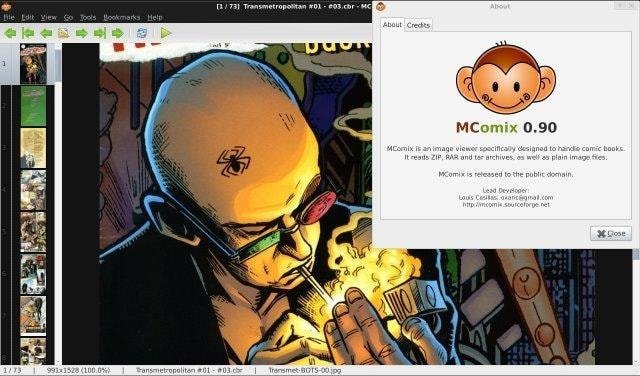 Noteworthy Features
In this application, there are various viewing modes like full-screen mode, double-page mode, etcetera.
You can easily scroll through it, which makes the reading easier.
For the right to left comic books, there is manga mode.
MComix has bookmark support, configurable slideshow, and archive editing characteristics.
2. Peruse
---
Peruse was created to make your comics reading experience as easy and as delighting as possible. It is an open source comic book reader that was made by the KDE team. The motive behind creating peruse has been succeeded to a certain extent. Despite having some limitations, it is used to read various comic book formats, including cbz, cba, ePub, dvi.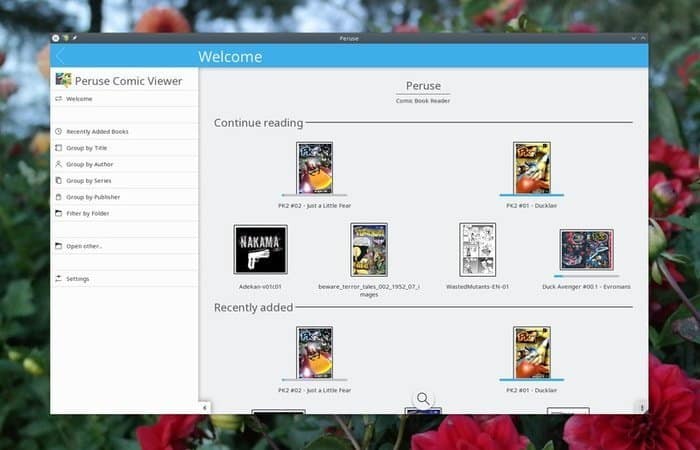 Noteworthy Features
Peruse has an intuitional UI.
Comics can be sorted out by the title, author, or recently added.
Having a welcome screen, it becomes easy to find recently used files.
It also has a sidebar view for making access faster.
3. YACReader
---
YACReader is a cross-platform and open source application for comic book viewing. It allows you to read digital comic books. While reading, you can organize books in a library. YACReader also keeps track of your reading. It has a built-in search engine which makes it easier to find books.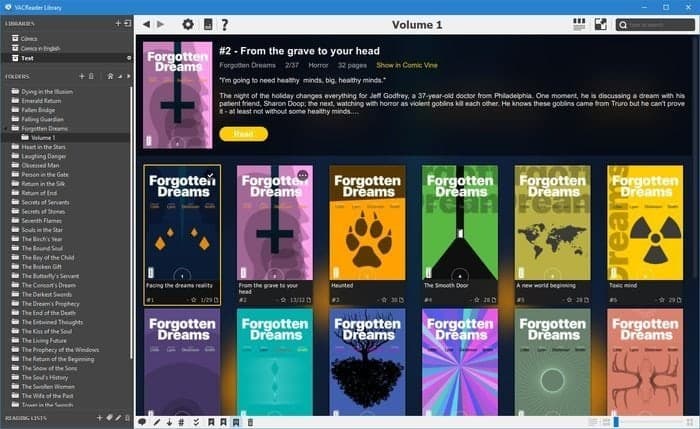 YACReader has an adequate number of synopsis options, including full-screen mode, double-page mode bookmarks, resume reading, etc. Here, you can also adjust an image in reading mode. If you want, you can download comic information through it. YACReader is one of the best Linux comic book readers.
4. Comical
---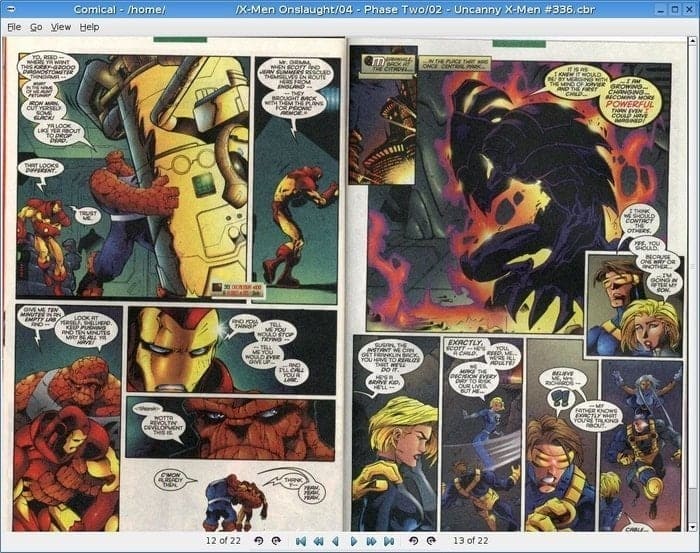 Comical is a lightweight comic book viewer for Linux, which is written in C++. It has an intuitive interface with a variety of image formats. Qualitative image scaling algorithms are used here. It is a cross-platform, open source software with multiple display modes. This software also justifies all encrypted RAR and ZIP archives. Comical has features like page rotation, auto-detecting double pages, etc.
5. QcomicBook
---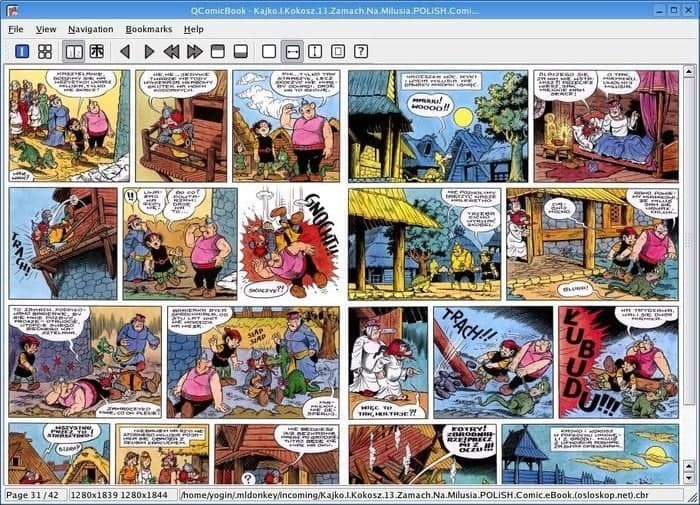 This application is not dependable on KDE or desktop environments. QcomicBook is written in C++. It supports various archive files. It has thumbnail views, frame views, full-screen mode, manga mode, etc. One of its unique features is keyboard shortcuts. Image rotation is available here with 90 degrees step.
6. Gomics
---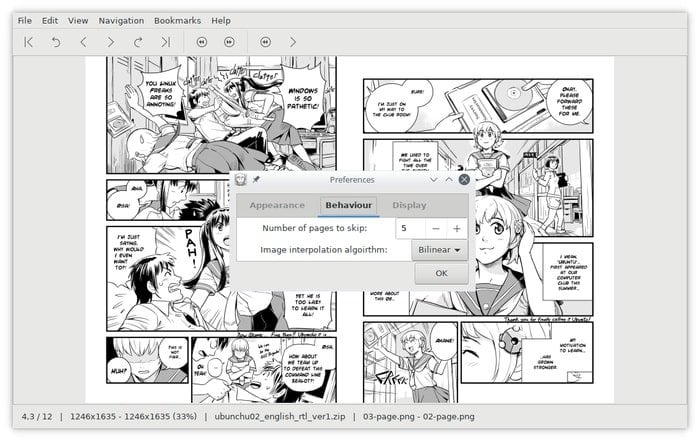 Gomics is a proficient image viewer for comics. Go programming language was used to write this software. It can directly read ZIP and CBZ files. It also has options for zooming and making large images small. The background color is changeable. Gomics has many display modes, including rotation of images according to EXIF data. You can smartly scroll through the images.
7. Jomic
---
Jomic is a comic book viewer and converter. Its noteworthy feature is that it has to cache and supports different image formats such as PNG, JPEG, TIFF, GIF, etc. This Linux comic book viewers support full-screen mode, two-page mode, etc. Jomic is a cross-platform application with keyboard shortcuts. You can convert comics to PDF files through it.
8. Comix
---
Comix is one of the best and highly qualitative Linux comic book viewers. Unlike most other applications, it can read zip, tar, tar.gz, tar.bz2, etc. It includes a simple user interface and is written in python. It is a strongly recommendable comic book viewer for Linux. Comix also supports zooming and scrolling.
9. Calibre
---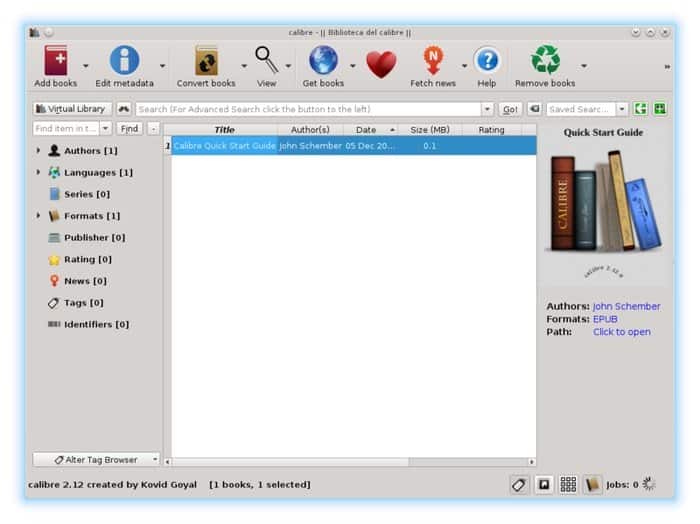 Actually, Calibre is not only just a comic viewer. In fact, it is much more than that. It is a free and open source application to view the comic book. This application also has an e-book library management system integrated. It supports various file formats and adds comic books to the library provided by calibre.
10. ACBF Viewer    
---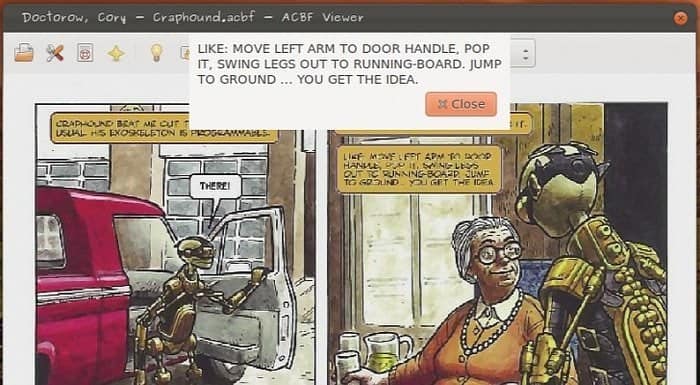 Its full form is Advance Comic Book Format. ACBF includes indexing of comic book pages. Python language has been used to write it. This application is suitable for digital comic book reading. It also supports various image formats like JPG, PNG, GIF, etc. It can read CBT, CBR, and droid, a comic viewer.
Concluding Thoughts
---
In short, I want to conclude the article by saying that the above-mentioned applications are the topmost Linux comic book viewers. So, you recommend using those applications for reading comics without facing any vexation and making your reading experience as pleasant and as possible. It goes without saying that, to experience a happy reading environment, these applications will be very much helpful to you.
We hope this article is useful to you, and if you have any opinions to share, there is a comment box below where you can partake in giving opinions. That's all for today.