From our childhood, we've all been well-versed in comic books. Many of us enjoyed reading them, and they kept us amused during leisure time – it's a pastime that many of us still treasure today. If you are new to the scene, let me assure you that once you start reading comics, your days will be filled with laughter and delight!
You won't regret picking up this habit, so why not dive into the world of entertainment? Comic books offer an escape from reality like no other art form can. I guarantee hours upon hours of joy for yourself if you give these gems just one chance.
Are you a Linux user looking for the best comic book viewers? Look no further! In this article, we will discuss comic books – beautiful stories with images and caricatures arranged in sequence. The balloons containing conversations make these magazines entertaining to read, allowing readers to see the characters' reactions during their dialogue. So if you're a fan of comics, keep reading as we explore some of the top-rated viewers available on Linux platforms today!
Best Linux Comic Book Viewers
---
Did you know that certain comics have unique file formats not compatible with all browsers? So, if you're a Linux user looking to enjoy some comic books, special applications are required. But don't worry – contrary to popular belief, Linux isn't only suitable for doing serious work; it can be an amazing platform for entertainment as well! Without further ado, let's dive into the best 10 viewers available on Linux today.
1. MComix
---
If you're searching for something simple and efficient, MComix is a perfect choice. With its remarkable array of features like support for various container formats such as CBR, CBZ, CB7, CBT, LHA, and PDF, plus customizable options – it's no surprise that this comic ebook reader has become one of Linux's top picks!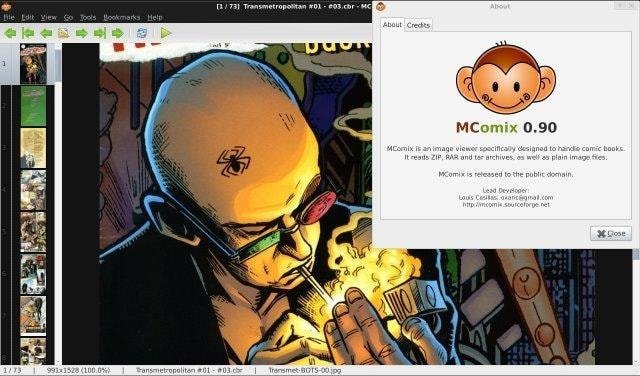 Noteworthy Features
This application has various viewing modes like full-screen mode, double-page mode, etcetera.
You can easily scroll through it, which makes the reading easier.
For the right-to-left comic books, there is manga mode.
MComix has bookmark support, configurable slideshow, and archive editing characteristics.
2. Peruse
---
The KDE team designed Peruse to deliver a pleasurable comics reading experience–and they have certainly accomplished that! Despite some restrictions, it is still capable of opening and viewing multiple comic book formats such as cbz, cba, ePub, and dvi. Its open source nature makes it even more desirable for readers everywhere who want an easy-to-use comic book reader with maximum satisfaction guaranteed.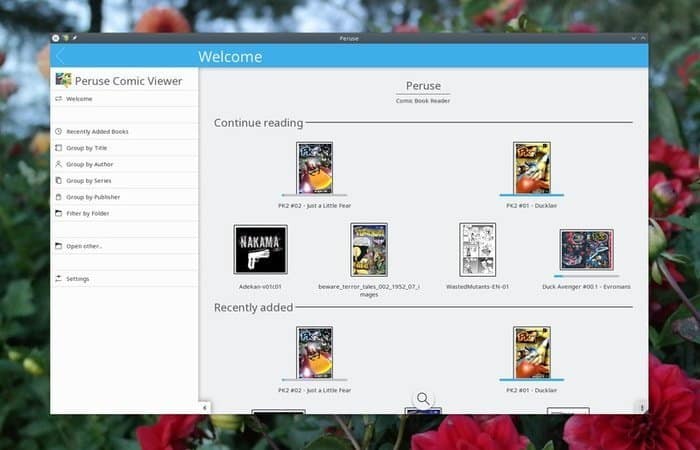 Noteworthy Features
Peruse has an intuitive UI.
Comics can be sorted out by title, author, or recently added.
Having a welcome screen it becomes easy to find recently used files.
It also has a sidebar view to make access faster.
3. YACReader
---
With YACReader, you can experience comic books in a whole new way. It is open-source and cross-platform for reading digital comics with a convenient search engine that makes it easier to find your favorite titles. Plus, you can create an organized library of your reading materials, so you never forget where you left off! Furthermore, this powerful application allows users to keep track of their progress throughout the entire comic book journey—the perfect tool for any true fan!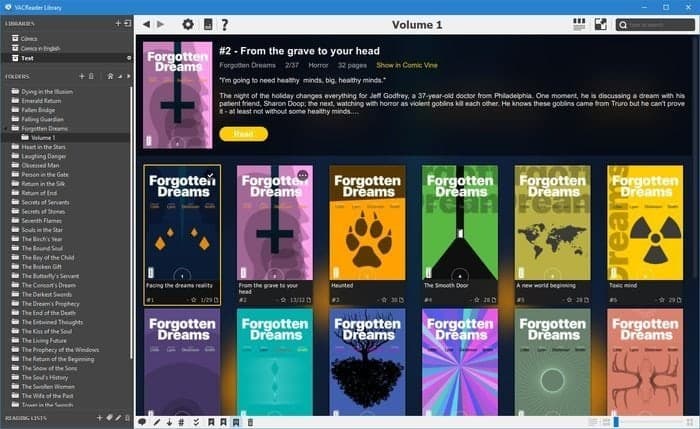 With YACReader, you have plenty of ways to access your favorite comics. Full-screen and double-page modes provide a unique way to view the pages, while bookmarks allow you to save progress for later reading sessions. And if that wasn't enough, image settings can be adjusted in real-time, so each page looks exactly as intended! Even more exciting is the ability to download comic information directly into the program – making it one of Linux's most comprehensive comic book readers around!
4. Comical
---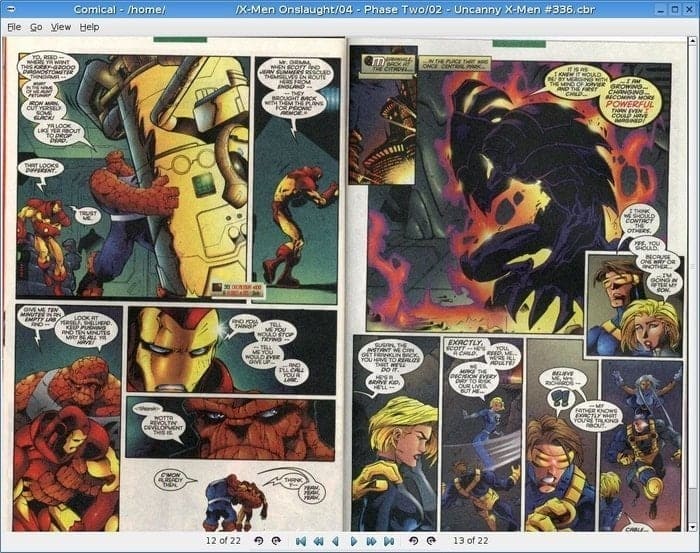 Comical is a lightweight and user-friendly comic book viewer for Linux, written in C++. It supports various image formats with its qualitative scaling algorithms, making it an open source cross-platform software that enables multiple display modes. Furthermore, Comical can decrypt encrypted RAR and ZIP archives effortlessly! Other advantages of this remarkable software include page rotation, and auto-detection of double pages, to name just two.
5. QcomicBook
---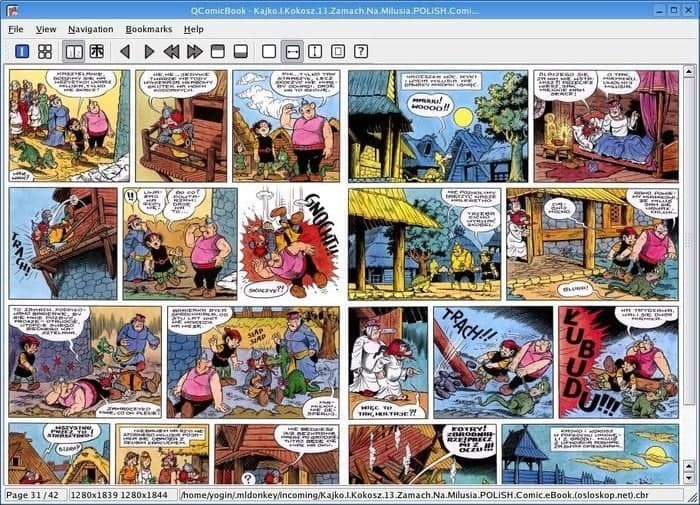 QcomicBook, written in C++ and independent of KDE or desktop environments, supports multiple archive files. It offers thumbnail views, and frame views in full-screen mode as well as manga mode for an immersive experience. Furthermore, it boasts keyboard shortcuts for a more efficient experience along with the ability to rotate images by 90 degrees step, making it unlike any other application you'll find out there!
6. Gomics
---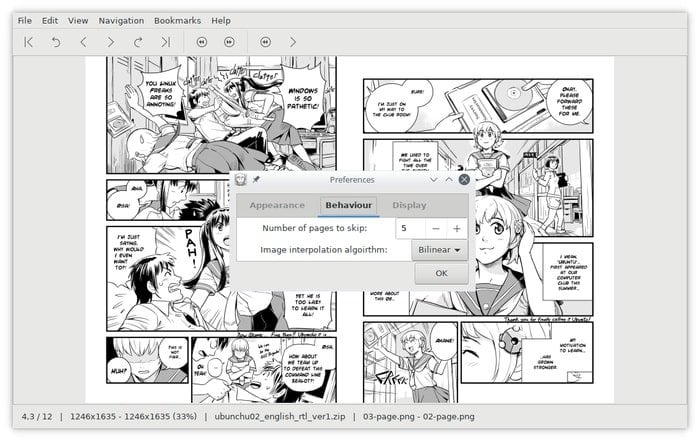 Gomics is a powerful image viewer that was programmed with the Go language. It has the capability to directly open ZIP and CBZ files, as well as zoom in or out for larger or smaller images. Furthermore, you can customize your background color and take advantage of multiple display modes, such as rotating images based on EXIF data. Gomics makes it easy to navigate through pages by offering smart scrolling capabilities!
7. Jomic
---
Jomic is an incredible comic book reader and converter that allows you to experience comics in a variety of ways. From caching, supporting various image formats such as PNG, JPEG, TIFF, and GIF formats; full-screen mode for immersive reading experiences; two-page view modes allowing readers to see both pages side by side or one after the other at their own pace – this Linux comic book viewer has it all!
With easy keyboard shortcuts for even faster navigation across issues and integration with PDF files make Jomic your go-to application for digital comics!
8. Comix
---
Comix is one of the most outstanding and top-tier Linux comic book viewers available. It supports a plethora of file types, such as zip, tar, tar.gz, and tar.bz2. The application boasts an uncomplicated user interface that has been written in python for ease of use, making it highly recommendable to any comic lover with a Linux device! Not only does Comix offer superb quality viewing but also enables efficient scrolling and zooming abilities – something many other applications lack or are severely limited on!
9. Calibre
---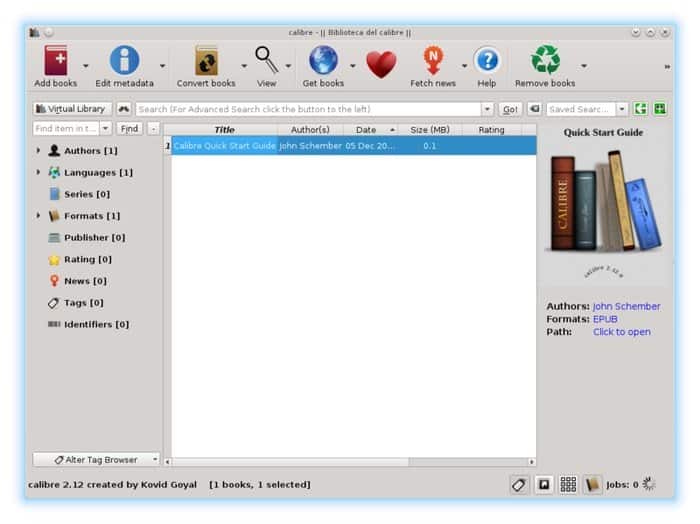 Calibre isn't merely a comic viewer, it is much more than that. It's an open-source application with integrated e-book library management features and the capability to support numerous file formats in addition to its built-in selection of comics. With Calibre you can quickly add new titles from your own library – perfect for readers who want access to their favorite stories no matter where they are!
10. ACBF Viewer
---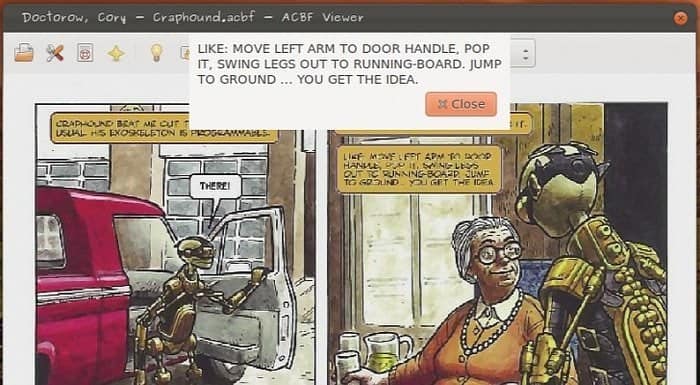 The Advanced Comic Book Format (ACBF) was designed to revolutionize digital comic book reading. Powered by Python and able to support a wide array of image formats, such as JPGs, PNGs, GIFs, and more, ACBF not only allows for the indexing of pages but also the reading of CBT files, CBR files and Droid – a unique comic viewer. With ACBF's impressive capabilities comes easier access to an exciting world that otherwise would be difficult, if not impossible to traverse.
Concluding Thoughts
---
In conclusion, the applications mentioned above are undoubtedly the best Linux comic book viewers. I highly recommend using them to make your reading experience as smooth and enjoyable as possible. If you're looking for an enjoyable way to read comics and have a great time while doing it, then these apps will provide that opportunity!
We sincerely hope this article is helpful to you, and if it has sparked any thoughts or opinions, please leave them in the comments below. It's been a pleasure bringing this content to you today!