Hello friends, How are you? You might have seen a lot of Ubuntu Gnome Themes are there in this site. I have tried to cover all sort of variations including dark, blue, light etc. There are also lots of icons pack available for you to download and use in your system to make it more appealing and stunning. With the series of Themes and Icons, today I am here with an elegant and beautifully crafted dark and light theme – Ultimate Maia for Gnome or plasma desktop environment which can be used on Ubuntu, Linux Mint or any Ubuntu derivatives. As a bonus, you will be getting an icon pack theme also from the same developer called Ultimate Maia Icon Packs.
Ultimate Maia GTK theme and icon pack come as two different packages but altogether they make an amazing combination based on material design. This nice looking Linux theme is developed or inspired by nana-4 and his Materia theme. Despite being an Ubuntu or Linux Mint lover, you can use this Ultimate Maia theme pack in your system. It has two variations on header bar colors – flat and gradient header.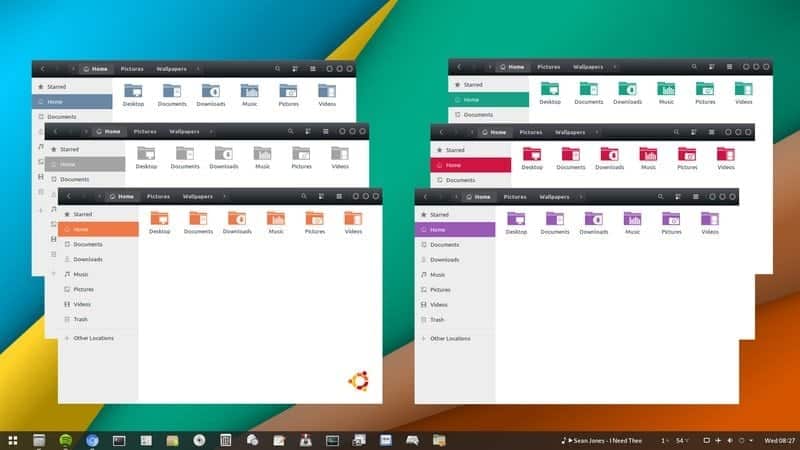 Now let me say few words about Ultimate Maia icon theme. It provides lots of variations in colors. By installing it, you get Blue, Green, Orange, Grey, Red, Black, Violet folders icon themes for Plasma and Gnome. This is not the end here. The theme developer continuously adding more icons to the repository each day.
Install Ultimate Maia Theme in Ubuntu
---
Download the Theme from below link.
Extract the zip file to the themes directory, i.e., /usr/share/themes/or ~/.themes/ (create it if necessary in your Home Directory).
Apply this Theme in Ubuntu Tweak Tool or Distro specific Tweak Tool.
Ultimate Maia Dark Theme  Ultimate Maia Light Theme
Install Ultimate Maia Icon in Ubuntu
---
Download Icons from below link.
Move the folder of icons to ~/icons  or /usr/share/icons (create it if necessary in your Home Directory).
Apply via Ubuntu Tweak Tool.
Resource Link
Did you like this GTK Theme? If so, please take a moment to share it on your social network. Moreover, if you want me to review any other Ubuntu Theme or icons that you really liked, then let me know in the comment below. Thanks for your patience time.