Kodi is a powerful open-source, cross-platform application that can turn any computer into an amazing home theater system. It offers a variety of options to make it work perfectly with your big-screen TV and hi-fi audio system.
Kodi transforms your entertainment experience by organizing and playing streaming media – like videos, podcasts, and music – from the web and local/network storage.
This software provides a fluid user interface that can be extended with a wide range of add-ons to increase functionality and capability. Kodi can play all types of music files, including MP3, FLAC, WAV, WMA, and OGG. It is also able to play all video collections in various formats such as AVI, MP4, DivX, XviD DVD-Video, and MKV.
Kodi is a multi-platform media player that runs on the most common processor architectures, including Android, Linux, BSD, Raspberry Pi, macOS, iOS, tvOS, and Windows.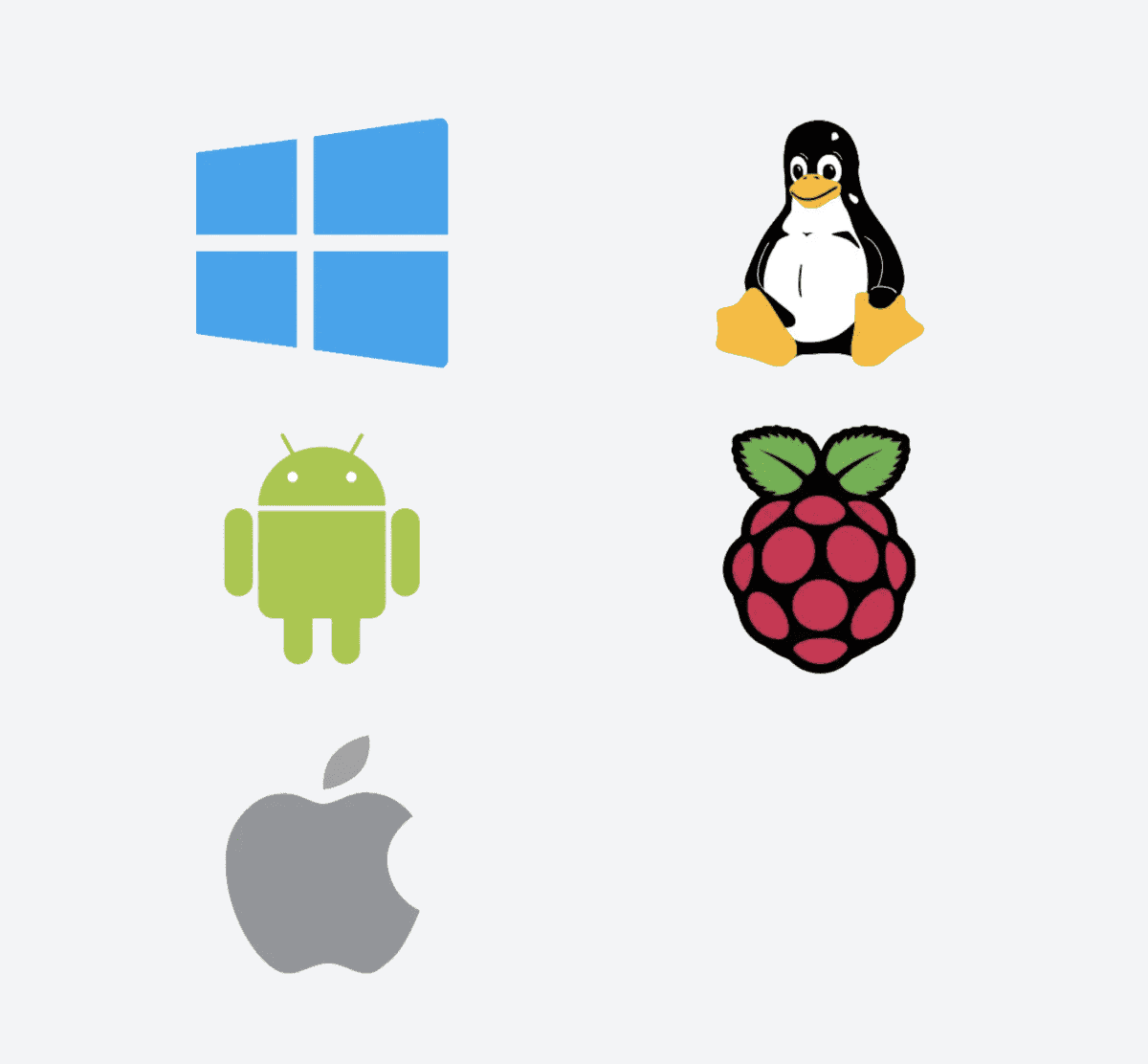 It's a fantastic media player for your PC that only gets better when used as an HTPC. With its sleek interface and powerful skinning engine, Kodi feels natural to use with a remote control in hand from the comfort of your couch- making it the perfect solution for your home theater needs.
This tool was established in 2003 by a group of individuals with shared interests in programming. The non-profit project is being fully funded and developed by volunteers globally under the supervision of the XBMC Foundation. To date, more than 500 software developers have contributed to Kodi's success, 100 translators helped expand its reach into over 70 languages spoken all around the world.
What Can Kodi Do for You?
---
Kodi is the best entertainment center software out there. It's compatible with tons of media types and looks great doing it! Below are only a few capabilities that Kodi excels in.
Movies: It's not only easy to use, but it makes your movies look great with artwork, cast information, genres, and more. It supports all primary video formats, including online media that can be streamed, so you can easily import, browse and play your movies.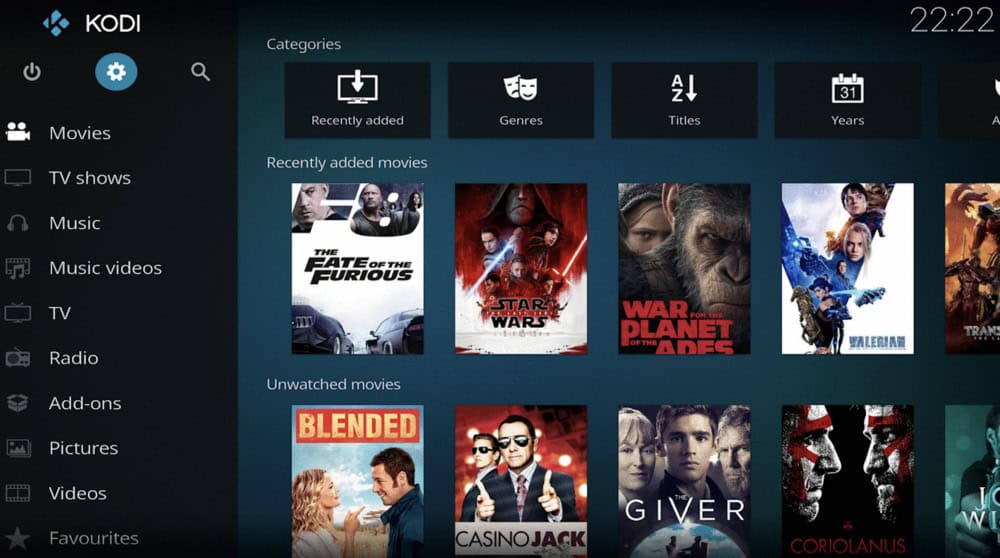 TV Shows: Kodi provides the perfect streaming experience whether you're trying to catch up on your favorite show or just want to binge-watch. If you want a sleek way to keep all your TV shows in one place, this is the product for you. It includes views for episodes and seasons complete with posters or banners, watched tags, descriptions, and actors- perfect for knowing exactly where you left off.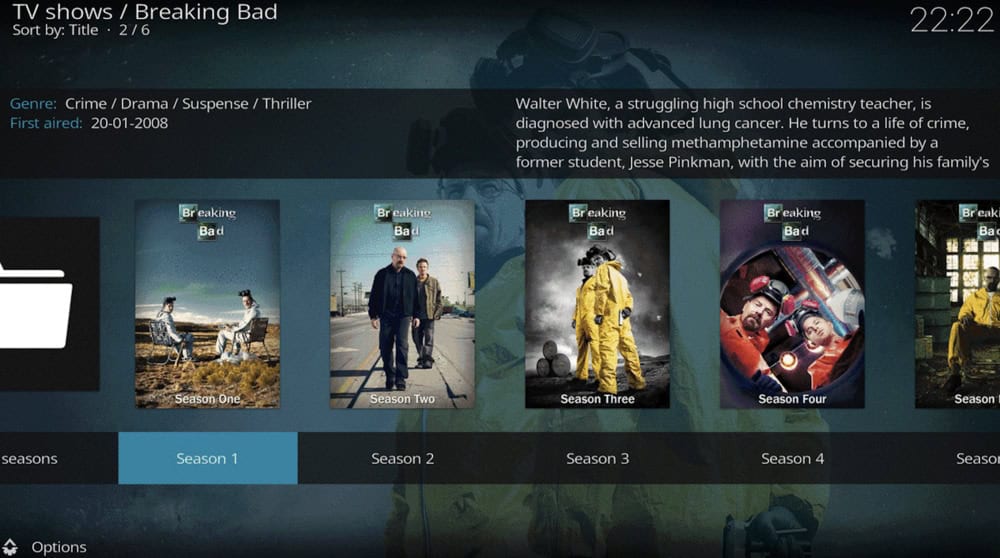 Music: With Kodi, you can play any type of music file imaginable. With control over cue sheets and tag reading support, you'll have complete command over your musical library. Trust us – your music has never looked this good! And if that's not enough to tempt you, Kodi also supports almost every format out there as well as party mixes and more.
Photos: It makes it a breeze to import your photos into one place and then sort, filter, or start a slideshow with the click of a button. What's more? With Kodi, you can display your photos in beautiful slideshows on the biggest screen in your home.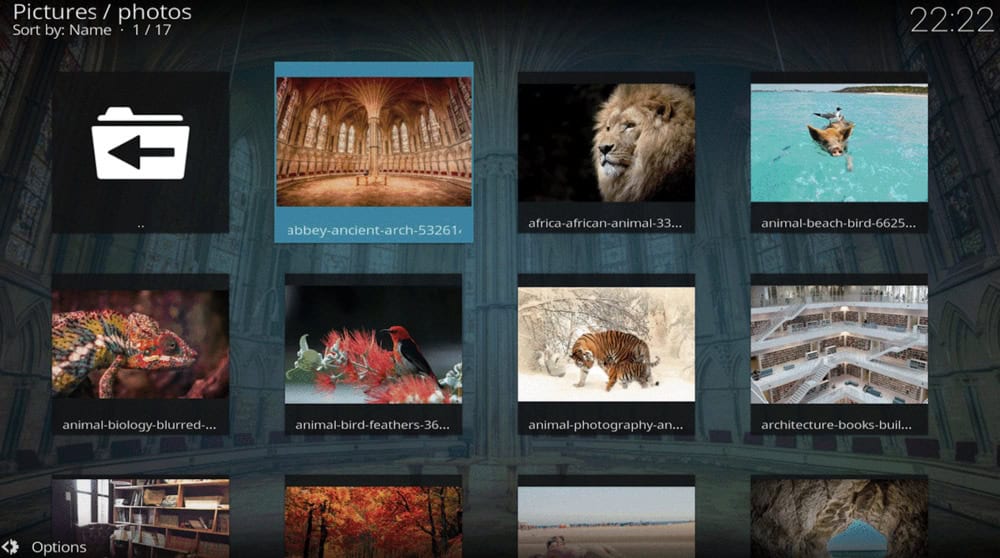 PVR: Kodi has an interface that allows you to watch and record live TV easily. It's compatible with MediaPortal, MythTV, NextPVR, Tvheadend, and many other popular backends.
Games: Not only can you watch shows and listen to music on Kodi, but you can also play video games! Choose from a wide selection of emulators, or play one on its own. There's even support for game controllers if you want that authentic experience.
Skins: It's versatile in that you can use skins to change the appearance of the interface better to match your tastes (or living room).
Add-ons: The true potential of Kodi unveiled itself when I discovered the vast number of Add-Ons created by the community. Whether you're looking for something to web services, applications, or scripts, there's an Add-On for that.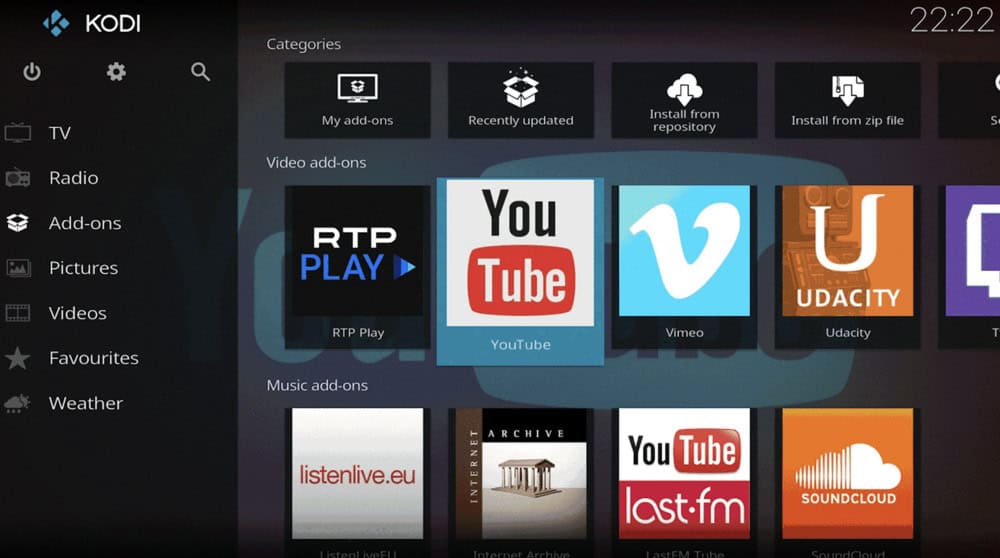 Web Interface: With its JSON-RPC-based remote interface, Kodi allows for endless customization possibilities to create the perfect media experience, including using web browsers and 3rd party tools.
Remote Controls: If you have a CEC-compatible TV, hundreds of remote controls or one of the new Smartphone and Tablet Apps–Kodi lets you control your media in whichever way you prefer.
Install Kodi on Ubuntu and Ubuntu-based distros
---
The latest version of Kodi is available through an official Ubuntu PPA. You can add the below PPA to your Ubuntu or Linux Mint system and install the current version.
sudo apt install software-properties-common
sudo add-apt-repository -y ppa:team-xbmc/ppa
sudo apt update
sudo apt install kodi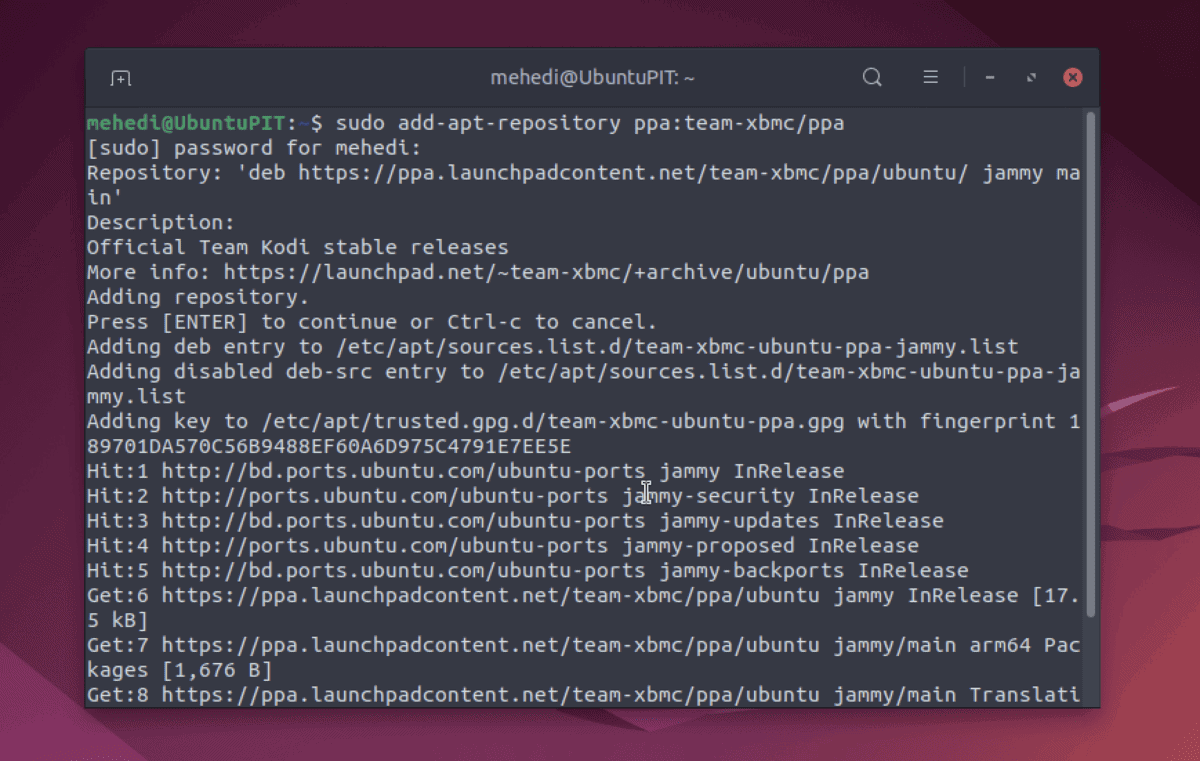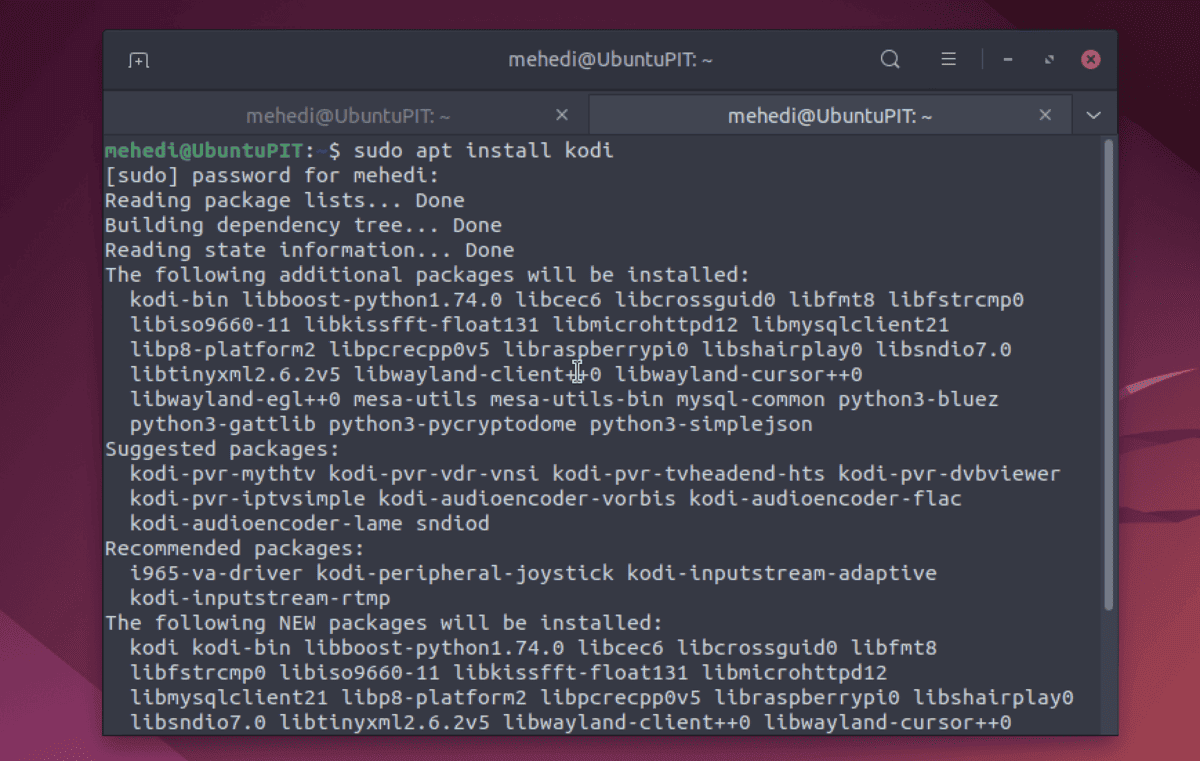 Run the following command to install audio codecs and other Add-ons
sudo apt install --install-suggests kodi
Update any addons like PVR clients
sudo apt install kodi-pvr-mythtv
Upgrading the Kodi Package
sudo apt update
sudo apt upgrade --with-new-pkgs
Downgrade Kodi to Stock Version
In order to downgrade Kodi or purge the Ubuntu PPA, type in the following command:
sudo apt purge kodi*
sudo add-apt-repository -r ppa:team-xbmc/ppa
After that, install the "oldstable" version with these commands:
sudo add-apt-repository -y ppa:team-xbmc/kodi-old
sudo apt install kodi
Uninstall the Kodi
sudo apt remove --auto-remove kodi
sudo add-apt-repository --remove ppa:team-xbmc/ppa
Remove the settings folder to remove all settings and library data.
rm -r ~/.kodi/
The installation instructions should work on Ubuntu, Linux Mint, Elementary OS, and other Ubuntu derivative systems.
You can also install Kodi from the flathub store.
How to install Kodi on Arch Linux
---
It is available in the Arch Linux community repository, so you can easily install Kodi using Pacman.
sudo pacman -S kodi
Conclusion
---
Kodi is a powerful media player that lets you stream content from all over the internet. It's free and open source, making it a popular choice for people who want to cut the cord. Kodi can be installed on a variety of devices, including Windows, MacOS, Android, iOS, and Linux. You can also use Kodi to watch live TV without paying for cable or satellite subscriptions.
Kodi is a great way to watch your favorite movies, TV shows, and live sports. However, it's important to keep in mind that Kodi can be used for both legal and illegal purposes. Be sure to only download add-ons and streams from sources that you trust.
Do you use Kodi? What are your favorite add-ons? Let us know in the comments below!