We all want to lead a healthy and happy life, and that's why following a diet plan has become a common practice nowadays. However, how you may get rid of the extra fat and lose your weight is a mystery to many. If you think you are eating less, that means you are dieting; you do have a wrong idea. In your busy daily schedule, a good dieting app can help and guide you to achieve a youthful figure. So, if you have an android phone and want to get a fit and healthy figure, this article of dieting apps for Android will help you in a great way.
Dieting Apps for Android for a Healthy Life
---
Here I will describe 20 renowned android dieting apps which will help you to keep on healthy diet and to get the desired physic, because some of these apps will track your food habits, calculate your calories intake, set a goal for you and most of all these will be user friendly, and many are free of cost.
1. MyFitnessPal
---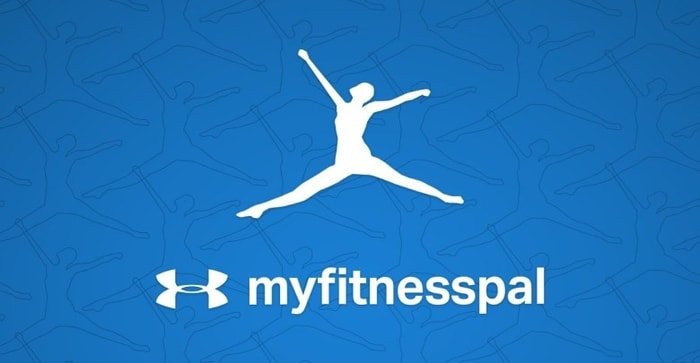 My fitness pal is one of the most popular Android apps for dieting. You can log your food from here at any time via your android phone. You have to insert your age, height, present weight, and the weight you desire to achieve because this app calculates the calories you need basing on your height, weight, lifestyle, and your gender.
Important Features
Contains more than 11 million food database, including global items and cuisines.
Counts your calorie intake automatically.
It offers you about 4+ million barcodes of recognized foods.
Quickly log menu items from your favorite restaurants.
Guides to make healthier choices about daily food.
Get prepared custom dieting plans and see the progress.
The app tracks all kinds of nutrients like calories, macros, sugar, fiber, cholesterol, and vitamins.
2. Calorie Counter-MyNetDiary
---
This popular app has a database of more than six million foods. You can select the menu as per your own choice. The interesting thing is that this app will note down your daily food pattern. You will be able to compare the available foods and select healthy options.
Important Features
Provides a basic fitness tracker.
Tracks blood glucose, heart rate & cholesterol.
Creates meal plans for you basing on your food pattern.
Connects with Fitbit, Garmin & Jawbone UP.
More specific calorie counting features.
Access food diary from home screen with MyNetDiary widgets and shortcuts.
Diabetes tracker monitors blood glucose, Net Carbs, insulin intake.
3. Diet Point-Weight Loss
---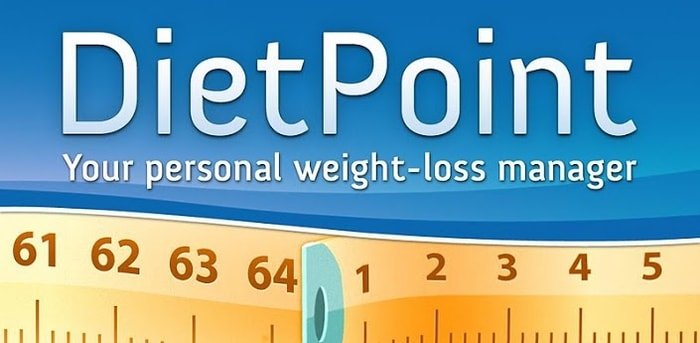 This app sets more than 130 comprehensive diet plans for you and also makes a useful shopping list. You may easily select the desired diet plan from here. This app also reminds you to take your meal in time. A BMI calculator is set for you to measure your weight as per the height.
Important Features
Inserted Weight tracker and monitor.
BMI (Body Mass Index) calculator is available.
500+ tips to perk up your weight loss progress.
130+ complete diet plans.
Get a committed shopping list for each diet plan.
Assess each plan for weight loss.
Your next meal reminder.
4. My Diet Coach – Pro
---
This dieting app, which doesn't ask to change your foods instead, focuses on the urge to consume more. This fitness tracker motivational app will motivate you showing various motivational photographs, different tips for losing weight, and a diet diary. It will remind you to carry out a healthy routine and drinking water also.
Important Features
Get a BMI calculator.
Available set diet plan.
Get a calorie counter for various types of exercise.
Reminds you to plan yourself and keep a note.
Barcode scanner for quick entry.
Track your water consumption.
Various tips for weight loss, health, and fitness
More Info & Download
5. Yazio
---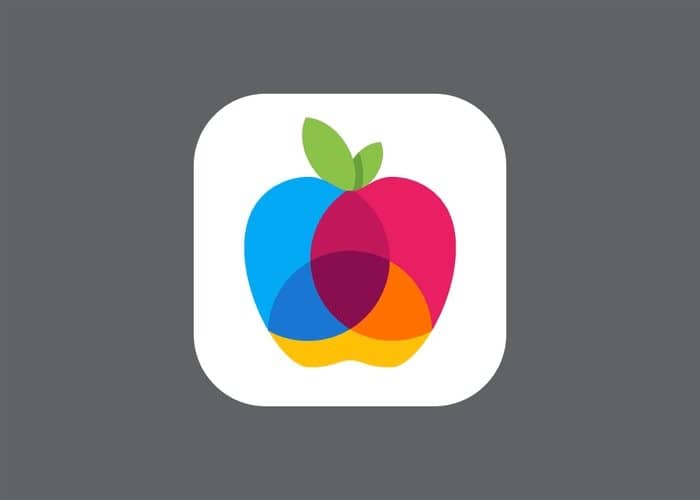 This weight loss app will offer you to prepare your plan. The app helps you to calculate your steps and calories you have burnt. It also shows the calorie intake in your body for the day. This dieting android app also helps to build muscles if needed. This app keeps up strict adherence to calorie level but never at the cost of food value.
Important Features
Calorie table with more than 2 million foodstuffs.
Tracks nutrition intake and logs in a food journal for all meals.
Get the tracker for calorie, carbs, proteins, and fats.
Barcode scanner for quick probing.
Weight tracker documents your weight updates.
Syncs directly with Google Fit.
Availability of widget and shortcut features.
6. Fooducate
---

This fitness app doesn't only count your calories, but also tracks your weight loss, physical exercise and also helps to analyze the value of the calorie consumed. Most importantly, it doesn't bother you by showing an advertisement.
Important Features
Scans and grade foods basing on their ingredients.
This app tracks your calories, macros, and workouts.
Motivational support from the community.
Scan your food using a barcode scanner.
Get free diet and health tips from nutrition professionals.
Free weight loss tips.
7. Casual dieting-weight manager
---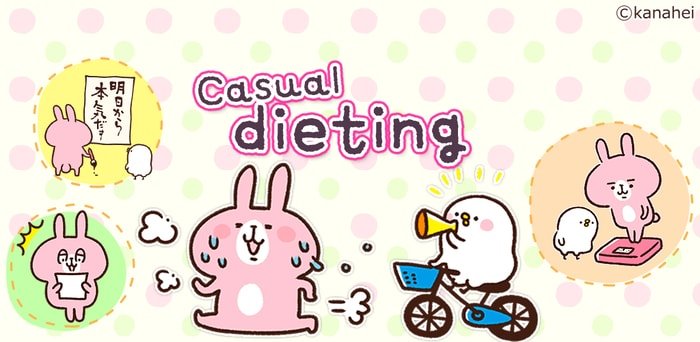 This dieting app for Android is unique because of its attractive illustrations. This motivational weight loss app is mainly for them who eagerly want to lose their weight but could not stick with it. You will lose your weight with fun and will never feel depressed.
Important Features
Notes down daily workouts and lousy foods consumed.
Check yourself if you fall off the cart.
Tracks your body weight, body fat & weight loss progress.
Option for the graphic presentation of your progress.
Reduced weight or gained weight is shown in the graph.
Get the stickers from the graph and use it in your integrated journal.
8. Fitbit
---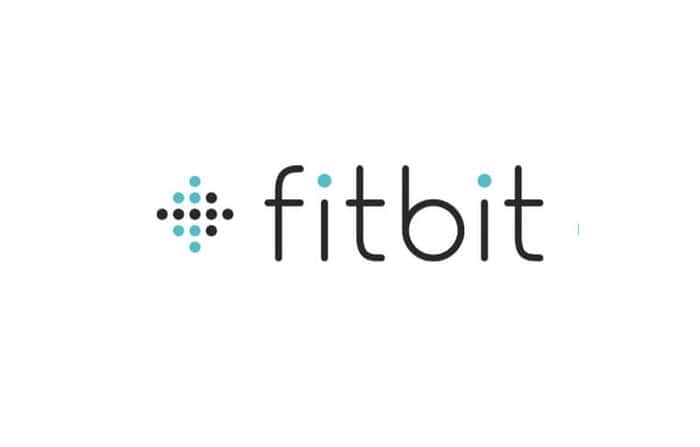 This popular app is mostly known for tracking steps and daily activities. The app itself is a great motivator; it helps you to achieve your goal. You can compete with your friends with daily and weekly challenges and compare the result.
Important Features
Track your daily goals and progress.
Insert activities like yoga and other workouts.
Log your food to see the consumption of each day and manage your weight over time.
A handy barcode scanner for quick food entry.
Tracks water intake and sleeping patterns.
Communicate, compete, and Compare progress with friends.
9. MyNetDiary PRO
---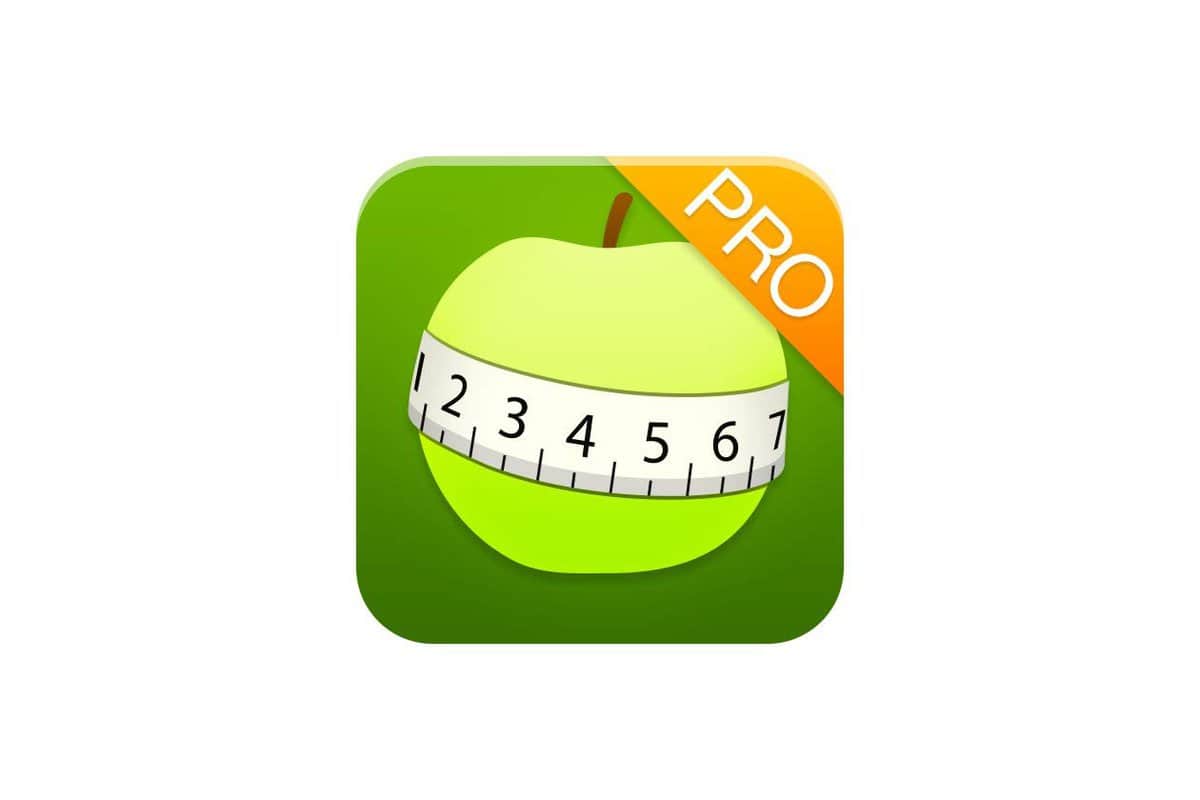 MyNetDiary PRO is a popular app where you only have to put your target weight, and the app itself will do the rest for you. This dieting app for Android devices will analyze your record and calculate your targets. Though you have to spend some penny for this app, I am sure you will not regret it.
Important Features
Provides useful tips for attaining goals.
This diet and nutrition assistant will suggest a suitable diet plan.
Contains a calorie counter and exercise tracker.
Get a food database with restaurants, grocery stores, ethnic food, or any special diet.
It has a barcode scanner
Use the 'Photo Food' tool and quickly get the nutrition facts.
Provides a friendly reminder by timely notification.
10. Lose It
---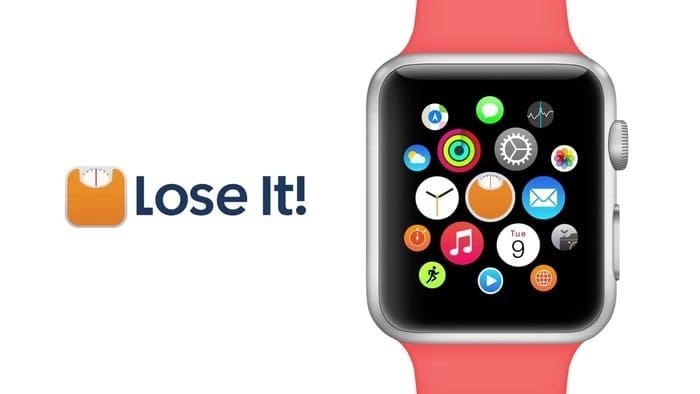 'Lose It' will help you losing your extra weight by setting a custom diet plan as per your information provided here. You can take a photo and list down the foods you are going to eat. This calorie counter-dieting app for fitness calculates suggested calories per meal based on your plan.
Important Features
Tracks calorie consumption.
Integrated with a barcode scanner for easy food entry.
Tracks macronutrient, health, and body measurement goals.
Connect trackers, apps, and devices like Fitbit trackers, Misfit trackers, Fitbit scales, Google Fit, and more.
Opportunity to craft your challenge with friends.
It offers a public challenge for strict motivation.
11. SparkPeople's Calorie Counter
---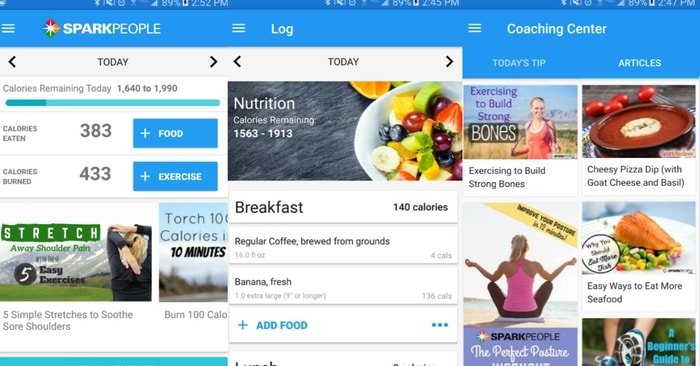 This dieting app comes with a barcode scanner, which can include your food in the list automatically. You will be able to save your favorite foods for quick access. Moreover, it has a database of more than three and a half million foods.
Important Features
A catalog of over two million foods.
Access to your cell phone or laptop.
Determines calories served in the favorite recipes by the recipe calculator.
Offers 'Food Grouping' to track your frequent meals quickly.
Finds calories, protein, fats, vitamins, and minerals for each food.
Integrated with the fitness tracker.
Provides international articles on dieting and nutrition tips.
More Info & Download
12. FatSecret Calorie Counter
---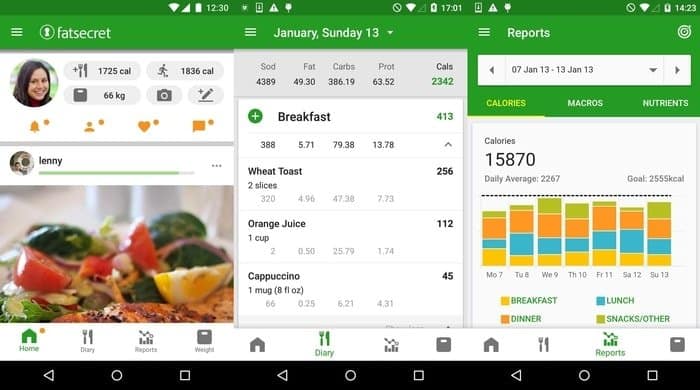 This app is a 'diet and weight loss tracker with meal planning and food nutrition calculator.' FatSecret is one of the most useful weight loss and dieting apps in the marketplace. This app allows you to prepare a dietary record chart of the calorie you take and burn.
Important Features
It offers a weight tracker.
It offers a reference guide to find food and nutrition value.
Get a diet calendar to see calories consumed and burned.
Integrated with a photo album like Photodiet, Foodsnap, Instacalorie.
Trace your progress by the journal provided with the app.
Get notifications for support, comments, and followers.
Log in directly on Facebook and Google.
13. Lose Weight Without Dieting
---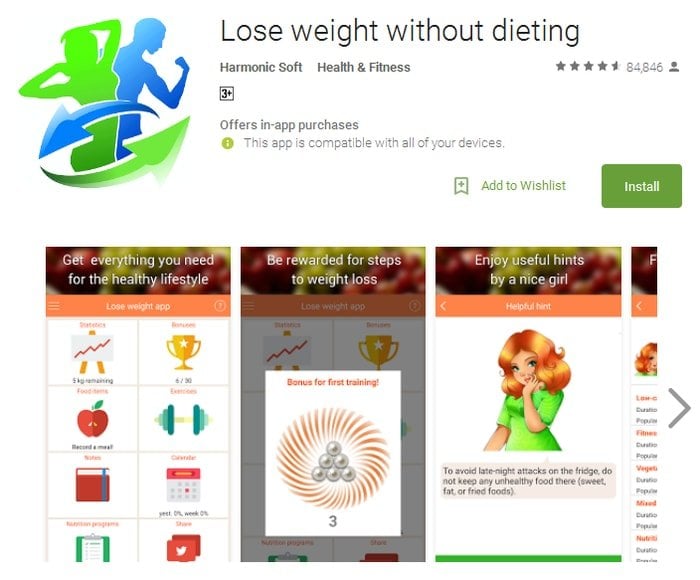 The name is quite peculiar, but this android dieting app will help you to work on your plan efficiently. You can write notes and set moods. It has a food database, a useful weight tracker, fitness tracker, calorie tracker, and many more to keep you focused on your goal.
Important Features
Records all meals in a journal and counts the calories.
Reminds for logging the meals if you forgot to.
Suggests customized nutrition and training plans.
Gives you hint and tricks on how to lose weight in a healthy way.
Tracks daily water consumption.
You can schedule your future meals and planning exercises.
14. Lifesum
---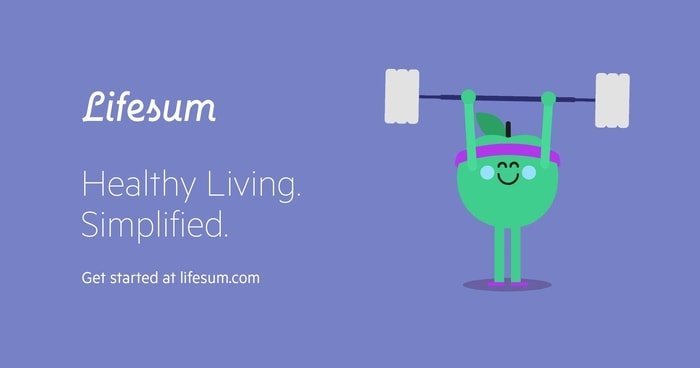 This popular dieting app will help you to eat healthily and lose weight. You will be able to reach your weight loss goal with food tracker 'Lifesum.' Its subscription fee is a bit higher, but you can also use the free version.
Important Features
Offers the best-suited diet plan for you.
Provides with a diet tracker and diet tips for your set goal.
The macro calculator takes care of daily nutrition, calories, and macros.
See the progress at a glance by the feature 'Weight loss tracker.'
Count calories and track down food.
Easy logging with the barcode scanner.
15. MyPlate Calorie Tracker
---
This dieting app for Android devices has a perfect set of required features instead of lots of things, and it is user-friendly. It shows calorie left for the day in percentage macro breakdown. If you want to plan your exercises separately, this 'fitness tracker' has a specific section for fitness.
Important Features
Customs food and meals for you.
It offers you a useful barcode scanner to find and track food easily.
Provides you a modified daily calorie goal basing on your profile information.
Keeps track of your weight and progress over time.
Offers 'meal-time reminders to keep yourself on track.
Get effective motivational support from the members of its community.
The app sync with the Calorie Tracker via the LIVESTRONG.COM website.
16. HealthifyMe
---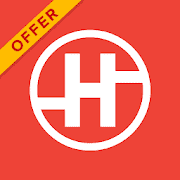 You don't need to pay for a nutrition specialist if you have HealthifyMe, an Android app for your Android device. It can take care of multiple tasks regarding your health and weight. It will count the calories you are taking each day. Almost all health-related advice is there for you. So, if you manage to follow them with a strong mind and body, hopefully, you will find a better result within a few days.
Important Features
It provides a personal diet plan based on your weight and height.

The advanced calorie counter will count the calories you are taking every day. For that, you just have to show it what you are eating.

It provides healthy meal recipes and food lists.

HealthifyMe has its counters in different cities like New York City, London, etc and from where you can buy 500 types of snacks that are made by different nutritionists.

Provides suggestions and you can directly talk with the nutritionists 24×7.
17. Carb Manager
---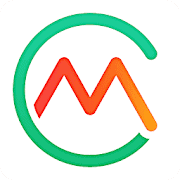 Now, losing weights and being fit becomes easier with an advanced dieting app for Your Android device. It is Carb Manager. The best part of this app is its ketogenic diet plan. Everything you need to know about the ketogenic diet is available in this app. Diet plan, calories detection, ketogenic recipes, tips, and suggestions, all you find here in a cool way. So, if you fix your mind to make your weight loss journey successful, don't make any late and try this app.
Important Features
Includes Keto Macro Calculator that will count each gram of crab, and show you the limitation.

You can engage in a bigger keto management family using this app.

Keto food diary is there to provide the lists of ketogenic foods of all categories.

A smart weight tracker will count your weight and provide you proper advice.

Provides you all the nutrition details like carbs, protein, gymnastics, etc.
18. Diet Assistant
---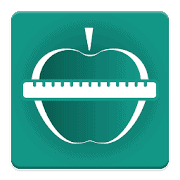 It is not unknown to anyone that losing weight is not easier. Proper guidance and assistance are the musts for a person to lose weight dramatically. If you want such a result, you can use Dirt Assistant, an Android app to support weight loss and fitness projects. This app will work as a complete guide and Provide you with every single detail and advice for your successful weight loss journey.
Important Features
Show diet plans of different rages and categories based on your weight and taste.

Weight loss tracker and calorie counter are available.

A progression tracking system with a photo album that will inspire you a lot.

A built-in BMI calculator is also available.

Show a dedicated shopping list for your suitable diet plan.

Customizable weight plan and home screen widgets.
Download
19. BodyFast Intermittent Fasting
---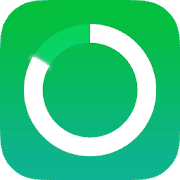 To boost your intermittent fasting journey, I suggest you use BoryFast Intermittent Fasting. It is an advanced diet app for your Android device. All the necessary functions regarding your Weight Loss and fasting program are available here. For example, there are calorie counter, healthy food chart, exercise plan, diet chart, ketogenic diet plan, and thousands of necessary advice for your fasting journey. So, I think that there is no way it can disappoint you.
Important Features
Show the most natural and easiest way to lose weight.

It gives priority to the detoxification through Intermittent Fasting.

Lots of necessary advice to stay fit and healthy.

Diet plan to reduce allergic reaction, gastric, inflammation, etc.

Help you deal with a difficult illness like heart disease, diabetes, and so on.
20. Diet Plan for Weight Loss
---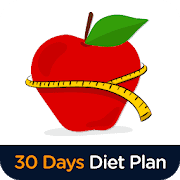 Do you have a special event within a month for what you want to lose weight? If yes, I suggest you not to worry about it. Because bringing a dramatic change in your body fitness won't be impossible within a month. Now, you have a Smart diet app that will help you lose a lot of weight within only 30 days. It is the Diet Plan for Weight Loss. This app will show you the most effective diet chart for 30 days that can never fail to bring a great change to your body. So, are you ready to take the 30 days challenge?
Important Features
Lots of diet meal recipes and food lists.

Show you the budget-friendly shopping list for a healthy diet plan.

A complete diet plan for 30 days is provided for free.

It is very rare not to have a better result with this app. But you have to ensure that you are following every advice.

Both regular meal plans and vegetarian diet plans are available.

Good looking theme and night modes are available.
Bottom Line
---
A healthy and fit body is the prerequisite to a happy and successful life. For that, you have to motivate yourself, ensure healthy food and nutrients, sleep properly and, if needed, do meditation. The unhealthy crash diet programs, magic diet pills have never been an answer. Instead, excellent and suitable dieting apps on your Android device can be a wise solution for you. So, eat healthy foods, feel splendid, achieve your goal, and get a fit and stout figure by using appropriate android dieting apps.