If you are looking for the best DVD burning software for Windows 10, then we got you covered. We all know that DVD is the successor of CD with more storage space and capable of writing files on it again and again. Even once upon a time, it was the most convenient method for storing and distributing movies and other software files.
Nowadays, pen drives, portable hard disks, SSDs, micro SD cards, and even digital downloads have taken the place of DVDs. But still, for some official usage and as a cheaper distribution method, DVD is a go-to medium.
Best DVD Burning Software for Windows 10
---
Burning is just a fancy term that means writing or storing files on the DVD, CD, or a BluRay disk. So, DVD burners are capable of storing any kind of files on the DVDs. Some of them can also burn ISO files of games and operating systems. Although DVDs are going to stay in the museums soon, there are still some companies that are developing paid and free DVD burning software for Windows 10.
So, you will see several decent DVD burners available out there. Obviously, not all of them will serve your purpose. Hence I decided to make a list of the best DVD burners available for Windows machines.
1. Ashampoo Burning Studio
---
Ashampoo Burning Studio is a popular member of Ashampoo's large portfolio of productivity suites. This tool is dedicated to burning DVDs with some great features. There are two different versions of this software, including a limited-feature free version.
Although you will have to buy the full version for using advanced features, the free version is convenient for those on a tight budget. Ripping music from the audio CDs is a great bonus feature in this tool, which lets you get the lossless music directly into your computer from the CD albums.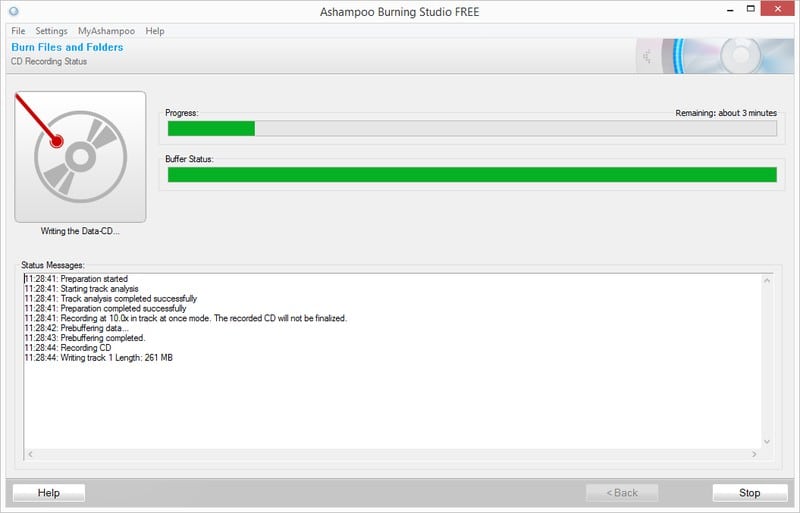 Key Features
The intuitive and clean user interface is great for beginners and casual users.
You can burn high definition videos on the BluRay disks along with regular DVDs.
The disks can be rewritten, and the burning parameters can be customized based on your requirements.
The advanced compression algorithm helps you rip and backup DVD files using a small space.
It can also burn ISO and BIN files on the disks for software distribution.
Pros: The free version of this tool can burn video files in HD resolution, which is a great feature in terms of a free tool.
Cons: The tool uses more system resources than other similar tools, which is a negative side to consider.
2. CDBurnerXP
---
This is one of the most widely used DVDs burning software for windows 10. As the name suggests, this tool is dated back to the Windows XP days. However, it still runs fine even with the latest build of Windows 10. Besides, the developers are bringing improvements with the new updates.
The most favorite aspect of this software is the small overall footprint. With just a few megabytes in size, this tool can burn any kind of disk at a decent speed. And what surprised me the most is that CDBurnerXP is completely free to use without any cost.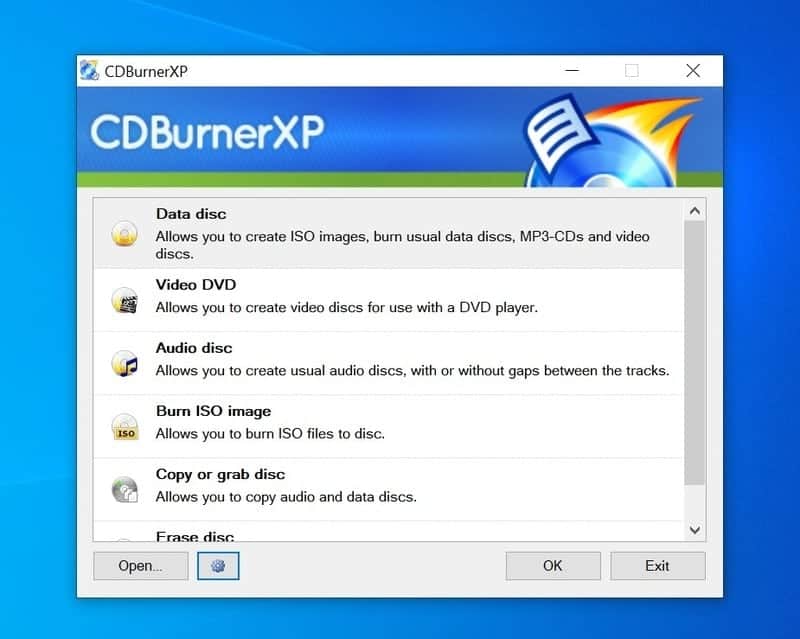 Key Features
You can burn audio, video on any disk, including BluRay and CD.
The burnt data can be verified for any kind of missing files after the burning is completed.
You can burn operating systems to create a bootable for recovery.
ISO files can be converted to different formats for convenience.
Disk copying and erasing are great bonus options to help users.
Pros: This tool can run flawlessly on the older version of Windows, such as Windows 2000, and even the weakest computers can handle this tool pretty well.
Cons: The user interface is a bit old school, and the developers should change the visuals to retain popularity.
3. Nero Platinum Suite
---
Who doesn't know Nero? Nero Platinum Suite is the collection of the most popular Nero tools in a single yet affordable package. There are 7 different software components in this tool, including the people's favorite Nero Burning ROM. This is capable of burning a lot of files into the CD, DVD, and BluRay disks.
Not only that, the other tools in these bundles will help you in different media-related tasks such as editing videos, converting files, backing up DVDs, and much more. This tool costs a bit more than other stand-alone burning software. But considering the value this tool provides, the price is not that much.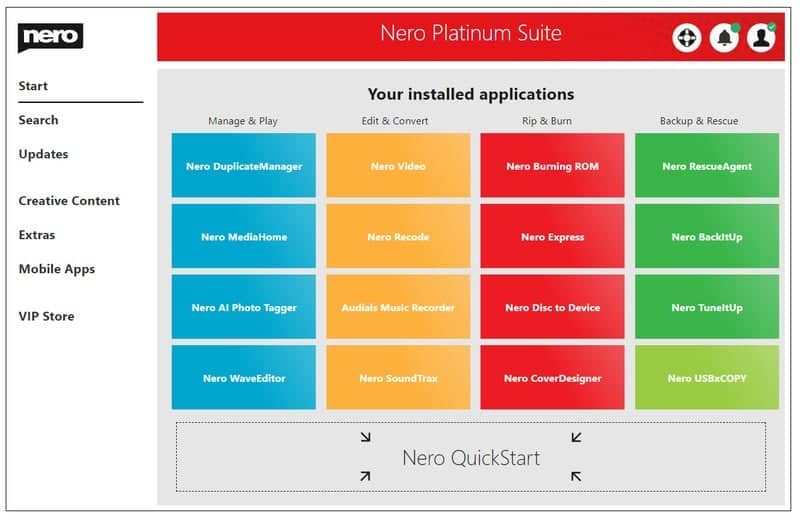 Key Features
You can edit videos for burning right into this tool.
Your collection of retro CDs can be backed up into the computer.
This tool can convert videos into multiple formats before burning.
The users can rip videos from the protected DVD and BluRay disks.
The burning speed is super fast, even on normal office computers.
Pros: Nero has more than 25 years of experience in developing burning software. So, you can completely rely on this for organizational use.
Cons: The price of this tool is way higher if you are just looking for a stand-alone and simple DVD burner.
4. ImgBurn
---
ImgBurn is a fast and feature-rich ISO burner for Windows 10. However, this is a pretty old tool. Hence, you will see a classical user interface that is not visually appealing at all. But we are here for functionalities, right?
In that case, this tool surpasses competitors. Apart from burning image files on the disks, it can do some other cool stuff too. And, last but not least, ImgBurn is completely free to use without any kind of subscription or licensing option.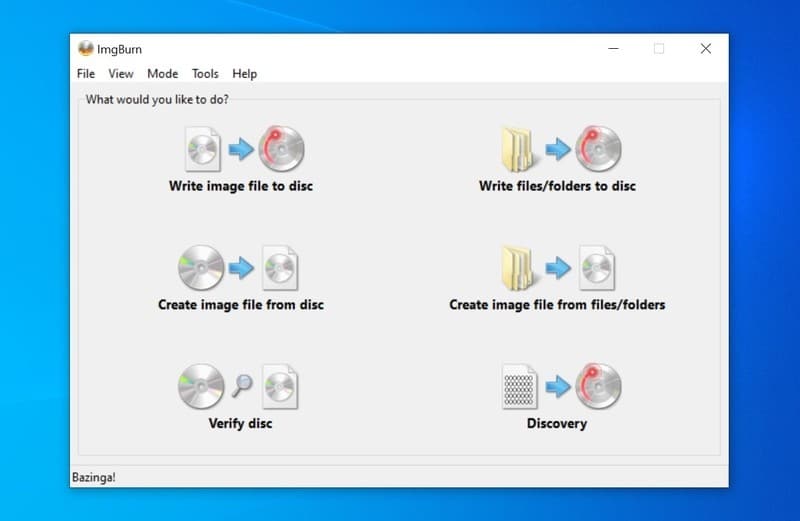 Key Features
It can read ISO image files from the disks and copy that to the computer.
This tool can be used as an image creation tool in different formats, including BIN, IMG, ISO, etc.
You can burn images on HD-DVDs and BluRay disks without any limitation.
The burnt files can be verified by using the built-in algorithm of this tool.
It is compatible with the optical drives from major manufacturers without additional drivers.
Pros: The stability and compatibility with different image file formats is the most important aspect of this tool.
Cons: ImgBurn is not great for creating CDs and DVDs for music and movies. The customization options are also limited.
5. 3nity CD DVD BURNER
---
This is yet another popular DVD burner for Windows 10. This tool can perform a lot of tasks related to burning and media creation. You can even erase and remove files from the reusable disks. You can burn audio and video files for storing and distributing media, as well as the ISO and different image files can be burned on the DVDs for booting up the computer.
I always get surprised how come the developers managed to put these many features in this small package! There's even a portable version that doesn't interfere with your system files.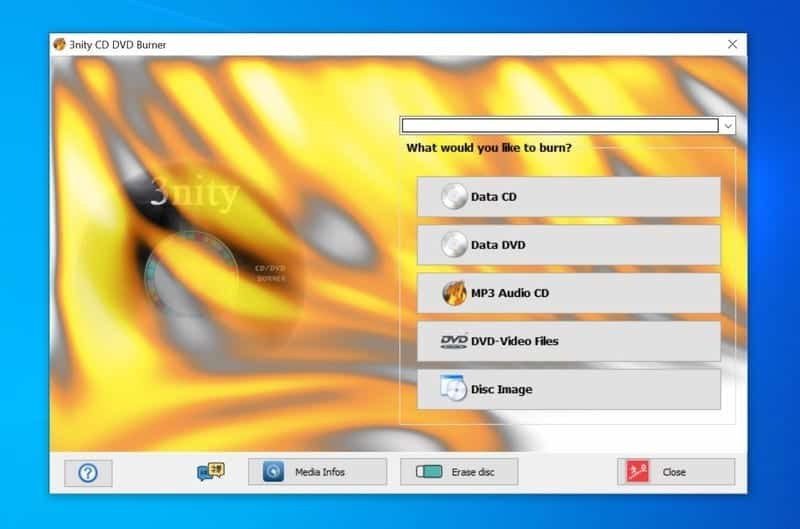 Key Features
This tool even supports optical drives that are connected through USB.
Support for creating bootable disks is a great addition to the functionalities.
It can create image files in ISO format without requiring additional tools.
You can analyze and read the different properties of the optical drive.
The UI and features are designed with beginners in mind, which is appreciable.
Pros: The portable version is great for people who think about their privacy a lot. Besides, the developers don't collect usage data.
Cons: It lacks some features which are obvious for old freeware. But if you need advanced features, then it's better to avoid this tool.
6. Wondershare DVD Creator
---
This is one of the most powerful DVD burner tools out there. Besides, it is up to date, and the user interface is quite modern. Wondershare is always great at creating amazing productivity tools. This is no exception either. Apart from just burning DVDs, it will make you unleash your creativity to preserve your precious memories.
There are a lot of templates to choose from for creating DVD menus. And, this tool also serves the purpose of a basic video editor, which makes it stand out from other tools in this category.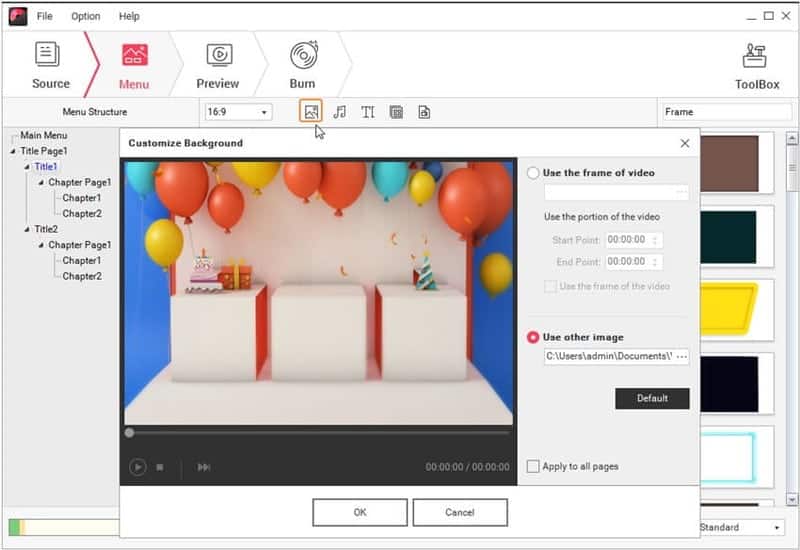 Key Features
Data burning with this tool doesn't create any quality loss.
You can create dynamic menus, even if you are not a designer.
It can rip DVDs into different file formats, including MP4, MKV, etc.
This tool is capable of basic video editing with the option to create videos from still photos.
The success rate of burning is almost a hundred percent with faster processing.
Pros: Modern user interface with visually appealing menu templates is the strongest side of this software.
Cons: The free trial version has watermarks on the videos, which is a deal-breaker for most casual users.
7. BurnAware
---
BurnAware is a freemium DVD burning software for Windows 10. Although the premium version has more features than the free one, it is not that costly. On top of that, the tool is loaded with features that totally justify the price.
The most exclusive feature of this tool includes customization of the boot properties while burning an ISO image for creating a bootable DVD. It has all the regular features of a DVD burner, including support for creating an audio CD and much more.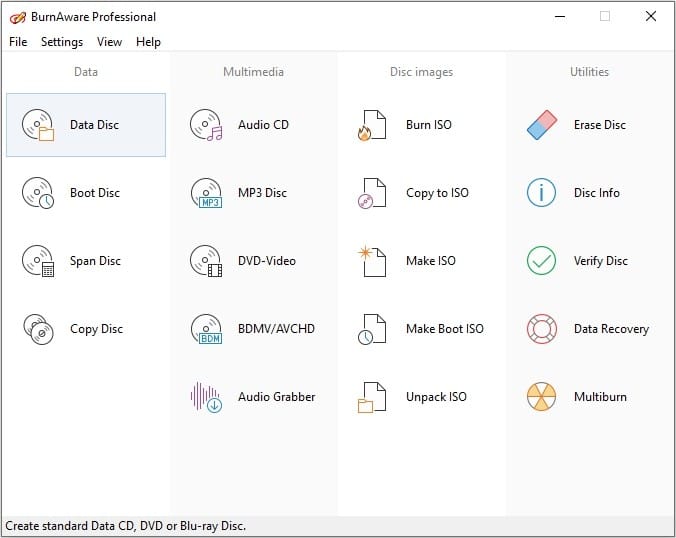 Key Features
It has three different editions serving different purposes.
This tool supports all kinds of disks, including BluRay, Double Layer, M-Disks, etc.
It can perform data verification and data recovery after finishing the burning task.
Disk spanning is a great feature for burning on more than one disk.
There are some features related to bootable disk creation, which is very convenient.
Pros: The affordable licensing plans makes it my favorite premium burning tool. Besides, the operations are very easy and straightforward.
Cons: The free version has pretty limited features. For getting some useful features, you must buy the premium plan.
8. AnyBurn
---
AnyBurn is a free DVD creator tool that is available for Windows OS. The tool is pretty simple, with a tiny installation package. Hence I was not expecting much from this tool. But to my service, this tool performed pretty well in burning DVDs and CDs.
Besides, the system stability was decent. It can perform a lot of tasks, from creating musical disks to bootable disks. On top of that, the ripping functionality is very convenient for backing up old optical disks.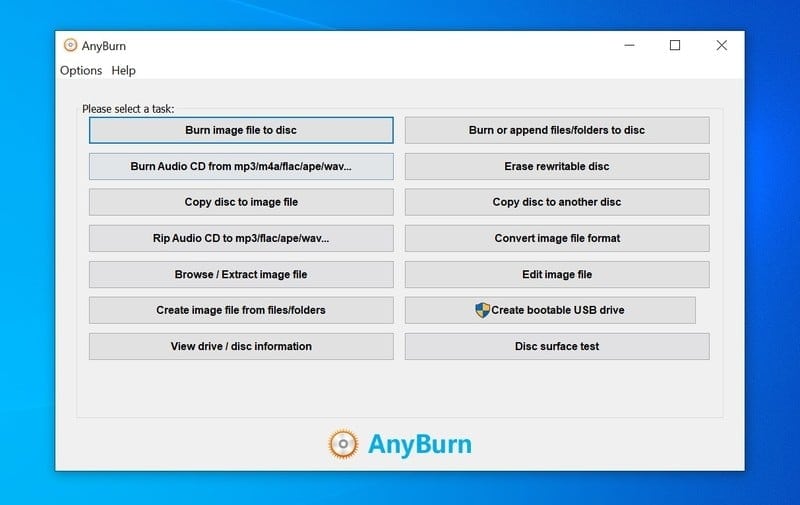 Key Features
There is a portable version that doesn't require installation on the system.
You can append additional files and folders to an existing disk.
It can clone disks without losing any data, even in a bulk amount.
It will provide you analytics of the optical drive and disk.
This tool is capable of editing and converting disk image files.
Pros: The functions are organized beautifully inside the software. You don't need to be an expert to use this tool.
Cons: You can't add subtitles, chapters, and other video properties while burning, which is available on the advanced tools.
9. InfraRecorder
---
InfraRecorder is an open-source and free DVD burning software for windows 10. This is not the best tool in this category, but you can definitely consider InfraRecorder to run an old PC. But that doesn't mean it struggles to run on the latest builds of Windows.
I didn't find any issues, and you can always customize the source code due to its open-source distribution system. This tool has great integration with Windows Explorer that lets you perform various right from the file manager.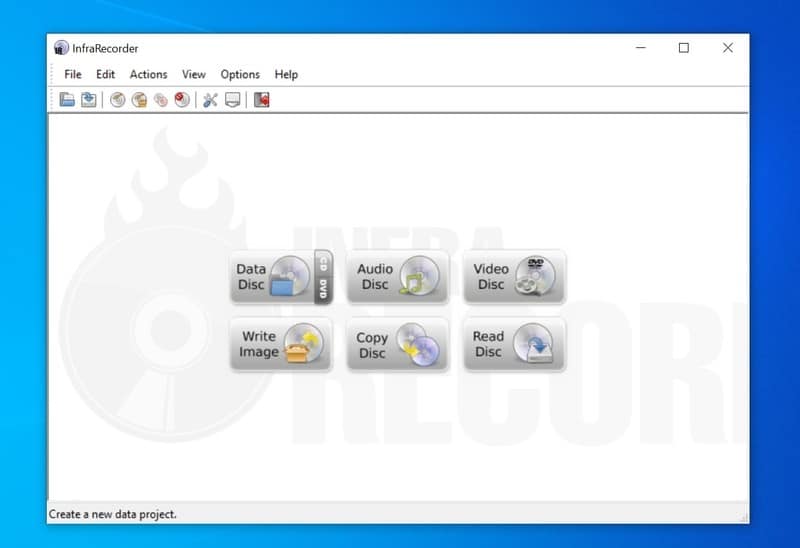 Key Features
You can safely erase files from the reusable disks for burning again.
This tool can lock the disks so that others can not append data into them.
It can read the properties and metadata of an optical disk.
This tool can rip audio files and save them as popular file formats.
It supports different types of disks, including HD-DVD and dual-layer disks.
Pros: Being an open-source tool, this leads to much flexibility, and you can customize it according to your need.
Cons: The developers don't provide regular updates nowadays, which is a downside to this tool.
10. DVDStyler
---
DVDStyler is yet another minimalist tool for writing on optical disks. This is cross-platform software, and the source code is open to everyone. I always have a soft corner for open-source tools. But that is not the only thing about this software.
This thing proves that free tools can sometimes provide equivalent value to the popular paid tools. You can create professional-grade DVDs with DVD menus. This is probably the only free tool out there that has this advanced feature.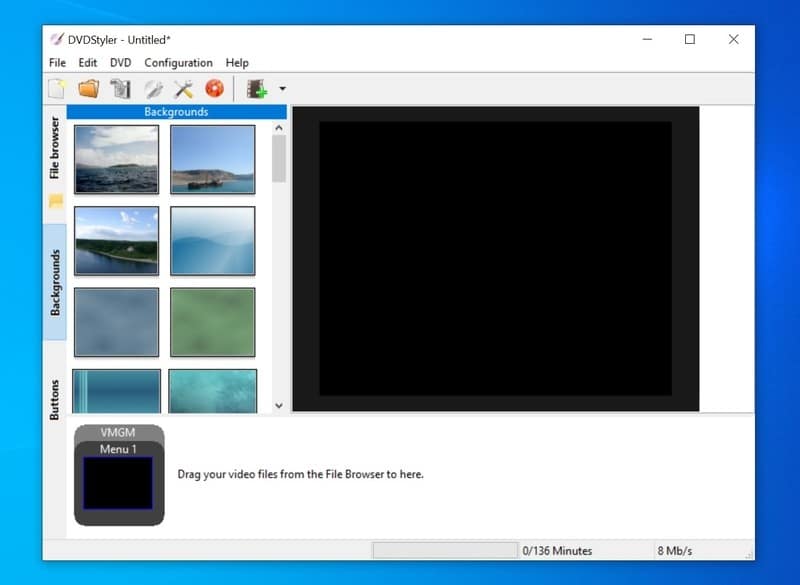 Key Features
The built-in editor lets you design your very own interactive menu.
If you don't take the hassle of designing, you can always use the preloaded templates.
This tool supports a bunch of file formats with advanced compression algorithms.
The drag and drop UI has is very easy to use that doesn't require advanced skills.
You can control every aspect regarding burning in the configuration tab.
Pros: The menu designer with advanced features and scripting availability is the flagship feature of this free tool.
Cons: You can't burn ISO files and make bootable disks using this tool.
Our Recommendation
---
All of the above-mentioned tools are so good that I didn't want to include this recommendation section in this article. But still, some people might get confused, which is why I want to help you make the decision.
So, if you only need to burn videos on DVD with a beautiful dynamic menu, then Wondershare DVD Creator is a great choice. Ashampoo Burning Studio is a great paid alternative as well. But if you are not willing to pay money, then CDBurnerXP can be your pick without any doubt.
To Conclude
---
DVD burning has become much easier these days with powerful software. There are no restrictions on burning CDs or DVDs. However, that must comply with the copyright act. I never support copyright violation, and I will request you all no to distribute copyright materials using DVD burners. If the above-mentioned DVD burning software for Windows 10 has helped you, then don't forget to share this article and appreciate our initiative.