If you are still not comfortable with the online music streaming of the modern world, there are always offline music players for you so that you can peacefully collect, save, and enjoy your favorites songs. Now, considering the huge number of options available, it's obvious that you will get confused about which one of them will be the best music player for Windows. To make your task easier, we have listed the 10 best music players for your Windows PC in this article to help you get the best music experience in 2021.
Best Music Players For Windows PC
---
Music players are software designed for your PC that supports almost all audio files, including Mp3, WMA, and WAV. A good music player is about the best audio experience and the peace of organizing your music library and songs collection. So, let's find out the finest one among them and know a little bit about them.
1. Winamp
---
If you dig a little back into the history, Winamp was the first free mp3 software or music player for Windows in the 90s. The lightweight design and the multi-plane UI that offers you various customization options are much loved by people.
With this fantastic music player, you can organize your media library with your local collection, curate the playlists, sync previous data with your smartphone, and get excellent audio format support. So, considering all these facilities, Winamp is undoubtedly one of the best music players for Windows.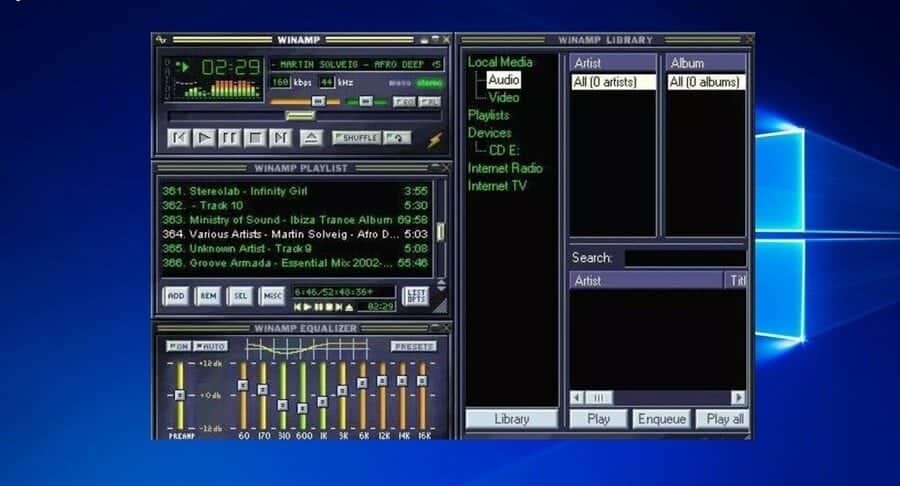 Important Features
You can search for the themes or plugins quite easily.
The software is compatible with CD burning and ripping.
The graphics have shown by Winamp sync automatically while playing music.
You can also play video in full-screen mode.
It supports audio filters.
Pros: It offers you a large collection of skins to choose from. The sound quality is excellent, and they offer HTTP streaming support too.
Cons: The software might seem to be a little heavier than others.
2. MusicBee
---
This is another excellent music player for PC that features a super neat and clean user interface and supports various audio formats, including MP3, WAV, FLAC, WMA, OGG, AAC, and many more. You can also sync the songs from this player with your smartphones or USB drives.
The music library is updated automatically from the hard drive. Moreover, the software supports DSP effects, automatic metadata import, 15 band equalizer, and many more to offer you a more advanced music experience.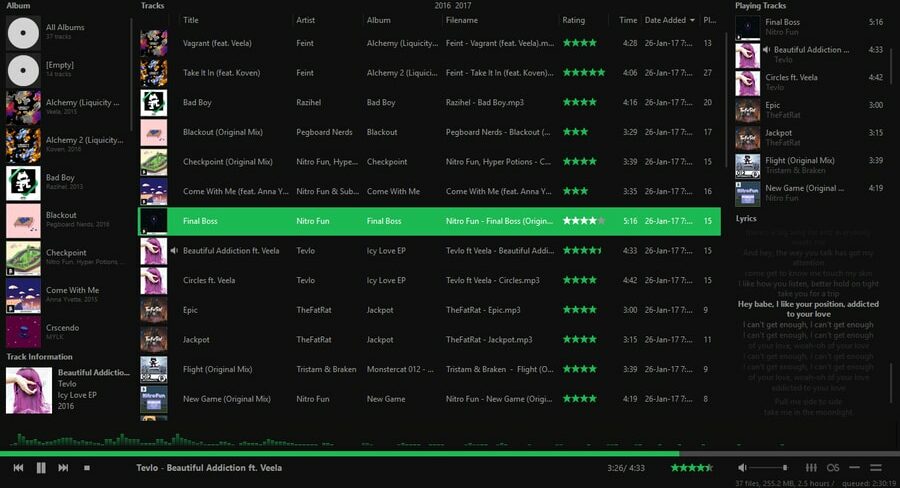 Important Features
Finetuning is really easy with this software.
It supports the Winamp plugin to improve the music experience.
It can sync files automatically to your PC and phone.
You can customize the appearance any way you like.
The music is played without any interruption.
Pros: It's available in a portable version for easy use, and the interface responds really fast.
Cons: The UPnP plugin still needs some improvement.
3. Spotify
---
If you are a serious music lover, then you ought to have heard about Spotify. This is one of the famous music players for Windows PC of this decade. Besides your local music collection, this software allows you to access a huge collection of online music.
Like the phone version of the software, it can sync your account and add the "Friend's activity" on the right side of your screen. The best thing about Spotify is that you can stream the millions of songs available and save them on your playlist to listen offline.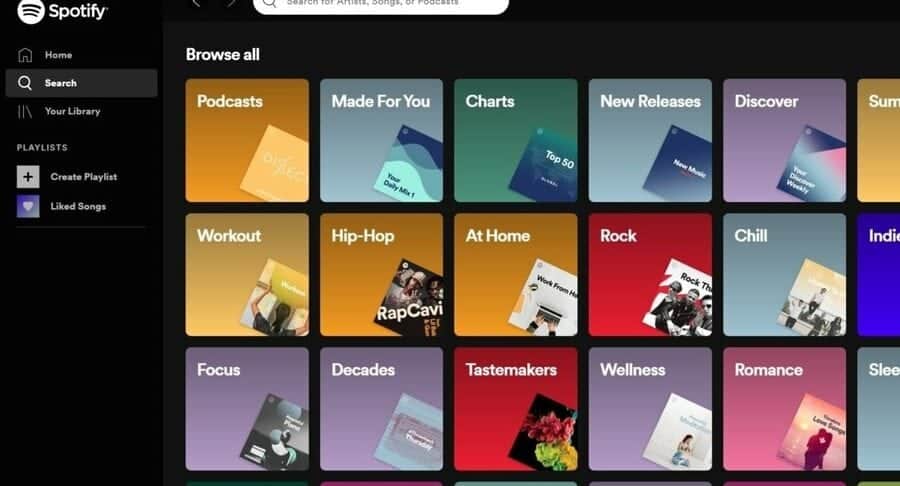 Important Features
You can mix up the songs and shuffle them.
It allows you to share your podcast and music with others.
You can also view the lyrics.
You can sort the music with the filter you like.
It allows you to know more about the artist on his/her profile.
Pros: This one is regarded as the one with the most compatibility and excellent sharing of music experience.
Cons: Unfortunately, the software is not available in all countries.
4. AIMP
---
Released in 2006, AIMP, short for Artem Izmaylov, was named after the creator and is undoubtedly one of the best audio players for Windows. If you are someone who judges software with its visual appearance, AIMP is sure to catch your attention. However, it comes with a variety of amazing features which you will love too.
Besides the amazing interface, you can organize your library with custom playlists, manage the meta tags, rip CDs, and many more. The 18-band equalizer is something worth mentioning that allows you to enjoy a variety of sound effects.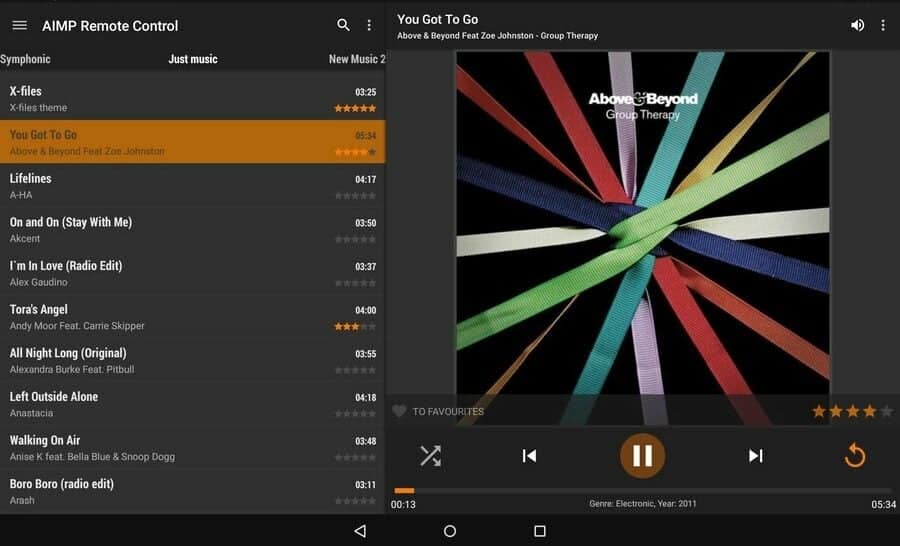 Important Features:
This software supports CUE sheets.
The 32-bit audio processing gives out an amazing quality.
The standard skin transformer is made with 4K and high DPI support.
An amazing amount of built-in sound effects.
You get a super-smart playlist.
Pros: The software has excellent compatibility when it comes to multiple audio codecs. The lightweight skinning, along with the internal updater, makes your experience more fun.
Cons: Customer support is only available in "English" and "Russian."
5. Foobar2000
---
Besides the modular and easy-to-use design of this free music player, you get many new features and get portable installation. If you look at the interface, it's the most minimalistic one I could find among the best music players for Windows.
This software is compatible with many audio formats, including WMA, MP3, WAV, FLAC, Speex, and many more. Moreover, it supports the automatic meta import and can work with archives like ZIP, 7z, or GZIP.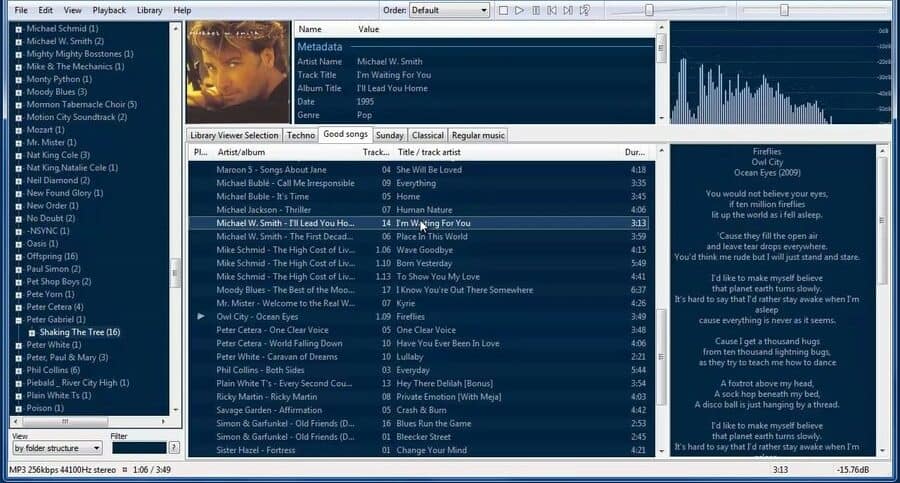 Important Features
The software offers totally gapless playback.
You get full Unicode support.
Ripping Audio CDs and transcoding supported audio formats are compatible.
It offers customizable keyboard shortcuts.
It uses an open component architecture that allows third-party developers to extend the overall functionality.
Pros: The interface is extremely flexible, and you get many effective tagging.
Cons: it comes with a rather vertical learning curve.
6. MediaMonkey
---
If you are looking for the best dual-purpose media player, MediaMonkey is the one you should choose. This is an excellent software that identifies the tracks with the help of the missing metadata and searches for online information. Moreover, you get to tag your files with the industry-standard formats offered.
One of the interesting things about MediaMonkey is that your music library is arranged in a logical hierarchy. You will need a third-party plugin to control the files manually! So, if you are still searching for the best podcast apps for Windows, MediaMonkey should end it!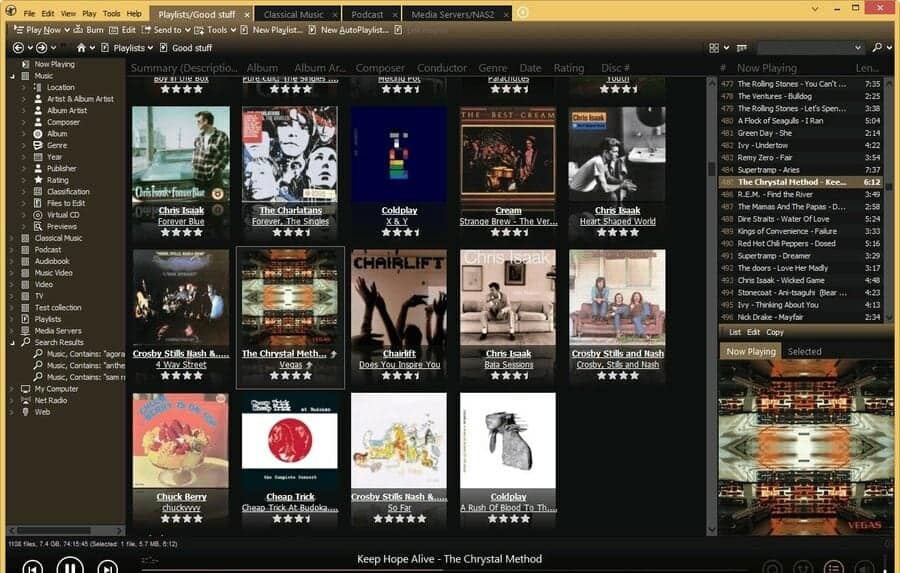 Important Features
You get amazing cataloging options with this software.
It's capable of pulling metadata from the web.
It's compatible with any DLNA or UPnP enabled media player.
You can convert the audio and video files.
The software comes with an auto-update system to help you remain up to date.
Pros: It can make smart playlists with a number of automatic filters.
Cons: It's not very multi-user friendly.
7. VLC Media Player
---
While the VLC Media Player is best known as video-handling software, it can be an excellent music player. It's capable of being an amazing music manager without needing to install any extra codecs. Moreover, VLC can easily stream music from your local internet or local, including internet radio stations to have a huge music collection.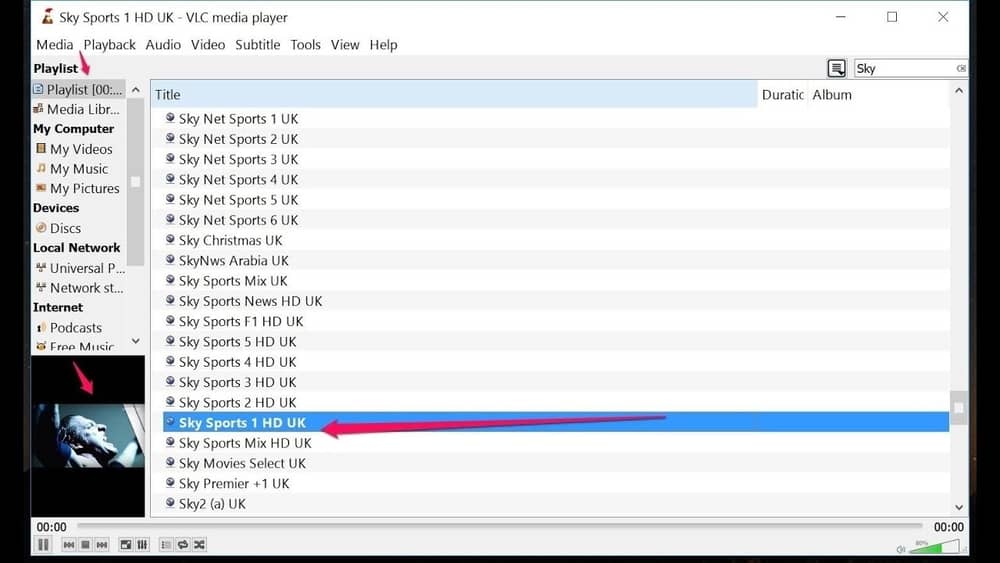 Important Features
You get the audio and video files in both streaming and real-time modes.
It's compatible with almost all kinds of media files.
You can play it on TV and on the internet radio too.
It's expandable through many plugins.
Pros: The software is highly customizable and has excellent compatibility with file formats.
Cons: It isn't compatible with Blue-Ray playback.
8. Dopamine
---
The beautiful interface will be enough to make you fall in love with this amazing audio player for Windows. The installation process is really simple, and interface navigation is easier than ever. You will find all the settings and configuration options organized neatly on the dashboard for you to find easily. Though it might seem to be little behind than others in terms of features, there are still some extraordinary options that you can totally take into account.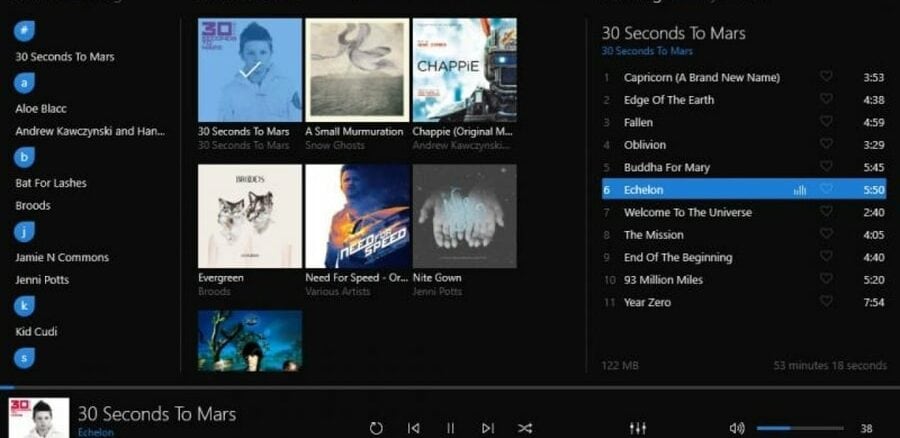 Important Features
Compatible with almost all kinds of audio formats.
The automatic meta-tagging option allows auto-update.
The software can show lyrics in real-time.
The last.FM scrobbling is something worth mentioning.
It offers a simple setup wizard, which provides you with an easy installation.
Pros: This completely free software has a really simple and user-friendly interface.
Cons: You can't search for the metadata automatically.
9. Windows Media Player
---
Though this software is almost gone from the modern world, the simplicity and easy configurations still attract many people, even on Windows 10. It's okay if you don't like the default interface it comes with because there are many other custom skins you can choose your preferred one from. When you want something to manage your playlists, media library, and rip music, Windows Media Player is a software you can assuredly rely on.
Important Features
It's capable of importing metadata online.
You can share your library with everyone on your local network.
It comes with a loop and shuffles function.
The software allows you to rip and burn an audio disk to MP3, WMA, and WAV formats for other gadgets.
Pros: The software comes with a huge library and can update its information from the internet with data directly collected from the writer and music producers.
Cons: The shuffles function can start playing the same songs in the same session multiple times.
10. GrooveMusic
---
The last music player for Windows in our list is the Groove Music Player, which has gained popularity since its recent launch in the market. It was mainly launched to replace the Windows Media Player and has improved itself a lot. However, WMP is not something you can replace that easily! Anyways, Groove music is loved by people due to the simple yet intuitive support it offers.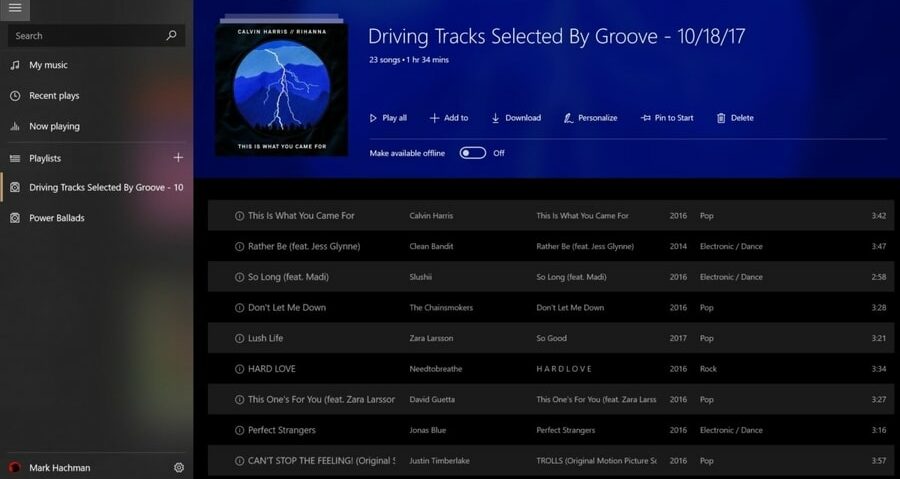 Important Features
The software offers more than 40 million tracks for you.
You can access your MP3 media uploaded into your OneDrive.
It also supports on-demand playback.
The design is minimalistic but not too shiny to distract you.
Pros: it has an excellent sound quality, and the collection is really easy to access with the amazing playlist construction.
Cons: The software doesn't come with an equalizer, so there is no way that you can change the song's settings. Also, there is no auto playlists option.
Finally, Insights
---
So, here goes the top 10 best music players for Windows every music lover should use on their Windows PC. Due to the high demand for MP3 devices, many companies have come out with music players to save and listen to songs easier for everyone. However, you should know that not all of them will give you a good experience. Hence, we have synced out the best ones for you so that you can enjoy your favorite songs peacefully. I hope this article helped you to find the best option for yourself!