If you have ever wondered about the most popular genre of computer video games, then go through this article to enlighten yourself. There are many people who see PC gaming as an alternative to sports, especially when we do not get any playing field around us anymore. Football games for PC are one of a kind that can render the sweet taste of sports excitements in the absence of adequate playing space or number of players.
Although there is a wide variety of choices for playing football on your PC, most people only know about the most popular ones like FIFA and PES. I believe this article will bring light to the left out options and you can explore them to make your leisure enjoyable. 
Best Football Games For PC
---
The best part of the football games is the multiplayer capability where you can thrash your friends and have an incredibly exciting time. Besides, playing against the computer is also competitive due to the different difficulty levels these games can offer. Go through this handy list and start playing one of the best football games for PC on your computer. 

1. Football, Tactics & Glory
---
I am starting the list of football games with this unique game that combines strategy and football. It can also be considered an RPG game where you will develop your team and earn points.
The graphics are smooth, and if you want to apply tactics without focusing much on the actual playing, then this game can be a great choice for you. Besides, a wide range of choices will be there, like turn-based matches, campaigns, and so on.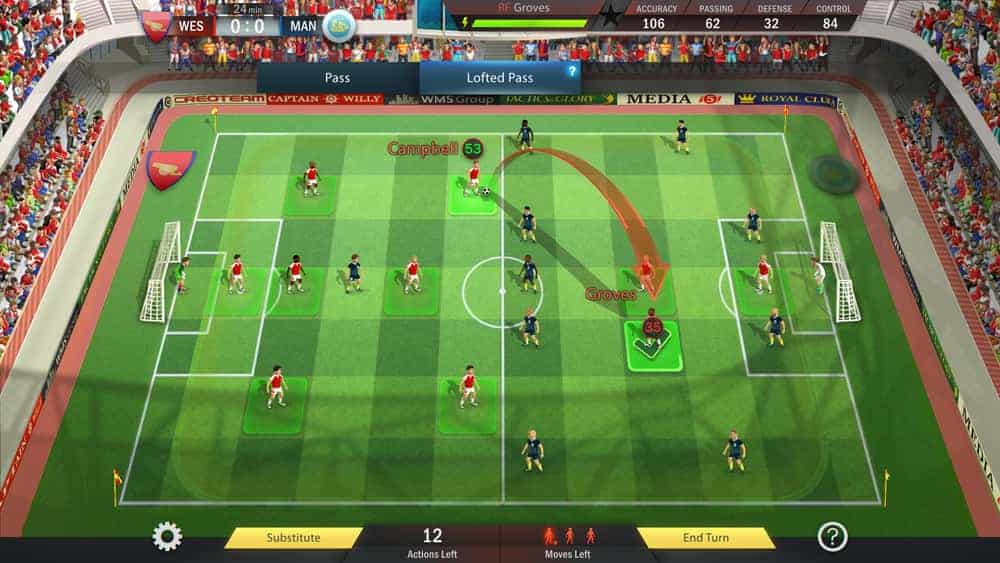 Important Features
You will be able to make your own team where you can add foreign players and sell players as well. 

Players need to constantly learn new tactics and upgrade skills to outplay the opponents. 

Hard choices need to be made depending on the strategies you have taken to win the matches. 

Besides, each football player can be developed distinctly, and the RPG elements will add points when a player participates in a match. 

When you play campaigns, you will start from an amateur league and eventually be promoted to the Premier League. 

For playing with friends, invite them to the hot seat and create a tournament to determine who is the best. 
Pros: This game offers high customizability where you can edit or recreate players and clubs. Besides, you can have a look at the already created mods by other players. 
Cons: Based on the popularity and the customer support this game has already received, the graphics could be much improved, and the players could be more realistic. 
2. Football Drama
---
Computer games come in many different forms to fulfill the requirements of every gamer out there. But it can often become impossible to include everything within a game. This Football game focuses on the story more and includes strategy, fictional characters, adventure, and sports.
Besides, it can be played on almost any platform available out there, including Linux, Android, Microsoft Windows, and macOS. It is a relatively new game that was released initially in September 2019.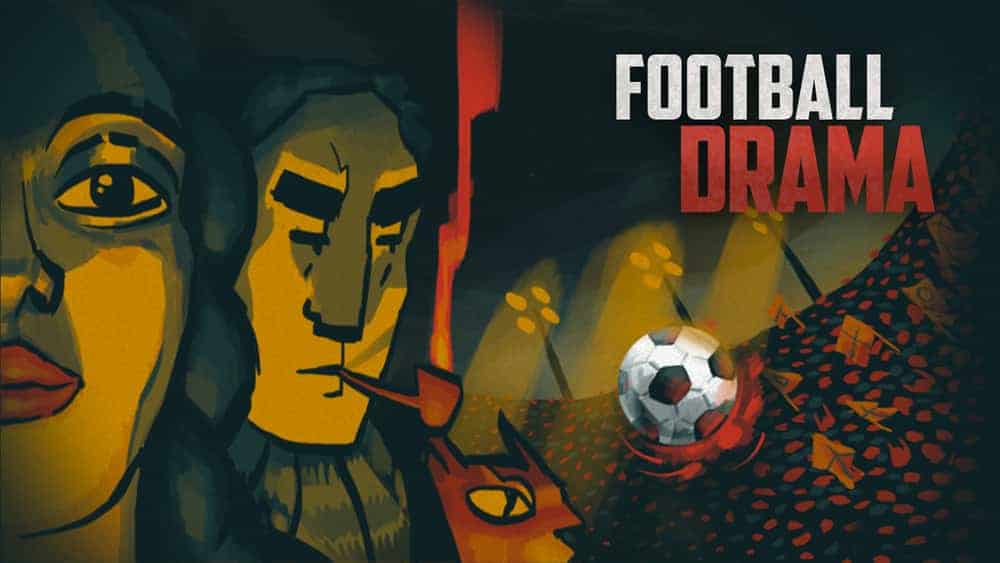 Important Features
Can be a great alternative to all the managerial football games you can play right now. 

Alongside football management, this game renders tactics, turn-based matches, and drama. 

The story is exceptional, which portrays a  troubled manager struggling with a football team. 

You will feel as if you are the manager and performing responsibilities to train players and develop the team play. 

Even narrative needed to be chosen by you and has to be unique. 

The visual graphics are extraordinary, and you can expect corruption, crime, drugs all come in the way to achieve glory. 
Pros: The game is distributed in 18 dramatic weeks of football and will allow you to replay the games and endings. Besides, the user interface is beautiful and allows you to share your story with friends and family. 
Cons: As the game is relatively new in the market, some bugs and glitches are yet to be fixed. And also, the music and the sound quality is expected to be better in future editions. 
3. Pixel Cup Soccer
---
It is one of the most popular football games for mobile since 2017. Although it was released initially on the App store due to the extreme popularity, this game was made available for PC users through Steam. It is a retro-style soccer game and designed to take you on a ride of nostalgia. If you are a 90's kid, then the UI of the game will not be unfamiliar to you, and you will surely get the vibes of the pretty old days.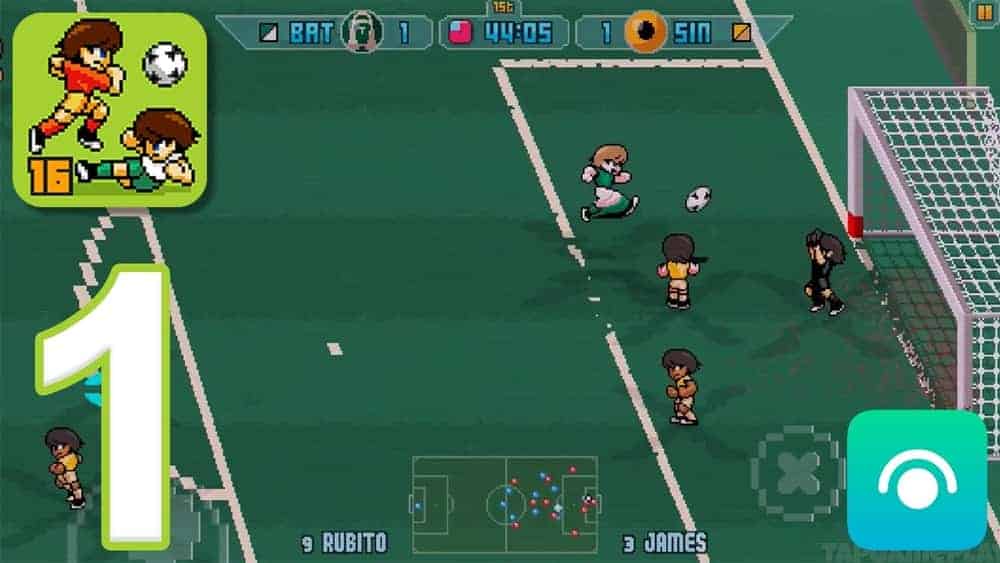 Important Features
The name of the game itself represents all about everything you can expect from the game. 

Classic pixel-art graphics are also amazing, which sets it apart from modern-day 3D games. 

Unlike other football games for PC, it offers Women's football along with the Women's World Championship. 

Besides, The gameplay can be easily considered among the fastest available out there. 

To get a victory, you will have to do three steps carefully – move, pass, and shoot. 

Suitable for beginners as it comes with a highly customizable control set with powerful features. 
Pros: When it comes to taking corner king, shooting the ball, or even throwing the ball, you will be amazed to see how much effort the developers have put in delivering an outstanding user experience. 
Cons: There is no significant disadvantage that we can point out, but if you are looking for a modern-day game, this game might not be a good suit for you. 
4. Rocket League
---
It is a unique game on this list that has been designed based on vehicular soccer. It was developed by Psyonix, and they released this game on Microsoft store and PlayStation 4 initially. Now you can play this game on Nintendo Switch and Xbox as well.
From the name, you have probably guessed the style of its gameplay already. It is an arcade-style soccer game that combines vehicles, destructive-machines, and football under one domain to meet your every sort of desire when it comes to video games.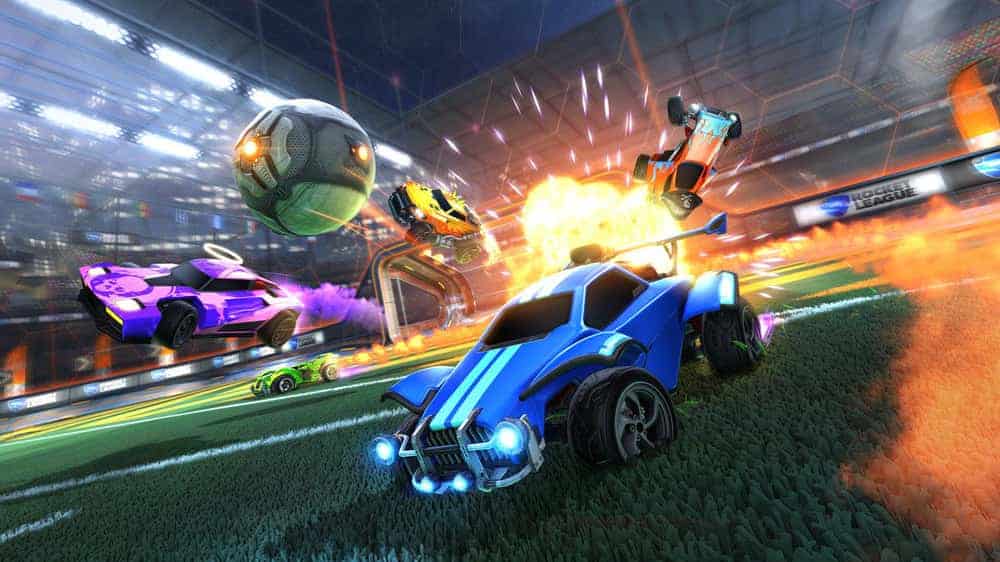 Important Features
This is a very popular game and features fluid and dynamic gameplay to take you to the edge of the gaming. 

Along with Windows, you can play this game on Linux and macOS. 

Participate in 3-on-3 intense matches where the result can shift towards any side at any moment. 

While the chance of winning mainly depends on how you are teaming up and performing, sometimes it depends on luck as well. 

Besides, this game allows players to customize their own car, and even you can build it from scratch. 

Comes with a wide array of game modes so you can try and pick the best suit for you. 
Pros: You can play with your friends or any other player from all around the world as this game features an online mode. There are some extra modes like Mutator options and Hockey-Esque to spice things up. 
Cons: You will find no option to change the game length, which is pretty annoying, and the camera options are also disturbing since when the game was first released. 
5. Football Manager
---
This game can be considered as one of the best football games for PC, where you will be playing the role of a manager. So far, I have discussed the options that attract users by offering a different story or gameplay.
But this game is all about what you can expect from a football game and sticks to the core pretty well. You will see the game from a manager's point of view while coaching the best players around the world.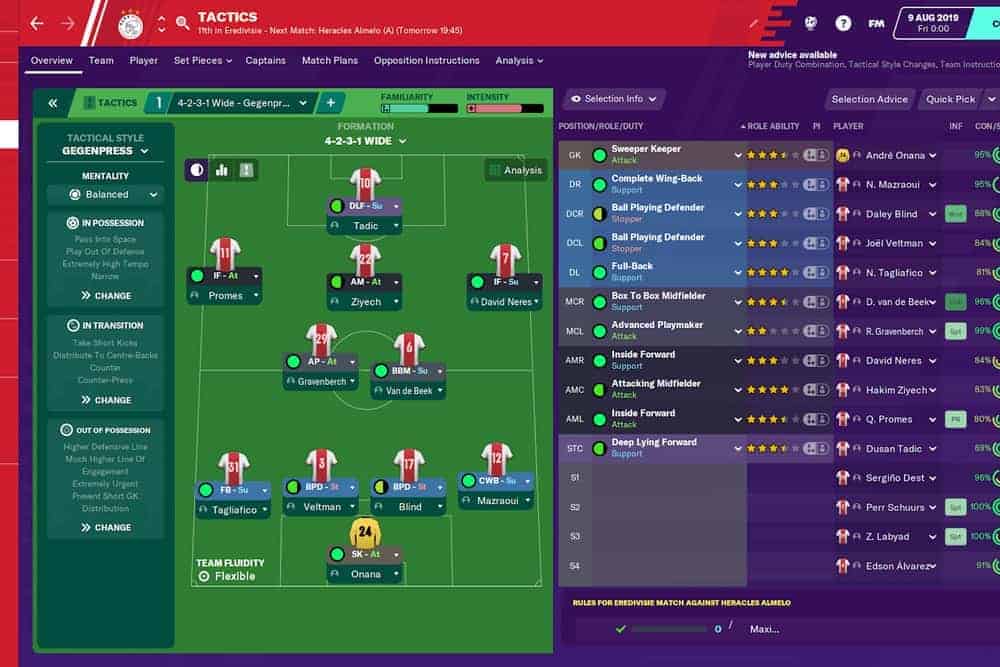 Important Features
Will enable you to play the role of a virtual football coach and control the action as well. 

You will start your coaching career from an ordinary first or second division club. You can go up to joining Premier League at the end. 

Unlike the traditional football games, you will have full control over the players and the cubs you are managing. 

Powered by continuous development so you will get upgrades and new features continuously. 

The latest version of this game always adds new tools to improve the user experience for the managerial process. 

Besides, this game is equipped with a whole bunch of gestures to interact smoothly with the players. 
Pros: The graphical aesthetic is amazing, with a lot of animations, 3D match simulation. Besides, the integration of xG and SciSports has enriched the game to a great extent. 
Cons: The game is expensive, which makes it inconvenient for most of the users. Also, you will have to pass some hard times when you are getting familiar with the players at the beginning. 
6. KOPANITO ALL-STARS SOCCER
---
This is an action sports game designed with no referee and players with superpowers. The gameplay is fascinating and offers much more than you can expect from a football game. This game was developed and published by Merixgames, who are in the market for quite a long time now.
Besides, the game is cross-platform compatible, allowing players to play on all the popular platforms like Linux and macOS. The gameplay is quite interesting and progresses based on the skills development.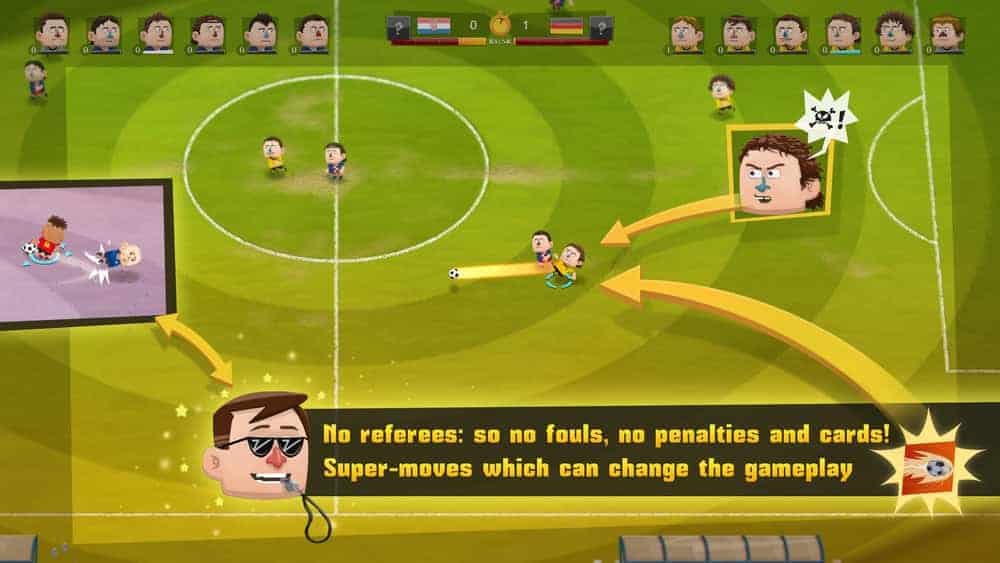 Important Features
Comes with cartoonish charm. And you can expect plenty of addons that you can not find in most other PC games. 

Features a wide array of gaming modes such as  Regional tournaments, leagues, 5 players multiplayer support, and so on. 

You will get four difficulty levels, which makes it a perfect fit for the price you are going to pay for this game. 

Features exceptional options like recording goal celebrations and goals. You can earn up to 70 unique achievements by proving your skills. 

You can also make gifts of any moment from the game and save them on your hard drive. 

For the controls, you will get support for 4 gamepads and 1 keyboard as well. 
Pros: You will be able to be a part of 17 different tournaments and leagues all over the world while having control over everything starting from the stadium, ball, and to the number of teams as well. 
Cons: This game is pretty easy going for advanced gamers. After completing twelve matches or so, you will not find any interest to keep playing it more. 
Play Now
7. FIFA
---
You cannot ignore this game for the list of the best football games for PC, but also this game will also find its place when you are considering the most popular computer games. It does not need any introduction as there are many people who think FIFA is the only game where we can enjoy football on PC. Even football gaming for PC is often termed as FIFA, which authenticates its reliability and continuous upgrade to be on top over the years.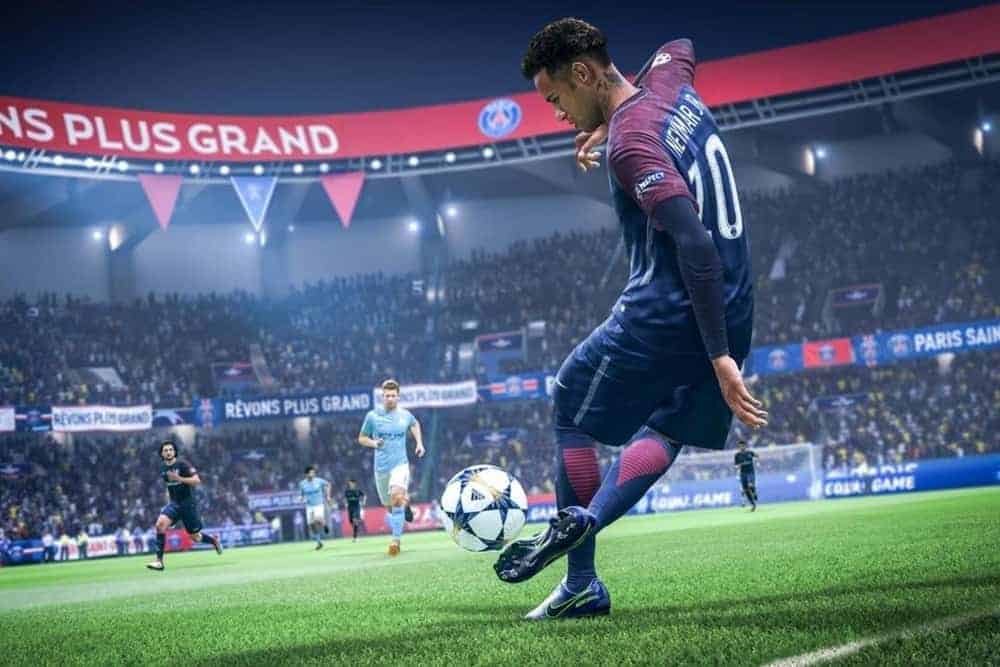 Important Features
It is an annual game series where each update goes beyond the limit of the predecessor. 

You will find no football games that can be compared to FIFA when controlling a football match. 

There are various gaming modes such as Pro Player, Multiplayer, Single Match or Tournament, etc. 

Allows players to manage world-class clubs and players just like a manager does. 

You will have full control over the match length, the number of substitutions, injuries, emotion, and so on. 

Besides, the latest editions of this game feature a story mode when you can get the feel of an RPG game. 
Pros: A lot of camera controlling options makes this game really enjoyable and also the ability to sell and buy player as a manager sets this game apart from the competitors. The UI is buttery smooth, and you can save the action replays and goals as well.

Cons: If you do not have a high-configured computer, then forget about this game. It needs a top-quality graphics card, while 50 GB of free space will also be required to play this game. 
8. Captain Tsubasa: Rise of New Champions
---
This football game is another great addition to computer gaming. Here you will experience the Arcade gaming mode through the journey of Captain Tsubasa. This game is one of the very few computer games that highly concentrate on the story instead of the actual sport. It was developed by Tamsoft and distributed by Bandai Namco. You will lead a team of players to conquer the glory of aim through its gameplay.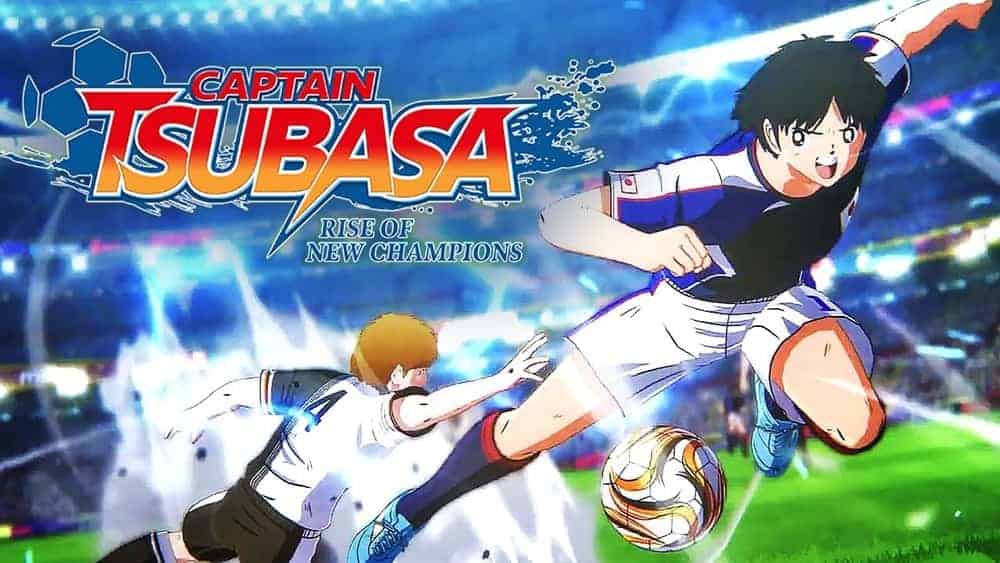 Important Features
It was mainly originated from a popular Japanese manga series back in 1981, so if you are a fan of anime, this game is for you.

The story is based on the sport of association football and progresses through the growth of Tsubasa as a player. 

Enjoy the unfolding of relationships with friends and family. You will be able to enjoy the success of becoming a prominent player. 

Even though the control is simple, it represents the primary mechanism you can expect from a football game. 

Characters are decorated nicely and equipped with different moves like Spirit Gauge, Moves, and Special Skills. 

Features fluid graphics while you will surely enjoy the  3D anime-style animations.
Pros: You will have to defeat the rival teams to achieve victory, while the voiceovers during moves give life to the characters. 
Cons: Sometimes, you will notice the animation and move are not synced properly, while the variation in angles is also limited. 
9. Football Strike – Real Soccer
---
While making this list, I have tried to cover all sorts of requirements one can look for before picking it up. There are many people who do not want to spend a penny to get a videogame and look for free licenses.
So I have included this game in this list that can be considered one of the most acknowledged free football games for PC. If you are a Windows user, just visit the Microsoft store to get the game.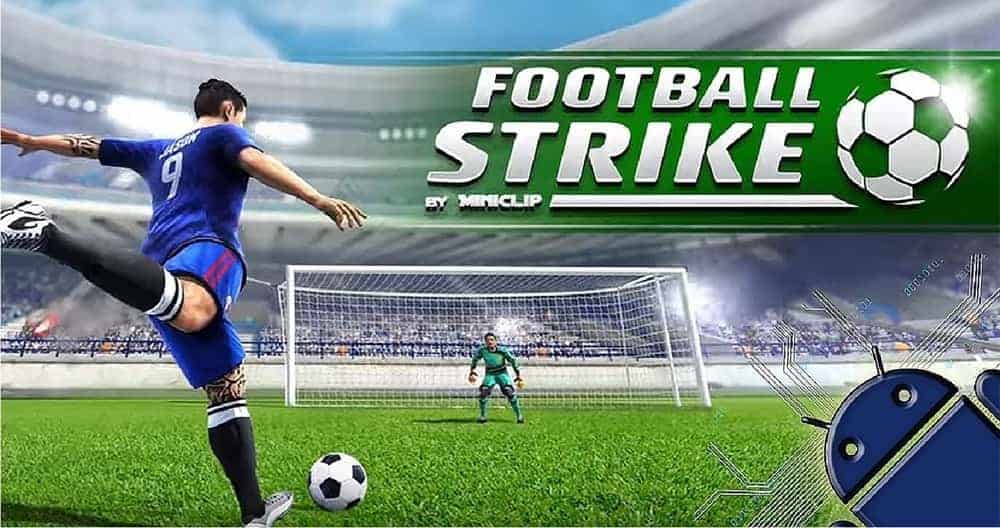 Important Features
This game is best for people who are very good at soccer; if you want to get the feel of real playing, check this one. 

If you love to take penalties to win the game for your team, then to let you know this game is all about taking penalties. 

You can expect quality graphics which is adequate to render the thrill of penalty shootouts. 

The simplified control and player's actions are completely matched to deliver the best user experience. 

You will be able to participate in different championships like World Cup, Penalty Shooter Championship, and so on. 

The players are well designed, and 3D GRAPHICS is also there to support the movements. 
Pros: You will only need Windows 10 and x64, x86 architecture to play the game, so even if you have a low-spec PC, you can try this game. 
Cons: If this game was not free, then people will hardly fall for it. But considering it is free and easily accessible, you will find many people who have played this game.
10. PES: Pro Evolution Soccer
---
If there is any game that can compete with FIFA, then PES or Pro Evolution Soccer will be the only one currently available in the market. You will find many people who prefer PES over FIFA due to the low price point and easy access.
The graphics are great, as you can expect, and the background music provides PES an extra edge in the competition with FIFA. It was developed and published by the Konami group and easily comes when you talk about the best football games for PC of all time.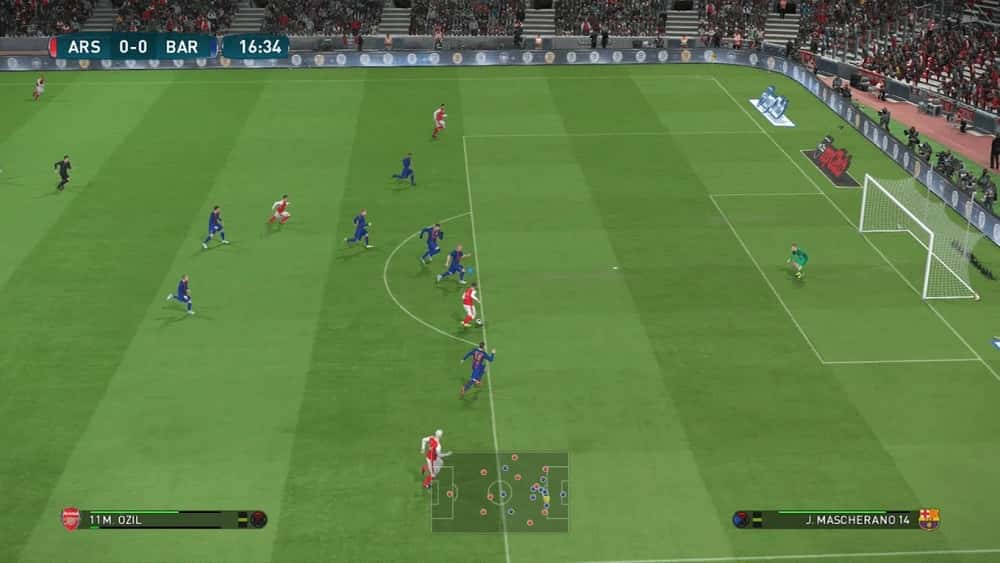 Important Features
Comparing to the FIFA PES surely provides a better experience when it comes to realistic simulation.

You will have full control over player's actions, movements and direct them for running or shooting. 

In the last edition, the passing movements and the controls have been improved significantly. 

Equipped with a wide array of kick and pass animations. Also, the dynamic graphics can make players feel more realistic and lifelike.

If you are looking for a great number of skills, PES is the game for you. You will get 12 different skill traits. 

You will find an option called Magic Moments packed with a no-look pass, control loop, rising shot, and many more. 
Pros: In the latest edition, David Beckham's inclusion has been added while you will unlock players like Philippe Coutinho and other premium agents.
Cons: Like FIFA, PES has an online edition where you can play with players from all over the world. But unlike the offline version, the online counterpart is bulky, and you face major lagging and connectivity issues. 
Our Recommendation
---
Football games for PC are a great option for the sports enthusiast people who do not get any chance to play on the field. When we can not even manage time for ourselves in this bustling life, it is impossible to find a field or collect adequate players to have a proper football match.
But if you get your hands on the above-mentioned football games, you will get the same excitement and intensity you expect from an on-field football match. Undoubtedly FIFA is the best football game for Windows and Mac to date.
There is nothing that can beat the attention, and the support FIFA gets from its customers and players as well. Besides, due to the official support from the international governing body of football, this game has become the leader in this domain of gaming, and nothing can come close to it anytime soon. 
Finally, Insights
---
So here are the best games to experience Football on your computer. Although there are not many options for free football games for PC, you can still access Steam. Considering the number of available options, it could be tough for you to pick the best option, but I believe this list will help you decide.
I have tried to cover every aspect of a computer game from a football fan's point of view, and I believe if you like football you will love all the games mentioned in this list as well. Still, if you get any better alternative, do not hesitate to let me know.