Customer satisfaction lies at the heart of modern businesses. No matter what type of service you provide, your business will end up in a failure without supporting your clients properly. Help desk software consists of a significant part of customer support, and every enterprise that wants to grow their business needs to ensure they employ the right tools in this regard. Linux does not power the majority of modern enterprises solely because it's free, but it makes sure corporations get the appropriate tools necessary to sustain their growth. So, a robust set of powerful and rewarding customer service software exists and enables enterprises to provide the support their customers seek in the best way possible.
Best Help Desk Software for Linux
---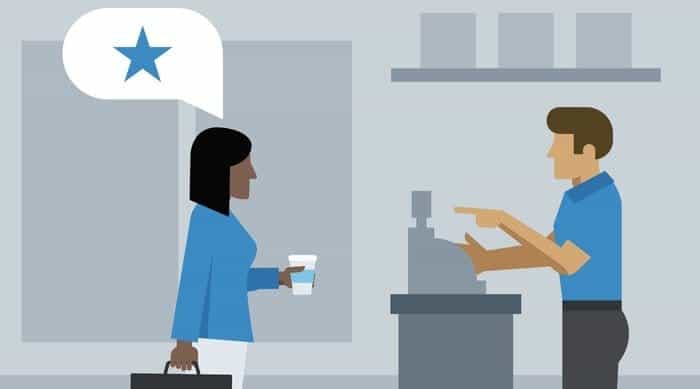 Since a plethora of powerful service desk software exists in the Linux ecosystem, corporations often find it hard to select the most suitable option for their business. Different types of help desk software are required in different scenarios, and Linux offers plenty for each of your corporate needs. Our experts have compiled this guide outlining a massive selection of 30 of the best tools of the trade to make your selection as flexible as possible.
1. Zammad
---
Zammad is an astoundingly powerful and rewarding customer service software that provides all the features modern corporations require in managing their customer queries and packs an abundance of additional functionalities. It is an online customer support software with potential applications in a diverse set of businesses. Zammad allows corporations to stay connected with their clients by using several channels, including telephone, chat services, social networks like Facebook, Twitter, and of course – e-mails.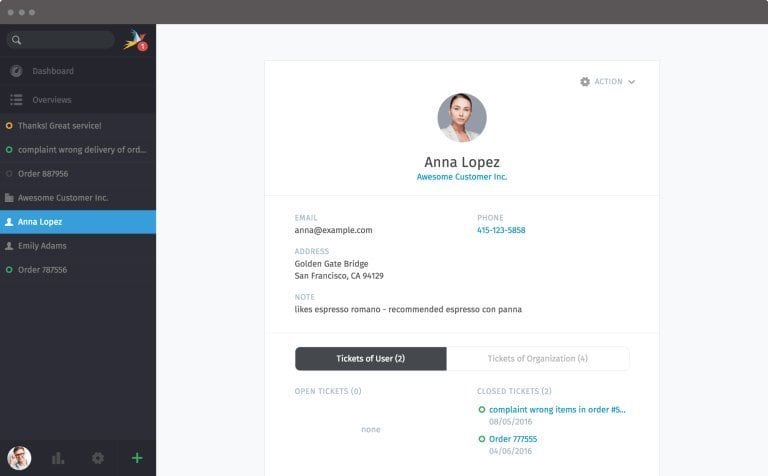 Features of Zammad
This open source help desk software provides a robust REST/JSON API that makes it easy to integrate it with existing enterprise solutions.
Management can issue and track tickets to customer queries easily and can report changes in status immediately.
The ability to talk live with customers makes Zammad perfect for large-scale service providers who need to deal with overseas customers regularly.
Zammad allows corporations to authenticate users based on external services like Twitter, Facebook, LinkedIn, or Google via OAuth and supports internationalization.
2. Web Help Desk
---
Web Help Desk is a powerful help desk ticketing software with simple but useful features that makes it a lucrative choice for corporations looking for flexible help desk programs. It is a proprietary customer support software with an impressive list of customer service management features that include but are not limited to management of service requests, IT assets, IT change, and knowledge base.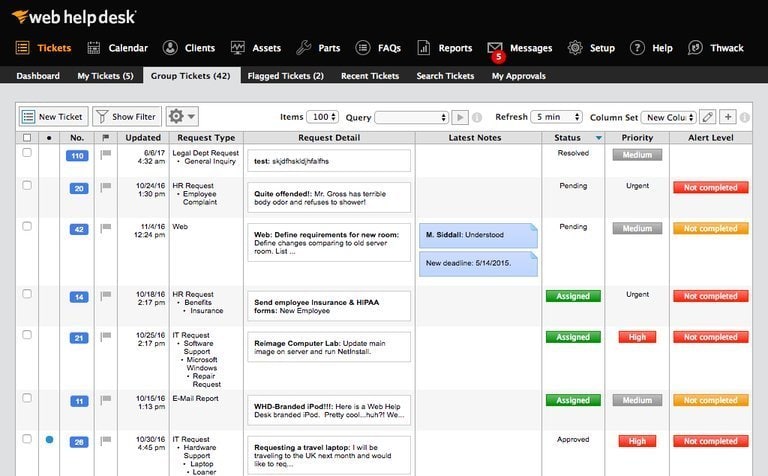 Features of Web Help Desk
This service desk software simplifies and streamlines every IT help desk process very efficiently, from creating support requests to resolving customer inquiries.
Web Help Desk provides an efficient, centralized, and automated ticket management mechanism that simplifies tasks like ticket creation, routing, and management.
The flexible knowledge handling capabilities of this help desk management software promotes self-resolution for end-users and reduces inbound requests.
This help desk ticketing software provides compelling monitoring tools to evaluate the performance of help desk technicians.
3. Request Tracker
---
Request Tracker is a compelling help desk ticketing software with an extensive list of features that make it a viable solution for enterprises. It is used by hundreds of institutions worldwide, including fortune 100 companies, government organizations, and non-profits. You can also benefit from this free helpdesk software if you're a sysadmin or a professional software developer.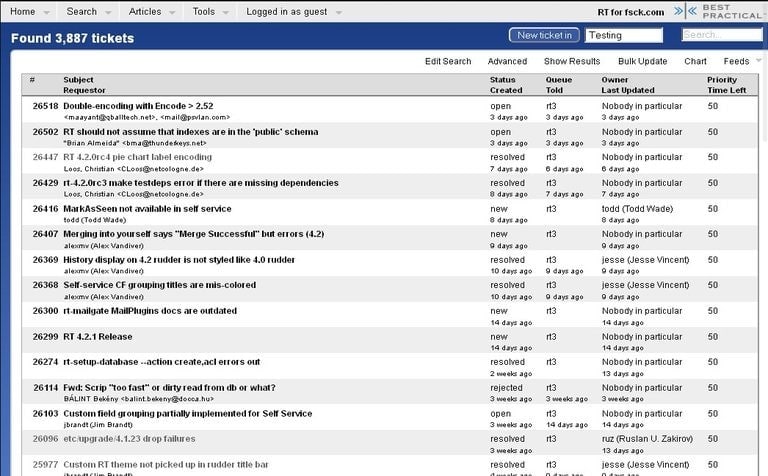 Features of Request Tracker
Request Tracker allows companies to deploy it across different platforms, including desktop, laptop, tablet, cell phones, and is extremely customizable.
Developers can interface with Request Tracker using email, and its email support consists of auto-responses, attachments, and customizable email rules.
The robust REST API equipped with Request Tracker makes it easy to integrate with existing enterprise resource management tools.
A handy command line client allows developers or technicians to leverage Request Tracker seamlessly for providing customer support.
4. Vision Helpdesk
---
Vision Helpdesk is a full-fledged customer support solution with features like ticket management, IT asset management, multi-channel communication, network monitoring, and many more. Although proprietary in nature, Vision Helpdesk provides a free version with some reduced functionalities. You can also get a 30 day free trial for learning the feasibility of this program and determine whether it suits your purpose rightly or not.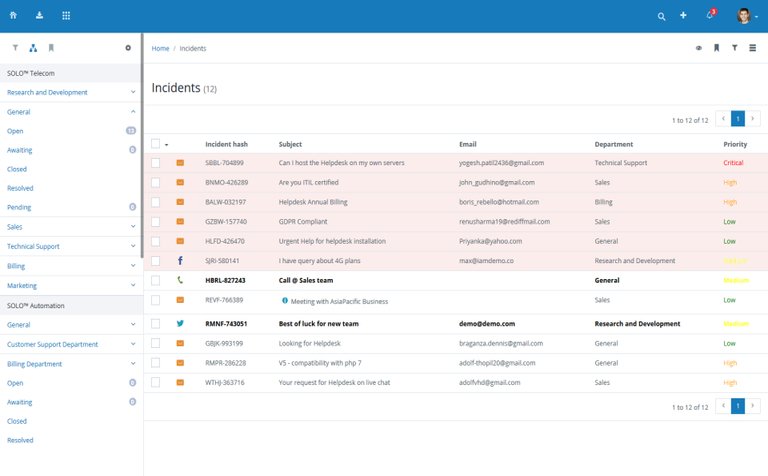 Features of Vision Helpdesk
Vision Helpdesk provides a versatile range of deployment options to enterprises that include Cloud, SaaS, Web, Android, and iOS.
The robust satellite helpdesk allows technicians to manage multiple companies from a single database and across numerous client portals.
Vision Helpdesk allows companies to bill clients directly from the software using its powerful and robust WHMCS Billing Integration.
The empowering ticket migration feature allows corporations to hold on to their old tickets when switching to this customer service software conveniently.
5. TeamSupport
---
TeamSupport is a powerful and rewarding cloud help desk software that offers a plethora of empowering features for helping corporations manage their customer queries efficiently. TeamSupport is designed especially for B2B technology and software companies that need to deal with large volumes of customer requests 24/7. The developers of TeamSupport continuously work to improve the platform and offer frequent updates.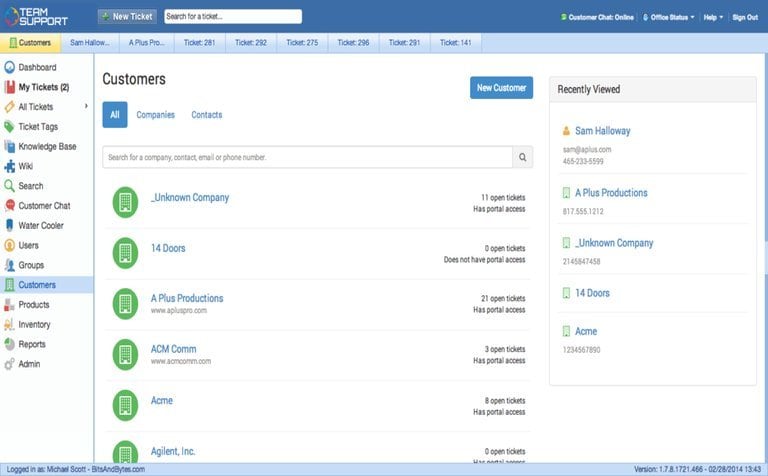 Features of TeamSupport
TeamSupport offers robust ticketing features such as ticket queues, prevention of ticket collision, intelligent ticket deflection, and many more.
TeamSupport allows seamless integration of screens and video recordings for ensuring the best possible handling of customer problems.
Apart from CRM integrations with Salesforce, Highrise, and Zoho, TeamSupport's flexible REST API also makes it easy to integrate it with custom help desk programs.
TeamSupport's advanced reporting tools make it perfect for analyzing the quality of your customer support.
6. OTRS
---
OTRS stands for Open Source Ticket Request System and, as the name implies, is a free helpdesk software for managing customer tickets. It offers an extensive list of help desk features, including support, sales, pre-sales, billing, internal IT, and many more. OTRS facilitates the management of customer telephone calls and e-mails efficiently. It boasts an open-source GNU GPL license that allows enterprises to customize this customer service software as per their requirements.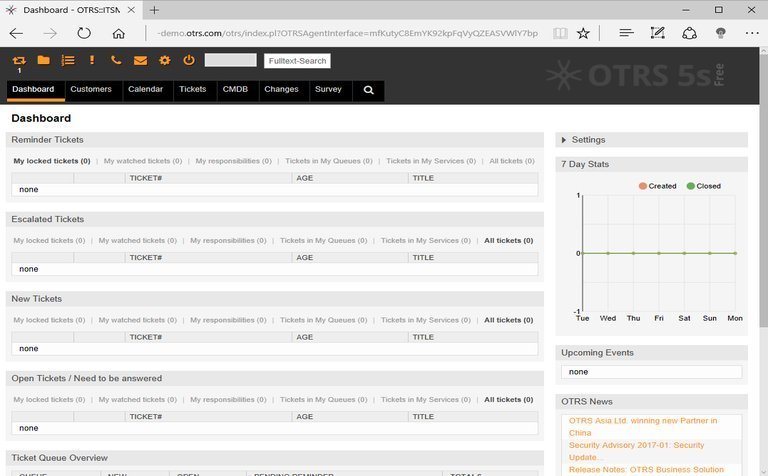 Features of OTRS
It comes with a simple yet intuitive web interface with a personalized templating mechanism called DTL in place.
The ticketing functionalities include but are not limited to ticket locking, standard replies, autoresponders per queue, the evolution of ticket status, and actions alongside many more.
The robust ticket monitoring features allow managing the workflow quite effectively and provide support for ACL.
OTRS is highly scalable and offers secure SMTP to ensure the integrity of enterprise systems.
7. Agile CRM
---
Agile CRM's help desk software boasts a compelling set of customer support features that makes managing customer inquiries relatively easy and straightforward. It offers powerful automation, telephony, web, and scheduling features to tackle your customer support requirements the way you want. Although it's a paid software, you can access a demo version that will help you determine whether you should opt-in for the paid package.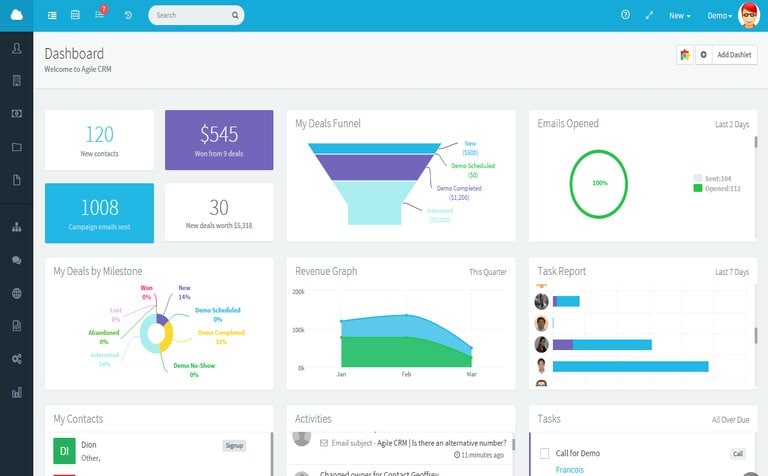 Features of Agile CRM
The robust ticket handling mechanisms of Agile CRM helps corporations resolve tickets in the shortest possible time.
It offers an intuitive smart view feature that enables customer support persons to evaluate the ticket priority and solve them with utmost precision.
It empowers service people with robust automation features to effectively handle workflows, defines priorities for tickets, sets statuses, and assigns them to proper representatives.
This help desk ticketing software comes with flexible reporting tools and makes integration with custom solutions reasonably simple.
8. Samanage
---
Samanage is a professional IT service desk management solution that features a large number of useful features like IT asset management, contract management, software asset management, inventory management, cloud-based ITSM, to name a few. It offers an enterprise-grade solution that comes under a reasonable pricing plan. If you're a starting web or tech firm not sure which service desk software to go for, keep Samanage in your wishlist.
Features of Samanage
Samanage provides an intuitive dashboard that places all essential functions right before the eyes of your sales and support personnel.
It can automatically generate QR codes for assets, which improves customer satisfaction by making ticketing processes easier.
Creating tickets and recording incidents is very easy with this service desk software due to its pragmatic ticketing features.
Samanage allows enterprises to integrate it with existing solutions by providing a flexible API.
9. Qualtrics
---
Qualtrics is a sophisticated customer support software with an enthralling list of features that helps corporations in delivering the best possible customer satisfaction. This paid experience management platform is used by top global companies and can positively affect a wide range of domestic and international businesses.
Features of Qualtrics
Qualtrics comes with an abundance of competitor feature comparison tools that allow companies to gain the upper hand over their business contenders.
This help desk management software offers a robust set of surveying tools for determining customer satisfaction and the quality of help desk service.
Qualtrics offers mobile applications for both Android and Apple's iOS users.
It provides robust data visualization tools and research suites that help companies curate products with higher success rates.
10. osTicket
---
If you're a new startup and are yet not ready for paid professional solutions, osTicket would be a pretty viable open source help desk software for you. It is a lightweight yet useful support ticket system employed by a wide range of companies – both enterprises and non-profits-worldwide.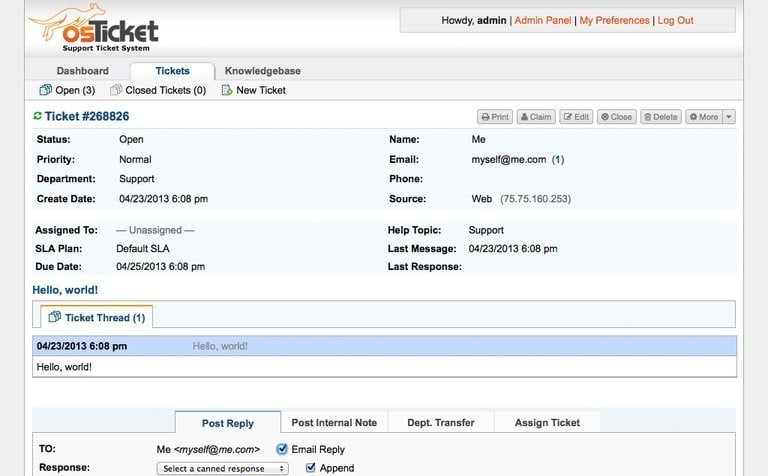 Features of osTicket
It provides a simple yet intuitive web interface for allowing service management to integrate inquiries created through email, phone, and web-based forms.
This online customer support software comes with in-built support for auto-refreshing and captcha for reducing spam.
Technicians can assign tickets to staffs very easily and transfer existing tickets to other staff using its fast and effective ticket management features.
osTicket employs various levels for ticket priority and allows role-based access to ensure issues are resolved in the shortest possible time.
11. ManageEngine ServiceDesk Plus
---
The ServiceDesk Plus from ManageEngine is an all-in-one solution for enterprises and allows handling customer inquiries very efficiently. It is an excellent addition to enterprises who want their service desks to be as effective as possible. ServiceDesk is employed by industry leaders like ETIHAD, Disney, Honda, SwissLife, DELL, and many others due to the plethora of convenient features it provides for managing IT assets.
Features of ServiceDesk Plus
ServiceDesk Plus employs powerful smart automation features that help companies resolve tickets faster using robust ticket routing mechanisms and customized business rules.
It allows service personnel to design personalized processes using its simple to use drag-and-drop interface.
ServiceDesk Plus offers a robust set of monitoring and reporting abilities to evaluate the performance of customer support technicians.
It comes pre-packaged with empowering ITIL-ready workflows for streamlining the IT service management processes.
Get ManageEngine ServiceDesk Plus
12. InvGate Service Desk
---
InvGate Service Desk is a flexible service desk software that features tons of useful functionalities for effectively managing the customer support of small to medium-sized corporations. It combines a massive amount of service management features, including IT asset management, competitor feature comparison, secure integration facilities, to name a few.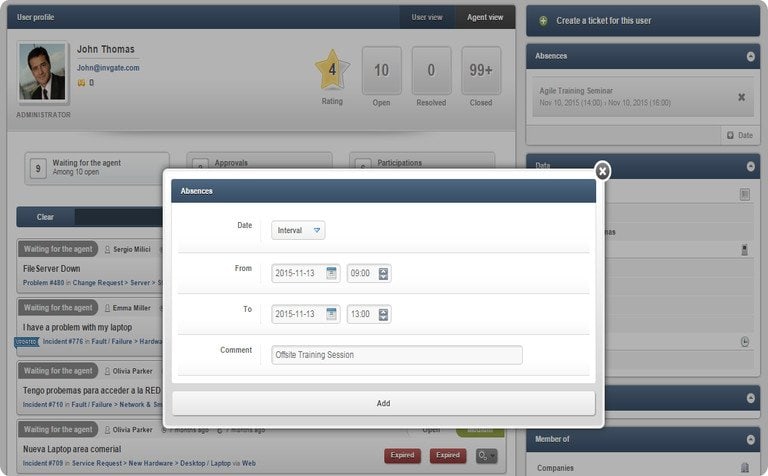 Features of InvGate Service Desk
InvGate Service Desk packages a handy activity dashboard that intuitively offers a drag and drop interface to create and manage support workflows.
It comes with powerful reporting features, including support for real-time reporting, which makes it a great tool to assess the performance of enterprise service desks.
It equips enterprises with robust APIs that make it possible to integrate the software with existing CRM solutions.
InvGate Service Desk provides a flexible set of monitoring and reporting tools to evaluate customers' satisfaction levels.
13. Alloy Navigator
---
Alloy Navigator is an award-winning IT asset management and customer service software directed at tech enterprises. It comes with a great list of features that ensure maximum client satisfaction and helps corporations leave a positive impact on their customers' mindset. It is arguably one of the best support and inventory management software for starting SMEs.
Features of Alloy Navigator
Alloy Navigator comes with a visually elegant yet intuitive user interface with drag-and-drop support that makes it a perfect tool for decreasing workload and boosting productivity.
It offers a plethora of fantastic competitor comparison features that allow companies to stay ahead of their rivals without too much hassle.
It integrates very well with other customer relationship management solutions, thanks to its powerful and robust APIs.
Alloy Navigator performs relatively well with real-time data and offers convenient reporting and monitoring abilities.
14. HelpOnClick Live Chat Software
---
HelpOnClick Live Chat Software will be a fantastic addition to small and medium-sized businesses looking for robust virtual agents with live chat facilities. It boasts of a combination of modern-day features that allows corporations to monitor and chat with their customers about their inquiries flexibly. It is an excellent option for you to search for a virtual assistant that does not require you to break the bank.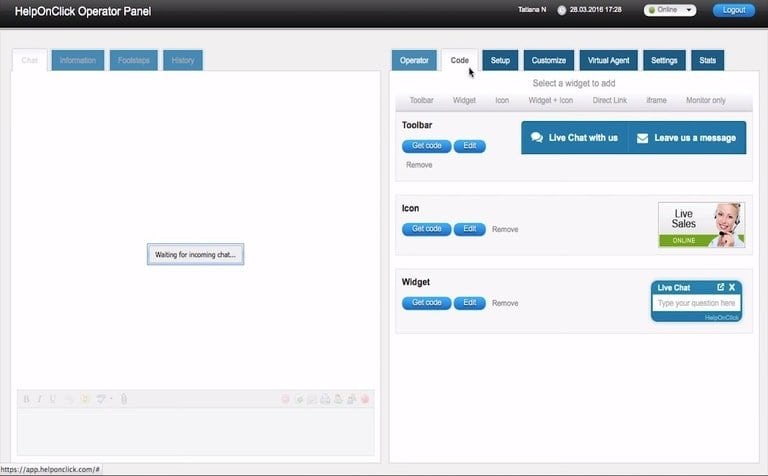 Features of HelpOnClick Live Chat
Integrating this live customer service software with existing websites is easy, and it offers advanced customization abilities to fit seamlessly with any site.
It allows businesses to pre-load a massive amount of questions into the agent, thus eliminating the need for human intervention for as long as possible.
HelpOnClick Live Chat Software comes with robust native apps for both the Android and iOS platforms.
It is a pretty affordable solution with more than enough functionalities required by SMEs.
Get HelpOnClick Live Chat Software
15. Roundup
---
Roundup is a very simple to use yet rewarding issue tracking system that makes the creation and management of support issues very easy. It is written in Python and offers a command line, e-mail, and web interface for tracking and resolving bugs. If you're a freelance software dev or regularly work in open source projects, Roundup might turn out to be the perfect issue tracking platform for you.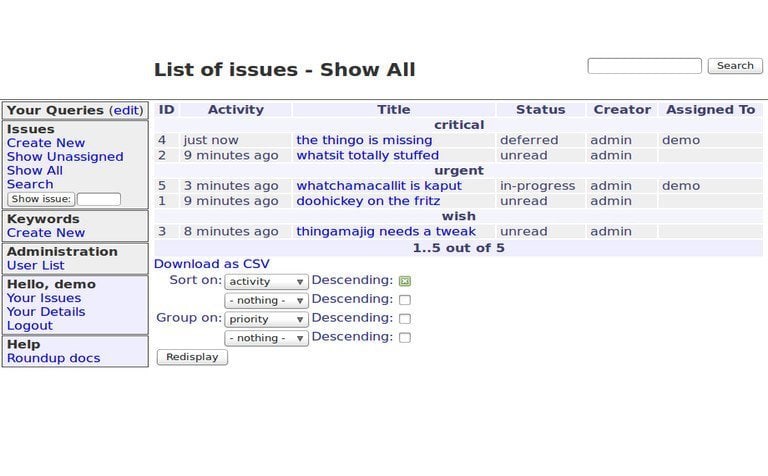 Features of Roundup
Roundup is open source and thus allows developers to extend or modify the tool to fit their requirements.
It is effortless to use and extremely customizable, making it an excellent choice for open source enthusiasts.
Roundup packs a handy mail gateway that enables developers to create and change issues very conveniently.
It comes with a flexible in-built interactive shell for backup and restoring tasks alongside object manipulations.
16. Teamwork Desk
---
Teamwork Desk is a reliable customer service software that offers rock-solid performance to provide world-class customer support. It comes with an empowering set of ticket management capabilities that make it a perfect fit for global corporations and SMEs. You can try the demo version of Teamwork Desk to help you decide whether to go pro or look elsewhere.
Features of Teamwork Desk
The ticket management capabilities of the Teamwork Desk include smart inboxes, automatic triggers, self-management, and many more.
Teamwork Desk helps increase the productivity of customer support personnel with tools like canned responses, collision detection, priority tickets, and custom tags.
This help desk ticketing software comes with robust reporting tools and analytics to help corporations evaluate the quality of their customer support.
Teamwork Desk encourages clients in self-resolving of issues by providing a concrete knowledge base.
17. ConnectWise Control
---
ConnectWise Control is a full-fledged, adequate, and robust remote support platform that enables global companies to assess their clients' problems remotely and solve them firsthand. It offers a reliable system for providing the much-needed quick support most customers look for from enterprises. If you're a software vendor with clients across the world, it is arguably among the best remote help desk programs for you.
Features of ConnectWise Control
The interface is intuitive yet simple to use and provides granular control over devices and permissions.
It allows customer representatives to chat with clients efficiently and understand their problems.
ConnectWise Control offers great API support for integration with existing CRM solutions.
It offers a flexible mobile application for users on the Android platform.
18. OpenSupports
---
OpenSupports is a simple yet effective help desk ticketing software that helps corporations provide better support for everyday client queries. Clients can utilize the platform for directly sending tickets to service persons, resolving their issues timely. It packages robust and flexible features for managing tickets, staff, custom responses, multi-lingual support, among many more.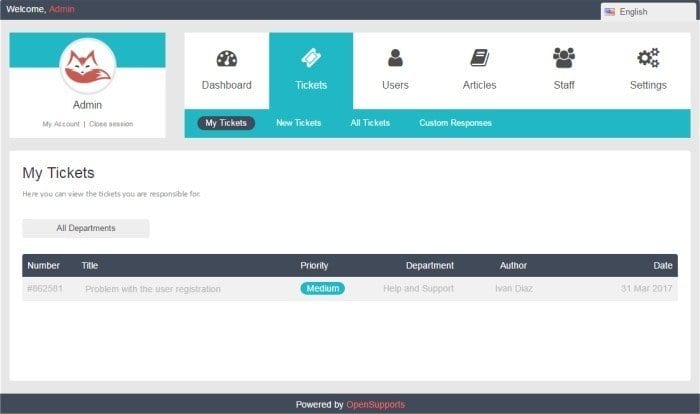 Features of OpenSupports
OpenSupports is written in PHP and ReactJS and is fully customizable due to its open-source GNU GPL license.
It comes with a visually pleasant yet straightforward user interface that scales perfectly on phones, tablets, and desktops.
OpenSupports offers compelling statistics to allow corporations to keep track of their ticket data effectively.
It is possible to modify or extend this software as per enterprise requirements and integrate it with existing CRM solutions.
19. SysAid
---
SysAid is a powerful service desk software that is simple to use yet provides all the capabilities required for managing large-scale enterprise customer support. It has been a pivotal addition to the IT asset management ecosystem since its inception in 2002 and has come a long way to become the go-to ITSM choice for a significant number of companies. SysAid enables companies to provide internal and external customer service and reduces the overall time to resolve ticketing issues very efficiently.
Features of SysAid
SysAid offers a flexible and user-friendly user interface that is fully customizable, responsive and scales perfectly across a range of devices.
It employs very advanced ticket routing and automatic dispatch rules to ensure customer queries are resolved in the shortest possible time.
SysAid allows service desk representatives to create tickets from emails and send notifications over mail.
It comes with robust REST APIs and SOAP support that allow corporations to integrate this help desk management software with current CRM solutions.
20. Vivantio Pro
---
Vivantio Pro is a modern service desk solution that packs plenty of useful features for managing customer queries effectively. It's not just another help desk software but a compact, modern-day approach to efficient service desk management tasks such as asset management, change management, issuing support tickets, and more. Vivantio Pro is an excellent addition to any enterprise that deals with a large amount of continuous customer query and need to maintain performance alongside sustainability.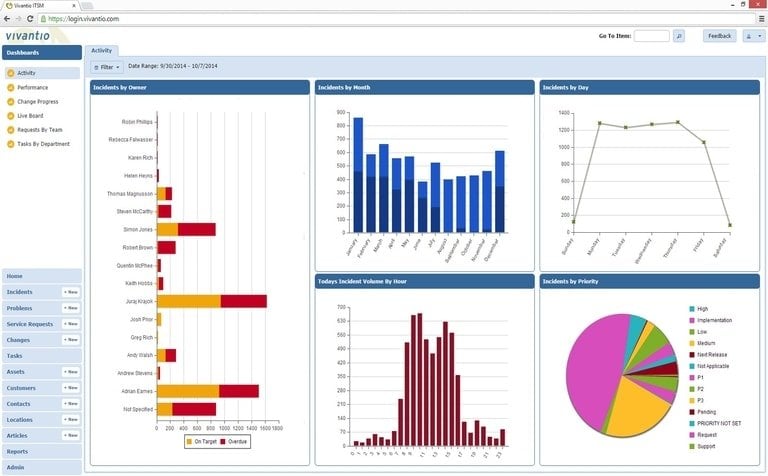 Features of Vivantio Pro
It allows for a simple point-and-click configuration that does not require dealing with codebases directly.
Vivantio Pro packs a powerful business rules engine in its interactive dashboard for providing better ticket management capabilities.
It supports drag-and-drop features for enhancing productivity and manage workflows at relative ease.
Third-party integration is easy to do because of its flexible APIs and built-in integration features.
21. HESK
---
HESK is a simple yet effective help desk software that makes service desk management easy and accessible to starting corporations. A user-friendly interface is packed with a robust integrated knowledge base that helps customer desk staff manage queries effectively. Although HESK is free to download and use, it is not open source and therefore forbids enterprises to modify it.
Features of HESK
HESK is very lightweight and easy-to-use free helpdesk software.
It's written using the PHP language and leverages the MySQL database for knowledge management.
HESK is hugely compatible with SysAid and can be used together for managing advanced CRM jobs effectively.
This cloud help desk software helps enterprises get up and running within minutes and provides a hassle-free management experience.
22. C-Desk
---
C-Desk is, without any doubt, one of the best open source help desk software we've reviewed for this guide. It is a compelling service desk solution that brings a lot of premium features without the price tag and will be a suitable arsenal for starting SMEs that want to try their hands at free help desk programs before going premium.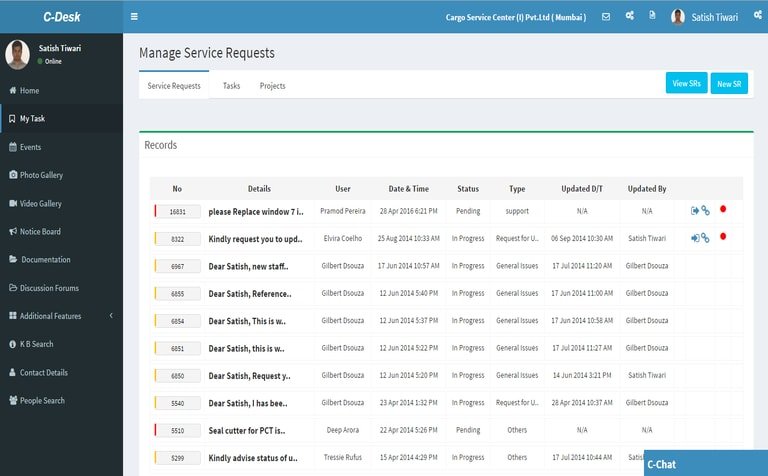 Features of C-Desk
C-Desk offers a smooth and user-friendly service desk experience for customer service staff.
In-built support for a robust FTP server allows sharing documents like ticket data very effectively.
This service desk software enables staff to chat with clients directly and assess their queries very fast.
It comes with an advanced form that supports a ton of features right out of the box.
23. Freshdesk
---
Freshdesk is arguably a compelling service desk suite that enables customer service representatives the ability to handle continuously increasing inquiries efficiently. It is an excellent tool for new businesses as it allows a vast range of premium facilities at a reasonable cost. Freshdesk also provides a free version with some advanced functionalities striped. The only drawback to this is that you can assign only three agents maximum in the free version.
Features of Freshdesk
It comes with an eloquent user interface that packs all the essential features right before the eyes of service personnel.
Freshdesk includes a handy live chat system for interacting with customers in real-time and assess their queries effectively.
This cloud help desk software integrates very well with modern-day CRM solutions.
Freshdesk has great documentation support that helps service personnel to utilize this to its full potential.
24. HappyFox
---
HappyFox is a robust customer support software that is simple to use yet very rewarding. Managing and resolving tickets much more comfortable for enterprises and aims to be an all-in-one comprehensive solution for growing corporations. HappyFox helps organizations to attend to customer queries in the shortest possible time and allows affordable pricing options.
Features of HappyFox
It integrates very well with most CRM solutions and websites through its robust REST API.
The ticketing features include email-to-ticket, merging, escalating, scheduling alongside many more.
HappyFox comes with powerful automation rules that increase productivity and fastens the time needed for resolving tickets.
It comes with pre-built support for native mobile apps for Android and iOS.
25. Spiceworks
---
Spiceworks is an accessible IT Help Desk aimed at tech enterprises and offers a wide array of convenient features. It is straightforward to use yet rewarding in terms of business outcome. Spiceworks is not your common ticketing platform but a full-fledged service desk solution that enhances your business credibility to a whole new level.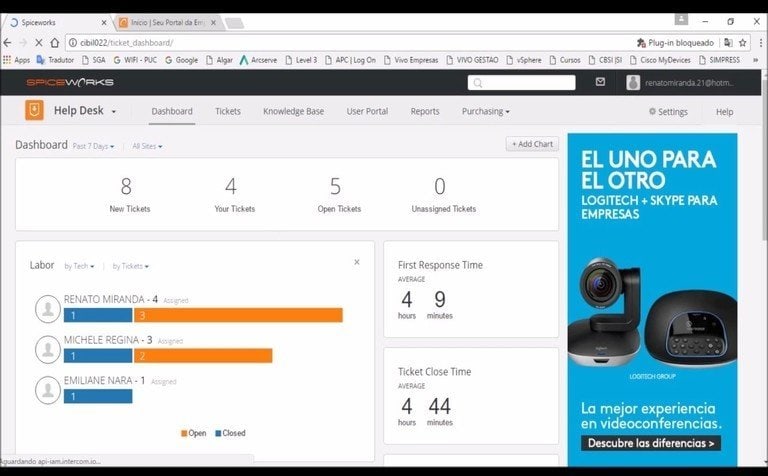 Features of Spiceworks
Spiceworks supports email integration, automated routing, network monitoring, escalation, and self-hosting right out of the box.
It comes with a robust live chat feature that allows representatives to assess customer queries more effectively.
The interface is friendly to beginners and requires very few moments to get the hang of.
Spiceworks enables the ability to customize SLAs as per the requirements of enterprises.
26. Slick-Ticket
---
If you are a freelance developer or a starting entrepreneur who doesn't like industrial-grade solutions and are looking for minimal, clean, and straightforward help desk programs that can get the job done, Slick-Ticket is the perfect choice for you. It is a compelling open-source help desk solution that has been tested widely and supports quite a long list of issue tracking features.
Features of Slick-Ticket
It is written in C# and utilizes the ASP.Net architecture alongside the AJAX control toolkit.
Slick-Ticket offers a concise yet to-the-point user interface that reduces bloats as much as possible and aims at increasing productivity.
It's among those few open source help desk solutions that sit on top of the Microsoft ecosystem.
27. GLPi
---
GLPi is another free helpdesk software that provides rewarding asset management and issue tracking functionalities free of charge. It is robust in one solution that can be leveraged by both global enterprises and non-profits alike. Since it is released under an open-source GNU GPL license, its companies modify or extend the program to accommodate their business requirements.
Features of GLPi
It provides a robust web interface for managing IT assets and issuing tickets to customers.
GLPi allows service desk staff to assign tickets to customer representatives individually.
This online customer support software is written in PHP and is extremely customizable.
GLPi is maintained regularly, and the developers keep rolling out new updates and bug fixes regularly.
28. Tracker
---
Tracker is a proprietary customer service software with a ton of useful features that helps organizations to resolve their customer queries much quicker. It is highly customizable and syncs seamlessly with most, if not every, traditional customer relationship management tool. The tracker comes with a perfect knowledge base that helps enterprises get up and run in the shortest possible time.
Features of Tracker
Tracker comes with a robust user interface that features powerful workflow management capabilities.
It has native app support for both the Android and iOS platforms and integrates nicely with social media.
Its flexible monitoring tools allow corporations to evaluate the quality of their customer support and devise business plans.
Tracker's multichannel support and service level agreement features allow organizations to stay relevant to customer needs.
29. JTrac
---
JTrac is a compelling Java-based issue tracking application that can be customized heavily to fit the continuously evolving customer support requirements of growing enterprises. It allows customer staff to add custom fields and drop-down that help to manage the workflow in a modern way. JTrac is entirely open source and thus free to use and modify by anyone.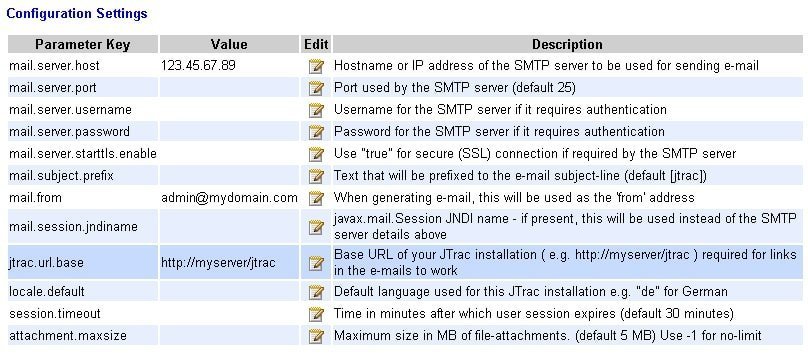 Features of JTrac
JTrac allows the management of an unlimited number of projects, and the workflow can be easily customized based on projects.
It comes with in-built support for LDAP, Active Directory, and CAS authentication alongside multiple databases across several platforms.
JTrac allows service desk representatives to export ticket data and search results directly into Excel documents.
It enables full-text search and allows the addition of search filters for custom fields.
30. django-helpdesk
---
django-helpdesk is a useful yet straightforward help desk ticketing software that packs many convenient features to help organizations effectively manage and resolve support tickets. As the name should have already made it clear, it is built on top of Python. Known formerly as Jutda Helpdesk, django-helpdesk is entirely open source and enables companies to customize it as per their requirements.
Features of django-helpdesk
This service desk software allows support personnel to issue support tickets from either the web interface or by mail.
Its robust multi-tail features allow separating tickets based on groups, department, or other custom criteria.
django-helpdesk comes with a powerful in-built API that enables companies to integrate it with existing enterprise solutions quickly.
It supports multiple convenient reporting features to help evaluate the support quality.
Ending Thoughts
---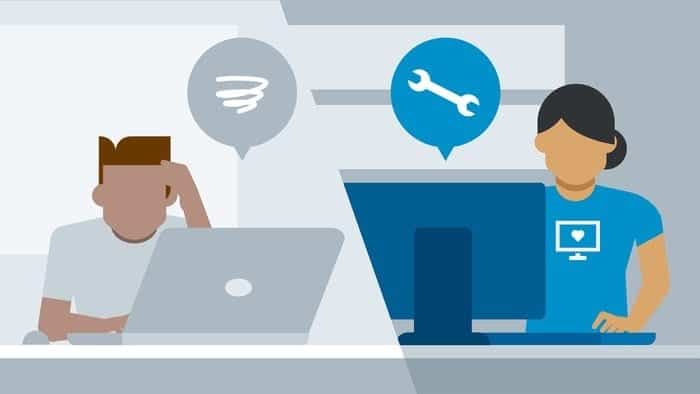 We know choosing the best customer service software can lead to confusion and even paying for programs you'll regret later. That's why our editors have tried to compile only the best of the trade, both paid and free, in this guide. Some of the best help desk software includes Zammad, ManageEngine ServiceDesk Plus, Vision Helpdesk, TeamSupport, Agile CRM, Samanage, and Qualtrics. On the other hand, OTRS, osTicket, Request Tracker are among the best help desk ticketing software. This guide has already been long enough, so let's put an end to it. Stay with us for more latest guides on everyday Linux software.