The world of manga and anime, Japan, has brought new games in different animation series and contexts. Gacha games are also a recent but popular invention of Japan. Basically, gacha games follow the same context as the popular gacha machine. In English, the Gacha machines are known as toy vending machines or doll-grabbing machines. However, in the virtual world, a Gacha game is about having your own characters or anime characters and decorating them as you wish. So, if you are interested in playing such a game, you are welcome to check the best gacha games for Android.
Best Gacha Games for Android to Get Your Own Anime Character
---
Basically, the gacha games come with the anime characters' decoration. Additionally, there are different simulation and role-playing contexts that make these games more exciting. However, we have checked a considerable number of gacha games and found the following 10 games as the best. You can check the details to find your favorite one from the list.
1. Genshin Impact
---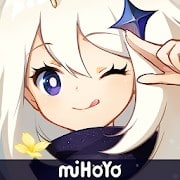 Most probably, Genshin Impact is one of the best 3D animation games that gained much popularity overnight. And you will be surprised that it's a kind of gacha game. The best part of Genshin Impact is its graphics and visual quality that surpasses any other games of this category. You will have a vast open-world to explore, and the beauty of nature of this animated world will definitely impress you very soon.
Important Features
You will meet a lot of legendary mythical characters, including Pyro, Cryo, Dendro, Anemo, Electro, Hydro, Geo, and so on.

This game lets you make your own team of great players with the legendary characters of Teyvay.

Each character will apparently share their own stories and significant powers.

This game initially offers lots of challenges, and you can earn rewards for them.

To enjoy this game with your friends, you can play in multiplayer mode.
Pros: Another mesmerizing part of this game is its soothing soundtrack. Eventually, the sounds of Teyvat are used here to boost your gaming mode.
Cons: This game needs a big space on your device.
2. Gacha Club
---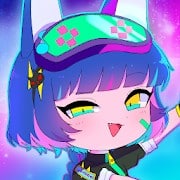 Lunime has the invention of many gacha games for Android, and Gacha Club is the best one among them. For kids and young girls, it's quite like a dream to have lots of chibi characters and dress them up. And this game is completely about that context. You will enjoy various activities like battling, customizing parties, chatting with friends, and similar with this game. And the graphics are quite amazing for this game as well.
Important Features
There will be 10 main characters and 90 additional characters that you can play with.

You can initially set custom profiles for almost all the characters available here.

More than 600 different poses will be there, and you can indeed use them to make the profiles of the characters.

You can also export and import characters with your friends and get new items to decorate them.

This game apparently lets you change the color of almost any decorative item.

Here, more than 180 units of gacha are available for the players.
Pros: While most of them come with premium features and in-app purchases, this one is completely free. You don't even have to pay for the exclusive items.
Cons: It is not possible to delete your characters once you dress them up.
3. Gachaverse ( RPG and Anime Dress up)
---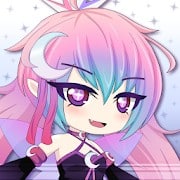 If you love to try interactive role-playing games and gacha is your favorite genre, then Gachaverse must be your best pick. This amazing anime dress-up game is also brought to town by Lunime. Here, you can initially explore the world of gacha, where corruption is spreading like a disaster. And your duty is to ensure peace in your kingdom. For that, you have to take control over the Gacha Summoner. Let's see how to do that.
Important Features
There are over hundreds of gacha characters available in this game.

With the skit makers, you can initially make your own stories with the characters.

You can also combine different scenes to make a new story.

In the RPG battle system, you can check the power of the heroes.

To make your heroes powerful, you can apparently train them properly and play in survival mode to make them even more powerful.

You can also explore towers, forests, and many places in this simulation game.
Pros: You don't need an internet connection to play this game. Additionally, all the changes will be saved automatically here.
Cons: With an older device, you may find a lagging issue.
Download
4. Gacha Life
---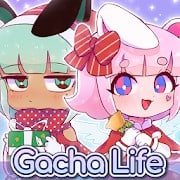 No doubt that Lunime brought most of the exciting Gacha games for Android users. And Gacha Life is another beautiful creation of them. Here, you will enjoy a new adventure in the colorful world of Gacha. You can initially meet a lot of anime characters and have interacted with them. Additionally, you can create customizable characters and then decorate their appearance as well. Besides, you can enter the New Life mode to explore new areas.
Important Features
With your characters, you can explore different places like forests, schools, towns, and others.

You can find many NPCs and have interaction with them. Eventually, you can find other players to talk to.

There will be 8 different games available there, and you can enjoy any games to get rewards.

It lets you enjoy games to collect more than a hundred gifts and unlock new items.

You will have 20 different options of gacha characters to choose from.
Pros: With the interactive studio mode, you can create your own scenes. Additionally, you can use the skit maker to combine multiple scenes and make a new story.
Cons: Some users often face glitches in this game.
5. Gacha Studio (Anime Dress Up)
---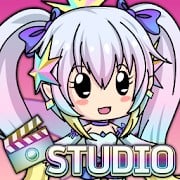 We have another exciting Gacha game to recommend. Gacha Studio provides you with a lot of gacha activities with tons of tiny chibi characters. But the best part here is to dress them up and prepare them with many cosmetics and ornaments. This casual simulation game is full of fun and beautiful graphics. You can receive messages from your friends and text them back with bubbles and emojis. You can enjoy playing this game in your leisure, and it will never disappoint you anyway.
Important Features
In the arena mode, you can enjoy training 10 different pets.

To customize the look of the gacha characters, you can change their hairstyle, dress, ornaments, and so on.

To make new dresses, you can match lots of clothes and colorful laces.

You can check your progression on the Google Play achievement list.

No stable internet connection is mandatory for this game, and all the changes will be saved automatically.
Pros: You can enjoy the arena mode with 3 different types, including Auto, Element, and Skill. And all these modes come with different tastes of gaming experiences.
6. Vlinder Gacha: Stylish Dress Up Game
---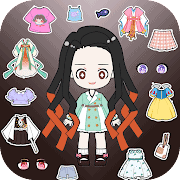 From the characters of Demon Slayer to Naruto, you will find almost all your favorite anime characters here in this game. Vlinder Gacha is probably the most versatile gacha game for Android that brings the biggest collection of gacha characters. It is a simulation dress-up game, and you can decorate characters with your favorite dress, ornaments, and styles. As it doesn't require an internet connection, you can enjoy this game anytime, anywhere.
Important Features
You can initially decorate your own fashion dolls with lots of DIY elements.

There is a tutorial to understand this game properly.

This game indeed lets you combine different outfits and colorful clothes to make your own collection.

You can also choose clothes from more than 240 different styles and colors.

There will also be an amusing array of gacha shops where you will find lots of outfits, cosmetics, and ornaments.
Pros: The game apparently offers a cabinet for DIT outfits where you can showcase your creativity. Additionally, you can enjoy the real doll grabbing machine game too.
Cons: Users are not likely to have frequent advertisements that this game shows.
7. Gacha World
---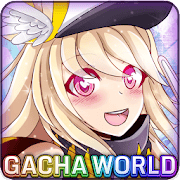 A list of the best gacha games can't be completed without the game Gacha World. Lunime brought this collection of real gacha games for Japanese traditional gacha lovers. This anime-style game collection features lots of characters to interact with. In addition, the farming simulator function lets you make your own farm using several elements. This game also lets you grow your kawaii gaming world just like you wish.
Important Features
This exciting game features amusing graphics that will certainly attract anyone.

Here, you can customize your own character and purchase their clothes from the shop.

This game eventually provides 3 gems for a pull, 30 gems for a 10+1 Gacha, and 150 gems for a 50+5 Gacha.

This game initially follows the RPG Battle system with elemental weaknesses and strengths.

You can also play with more than 90 Gacha characters in this impressive Gacha game.

It simply features the story, events, boss raids, and other modes like a fabulous game.
Pros: Getting in-game gems in this Gacha game is straightforward. Moreover, you can enjoy this game while being offline.
Cons: It may not run on older Android versions.
8. ILLUSION CONNECT
---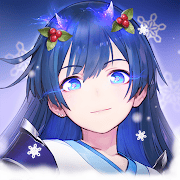 You can now bring your dream world to life with ILLUSION CONNECT. Basically, it is a popular gacha game for Android. Here, you will enjoy an exceptional storyline with lots of exciting manga partners. Since it's a Gacha game, you won't ever know what you are getting as rewards. It is indeed all about surprise. Moreover, this game features the voice of famous Japanese stars, and you will indeed love it for sure.
Important Features
This Gacha-type game is pretty simple to operate and initially much easier to understand how to play.

This existing game provides a great experience of fast-paced and real-time battles, which is pretty appealing.

There are over 50 cute Radiants whom you can play with. You will eventually get to know their backgrounds, experiences, hobbies, and more.

Apparently, this unique Gacha game lets you decorate the game as your imagination.

You also have to spend time on the Radiant more or less to explore details about them which ultimately makes the game adventurous.

You have to show your intelligence to choose Radiant wisely for battle and to win that.
Pros: This game helps to kill your boring time with lots of exciting activities and events. Moreover, its animation quality is quite impressive.
Cons: You will need to spend bucks if you want to enjoy the game at the topmost.
9. AFK Arena
---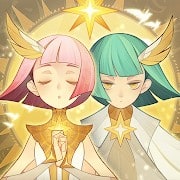 AFK Arena is the proper answer if you are looking for a casual action game with a twist of exciting card games inside the world of gacha. This addictive gacha game for Android features lots of heroes whom you have to prepare with continuous updates. Additionally, you have to carry on battles to spectate their powers and then train them well to be more powerful. Moreover, the auto-farming property keeps your base growing continuously even when you are not playing.
Important Features
This game offers around 100 unique heroes in 7 plus different factions and provides you a wide range of options.

It features several game-mode, so you have different tastes inside the same game.

This game is indeed developed with eye-pleasing graphics with great detailing on every corner of it.

It will initially give you the amusement of a proper Gacha game with a legendary hero cards system with powerful heroes.

You can fight with other players online in the 'PVP Arena mode' of the game.

AFK Arena modes smoothly run on almost all Android devices, including much older Android versions.
Pros: The game doesn't idle when you log off, and you can even level up while offline and claim rewards afterward. Also, Occasional events make it more exciting.
Cons: The summon rate may feel unjustified to some people.
10. RAID: Shadow Legends
---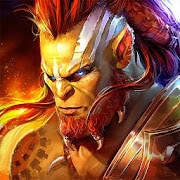 And now, we are heading towards the final recommendation, and this time it is RAID, Shadow Legend. It is an incredibly popular gacha game that never lets you get bored. This game has stunningly detailed graphics to provide a realistic gaming experience. Also, it comes with realistic anime characters instead of manga-type ones. In that sense, it is quite different from others. Additionally, you can collect over 500 unique and power-holding champions in this vibrant 3D game environment.
Important Features
You will initially face more than twenty powerful enemy bosses in this game.

Upgrading fortresses and managing Shards, train Champions, etc., are quite easy to do in this Gacha game.

It apparently lets you experience epic dark fantasy in 12 thrilling RPG locations in this game.

This game also comes with a fully-voiced story campaign with excellent sound quality.

Eventually, it offers autoplay levels so you can spend more time exploring the game.
Pros: You can enjoy P-VS-P gaming with rankings. Also, the game storyline is quite appreciable.
Cons: The fight limitation could be pain after playing for a while.
Our Recommendations
---
There is no way left you can call any of these games boring. All these games are equally compatible and quite exciting. But still, if so many options make you confused, I can probably help you with my personal preference. There are a few games from Lunime, and all of them are quite similar and equally exciting. Aside from them, you can try Genshin Impact or Vlinder Gacha. Genshin Impact is the most popular game, and you can start with it if you are so confused.
Finally, Insights
---
Mostly the young kids and girls love this kind of doll and anime character makeover game. But still, there are some games like Genshin Impact that boys and even men love to try in their free time. These games are quite exciting, and for your leisure, they can be a perfect source of entertainment. So, it's time to take my leave and very soon I will come back with something new. Thank you for your time and support.