I have already tested almost all the major Linux distributions this year; even last month, I installed the new Linux Mint on my Dell brand OEM desktop. It was a mixed experience, and I must say the journey was not bad like the Arch Linux and EndeavourOS. Here, I am after experiencing Garuda Linux and have to mention this point that I tried two or three editions of Garuda to get the best one among them.
Garuda GNOME and KDE are supported on my all AMD-based setup, and the overall outlook of the desktop is pretty appealing. I had some bittersweet encounters, but I will keep this distro for some time along with my Windows 10 as goto OS. I will try to briefly help you out with Garuda Linux versions in this discussion.
What is Garuda Linux?
---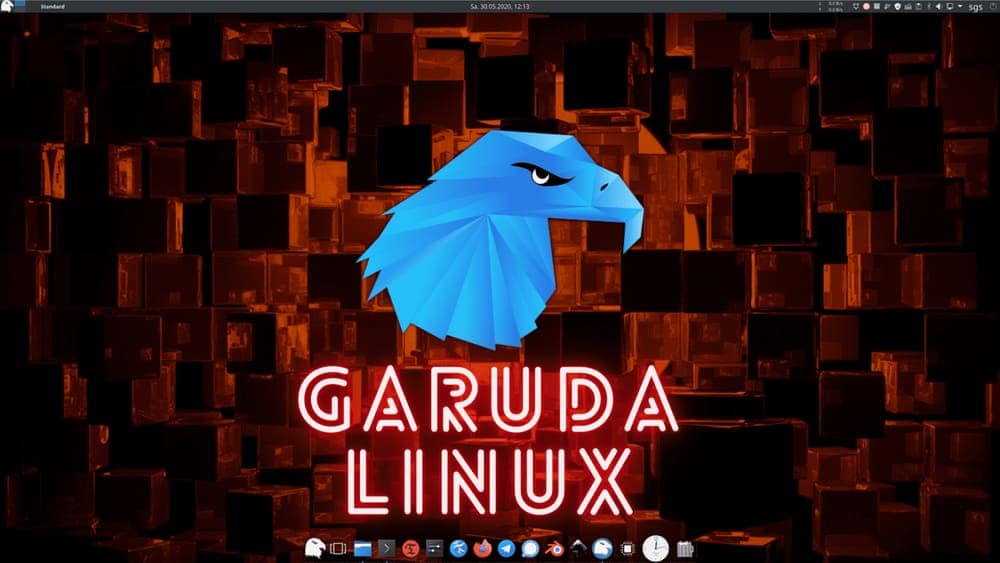 Garuda Linux is a nicely-designed Linux distribution based on Arch Linux. It was released in 2020 and made a good name for it in a short time due to its aesthetic looks, solid performance, and user-friendly environment. It features a pleasant out-of-the-box experience with an optimum set of programs and settings.
Garuda Linux is a rolling release distribution model, which means that the Linux kernel and software are always up to date, and there is no need to wait for a new release.
System Requirement of Garuda Linux
---
Here we've listed the minimum and recommended system requirements to install Garuda Linux on your device. Because of using the Calamares installer and other performance-enhancing programs, the requirement is quite higher for Garuda Linux.
Minimum System Requirement
Memory: 4 GB RAM

Storage: 30 GB of available space

Video card: OpenGL 3.3 or better
Recommended System Requirement
Memory: 8 GB RAM

Storage: 40 GB of available space
You should require a USB flash drive with 4 GB available space for the standard version and 8 GB for Gaming Desktop Environments.
Features of Garuda Linux
---
Garuda Linux offers several unique features that help it earn a top spot among Linux users from different aspects. Some of the key features that you will get from Garuda Linux are mentioned below in a nutshell. 
1. Stunning Appearance
---
Garuda Linux provides a very positive first impression with its enchanting looks. The developers have handpicked beautiful themes with blur effects, neon-colored icons, and shell looks appealing to the eyes.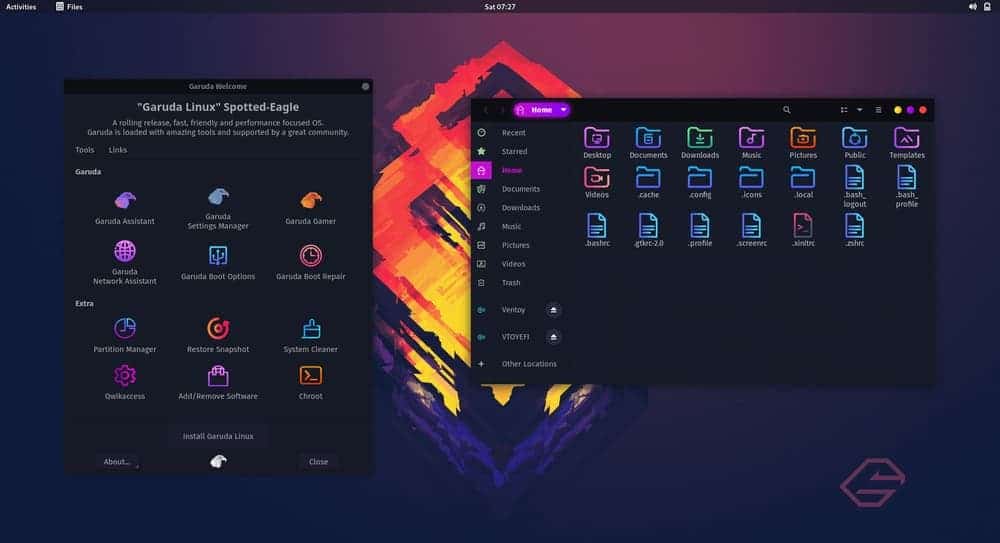 Unlike many other Linux distros, which might have a dull look, Garuda Linux has kept an eye on its design, making it stand out. It's safe to say Garuda is visually more attractive than any other popular Linux distros. Garuda Linux deserves an A+ in the appearance section with such a futuristic-looking approach.
2. Boosted Performance
---
Garuda uses Linux-zen, a fast kernel with better responsiveness that makes it ideal for desktop, multimedia consumption, and gaming. It runs the best on decent specs as it can make the most out of the CPU and storage drives. You can run the lightweight versions for better output, even on low spec devices.
Garuda offers many settings to tweak for better performance. You can set the CPU scheduler to performance mode. ZRAM is enabled by default. The Anancy-Cpp can adjust NICE levels for a performance boost.
3. Ease of use
---
Arch is known for its difficult installation process. Thanks to the Calamares installer, installing Garuda Linux is quite fast and simplified. The Post-installation wizard guides you through the app installing process, so you don't have to deal with any bloatware.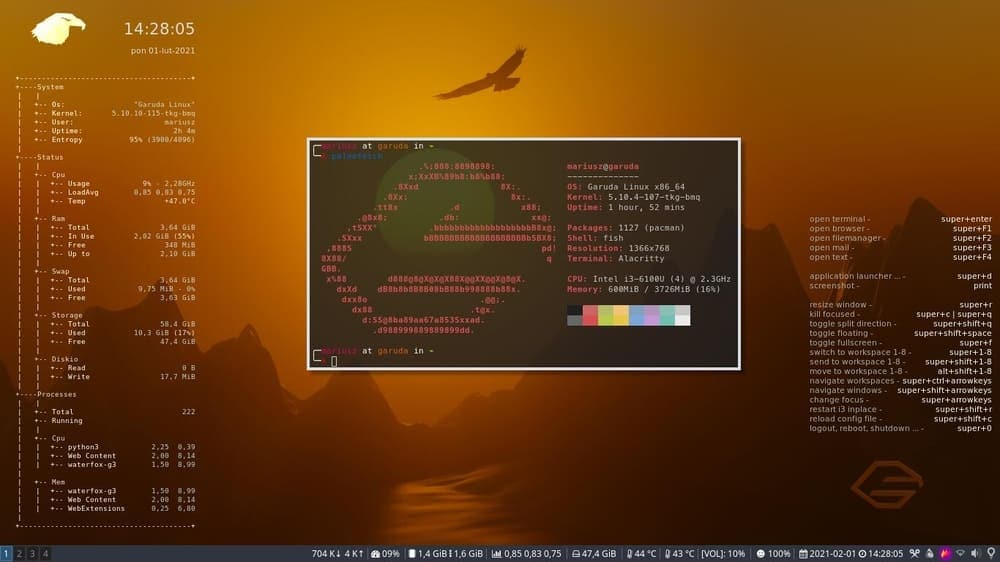 There are many GUI tools to help you manage the system settings. The Garuda Assistant, for instance, makes administrative tasks such as system updating, editing repositories, and cache clearing a breeze. Garuda Settings Manager is another tool to help you manage the kernels and drivers.
From installation to using its advanced features and functions, Garuda Linux is easy to operate even though it's based on Arch, which is not beginner-friendly.
4. Heavy Gaming Privilege
---
"Linux is not good for gaming," If this is what you heard, or believed, then Garuda Linux is the distro that will prove it wrong. In fact, there is a Garuda edition solely dedicated to gaming— the Garuda Linux KDE Dr460nized.
Garuda Gamer GUI tool contains an essential collection of gaming tools such as Steam, WINE, PlayOnLinux, Heroic Game Launcher, etc. This allows you to play a variety of games on your Linux desktop that otherwise you wouldn't have been able to. In addition, you get tools for tweaking your gaming experience.
Gamers and streamers have reported that even the most resource-hungry games like Cyberpunk 2077 run better on Garuda than Windows machines, making it a gaming haven for Linux gamers.
5. Tons of Options To Choose From
---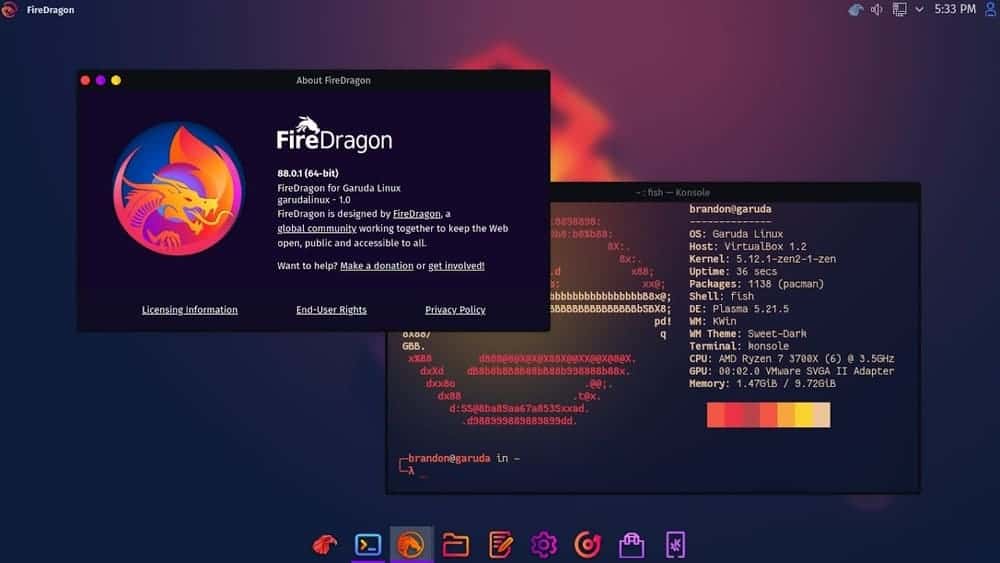 Garuda Linux is available in a number of different editions, each of which is tailored for a specific purpose. So you can choose the edition that suits your needs perfectly. Here is a list of the available downloadable options and what they are best used for:
Garuda KDE Dr460nized – Best for immersive Plasma experience and Mac-like workflow.

Garuda Linux GNOME – Best for the splendid desktop environment that is easy to use.

Garuda BSPWM – Best for controlling through messages, allows using multiple monitors.

Garuda Xfce – Best for stable, lightweight, and easy on low-resources.

Garuda LXQT-Kwin – Best for Qt-based, Lag-free, lightweight with a modern look.

Garuda Wayfire – Best for customizing options, lightweight, based on wlroots.

Garuda Sway – Best for keybindings and cheatsheet to get started, which are easy to use.

Garuda i3WM – Best for lightweight, easily configurable, and operated exclusively by the keyboard.

Garuda Qtile – Best for easy customizing and launching apps without remembering keybindings.

Garuda Linux KDE lite and Garuda Linux KDE-Git – Best for advanced users only who want to configure by hand manually.
Advantages and Disadvantages of Garuda Linux
---
I am sure that checking out the features of Garuda Linux is enough to make a decision on it. But if you are still confused, I can help you with a list of its advantages and disadvantages. You have already learned about some of its good sides in the features section. Still, I have tried to collect all the good sides of Garuda here together with another list of its dark sides.
What We Like in Garuda Linux
This distro is blazing fast compared to other regular Linux distros.

It uses a considerably large amount of RAM yet utilizes fast VRAM for the overall system.

Garuda supports zen kernel for better instruction support.

This distro uses beautiful KDE-based themes which are appealing to general eyes.

It does not pack extra softwares and junk like other distributions.

The UI is customizable and offers a fair amount of freedom in user-based system tweaks.

Users can utilize all the hardware muscles if they want to push to the limit in heavyweight tasks.
What We Didn't Like in Garuda Linux
Garuda uses slightly more system RAM than other Linux distributions, and the minimum requirement is 4GB or more.

It requires high-end hardware to enjoy the fullest potential of the OS.

Some users might find it overwhelming if they do not have any previous exposure to other Linux distros.

Garuda Linux editions have relatively low software support.
Who Should Use Garuda Linux and Which Edition Should You Use?
---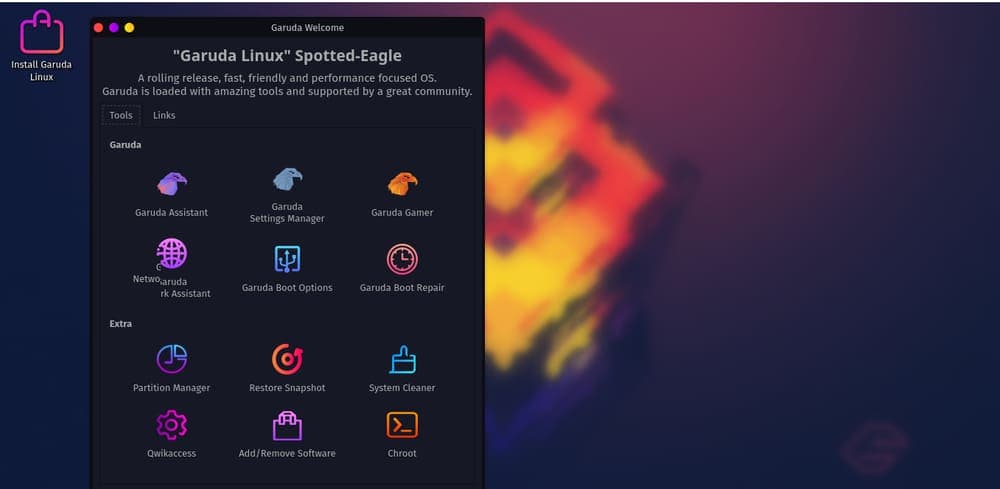 Garuda Linux is very user-friendly and fixes the gap between other Linux distros compared to the more common OS such as Windows and MacOS. This is straightforward and highly customizable. Garuda Linux is the right choice if someone is willing to have a fresh desktop environment with all the basic features and advanced scopes. This Linux distribution is for intermediate-level users or beginners with a keen interest in Linux alternatives.
It is far easier to use than distributions like Arch Linux and comes with all the necessary tools required for a complete desktop environment. Another thing to keep in mind is that there are many editions of Garuda Linux, and there are more than ten of them currently available. This could not be very clear to most people, but it is really simple to choose. The overall outlook and customization capabilities are quite the same in most of them.
If you are new and just want to experience a worry-free, clean and beautiful OS, then choose either GNOME or KDE Dragonized edition. The aforementioned two are for a relatively new hardware setup.
If you have an old or less capable system, then go for Garuda Xfce to get a smooth and stable desktop experience. Garuda i3WM, Garuda Sway, and Garuda Qtile would be the better choices for advanced users and developers.
If you are coming from MacOS, then try to suit yourself with the GNOME edition of Garuda Linux, then shift to a complex one if ever required.
Final Thought
---
Garuda Linux might have a clean and beautiful desktop environment, yet it has some downsides. One of them is relatively low software support. If you are new to Linux, getting some common software to work properly could be painful. You can get things done easily if you are compatible with command lines and terminals.
Again, you will have a lot of open source app support and other ready-to-use packages. By the way, the interface is eye-catching, but the transition effects, color sense, and wallpaper sense are not upto the Mark. If you want to use this as your daily OS solely, then avoid and choose Ubuntu over it.
So, here we are, taking our leave for today. We will soon come up with another review of another Linux distro. Please share your experience of using the Linux distro you are using right now. I appreciate your support.