Vector graphics software paves the way of editing, manipulating, drawing and modifying images, diagram and figure seamlessly with sophistication and perfectness. There are far-ranges of vector graphics editors that are commonly used on the Linux platform. These vector graphics tools smooth the way of creating digital objects for the designers, and the objects can be scaled indefinitely without losing quality. Graphics applications are frequently used to generate high regulations illustration to use in web, multimedia, and games.
Best Vector Graphics Software
---
In this article, the writer has picked the most common, user-friendly, and versatile vector graphics software that is available on the Linux platform. Readers would find necessary information, features, and download links from this article. Hence; let's go through it.
1. LibreOffice Draw
---
LibreOffice Draw is a free and open source vector graphics application that includes a few more tools too. It includes a diagram tool that paves the way of creating quick sketch moreover; it can be used as a professional vector graphics editor. It is believed one of the best tools for drawings, posters, curves, and much more. The image gets transformed with its efficient engine that paves the way of creating image range and documents format.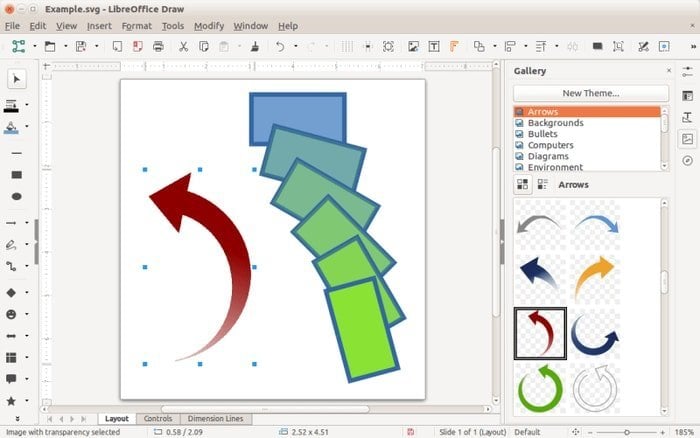 Features of LibreOffice Draw
A technical drawing can be done with it moreover; various brochures can be created with a large scale of pages.
It is easily customizable; thus; the preference and style can rearrange tools.
Its formatting tool facilitates to put all the graphical styles in a single click.
Graphical object manipulation, grouping, cropping, and many more things can be done with it easily.
It is featured with a smart connector that allows building flowcharts, organization charts, and network diagrams.
2. sK1
---
sK1 vector graphics editor that features an extensive color management engine along with wide range file format facility. It offers color accuracy and drawing flexibility of all types of files. It is compatible with numerous professional publishing features such as multi-page content, CMYK color, and separations. What is more; ICC color management is supported with it, besides; PDF output and specific printing are performed.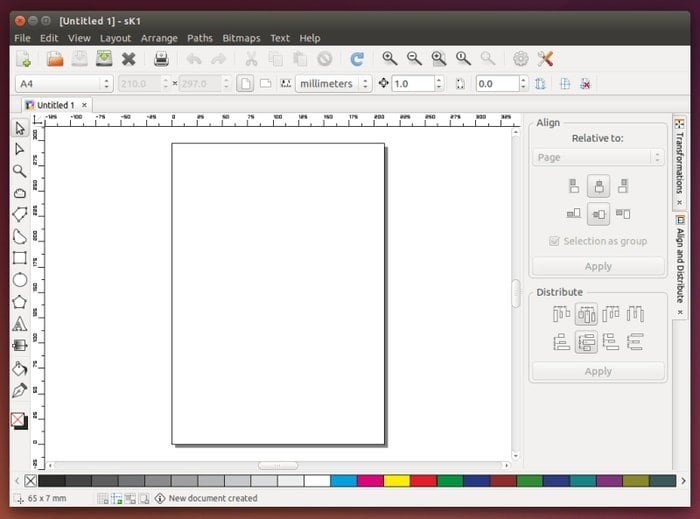 Features of sK1
One of the best features of this vector graphics software is multilingual Pango text layout.
It efficiently generates proportionate basis solid color image and raster image.
Among its versatile performance, it is capable of extending import and export functionality.
There is magnifier glass, node edit, text editing features, and Ellipse and Polygon drawing support as well.
Adobe Illustrator up to version 9 and Postscript (PS) and Encapsulated Postscript can are supported to import.
There is a feature that is called UniConvertor is used for conversion of files from one vector format into another one.
3. Apache OpenOffice Draw
---
Apache OpenOffice Draw works as a vector graphics tool on the Linux platform; nevertheless; it also can perform a few more activities on the raster graphics. A wide range of graphical image can be drawn with this versatile application. It stores and displays different formats of the picture as a simple geometric element such as lines, circles, and polygons notwithstanding; as a collection of pixels. It is entirely integrated with the OpenOffice.org suit.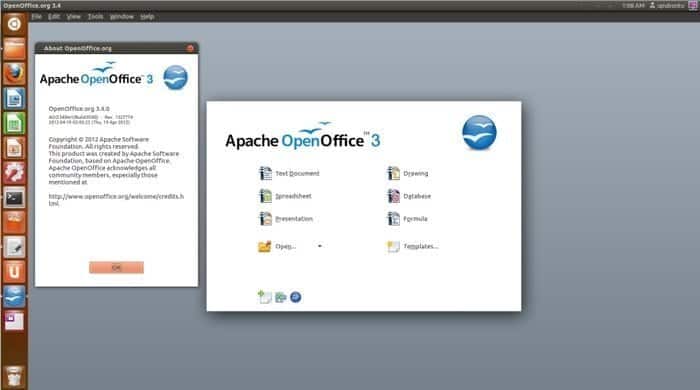 Features of OpenOffice Draw
Its large open space in the middle of this tool is used for drawing that is surrounded by the toolbar and information.
The position and number of tools vary based on the nature of tasks and user preference and settings.
Interface is customizable; thus; the drawing space can be moved from one side to another.
Additionally, the drawing page can be divided into different pages based on the necessity of presentation.
There is a pan feature that allows the user to watch the review the created page.
4. Edraw Max
---
Different types of charts concerning organizational chart, mind map, and flow chart can be created with Edraw Max. Moreover, it can illustrate workflow diagrams, business charts, network diagrams, floor plans, and engineering diagrams. What is more Edraw Max allows users a Visio-like professional-quality diagramming tool? This vector editing software is very popular among the designers because of its all square performance.
Features of Edraw Max
Many basic diagrams, namely; circle-spoke diagram, blocks, arrow, and circular diagram, are drawn with it.
Capable of illustrating the business diagram, namely; Audit Diagrams, Matrix, Fishbone Diagrams, and EPC.
Numerous database diagrams such as Martin ERD, Express-G, ORM diagram, and Chen ERD are created with it.
Most importantly; logic, basic and electrical diagram for engineering can be developed by this vector graphics tool.
Used in the fashion design field to design various pattern to some significant extent.
The last but not least, numerous infographics for architecture, business, education, and environment are also designed with it.
5. Sodipodi
---
Sodipodi is general an open-source vector graphics editor and is the predecessor of Inkscape. At the earlier stage, it works as a fork of Gill what was a vector graphics program and was written by Raph Levien. Though there is no consecutive active development version nevertheless; the previous version is effectively usable till now.
Features of Sodipodi
This software is programmed by focusing on the most commonly used design that is required for artists.
Though SVG is used its core file format along with some extension to hold metadata, it did not intend to hold SVG standard.
Capable of importing and exporting plain SVG data moreover; it also can export raster data in PNG format.
A particular feature that is called single document interface is compatible with the user interface.
6. SVG-Edit
---
This java scripted SVG-Edit aims to create and edit various scalable vector graphics. It's open-source and free that can work on the Linux platform very efficiently; nevertheless, a few more software installation is required for its functionality. It is capable of importing and exporting SVG file from different other sources. Besides, it can edit those that have been exported from another external source thus; it is believed one of the efficient software.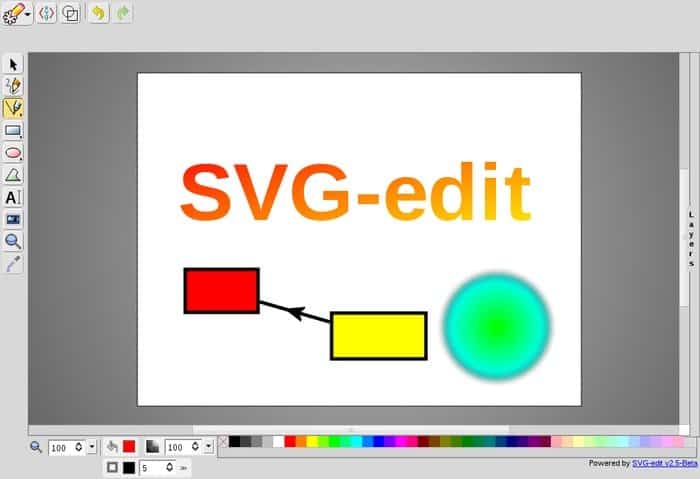 Features of SVG-Edit
Because of being a web browser, it is made into add-ons in different platforms such as Firefox, Google, and Opera too.
SVG editing extension has been attributed on the wiki platform that capable of editing SVG.
This Linux platform's graphics editor consists of two major components, namely; svg-editor.js and svgcanvas.js.
This component works cooperatively to serve the purposes in different web browsers.
File svgcanvas.js can be used outside of SVG-edit thus; the developers can create alternative interfaces to the canvas.
7. Embroidermodder
---
Embroidermodder is a free machine embroidery software that is written in C, C++, and JavaScript. It is compatible with far-ranges of formats moreover; customized modification is possible for embroidery designs.  This software was initially designed Mark Pontius; however; later, it was contributed by Josh Varga and Jonathan Greig. This vector graphics tool is largely used in the design field to bring an expected design on the particular fabric.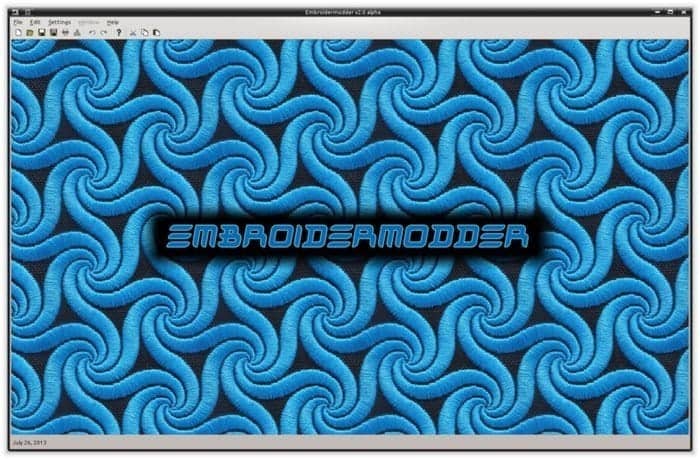 Features of Embroidermodder
It shows designs on its screen with unlimited zoom; thus; the best possible close and sophisticated stitches can be watched easily.
Capable of reading forty-five different embroidery formats; thus; it offers a vast range of services in the garments arena.
Offers actual details for textile print moreover; it is featured with max/min/average stitch length, the number of colors, etc.
A range of options such as select, move, insert, lines, or selection or delete stitches are available in this tool.
This software compatible with the CVS and excel formats too, thus; it is believed one of the most versatile application.
There is optional Debug mode along with additional display and break capability.
Get Embroidermodder
8. Ipe
---
Ipe is extensively used free vector graphics editor on the Linux platform that saves files in PDF and EPS formats. This software can be used for generating small figures; nevertheless; it also can produce large PDF files for the presentation. Ipe which is developed by Otfried Cheong, worked for SGI workstations only at the earlier stage. In 2006 the file format was changed into XML that was embedded with PDF and EPS file.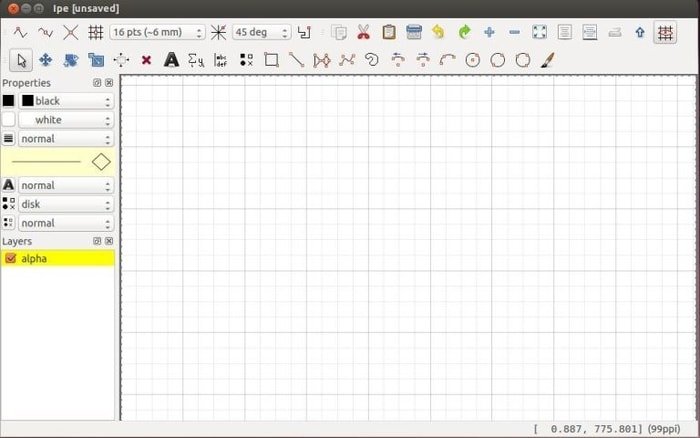 Features of Ipe
In this software, it is easy to enter of text as LaTeX source code; thus; mathematical expressions can be used easily.
It is highly efficient to produce pure postscript, i.e., PDF including the text and LaTeX source code get converted when a file is saved.
In this software, it is easier to align the object for each other by using numerous snapping modes.
There are three forms of snapping, and those are grid snapping, context snapping, and angular snapping.
Many options are supported in this tool, namely; clipping paths, transparency, gradients, and tiling patterns.
The text model is based on Unicode in this vector graphics software.
9. Synfig
---
Synfig is well known for 2D animation, is open source and free vector graphics editor on the Linux platform. It is widely used for creating stunning animation with a timeline and keyframe moreover; it paves the way of transporting it very easily. Because of using its format; simply there is a little complexity to export the SVG files.  There are some formats thus; transforming from SVG to synfig, not a barrier.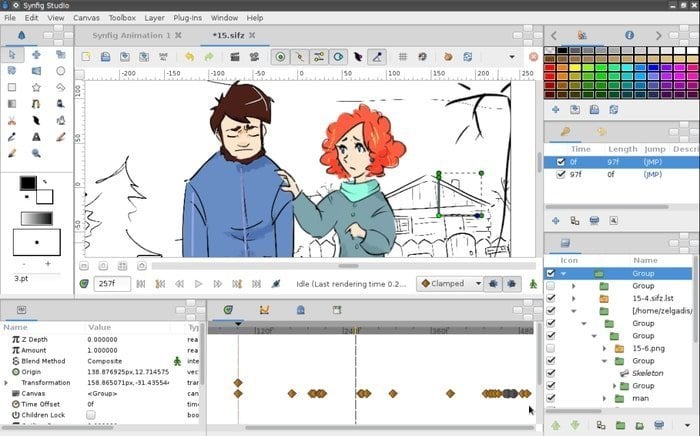 Features of Synfig
Because of having true front and back front application, it is possible to design the animation in the front end.
Nevertheless, when the animated file is rendered, the back end synfig studio tool is used.
Synfig tool makes happen incrementally, and parallel rendering with the support some open-source render farm management software.
This vector graphics editor facilitates simulating soft-shading by using curved gradients.
Includes a range of other real-time effects that can be applied to layers or groups of layers, e.g., radial blurs.
Other features are included to control and animate the width of lines at their discrete control points.
10. Karbon14
---
Karbon14 is a vector-based drawing tool that is used for KOffice.  This application smoothes the way of drawing quality picture for the artists and facilitates appropriate visualization while it is zooming in and out or resizing the pictures. This application is extensively used for finishing touches of a diagram that has been already created with other tools.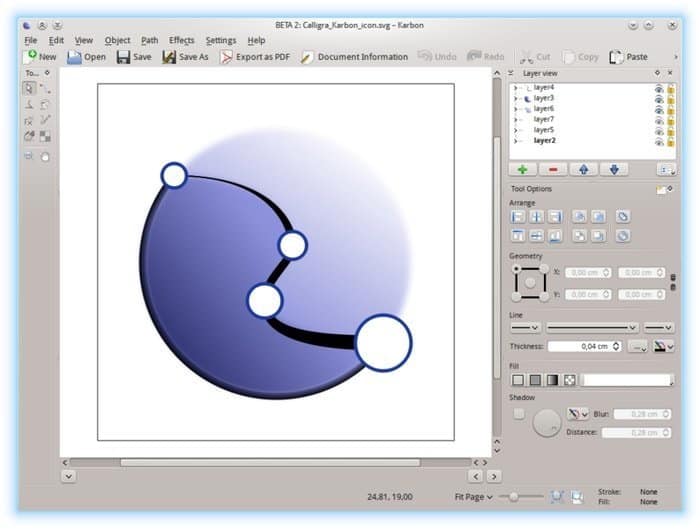 Features of Karbon14
It paves the way of transforming graphics designs ideas into a high-quality illustration with karbon14 easily.
All the drawing gets stored as geometric shapes such as lines and curves; thus; the quality is retained.
This vector graphics software expedites smooth scales of images and quality visual in terms of resizing.
Nevertheless, in terms of pixel-based drawing, it is stored as many dots (pixels) in rows and columns.
When a pixel-based image is resized, the dots get automatically enlarged in this tool.
Karbon is the best for creating cartoons drawings or editing clip art that often needs to be resized to fit in a document.
11. Tgif
---
Tgif is free vector editing software, was released in 1990 under QPL license. It is an Xlib based 2D interactive software under X11 on the Linux platform. Since it was developed at the earlier stage, the user might find it a little strange in case of drawing, moreover; many tools would be unfamiliar to them. Though the size is mentioned in this tool, it uses a unit that is 1/128 of an inch for particular point sizes.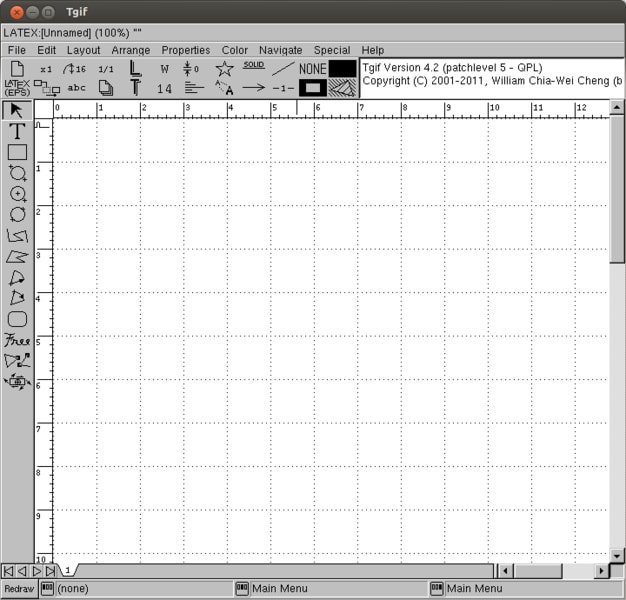 Features of Tgif
Spline curves are used instead of Bézier curves; thus; it is believed a little backdated in this field.
It saves drawings in a Prolog-based plain text file format since it is a prolonged based program and many tools are not supported.
PostScript font names are displayed to represent a font and batch mode can be used Tgif drawings.
To have a print of a drawing, users might have use Tgif on an X display unless; it won't perform well.
However, the restriction would be applied if the drawing merely uses Times Roman, Symbol fonts, Helvetica, and Courier.
12. Xara Xtreme LX
---
Xara Xtream LX is open-source portable 2D animation vector editing software. It is believed very efficient and vector graphics tool that can produce quality illustration regarding photos. It is quite versatile that can generate drawing and photos very extensively. Because of being very fast, slick, and comprehensive, it is easier to use and learn. The abbreviation of LX is elaborated with Xara Xtream for Linux.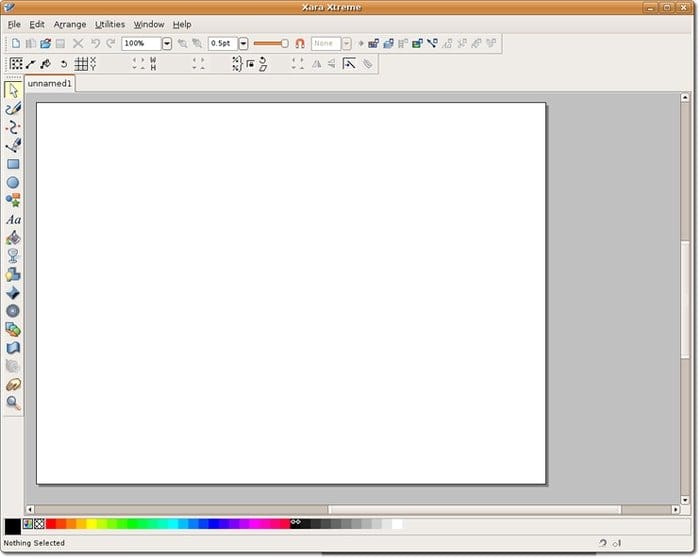 Features of Xara Xtream LX
Offers very powerful, general, and essential vector graphics tools that are desperately required.
Includes clean, un-cluttered user interface moreover; few floating dialogs, palettes, menus, etc.
This vector graphics editing application is capable of creating a far range of outstanding graphics.
Facilitates learning tutorials, movies material, tips, and there is a very active, enthusiastic, and growing user community.
Draw rendering engine only available in the form of static GCC libraries that is believed its limitation.
13. Xfig
---
Xfig is free, open source vector graphics software, available on the Linux platform that is written in C and Xlib. This application can be used to draw figures by using objects such as circles, spline curves, boxes, lines, text, etc. It is a versatile vector graphics tool thus; images can be imported in different formats for instance; GIF, JPEG, EPS, PostScript, etc., moreover; those objects can modify, deleted and created as well.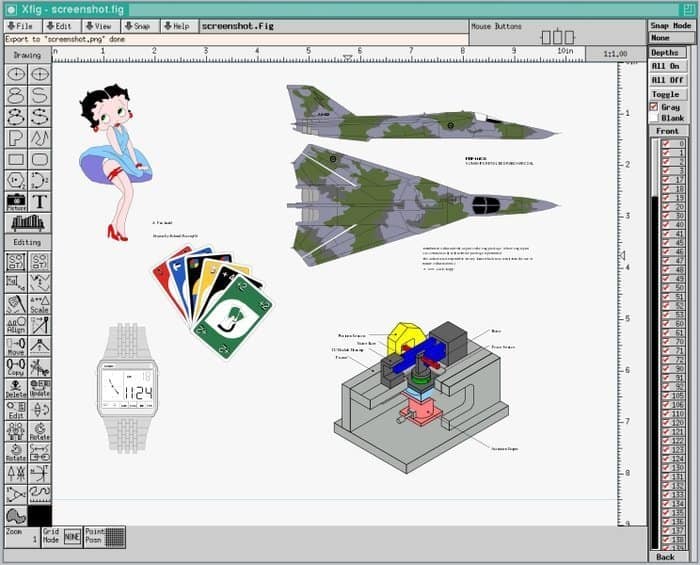 Features of Xfig
A range of attributes, for instance; colors or line styles can be selected in various ways, and thirty-five fonts are available for text.
Native Fig format is used to save figures in this software, and postscript printer is used to print files.
Features PSTricks or PGF or TikZ packages code that integrates Xfig-generated images into LaTeX documents.
Most of the functions are operated with a mouse; nevertheless; the keyboard can be used for numerous tools.
Designed for three buttons mouse; nonetheless; two buttons and one button mouse can be used too.
Export a range of vector graphics formats namely; EPS, SVG, PIC, CGM, MetaFont, MetaPost, EMF, and Tk.
14. VRR
---
This vector graphics editor is specialty featured and programed to apply on the mathematical field in terms of different symbols, sign, and diagrams. It is entirely dedicated to the Linux platform and preferably used for creating various illustrations in the educational sector. Additionally, it is worthwhile to mention here that different other transformation and manipulation for graphs and diagrams can be done with it. All objects are determined with absolute coordinates moreover; other functions available as well.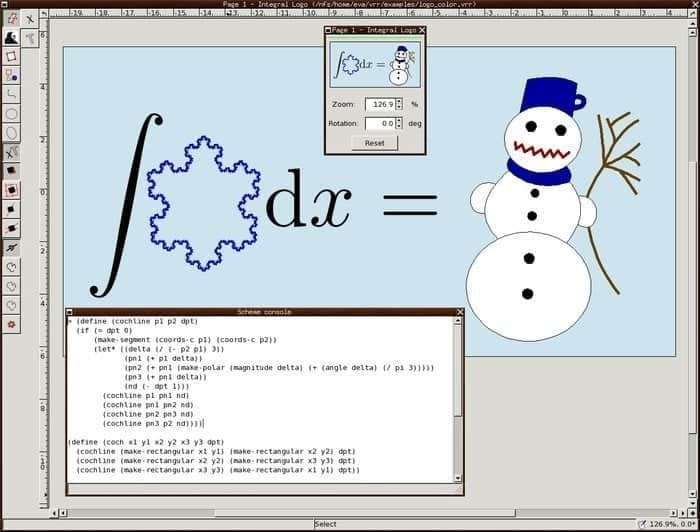 Features of VRR
Offers proportionate dependencies and changing, and it implies all the calculations take place automatically.
It paves the way of modifying image easily without breaking the lines albeit; visually gets tied together.
Sophisticated text components adhere to this application; thus; text becomes part of the image.
This vector graphics software is incredibly efficient for including math expressions into the picture.
Capable of exporting files in PDF, PS, EPS, and SVG formats and importing from IPE5 and SVG.
Get VRR
15. Bloom Image Editor
---
Bloom image editor is previously known as Ormr that can integrate seamlessly vector graphics and raster. It is capable of editing and automatically converting between these two forms if it is required. This feature has made it extremely versatile and effective for different tasks from interface design to image retouching. Moreover; it facilitates applying raster effects and filters purely to vector shapes without missing any vector data.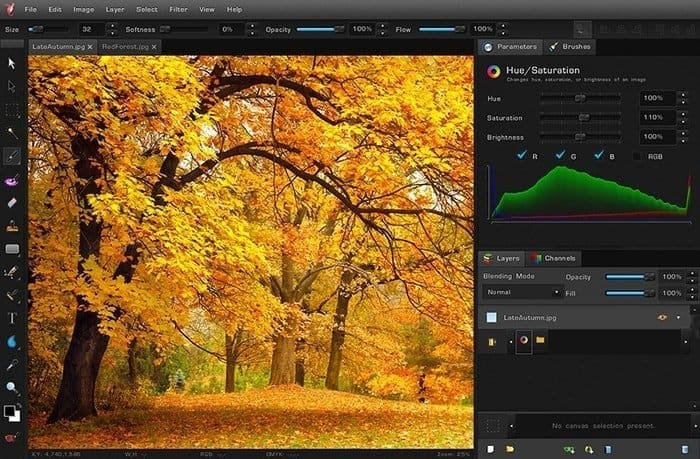 Features of Bloom Image Editor
It is recognized as a completely Non-Destructive editing workflow and vector shapes and editing.
This vector graphics editor is featured with Layers, Groups, Masks, and Layer Blending Styles.
It is greatly optimized for large files, and a digital drawing tablet is supported with it efficiently.
Includes a multitude of import and export formats along with with all camera RAW files.
Facilitates adjusting everything numerically related to photo editing and effects; thus; users can get full perfection.
This vector graphics software is branded as all in one that implies, and it provides all the functions and tool for vector image editing.
Get Bloom Image Editor
16. Inkscape
---
Inkscape is open-source and widely used effective vector graphics software that is significantly popular among the illustrator and web designers. It features all the professional quality tools that are required for designing logos, maps, icons, diagrams, web graphics, and illustrations.  It is compatible with working with other vector graphics software; thus; it can import different types of file formats with a simple interface and customizable options.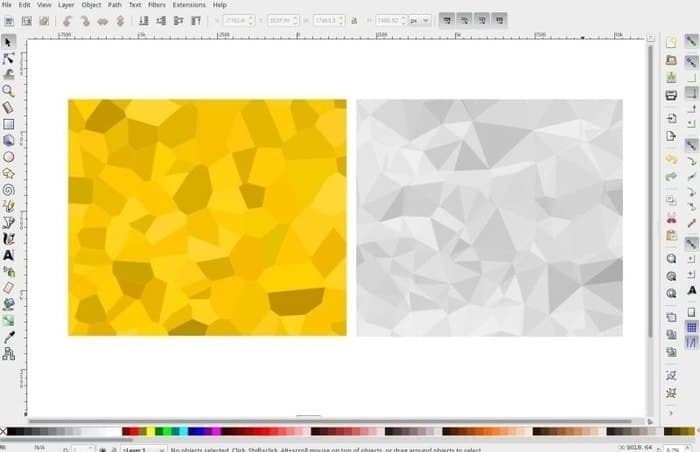 Features of Inkscape
Included with pencil types drawing tool that facilitates freehand drawing with simple paths.
In this vector editing software pen tool is used for creating curves and straight lines.
Along with text tools, different shapes are included, such as Rectangle, Ellipses, Stars / Polygons, and Spirals shapes.
Various types of vector graphics tools that are relevant to color, for instance; path maker, stokes, dash color are included.
Capable of Boolean operations, node editing, converting to the path, bitmap tracing as well.
17. Gravit
---
Gravit is lately introduced very convincing free to use vector graphics editor that is used on the Linux platform. It is complete and exclusive full-fledged vector graphics software that is extensively used for, printing, presentation, screen designs, high-quality icons, illustrations, prototyping, and animation. Having an easy and catchy interface, Gravit is expected for the complex vector designing in this creative field.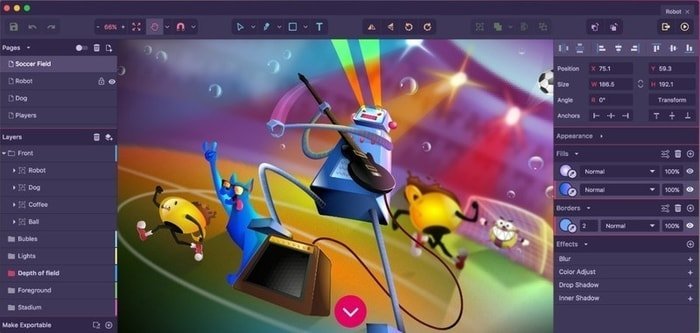 Features of Gravit
Capable of producing sophisticated, and high-end vector graphics work in any unit, be it Pixels, MM, CM, etc.
It is distinct from intensive pages with real layers, masters, and symbols to structure content.
Featured with multiple effects, various fill, and borders and blending models.
It smoothes the way of creative designing with a professional and powerful layout grids and anchors.
This software is greatly suitable for animations, states, presentations, prototypes, etc.
18. Vectr
---
Vectr is used in the vector graphics arena to produce great quality design work without losing resolution. It is another favorite graphics tool to the designers on the Linux platform that can be used for many purposes for 2D graphics, illustrations, logos, graphics for business cards, icons, websites, resumes, brochures, poster, and presentations. This simple nevertheless highly efficient vector graphics editor can be used on desktop or web mode.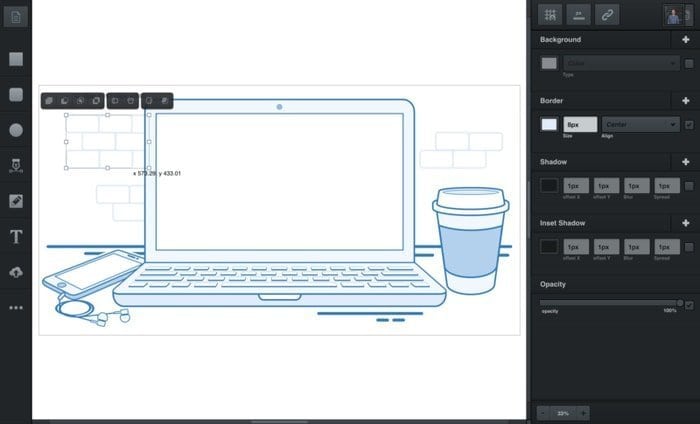 Features of Vectr
Its toolbar is well featured with a clear indication of tools for creating a rectangle, curved, circle, line, and freehand curves.
Compatible with different formats such as PNG, JPG, or SVG additionally; it saves files in raster format when scaled.
It is significant user-friendly, for instance; it facilitates sharing the design in different social media platform.
This vector graphics software paves the way for numerous filters and option for adding orders and shadows and multiple backgrounds.
19. Dia
---
Dia is free, open-source vector graphics diagram editor that is available on the Linux platform. It is capable of drawing more than thirty types diagram such as e flowcharts, network diagrams, database models. It is featured with thousand plus readymade objects which are useful for drawing vector graphics. This graphics software is capable of reading and writing far-ranges of raster and vector image formats.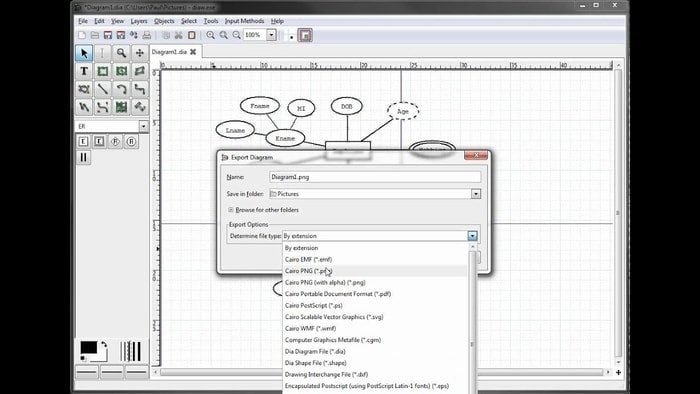 Features of Dia
It can be used as a CASE tool for generating code skeleton by the software developer and database specialists.
Because of being flexible and user-oriented, this vector graphics application can be scripted and extended by using Python.
Symbol and connector are not restricted in different categories from being placed at the same place.
Loads and saves files in customized XML formats that are by default to save space on the device.
Facilitates printing large diagrams spanning multiple pages and supports for new shapes by writing simple XML files.
20. Skencil
---
Skencil was previously known as the sketch is written mostly with the python language and rest of other is in C. Thus; it is believed one of the most effective and handy vector graphics software in this field. It is a very intensive, higher-level, and user-friendly tool. On top of the source files, it is suggested to download and install some extra files to make it much more soothing.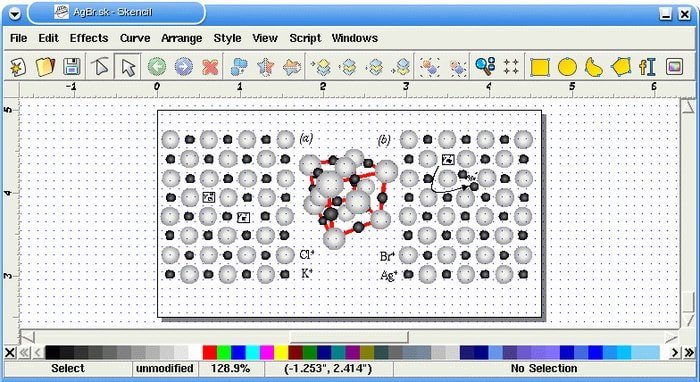 Features of Skencil
Featured with transformed text and images along with Bézier curves, rectangles and ellipses can be used as guides.
It is a complete package that includes gradient fills, blends groups, and writes EPS files with text along a path.
Its external images' properties are JPEG and PNG for raster image that implies all types of Python Imaging Library can read
Includes encapsulated PostScript (EPS), text that is very simple at this moment and all objects, e.g., images and text, can be rotated, scaled, sheared, etc.
Closing Thoughts
---
In a nutshell, the forth-mentioned vector graphics software is frequently used on the Linux platform. Among that software a couple of them were released at the earlier stage of graphics, nevertheless; many of those are still worthwhile to use to produce a quality illustration for the user purposes.
Finally, you are requested to leave you two pennies regarding this article. Your comment will motivate us to move on with much more enthusiasm. Last but not least, if you find it useful, please do not forget to like and share it.