The 1000 dollar iPhone 13 Pro is on the market and people are just going crazy about it. Undoubtedly, it is one of the most expensive smartphones at the time it has launched. So, users vow to protect it by any means not to just waste their money on it. For that, the protective phone case is now on-demand in the market. Also, because of the new Magsafe compatibility feature, the cases are not like before. So, many people end up buying the wrong case for their expensive phone. Today we will learn about the 10 best iPhone 13 cases that you can buy from Amazon.
What Should You Check While Buying the Appropriate Cover for Your iPhone 13?
---
Undoubtedly, the iPhone 13 is one of the most expensive smartphones nowadays. So, you should always use a protective case with it. A good quality case can protect your phone from sudden and accidental falls. Also, a case is essential to keep your smartphone scratch-free. So, you should be extra selective when choosing the best iPhone 13 case. 
However, choosing an appropriate case is important because a case for an iPhone 13 is not a matter of a few dollars nowadays. Because of the new features of the iPhone, the cases have to be compatible and so, the price has been rising up.
So, if you buy a case that does not suit your style and meet your needs, you may end up buying another one for sure. However, check out the following facts that you should prioritize while buying the best iPhone 13 case.
Protectiveness: Protection comes first whatever it is. So, you have to ensure that the phone case you are selecting is quite protective. In this case, you should check out the camera protection layer, and the material for sure. Additionally, you should choose the one with more safety features.
Materials: When choosing the best iPhone 13 cases, you should check the build material of the product. You can eventually get silicone, aluminum, polycarbonate plastic, and rubber-made phone cases for different models. All these materials are quite famous to be the protective ones. But you should choose the one that can withstand drops from a few feet of height. 
MagSafe Compatibility: Remember that the new iPhone 13 has come with MagSafe compatibility. So, you should choose a case that is compatible with this feature as well. Generally, most cases for this new model come with Apple's Magsafe technology. If you don't like to use a wireless charger with maximum technology you can go with any case. But make sure to have the Maxi compatible case if you wish to use the next-gen charger.
Color and Design: The next factor we suggest you prioritize is your favorite design and color. Undoubtedly, iPhone cases come in thousands of styles, designs, and colors so you should choose the appropriate case that suits your choice the most.
Where to Find: From where you can get the best iPhone 13 cases is the next thing you should think about. You can either go buy it from a physical shop or purchase it from an online shop like Amazon. If you are planning to buy it from an online store I suggest you check the model number, size, color, and other issues properly.
Budget: Finally, it is about the budget. I have already mentioned that because of the MagSafe compatibility the new iPhone 13 case is available with a little bit higher price range. In general, you can get it from $30 to $50. The more features it will have, and the better materials it is built with, the more costly it will be. Sochi ki or budget before you go for your desired iPhone 13 case.
These are the basic factors you should think about before you buy the best iPhone 13 cases to protect your expensive device. If you wish to buy from Amazon maybe we can help. Because today's content will introduce you to the 10 best iPhone 13 cases for both male and female uses. So keep your eyes connected and learn about these excellent smartphone cases.
Best iPhone 13 Cases You Will Regret Not Buying in the Reasonable Price
---
We have a huge number of people in our community. So, those who are already using the iPhone 13, got to use a lot of cases for it. Additionally with a considerable number of iPhone 13 cases from the shops.
Thus we gather sufficient ideas about these newly launched cases with MagSafe technology. And now, we are here to review the 10 best iPhone 13 cases that we finally found as the best among all we met. Check out the details and their dark and good sides to select the appropriate one for yourself.
1. Spigen Ultra Hybrid iPhone 13 Pro Max Case
---
Let's start with an ultra-slim silicone transparent case for your iPhone 13 pro max. Basically, there is a significant number of people who are fans of transparent phone cases. No doubt, whatever Smartphone they have, a transparent case is like a must for them.
However, silicon transparent cases can be of different brands and types. And your iPhone 13 pro mac is no doubt an expensive smartphone. So, you shouldn't consider the quality of the case. Well, the Spigen Ultra Hybrid case ensures the most protection, and this is the first case we recommend.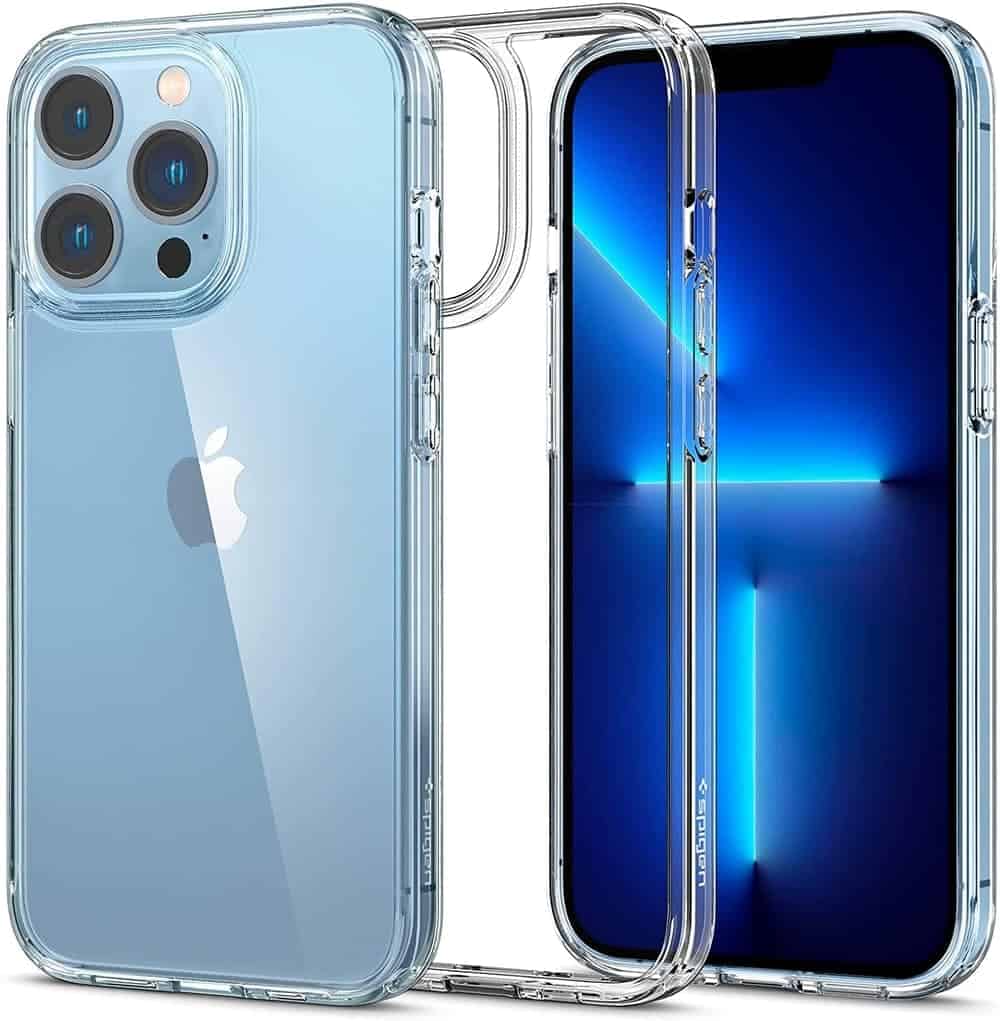 Before you start using this case, you will have to remove the protection filters from both sides. The silicone is genuine, and it is almost 100% transparent. So, it will preserve the original appearance of your phone easily.
The material ensures its color and does not let it get the common yellowish effect. A camera protection safeguard will also be there to protect the lenses from getting scratches. Also, it provides size options for other models of the same series too.
Reasons to Purchase
+ Build with Polycarbonate and Thermoplastic Polyurethane
+ Crystal clear appearance
+ Soft texture and extra protective design
+ Camera protection safeguard included
+ Excellently cut edges and perfect placement
+ Ultra-slim and only 1 ounce of weight
Reasons to Reject
– Users found it got yellowish after a few months of use.
– Rare fitment issues are found as well
2. GDTOGRT iPhone 13 Case
---
When you prefer strong protection with an aesthetic look, maybe this best iPhone 13 case from GDTOGRT can be your best pick. This luxurious-looking case is designed with all side electroplate edges, and the utter layer is glossy and provides a shiny appearance.
Additionally, this gorgeous case comes with complete camera protection and shockproof reinforced corners. So, if any technical issue causes a shocking sensation, you won't feel it in this case.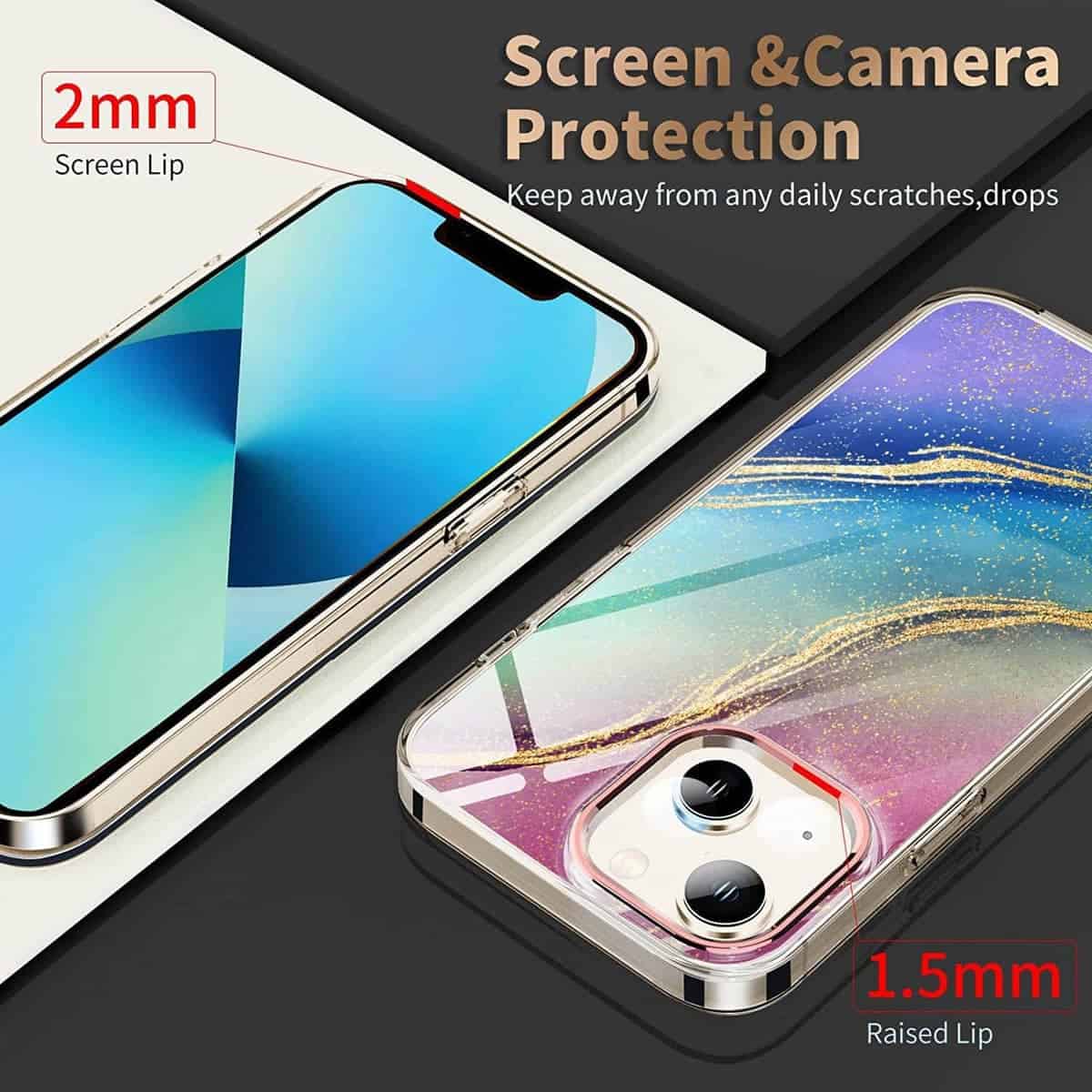 There are initially four different color variations available for this case. No doubt that all those colors are standard, and some of them even wear beautiful pastel colors. However, the best part of this case lets you use the wireless charging system for your phone and provides smooth access to the buttons. Eventually, this slim fit case offers excellent grip, and the nonslip TPU material never causes accidental falling for sure. But it is only available for iPhone 13 6.1 inches.
Reasons to Purchase
+ Ultra lightweight and slim fit design
+ Excellently precise cut and perfect placement
+ Shock absorbing ability and soft, nonslip material
+ Wireless charging result is satisfactory
+ Scratch resistance and joint drop protection
+ Comes with anti-collision cushion reinforced design
Reasons to Reject
– Doesn't have a manly vibe because of the gold plating design
– Isn't available for other models of the iPhone 13 series.
– Cannot protect your phone from hard and high falls
3. LUTTY iPhone 13 Pro Max Case
---
We have a suggestion from LUTTY, and I am sure the gorgeous design of this case can surely count on. This iPhone case is made of high-quality material, and it guarantees to protect your phone in daily usage.
Additionally, the corner of this case comes with four reinforced Raised bumpers that absorb any sudden damages. Moreover, it is scratch-resistant and provides the utmost drop protection. Besides, the gold plating surrounding it gives a gorgeous look to it.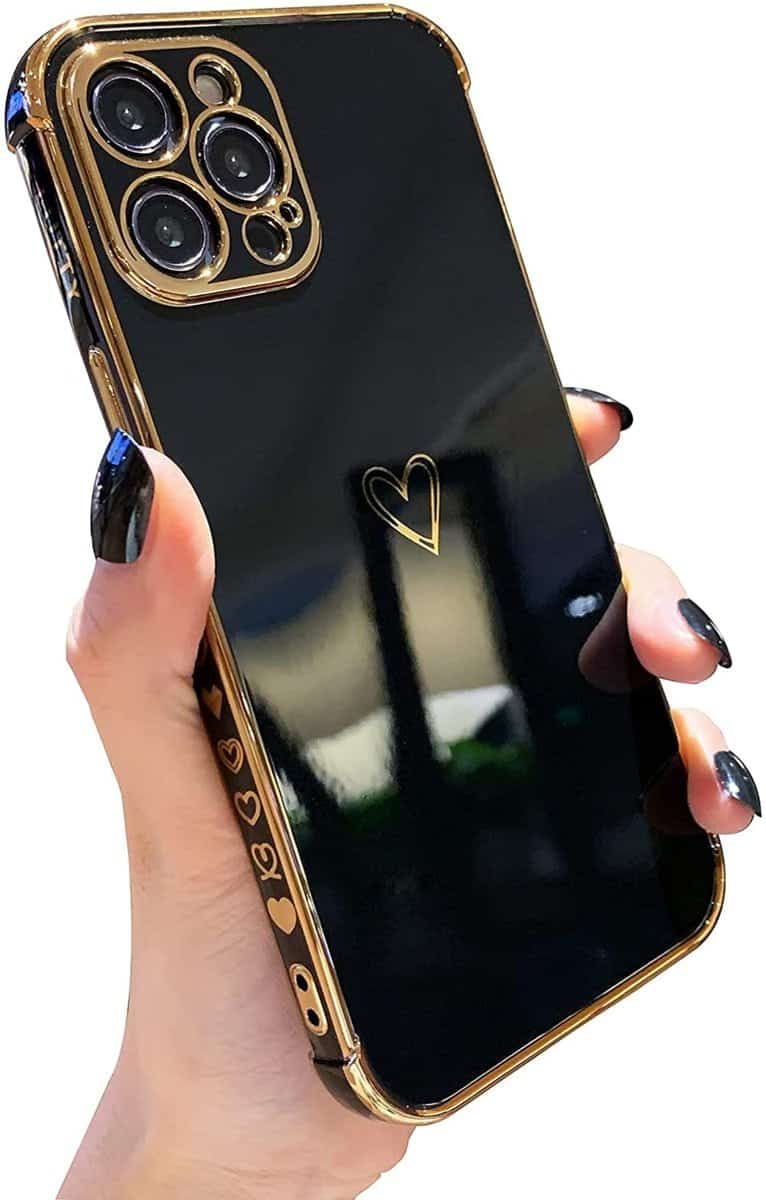 This case offers 1.2mm higher in the edge than the screen and is higher than the camera. Likewise, This iPhone case has come with four different color variations and gives complete camera protection.
Indeed you will find it in very smooth cutting, and it will fit your camera hole perfectly. Furthermore, it is raised 0.3 mm around the camera, so you don't need to worry about using it against scratch and in everyday wear and tear.
Reasons to Purchase
+ Supports wireless charging
+ Enables camera lens protection
+ The side of the camera comes with electroplating technology
+ The size comes of 6.7 inch
+ Shaped with soft TPU material
+ Offers a very smooth surface and is easy to clean
+ Very durable and ensures to resist any fingerprints or stainings
+ Little cushion airbag is attached in four corners
Reasons to Reject
– Male users may not like the golden color edges.
– Doesn't offer the available size for all other iPhone 13 models
4. FACBINY Magnetic Glitter Case for iPhone 13 Pro
---
When it is about the quality case of an iPhone, FACBINY Magnetic Glitter Case will definitely serve you better. This case is made of German Bayer material which gives your iPhone the best protection for sure. Additionally, it is environmentally friendly too. Also, you will find this with a four-corner shockproof design, so it will cut down the Shock even if it drops. That's how this case ensures better protection for your expensive device.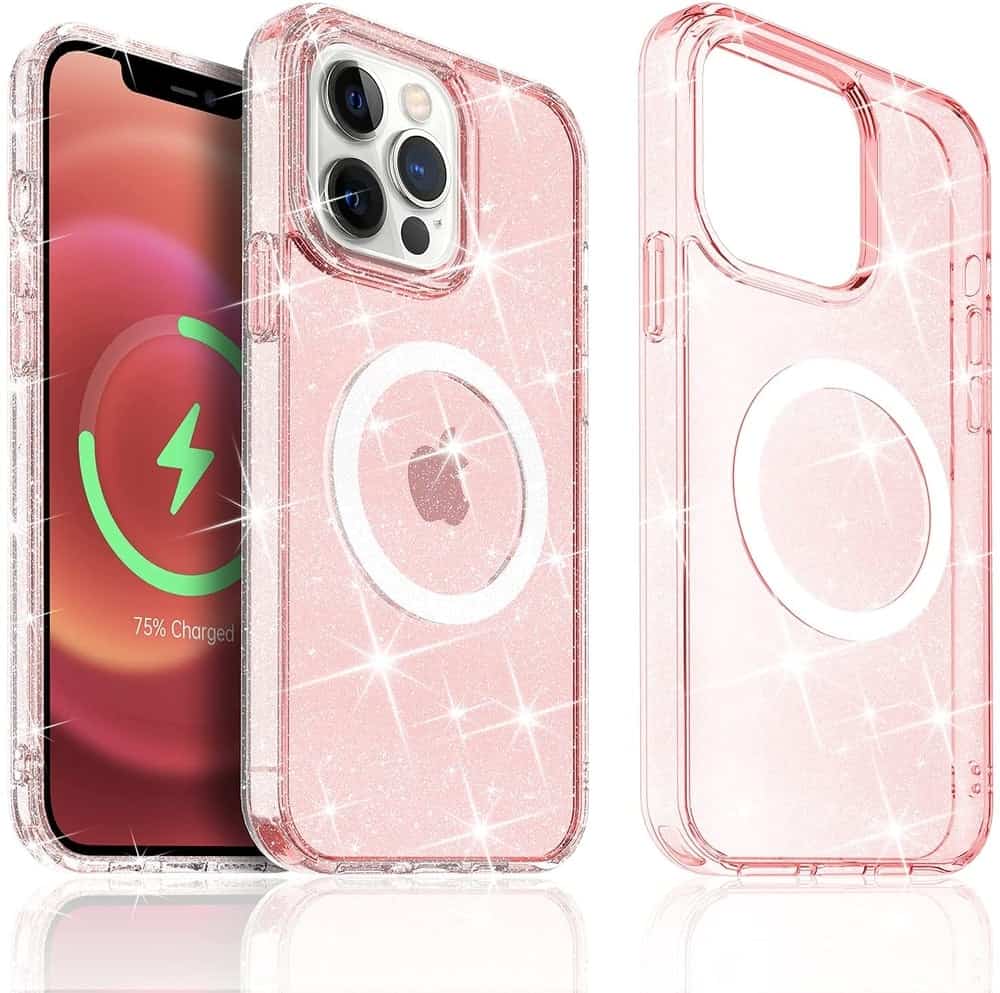 The outer look of this iPhone case is simply gorgeous and is adorned with shiny crystals. Moreover, this best iPhone 13 case is coated with Nono Oleophobic, which gives it a smooth and comfortable touch.
Besides, the aligned magnets ensure wireless charging is easier and faster than ever. And this product is compatible with all types of MagSafe accessories and comes with an anti-yellow coating. In fact, it is safe while you put your iPhone in the charger wearing its case.
Reasons to purchase
+ Guarantees 15W High-Speed Charging
+ Made with 38 magnets that work as super magnetic absorption
+ Works ten times stronger during magnetic absorption
+ The screen size is 6.1 inches
+ Ensures Anti-slip, Anti- strain, and Anti-scratch
+ Gives super lens protection
+ The four protruding airbags ensures military-grade protection
+ Provides 1.5mm bumps on the side of the screen
+ Guarantees all-round protection for the thin and light ratio
+ Comes of the best girlish style and color
Reasons to Reject
– It doesn't have appropriately aligned buttons
– Doesn't fit any other iPhone models
5. Ownest iPhone 13 Pro Max Case
---
Ownest is one of the renowned brands that give the best design for your iPhone 13 Pro Max. This case comes with a cute bear design, and it is practical and straightforward. In addition, it is more convenient because of its lightweight and smooth touch feeling.
Initially, it is made of Silicon and Thermoplastic Polyurethane. However, this case is suggested for girls and women only as the color and design don't match most males' tastes.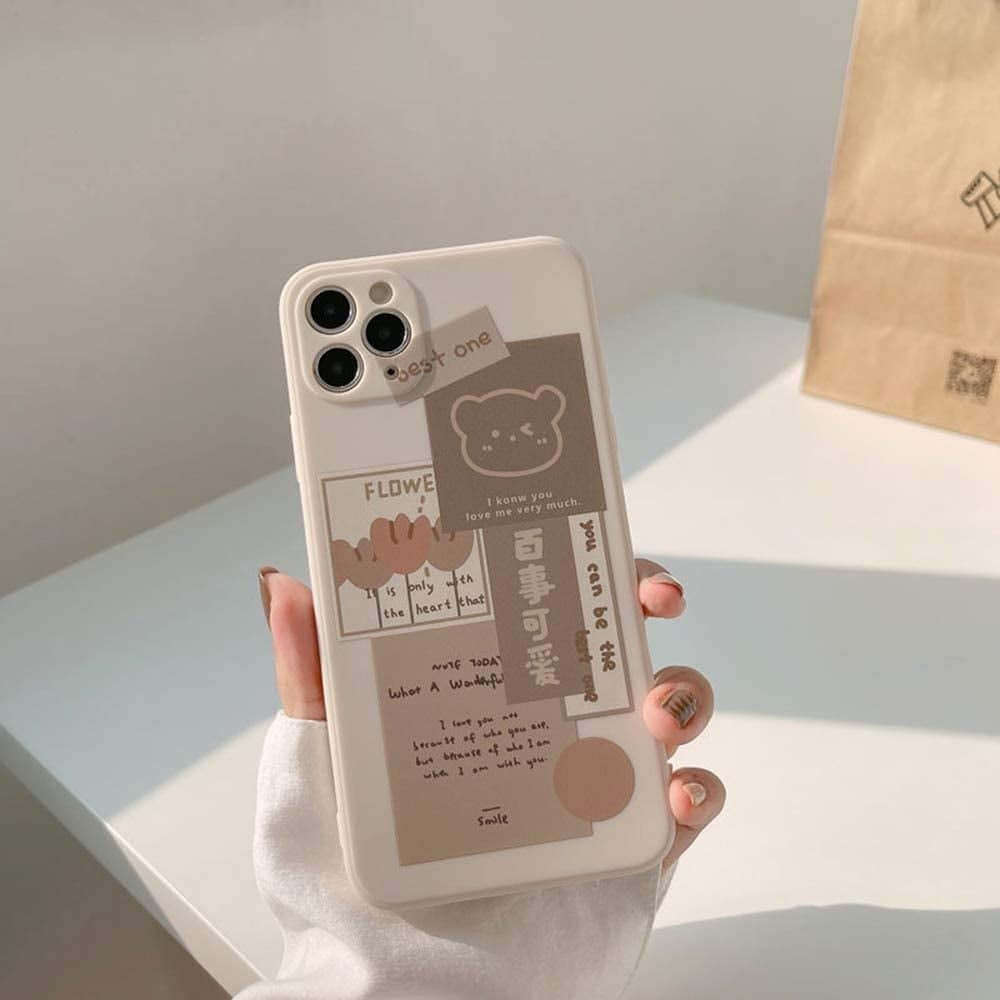 No wonder this iPhone case is durable enough, and it will not cause any damage even if it falls from a very high altitude. Also, it is fingerprint resistant and easy to remove any stain on it.
Besides, this case absorbs any bump protection, and for better security, it covers all four sides of the buttons. Indeed, when it comes to the size, you will feel very comfortable. Indeed it is one of the best to fit your iPhone pro max for daily wear and tear.
Reasons to Purchase
+ The color and design will go very well with girls and Women
+ Available only in brown color
+ Comes of simple fitting design
+ Made of TPU inner frame
+ Weighs only 35g
+ Supports wireless charging
+ Comes with 8.5 in length, 4.92 in width, and 0.55 inches in height
Reasons to Reject
– Not well suitable color for men
– No variety in color is available
6. ORNARTO iPhone 13 Pro Case
---
There is a lot to say when it comes to this sleek ORNARTO iPhone 13 Pro Case. This protective case is covered with smooth gel rubber, and therefore the inner cushion is made of extra-soft microfiber lining.
A wide range of macaron colors includes shades for both dark colors for men and light ones for women. You can pick any of them according to your taste and mood. Plus, the case will not disrupt the charging speed at all.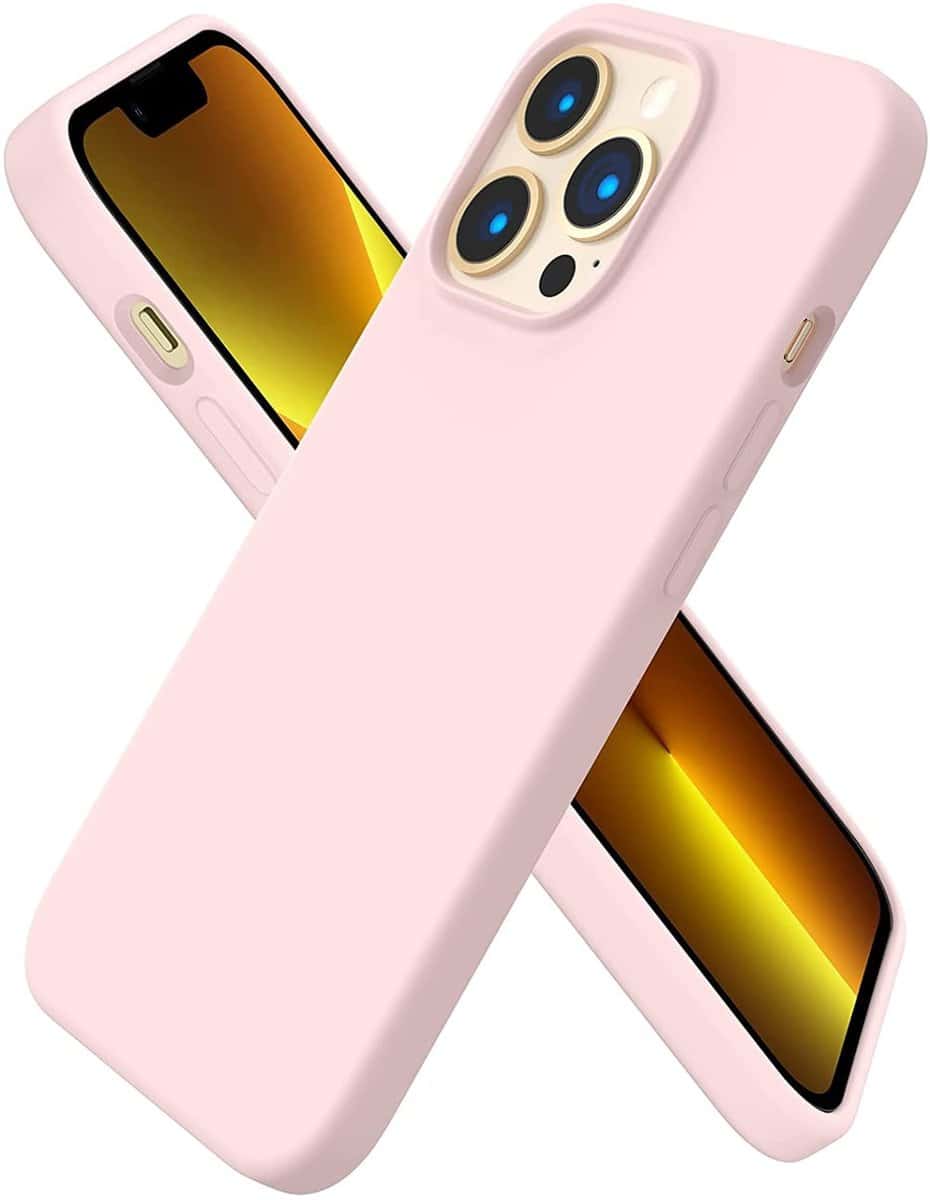 This case has 3 Layers constructed with liquid silicone to offer rough and tough performance for a long. It fits seamlessly and keeps the corners of the phone protected. There is a raised bevel around the camera and flashlight.
Because the texture and materials feel slim and soft in the hands but do not slide while gripping. Also, it is easy to install and disassemble. In addition, this est iPhone 13 case keeps the Dust away.
Reasons to Purchase
+ Resist any kind of scratches
+ Available in 17 different colors
+ Dust and stain is easily wipeable
+ Provides extra safety for the lens
+ Skin-friendly material is also resistant to fingerprint
+ Offers volume buttons and silent buttons
Reasons to Reject
– May seem uneasy to hold because of the bulky shape
– Isn't usable with other iPhone models
– Silicone might stick with other things
7. Ownest iPhone 13 Case
---
Let's talk about a case that serves your phone protection purpose with much more. Ownest iPhone 13 Case has a slim design that is aligned to the phone screen, and the high-quality non-smooth PC materials come up with excellent matte texture. Also, the sides of the case are created with molded TPU so that drops and bumps can not cause any harm to the phone. Moreover, the case has a front bevel edge to shield the screen.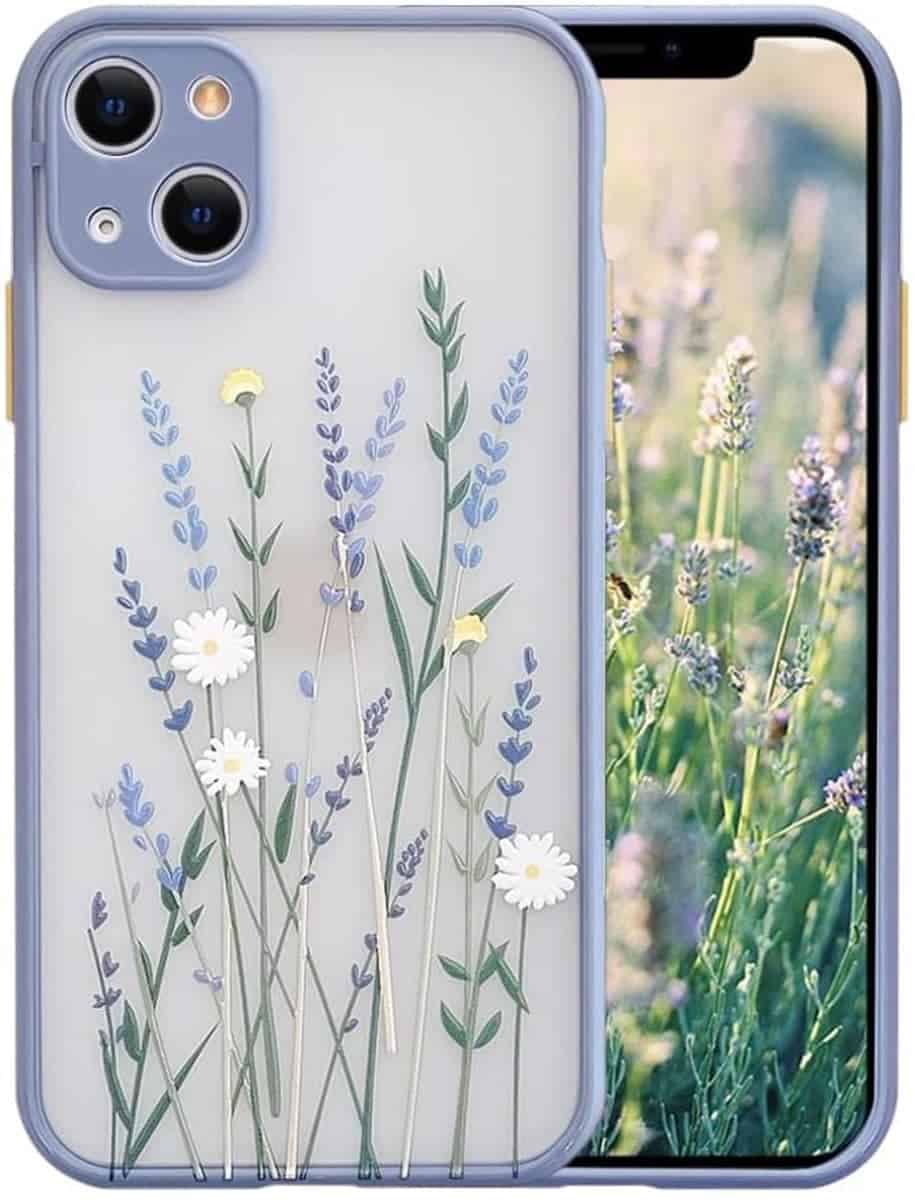 The case is made of silicone and thermoplastic polyurethane, which makes it totally electric shockproof as well. Furthermore, the 3D floral print is perfect for girls and women of every age. Besides, you won't need to remove the case to reach any port as it has delicate cutouts in it. Again, it won't interrupt the sound system and quality. In fact, the scratches and fingerprints won't show up on the case.
Reasons to Purchase
+ Provides comfortable grip along with elegant design
+ Color-coded buttons give precise controls
+ Available in 2 different colors and flowers
+ Wireless charging is supported
+ Clear skin shows the actual color of the phone back
+ Convenient for charging port and headphone jack
Reasons to Reject
– Not compatible with any other iPhone models.
– Mustard color buttons do not match the flowers and look good
– The floral design may not get the attention of most men
8. MOCCA iPhone 13 Case
---
A professional brand fulfills the customer's need and comes up with the best products, just like MOCCA iPhone 13 Case. The minimalist design is stylish and has a modern look. Besides, it can keep you safe from harmful shocks. Here, the case will serve multiple purposes. The ring attached to it can move 360 degrees around and 180 degrees from behind. Therefore, you can make a kickstand with the ring.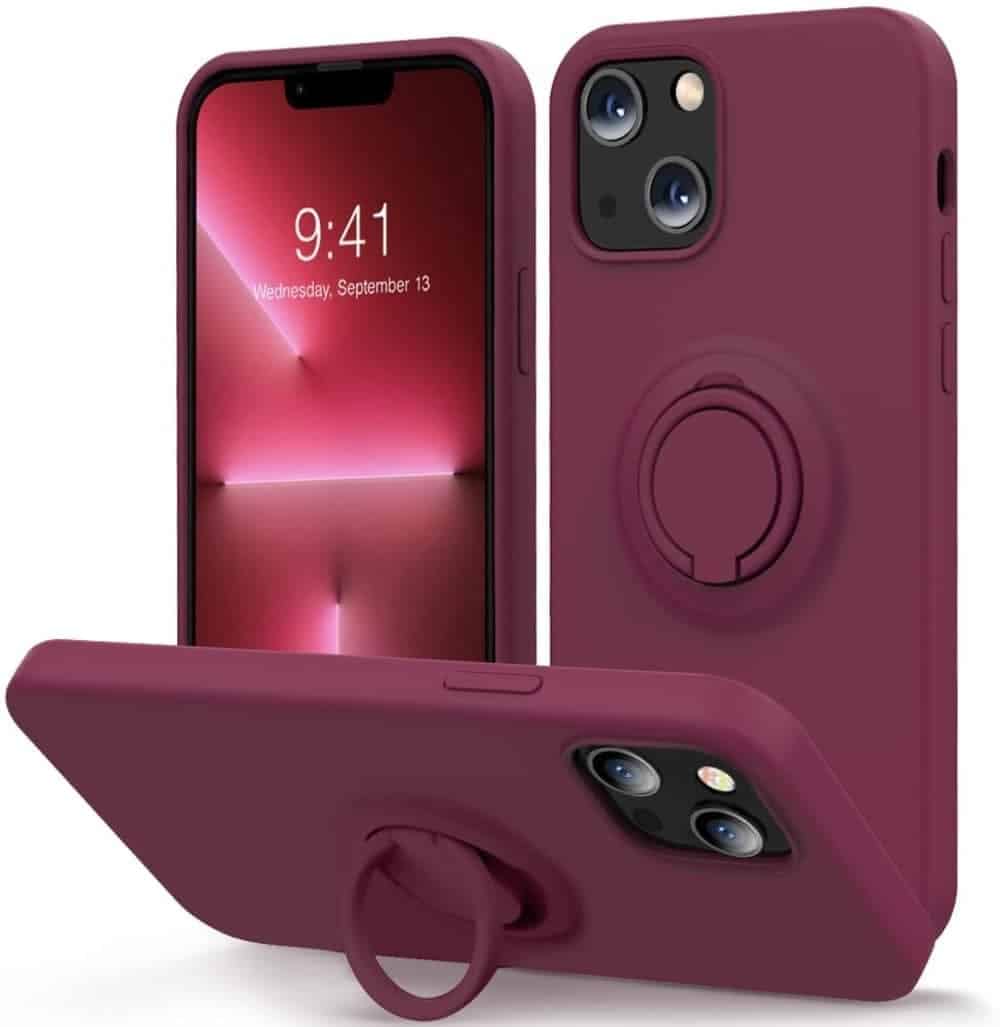 Some colors are perfect for women, dark ones will bring the manly vibe for men, and neutral colors are also up for grabs. The case is thin and lightweight too, and the microfiber lining inside of it is an added advantage. Moreover, the uplifted edges around the screen and camera protect from scratches. Also, that helps to avoid friction with other surfaces as much as possible.
Reasons to Purchase
+ Comes with a skin-friendly, soft, and smooth texture
+ Matching ring for precise control of the phone
+ Covers the bottom properly
+ The ring is rotatable to any desired angle to convert it to a kickstand
+ Available in a bunch of different colors
Reasons to Reject
– Not applicable for any other iPhone model
– Very few users report about its durability issue
9. Nillkin iPhone 13 Pro Max Magnetic Case
---
When protecting a phone's camera is your main concern, you should definitely go with Nillkin's best iPhone 13 Pro Max Magnetic Case. The best part of this case is its customizable lens cover that you can easily remove from the case anytime you want.
Plus, the four corners are specially created with elastic protection. Additionally, there are different color options for this design on the market, and the vibrant dark colors are best suited for both men and women.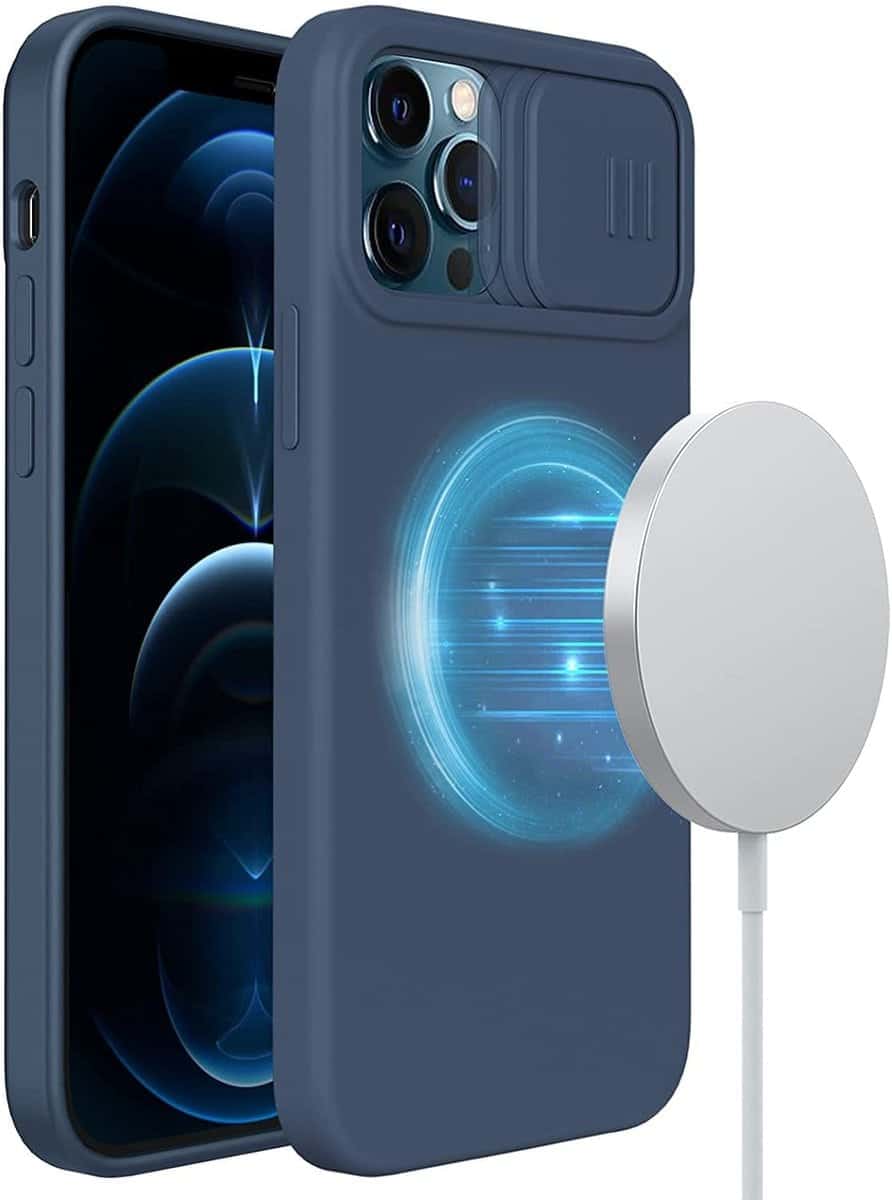 This product is reliable for the scientific method of multiple-layer shields. The layers consist of microfiber lining, magnets, pressure-resistant PC, and liquid silicon. Furthermore, it is 360 degrees all-inclusive, close to the fuselage. Control buttons and sensors will have easy access. The case is also easy to clean when dirt gets on it. However, you need to be careful about bending the case firmly because it can break the magnet.
Reasons to Purchase
+ Slide camera cover gives extra protection to the lenses
+ Includes built-in magnet circle with 38 magnets in it
+ Supports wireless car charging
+ Adaptable with MagSafe wallet
+ Restrains from oil stains on the phone case
+ Extra safety at the corners with elastic
Reasons to Reject
– Magnet array may seem weak
– Isn't covered by the microfiber finish in the magnet array
– Can fall off while sliding
10. Aowner iPhone 13 Pro Max Case
---
And we are here for the final recommendation. This slim design protective cover is made of high-quality liquid silicone gel. The TPU Bumper allows you to adjust the finger grip loop. In addition, the case will prevent any kind of damage in case of falling or bumping.
It will keep your phone safe from Dust as well. Furthermore, lifted edges around the screen and camera are a plus point. Moreover, the case offers necessary safeguarding against Shock as well.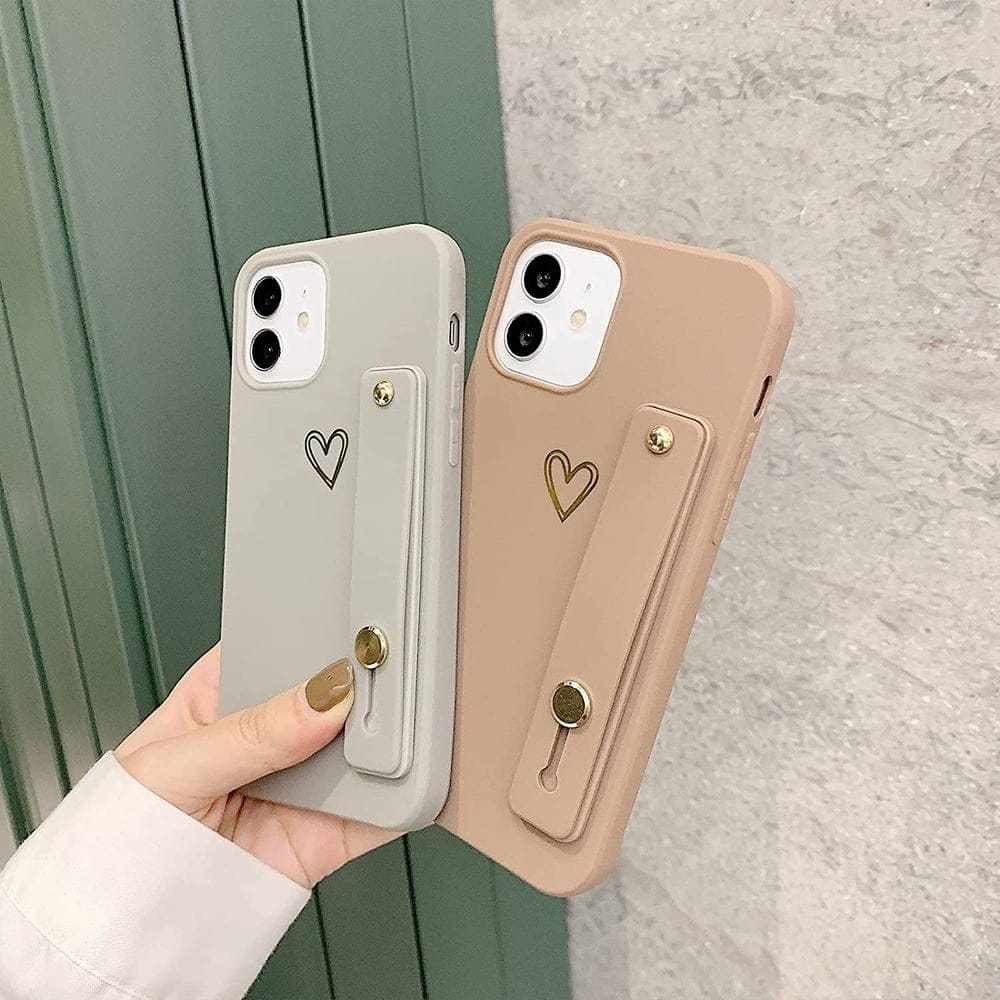 The two available options for color are brown and grey, from which you can pick any. Again, this best iPhone 13 case would perfectly work for daily use. Plus, it is fingerprint-proof on the outside.
As the design pattern, you can present it to your male or female friend on different occasions. The company has excellent customer service so that you can contact them for any inquiry or details about the product.
Reasons to Purchase
+ Wireless charging is supported
+ Designed with a hand strap behind for precise grip
+ Hand strap is transformable to kickstand while watching movies
+ Glittery golden heart pattern is more attractive
+ Made with durable and flexible materials
+ Fully electric shockproof
Reasons to Reject
– Doesn't have a lot of color variations
– Not a suitable color option for men
FAQ
---
Q: Is a MagSafe case safe to use?
A: Yes, a MagSafe compatible case is definitely safe to use. Generally, a MagSafe compatible case lets your newly launched iPhone 13 get charged with the wireless chargers. This kind of charging system is quite new at this moment.
Basically, the wireless chargers charge the phone using the power of magnets. As you cover your phone with the case you have to make sure that the magnet power can get in touch with your phone.
A MagSafe compatible case lets your phone get charged properly with that kind of charger. This kind of case generally comes with a ring-shaped loop that lets the magnet of the charger get in touch with your phone. So, there is nothing dangerous in it anyway. That's why there's no reason you can think that these cases are harmful.
Q: Why are MagSafe cases for iPhone 13 costly?
A: The new Mac save compatible cases for iPhone 30 are a little bit costly. No doubt, it is just because of the new technology. A MagSafe compatible case is designed with the magnet loop and so, the manufacturer cost gets higher. Simply, that makes the case more costly than before.
Q: What material is best for the iPhone 13 case?
A: Silicone and rubber are the best materials for the iPhone 13 case. This kind of soft material case comes with better protection from accidental falling. Most other thick and strong materials like plastic can easily get damaged and also be harmful to your phone. When the thick and crisp material case breaks, it can scratch your device. But if the material is soft like silicone and rubber, there is no way to break the case.
Finally, Insights
---
Once again I would like to remind you to choose a case that is protective, comfortable to carry, and suits your style. Hopefully, you will find something appropriate for you from the best iPhone 13 cases we recommended. Eventually, you can check the price and other details from the Amazon link we added. So, here we take our leave for today. Will soon appear with something new. Thank you for your time.