VMware is the most popular software company providing enterprise-level cloud computing and virtualization solutions. If you're a tech professional, chances are you have worked with or at least know its name. VMware is widely used to deploy servers and cloud platforms on the web. Many home users also use it to create their favorite Linux virtual machines. Moreover, they offer a huge list of user convenient utilities, known as VMware tools. These are developed especially to enhance the performance of your virtual machines and make management almost effortless. This guide will discuss 30 extremely useful VMtools that can make virtualization more accessible than ever.
Best VMware Tools for Tech Professionals
---
Some VMware tools increase your virtual machines' speed and performance, whereas some VMware management tools will make administration into a child's play. Our editors have compiled this list with all kinds of tools to help modern tech professionals. Take a glance through them and install the ones you really need.
1. As Built Report
---
The first pick in our list is a compelling configuration framework used to produce build documents in several formats, including text, HTML, XML, and Word. It utilizes the Windows PowerShell and its documentation framework PScribo. Admins often use this robust tool for creating reports for their IT-related tasks. Moreover, this tool is pretty lightweight and won't be consuming significant resources of your virtual machines.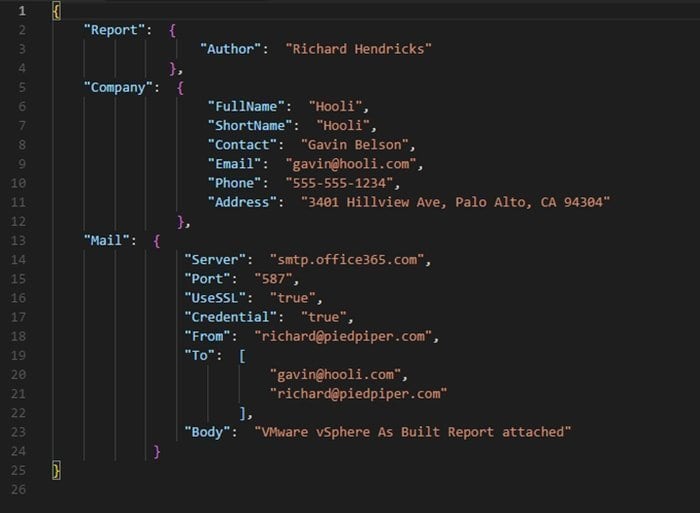 Features of As Built Report
As Built Report comes with in-built support for several custom styling templates, including Cover Page, TOC, colors & Fonts.
It can be used to perform health checks of your VMware configuration issues and send reports over the internet.
The user interface is pretty straightforward and looks quite legit when you consider its light memory footprint.
This VMware administrator tool is entirely open source and can be modified or extended without any legal problem.
Get As Built Report
2. ESXTOP
---
ESXTOP is one of the best VMware tools for analyzing the performance issues of your virtual machines. It is a robust resource management tool that is available in the vSphere and ESXi virtualization environments. ESXTOP is widely used by VMware administrators to capture resource usage against performance metrics.
Moreover, its efficient analyzing abilities can help reduce any potential drawbacks in performance. Seasoned Linux users can think of this as a VMware alternative to Unix TOP.
Features of ESXTOP
ESXTOP provides real-time environment details for your virtual machines, including disk space, CPU, network, and memory usage.
It is a command-line tool that makes it maintain a low memory footprint and be performance efficient at the same time.
ESXTOP allows the creation of live connections to ESX hosts and supports color coding for relevant counters.
It provides users with a handy way of load batch output and replays them as necessary.
3. Cross vCenter Workload Migration Utility
---
If you're an IT professional responsible for managing multiple virtual machines, the Cross vCenter Workload Migration Utility is among the best VMware management tools for you. It is a compelling utility that enables admins to migrate virtual machines between several vCenter servers using a nicely laid out GUI interface. It is a competent tool with features aimed at modern-day virtualization service providers.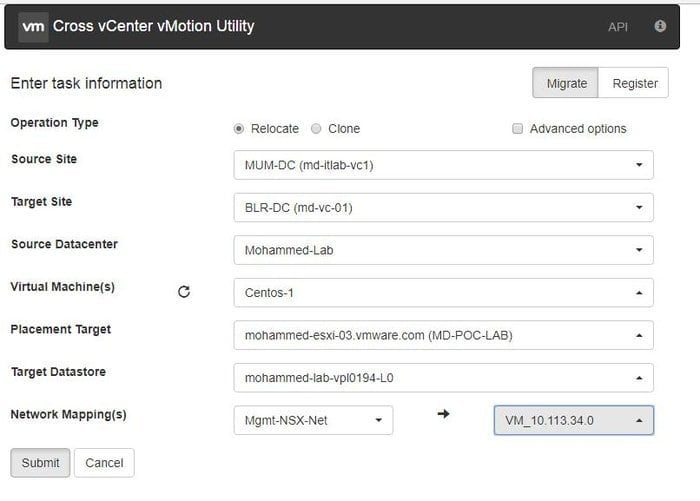 Features of Cross vCenter Workload Migration Utility
The entire UI-driven workflow of this VMware tool makes it straightforward to migrate multiple virtual machines simultaneously.
Admins can either migrate their virtual machines in parallel or create batch migration jobs using this tool.
It can auto-populate inventories for convenient management and supports REST APIs for automating migration tasks.
Cross vCenter Workload Migration Utility allows both storage vMotion and shared datastore migration for your VMs.
4. Vmware Git
---
Git has become the de-facto version control system for both open source and proprietary projects since its inception in 2005. It makes it easier to contribute to projects that you are interested in and can be a great way to increase third-party collaboration for your Vmware projects.
Although VMware virtual machines don't allow users to connect to the internet by default due to security policies, admins can usually get around this issue by utilizing a bridged network between the VM and the host.
Features of VMware Git
Users need to establish a bridged network connection via the host machine's network adapter to use Git on their VMware machine.
You need to have the Git client installed in both the host machine and the Vmware virtual machine.
A shared folder is required where you will keep or work with the files of your projects.
It is possible to integrate Git client via the cloud assembly feature of your VMware machines.
5. HCI Bench
---
HCI Bench is the short form for "Hyper-converged Infrastructure Benchmark," a robust automation layer around the open-source Vdbench and Fio utilities. It is a modern-day VMware administrator tool that can effectively benchmark your virtual machine's performance metrics.
If you work exclusively with HCI clusters, this tool will come in handy to automate your tests. Overall, HCI Bench is an excellent solution to many of your VMware automation problems.
Features of HCI Bench
HCI Bench allows admins to accelerate their POC performance testing via a fully automated end-to-end process.
This Vmware Tool can be used for launching test virtual machines, aggregating the test result, and troubleshooting.
HCI Bench allows admins to evaluate the performance of both vSAN and Hyper-Converged Infrastructure Storages.
The data provided by this VMware tool can be used to determine potential bottlenecks in your virtual machines.
6. Hyper
---
Hyper is, without any doubt, one of the best VMware tools for virtualization service providers. It offers an elegant and extensible command-line interface built using open web standards. Hyper focuses primarily on speed and performance, alongside stability and security.
It also provides a robust list of APIs that makes communicating much easier for VM admins. Hyper is currently available for all major guest system platforms, including Linux, Windows, and Mac OS.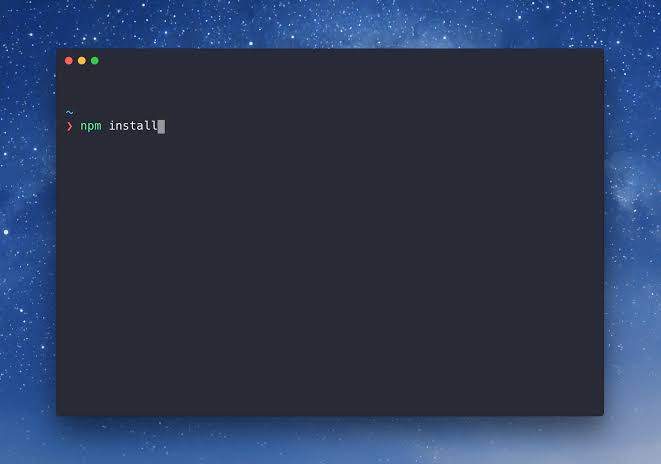 Features of Hyper
Hyper is exceptionally configurable and supports a wide array of keymaps and extension APIs by default.
The user interface is simple yet offers a great deal of productivity-enhancing features and is well-tested.
The open source nature of this VMware tool encourages developers to extend its functionality based on their requirements.
A large number of pre-built extensions for Hyper are already available in the npm package manager.
7. Linux VSM
---
Linux VSM is an intelligent Linux port of the popular VMware Software Manager. It is a modern-day solution offering a wide array of convenient features that will make managing virtual machines easier for both home and professional users.
If you're a VMware administrator in charge of managing large-scale virtual machines for enterprise purposes, this is a must-have tool in your arsenal. Despite the massive potential of this VMware administrator tool, it's entirely free of charge.
Features of Linux VSM
Linux VSM's intelligent approach to software management ensures that your operation will not break in case of missing files.
The open source nature of this Linux VMware Software Manager allows third-party devs to add new functionalities as they desire.
VSM for Linux allows admins to log into their VMware account, view active/past downloads, change or edit the download subsets, and many more.
It is a lightweight software that makes it especially suitable for resource-intensive virtual machines.
8. IOInsight
---
IOInsight is one of the best VMware tools for keeping your block devices in check. These are the removable drives and other I/O devices used by your VMware virtual machines. IOInsight allows admins to monitor these devices with an easy-to-use interface that offers numerous operations.
The software can be operated effortlessly and used by many professional virtualization experts due to its practical applications and robust performance-enhancing functionalities.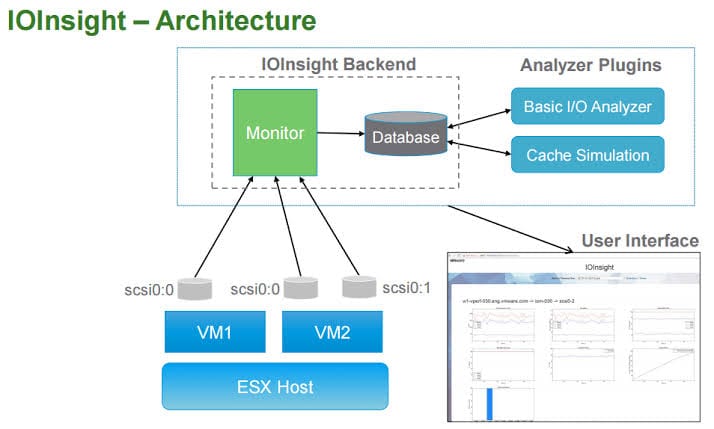 Features of IOInsight
This disk monitoring tool's web-based user interface makes it very easy to monitor your I/O devices for problems.
IOInsight allows users to choose which VMDK(Virtual Machine Disk) they want to monitor and troubleshoot.
It is useful for optimizing the overall performance of your virtual machines by identifying and solving storage bottlenecks.
IOInsight is often used for tuning the size and performance of block devices by professional VMware administrators.
9. vRealize Log Insight
---
Performing regular checkups of vSphere data is essential if you want your enterprise clusters to keep running smoothly. The vRealize Log Insight tool is developed for this purpose. It is an industry-standard software for analyzing system logs and is very well-supported.
If you're a professional VMware administrator working with large-scale heterogeneous clusters, vRealize Log Insight can be one of the most useful additions in your toolkit. However, this tool is not free, like most of the tools mentioned here.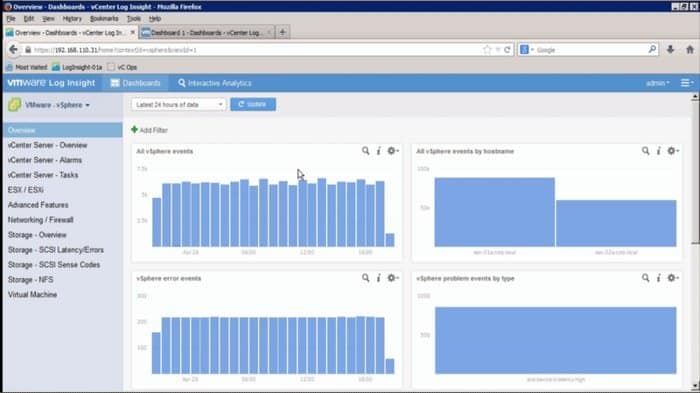 Features of vRealize Log Insight
vRealize Log Insight collects all types of logs(application data, network traces, configurations, system dump) generated by your virtual machines.
It can automatically structure unstructured log data for helping to build high-performing clusters.
Modern virtualization engineers frequently use this tool for monitoring and analyzing log data in real-time.
The vRealize Log Insight tool is exceptionally scalable and designed to work with continuously expanding systems.
10. mRemoteNG
---
Since virtualization is the most common area of Linux virtual machines, it is mandatory to have a full-fledged remote connections manager that will allow you to manage multiple systems simultaneously. mRemoteNG is one such tool that can be used for this purpose.
It is one of the most simple yet elegant solutions our editors could find for such situations. Moreover, this software's highly efficient performance makes it pretty hard for us not to recommend it to a fellow professional.
Features of mRemoteNG
mRemoteNG's open source nature makes sure developers can modify or extend this remote connection manager's functionality based on their requirements.
It supports a massive list of remote connection services, including Virtual Network Computing (VNC), SSH, rlogin, HTTP[S], telnet, and Remote Desktop Servers (RDP).
mRemoteNG offers out-of-the-box support for raw socket connections and the Citrix Independent Computing Architecture.
They have a pre-built binary available for only Windows systems, so you'll need to compile it from the source.
11. pgAdmin
---
PostgreSQL is one of the most widely used database systems used for developing modern-day enterprise applications. The pgAdmin tool is among those few VMware tools dedicated solely to managing these databases and doing a pretty great job on their part.
The software is simple yet offers many features, including cross-platform support, syntax highlighting, and carefully prepared documentation. Our editors highly recommend pgAdmin for enterprise software developers due to its rich feature set.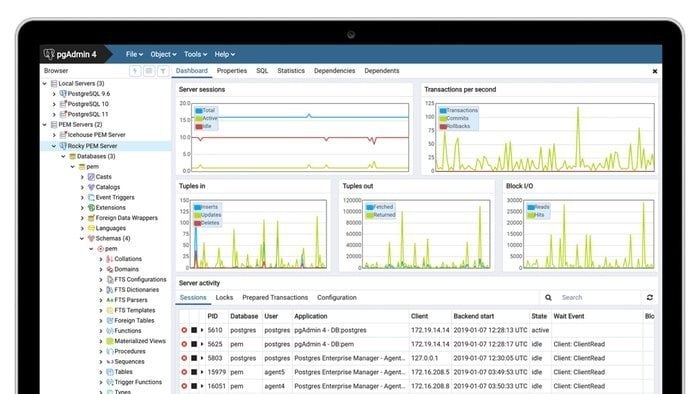 Features of pgAdmin
pgAdmin offers a potent query tool with convenient features such as syntax highlighting, query analyzer, and effective searching techniques.
It is entirely free to obtain or use and encourages third-party developers to extend the tool's functionality as they require.
pgAdmin implements a highly optimized version of Webpack, which increases its overall performance by a high margin.
It allows users to manage PostgreSQL servers located behind reverse proxies and allows optional backup partition tables.
12. pocli
---
pocli is a beneficial yet straightforward client software for ownCloud. It is built using the Python programming language and allows convenient file operations for making cloud management easier.
This is a command-line only tool and aims at users who don't use GUI on their virtual machines at all. If you're a professional virtual system administrator who works extensively with your ownCloud or Dropbox, consider pocli to be an excellent choice for you.
Features of pocli
pocli is developed using Python's standard libraries and runs smoothly on all kinds of virtualization hardware that supports Python.
It enables administrators to upload and download files alongside the ability to manage directory hierarchies efficiently.
pocli is, without any doubt, one of the most lightweight client software solutions for ownCloud users and admins alike.
It is straightforward to configure your cloud logins with its easy to edit configuration files.
13. Postman
---
If you're a professional web developer or virtual machine administrator, chances are you've worked with or at least heard of Postman. It is a compelling application for checking REST APIs and HTTP clients and simplifies the development and testing phases of modern web-based applications to a considerable extent. Users can easily leverage this tool for crafting highly sophisticated HTTP requests and documenting their APIs.
Features of Postman
Web developers widely use postman due to the simplicity it offers when designing multi-purpose web applications.
It allows admins to make very complex REST, SOAP, and GraphQL requests alongside a real-time in-built version control mechanism.
Postman is free to obtain and use for personal usage and offers subscription-based planning with advanced features for teams.
It is very easy to create automated tests and integrate them inside your CI/CD pipelines to ensure your APIs are stable all the time.
14. PowerCLI
---
PowerCLI is a compelling application that allows admins to automate and manage VMware vSphere configurations effortlessly. It can work with almost any VMware product. Built using the Windows PowerShell, Postman offers an outrageous number of commands that make it easy to manage vSphere, vCloud, vSAN, VMware Site PowerCLI Manager, NSX-T, and VMware HCX, among many others. It is a must-have tool in the arsenal of modern virtualization engineers due to its rich feature set.
Features of PowerCLI
This command-line tool has over 600 hundred plus in-built commands for making virtualization easier for enterprises.
PowerCLI is widely used for managing vSphere, recovering VMware Sites, automating vSphere SDKs, Update Manager, vCloud Director, and other VMware products.
It can be easily scripted using Windows PowerShell and integrated into complex virtualization clusters.
The extensive documentation available for this VMware administrator tool helps admins to use it effectively.
15. RVTools
---
RVTools is one of the most potent VMtools for monitoring modern-day virtual environments. It is a handy application with a plethora of robust features, making it very easy to view your VMware ecosystem's essential information. The software is built using the .NET framework and can connect with several VMware tools such as VirtualCenter appliances, standard ESX Servers, VirtualCenter 2.5, to name a few.
Features of RVTools
RVTools can be used for viewing your VMs, CPU, Memory, Disk, Partitions, Network, Floppy drives, CD drives, and Snapshots, among others.
It is entirely free software and has been reported to have more than one million-plus downloads to date.
RVTools allows admins to update their VMware Tools installed in each of their virtual machines.
Although RVTools is free of charge, it is not open source and doesn't allow users to modify the software.
16. vCenter Converter
---
If you're a professional virtualization engineer working with large-scale VMware clusters, vCenter Converter can be a great addition to your toolkit. It is a compelling tool for converting physical machines into virtual machines effortlessly. It allows admins to do this for local and remote devices and has extensive documentation to help you start.
Features of vCenter Converter
vCenter Converter allows admins to convert multiple systems at the same time without even experiencing the slightest downtime.
This is one of those few VMtools developed, especially for managing large-scale virtual machines remotely.
vCenter Converter provides a centralized console that makes virtual system management more comfortable.
The conversion process is very fast and extremely suitable for enterprises that maintain large VMware clusters.
17. vCheck
---
vCheck is one of the most useful VMware management tools for engineers working with enterprise products. It is an HTML-based framework developed to work with Windows PowerShell and allows admins to schedule automated tasks and sends the information in a readable format over the internet.
It is an ingenious application and can automatically omit information that is not mandatory for your services. vCheck is the perfect solution for people looking for apps that will send them the progress report conveniently.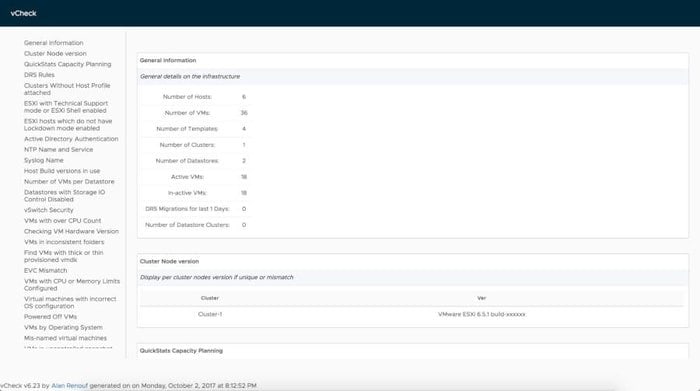 Features of vCheck
vCheck implements careful measures to notify only the crucial information regarding your virtual machine environments.
It comes with excellent documentation support, which makes it particularly appealing to starting virtualization engineers.
Although vCheck can be used for auditing your virtual machines remotely, it's not the recommended tool for this purpose.
vCheck allows admins to hack the script easily and modify it based on personalized criteria.
18. vDocumentation
---
vDocumentation is a modern-day library of useful PowerCLI libraries that can manage large-scale virtual machines effortlessly for VMware admins. It offers a nicely curated set of PowerCLI scripts that can be used to accomplish a wide range of tasks, such as producing infrastructure documentation and saving them into CSV files. If you work with PowerCLI exclusively and have good command over this, then vDocumentation can be the perfect way to create documentation for your environments.
Features of vDocumentation
vDocumentation allows virtual machine administrators to save their infrastructure documentation in various formats, including CSV and Microsoft Excel.
The software is freely available in GitHub, so developers can fork it easily and modify it to fit their problem.
vDocumentation makes it very easy to find all accessible commands, which can help start VM users.
The software implements only a command-line interface, so GUI users might need to look for alternatives.
19. VMware API Explorer
---
Since modern virtualization infrastructures consist of various virtual machine products, it's mandatory to have a tool that lets users inspect their products across numerous platforms. The VMware API Explorer is one such tool that can be used to browse, search, and examine APIs across all major VMware platforms such as vRealize, NSX, vCloud Suite, and vSphere.
Features of VMware API Explorer
VMware API Explorer allows admins to easily select specific APIs, access SDKs, code samples, and other essential resources.
It supports around 80 VMware APIs, including vSphere Automation API, vSphere Web Services API, and NSX-T Data Center REST API, among others.
The Vmware API Explorer can be accessed from any API endpoint, including vCenter servers or external PSC appliances.
20. VMware Capacity Planner
---
The VMware Capacity Planner is a modern-day solution for effectively analyzing the capacity requirements of large-scale virtual machine clusters. Virtualization engineers in enterprises usually use this tool to analyze their VMware disk storage and plan the capacity requirements of their VMware environments accordingly. It is especially suitable for data centers since these services require consistent control over the virtual machine's capacity.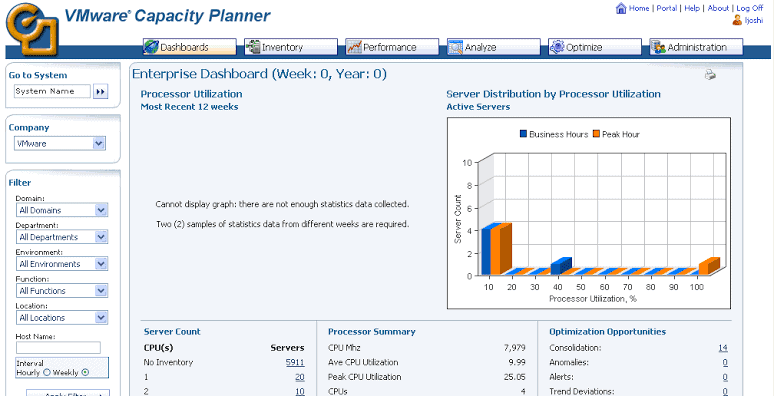 Features of VMware Capacity Planner
Virtual machine administrators can use this software to view the CPU utilization of their data center servers very easily.
VMware Capacity Planner allows admins to study the Processors, RAM, Network bandwidth, and Disk usage across multiple virtual servers.
It can be used for increasing enterprise productivity with server consolidation and optimization.
The capacity utilization trends and virtualization benchmarks provide by this tool can help improve predictability.
21. VMware Health Analyzer
---
VMware Health Analyzer(vHA) is one of the most useful VMware tools for optimization purposes. It can be used for inspecting your virtual machine environments effortlessly and increasing productivity. The tool employs a variety of standard practices to determine your virtual machines' health and reduces system downtimes by a considerable margin. If you're a professional VMware engineer working in enterprise-grade products, you may want to check this software.
Features of VMware Health Analyzer
VMware Health Analyzer provides consistent data collection abilities for large-scale enterprises.
Admins can easily export the collected data to files or may opt in to import them inside existing projects.
VMware Health Analyzer allows administrators to create reports on their virtual machine's health using MS Word tools.
It has in-built support for networking and can use several ports for making SSH, HTTP, and HTTPS requests.
22. VMware OS Optimization Tool
---
Optimization of guest operating systems is essential for the performance of your virtual machine infrastructure. The VMware OS Optimization Tool is one of the best VMware tools for this purpose.
It can be used to optimize various Windows OS such as Windows 7 and 10. It offers some advantageous features in this regard. So, If you're deploying your products inside a Windows virtual machine, consider checking out the VMware OS Optimization Tool.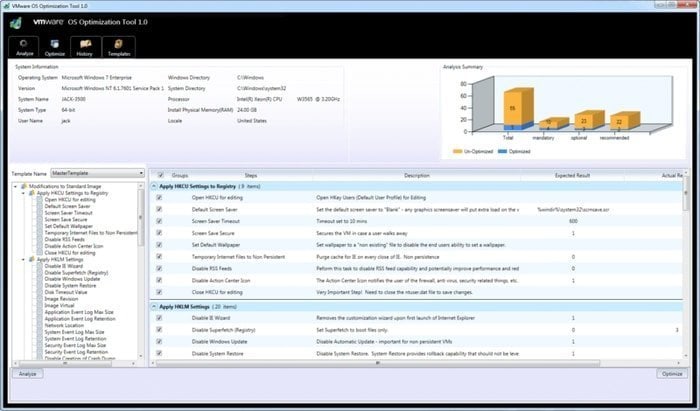 Features of VMware OS Optimization Tool
VMware OS Optimization Tool allows admins to effectively manage the templates, optimize the history and rollbacks of their virtual machines.
You can use this VMware administrator tool for optimizing both local and remote virtual machines.
It is often used for disabling Windows services that take too many resources of the host system.
Get VMware OS Optimization Tool
23. VMware Project Onyx
---
The VMware Project Onyx is a robust utility that allows admins to generate codes based on simple mouse clicks in the vSphere client. It is aimed at making visualization easier for busy developers and does a great job.
This standalone application acts as a proxy between the vSphere Client and the Server software running on different locations. It is the perfect tool for experienced developers working on enterprise-level visualization projects.
Features of VMware Project Onyx
VMware Project Onyx monitors the network communication between the vSphere Client and the vCenter Server for generating the code samples.
It creates PowerShell code snippets based on the afore-mentioned communication.
Onyx allows admins to modify or save this code for use inside another project file.
It can be used for building automated intelligent solutions for your VMware infrastructure.
24. VMware Skyline
---
VMware Skyline is a support software to enhance the productivity of teams that manage highly complex virtualization environments. It helps users in avoiding many potential problems by increasing the overall efficiency of their VMware environments.
It ships natively with your VMware Production support or the Premier Services plan. If you're building or maintaining large-scale infrastructure, VMware Skyline is a must-have tool for you.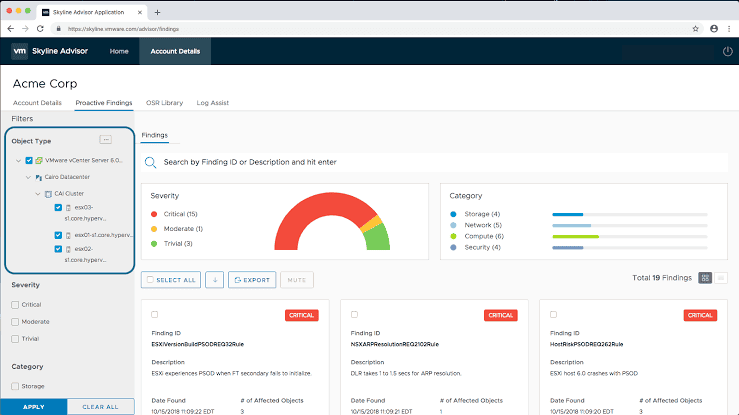 Features of VMware Skyline
VMware Skyline consolidates the SW compatibility regular checks across services like vSphere, vSAN, NSX-v, vROps, and Horizon.
The in-built integration of Dell EMC SupportAssist makes VMware Skyline the best of its kind.
The Skyline Log Assist feature of this VMware administrator tool can automatically upload log bundles to VMware Tech Support.
25. VMware vRealize Orchestrator
---
vRealize Orchestrator is one of the most beneficial VMware tools for enterprises due to its rich feature set and diverse usage. It is a compelling administration tool that allows admins to create automated workflows to tackle day-to-day tasks conveniently. It provides a friendly GUI interface that offers drag-and-drop support. Overall, it is a beneficial solution for IT managers in charge of operational management and IT agility.
Features of VMware vRealize Orchestrator
It becomes straightforward to design and deploy scalable automation workflows to handle complex IT processes using this tool.
This VMware tool's open and flexible architecture allows admins to properly handle service desks, change management, and asset management.
VMware vRealize Orchestrator makes management more insightful by offering many plug-ins based on PowerShell scripts and robust Web APIs.
Get VMware vRealize Orchestrator
26. WinSSHterm
---
WinSSHterm is a compelling ssh client for guest systems running Windows and combines a tabbed solution with many useful tools like the WinSCP, VcXsrv, and PuTTY. It can be used for remote login into virtual machine clusters and operate on them effectively.
Thes software is really lightweight and offers consistent performance metrics. So, don't forget to check out WinSSHterm if you're IT personnel working with enterprise-level virtualization products.
Features of WinSSHterm
It is ready for use in production environments and works efficiently with PuTTY executables.
The command-line interface of this SSH client supports multiple tabs, windows and offers eyesight-friendly terminal colors.
WinSSHterm allows admins to share their connections with colleagues or team partners.
You can download the portable version, which can be easily migrated from tools like PuTTY and mRemoteNG.
27. Kubewise
---
Kubewise is a simple yet accommodating VMware client for Kubernetes. It is a lightweight tool that only requires a valid kubeconfig file for executing commands against a Kubernetes cluster.
Kubernetes has become the de-facto container-orchestration system for automating application deployment; Kubewise can be the perfect solution for doing this from your VMware virtual machines. Although Kubewise is not directly associated with the Cloud Native Computing Foundation (CNCF), it does its job pretty well.
Features of Kubewise
Kubewise comes with in-built support for multiple kubeconfig files and highlights security-related data.
It allows users to set proper KUBECONFIG env variables with only a single click in the terminal.
Kubewise can also generate personalized kubeconfig files for a given namespace.
The UI-driven interaction with frequently used Kubernetes entities allows admins greater control.
28. vSphere Mobile Client
---
The vSphere Mobile Client software allows virtualization engineers to monitor and manage vSphere infrastructures directly from their mobile devices. It is a modern-day solution to increase productivity by enabling the system manager to be connected with their vSphere server 24/7. It is one of the few VMware tools that allow admin to control their workstations from their smartphones.
Features of vSphere Mobile Client
It allows admins to review their virtual machine's status, including state, resource consumption, and configuration information.
Admins can easily change the power state of their virtual machines using this mobile application.
The concise performance charts presented by vSphere Mobile Client allow admins to monitor their environments in real-time.
The software is available only for the Android platform as of this writing.
29. vSAN Performance Monitor
---
The vSAN Performance Monitor is one of the best VMware tools for monitoring your virtual network storage's performance metrics. It is a highly useful tool that has several use cases for modern virtualization providers. Once you install and configure this software, it will automatically collect various vSAN performance metrics and provide valuable information.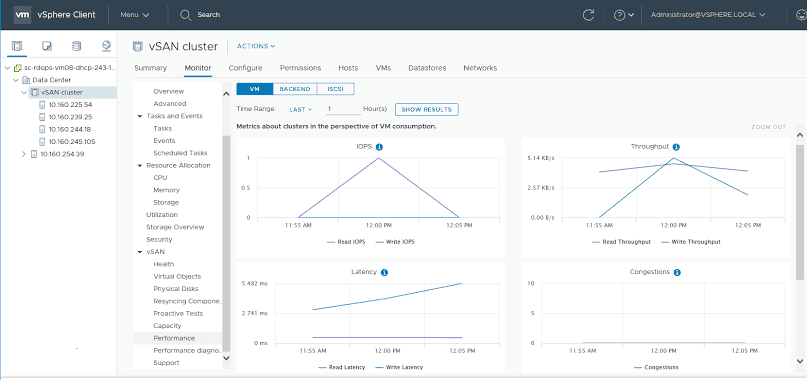 Features of vSAN Performance Monitor
The vSAN Performance Monitor tool has three fundamental components, a Telegraf collector, InfluxDB, and a Grafana frontend.
The Telegraf collector is the agent responsible for collecting performance metrics from the vSAN cluster.
The information is stored inside InfluxDB, and Grafana allows admins to visualize this information.
30. MyVMware CLI
---
MyVMware CLI is a lightweight yet handy command-line tool that can be used for log into and manage my.vmware.com. It is an excellent utility for managing your VMware workstations from the browser and allows some robust functionalities. Download this tool to check how to leverage this for your virtualization projects.
Features of MyVMware CLI
MyVMware CLI allows admins to find each of their products, files, and other version information.
It offers a convenient interface that allows programmatic query and download of VMware product executables.
The software is open source and thus can be modified without any permission.
Ending Thoughts
---
Our editors have gone through a massive list of VMware tools for preparing this guide for you. Hopefully, we have provided you the essentials you were looking for from this guide. We've highlighted several widely use VMware management tools alongside other productive VMtools. Follow the download links given below each application to install it in your VMware machine. Stay with us for more exciting guides on Linux virtual machines and cloud computing resources.