VPN has become one of the essential software for Windows users nowadays. It is really useful for protecting your privacy, personal information, and also browsing history. There are many people who use VPN software and services for streaming and torrenting as well. You will currently find a wide range of options while choosing a VPN software for your PC, although it can cause a problem in choosing the most suitable one for you. VPN apps for Windows PC can route your internet connection from the ISP through their own existing servers. And as these servers are highly encrypted, you can easily beat government surveillance and browse any of your favorite sites.
Best VPN Apps for Windows PC
---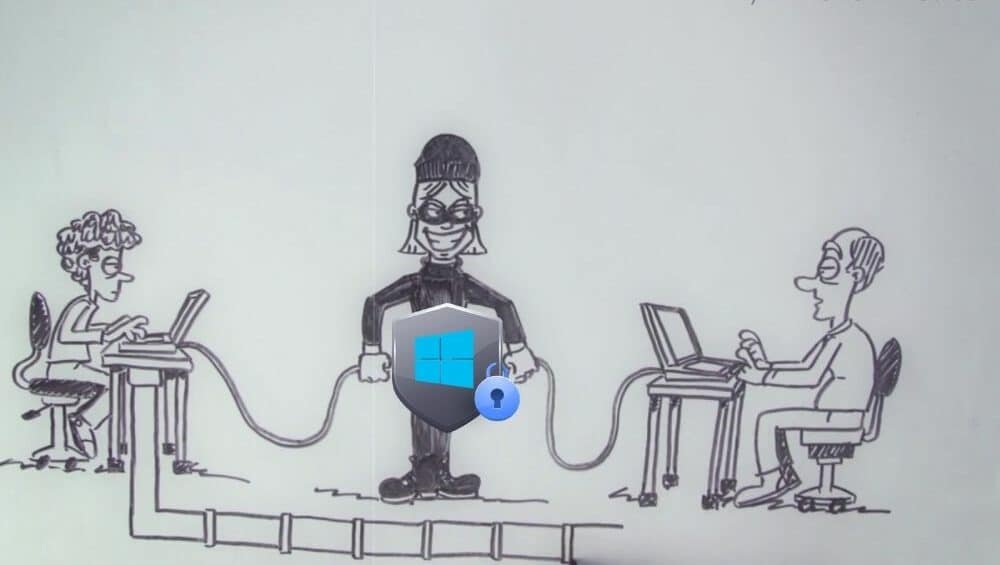 As a result, it was really tough to narrow down the list and pick only the great VPN apps for Windows PC. Windows is a stable, versatile, and well-known platform, which makes it convenient for developing VPN apps. If you are concerned about safe browsing, this list will surely help you pick the best companion wisely.
1. Express VPN
---
We are starting the list of VPN services and tools for PC with this software due to its widespread use all over the world. It comes with a massive number of global network of fast VPN servers at a low price. This VPN will surely help you accomplish your work on the Internet when you are traveling abroad. Besides, if you just look at its client list, you will have no doubt about its reliability and authenticity.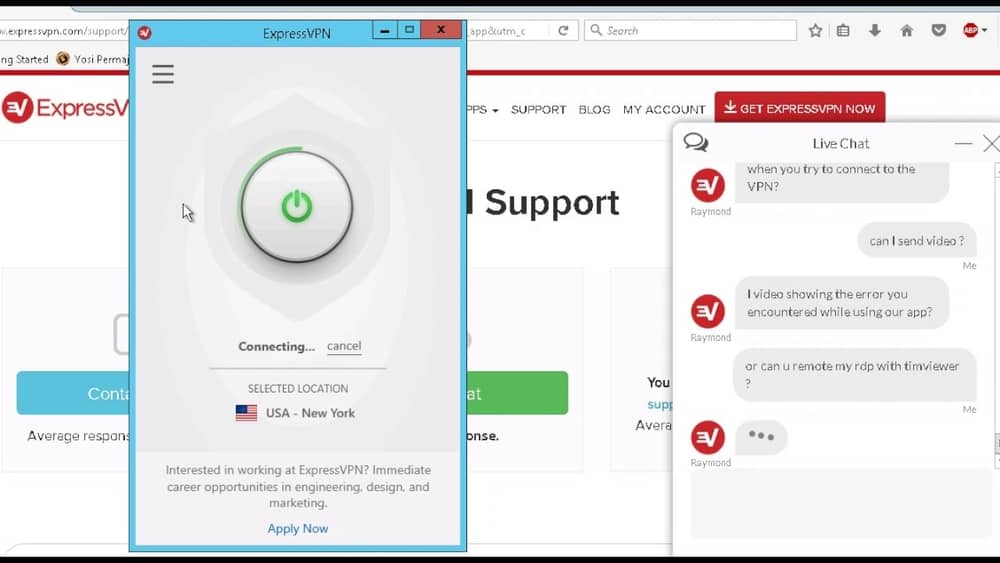 Important Features
The best thing is it comes with a money-back guarantee so if you are not fully satisfied you can ask for a refund.

Rely on this trusted VPN app for Windows 10 as it will not store your activities due to a no-log policy.

You can expect to get a great after-sales service from their friendly support team.

Powered by best-in-class encryption and leakproofing to beat spam, hackers, and spies.

Allows users to experience content even from blocked or censored websites.

Get access to the hidden .onion sites through anonymous browsing.
Pros: Express will enable you to hide your true IP, and you will be able to complete payment using Bitcoins. Besides, you can use it on any platform, including Android, iOS, Linux, Smart TVs, and so on.
Cons: There is no free plan included, so you will have to pay for testing their service. Besides, the pricing plan is more expensive than most of its alternatives.
2. Surfshark
---
Compared to the Express VPN, this is a much cheaper option, although you will not get much difference if you consider the performance. It is powered by 3,200+ servers operating from an astonishing number of 100+ locations. Along with Windows, you can use this app on Android, iOS, and Linux also. On top of that, the pricing plan starts from as low as $2.49, making it a flexible choice for most users.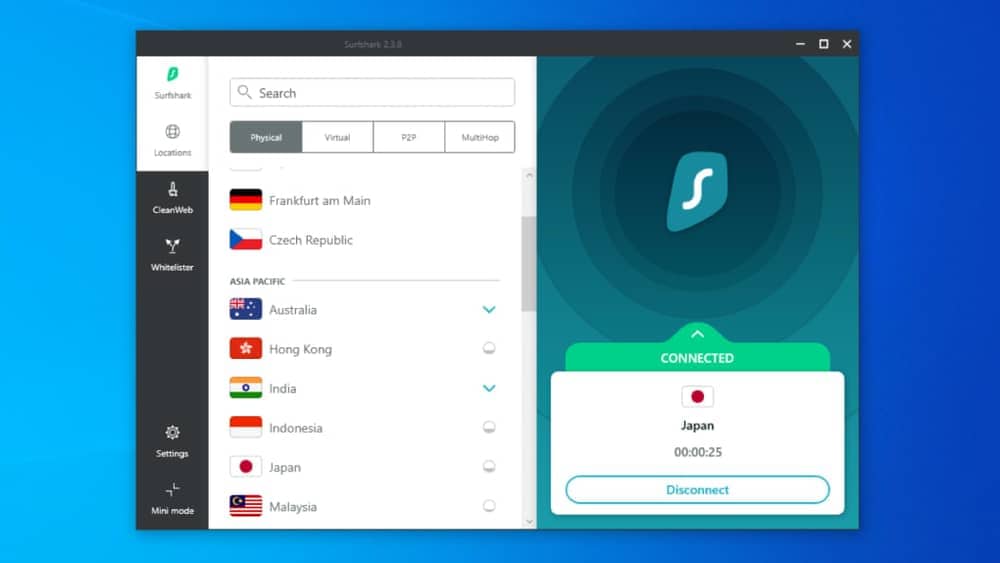 Important Features
If you are wondering how to use VPN software, Surfshark can make your life comfortable through its simple UI.

Allows you to visit streaming services while providing support for more than 15 Netflix libraries. It comes

with a whitelist feature that allows certain apps to bypass VPN connections.

You will be able to beat the malware and phishing attempts. Besides, no ads will be displayed while browsing.

There is nothing to worry about privacy because of its no-logs policy.

Upgrade to pro to connect all of your devices and save a lot of money.
Pros: It is powered by industry-leading encryption and backed by a money-back guarantee. So you will not have to worry about your digital life.
Cons: If you are a torrent freak, this might not be a great option due to its Poor speed while using P2P servers. But if you want to value your money. this tool can be a great choice.
3. NordVPN
---
You can not just ignore NordVPN while making a list for representing the best VPN apps for Windows 10. If the number of available servers is your primary concern, then no other software in this list can come close to Nord. It features more than 5,400 servers to secure your digital life. Besides, the 30-days money-back guarantee is also available. It has a massive number of users, and also there are many industry leaders who rely on this software.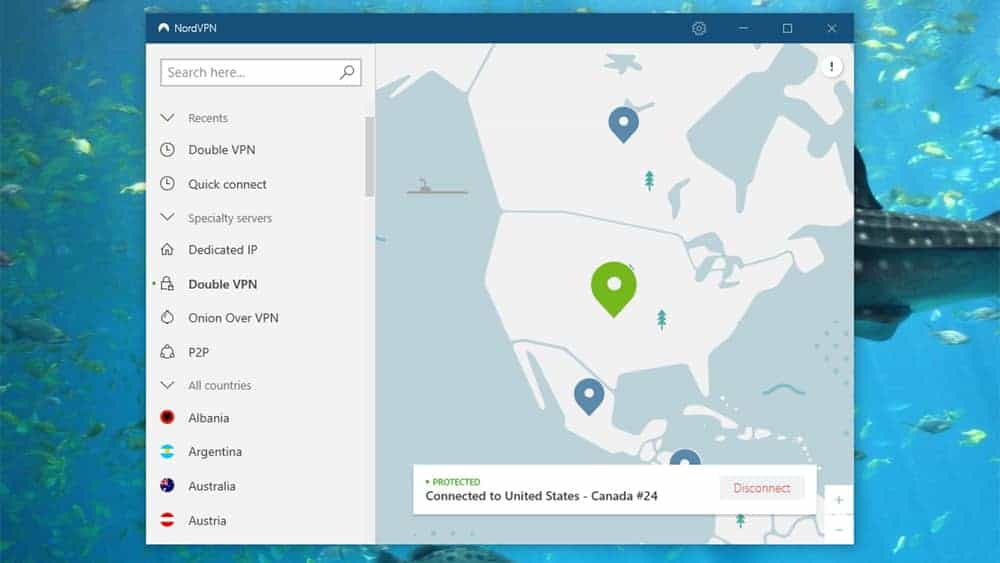 Important Features
It is undoubtedly the fastest VPN available out there, reported by the independent IT security institute AV-TEST.

Can be your great companion while you are exposed to a public network by protecting your browsing data securely.

Its cross-compatibility is out of the world, and you can use this on android, iOS, Linux, macOS, and so on.

You will find encrypted proxy extensions for popular browsers like Chrome and Firefox.

Lets you experience the fast internet speed by its servers located in 59 countries.

You will find a monthly plan and yearly plan along with another 2-year plan to use this app.
Pros: Strick no-logs policy and uninterrupted streaming are the reasons you may become interested in starting using this VPN application on your PC.
Cons: The application consumes high processing power, and also the slow connection to servers often becomes annoying. Also, the OpenVPN configuration is complicated for most users.
4. IPVanish
---
This list is another great VPN software enriched with basic and advanced features to match all of your requirements. It is one of the nicely designed VPN apps as well. It is powered by 1,600+ servers distributed in more than 75 locations. You can go for this VPN tool to visit torrent sites or other P2P clients. Besides, it comes with a kill switch, which turns the app off by default, and you will need to turn it on every time you want to use it.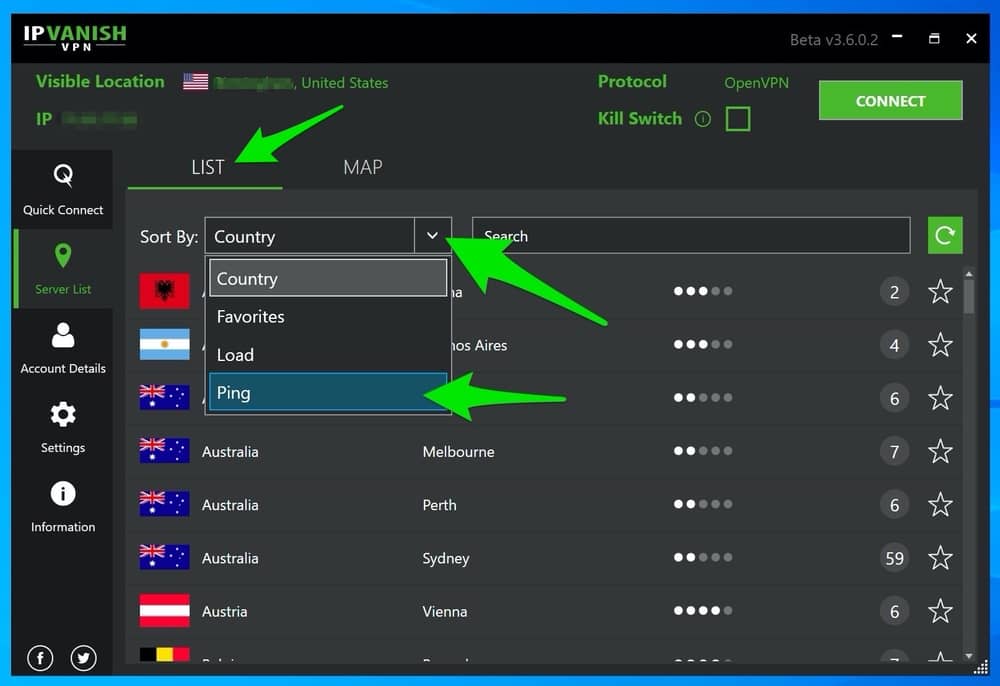 Important Features
With a wide array of settings and features, IPVanish is ready to meet any demand.

You will find natty download speed graphs along with a Quick Connect starting menu within the package.

For the Windows client, it has included multiple languages, which also includes Spanish, Russian, and Hindi now.

Powered by 256-bit encryption, you will have solid protection over OpenVPN, SSTP, PPTP, and L2TP protocols.

Comes with Geo-Locked Content Access along with no-logs support.
Pros: Its cross-compatibility is out of the world, and this application renders adequate Multi-Platform Security for Windows Phones, Ubuntu computers, Chromebooks, and routers also.
Cons: There is no free plan available, and the number of optimized servers is limited. You will also find their customer support terribly, and the client application is not that good.
5. CyberGhost VPN
---
There are many VPN apps for Windows you will find in the market, but when it comes to easy usability and simplicity, CyberGhost is the best. The pricing policy is super flexible, which makes it convenient to use for organizations of any size. So you can check the great features of this VPN anytime only for $2.81. On top of that, you will get Firefox and Chrome extensions within the package as well. Features like split tunning are also available to render awesome performance.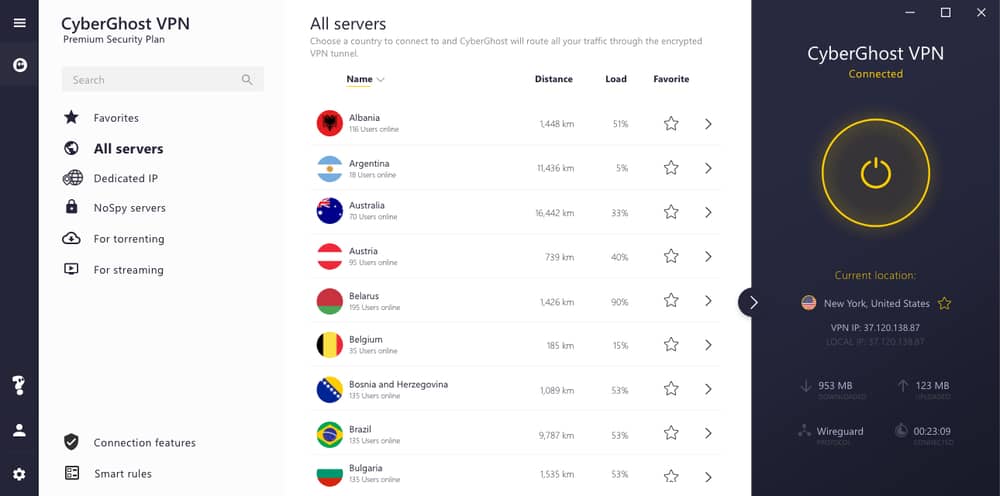 Important Features
Cross-compatible, and you can use it on macOS, iOS, Android, Linux as well.

More than 110 servers are available distributed around 90 countries.

Enables users to explore the websites that have been banned by the government and protect privacy from the ISP.

Besides, all these websites will not be able to track your IP address, so that you can expect an ad-free web.

The developers have tried to maintain all the industry-standard while implementing OpenVPN encryption to ensure security.

It comes with a zero-logs policy and renders high-quality streaming.
Pros: Equipped with DNS leak protection and a kill-switch while users will get a 45-day money-back guarantee, so if you are not fully satisfied, you can unsubscribe anytime.
Cons: Account management is relatively more complicated, and also, there is no option for online chatting with the customer support provider.
6. Hotspot Shield
---
Hotspot Shield is one of the most popular VPN software for PCs when the fastest speed is the primary concern. It is being used by a huge number of people, and its customer base is growing for quite a long time now. Its Catapult Hydra protocol has played a vital role behind its place in this shortlist. You will get the proven TLS-based security based on NIST recommendation, so nothing to worry about security while establishing a client-server connection.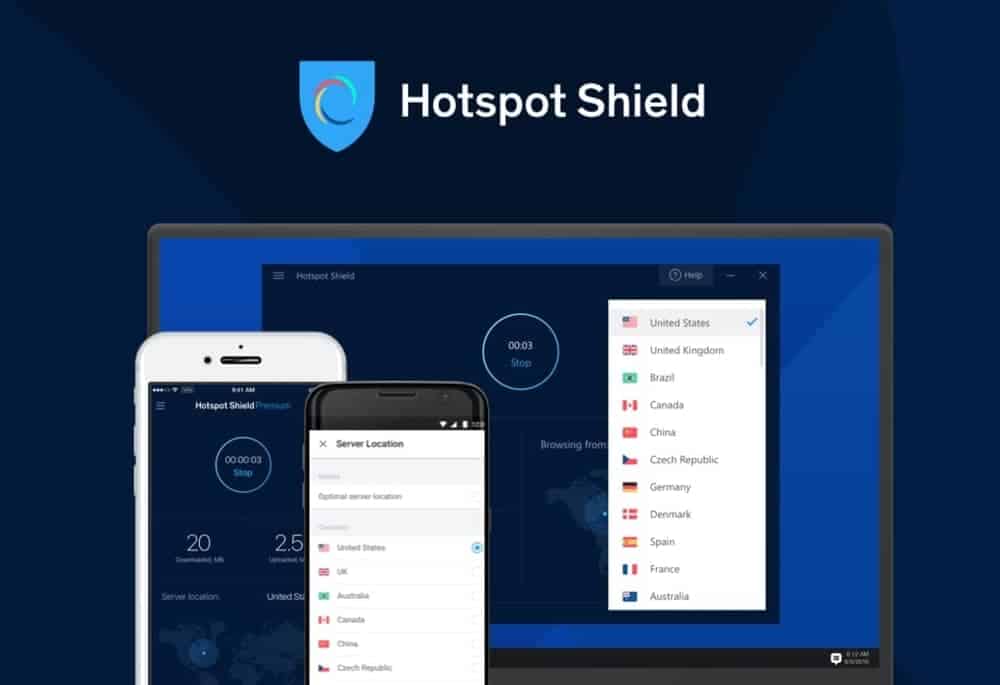 Important Features
You will get really high speed as it uses its own protocol, so you will get great performance while streaming or torrenting.

Any person will find this tool extremely easy to use and set up.

Features a killer switch button to turn on or off the VPN effortlessly.

Will connect you with the most local and suitable server automatically with the Smart VPN feature.

Take cybersecurity seriously, and Hotspot Shield will automatically be turned on when you connect to Wi-Fi hotspots.

It will enable you to unlock the exciting content from Netflix, Amazon Prime Video, YouTube, and Disney+.
Pros: When it comes to unblocking sites regulated by the government, Hotspot Shield performs better than the other available VPN apps for your PC.
Cons: Upload speed is not as fast as the download speed, while the ping time is relatively higher as well.
7. Private Internet Access
---
Security is a primary concern for any kind of organization or business. There are many industries like banking, where keeping data safe is the main challenge to meet the desired quality. Being equipped with some solid security features, Private Internet Access is a great software for torrenting as well.
Along with Windows, you will be able to use this app on many other platforms like macOS, Android, iOS, and Linux. You can use this software for 30 days, and if you are not satisfied, you can ask for a refund.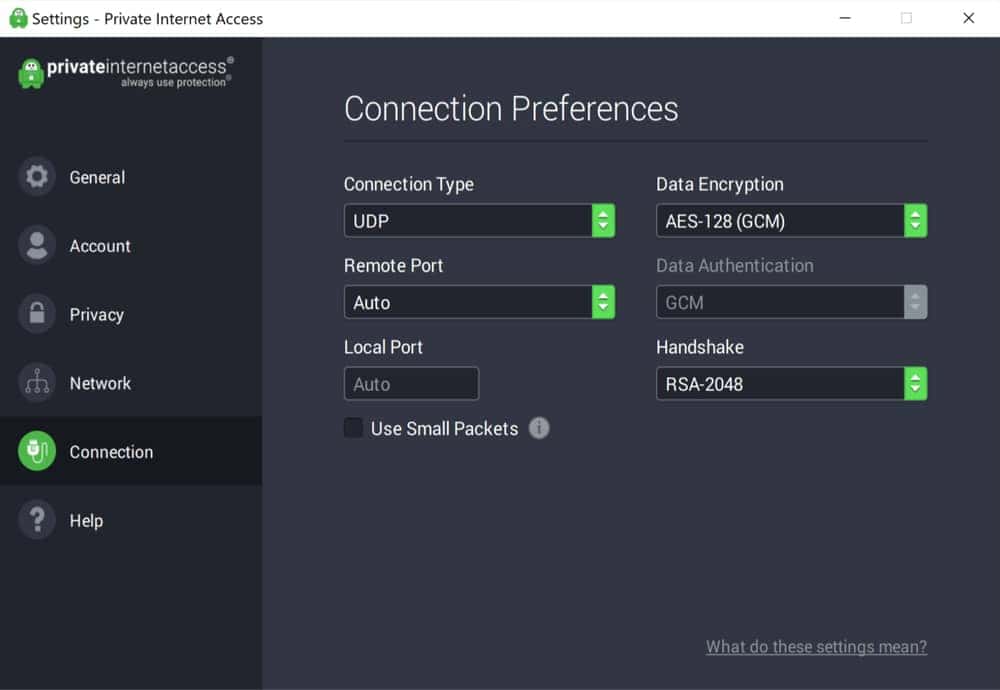 Important Features
Consider this as a smart VPN solution for up to 10 devices with just one account.

You can enjoy streaming from Netflix US and UK, Disney+, and many other channels.

Equipped with advanced features like DNS leak protection and an automatic kill switch can provide full control over your privacy.

The pricing plan is flexible, and you can give it a go or test the service without spending much.

They have a massive number of servers operating in 77 countries around the world.

Its PIA's MACE feature works perfectly to block malware, ad, and tracker.
Pros: Renders private IP addresses to allow users to browse anonymously and protect user data by enabling strong encryption.
Cons: If you are looking for the best VPN apps for streaming, then PIA will not make it into the list as it cannot connect you to BBC iPlayer, Hulu, or Prime Video, and the connection speed is too slow sometimes.
8. VyprVPN
---
If you are a streaming freak, there are no other VPN apps for Windows that can perform better than VyprVPN. It comes with powerful VPN features where they have also included the 30 days money-back guarantee for making it more convenient for the customers.
It is an easy-to-use VPN and packed with attractive features to make the user experience the next level. You can also use it if you are traveling to a country like China, where the government regularly regulates digital content.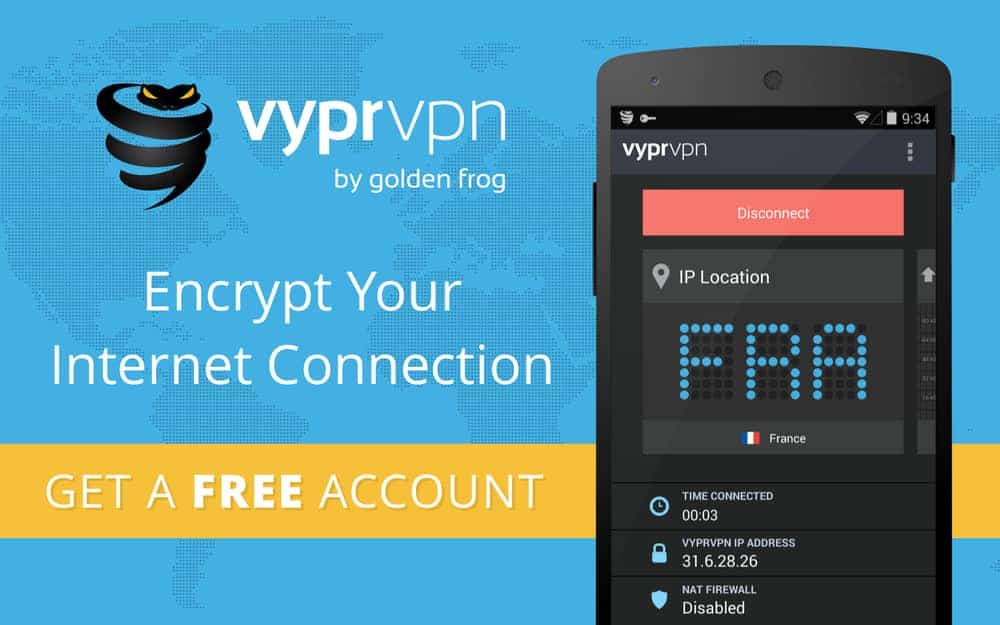 Important Features
One can certainly rely on its powerful features like high-end encryption or DNS protection when it comes to security.

For meeting the requirement of the advanced users, it comes with a real-time data display.

It helps to keep your Web Browsing Private with high-level encryption and no third parties.

Comes with Chameleon technology that can bypass restricted networks and censorship as well.

Comes with deep packet inspection, which performs extremely well to make OpenVPN packets behave like regular data.

You will get support for up to 5 devices simultaneously if you pay just for an account.
Pros: If you experience the high-speed streaming rendered by VyprVPN, you will not think twice before starting to use it on your computer.
Cons: Connection time is slow, which may eventually become annoying, and also the limited number of servers is another downgrade.
9. Hide Me
---
Hide me is often considered the most secure VPN app for your PC. On top of that, if you are looking for the best free VPN for Windows, you will have no other choice but to include Hide Me in the list. It can prevent throttling required to make your IP anonymous. So there is no chance to track your activities. Besides, you can expect unlimited bandwidth with the premium plan, which means you can enjoy shows, documentaries, news, sports, and other streaming content in the full flow.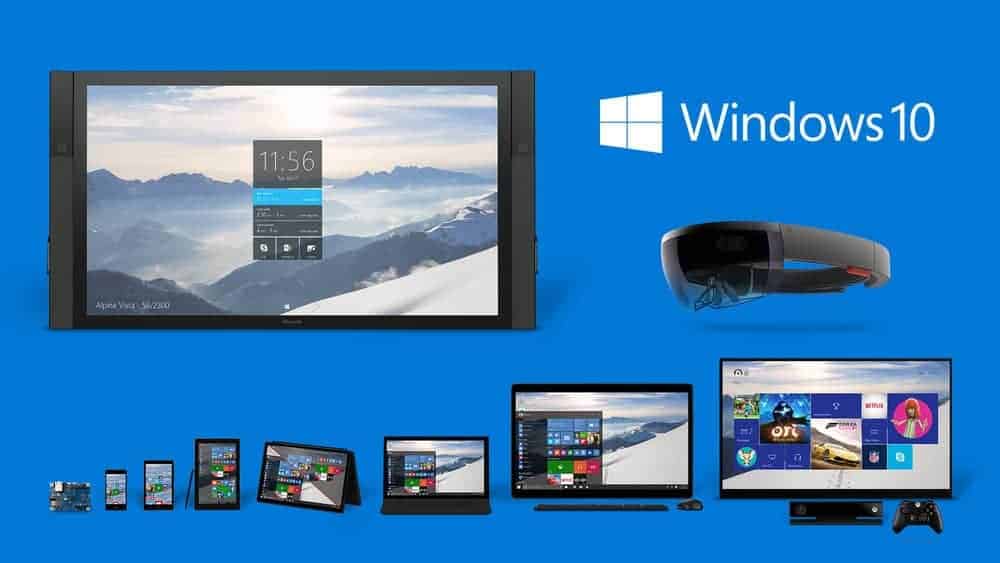 Important Features
It can help you to go beyond the location restriction through the help of worldwide servers.

P2P Optimized servers are capable of enhancing the download speed to a great extent.

Another great thing is it takes as low time as possible to connect with the servers.

The cross-compatible app can render support for Android, iOS, macOS, and Amazon Fire TV along with your Windows PC.

This Malaysia-based app is regulated by a law that does not need to store users' activities, which means your privacy will remain in safe hands.

Features AES-256 security to encrypt internet connection and protect privacy.
Pros: Works under several internet protocols, including WireGuard, IKEv2, OpenVPN, SoftEther, and SSTP. Besides, you will enjoy full IPv6 support as well.
Cons: Although it is one of the best free VPN for Windows, the features are limited. Besides, because of being a newer app, the number of servers is also less.
10. Zenmate
---
Although this software has come at the last of this list of VPN apps for Windows PC, it is surprisingly better than many other VPN software available right now. It is not only super easy to use, and it is packed with all the military-level security features.
On top of that, operating servers in more than 30 global locations, Zenmate can be easily chosen to achieve high performance. If you take streaming seriously, you should go with the premium plan of Zenmate for the best experience.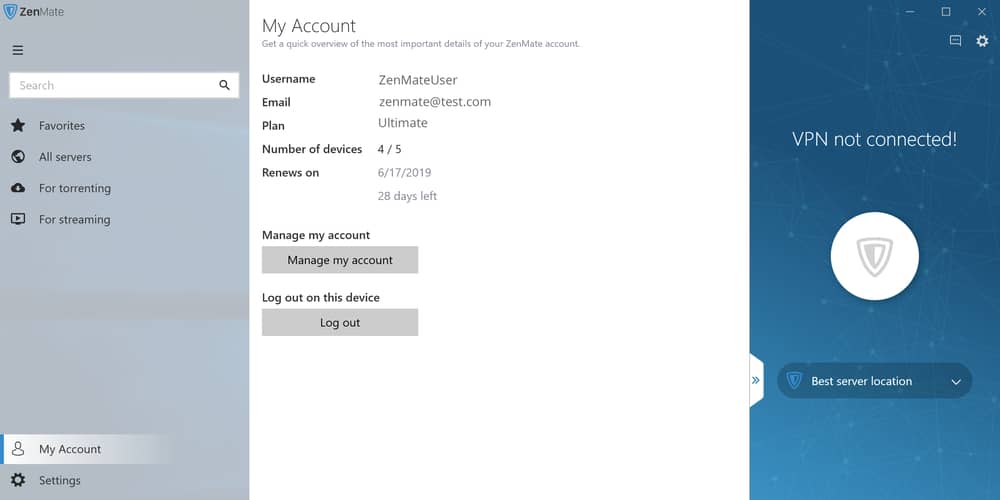 Important Features
When it comes to unblocking Netflix, no software can beat Zenmate at any point.

Comes with dedicated streaming profiles for servers that are optimized for any platform.

You can also experience streaming on BBC, iPlayer, HBO Go, and Amazon Prime as well.

Delivers great speed for quality browsing, and a geoblock can also be bypassed.

A high level of security is also there to ensure your security and protect your data.

Maintains a no-logs policy strictly so your activities will not be stored anywhere.
Pros: You will be able to take advantage of unlimited bandwidth and P2P support while your browsing will remain safe through malware blockers and DNS leak protection.
Cons: Information logging is the major downgrade of Zenmate and the limited geographic scope for the servers.
Our Recommendation
---
If you are looking for VPN software for your PC, you will have to face the big challenge of selecting just one from a wide variety of choices. There are many options available out there, but you can go through this article to pick the one that suits your requirements best.
Although the performance of a VPN is often questionable, you can try those features to enhance your knowledge and understand how VPN works. I am going to declare Express VPN as the best for your PC upon considering the number of advanced features it is offering for the customers.
Features like 99.99% uptime, No activity logs, Zero-knowledge DNS, and the maximum number of servers really helped Express to outplay other options in this list of VPN tools for Windows. To experience all these features carefully, you will get a 30-day money-back guarantee also. So if you are not fully satisfied, just ask for a refund, and you are safe from wasting any money.

Finally, Insights
---
As people of today's day and age, we know the importance of safe web browsing and keeping our privacy secure as much as possible. Again, we need to constantly fight against malware, spying, tracking, and activity-logging when protecting data or personal information. VPN apps and services on your Windows PC can be your best friend by keeping your IP anonymous and browning history untraceable.
These apps can also help access restricted sites and enjoy streaming from a wide range of sources. You can also enhance your download and upload speed if your internet connection is not fast. You can try the other options as well but go through the features, pricing plan, pros, and cons for picking the one that suits you best.