As people of today's day and age, we know the importance of keeping track of the important things. It is hard to remember everything and plan accordingly. But whenever we miss something, we have to face the consequences. In some cases, the result can be devastating as well. Again, we have to spend most of our time in front of the computer. As a result, reminder apps for Windows PC can play an important role in our day-to-day life. There are many great software that can remind you about the due tasks and help you be on track. This article is designed to discuss the reminder apps and highlight their crucial features as well. 
Best Reminder Apps For Windows PC
---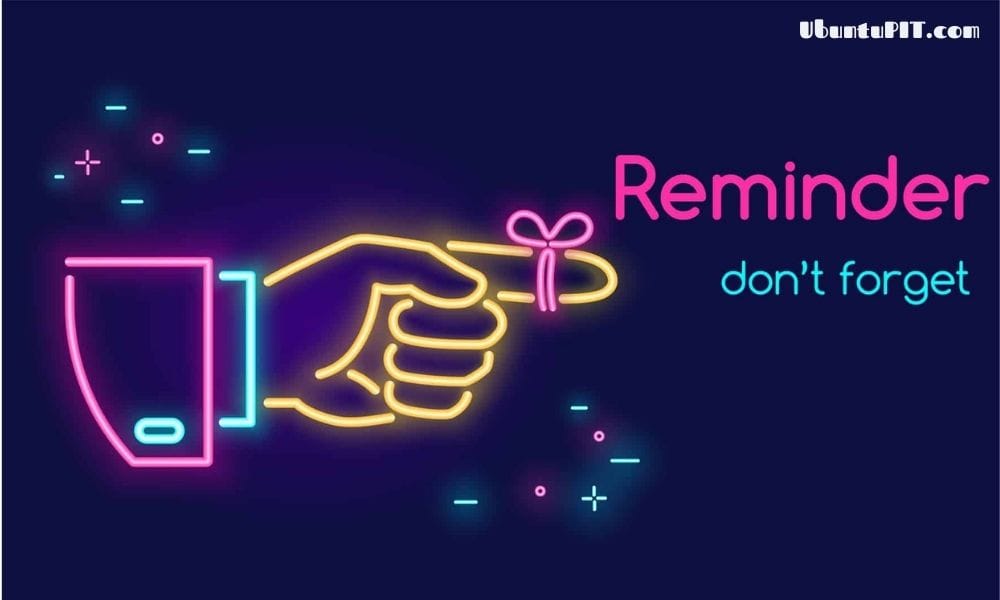 If you are looking for the best reminder apps for Windows available right now, then you are in the right place. We will try to cover apps that can be useful for most people, while the advantages and disadvantages will help you decide. So without wasting any time, I am going to start my shortlist. Keep reading and get to know how reminder apps can make your life smooth and relaxing. 
1. 2Day
---
You will find no people who do not know the name of this software. It is a great to-do-list app for Windows and comes with a bunch of features. Besides, you will get a lot of customizability options, and anyone can start using this software without any hassle.
It is easygoing, and you will understand everything once you start using it. On top of that, you will not ignore the cloud synchronization advantage that can add an extra edge to remain ahead in the competition.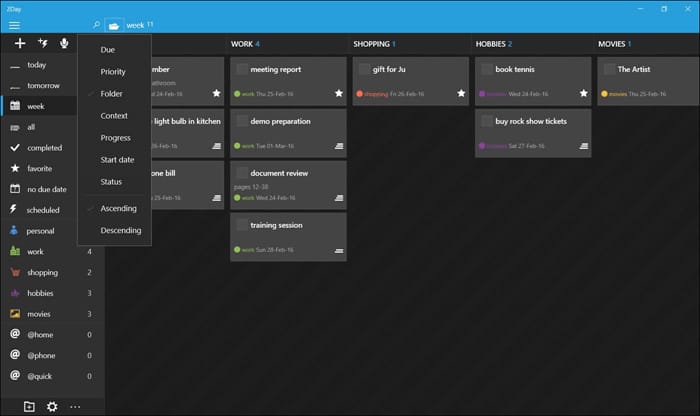 Important Features
All of your tasks will be arranged chronologically to make them easily understandable at first glance. 

Besides, it displays what is due today on top, which is then followed by what is due this week. 

It can also highlight the tasks distinctly that have been completed and so you can focus on the works that are still undone. 

Enable users to add any number of tasks, and you can also add a reminder with each task. 

The best part of this software is it can sync activities across multiple platforms, making it a convenient choice. 

The software is pretty lightweight, although it does not compromise with the quality. 
Pros: You can use this software for multipurpose due to its ability to sync with  Office 365, Exchange, Outlook, ToodleDo, and so on. 
Cons: This software does not come for free, and you will have to pay $3.99 to start using this software on your desktop.
2. Remind Me
---
If you do not want to spend money on a reminder app, then Remind-Me should be a great option to start with. We always try to include free software to match the demand of all people and make the article more useful to our readers.
Remind-Me is on this list to fulfill the demand of individuals like students and entrepreneurs. It is a simple software that tries to stick to the core features and serves the purposes pretty well. You can definitely try it, and I believe you are not going to be frustrated.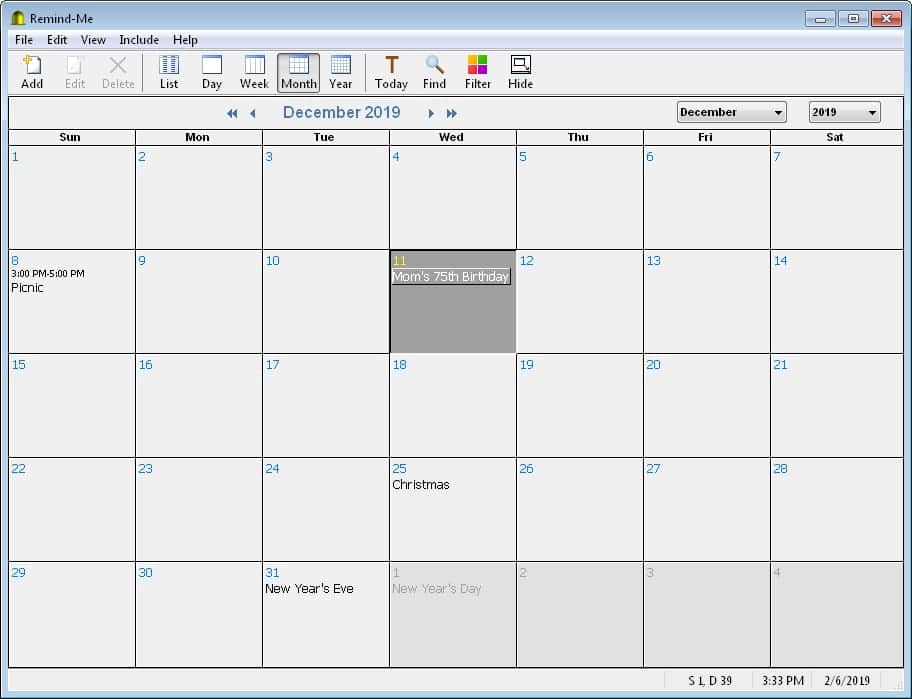 Important Features
You can see this application as a calendar and event reminder that can keep track of all activities and make your life smoother. 

Start using this application to never forget about birthdays, anniversaries, and other important dates of your life. 

It can remind you whenever you open your computer, while you can manually control the reminder as well. 

It comes with an automated email feature that can trigger emails based on specific conditions. 

You can customize the features and make the user-interface unique according to your requirements. 

Besides, this software lets users attach audio files with automated emails, making it outstanding in the competition. 
Pros: It is an exciting software although it is completely open to all. You can sync Google Calendar, Outlook, and other important platforms also.
Cons: Compared to its competitors, it features an outdated interface for the users.
3. Microsoft To-Do
---
It is another software that comes under the free category of the reminder apps for desktop. But it is a first-party app which makes it apart from the competitors. So if you are using Windows, you can download this app from Microsoft Playstore anytime you want and start managing your tasks conveniently.
This application is designed to increase your productivity and make your life comfortable to a great extent. Besides, you can relieve yourself from the ever-growing stress and take a break from the hectic schedule.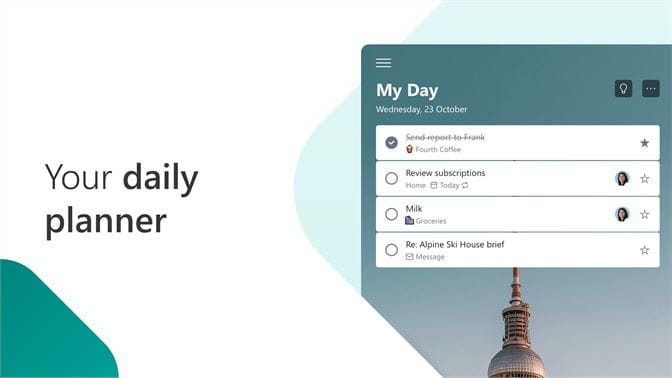 Important Features
It comes with a personalized daily planner that can suggest tasks as well. 

You can collaborate with your friends, colleagues, or family and assign tasks to them. 

Allows users to customize the background of the tasks and personalize the interface also. 

You can also take the help of breaking your work into more manageable micro parts> Recurring due dates or reminders are also there. 

Equipped with all the useful features and allows users to sync todos with Outlook. 

On top of that, you can add files of any type with each task where the max size is limited by 25Mb. 
Pros: It is suitable for small to large organizations. Besides, users can group multiple tasks and label them with a specific name. 
Cons: There is a significant drawback that we could mention here, but the software takes time to load sometimes and takes more space on the hard drive than the alternatives. 
4. Desktop Reminder
---
There are many software that you can use as a reminder app for your Windows PC. But if your first priority is the number of features, straightforward approach, and stable performance, then no other reminder apps for Windows will come even closer to Desktop Reminder.
You can use it on all versions of Windows, and the system requirements are pretty low. As a result, the software is lightning speed and can deliver a great performance. So, it is definitely worth trying out at least once, and you can also have a look at the features.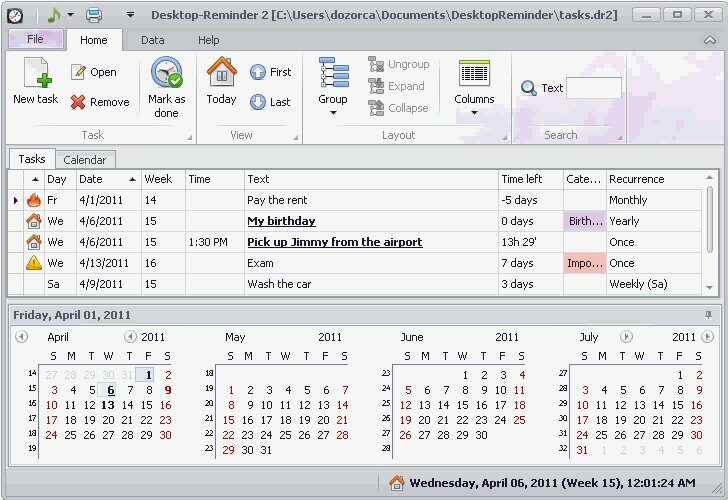 Important Features
Features a 12-month calendar to showcase all of your past tasks and future tasks as well. 

It is pretty simple and does not take any additional knowledge to get going with the interface. 

Equipped with all the important functionalities while you can add a reminder, urgency, and recurrence also. 

You can set a reminder for repeated tasks. Repeated tasks can be set under on and relative dates. 

The user-interface displays everything on the main window and can guide users thoroughly to set a reminder for a task.

Besides, you can set the alarm at a specific time and never miss your favorite show on TV. 
Pros: This is undoubtedly one of the best software that you can use on your computer. You can import tasks from the iCalendar file and get the list of national holidays on your app. 
Cons: It comes with many additional features and offers a pro version as well. But for most people, the excessive features can be difficult to handle, and they may lose interest eventually. 
5. Windows Shutdown Assistant
---
Although you may think this software can shut down your PC at a specific time but do not get yourself wrong judging it by the name, it is one of the unique features you will get in the reminder apps currently available in the market.
It comes with all the important features and can deliver extraordinary performance. It is suitable for both individuals and enterprises also. You can certainly rely on this software and start using it to make your life comfortable.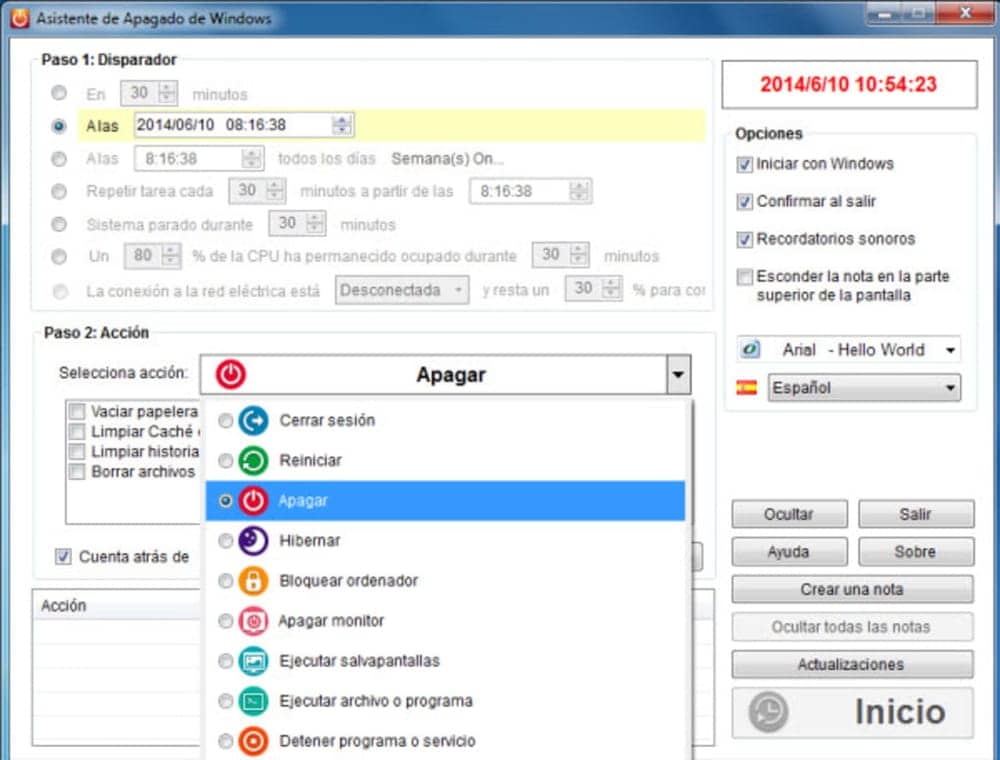 Important Features
Developed by apowersoft.com, one of the common names in the software industry and you can expect the same great quality. 

Emphasizes schedule shutdown, which is important, especially when you do not want to be in front of your computer until the desired ongoing task is not completed. 

Allows users to manage lock, restart, hibernate, and log off at a specific time. 

Unlike other software on this list, this software brings light to schedules and stops any program on your computer. 

It can save your device from overheating and stop working unexpectedly. 

You can use this tool on any Windows version and achieve more with the controlled triggers and executions. 
Pros:  If you are concerned about security, then this software can be a great option for you. You can set time and password, and this software will restrict everyone from starting your computer in your absence. 
Cons: You will notice this software often crashes unexpectedly, and you can become really disappointed at times. Again, the terrible customer support is another downgrade you can expect if you plan to get this software. 
6. Pillbox – Medicine Reminder
---
This application has taken its place in this short list that highlights the best reminder apps for computers for a special reason. You can understand it from the name, which clearly resembles what it does.
You will not find any home without a medicine box, and daily medication has become part and parcel of many people nowadays. It is important to maintain the regularity of the prescribed medicine intake. This application can remind you every time it is time to take pills or any other medicine.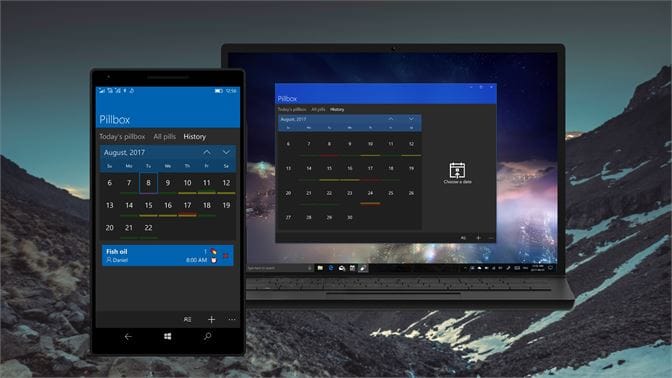 Important Features
You can expect everything that a reminder app should offer from this software. 

The user interface is pretty simple and comes with a straightforward approach to make it usable for all people. 

You can enter the amount of dosage, name of the medicine, day, and time. 

This app can send a reminder at any specific time of the day, and you will never forget to take medicine on time again. 

Besides, it can sync all data with your Microsoft Onedrive account, which can also help keep all prescriptions under one umbrella. 

It features a super calendar that displays the frequency of the medicine intake, so you easily know when you missed doses. 
Pros: Being one of the most popular medicine tracker apps, it has already got the attention of many people. Also, the ability to sync PC and smartphone can be mentioned. 
Cons: When it comes to medicine tracking, there are better alternatives in the market. And also, the interface could be much improved for a better experience. 
7. Kana Reminder
---
Kana Reminder is another great addition to this list of the best reminder apps for Windows PC. It can be considered as an alternative to the 2Day described above in this list. It can do pretty much everything that 2Day does and offers improvement in some aspects as well.
With the simple and dynamic user interface, it can easily exceed your expectations. Besides, it is enriched with useful features, and even a novice will not face any problem while using this software for the first time.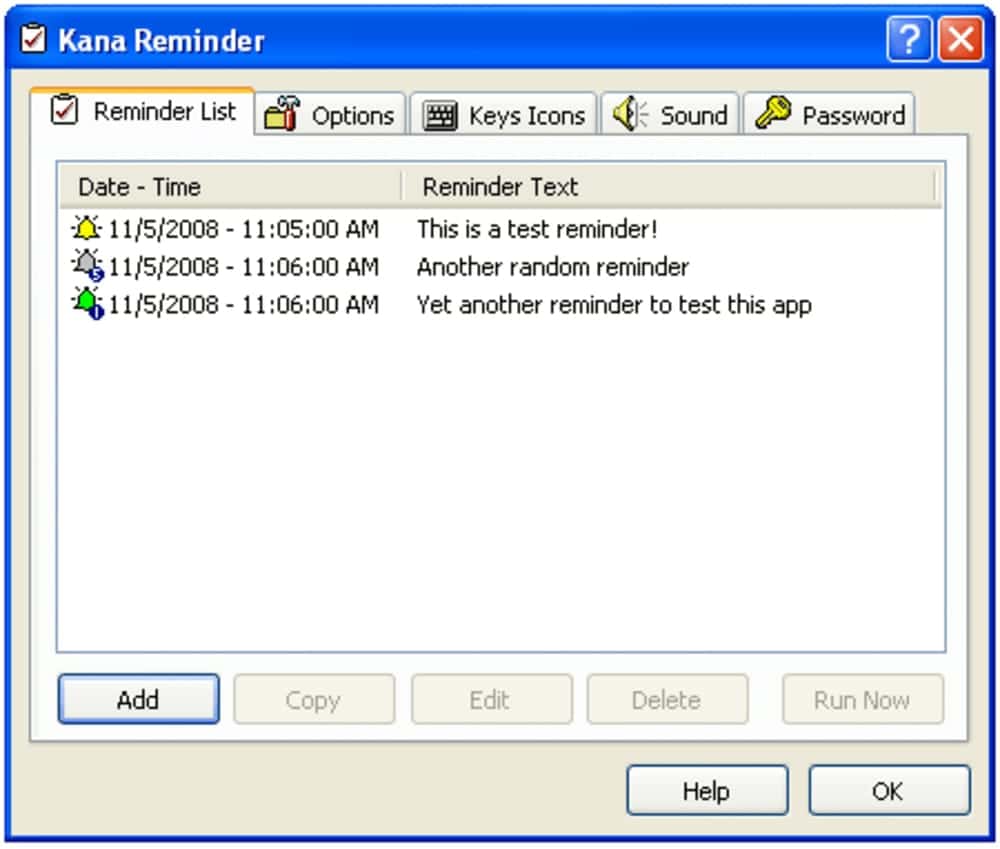 Important Features
This is lightweight software and can render stable performance even on the low configured PC. 

Allows users to set any number of reminders and sends notifications at a specific time. 

Just like Windows shutdown assistant, you can complete scheduled hibernate, log off, shutdown using this software. 

Allows users to set reminders on a daily, weekly, monthly, or even hourly basis. 

Besides, it can execute or run a program when certain conditions are met or the reminder time is triggered. 

The program will automatically start running when you turn your computer on. 
Pros: It comes with a built-in context-sensitive help file, and you can configure the alarm sound as well. The user interface is simple, and you can snooze the alarm. 
Cons: One of the major downgrades of this software is the absence of auto-syncing across devices and Microsoft Onedrive. It does not allow users to save reminders also. 
8. Rainlendar
---
It is a unique software when you are considering the reminder apps for Windows. When it comes to staying ahead in the competition, taking a different approach can give you an extra advantage. Rainlendar takes place in this list as it can showcase your upcoming tasks in a way, so you get a bird view of what you have on the list of todos. Besides, you can customize the built-in calendar to match your requirements anytime.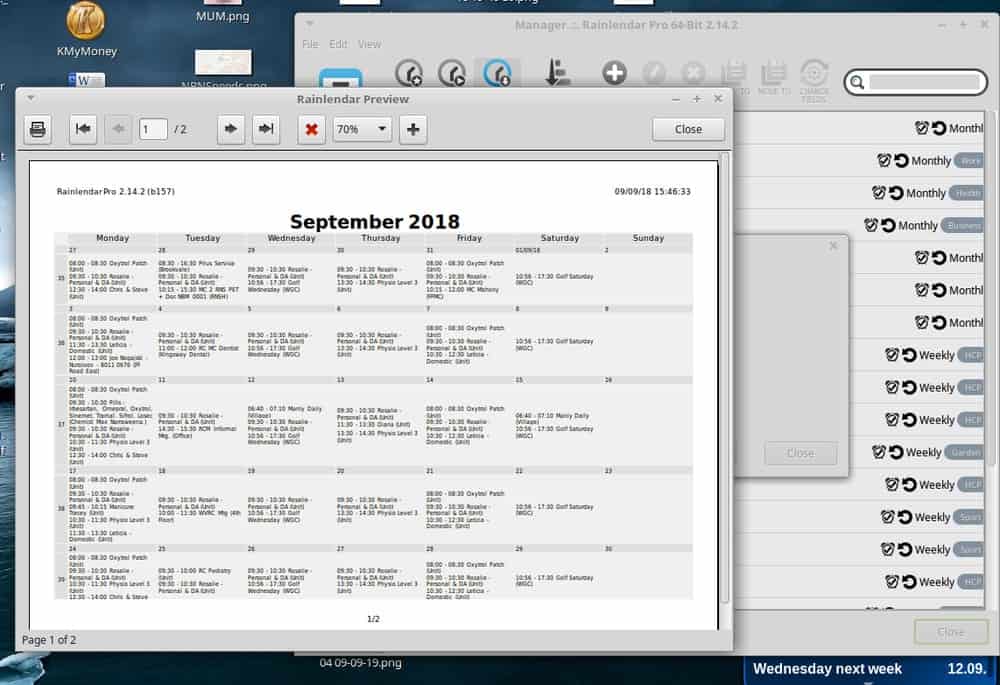 Important Features
This software enables you to manage your life comfortably as you can make a separate list of upcoming events and tasks. 

It works like a widget that sits on your desktop, so whenever you start your computer, you can have a look at what you have on the plate. 

Rainlendar will send a notification in advance when any task is due so you will never miss any event again. 

Besides, it stores data in iCalendar format so that you can transfer data to any calendar application available out there. 

You can have full control over the calendar skins, and you can customize the interface with as many windows as you want. 

You may be surprised to get your native language in the list of over 50 supported languages. 
Pros: The best part of this application is the cross-platform compatibility which allows you to use this tool on Mac OS X and Linux. So you can migrate whenever you want from one OS to another.  
Cons: Sometimes, you can get unstable performance. It can stop performing or render a buggy experience when entering fresh data. 
9. Remember The Milk
---
We are going to discuss some advanced reminder apps for Windows at the later part of this list. Remember the Milk is one of them that comes with a hand full of features and offers much more than just a reminder app. It is hugely popular, and there are many people who use this tool all around the world. You can try the features in the free version before upgrading to the pro that will cost you $39.99 per year.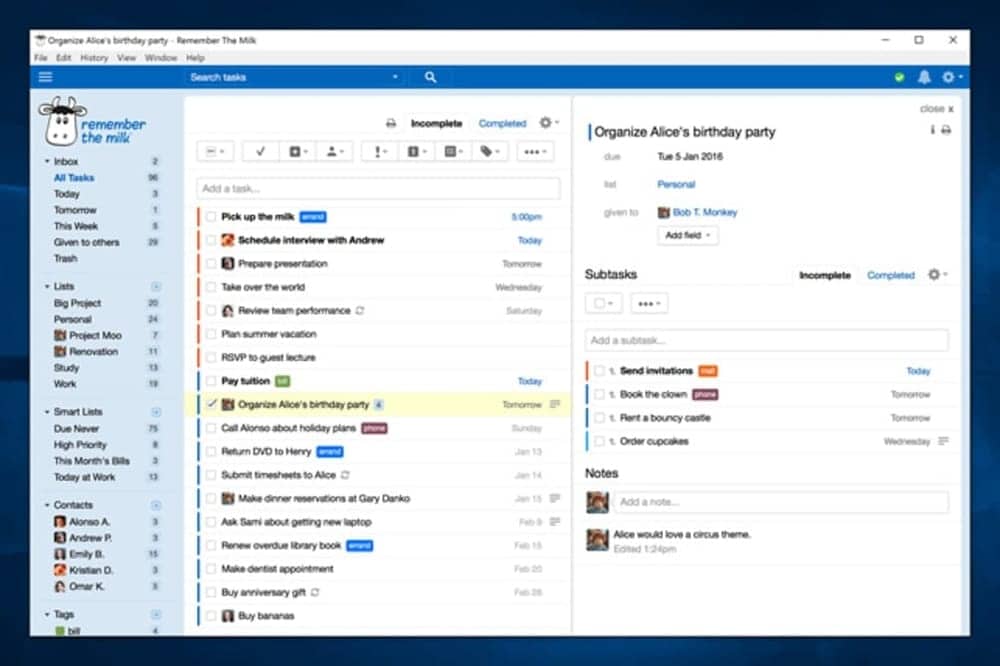 Important Features
Developers have great attention while designing this application which makes it suitable, especially for busy people. 

You will not need much time to install the software, and along with Windows, you can use it on Android, iOS, Mac, and Linux platforms. 

Besides, to keep everything simple, it offers browser extensions and add-ons to improve the user experience. 

You can add tasks on your Windows computer, and all the other devices will be synchronized automatically. 

Any task can be divided into sub-tasks that can help manage your life more efficiently. 

On top of that, it comes with a latter feature that enables users to control multiple projects and keep reminders separate for each task. 
Pros: You can add tags to the tasks, searching and finding them later. Users can integrate their Twitter, Gmail, and Slack accounts to receive notifications from the platforms they are using. 
Cons:  There is nothing much we could point out in this section, although you will have to upgrade to pro to get most of the advanced features. 
10. Monday.com
---
I am going to end this list with one of the most popular project management tools you can use right now. Although it is mainly designed for small to large businesses, you can use it on your desktop to keep track of all the projects, todos, and events. You can add your friends or family members also to enable them to contribute whenever they want. It is trusted by 100,000 organizations that certainly authenticate the awesome performance you expect to get all the time.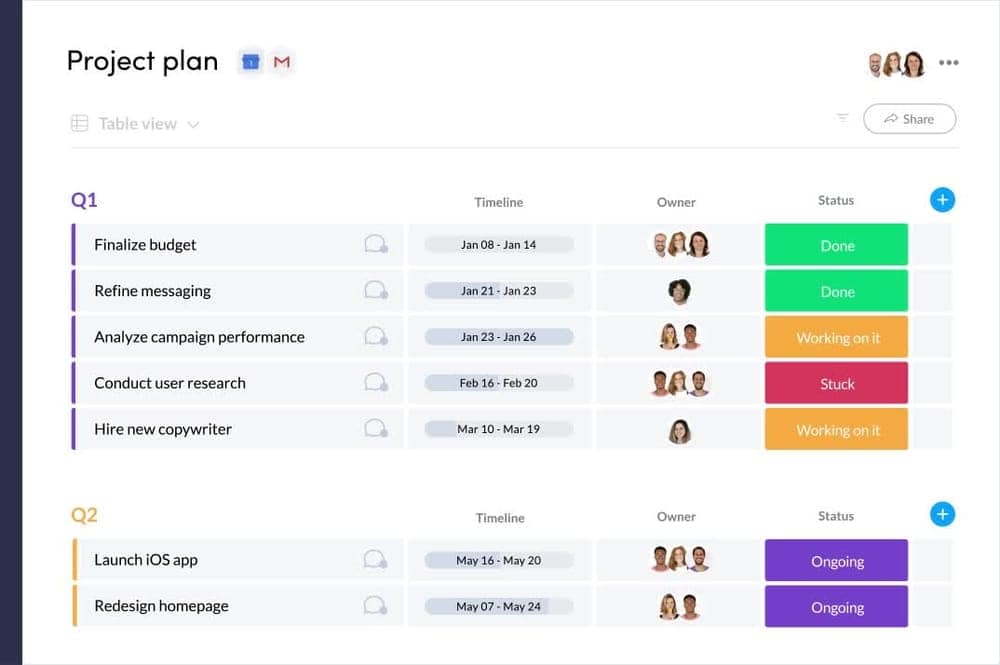 Important Features
It can track your daily tasks that make it perfect for enterprises, and increase the productivity of the teams. 

You can create a separate board with each task and add members to contribute or complete the task.  

If you are an entrepreneur, start using mondy.com, which allows you to create private boards to protect privacy. 

It comes with the checklist feature, which can break down huge projects into smaller parts so you can easily handle them to increase performance.  

Equipped with automation like recurring tasks and workflows that you expect from a modern application. 

You will be able to create alerts, and this app automatically changes the status of any task when it's done. 
Pros: It is not just any other reminder apps for your computer. You can use it as a project management tool without any second thought. Besides, you can integrate it with third-party platforms like Google Drive, Gira, Gitlab, or Slack. 
Cons: You will not be able to monitor the project goals, which is the major drawback of this software. It does not allow you to add comments to any project or task as well. 
Our Recommendation
---
Reminder apps can give you a break from the busy life and enable you to manage a break for yourself. Due to the advancement of technologies, you will get a ton of alternatives in any genre of computer software. As a result, you might be confused when it comes to choosing the official app for day-to-day use. But the applications we have mentioned above can provide an excellent user experience, and you should definitely give any of them a try.
We are declaring 2Day as the best reminder app that you can use on your Windows computer now. Although it does not come free, it is worth every penny it asks for. Besides, all the modern features like auto synchronization across all devices, interface customizability, task category, lists for different tasks, and so on are also there.  
Finally, Insights
---
So here are the best reminder apps for Windows available currently in the market. Reminder apps have become more useful than ever due to the increased dependency on computers in every aspect of life. Time management or keep remembering everything can become so painful that it can become stressful and eventually affect your productivity.
If you get one of the mentioned reminder apps installed on your computer, you will know what needs to be done and how you should set your priorities. There are many alternatives available also, so if you get any other options that deserve mention on this list, do not forget to let us know.