A podcast is a serial of digital audio or video files that you can download so that you can listen to it anytime. More often than not you can subscribe to the channels to get more contents. In the era of TV and radio, you had to be on time to see your favorite shows as shows were broadcast at a fixed time. But thanks to podcasting, everything has changed.
For podcasting, you need to have some tools and a software. When it comes to the software, you can find plenty of options on the internet. Cpod is one of them (formerly known as Cumulonimbus). It is an open source podcast player that is compatible with your desktop. Let's take a look at some of the things that you should know about CPod.
Availability:
It is available for almost any device. It is available for Linux, Mac OS, and Windows.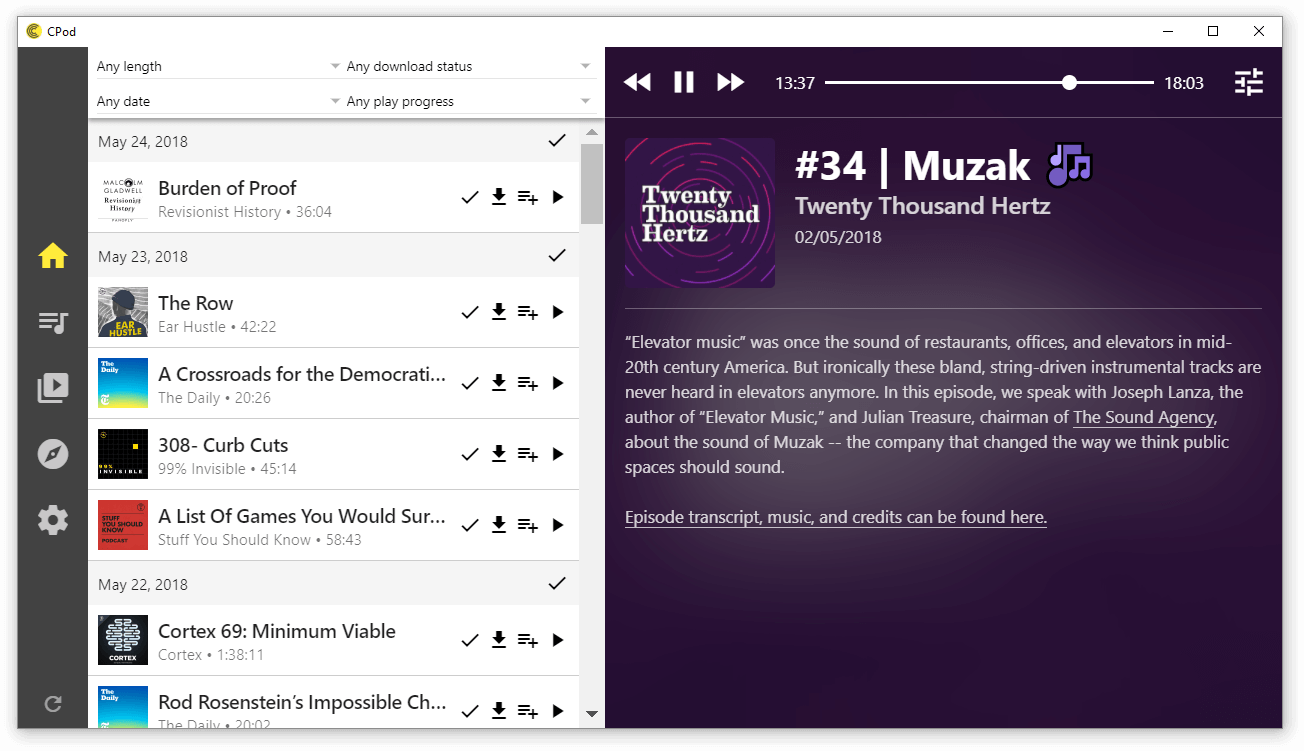 Programming Language and Framework:
CPod uses the Electron framework and, It is built on Javascript programing language. Some people do not have the best things to say about Electron. They say that it is a memory hog.
Convenience:
The software is convenient in every aspect. Let's take a look at the queue functionality. You can easily change or manage the order of episodes. Because you can easily drag and drop them in the interface.
Furthermore, it is easy to subscribe or unsubscribe to the podcasts because of the interface. It is another thing that you should love about the software.
It's easy to search for podcasts. All you have to do is to type some keywords. Where? Into the Explore dialog box. Then you will see a list of podcasts. Finally, you can subscribe and listen to whatever you want.
If you like YouTube, this software is perfect for you. If you paste the URL of a channel into the Explore box, you can subscribe to that Youtube channel.
All in all, CPod is a decent software if you are into podcasting. There are some useful options that make it convenient. Of course, it has its setbacks. But at the same time, it is doing its best to upgrade.
Or else you can run the following Snap command to install it on any Linux distros.
sudo snap install cumulonimbus
Is this software review helpful? If so, please take a moment to share it on your social media. And don't forget to share your suggestion and experience in the comment below.