Scientific Linux distros are not very popular among mass people, but they provide a huge value to the scientific community. As a Linux user, you already know that there are at least a few hundred officials and unofficial Linux distributions available to use right now. Most of them are general-purpose distributions. Normally Linux distros are very popular among science enthusiasts and researchers. This is because of the light-weight footprint and straight-cut productivity it provides.
Of course, you can use any Linux distro for your research and scientific works. All you have to do is to download your necessary software and configure it accordingly. But scientific Linux distributions are specially developed, keeping the scientists in mind. These Linux distributions have all the necessary scientific software preinstalled and configured.
This is why researchers in science and technology don't need to waste their valuable time configuring their machines. They can easily utilize their Linux machine for the betterment of mankind. Moreover, these are developed and maintained by scientists all over the world who have a great appreciation for open-source software.
Best Scientific Linux Distros
---
Migrating from one distro to another is not a pleasant task to do. Because you have to clean install the distro and set up all the things anew. So you have to think before you leap. There are a few scientific Linux distros currently being maintained.
These are targeted at different kinds of scientists. If you are a researcher of biological science, then Bio-Linux would be better. On the other hand, if you are a robotics guy, then you may find Fedora Robotics attractive. Because there, you will find all your robotics software preinstalled.
If you are a scientist or student of science and technology, you should not stick to a general-purpose distro. You can choose a scientific distro to boost up your research or academic stuff. But here comes the most confusing part in which distro will be the best. Hence we tried out and extensively tested 7 scientific Linux distros that are best in their category and made a list in non-chronological order. I hope this will help to find your next daily driver.
1. Bio-Linux
---
Bio-Linux is a powerful Linux distribution for solving different problems related to bioinformatics. Many researchers in the field of biological science vastly depend on this Linux distro. It is one of the most cited Linux distributions in different thesis and scientific papers.
Though it is not based on the most recent version of Ubuntu, you will get a very stable experience. This distro was developed by the Centre for Ecology & Hydrology, based in the United Kingdom. You can install it along with other OS in the dual boot method, or even it can be run inside a virtual box. It has a sister project named CloudBioLinux, which is used for cloud computing in bioinformatics.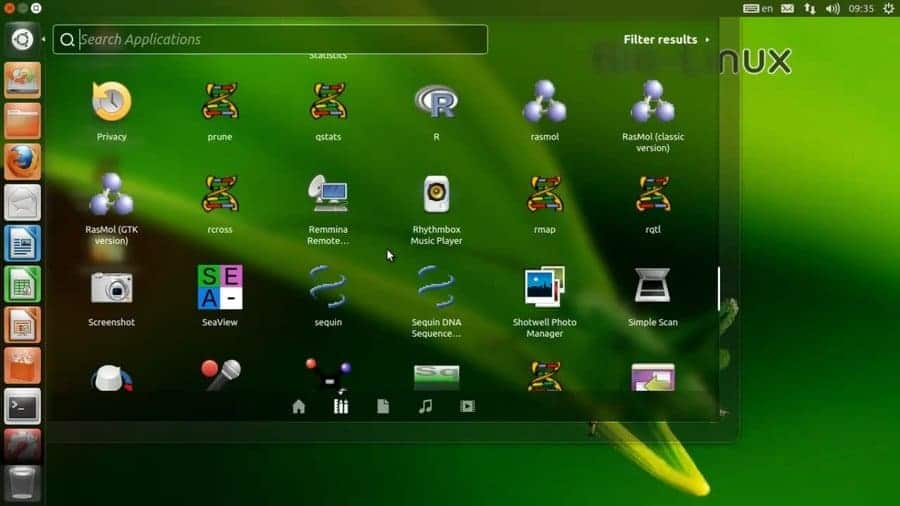 Key features of Bio-Linux
Bio-Linux has more than 250 pre-installed tools related to biology and bioinformatics.
It has almost 50 tools that support the graphical user interface for easier operation.
This distro has the in-built Galaxy environment, which is used for browser-based data analysis and workflow construction.
It supports running live from a bootable drive so that you can use it on the go.
 The MATE desktop environment is the default in this distro for a better workflow.
Apart from pre-installed packages, many other packages can be directly installed via C2D4U.
2. Fedora Robotics Suite
---
Fedora Robotics Suite, also known as Robotics Suite, another scientific distro that is a spin-off to the popular Linux distribution Fedora. It is specially designed to use in the field of robotics and engineering. Fedora Project, the distro developer, is a community-driven organization that believes in innovation and excellence. Their main distro Fedora has a very special place among the Linux users.
Hence the Fedora Robotics Suite is no different because tons of robotics libraries and software are built into it. It also provides you with some ready-made development environments and simulators. You don't need to be an experienced robotics engineer to use this operating system. Rather if you have a keen interest in the field of mechatronics, then this distro can help you with developing your skills.
Key Features of Fedora Robotics Suite
The popular robotic server tool, Player, provides almost 130 different device drivers for data processing and complex planning.
The Robotics Suite is a complete software package pre-installed with Fedora that provides many useful tools for hardware enthusiasts.
You will find all the common tools like Eclipse, Arduino IDE built-in with this distro.
Fedora Robotics Suite has huge developer support that provides regular updates.
If you find any problems regarding this distro, you can instantly get assistance from the expert users by its community and forum.
3. Fedora Astronomy Suite
---
Fedora Astronomy Suite is another popular Fedora project. The Fedora Labs is a dedicated project that brings different purpose-driven Linux distributions for a special group o users. It is normally built upon the latest possible, stable build of the Fedora workstation. Fedora Astronomy Suite brings a complete suite of astronomy Software, which is very useful for amateur and professional astronomers.
The setup ISO is a bit heavier than other regular distributions. It's because of the variety of preinstalled tools that come with the vanilla installation. As always, it comes with the live image ready option so that you can try it out before making a decision. From the popular GIMP to the Kstars, a popular space simulation software, you will find everything you need for your stargazing in this distro.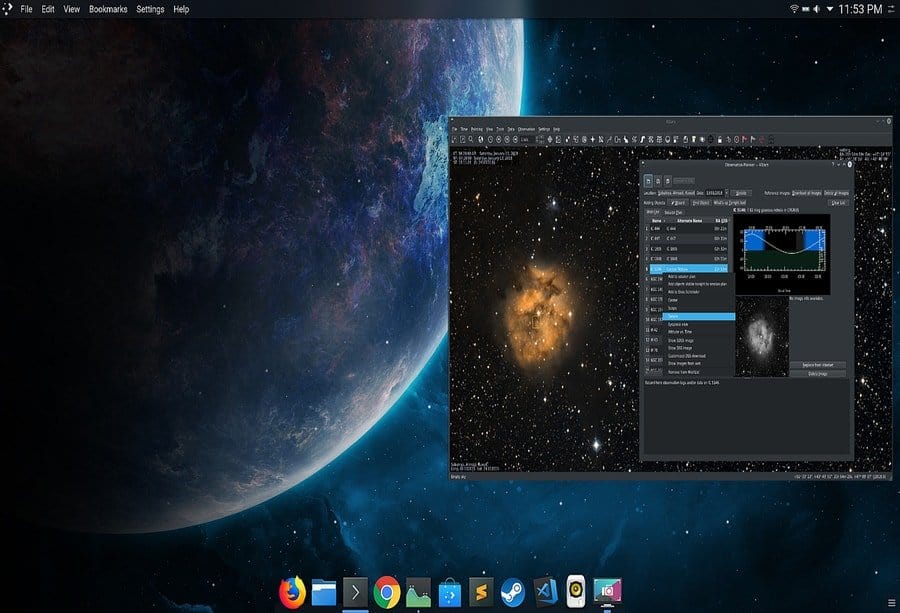 Key Features of Fedora Astronomy Suite
It has an in-built Astropy python library for big data analysis related to space exploration.
It gives users the option to try out the features from the next stable build via the Beta channel.
The INDI library is a unique feature of this distro that allows users to control the astronomical apparatus.
Redshift, AstrOmatic, Siril, Virtual Planet, Celestia, etc., are some of the best built-in software packages available in this distro.
4. Poseidon Linux
---
Poseidon was the God of Seas from Greek mythology who was also known as Neptune to the Romans. In this modern world, a group of young scientists from different parts of the world came along and developed a Linux-based operating system for scientific purposes. They named it Poseidon Linux because most of the developers were Oceanologists. Isn't it interesting!
Initially, this scientific Linux distro was based on Kurumin. But currently, it is being developed and maintained based on another popular distribution Ubuntu. This distro mainly focuses on different types of GIS software. Apart from this, Poseidon Linux is widely used in graphical modeling, visualization, statistical analysis, etc.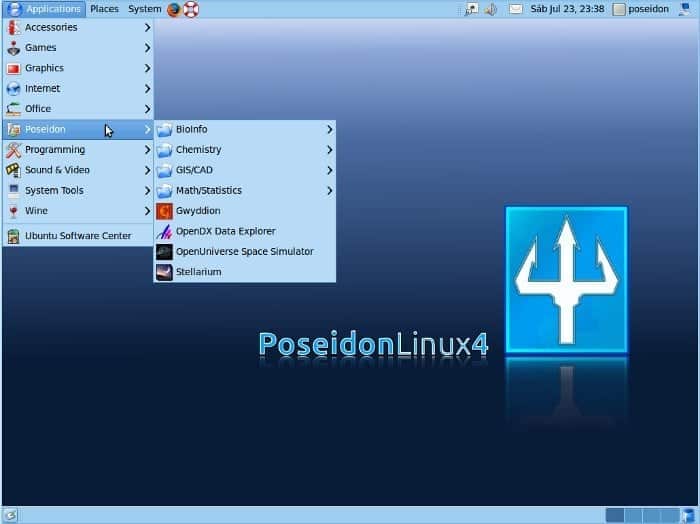 Key Features of Poseidon Linux
The core of the Poseidon Linux is Debian, which provides better system stability and more software support across different repositories.
It is based on Ubuntu LTS, so it is more accessible to mass users across different regions.
The additional software packages to recommend using this distro can be easily found on the official website.
The developer team members are scientists and researchers. This is why they know what a scientist wants and develops this distro according to that.
5. Fedora Scientific
---
Fedora Scientific is yet another Linux distribution built for the science enthusiasts out there. It is a spin build upon the basis of Fedora KDE. This distribution is maintained under the banner of Fedora Science and Technology SIG. This project was started by Amit Saha, who is an avid Linux enthusiast and full-time scientific researcher.
Amit Saha developed this distribution based on the idea that he has to install a bunch of scientific tools for his research after clean installing an operating system. Although this project was just a mere solution to his problem, it got huge support from the Linux community. At present many people are involved in this open-source project, and it is highly appreciated by the scientific community.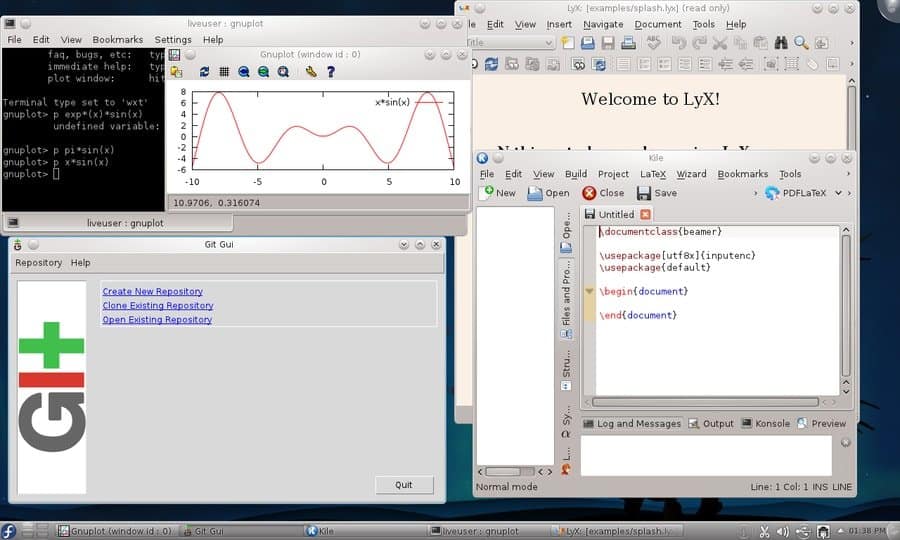 Key Features of Fedora Scientific
It features a wide range of scientific tools for Physics, Mathematics, and other branches.
Fedora Scientific is a great distro for software engineers as it has some useful software built into it.
It has beautifully written online documentation that will help even beginners to get started with this distro.
There is a large Fedora community to help you with this distro if you face any problems.
6. Lin4Neuro
---
This is yet another popular scientific Linux distro. Lin4Neuro is a Japanese Linux distribution for use in the field of neuroimaging analysis. The latest version of Lin4Neuro is built upon Ubuntu 16.04 LTS. It uses the same XFCE desktop environment, which provides easy operation. The founder and lead developer of this project are Kiyotaka Nemoto. He is an Assistant Professor of the Medicine Faculty of the University of Tsukuba, Japan.
Though the latest version of this distro is old, it provides a solid and stable output that makes scientists lean towards this distro. Apart from the neuroimaging analysis, it has many useful tools built-in that can help researchers to continue their research in life sciences.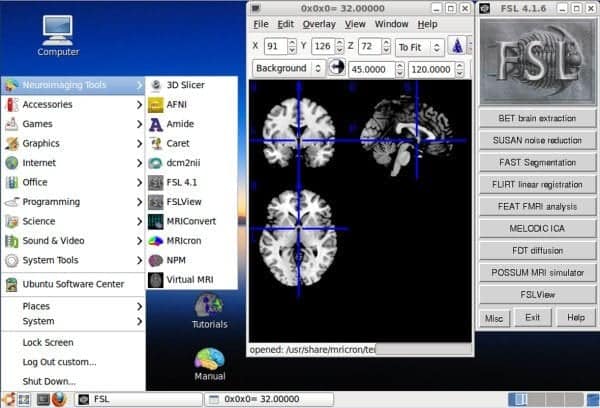 Key Features of Lin4Neuro
3dSlicer, AFNI, Convert3d, DSI Studio, Virtual MRI, and other useful neuroimaging software packages are built into it.
If you use this for neuroscience, you will get support directly from the founder, a veteran in this field.
This trimmed distro is so lightweight that it takes lesser time than any other distro to boot up with all the tools.
Many scientific papers have cited this Lin4Neuro numerous times. Hence you will find the solution to different problems and experiments using this software easily.
Get Lin4Neuro
7. CAELinux
---
CAELinux is an open-source operating system based on Linux. It is designed and developed especially for the engineers who work with computer-aided design software. This project was started in 2005 to make a platform that will help the engineering community with simulation and design. It gained much popularity, but nowadays the development is not active anymore.
But this distro provides so much stability and performance that if you don't care about the latest designed user-interface, then you should try out this distro. With the LiveDVD feature of this distro, you can make your computer and open an engineering development workstation without even installing it into your hard drive.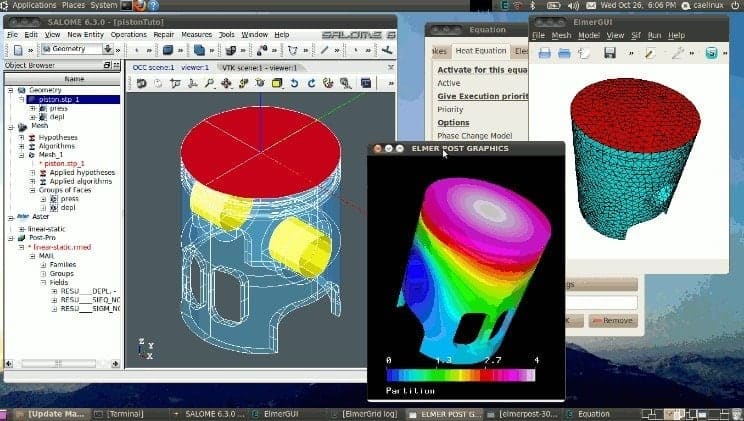 Key Features of CAELinux
It has built-in design and simulation environments, including CAD, CAM, CFD, PCB design, and modern 3D printing.
With the built-in PyCAM tool, you can easily make codes for controlling Computer Numerical Control machines for the manufacturing process.
This is a very useful distro for the electronics and robotics lab, where much precision is needed because of its built-in advanced PCB and microcontroller design tools.
This distro has built-in tools for simulating almost any modern physics phenomenon. This is why STEM students will get many advantages from using it.
Final Thoughts
---
The above-mentioned scientific Linux distros provide a productive environment for the researchers and science students to work on their projects. Although some of the above projects are no longer officially maintained or, in other words, the development is no longer active.
But they are so well optimized and stable that these have become the comfort zone for many veteran researchers. Many researchers are found who don't want to migrate to modern distros from these special-purpose Linux distributions.
We all know that the modern and general-purpose Linux distros are being maintained regularly and provide a better value. Still, you should give these scientific distros a try if you are a science enthusiast or young researcher.
All of them support booting from the external drive so that you can try them out before making a decision. And, if you are already a user of any of these distros, don't forget to comment on your experiences below.