Manjaro Linux, which is known merely as Manjaro, is an 'open source operating system for the computers. This operating system is a circulation of Linux that is basically based on the distribution of Arch Linux. Manjaro Linux puts a lot of emphasis on the users' approachability and accessibility.
Besides, the system aims to work entirely out of the box because of its variation of the pre-installed program. Moreover, it includes an updated model of rolling release and also utilizes 'Pacman' as package administrator. In simple words, this is simply an amazing operating system that we recommend you to use blindly.
But, we know that you will not be convinced until you get the best reasons. Thus, this article has been decorated with 15 unbreakable reasons for which you cannot but prefer 'Manjaro Linux' to any other operating system. We hope you cannot prevent yourself from installing this operating system after going through the reasons line by line.
Reasons To Use Manjaro Linux
---
The reasons for which a large number of computer users choose Manjaro Linux are followed here with a detailed clarification of each. The clarification has been made easier enough to help you to get the meaning without any confusion. Here we go!
1. Effortless To install
---
The installation of Manjaro is very easy that takes only 20 minutes, and the entire process is cooler than that of Windows. To install it, you just simply need to download Manjaro at first. Then use Etcher to burn it to a USB and boot inside the USB drive. After that, run the installer and subsequently select your country, keyboard language, where to install. Finally, create a username and password.
2. Supportive Hardware
---
When you install Linux, you may find it problematic to have each of the hardware functioning. But, if Manjaro Linux is installed, you don't have to face such an issue. The reason is this operating system tests the system at first and then installs the mandatory drivers.
For example, on my computer, an overly used 'Broadcom wireless card' is available. That's why whenever I installed a fresh distro, I had to pass some additional phases to get the card working. Interestingly, that same chip works perfectly without forcing me to do anything extra just after the installation of Manjaro.
3. Availability of Software
---
There is no option for you to think that Manjaro lacks software just because of not having PPAs. You should keep it into consideration that the 'Manjaro' team preserves a huge software storehouse. Besides, the users of Manjaro have an easy entry to the ''Arch User Repository.''
The repository consists of a huge number of scripts produced by the users to install programs, which are basically not bundled for Arch. A few of the programs of the 'AUR' are either drawn straight from Github or were initially packed for Ubuntu. Then the scripts present in the 'AUR' adjust the '.deb.' Documents to make those can installable on Manjaro.
4. Easy Switching To Kernels
---
It is mandatory for you to use some terminal wizardry for switching to kernels on the maximum number of distros. But, Manjaro owns an amazing tiny program that lets you install kernels as many as you require.
It is quite convenient when you own an old laptop that does not adapt to a new version kernel. For instance, if you have a laptop that becomes sluggish, you should start using a kernel, which is newer than 4.4. You will not have to face such a problem anymore.
5. Allows Arching Without Hassling
---
Linux has so many distributions, and Manjaro is such a distribution as well, which is not grounded on Ubuntu. Instead of Ubuntu, the operating system is made on the incessantly cutting verge of Arch Linux, a fabulous distro.
But the installation process is quite difficult for the newbie, and it requires you to do much hard work. Firstly, you are to start off using a base method, and then you need to install and format each and everything by yourself.
It might be a great discomfort if you simply wish to provide Arch with a spin or you are a new user of Linux. There is no doubt that there are sufficient jokes regarding the installation of Arch Linux. On the contrary, Manjaro does not require you to undergo such hassles.
All you need to do for installing it is to download the 'ISO' file, then note it down to a 'thumb drive,' and finally, install it without any more affliction. However, you are recommended to use 'Calamares' as an installer that offers you a charming experience comparable to the installer of Ubuntu's Ubiquity.
6. No More Hassle with PPAs
---
It is estimated that when you use either Linux Mint or Lubuntu, you are to deal with heaps of PPAs. Basically, a PPA refers to a repo only for a single program or a trivial set of programs. Installation of any software unavailable in the authorized Ubuntu repos requires connecting a new PPA to your system through the Terminal.
The application becomes available for being installed only when the new PPA is connected, and you operate the update of 'sudo apt-get.' On the other hand, Manjaro Linux doesn't use Ubuntu as its base; instead, it uses Arch that doesn't require PPAs.
7. Time-Saving
---
As the Arch is a rolling release, the users often face a great problem: a fresh bundle will be unrestricted that may break the system. Therefore, the team of Manjaro works hard to evade that issue by examining fresh packages before they make these available for the users.
This may make Manjaro considerably less than the bleeding edge; this also confirms that new packages will be got much quicker than distros with planned releases such as Fedora and Ubuntu. Therefore, it is thought that Manjaro is a decent selection to be a productive machine.
8. Sociable Community
---
It is seen that though there are many distros and Arch communities, yet those are well-known for being very unfriendly. But, in the case of Manjaro, the scenario is completely the opposite. The official Manjaro environment can be an excellent place for you as a new user to seek help. Even there are also forums, which are available in more than 29 languages for non-native English speakers.
9. No More Madness of Updating the System
---
It is one of the exciting reasons for using Manjaro Linux instead of any other operating system. This is being a rolling release and dissimilar to Ubuntu that doesn't require time to update. So, you do not need to be worried anymore about an update that has conflicted with the computer settings.
Moreover, you do not even need to be anxious about making a clean installation as the team- Manjaro always assures that only the updates, which are well-matched with your system, are released.
10. Facility of the Arch Wiki
---
''The Arch wiki'' refers to a widespread body of information comprising documents for essentially any assignment you wish to do in ''Arch Linux'' and also in other derivatives. As Manjaro Linux is a derivative of Arch Linux and so it remains closer to the core of Arch, where you can take complete benefit of this sophisticated base of knowledge.
11. Advantageous of Pacman Package Manager
---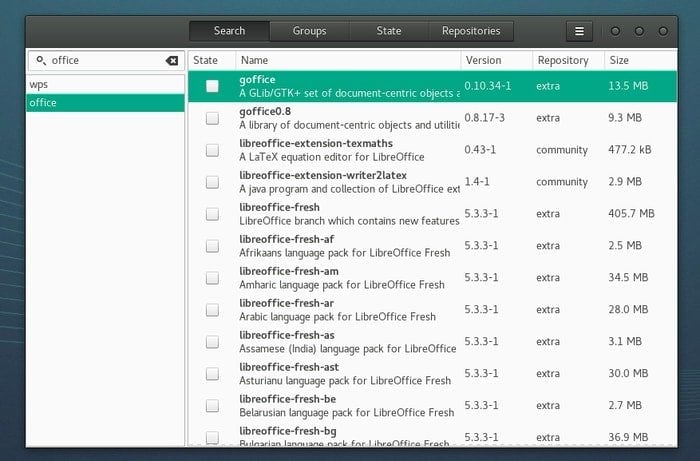 'Pacman' is basically the installer of the package that Arch Linux uses, just similarly "APT" and "DNF" that are respectively used by Ubuntu and Fedora. It is reported that Pacman is more proficient than APT. It's furthermore useful because you don't have to type many directives to get your job done.
12. Appreciable Desktop Environment
---
This is pure excitement to let you know that the DE of Manjaro is the leading example of the operating system you will concentrate on interaction after booting. The desktop environment is beautifully crafted for easy use.
Besides, you are welcome to use Cinnamon, GNOME, or any other chosen DE with personalized-able icons, panels, etc. Additionally, you do not need to be worried about forcibly typing instructions as Manjaro includes a settings executive with a vast range of controls and personalization options.
13. Privacy and Security
---
Mnjaro is exceptional from many other OS regarding numerous perspectives. Likewise, its privacy offering method is also admirable. The security of this operating system is so satisfactory that you won't need to worry about your devices being hacked or trespassed by any stranger.
Moreover, the operating system is designed perfectly for destroying the harmful malware that is often responsible for the loss of your valuable data. This is how Manjaro safeguards your privacy from years to years.
14. Addition of Printing Capability
---
Although it might not be significant to many users, yet it is a useful feature offered by Manjaro. When all of the programs have been installed correctly, you can enable printing something important instantly.
15. The Ultimate Use of GUI
---
GUI, which is elaborately known as 'Graphical User Interfaces,' is used by Manjaro in the best way to ensure that the installers can have both an enjoyable and salutary interface.
The Last Words
---
At the end of our discussion, we believe that you now have 15 precise and stringent reasons for preferring Manjaro Linux to any other operating system. If you still foster doubt, then don't make it late to install the operating system and use it for a few days to prove us wrong. We also believe that you will return to us with a satisfied comment below. However, if you have any suggestions for us, kindly let us know through a comment, and you don't forget to share the writing to inspire your near and dear to use Manjaro Linux.