Gentoo Linux derivatives can be ideal for professional Linux users who don't want to compromise system stability and performance. Some of you might know nothing about Gentoo Linux. Unlike other Linux distributions like Ubuntu, Kali, etc., Gentoo is quite unfamiliar.
Only the veteran Linux users know about this. And, the people who know about its potential hardly go back to any other distributions. The exclusivity of Gentoo Linux is that you need to build the whole flashable image from the source code. That sometimes may require a few days based on your machine's strength.
This uniqueness of the Gentoo Linux is kind of a two-edged sword. You get smooth performance and stability because you are building this thing as per your computer's capability. On the other hand, the time and hassle required for building it lead to frustration, which eventually drives the beginners away.
But there are some derivatives or customized variants of Gentoo Linux that remove the limitations of this operating system and make it more user-friendly for beginners. These are not official variants. Rather the Gentoo Linux enthusiasts and developers all over the world are contributing to these derivatives to give the normal users the taste of Gentoo Linux.
Best Gentoo Linux Derivatives
---
We all know that Ubuntu and its derivatives are most popular among Linux users. Ubuntu has a lot of derivatives. But, Gentoo, on the other hand, has a limited userbase. This thing leads to a small number of Gentoo derivatives out there.
But still, if you want to try out Gentoo, you have to choose one of them. This is why we are here. We have tested out all the derivatives of Gentoo Linux that are currently available or has a userbase. Then we compiled this list of the 10 best Gentoo-based Linux derivatives so that you can choose your next pick from here.
1. Sabayon Linux
---
Sabayon Linux is still the most popular Gentoo Linux derivative of all time. The project was originally started by an Italian developer. The main philosophy behind building this distro was to provide the users with a straight out-of-the-box experience.
Hence this derivative is preloaded with all the necessary applications. It has Gentoo's popular Portage package management system with a huge software library. Besides, it uses another package manager named Entropy that was created exclusively for Gentoo.
Key Features of Sabayon Linux
It has different variants that use different desktop environments like KDE, XFCE, and GNOME.
The installer is easy to use and does not need to build the flashable from the source code.
This distro has great support for single-board computers such as Banana Pi, Raspberry Pi, etc.
Sabayon uses a rolling release system that can be easily upgradable, and you will even find daily builds of this distro.
The support for this system is amazing, with its official blog, forum, wiki, and even a live chat option.
2. Calculate Linux
---
Most people don't use Calculate Linux on their personal computers. Because it is intended to install on organizational workstations, however, it has a variant named Calculate Linux Desktop that can be easily used on a home PC. Apart from this, Calculate Linux comes with some other variants such as Server, Scratch, Scratch Server, and Container.
It uses different desktop environments for users with different tastes. All of the Calculate Linux variants can be used via the live CD feature. This distribution is very stable and can run smoothly even on weaker hardware. The desktop variant can be fully integrated and controlled by using the server variant of the distribution.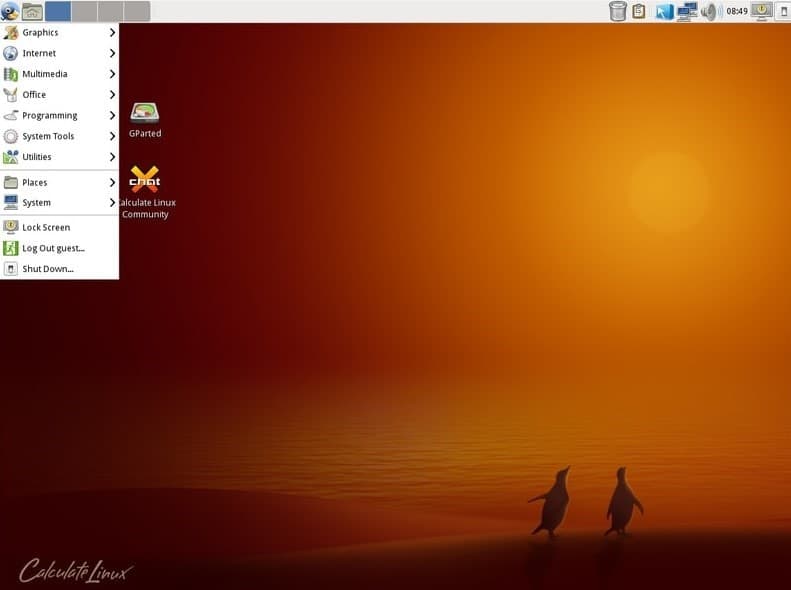 Key Features of Calculate Linux
You can set it up in a way so that it saves and restores all the system and software settings into the Calculate Linux server.
This distro is fully backward compatible with the original Gentoo Linux.
You can choose between your favorite desktop environments from a large list of options containing KDE, Xfce, Cinnamon, MATE, etc.
The server edition of the distro provides tools for remote management and user authentication features.
This is a great system if you want to build a network with devices running both Linux and Windows.
3. Redcore Linux
---
Redcore Linux is considered the ultimate balance between Gentoo and traditional Linux distros. Undoubtedly, Gentoo is a powerful Linux distribution. But many people are deprived of using this because of its lack of beginner-friendliness. However, some Gentoo derivatives solved this problem.
But Redcore took it further. Unlike any other Gentoo-based system, it can install packages without building them from scratch. Rather than going with the traditional Gentoo style repositories, Redcore features a completely separate software repository that contains a pre-built codebase.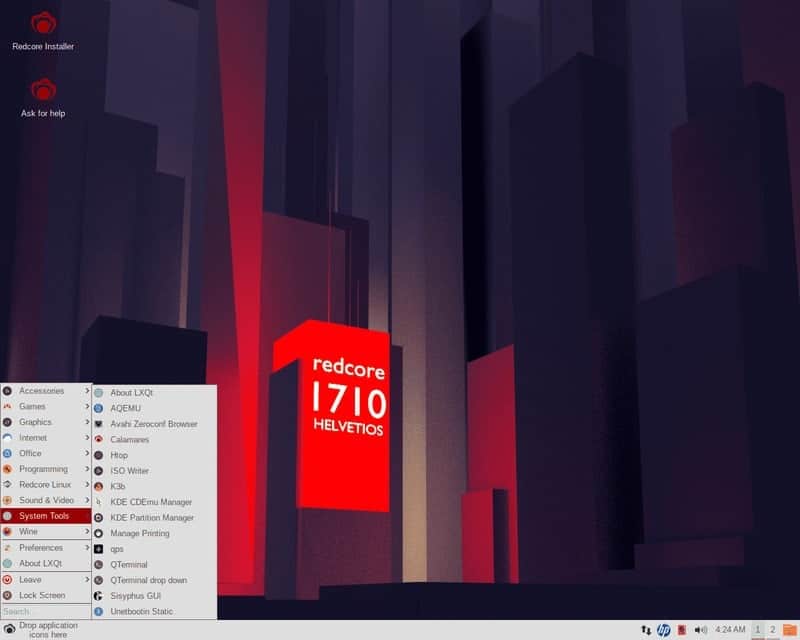 Key Features of Redcore Linux
This Gentoo Linux derivative is very friendly towards the newbie users because it ditched many complex Gentoo features.
Redcore Linux is very capable of using as a home PC with a lot of preinstalled tools for media, gaming, and entertainment.
The exclusive repository of this distro is not that huge. But it features some quality packages that are not resource-hungry and do the job properly.
This distro follows a rolling release model that is capable of delivering smooth updates throughout the entire lifespan of your machine.
You can browse through their entire git repository through a custom web interface.
4. Gentoo Studio
---
Gentoo Studio is an unofficial mod of the Gentoo operating system. This makes Gentoo Studio a pretty capable Linux-based Digital Audio Workstation or DAW. Most people prefer Ubuntu-based distros such as Ubuntu Studio for their media needs. But if you want to have Gentoo power with some great media capabilities, then Gentoo Studio should be your pick.
If you are a hardcore audio mixer, then the unnecessary GUI and other visual elements may mark a limit to the computer resources you can use for rendering. But Gentoo Studio solves this problem, and this is the audio producer's most favorite feature.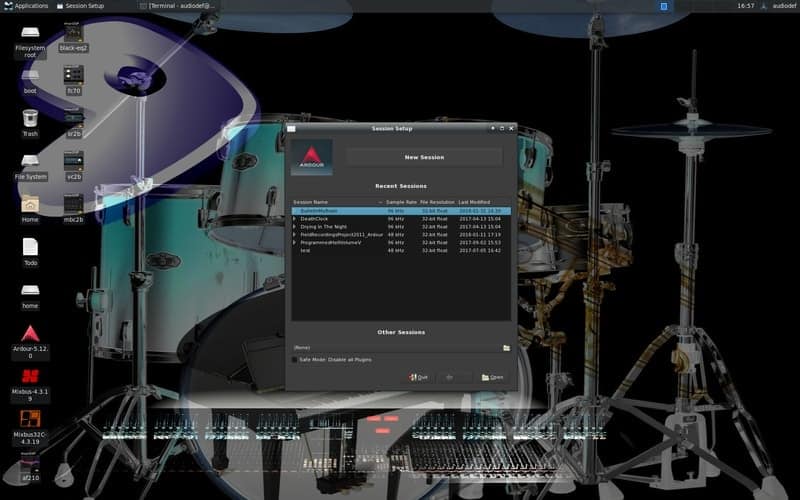 Key Features of Gentoo Studio
Unlike the original Gentoo Linux, this distro is easy to install, and beginners can configure it easily.
It doesn't have bloatware apart from some handy preinstalled tools for audio engineering.
This distro uses the Xfce desktop manager as the default DE that is very lightweight and customizable at the same time.
It contains a Linux kernel that is patched for giving priority and necessary powers to the connected audio equipment.
There are a built-in lightweight display manager and a utility to detect USB-connected audio components inside the terminal window.
5. Porteus Kiosk
---
Well, first of all, you have to know that this is not an ordinary desktop distribution of Linux. Rather, it serves a very specific purpose. As the name suggests, this is for any kind of kiosk. The kiosk is an interactive device similar to an ATM that provides access to specialized digital information and applications for those who don't know.
This Porteus Kiosk user interface is a restricted web-browser. The browser is set up so that the users can not exit the browser and access other parts of the OS. The browser will not save any user credentials, which is very important for the users' privacy. You can configure and customize this based on the need of your organization.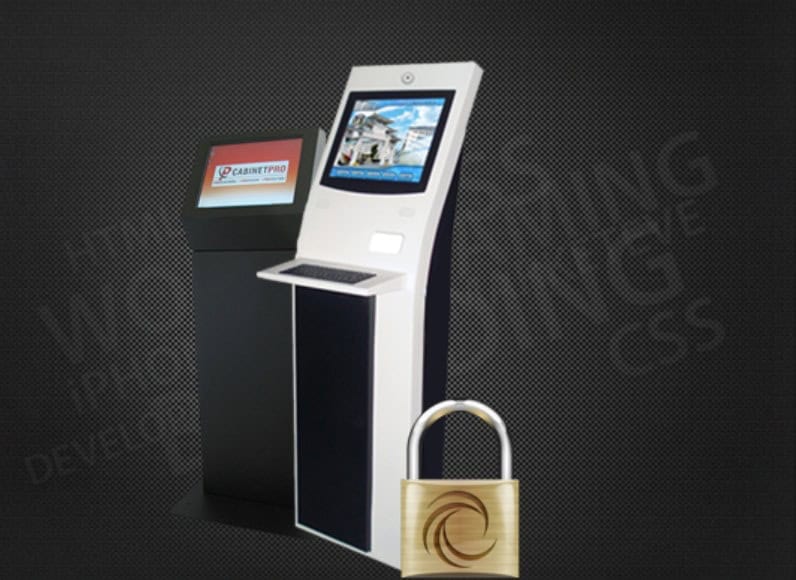 Key Features of Porteus Kiosk
The installation file is very lightweight, which ensures smooth operation on any hardware.
It has a bunch of privacy features included in this Linux distro.
The customization wizard can detect all the hardware components, and this is very helpful for customization.
You have the options for network settings, browser settings, additional hardware settings, etc., for setting up the kiosk.
It supports automatic updates that may require a paid subscription.
6. Funtoo
---
Funtoo is yet another visually attractive and easy-to-use Gentoo Linux derivative. However, this is not the official derivative of Gentoo. Interestingly, this project is maintained by the founder of the original Gentoo Linux, Daniel Robbins.
The features are almost similar to Gentoo with some significant improvements. This is a very easy-to-use Linux distribution. Anyone with little Linux knowledge can start using Funtoo Linux and can get the job done.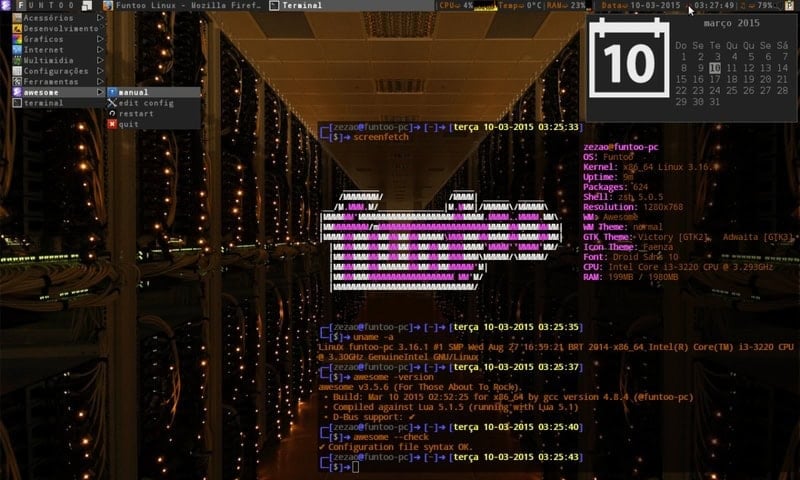 Key Features of Funtoo
The Git-support makes the software packages downloaded faster than the original Gentoo.
It supports UTF-8 encoding by default and has an advanced Funtoo overlay.
The system is more stable, and it supports the automated import of new Gentoo features.
You can get developer support via Discord or Telegram channels.
7. Exherbo
---
Exherbo is a Linux distribution based on the code of Gentoo. But this is not for beginners and home users. Instead, it is a specialized distro optimized for developers and power users. A good set of useful tools are built-in with the package.
Exherbo uses a different package manager than the original project. The Paludis package manager is very fast and flexible, and it provides easier access to most of the common Linux packages.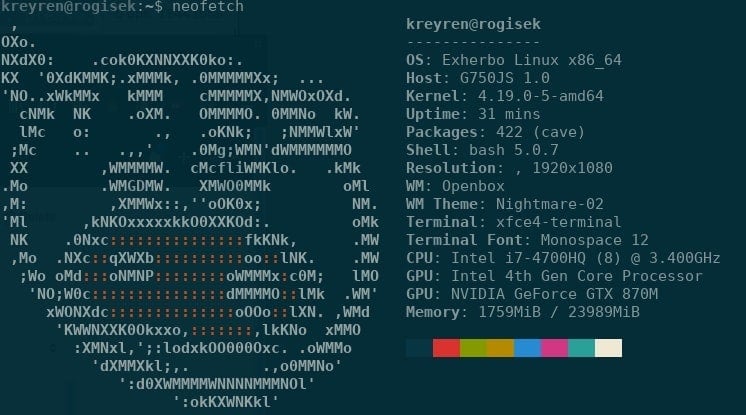 Key Features of Exherbo
It has native support for multiple architectures.
Exherbo has advanced security features for user management systems.
This distro has great documentation support for getting anyone started.
You will get all the necessary packages to download on their official website.
8. CloudReady
---
This is a Chrome OS alternative for custom-built hardware. This operating system was built based on Google's open-source Chromium project. You might be surprised to learn that the Chromium OS is a Gentoo Linux derivative.
Neverware makes CloudReady, and it has three different editions. The Home edition is completely free to install, while the Education and Enterprise edition costs you a few bucks every year. The free version has some feature limitations, but it is enough for many of us.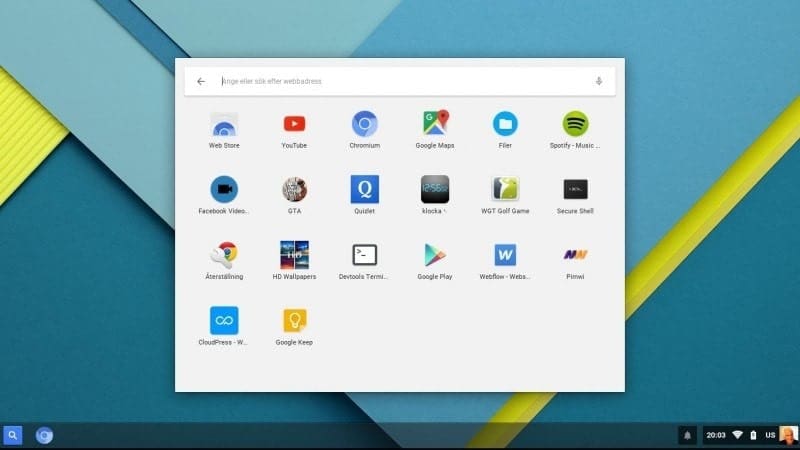 Key Features of CloudReady
You have a Chromebook-like look and feel on any device.
The apps are cloud-based, and this is why it runs smoothly on any device.
Remote management is possible for organizational deployments.
The professional edition has email and phone support from the developers.
Download
9. Daphile
---
Daphile is a special-purpose Linux distro, just like the Porteus Kiosk. This distro was developed as an audio server and player. It can be controlled remotely via a web-based user interface on a headless computer.
Daphile is not just a basic audio management system. Rather it has a lot of functionality that is future-proof. Users get system updates via the internet, and the features can be extended by installing plugins.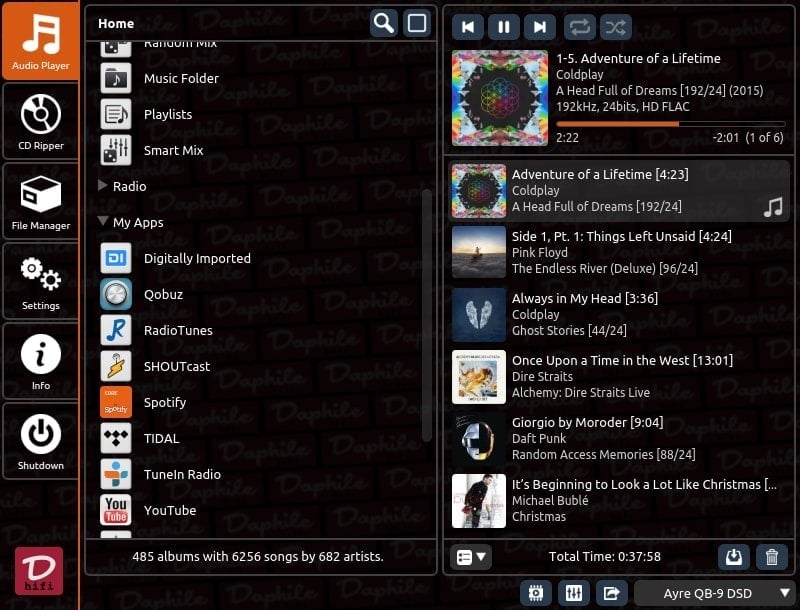 Key Features of Daphile
It supports a wide range of audio file formats with support for USB-connected DACs.
This distro can configure the connected audio devices automatically.
Apart from the offline drive, Daphile can connect to network drives for playing music.
The installer ISO is small in size and doesn't take much space even after installation.
10. Pentoo
---
The last distro based on Gentoo on this list is Pentoo. Just like the name, it doesn't have much difference from the original Gentoo Linux. But it brings some convenient desktop features for beginners.
This distro is specialized for using for penetration testing and network security. It comes preinstalled with some hacking and networking tools similar to Kali Linux. This distro is not designed to be installed on a hard drive. Rather you can use Pentoo in any USB device for use on the go.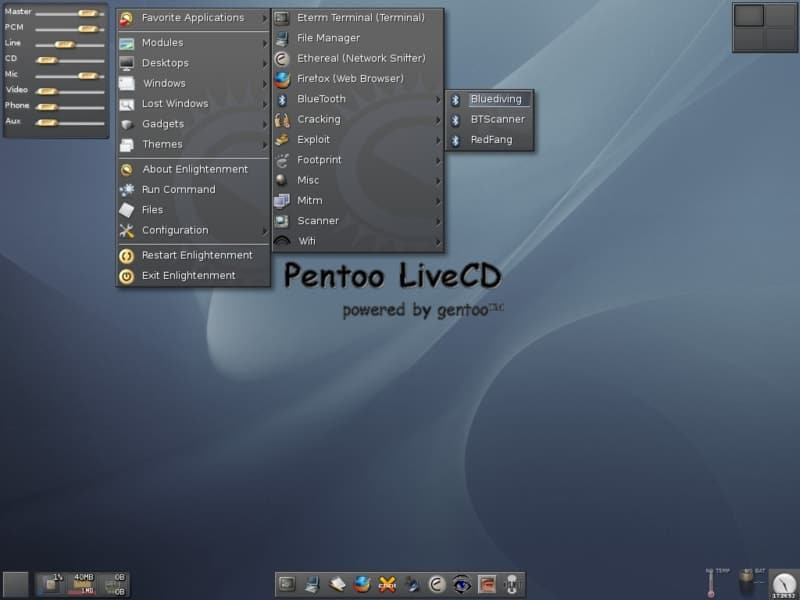 Key Features of Pentoo
It uses the Xfce desktop manager with a lot of customization options.
This distro uses a modified Linux kernel with pen-testing tools.
You can save the configuration into the USB stick.
Users get support from their official Discord channel.
Final Thoughts
---
Well, using a Gentoo Linux derivative is still not recommended to beginners. But if you want to give it a try, then you can choose any of the distros mentioned above. All of them are not meant to be used on home computers. Some special-purpose Gentoo Linux variants have no competition, and they are considered the best in their class.
If you are already a Gentoo user, then you can comment below about why you like to use Gentoo Linux instead of other distributions. Even if you have developed our very own customized Gentoo derivative, you can let us know to try that out.