In the past, there was no way to install a new operating system or create a rescue disc without burning a CD or DVD drive. But this process is time-consuming and not user-friendly. So most manufacturers have already abandoned the technology of burning CDs or DVDs. Instead, you can easily do these booting tasks by creating a USB flash drive bootable. But to boot a USB flash drive, you will need USB bootable software or tools.
This article will introduce the 5 best USB bootable tools that help you create a bootable OS from the Pendrive. So dive into the article and learn about top USB bootable apps.
Best USB Bootable Software/Tools
---
Today, the CD or DVD drive is almost vanishing from the hardware. So when we need to install a new operating system on our computer, we need bootable portable devices like USB or SD cards. There are many bootable softwares, but all are not functional. Moreover, many software contains malware, and it hampers your PC performance.
So before installing any new software on the computer, you need to know in detail about the actual source of that software. These 5 USB bootable apps I have described here are all collected from official sources and are capable of converting USB drives to bootable drives. So, I believe you can find the right USB bootable tool for you from this list.
1. Rufus
---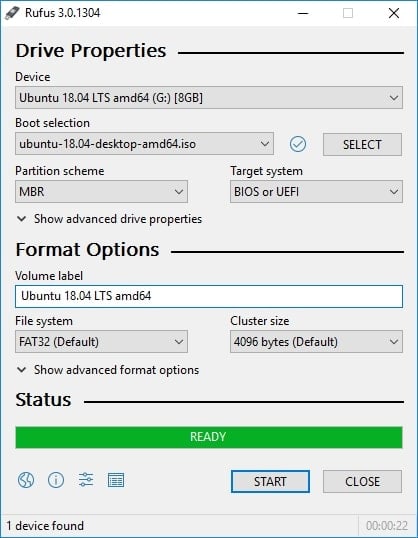 If you want to create a bootable device for Windows OS, Rufus is undoubtedly the best option. Rufus is a lightweight, fast, and easy to operate USB bootable app. This software is helpful to flash BIOS, firmware, and running low-level utilities.
Besides, this software helps you to accomplish some advanced tasks like creating a partition scheme file system. Moreover, you can check the bad block in your hardware through this USB bootable tool. So, this is a compact tool for those looking for a free USB bootable tool.
Key Features:
Rufus is the fastest USB bootable app compared to other USB bootable apps.
The user interface is simple so that anyone can operate this software efficiently.
This software supports multiple file systems, including FAT, FAT32, NTFS, UDF, and ExFAT.
It has a portable version to use this software without installation.
Rufus can detect bad sectors in the drive before booting the drive.
Pricing: Free
2. RMPrepUSB
---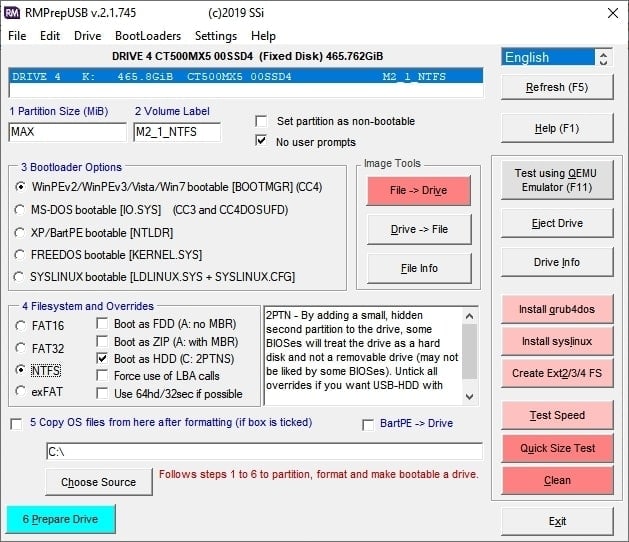 RMPrepUSB is a customizable and feature-rich USB bootable software that allows you to boot a device in any media. It has options for testing speed and size, partition, and QEMU Emulator. With this tool, you can also verify whether a bootable USB is created correctly or not.
You can install various bootloaders such as BOOTMGR, CC3, NTLDR, KERNEL, BartPE, SYSLINUX, etc. However, RMPrepUSB's complex software interface needs a learning curve to operate effectively. But the good news for users is that its official site offers enough user guides. So if you are looking for an advanced-level USB bootable app, RMPrepUSB is the best option.
Key Features:
The installation process of this software is quick and automatic.
With this bootable software, you can change the partition order to make the different portions accessible.
Besides, this software is compatible with both Windows and Linux operating systems.
This software supports multiple filesystems, including FAT16, FAT32, NTFS, and exFAT.
RMPrepUSB QEMU Emulator can help you to test a bootable USB drive without rebooting the system.
Pricing: Free
3. YUMI
---
YUMI is a universal multiboot installer tool that allows you to create a bootable USB disk for multiple OS, firmware, antivirus scanning, diagnosis tools, etc. This first-ever USB bootable tool introduces the technology to create a bootable flash drive. With this universal tool, you can create multiple ISO files from the same device. The best part of this software is that you can create persistent storage to back up essential files while rebooting.
Key Features:
You can backup all partitions on a selected device.
It has an extensive collection of multiple OS, disc cloning, antivirus, diagnostic tools, and penetration testing.
It has an option to secure booting, so you need to disable secure boot from your computer BIOS when you are booting.
YUMI supports NTFS and FAT32 file systems.
Besides, it supports the drag and drop option to enter a new ISO file on the multiboot ISOS folder.
With this universal USB bootable tool, you can also create an Android bootable disk.
Pricing: Free
4. Etcher
---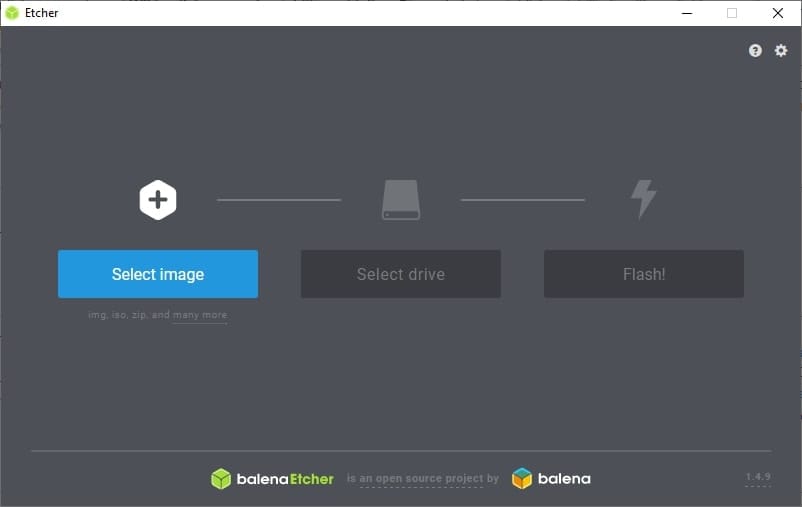 Etcher is a fast, convenient, and modern-looking USB bootable software that provides an easy-to-use interface and cross-platform functionality. So you can run this software in Windows, Linux, and even MacOS.
This open source bootable software allows you to burn images on your portable device like a flash drive or SD card. If you are in your operating system and need penetrating testing, Etcher makes it easy.
Etcher has a pro version that can write multiple cards or USB drives at once. If you are looking for an enterprise-level USB bootable app, Etcher would be the best option.
Key Features:
There is no complication in setup Etcher. You can complete the software installation process by applying only a few taps.
The user interface of Etcher is the primary aspect to choose this software for USB boot. You will be amazed at how easy it is to get things done using the software.
It can automatically detect the drive or USB on your system and display a "Not found" message if it has not been plugged in yet.
You can select your drive for booting that protects your entire hard drive from accidentally overwriting.
It validates burning, so you never experience any corruption drive.
Pricing: Free
5. WinToUSB
---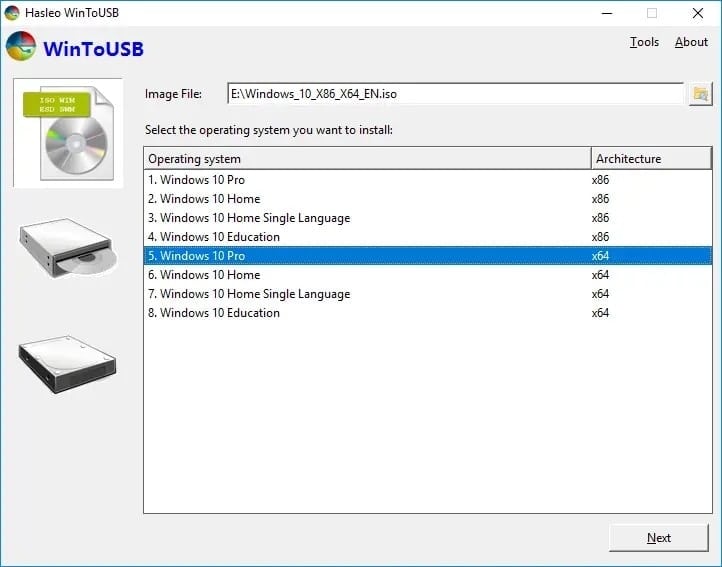 WinToUSB (elaborated Windows to USB) is a useful USB bootable app if you are a Windows user. With this software, you can easily create a portable Windows OS. After that, you connect your USB drive to your computer and run Windows without installing the Windows on your host computer.
This magic can be done because of WinToUSB wizard-style interface. If you have little or no booting experience, this tool assists you in completing the whole process. Besides, you can install Windows OS on your computer by using the Windows Installation USB Creator tool.
Key Features:
WinToUSB wizard interface provides step-by-step guidelines for creating Windows to the USB drive.
It lets you create Windows from ISO/WIM/ESD/SWM/VHD/VHDX image files or CD/DVD drive.
You can choose a system partition or boot partition and apply the application to this preferred part.
You can clone your preferred Windows and run it as a portable Windows on any computer.
Besides, you can encrypt your Windows via BitLocker to protect your data.
Pricing: WinToUSB has three editions. The free edition offers limited features. If you want to enjoy the full features of WinToUSB, you need to purchase WinToUSB Enterprise Edition. The current price of WinToUSB Enterprise is $299.95. However, WinToUSB Professional Edition is well functional at a cheap rate. The WinToUSB Professional price is $29.95.
Our Recommendations
---
Apart from the list, you may find many alternatives to USB bootable software. But if this is a new concept for you, and you have no idea about this software, I request you to stick among these five softwares.
If you want to narrow down the list, I recommend picking Etcher. It is a free open source and cross-platform functionality software in any operating system.
On the other hand, if you only deal with Windows, then my first recommendation is for you to choose Rufus. If you have a budget for a USB bootable app, you can also consider WinToUSB Professional edition as a bootable app for Windows OS.
Wrapping Up
---
USB bootable tool is a new concept for many. Hopefully, I have been able to give details about this through this article. However, if you need any assistance or any queries, you can feel free to comment in the comment box of this article. Moreover, you can share this article with your friends so that they are also learning about new but useful tools.