A vast number of online content is constantly circulating around us on the internet. But we can't consume all at the same time. Again, it is often necessary to revisit the required content. So every web browser has a bookmark option to save the content links so that we can read them in our free time. But the bookmark list becomes so large that the lists become messy and complicated to find what you want. So the bookmark manager comes into play to save and organize the bookmark list. This article has covered the best bookmark managers list that makes your internet usage experience easy.
Is the concept of bookmark manager new to you? So, before discussing the bookmark manager, we will point out the importance of the bookmark manager. Then you will understand how bookmark manager has made it easier for us to work with online content.
You can learn from this article why we use bookmark managers, which bookmark manager will be suitable for you, and what are their features and price. So without further ado, go straight to our discussion today. We request you to read the full article. Then you will be able to make the right decision in choosing the best-suited bookmark management tool.
The Importance of Bookmark Manager
---
A bookmark manager is a great tool that helps research information and creates a knowledge database. It saves us time as well as increases work efficiency. Let's take a look at how bookmark manager makes our daily tasks easier:
Help to save web links.
Make notes and save them from the web pages.
Save customized images from the web links.
Organize the saved link into folders and subfolders.
Assign a tag to the saved link to make it easily searchable.
Turn your saved links into shareable content.
Best Bookmark Managers
---
So undoubtedly, you have got an idea about the importance of a bookmark manager. Now you may search the bookmark manager on the internet. You will find many bookmark management apps on the internet from which it is difficult to find the most potent bookmark manager.
This article has compiled a list of the top 6 professional and versatile bookmark-managing tools. You can organize your internet content from any one of them. So let's dive into the next chapter of this article.
1. Raindrop.io
---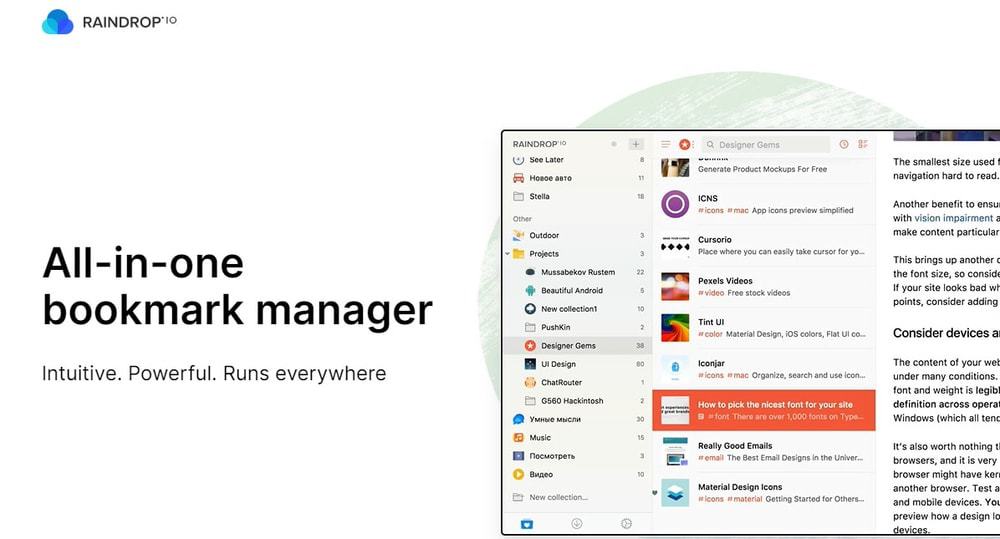 Raindrop.io is an intuitive and powerful all-in-all bookmark manager where you find all the necessary features of a bookmark manager. This bookmark manager has become popular because of its sleek and user-friendly interface.
You can bookmark all web content with this tool, including photos, songs, articles, and web links. Besides, you can organize your saved link into folders and subfolders and set predefined icons for the same group contents.
Raindrop.io lets you view the bookmark content at a glance through multiple views such as Grid, Headlines, Masonry, or List view. Besides, you can highlight the content with annotation to revisit it in the future.
Moreover, the Raindrop application is integrated with many third-party apps, including Twitter, Youtube, IFTT, and Zapier. For example, you can automatically save your Tweet or Youtube favorite video in your Raindrop account.
Key Features:
Save bookmark whatever contents are available on the web, including articles, photos, videos, audio, and web pages.
Set custom icons, screenshots, and cover pages of the collection of contents to find them easily.
Work together with your team by privately sharing the web links or making the web link public to share it with the rest of the audience.
The saved contents, either webpages or PDF files, are entirely searchable. Besides, you can navigate the contents easily by using tags, annotations, and comments.
Sync all devices with Raindrop.io, so you can easily access your data from anywhere.
Pricing: Free but option to upgrade to the Pro package at $28/yearly to access premium functionality like full-text search, nested collections, cloud backup, and more.
2. Pocket
---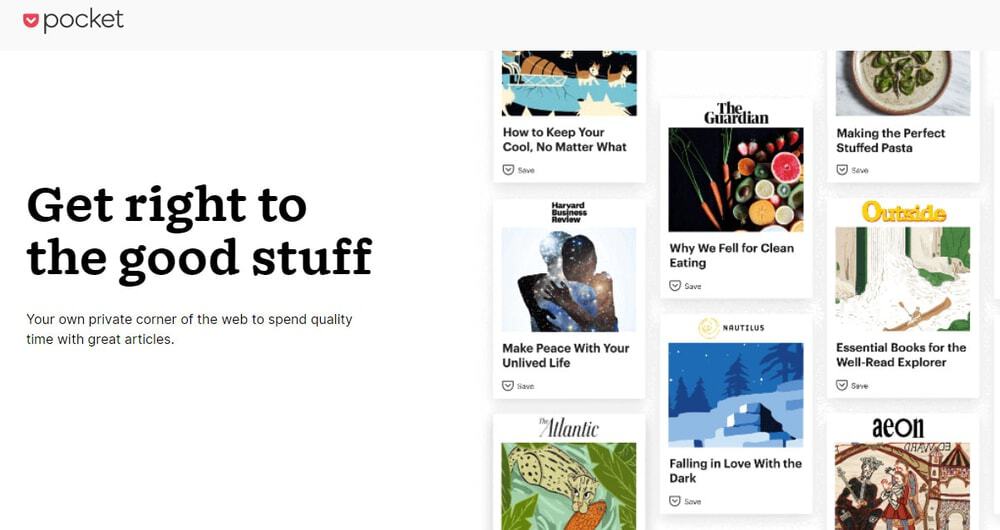 Pocket is one of the top bookmark managers that assist you in saving articles, videos, and nearly all web content to read or watch later. This discovery platform helps you find exciting web content published by newspapers, content writers, or curators. So it saves you time to find the most compelling stories online.
Pocket is an app and web browser extension and is compatible with all major platforms. So you can easily access your saved content offline from all devices. Besides, this bookmark managing tool integrates with over 500 apps, including Zite, Twitter, Flipboard, Pulse, Poki, and Byliner. So, Pocket is a great bookmark manager app for reading web content offline.
Key Features:
Pocket lets you save articles, photos, and videos from the web.
Categories the saved contents with tags and highlights the essential or interesting part of the content.
Listen to your saved article through the pocket playback option.
You can modify your article title and font style to focus your reading.
You can save the article in your Pocket permanently so that it will be saved even if it is deleted from the web.
Pricing: Both free and premium packages are available. You have two subscription packages to go to the premium package; $44.99/year or $4.99/month.
3. Lasso
---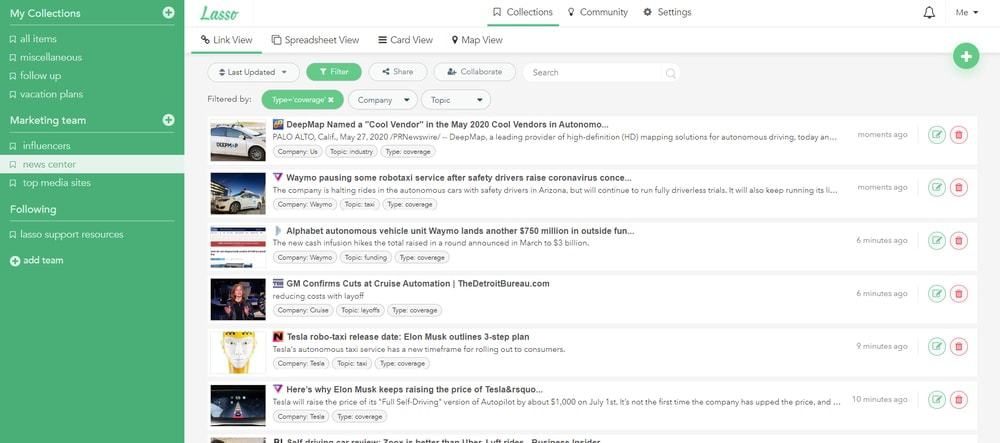 If you are looking for knowledge management and web research tools, Lasso is one of the best suitable applications. It is a cloud-based bookmark organizer that allows you to save web content in a secure place. Besides, Lasso offers a clean and easy-to-use dashboard to capture and organize web content.
Lasso is an excellent tool for collaborating with teammates. You can share your curated article both publicly and privately. Though this platform is integrated with Slack, you can easily connect with your family, client, or teammates and privately transform messages and web content. Besides, this platform lets follow and gain followers. Lasso is highly effective for content and affiliate marketing, client and influencer research, and sales growth.
Key Features:
Save web content privately for personal use, collaborate with the team, or publicly share on social media platforms.
You can also save screenshots, web links, and more with this tool.
It has filtering, searching, and sorting options to organize and find the content quickly.
Organize your saved content in several layouts. It provides a web link, spreadsheet, grid, and map view.
You can configure and publish the dynamic landing page to circulate your collections.
Pricing: Lasso offers free services for up to 5 team members.
4. Dropmark
---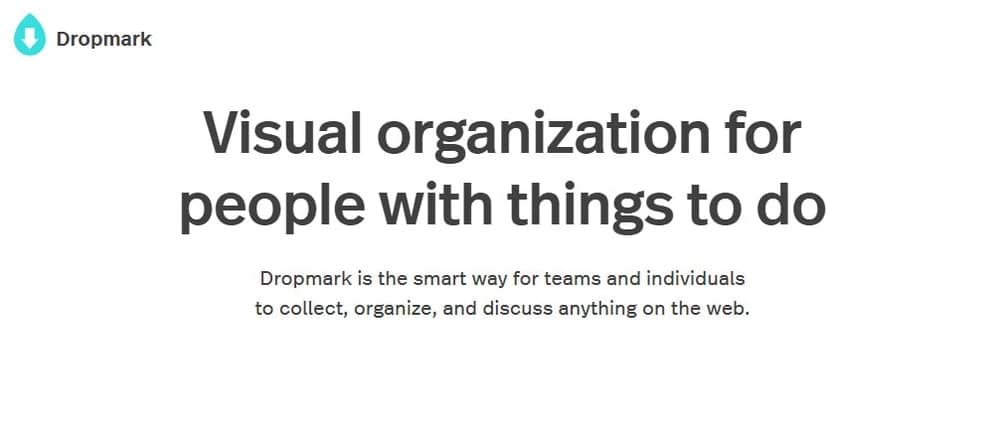 Dropmark is one of the most visually appealing bookmark managers in the market. No matter what files you have, you can save in Dropmark all images, videos, sound bites, web links, notes, and even gif files. Just drag your files and drop them into the Dropmark dashboard; it automatically saves your contents with a visual preview.
The unique feature of the Dropmark is its slideshow presentation of the Dropmark collection. Besides, Dropmark helps you to collaborate with your team and clients. With this tool, you can share your collected content with your team or clients and gather feedback with comments. Overall, it is an intelligent app for collecting, organizing, and discussing anything online.
Key Features:
Keep everything saved in the Dropmark, such as words, phrases, notes, images, videos, weblinks, and gifs, and organize them in a specific folder.
Assigning a tag in every content makes you quickly searchable.
Dropmark import tool helps you quickly upload all contents to your Dropmark account.
Share your content with your teammate and set the permission limit on who can access the files.
Besides, the team can comment on and annotate the content to discuss everything.
Pricing: It has four pricing plans, including a Free plan. The other three premium plans are designed for individuals, teams, and enterprises. So you have the freedom to choose your plan according to your needs.
5. Diigo
---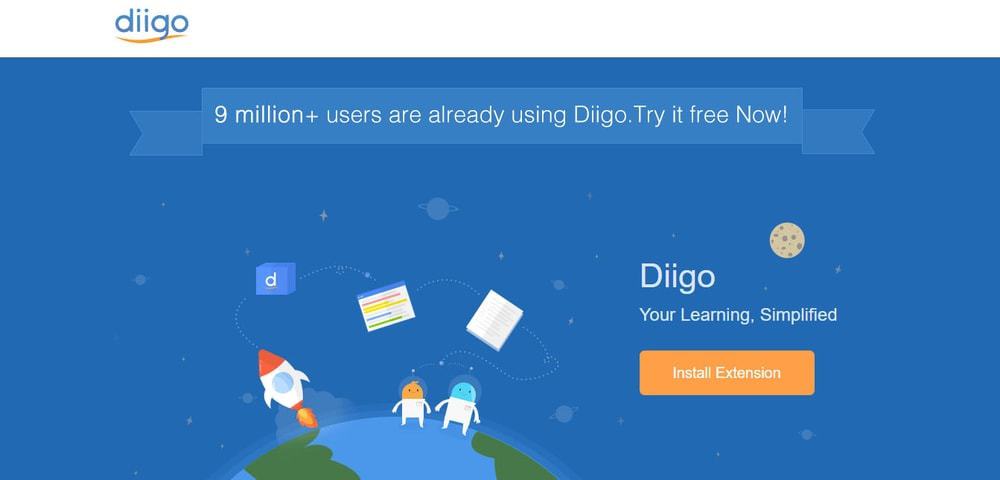 Diigo is a personal knowledge management tool that helps you build a personal library in the cloud with web links, photos, notes, articles, etc. While you save your information in Diigo, you avoid the possibility of losing the data. Besides, you can save your data by assigning tags to make it search-friendly. Moreover, you can save sticky notes, annotations, and screenshots while going around the web.
This intelligent tool improves your workflow and productivity; that's why more than 9 million users are trusted with Diigo. This application supports all devices and platforms, including iPhone, iPad, Android, Windows, and Mac. So you can access your Diigo data from anywhere, anytime. The good news for all users is that this application is fully free. So you may try this app at least one time.
Key Features:
Diggo lets you archive any web content which never lost, and you can extract information later.
Highlight or sticky notes at any point on the web pages for personal references and collaboration.
Share pages with annotations on the social media sites such as Facebook and Twitter.
Create a group with friends, colleagues, clients, and classmates to share, discuss, and collaborate on information.
The outliner lets you organize your data to create a structured research model.
Pricing: Free
6. Evernote 
---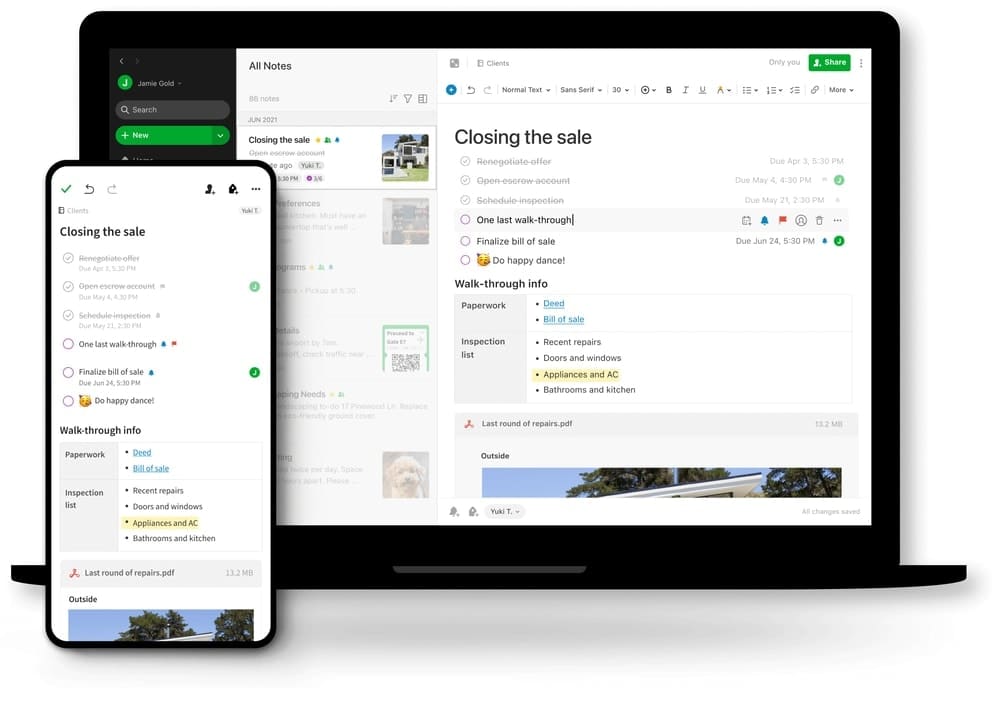 If you are an active internet user, writer, researcher, entrepreneur, or learner, you may hear the name Evernote. Evernote is a digital notebook where users capture ideas, images, contacts, or anything they need to remember.
Executives, entrepreneurs, and creative professionals commonly use this tool. If you already have an Evernote account, you do not need to download another bookmark manager because the Evernote web clipper tool helps you save web pages.
We have added Evernote as a bonus to our list. Evernote is a powerful tool for capturing, organizing, and scheduling information in one place. Those who already use Evernote regularly will be able to complete the tasks of the bookmark managers using this tool. However, you can only use separate tools as a bookmark manager.
Key Features:
With Evernote, you can save your idea, notes, articles, web pages, scanned PDFs, and digital content.
Evernote offers many templates to save data in an organized way.
It lets you connect with your Google calendar to bring notes and schedules together to make your every moment effective.
Its advanced search option lets you find fast and accurate information. With this tool, you can also search handwriting and scanned documents.
Evernote is integrated with many popular apps like Google Drive, Slack, Microsoft Teams, and Salesforce that help you design a productive workflow.
Pricing: Evernote offers three pricing plans, including a free plan. If you want only to capture ideas and notes, Evernote's free plan can accommodate this. But to get access to cloud storage, collaborate, and share knowledge with the team, Evernote Personal or Professional should be considerable.
Our Recommendations
---
So from the discussion above, we get the idea that bookmark managers save our digital content and help organize the content and find them quickly. If you search the internet, you will find many bookmark manager tools offering diversified features. So you have to decide what kind of feature-rich application will be right for you.
However, if you leave this decision to us, our first suggestion would be to use Raindrop.io because this tool covers all the features of Bookmark Manager. But to make the best use of Raindrop.io, you need to upgrade to the Raindrop Pro version.
On the other hand, if you want to use all the features of Bookmark Manager for free, then we suggest using Diigo. Besides, Pocket is the most recommended bookmark manager for those looking to discover interesting facts and articles.
Final Words
---
So there, you have gotten a clear idea about our listed top 6 incredible bookmark managers and a bonus idea about the effectiveness of Evernote. We even gave our recommendation in the recommendation section. So hopefully, by reading this article, you will be able to choose the right bookmark manager for you.
You should consider your required bookmark manager application's features and budget when choosing a bookmark manager. If you still have trouble deciding, please comment in the box below. Our team will help you choose the right bookmark manager.
Besides, if you find this article useful, don't forget to share it on your social media. Your single share will benefit many more in your circle.