Whether you are a developer, administrator, or even a traveler, you might want to access the remote desktop to perform any task, including mounting remote directories, cleaning remote databases, or even backing remote servers. If you are a Linux user, in this situation, the Linux remote desktop clients help to communicate with the remote RDP server for easy access. There are many remote desktop protocols available for performing the task of remote system access. It's a communication between the server and client software.
Linux has the default SSH remote access tool to perform this sort of job, but as it's done through the terminal, so many users do not feel comfortable using it. Besides using the terminal, you can also use GUI based remote desktop client for your Linux system.
Best Linux Remote Desktop Clients
---
In this roundup article, I will share a list of the best 20 Remote Desktop Clients for Linux, which will cover all the protocols, including VNC (Virtual Network Computing), RDP, SSH, NX, etc. But we cannot say which one is appropriate for you. As you are aware of your own requirement, we suggest you have a glance over the brief discussion of all the options. You will find the best client for yourself.
1. Remmina
---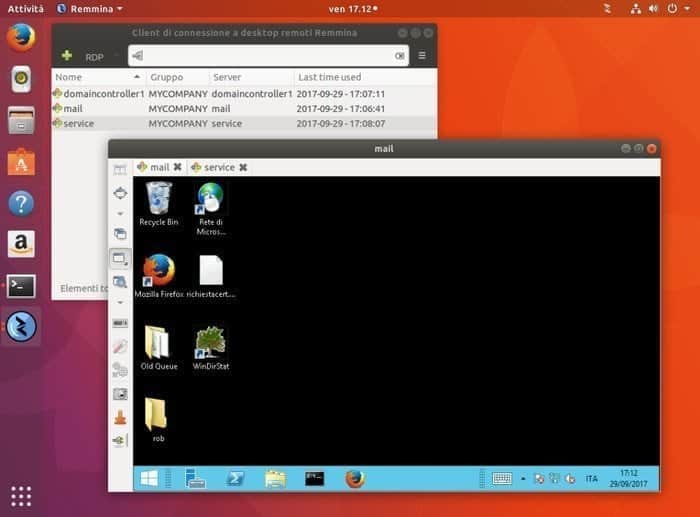 Remmina Remote Desktop Client is an open source, free, and powerful remote desktop-sharing tool for Linux and Unix-based systems. It offers feature-rich useful tools for the administrator and travelers to have easy and smooth remote access. It's developed in GTK+3. The interface is modern, comfortable to use, unified, and supports several network protocols, including VNC, RDP, NX, XDMCP, SPICE, EXEC, and SSH.
Important Features
It is a Linux remote desktop to Windows, so you can control a remote PC with Widows just by using your Linux system.
Remmina was initially a very useful tool for Gnu and Linux system administrators.
This application ensures better connection flexibility and secure performance.
Though it doesn't have its own server, it lets you operate all the remote desktop operations.
Eventually, it supports lots of network protocols too,
Remmina Official Snapcraft Flathub
2. Vinagre
---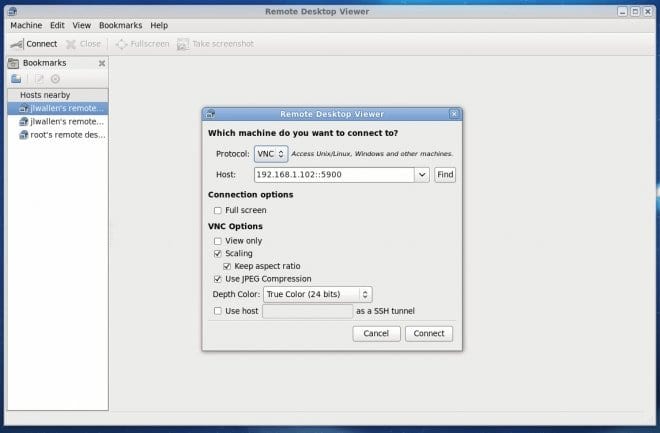 You can also try Vinagre if you are looking for a secure remote desktop client. It is suitable for almost all Linux distros with lots of compelling features for accessing and controlling a remote system. This client is well integrated into the gnome environment.
One of the best features of this remote desktop software is that it supports a VNC server and has multiple connections open simultaneously. It also supports many protocols like RDP, SSH, SPICE, and VNC.
Important Features
This Linux RDP client lets you connect remote desktops using multiple protocols.
It certainly offers the simplest step to connecting a remote PC. For that, you have to choose a protocol and enter the IP.
Vinagre is also known to be the most user-friendly remote desktop client.
It can indeed sniff and discover a running VNC server.
You can not use it to connect a PC with any other operating system except Linux.
3. TigerVNC
---
TigerVNC is an open source, free and multi-platform VNC implemented software that allows you to interact with the remote system via GUI-based client or server application. This Linux remote desktop software is capable of running 3D and multimedia files smoothly. In all the devices, it maintains a consistent look with the reuse of components. It is indeed a very secure remote desktop client that ensures utmost protection for sure.
Important Features
This Ubuntu RDP client supports cross-platform, and you can control a remote PC with MacOS or Windows from a Linux system and vice versa.
The developers simply focused on its remote operating functionality and performance.
It lets your remote file transfer effortlessly. You don't need to use an additional file transfer app with it.
It has a dedicated server for Linux.
This application gets regular updates, and the user interface is quite minimalist.
4. TeamViewer
---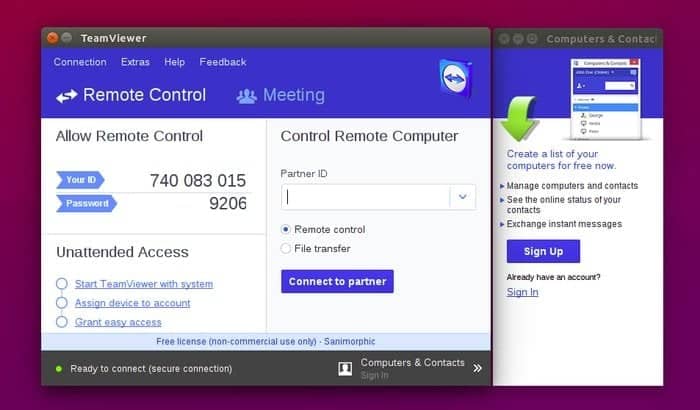 TeamViewer is a protected, robust, cross-platform, and modern remote desktop software that lets you access remote devices with multiple devices and users simultaneously. It has both options to use, a free for personal and a paid version for business purposes. TeamViewer is an all-in-one remote desktop software for sharing the remote desktop, online meetings, or even transferring files across devices that are connected over a network.
Important Features
It offers real-time support and access with a strong security system.
To ensure 24/7 access to remote computers, you can simply use the TeamViewer Host.
TeamViewer QuickSupport is a unique feature of this application that lets you use it without downloading the entire application.
It is initially free to use, but you get more features by buying the premium version.
This Linux desktop client is suitable for use in both home and office, and you can set connections between multiple operating systems.
5. RealVNC
---
RealVNC is also a multi-platform, reliable, easy-to-use remote access client for Linux, Windows, and much more. It offers a unique technology based on VNC screen sharing with add-on products like VNC Connect and VNC Viewer.
This remote desktop client lets you access the remote desktop system, control the unattended system, offer remote support, get access to the central resource center, and much more.
Important Features
With an encrypted security protocol, RealVNC ensures secure access over remote desktops.
This application simply lets you enjoy fast remote desktop access from anywhere, anytime.
You can even have access to iPhone and Android smartphones too.
It indeed lets you run a connection between any Java platform.
There is a minimalist UI, and the developers update this application regularly.
6. NoMachine
---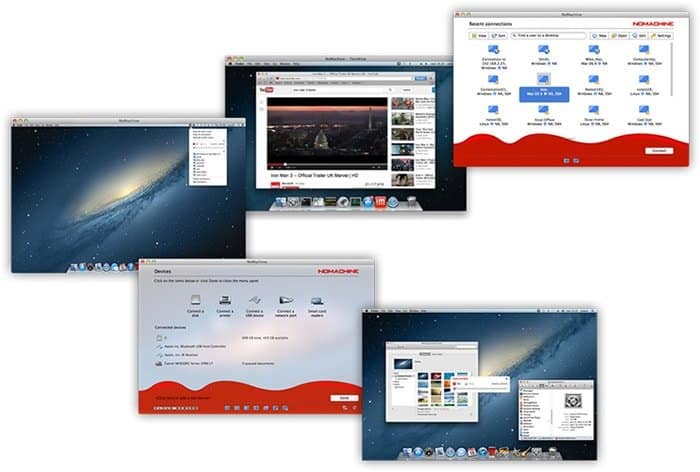 NoMachine is a fast, secure, cross-platform, and high-quality remote desktop client based on NX protocol. This protocol can perform really well and gives local speed responsiveness, just like you are sitting in front of your computer. Whatever you want to share, everything is possible with this free remote desktop client wherever you go. It's a personal server that is reliable and encrypted.
Important Features
With lightning speed, it gives you access to all your documents, files, videos, audio, etc.
You can certainly make a connection between any operating system with this Ubuntu RDP client.
Eventually, you can enjoy watching TV, DVDs, Hulu, YouTube videos, etc., from anywhere, having access to another system.
Not just desktops, you can also use it for any device type seamlessly.
It indeed lets you record your remote operation as well.
7. KRDC – Remote Desktop Client
---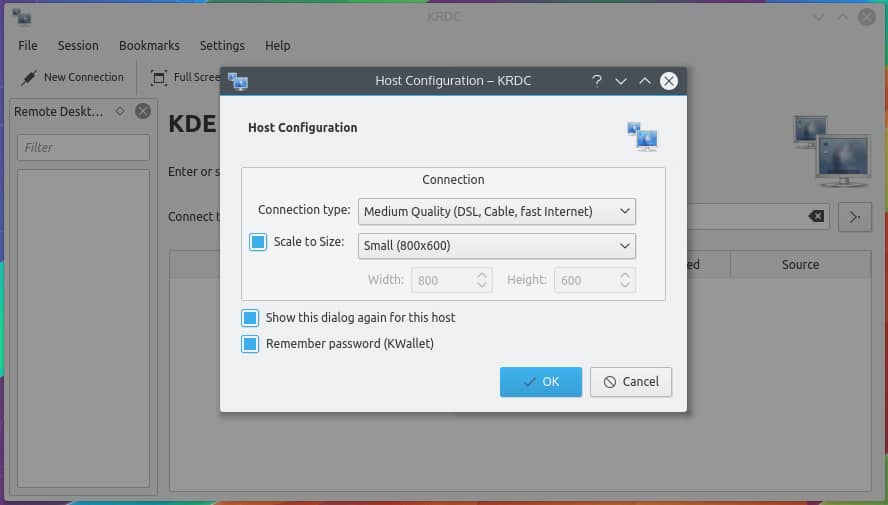 KRDC is a native remote desktop client for the KDE desktop environment that's a simple and small software for performing essential desktop-sharing tasks. Though it doesn't provide many features to others described above, you can still remotely access the system with speed using Linux RDP or VNC protocol. This well-established RDP client is compatible with different network protocols.
Important Features
It is one of the most popular Linux remote desktops for Windows.
KRDC mainly utilizes the Remote Frame Buffer protocol for remote access.
This Linux RDP client supports Virtual Network Computing and many other Remote Desktop Protocol protocols.
With regular updates, KRDC will provide you with all the latest functions.
It is a secure and mature code-based remote desktop client.
KRDC Official Snapcraft Flathub
8. X2Go
---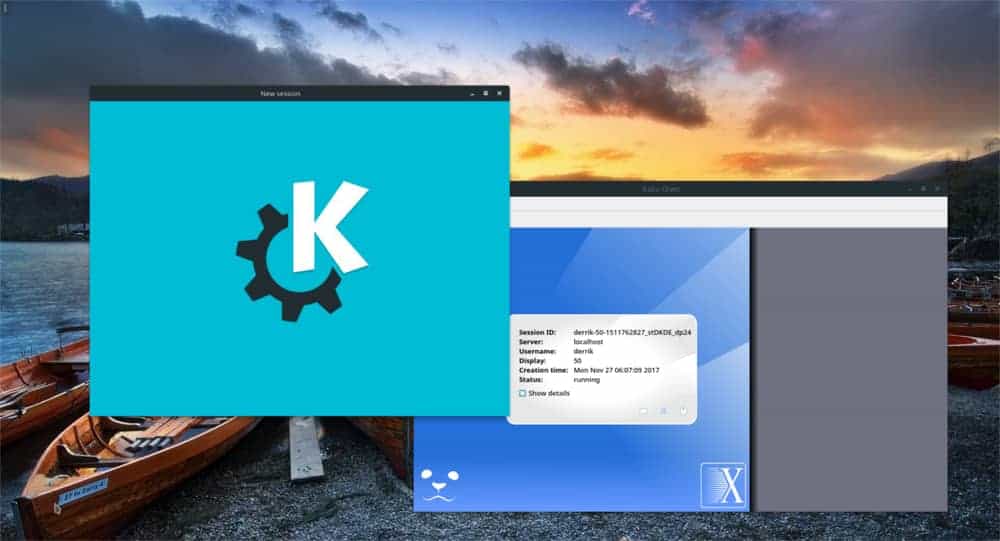 X2Go is an open source remote desktop access client for Linux that uses desktop sharing NX protocol. This application is speedy and works better than the VNC protocol. It's the best alternative to RDP and VNC desktop sharing protocols. This high-end Linux remote desktop software lets you enjoy the connection between both low-bandwidth and high-bandwidth connections. Also, it supports audio and file sharing functions.
Important Features
You can easily disconnect and reconnect an operation even if you are using a different client.
X2Go ensures securely tunneled traffic over SSH.
It is compatible with all Linux distros and desktop environments, including MATE, GNOME, KDE, etc.
You can indeed use it as the graphical front-end while installing a client-side rdesktop or xfreerdp efficiently.
Eventually, you can exchange access to a particular application or just the entire desktop.
9. Chrome Remote Desktop
---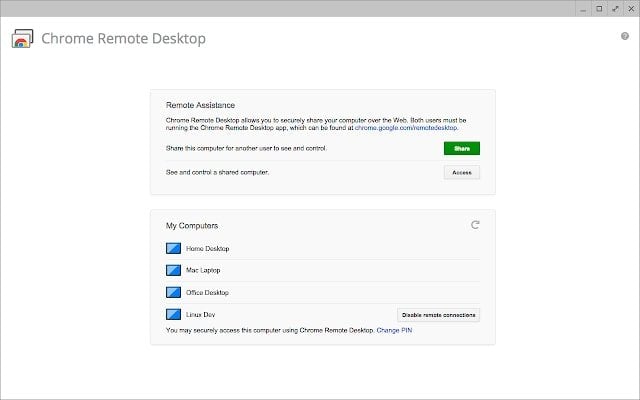 This list of remote desktop clients will remain incomplete if I don't mention Chrome Remote Desktop tool. As the Google Chrome browser can be used on all devices, including Linux, Windows, Android, macOS, and much more, thus it's possible to run this free remote desktop software everywhere with less configuration. With the help of this free remote desktop client, you can give or take any remote support, access files, or complete an online meeting.
Important Features
It is a fast and secure cross-platform supported desktop client.
Chrome Remote Desktop lets you view files or run programs on a remote system.
This tool ensures strong security with Google's secure infrastructure that utilizes the latest open web technologies.
You can even run it on your tablet and smartphone as well.
It simply comes with a very minimalist interface, and Google updates it regularly.
Chrome Remote Desktop Official
10. Xpra
---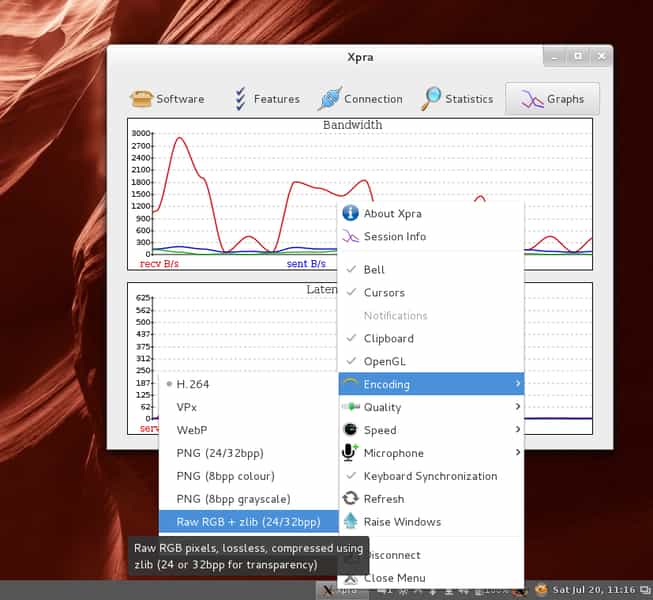 Xpra is a remote desktop client software that enables the screen sharing of another computer. It is open-source, free software. Xpra allows file transferring from one PC to another one and even printing something from another computer.
This remote desktop client software can be downloaded from Xpra's official website. Xpra can be counted as an alternative to TeamViewer, and it is promised to update according to customers' demands.
Important Features
This popular Linux desktop client initially supports multiple users and file sharing.
It comes with a built-in HTML5 client and a set of essential GUI tools.
Also, it has functions for hardware acceleration with clipboard and keyboard synchronization.
It's a cross-platform Linux RDP client that supports IPv6, SSL, CNC, and many more.
You can indeed forward sound, files, clipboard, and printing functions as well.
11. Apache Guacamole
---

Apache Guacamole is an open-source remote desktop that helps users to save their computers on the cloud of the program. It provides a secure cloud where users can save their PC with a unique client ID and access it from anywhere, anytime. In a sentence, Apache Guacamole is an online-based open-source cloud server to access from anywhere used by especially enterprises or mid-level organizations.
Important Features
This application is built on a very well-documented API on its own stack.
It indeed comes with dedicated commercial support.
Apache Guacamole is strictly integrated into all other applications while sharing the system.
You can either exchange access to a single application or the entire desktop system.
This HTML5 web application requires no plugin or external support.
12. TightVNC
---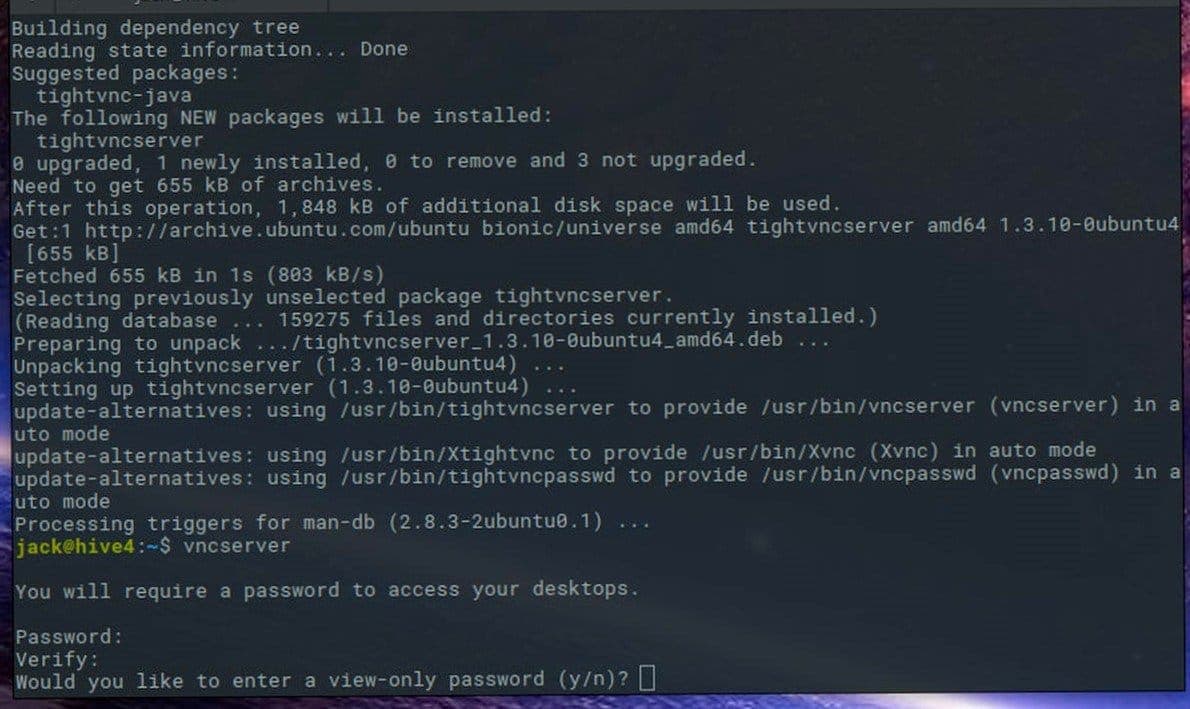 TightVNC is generally used to control a computer by another computer from a distant place and is generally used for education, medical, governmental work purposes, etc. This Linux remote desktop client helps save time by disclosing the traveling to a certain place to use the PC and meet the needs. It can be thought of as an alternative to TeamViewer. This software is free to download from their server.
Important Features
This RDP server is highly implemented with VNC protocol.
It is a very fast and secure Linux desktop client.
You can simply use it on the platform and on any smart device.
It also comes with an integrated function for the DemoForge DFMirage mirror driver.
It also lets you share files and enjoy smooth control over remote desktops.
13. AnyDesk
---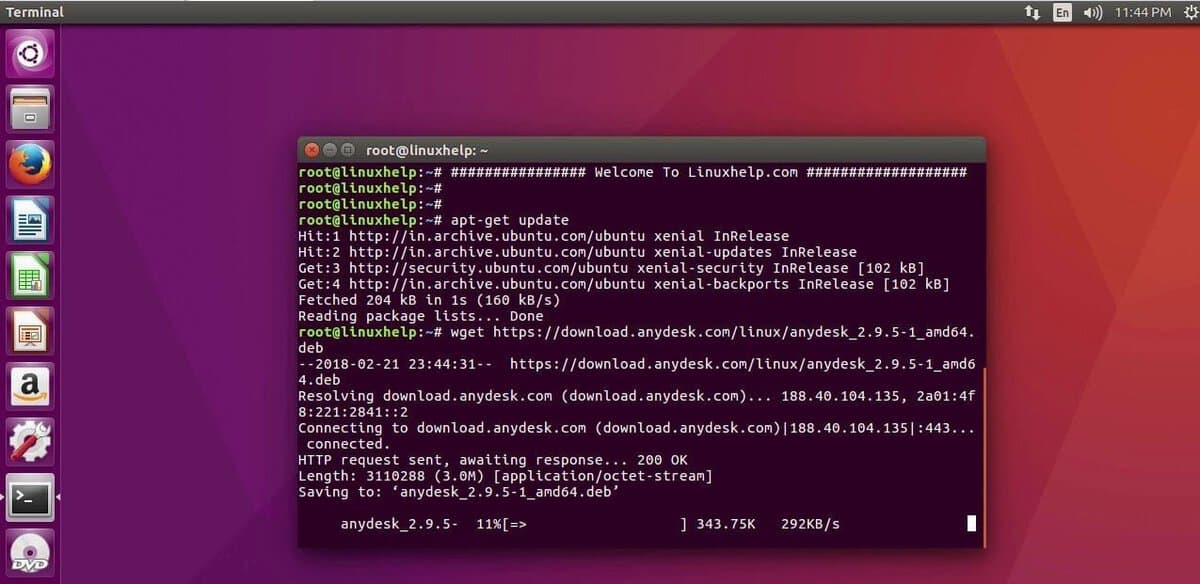 AnyDesk is a popular remote desktop software used almost everywhere and can be counted as an alternative to TeamViewer. Employees can help their clients from their offices by accessing their PC through AnyDesk to solve problems. It allows users to whitelist trusted access and block unauthorized access. The monitoring team is noticing all the reports on AnyDesk and deciding on the upgrade of the software.
Important Features
Anydesk offers a blazing-fast remote desktop[ performance with a 60 fps frame rate.
It is maybe the tiniest RDP client, which takes not more than 3 MB of space.
This Linux desktop client ensures topmost security with 256-bit AES Transport Encryption and Military-grade TLS 1.2 security.
It indeed works on any platform, including Raspberry Pi, Android, iOS, etc.
You can enjoy excellent flexibility and smooth desktop controlling performance.
14. FreeRDP
---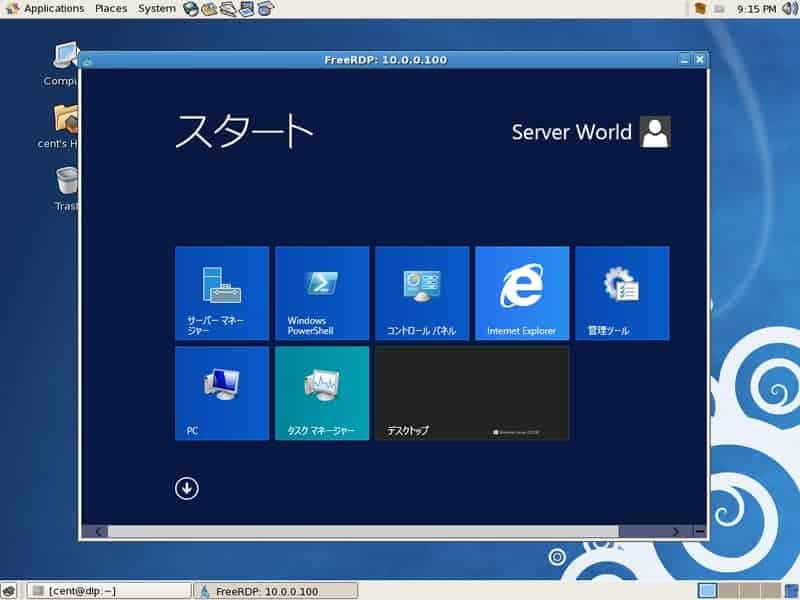 FreeRDP is one of the most upgraded remote desktop programs consisting of various features like working on multiple desktops simultaneously. It saves time and reduces the complexity of the work as it lets you enjoy very quick and effortless access to the remote PC. It also allows file transferring from one computer to another computer. It was released under Apache License.
Important Features
FreeRDP ensures completely free implementation of any RDP system.
It is cross-platform and device-supported remote desktop software.
A function, inactive session timeout, lets you avoid idle sessions.
It indeed offers a library that lets you integrate RDP support into most third-party applications.
This software gets regular updates, and the developers fix bugs regularly.
Zoho Assist Official
15. Remote Access Plus
---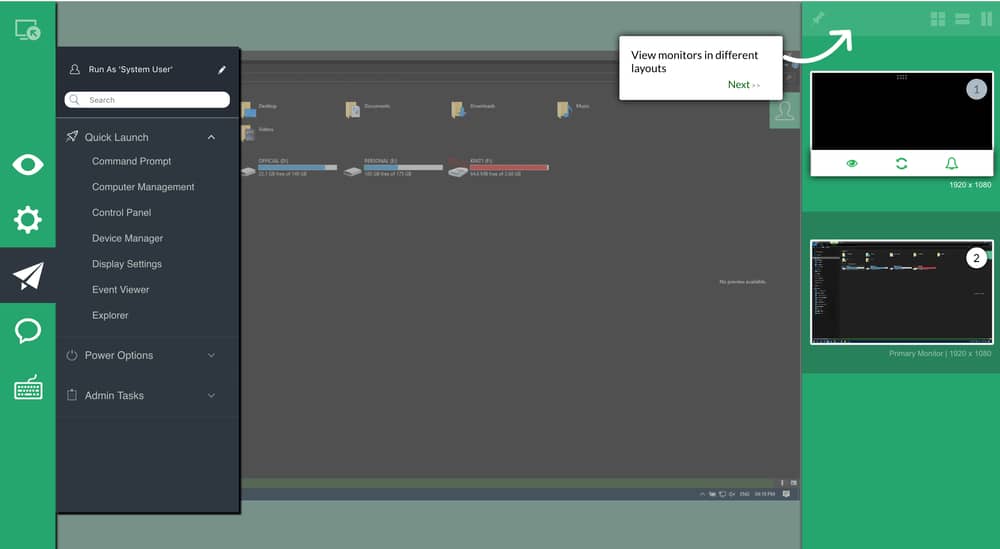 Remote Access Plus is a remote desktop client software that is generally used by corporates for easier control of the whole office by controlling the PCs. Users use this software mostly to troubleshoot problems as a team. Remote Access Plus allows video chat and voice calls over the software. The software is fast and secure. The software is not free at all but offers a free trial to its customers.
Important Features
This cross-platform Linux desktop client is suitable for both home and official purposes.
The HIPAA function simply ensures a smooth remote desktop performance.
It lets you test all your network peers effortlessly to diagnose issues if you have any.
You can directly make a voice, video, or text conversation directly from this application.
Functions for remote shutdown and wake on LAN are available here as well.
16. DWService
---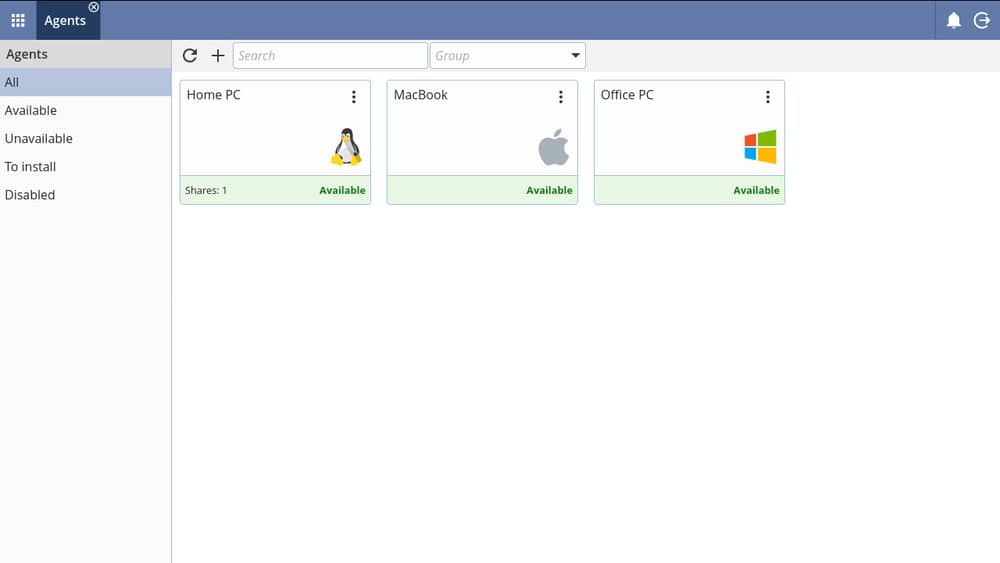 DWService is an exceptional remote desktop software that helps people connect their PC from anywhere at any time. Access can be done from any device, and the only thing required is a network or internet connection.
DWService allows file sharing with other computers without uploading it to the server. This is an open-source, free remote desktop software. The download can be done from the official server.
Important Features
DWService comes with a bucket full of keyboard shortcuts.
There is a very minimalist UI, and you will love the smooth performance.
You can initially share files and make conversation with the remote desktop holder.
This application indeed offers a strong security system.
It is also compatible with multiple devices and platforms.
17. eHorus
---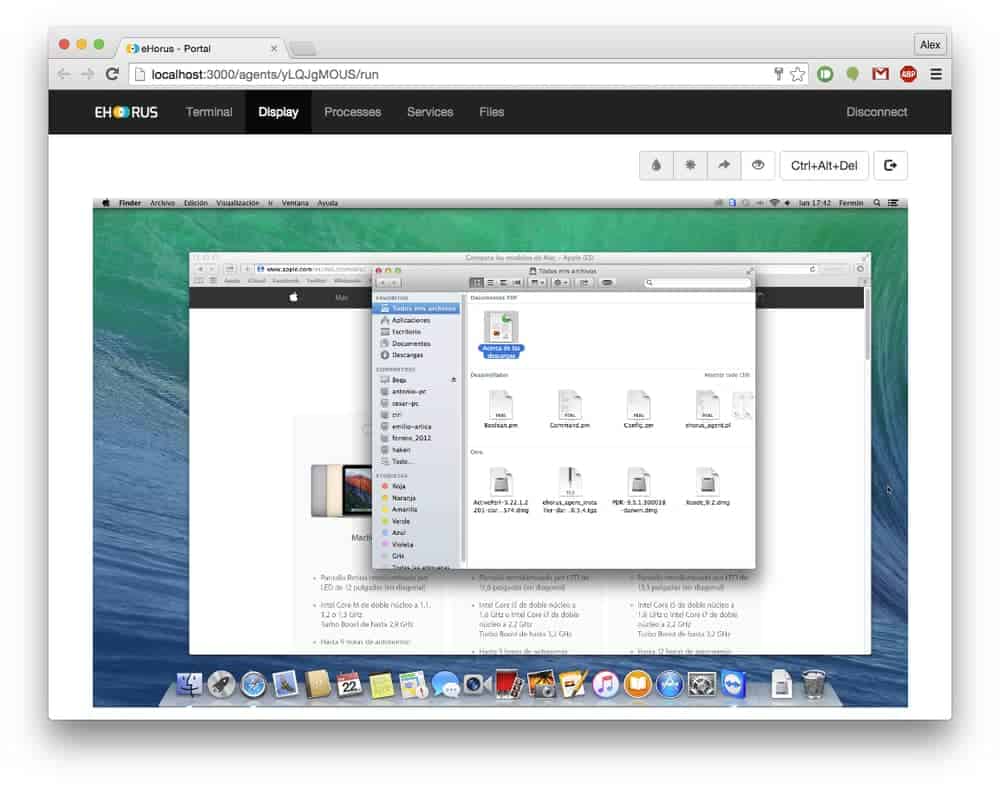 eHorus is an upgraded remote desktop client software by which users can share their screens via URL. Up to 10 computers can be connected and controlled at a time. eHorus allows users to manage their servers on their own. Users can copy files and upload those there. This remote desktop software is fast in use and trustworthy for security. Getting a license from eHorus is not free at all.
Important Features
It initially offers the users non-centralized local passwords for security.
eHorus allows 100% on-premise installations, and that doesn't require any external connectivity.
High geographic desktop sharing performance is guaranteed here with the auto-balancing feature.
This application comes with a very interactive UI.
From the running browser, it provides direct access to the shell in text mode.
18. mRemoteNG
---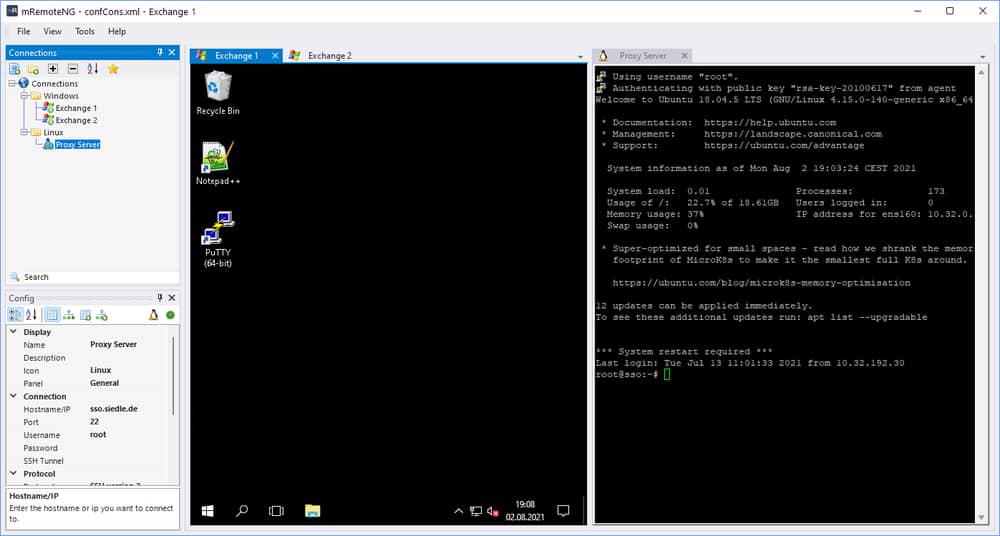 mRemoteNG is an open-source, free remote desktop client to serve customers with screen sharing. This remote desktop client for Linux works under multi-remote desktop protocol and virtual network computing.
It has introduced Telnet meaning to Telecommunication Networks. mRemoteNG works as a next-generation remote software and provides security to its best. This is an alternative to TeamViewer, which is considered the best remote desktop software for Linux OS.
Important Features
This Linux RDP client offers a convenient and near-effortless UI.
You can create New Folders on remote computers and servers.
mRemoteNG has several different protocols for optimized connection.
It also includes quick-access keyboard shortcuts.
You can manually configure the SQL server for this application.
It indeed supports numerous external tools and comes with browser extensions for users' convenience.
19. FreeNX
---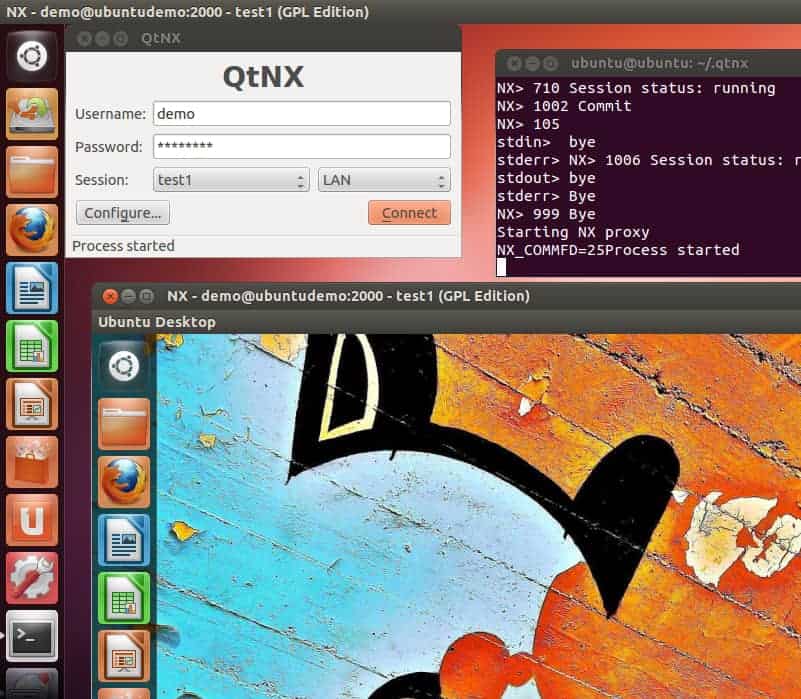 You can also use FreeNX, which lets you enjoy efficient access to another computer remotely. You can install this software from Sourceforge, and it is an open source app developed based on SSH. Besides, it is quite fast and lets you enjoy a very smooth performance. The installation process is simple, and you can control a PC with Windows from your Linux system and vice versa.
Important Features
It was only suitable for Arch Linux when it was launched, but now, other Linux distros users can use it.
FreeNX is good for use at home and for official purposes.
This software ensures a protective environment to enjoy access to remote computing.
Indeed, it will consume very small amounts of bandwidth when controlling another remote PC.
This tool also offers real virtual KVM switches as well.
20. XRDP
---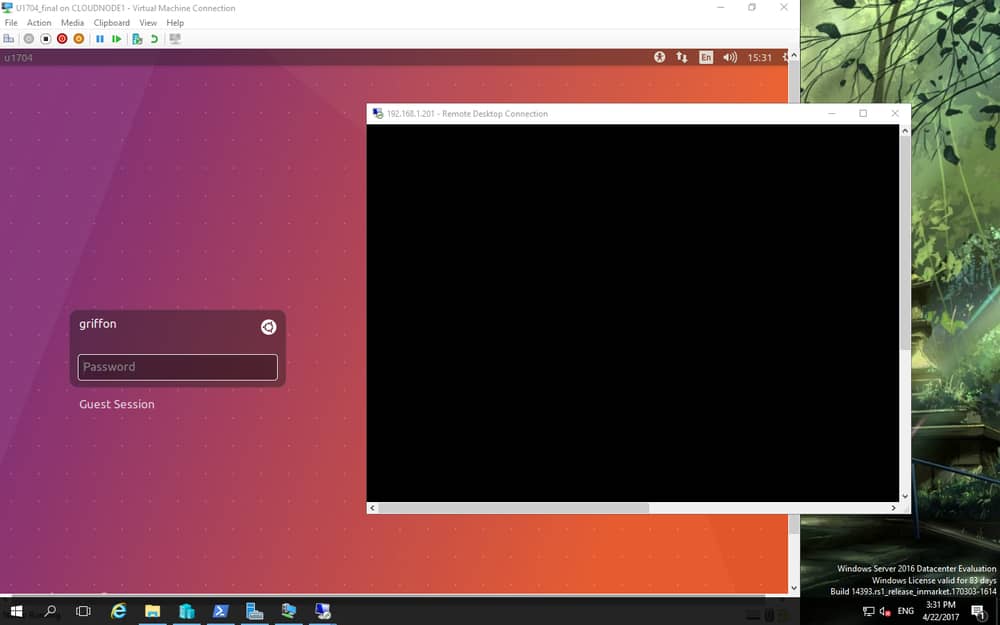 If you are expected to enjoy a graphical login to another PC remotely, you should try XRDP. It is our final recommendation for today, and you can use it for the best Linux remote desktop experience. Besides not just for Linux, you can use this remote desktop software for Windows, macOS, iOS, and Android devices. Let's check out what's more it offers.
Important Features
It supports easy and fast two-way clipboard transfer.
XRDP uses TLS by default for faster and strong encryption.
It comes with an intuitive option for audio redirection.
Also, it ensures Drive redirection, and it is able to mount local client drives directly on the remote machines.
Indeed, it supports the connection of almost all the RDP protocols.
Final Thought
---
This list of Linux remote desktop clients may seem redundant. Still, it is always better to have different options for the users because different users have different purposes while accessing a remote desktop environment. So, this variety of Linux remote desktop clients helps to perform the tasks.
However, I am sure that you have now no confusion left about the best Linux remote desktop client. Still, if you as me to narrow down the list of recommendations, I will suggest TeamViewer and TigerVNC.
Is this article helpful? Let me know if you have any better Linux remote desktop client that's not included here in the comment below. Moreover, don't forget to share this tutorial on social media.