Linux Window managers manage the system windows, which bring up the application. Let us clear it up with an example; when you usually start one application, you will get a manager for your Window, which usually runs in the background. For the appearance and placement, these are responsible. In this piece of writing, we are going to get the basic ideas of the Top 20 Linux Window Managers that are easy to use yet quite powerful in their work.  
Best Linux Window Managers
---
Do not confuse your Linux window managers with your desktop environment because the desktop manager is something that contains Windows toolbars, wallpapers, desktop widgets, folders, and icons, and these usually afford you a collection of applications and some libraries so that you can cohesively operate your computer.
The desktop environment has its manager, where the compositing window manager will let the Window be drawn and created separately. Let us know the best Linux Window Managers and their basic features.  
1. i3
---
The thoroughly documented Linux Window Manager – i3 is entirely configurable. This manager can be configured in any way its user wants, from the placement of opened applications to the custom keyboard shortcuts; it is configurable in every way. The plain-text configurations are effortlessly readable, and it does not need any Haskell or LUA.
The switching and managing of floating windows are also easy, as they can be toggled with the help of $mod+shift+space. No gad is in the Window, and the development process is sane where bugs are prevented. The user can also use the terminal to get notifications of the completed actions.
2. Awesome WM
---
Awesome WM is one of the best Linux window managers that allow you to port the asynchronous XCB library instead of the XLib. Multiple tags are allowed to keep the workspace organized with the Awesome WM, which is entirely extensible with the LUA. This can be configured, skinned, and keyboard-friendly, along with the feature of using shortcuts.
The default configuration of this is developed, and it supports multi-workspace. Rearranging and re-sizing panels are also available via the mouse. The user can easily change anything while configuring it.
3. XMonad
---
XMonad is ideal for you if you want to be extensible in Haskell. You will not be limited in any pre-programmed action or layout; you will be allowed to program anything into the configuration. The basic settings are easy to modify, and the codes are clean and safe. This is also light and fast; you can go with this in any slow system.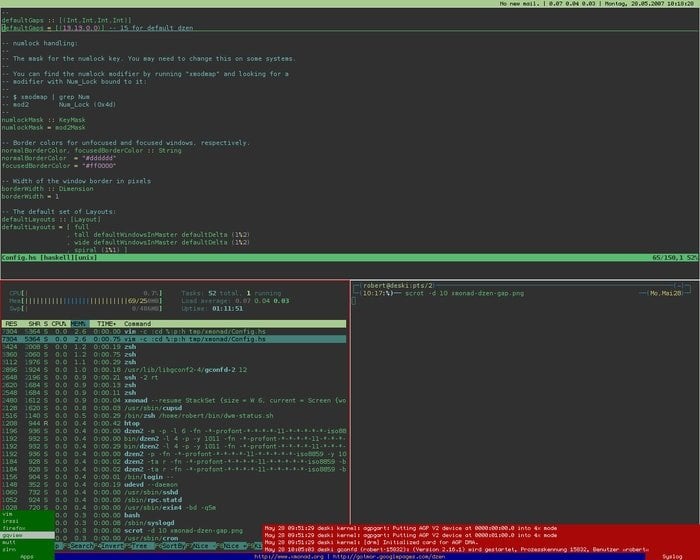 This minimal manager will lead you to crash-free experiences. This manager can also handle multi-monitor setups. This is a desktop-perfect window manager; you will get anything from the Contrib. modules.
4. Openbox
---
Openbox is very lightweight yet one of your system's well-known Linux Window Managers. This will only use more or less 100MB of your RAM upon the boot. This is comparably stable, and it affords more bug-fixing and testing behavior.
It is highly configurable and easy to carry out. You can easily edit a few configuration files of this manager, which will also go perfectly with the traditional desktop elements such as the bars, menu buttons, etc.
5. dwm
---
This Linux window manager is a sector of the suckles suite, and it usually can encourage the user to configure and extend it with the help of modifying the code. This window manager is kept under 2000 SLOC, and this is an example of code that is highly readable and clean. dwm is also very lightweight for your system, and the user properly knows the ways of its working. This is simple in design and is a manager of low-resource.
The straightforward configuration of dwm, functionality, and key binding is incredibly well-thought-out, making it one of the best Linux window managers. There are shortcuts available such as the ALT+TAB.
You can use the paradigm design to help you group the clients or applications that can be pulled into the workspace. It will allow you to get multiple clients and help you assign and reassign the tags. The status bar of dwm is informative, which shows you the WiFi signal, WiFi strength, volume level, and battery notification.
6. Gala
---
This Linux window manager works with the client-side decoration of Gtk. This is a uniformly designed manager and is sleek. Gala usually maintains a highly consistent tool as if it follows the design guidelines of the elementary OS.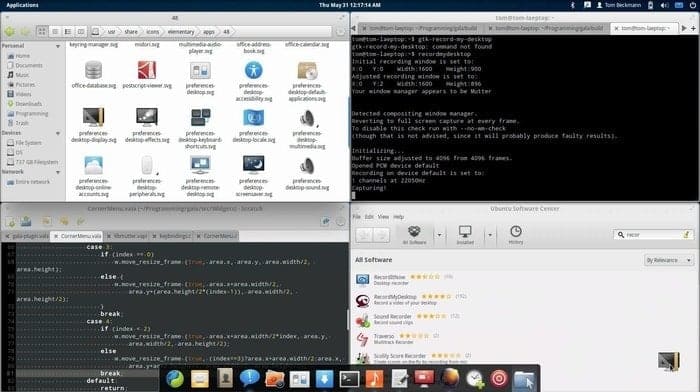 This is very easy for beginners of Linux who have converted from the OS legacy. Being incredibly configurable, Gala has shortcuts for ease of use. The hot corners of this are helpful for multitasking or any custom commands. The four shortcuts that are super-easy are added with this too.
Animations and fancy effects are also allowed with this Gala. You will benefit from dynamic workspace management by adding or removing as per your requirement. Gala is extremely fast and usually works on some limited-resource hardware such as Chromebooks or older netbooks. The stability is also excellent. It's considered one of the mentionable Linux window managers of all time.
7. KWin
---
The impeccably configurable window manager – KWin, can get adjusted to your requirements easily. The compositing manager is integrated, and you can change how it performs by doing some easy work in the settings.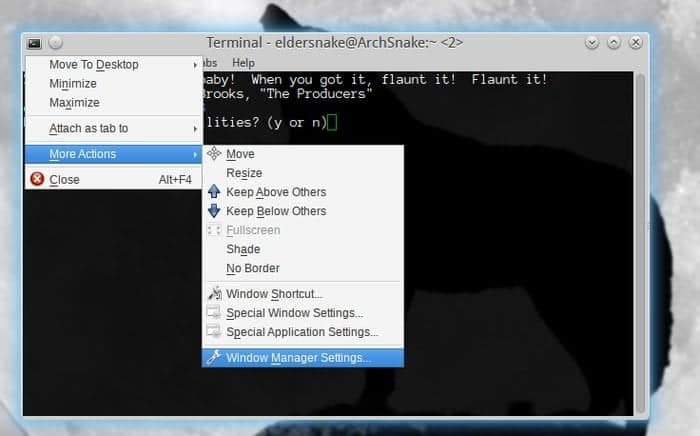 People are moving towards touch interfaces; this is still of the same DE that can be ideal for desktop users. The interface is excellent and includes an attractive effect for the desktop. The KWin also offers window shadows/glow or wobbly windows.
8. Fluxbox
---
If you are searching for some best Linux window managers that are ultra-lightweight, then Fluxbox will be one of the best bets for you. On any system, it will work fast. This is easy to operate for the users, and configuration is easier.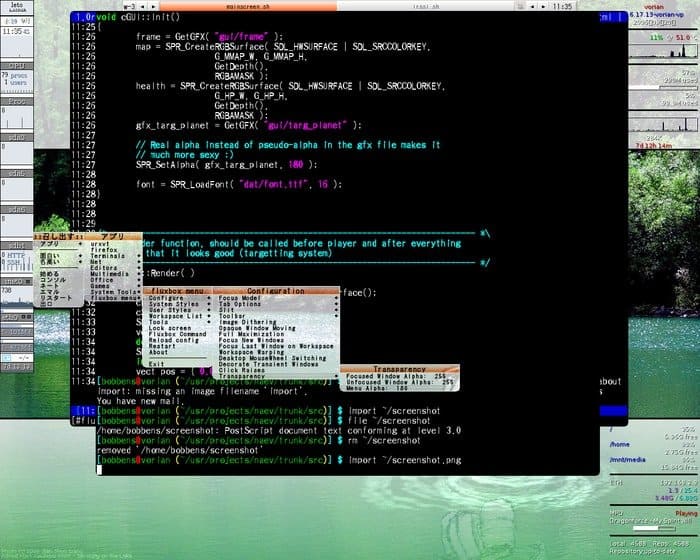 It has a panel and a set of wallpaper to make it the best window manager. The menu is simple and mouse-driven. Right-clicking will help you in pulling up the root menu.
With this Fluxbox, you do not need to know any programming language, making editing and managing the Window straightforward. Including different themes and options for configuration, it also has options for automated tiling.
9. musca
---
The interface of musca is intuitive. The defaults of this window manager are considered to be simple and easy to understand. This is also very space-efficient. It has zero panels as the window decorations, such as the tabs and icons, can take up huge screen space; musca avoids this item (installing separate apps can also add these.) The grouping system of this manager is close to the virtual desktops.
The windows are placed in different named groups, and these can be very efficient if they are used identically to the virtual desktops. The user can add or remove the groups on the fly, as every group will contain its frame layout. It supports multi-screen and can create groups automatically. It can handle floating windows and has bordered or highlighted frames.
10. spectrwm
---
This Linux window manager has incredible similarities with Xmonad. It includes the configuration of plain text, which can get reloaded during running. This will allow the users to see the outcome of their configuration editing without logging out. The defaults are the same, and any user can enjoy the simplicity of this Linux window manager.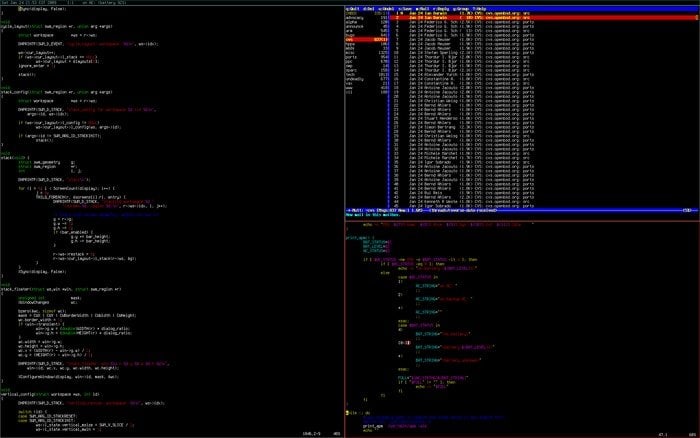 It is very straightforward as it includes a basic set of options and does not require any language during the configuration. Ideal for beginners and offered with built-in keyboard shortcuts, spectrwm will be the best bet if you are unfamiliar with Haskell.
11. herbstluftwm
---
It is very easy to understand and can be reconfigured while running from the command line. We mean to say that if you want to configure herbstluftwm, you can do it live; you will not be required to boot in and out of your desktop.
The best part of this Linux window manager is that it offers an amazing combination of automatic and manual tiling. Any user can set up auto tiling for each app or change any automated tiling application into manual tiling.
The herbstluftwm uses a bash script for configuration, which is straightforward. In different frames, the user can use different layouts and customize the layouts on the fly according to their liking. It also supports multi-monitor, so you are not usually forced to use one monitor. All these features and simplicity makes it one of the best Linux window managers.
12. Enlightenment
---
Are you a newbie? If you are, then this is the best Linux window manager for use as it does not require any programming experience from you to configure the environment. With this, the configuration is done through a User Interface, and so if you do not have any coding knowledge or editing experience, even then, you can go for this.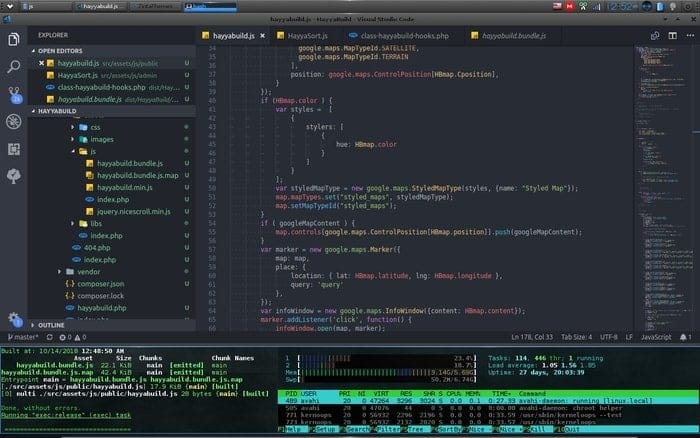 You can get it themed effortlessly according to your liking, and you also get the opportunity to include one optional compositor. Enlightenment allows virtual desktop previews, which will be within the desktop widget, and can switch the desktop within its thumbnails. Mouse-driven menus are quick, and Enlightenment is fast and ideal for laptops' battery life.
13. JWM
---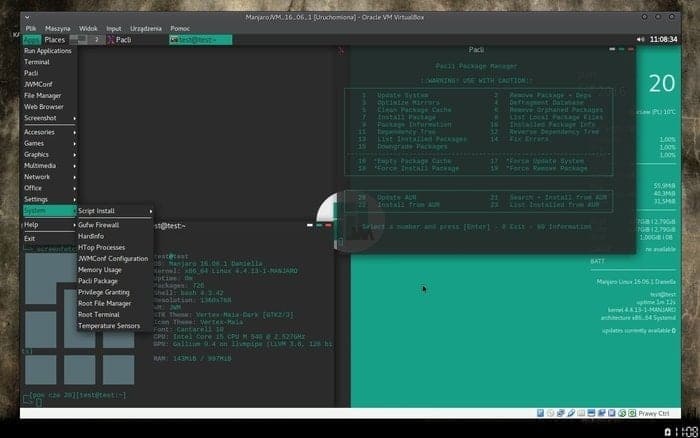 JWM is extremely lightweight and can be used as the default manager in Puppy Linux. This is ideal for any older machine also. Menus usually get loaded faster than any other Linux window manager. This is easy to customize and configure. You will not require knowing a programming language to operate this.
14. Window Maker
---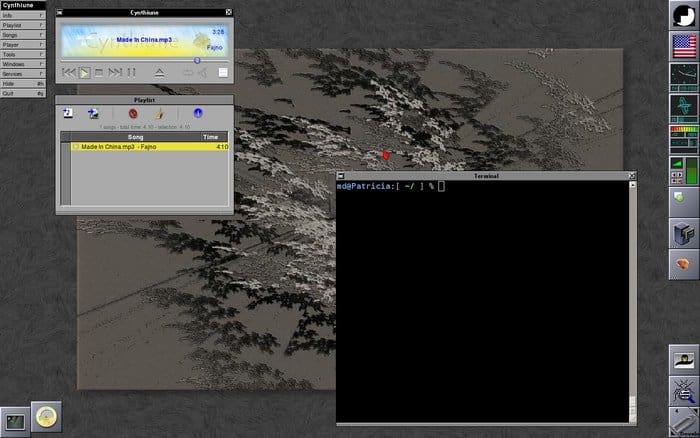 The design of Window Maker is similar to NeXT's GUI, and the user will find it fun to work with it. This is very lightweight and elegant. This window manager is extensible with the dock apps, also. Bugs will be bashed easily if you are using WindowMaker.
15. IceWM
---
IceWM is one of the lightweight Linux window managers and is very small for the system to bear. This app is extremely fast and can be easily operated with the keyboard. You will get keyboard shortcuts for ease of use. This highly configurable manager has so many options for configuration. Incredible themes are afforded with it. It supports multi-monitor and also uses less of your memory.
16. Pantheon
---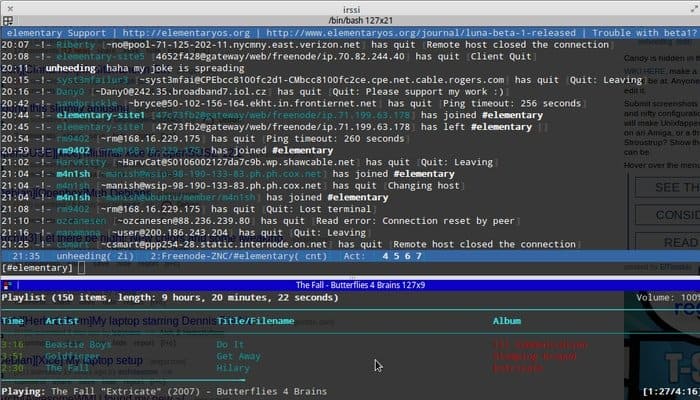 Beginners in Linux can settle on this manager as it is made for people with experience in macOS. Pantheon has a modern look with a sleek design. It shows you the dock area that is used and opened most. The application list can easily be restored categorically or alphabetically with it.
17. XFWM
---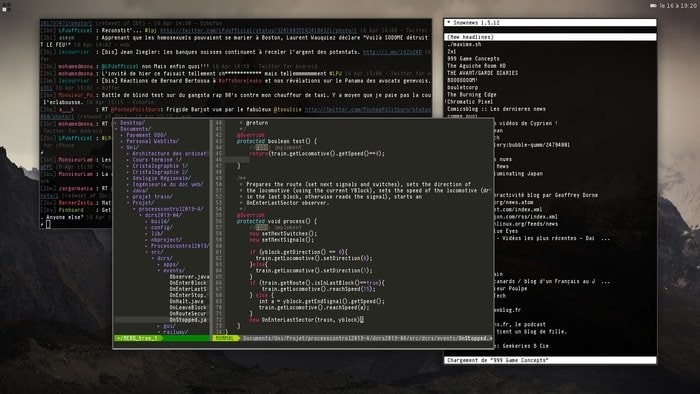 The compositing manager of XFWM is integrated, and you can tear the screen easily. This manager has got built-in options so that you can snap the Window. It includes incredible theme support, and creating themes is very easy with this manager. You can also select to open windows exactly at the edge or center of your screen. It is desktop-independent and also very lightweight.
18. Ratpoison
---
Ratpoisom is simple in terms of configuration. It will require you less configuration as it has a straightforward structure. The mouse interaction will be very little if you use this window manager, which supports keyboards. You will also get the opportunity to use multiple desktops as it supports it. Online documentation is considered to be amazing with Ratpoison.
19. Compiz
---
The cube desktop will deem appealing to the users with this Compiz Manager for your Window. The other options, along with the visual effects of Compiz, are highly interesting. This manager is extensible. It has plug-ins with which you can alter its behavior by enabling and disabling it. The configuration is easy. The customizing process is also very straightforward.
20. Wayland
---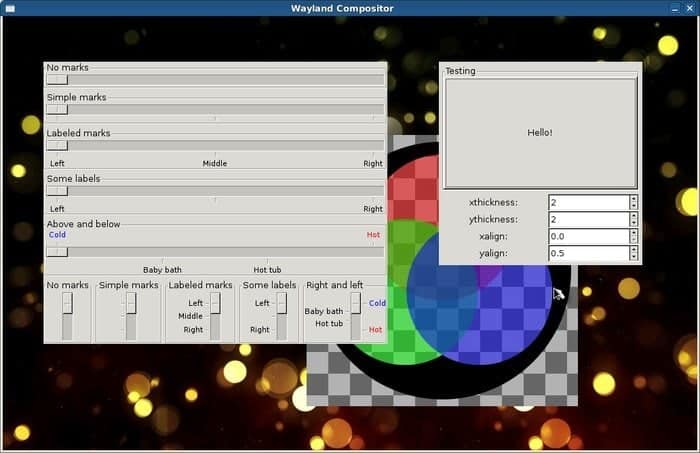 This window manager has no drawing APIs. The users of Wayland usually get a DRM buffer handle that works as a pointer to the graphics memory. It copies the buffers of the client on the screen. Wayland will remove a lot of complex facts and will make the work easy. It works by simplifying the graphics stack. This manager will manage the compositing work by itself.
Final Words
---
The basic types of Linux window managers consist of stacking, tiling, and compositing. Compositing takes care of the 2D and 3D environments, and the Stacking will let the windows overlap with the drawing background windows. Here, tiling makes sure that another window will cover no window.
We have discussed all the details of the best Linux window managers these days; it is up to you to choose one. Before choosing, know your requirements. And do not forget to share your experiences with us. Do share our reviews with your friends to let them know.