Gifcurry is an open source Haskell-based video to gif maker with a simple user-interface and some useful features. It's an easy-to-use GIF maker. Besides making GIFs, you can edit videos by trimming, cropping, and adding texts or fonts to them. You can also set the font size on the GIFs you are creating. 
To convert video to GIF, it uses two processes. One is the command-line interface, and the other is the graphical user interface. And this is the application through which you can make your GIF by some simple steps. 
After launching it, you can start the GIF-making process by dropping a video in it and setting your desired duration. And with Gifcurry, you can also edit video and your created GIF both.  
For GIF's better quality, Gifcurry features a resizable option through which you will be able to set the width of the image in pixels and select quality size. But the higher the quality, the larger the GIF size.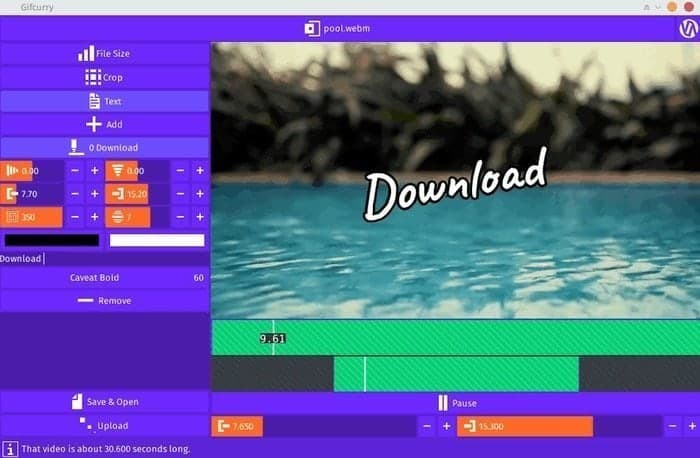 Important Features of Gifcurry
---
Gifcurry is only available for Linux. But after going through some process, you might able to run it on Mac or Windows OS too.

It's entirely free for download.

Offers you to convert video to GIF and some basic video editing functions.

Adding text to your GIF.

Setting the duration.

Adjusting GIF quality.
Install Gifcurry on Linux
---
You can install this app on Linux using several ways, including AppImage, Snap command, and source code. In case you don't know how to use these various file formats, check out my tutorial on how to install the software in Linux using various file formats.
Before going to install, make sure that the system has GTK+, GStreamer, FFmpeg, and ImageMagick dependencies installed.
Run the bellow Snap command to install:
sudo snap install gifcurry
AppImage is a universal way to install software across the Linux distros.
The Last Words
---
Gifcurry is one of the easiest applications for making GIFs. Unlike other applications, it gives you quality GIF as a result. Its preview screen will help you to give a watch before saving. Once you're satisfied with your GIF, you can also save it and upload it on any social media. And even if you feel like your video needs a touch of trimming or cropping, with Gifcurry, you have that chance to do that before converting it to GIF. So, you definitely should try Gifcurry for an amazing GIF-making experience.
If this was helpful, please take a moment to share it on social media because your, this simple step will encourage us more to write. And if you have nourished anything regarding the application, please feel free to share your thoughts in the comment section down below.