Many of you think that Linux is not a suitable system for video editors. But the fact is not like that. Most people fail to choose the best video editing software for Linux and get disappointed in the end. For sure, it's not a problem with Linux, but with the app the editor chose. However, there are many Linux/Ubuntu video editors available out there, and you must get excited once you learn about them. And this content is completely about it.
Best Video Editing Software for Linux
---
However, this article will share the 15 best video editing software for Linux. You will get free and paid editors, and I have tried adding the Snapcraft and flathub packages of Each software.
I suggest you choose the software that meets your requirement the most. In this case, you should first think about what criteria you need in the video editor. And then check the details listed with the software. I am sure you will get the most appropriate experience with the software.
1. Kdenlive
---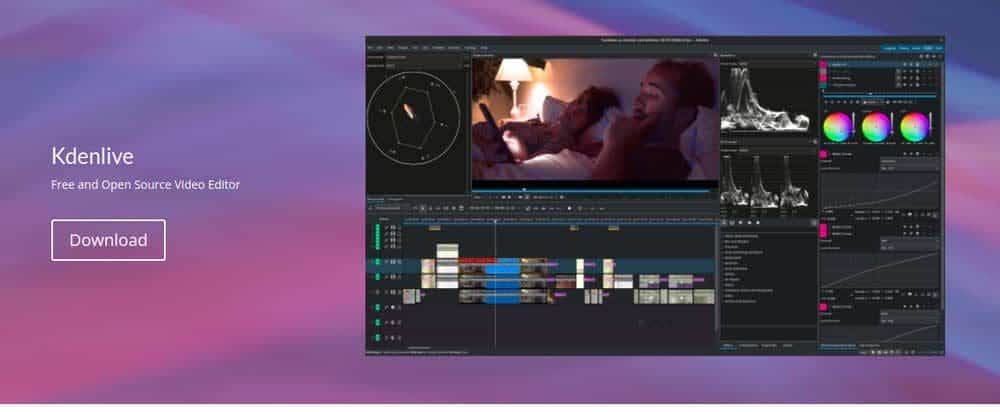 KDE has brought one of the best open source video editing software, Kdenlive. It is packed with a multitrack timeline, dual video monitors, a clip list, basic effects, and basic transitions. Moreover, this software will assist you in a wide variety of file formats, including an ample range of cameras and camcorders. And it supports mpeg2, mpeg4, avi, raw, AVCHD, IMX™ (D10) streams, DNxHD™ streams, and so on.
Important Features
You can simply create tiles effortlessly using images or text.

Audio and video scopes will help you in balancing the footage accurately.

This editing software offers proxy editing, and you can save the footage automatically.

You will also find a configurable interface along with shortcuts.

It indeed provides keyframe effects and wide hardware support.
Kdenlive Official Snapcraft Flathub
2. Flowblade
---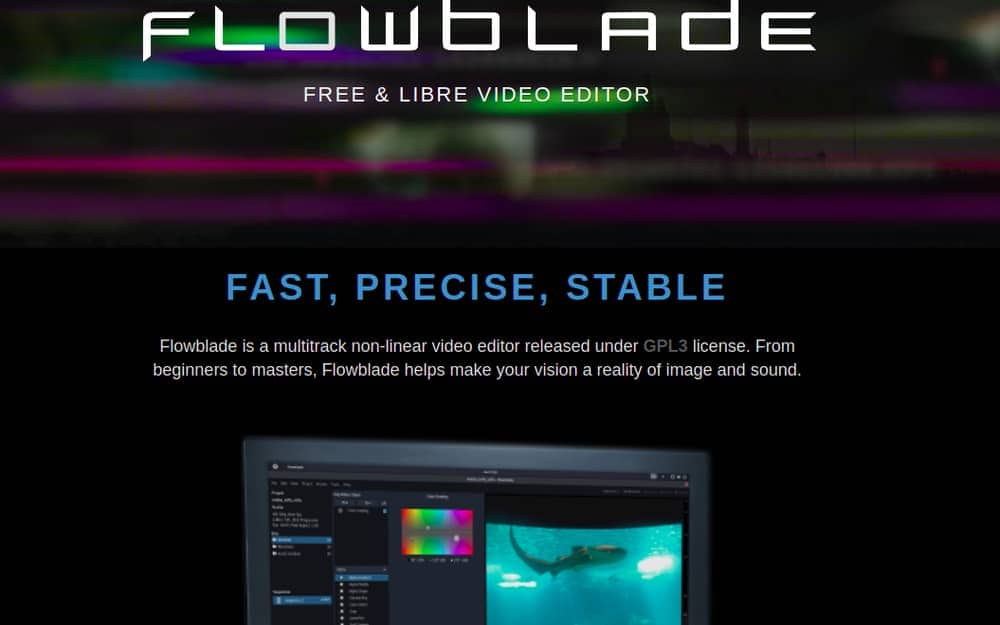 If you are looking for a multitrack, non-linear video editor, Flowblade performs remarkably. It is open source software and comes with a modern and stylish interface. No wonder it gives the user a fast and precise experience and offers video filters and transitions. Plus, there will be multiple video and audio effects, and it supports proxy editing as well.
Important Features
You can do easy tasks with the interface, such as merge, split, overwrite, and so on.

This application comes with drag-and-drop support in your video editing.

You will find support for a wide range of audio, video, and image formats.

This software generates multiple renderings along with watermark support.

You will have a multitrack timeline with waveforms and thumbnails.
3. Shotcut
---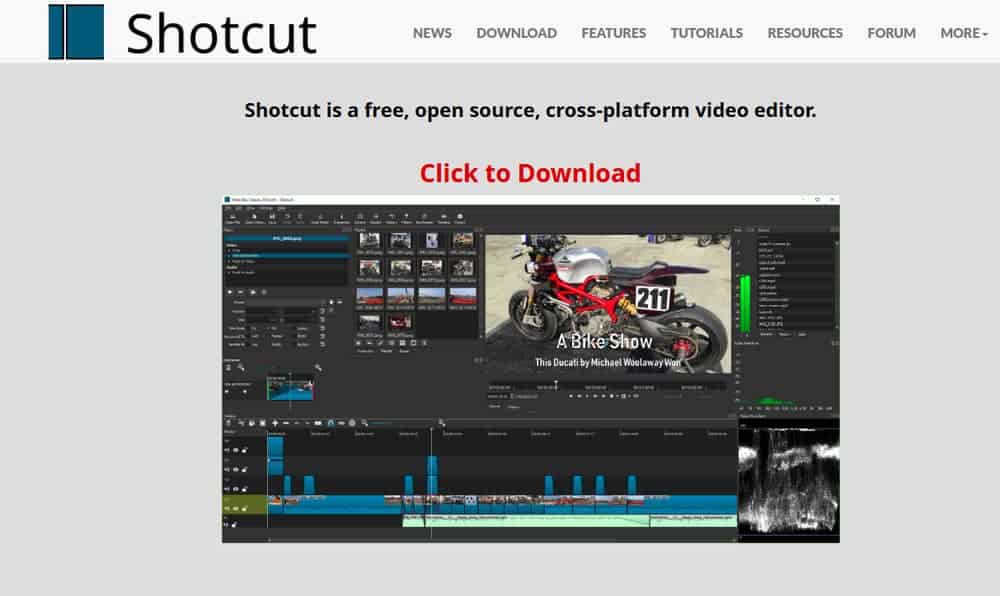 Shotcut has a very advanced approach with support for 4K videos. This application comes with numerous audio and video formats, transitions, and support for external monitors. Initially, it works excellently on all the platforms. Moreover, you will find a multitrack timeline with thumbnails of in and out points of a video. And track scrolling offers both automatic and manual editing.
Important Features
This software will assist in native timeline editing, and there will be audio mixing options too.

It provides plenty of undo and redo for your playlist edits, such as a history view.

With its operating system, you can do scaling, snapping, cutting, resizing, and rotation.

This application will allow you to trim the source clip player along with a ripple option.

Also, you can mix and match frame rates and resolutions while doing a project.
Shotcut Official Snapcraft Flathub
4. Lightworks
---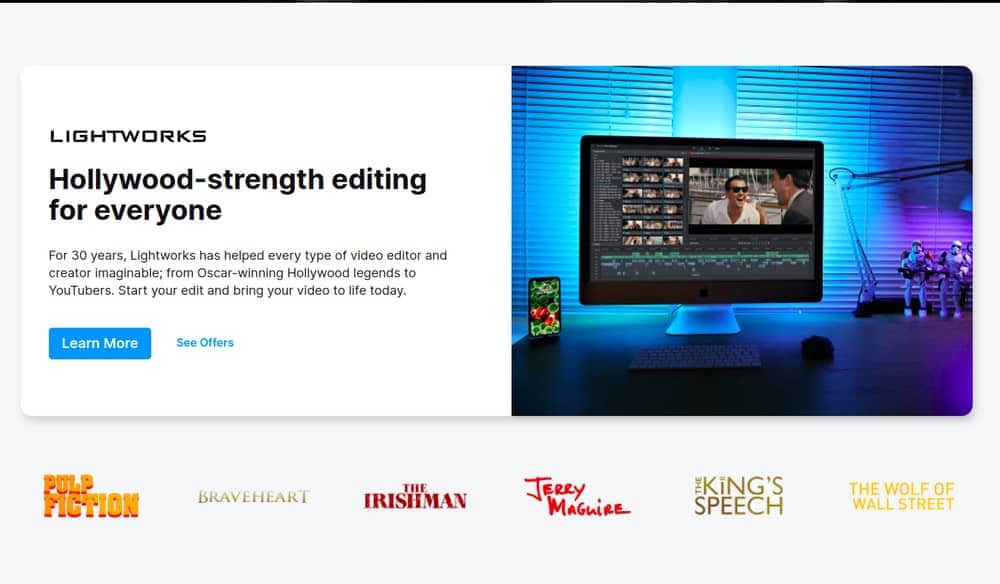 Lightworks is renowned for its real-time audio and video FX editing and provides international standards to projects. Initially, it works on most platforms and offers a very simple user interface. Moreover, you can easily access excellent royalty-free video and audio content. This software supports resolutions up to 4K and assists in video editing in SD and HD formats.
Important Features
This application offers easy timeline trimming and editing.

Here, you will also find Lo-Res proxy workflows in 4K resolutions.

There will be a wide range of audio and video filters and effects.

You can indeed drag and drop any part of your content anytime.

It will help you export your project for YouTube, SD, or HD, all with 4K resolution support.
5. Pitivi
---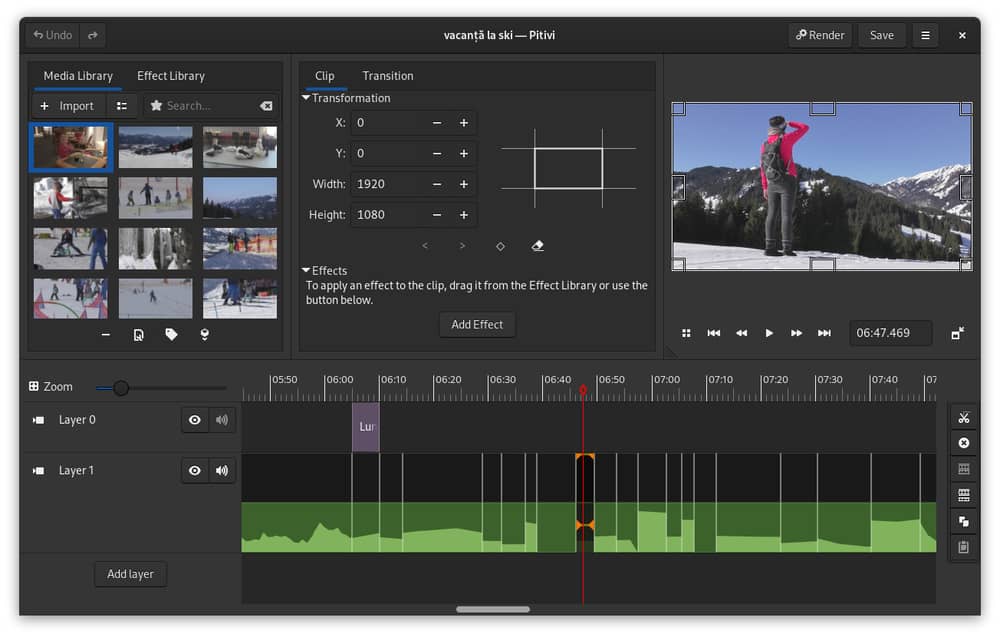 Let's meet Pitivi, open source software and a non-linear video editor. This is specially designed for intuitive video editing, and you can also use scrubbers and keyboard shortcuts. Moreover, you will find native theme navigation along with a user-friendly interface to help you along the way. Some other features are available such as splitting, snapping, trimming, and clip cutting.
Important Features
This application will assist you with audio mixing features.

You can easily merge audio and video together.

This open-source video editor has also brought MEF- material exchange format.

You can drag and drop, reduce complexity, and direct manipulation in your video editing.

It will provide manual support and can be translated into multiple languages.
6. Cinelerra
---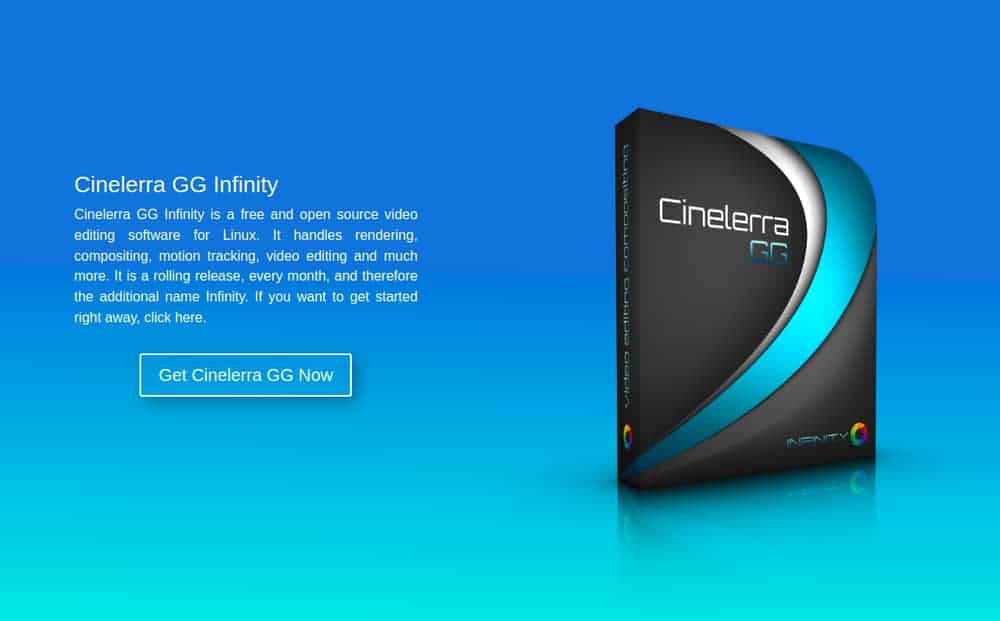 If you are looking for excellent video editing tools, then Cinelerra is all you need. This software is designed for compositing and capturing, and you can edit audio and video with total accuracy. Initially, it offers an intuitive and friendly UI to help you create vivid art in film. And, of course, you can add beautiful transitions, rearrange sequences, and cut the noisome parts of the video.
Important Features
You can easily improve audio quality and visual details in your video editing.

There are several extensions and codecs available with the package.

This application can easily load a list of DPX image files taken with your camera.

It offers both LPCM choice and tsmuxer options on your system.

It helps you to render your video projects outright with YouTube presets.
7. DaVinci Resolve 18
---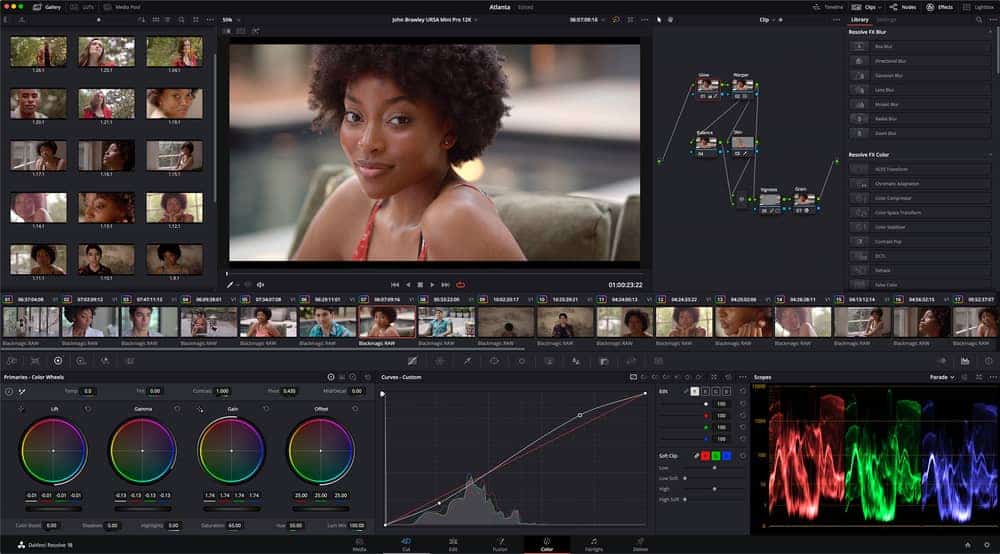 Meet the world's one of most professional software, DaVinci Resolve 18, to help you edit your video content. This software tool has brought a whole package that combines color correction, motion graphics, editing, visual effects, and so on.
Besides, the modern interface is designed accordingly for both new users and professionals. And, of course, you can work with higher quality and do not need to switch to other apps for different usages.
Important Features
It offers Blackmagic Cloud, so you can host project libraries and collaborate on the same timeline with other users.

Also, this application comes with a proxy generator app and manages proxies for you.

It allows users to relink original media and proxies with a single click.

This software has brought new Resolve FX, including 3D depth maps and ultra beauty.

You can improve subtitles in your video editing, and Fairlight fixed bus to FlexBus conversion, and so on.
8. Olive
---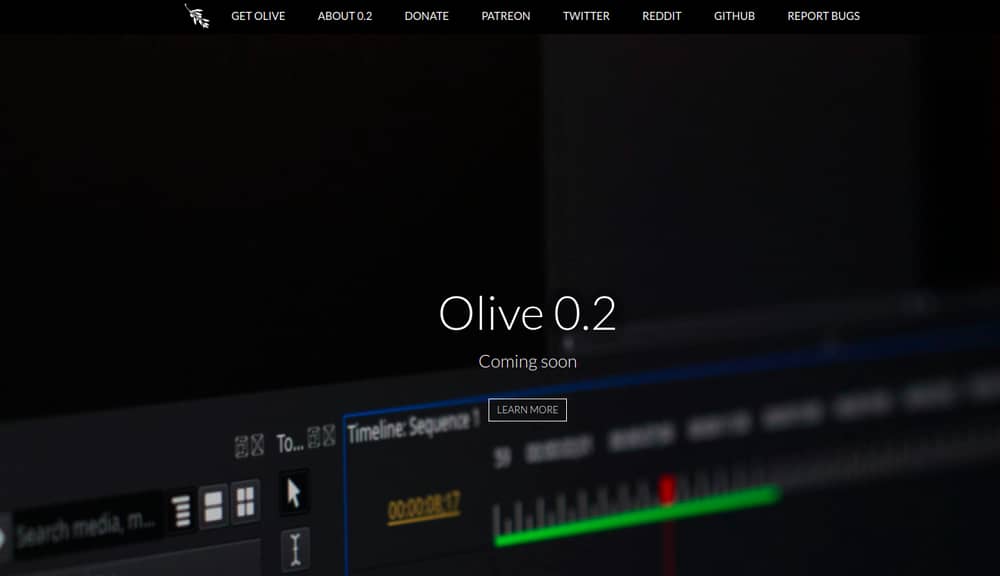 Olive is one of the top recommended open source video editing software available on most platforms. It has come with a whole package to combine color management, audio mixing, node-based compositing, and so on. You will also find a highly workable disk cache together in one program. Plus, it has a fast, high-fidelity, half-float-based render pipeline available too.
Important Features
This application has a very smooth interface that is easy for both first-time and advanced users.

You can do drag, drop, and scroll behavior in your video editing projects.

It has both dark and light themes, and most options can be handled with configurable keyboard shortcuts.

There are audio and video editing tools such as pan and zoom, scaling, positioning, timeline zoom, speed, quality, and so on.

You can select font, text effects, titles, color, transparent background, and more.
9. Vivia
---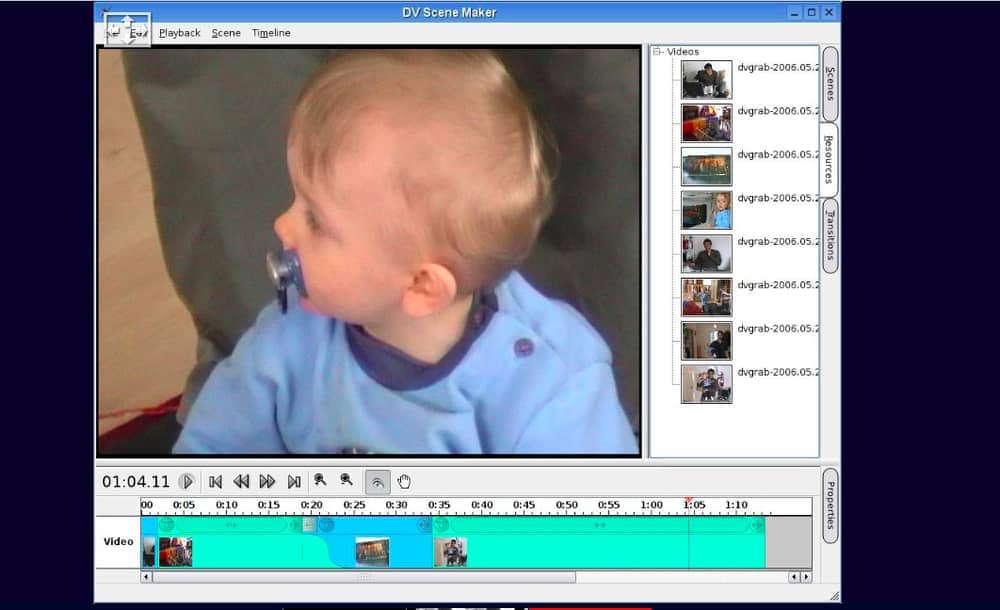 Vivia is mostly recognized for its ease in video editing for commercial and personal purposes. Here. You will find simple non-linear edits with a user-friendly interface. In addition, there are real-time transitions, and clips captured from multiple cameras can be edited with this software. It also has features like crash recovery; thus, your project will not be interrupted by a system failure.
Important Features
This application will help you with full-screen playback.

You can easily add subtitles and support timeline display too.

It allows you to input videos in AVI formats, and the output is also in AVI.

It supports image formats, including GIF, BMP, JPEG, AND PNG.

This software offers audio effects; you can simply make corrections and adjustments to your video projects.
10. Avidemux Video Editor
---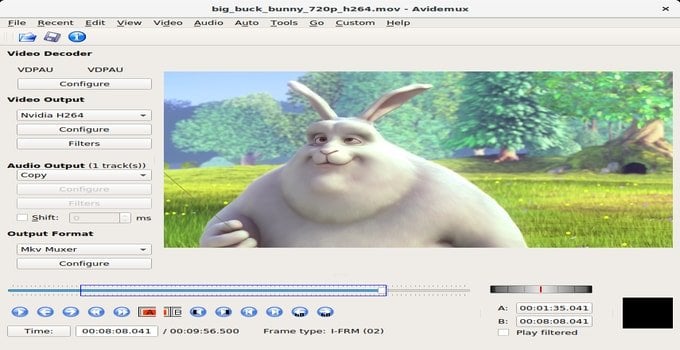 Avidemux Video Editor is an open source video editing software for Ubuntu Linux that offers you simple filtering, cutting, and encoding tasks. Wide ranges of file types are supported in the Avidemux Video editor. This video editor is easy to use and install on any Linux distro. Besides, it supports various file types, including AVI, MPEG, MP4, ASF, etc.
Important Features
This software provides powerful scripting capabilities with so many video editing tools.
It offers the best option for cutting, filtering, and encoding tasks while editing video files.
Apparently, it provides an improved function for loading images.
Offers you to fix corrupted audio files and change the audio as well.
It comes with a nice interface, and most Bugs are fixed already.
Avidemux Video Editor Official Flathub
11. Open Shot Video Editor
---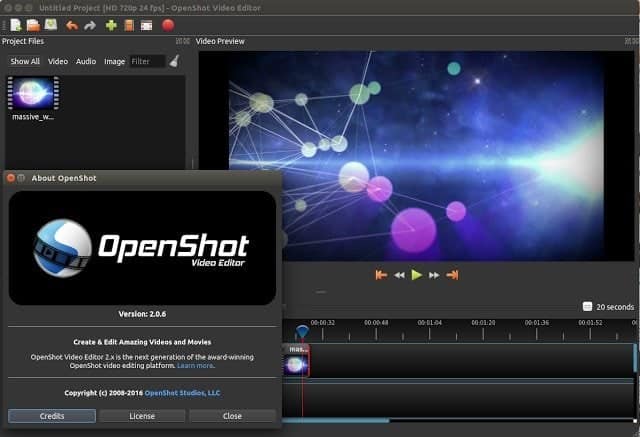 Open Shot video editor is an open source Ubuntu video editor. But it works well in almost all distributions of Linux. It is written with the most popular python script and comes with many unique video editing features. On a video, you can add an unlimited soundtrack and mix two or more video files easily with this tool. Additionally, it comes with a simple user interface and functions for audio waveforms.
Important Features
This cross-platform software supports almost all media formats.
It indeed provides better drag and drops elements.
This high-end video editor supports more than 70 languages. So, choose your language if you are not comfortable with English.
Open Shot Video Editor eventually offers excellent cutting, trimming, snapping, and cropping facilities.
Essential tools for high-definition video editing and 3D animations are also available here.
Open Shot Video Editor Official
12. DVDStyler
---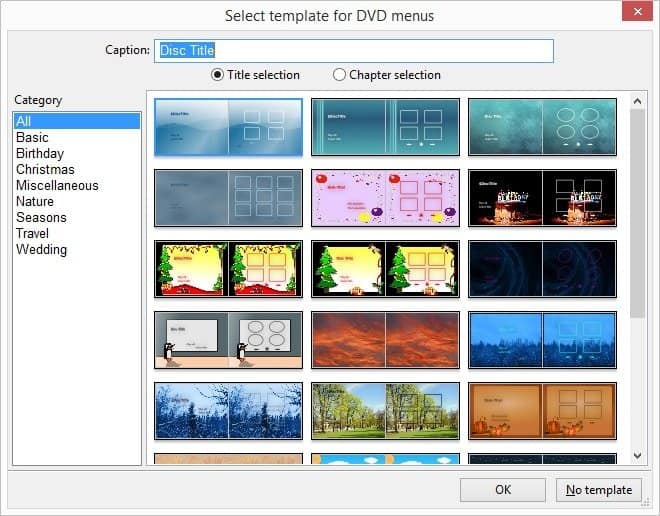 DVDStyler is one of the best Ubuntu/Linux Video Editing Software, which offers various features. Basically, it is a DVD authoring application, but it lets you edit videos to make DVD files.
The performance of this application is better than any other media editing tool. Many file types are supported in DVDStyler on any Linux distribution. Also, it lets you design your own DVD menu and photo slideshow. Let's see what more it will offer.
Important Features
It is cross-platform supported software that comes with a user-friendly interface.
This app takes very little time to start and lets you add audio and video files to another file.
It supports Manolito's VBR plug-in and lets you import images to use as the background.
Clipping protection is available, and it comes allows a multi-core processor.
You can import files of almost all popular formats, including MP4, MPEG, OGG, AVI, MOV, WMV, etc.
13. LiVES Video Editor
---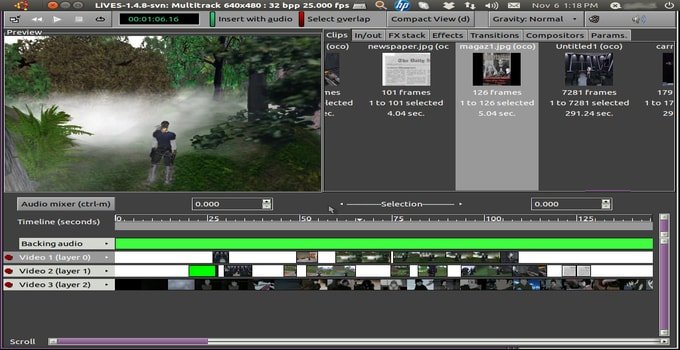 LiVES Video Editor is a professional video editing software for Linux that works well on any Linux Distribution. It provides the best video performance, and you can record its performance. This tool supports various file formats, including OGG, MP4, AVI, MOV, WMV, etc. Besides, it has a user-friendly interface, and you will love its tools.
Important Features
It offers you the best video editing performance and a descriptive tutorial.
LiVES Video Editor provides Real-time video editing features and tools for trimming video files.
You can use this app to mix two or more files and add audio tracks to the files.
This app is indeed available in several Languages with manual user support.
It is a free video editing tool, and you can control the speed of the video using this software.
14. VidCutter
---
You can also try VidCutter, as it is one of the most popular Ubuntu Media Editing Software, so we cannot skip this software from the list. VidCutter comes with a modern interface where you will feel comfortable handling any video editing project. It indeed comes with some of the significant features that most other video editors fail to provide. Eventually, it's a cross-platform supported editor, and you can try it on multiple devices.
Important Features
It initially comes with the SmartCut functions that offer frame-accurate cutting technology.
You can trim video, mix multiple files and add audio tracks to a video file with VidCutter.
It also contains unique OpenGL video rendering functions too.
This software supports backends with the power of FFmpeg.

Using this software, you can add keyframe effects and 3D animation to the video.
VidCutter Official Snapcraft Flathub
15. Blender
---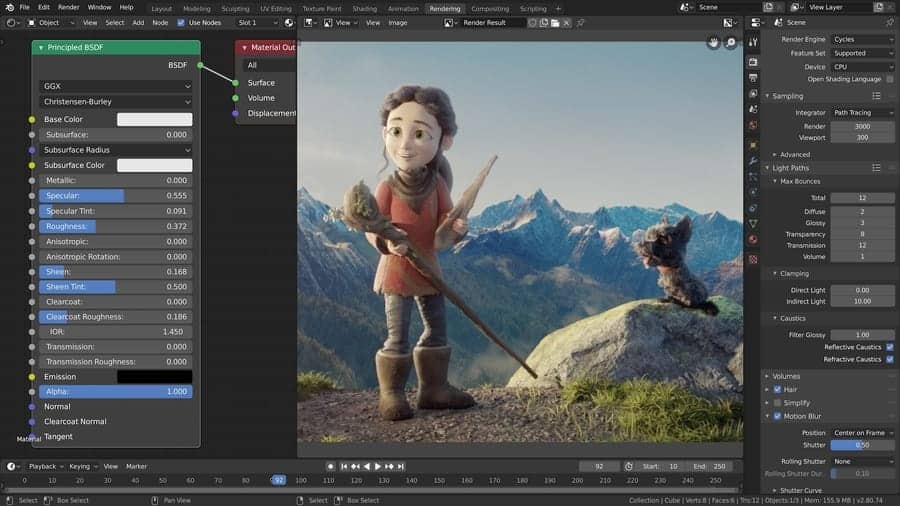 This option is for you if you are looking for professional-grade video editing software for Linux to edit 3D videos. Blender is basically video mixing software, but it is good for editing videos. This industry-grade cross-platform video editor is used in making Hollywood movies like the Spider-Man series. So, you must have no doubt about its capabilities.
Important Features
After editing a video file, you can check the live preview before saving it.

Exciting functions like auto-mixing, scrubbing, and histogram displaying are available here.

You can use up to 32 slots while editing the video to add another video, images, audio, and so on.

It is easy to control the speed of the video using this powerful software.

You can also edit the video with tons of filters, frames, and transition functions.
Blender Official Snapcraft Flathub
Final Thought
---
I am sure you are not confused about the Linux video editor or its facts. In this article, I have tried to share an authentic list of some best video editing software for Linux. You can find some of the software on Snapcraft and Flathub to install. Besides, most of the mentioned software is free of charge. If you ask me what's my favorite from the list, I must say it's Blender and LiVES Video Editor.
If you are concerned about the video editing performance and the software interface, I am sure you will love LiVES Video Editor. And for cinematographic effects, Blender is always the best option. Currently, online video editing tools are widely used and function perfectly, acting as cloud-based Service as a Software (SaaS).
However, let us know about your choice. And also, share this content with your friends who are looking for the best Linux video editors.