Cloud computing will continue to grow in the future due to its advantages to the business and individuals. Besides, the cost-effective solutions it can offer are also mentioned. Naturally, the requirement of suitable and expert people has reached a peak for maintaining the standard of cloud and reaching the goal through cloud computing. There is no doubt that if you are interested in starting your career in the cloud industry, you should start preparing yourself to compete with others and get your desired job. Amazon Web Service is one of the most popular cloud computing platforms with many features, on-demand services, and API for rendering specific purposes. If you want to build a strong understanding of this platform, you can enroll in any of the available Amazon – AWS certifications or courses available out there. It will help you to validate your expertise and boost your demand for aws jobs.
Best Amazon AWS Certifications & Courses
---
You will find a great demand for cloud network engineers with AWS certification. Besides, the number of aws jobs is increasing day by day. There are many aws courses available out there, which will help you to achieve a cloud certification. We have tried to pick the best amazon aws certification and courses to help you reach your goal by highlighting insights and opportunities.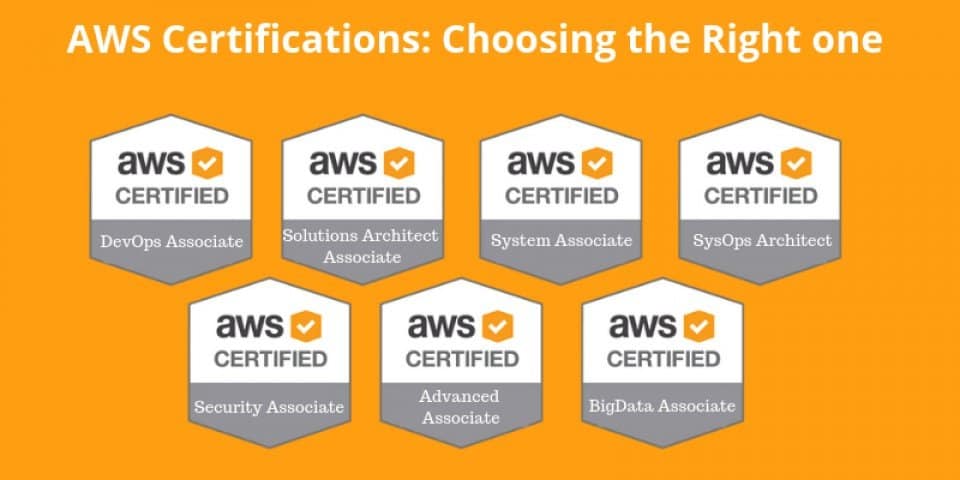 1. AWS Certified Solutions Architect Associate
---
This amazon aws certification course is dedicated to web developers, helping them build more powerful websites and web applications. Besides, it focuses on enabling candidates looking to pass the AWS Certified Solutions Architect Associate certification exam. Designed by one of the leading Amazon Web Services professionals and lets you work in the cloud space.

Insights of this Certification
This amazon certification course duration is approximately 21 hours, and you will receive necessary resources like on-demand video, 18 supplemental resources, and well-documented guidelines. 

You will get a chance to explore Route53, EC2, S3, CloudFront, Auto Scaling, Load Balancing and achieve certification upon completing the course.  

Entirely designed to teach beginners, there is no need to have programming knowledge, or no experience in the AWS platform is required. 

Course content covers all the fundamentals of Amazon Web Services, where more advanced topics like

RDS, RedShift, DynamoDB, EMR, VPC will be discussed. 

More than  211,000 students have already enrolled, and this course is relatively cheaper than most of the courses available right now. 

If you are a programmer, you will learn to deploy applications on the AWS platform and host fault-tolerant applications like WordPress and Joomla. 
2. AWS Certified Associate (CSAA, CSOA & CDVA)
---
This is a unique course because of its ability to cover all the important topics and prepare you for all 4 AWS Associate and Foundation certification exams. The course contents are updated regularly and give you hands-on experience from the real-life lab. You will get professionally produced lab reports of 1000 pages. But you will need to have basic knowledge of computing and networking before enrolling in this course. 
Insights of this Course 
You will get all 171 lectures and professionally produced lab reports of 1000 pages for bringing out the most from the course.

Get all 4 certifications offered by Amazon: Solutions Architect, Developer, SysOps Administrator, and Cloud Practitioner.

NodeJS and Javascript code is also included for developer labs, including Lambda, Cognito, X-Ray, SQS, SNS, etc. 

Provides the ability to practice exam questions as more than 600 question papers are included with examples. 

Eliminates the necessity to enroll in 8 different aws courses offered by Udemy and makes you eligible to start an AWS cloud technology career. 
3. AWS Certified Developer – Associate
---
Like the first amazon aws certification described in this list, this aws course is also developed and designed by Ryan Kroonenburg, also the founder of A Cloud Guru' and an Amazon Web Services community hero. To pass the AWS Certified Developer exam, this course will be the ideal guideline for you.

Insights of this certification

You will learn the fundamentals of the aws platform for manipulating the environment according to the Python and Php programming language requirements. 

You will get the opportunity to learn to generate single-digit millisecond performance using Amazon Dynamo DB and Simple Work Flow services. 

Focuses on Simple Queue Services helps to message a large volume of a message in the middle wire of the serverless application without losing data.




No prior programming language or experience in AWS services is required, as this course inspires beginners to enroll and attend Amazon certification exams. 

It is recommended that you must have an AWS account before enrolling in this course, while the basic knowledge of python, PHP, or ruby can give provide an extra advantage. 

Course contents include 35 downloadable resources, 2 Practice Tests, and also 2 practice tests.
4. AWS Fundamentals: Building Serverless Applications
---
This specialized aws course is developed to discuss the modern architecture of Amazon Web Services. You will learn to deploy serverless applications. It lets you know how recent developments have enabled the business to generate innovative solutions and minimize operations costs. You can find this amazon aws certification course on Coursera's website. 
Insights of this Course 
This aws course is divided into several lessons while you will get enough resources to enhance your knowledge. 

Get an opportunity to build serverless applications based on the existing ideas using real-world scenarios. 

Introduces and describes the AWS serverless framework and architecture to generate solutions to the most common business problems.

Services like AWS Lambda, Amazon API Gateway, Amazon DynamoDB, Amazon Lex will be demonstrated to make you able to deploy serverless apps.  

The course content is enriched with dynamic examples. If you can solve them all, you will find an efficient solution for almost any kind of circumstance.
5. AWS Fundamentals for System Administrators
---
You might already know which personnel are targeted by this course from the name of it. If you are looking for AWS certification to validate your skills and expertise to build cost-effective, reliable, and scalable infrastructure on the AWS platform, then this aws course can be an excellent choice for you. 
Insights of this Course 
Although the course contents start from scratch, you will learn the most advanced AWS platform topics as this course advances.




This course might not be a good choice for the freshers as it is recommended to have a basic understanding of cloud computing, networking essentials, and virtualization.

You will be benefitted by getting the certifications like AWS Certified Solutions Architect and SysOps Administrator if you can complete this course.

Core AWS skills and concepts, and you will get a chance to explore CloudFront, CloudFormation, Elastic Beanstalk, and CloudTrail. 

It is recommended that you must know DHCP, DNS, virtualization, network protocols, Linux, and Microsoft essentials to get a smooth journey throughout the course. 
6. AWS Certified Solutions Architect Associate Exam Mastery
---
This course has already got a ton of positive reviews as it gives you an overview understanding of networking and Amazon architecture. This course can be a great companion for the people who are willing to attend the CSA-A exam to get a solution architect certification by AWS.

Insights of this Course 
This course will provide a lot of tricks, tips, and examples so that you can answer the maximum number of questions on the day of your exam. 

Basic IT knowledge will make it easy for you to pass this one of the highly preferred courses for CSAA on Udemy. 

It helps to better understand by diving deep into the knowledge on the AWS platform and making you ready to face the interview boards. 

Focuses on core Services like VPC, Security Groups, N ACLs, NAT Instance, Direct Connect, EC2, and Enhanced Networking.

This amazon aws certification course contents are based on AWS certifications such as CSA Pro, Dev Associate, SysOps Associate, and Security Specialty.
7. AWS Certified SysOps Administrator – Associate
---
This amazon aws certification course focuses on providing enough knowledge to become a SysOps Administrator. Course contents are simplified and discussed by a top-rated instructor. But this course is not suitable for beginners as it is recommended that you must complete the AWS Certified Solutions Architect or AWS Certified Developer Course before enrolling in this aws course.

Insights of this Course 
This course content is designed for the people willing to attend the SysOps Administrator examination by AWS to start a cloud administrator career. 

It is recommended that you open an AWS account, and also you should get a unique domain name before enrolling.  

Discusses the core skills to pass the exam alongside major topics like data management, OpsWorks, Security, and Networking will be covered. 

Although this course does not inspire beginners to enroll, you can try this course if you are confident enough and hardworking.

You will learn to deploy applications on the AWS platform and get the most because of the simplistic nature of the course. 
8. AWS Certified DevOps Engineer
---
This is a unique course covering a wide range of topics that will help pass the  AWS Certified Developer Associate exam and earn the certification. As this certification has become one of the keys to getting the desired job in the cloud platform jobs, this aws course focuses on updating the content regularly and preparing for job interviews.

Insights of this Course

Discusses the methodologies you can follow and techniques to deploy and manage continuous delivery options to the AWS systems. 

You will understand how to implement and enable automation when it comes to controlling cloud security, governing practices, and validating AWS's compliance standard. 

Describes the process metrics and highlights the key features of the logging system and how you can define and deploy monitoring in the aws services. 

 It brings light to the implementation process of highly scalable and self-healing systems in the aws platform. 

Note that AWS Certified SysOps Administrator Associate or AWS Certified Developer Associate certification must enroll in this course or sit for the AWS Certified DevOps Engineer Professional exam. 
Enroll Now
9. Free Amazon Web Services Essential Training
---
If you are interested in gaining a solid foundation upon which you can build scalable and reliable applications and architecture in the cloud environment, then this amazon aws certification course is the most suitable course for you. It introduces ideal practices and techniques to build applications in the AWS cloud. 
Insights of this Course 
Focuses on designing and creating cloud-based applications alongside a great number of aws services. 

This course will assist you in designing for failure and implementing elasticity. Besides, decoupling system components and system protocols will be covered also.

Teaches you to demonstrate apps using through approach, AWS managed service, and Serverless approach as well. 

 This course is intended for developers looking to improve the performance and reduce the cost to a great extent by implementing optimal techniques.    

Offered by LinkedIn learning and highlights AWS API Gateway and Lambda's features while you can get the course content for free.



10. Cert Prep: AWS Certified Solutions Architect – Associate
---
This amazon aws certification course is one of the most important recognitions you can achieve if you are looking to start your career in the cloud computing field. After completing the course, you can design various solutions, implement and deploy models, ensure data security, and troubleshoot to identify errors. All these topics are included in the exam syllabus so that you will be well prepared. 
Insights of this Course
Guides you thoroughly and keep you on the right track to enable you to pass the exam in the very first attempt. 

A wide range of documented tips and tricks, white papers, architectural guidance, and community forums will be supplied to help you taking preparation. 

It is intended to serve all the interested candidates and save course contents offline and watch even when there is no access to the internet. 

For keeping the contents simple, they are divided into three distinct sections, while videos and exercises are also available to download. 
Enroll Now
11. AWS Certification Training Courses
---
If you want to build your career around the cloud computing industry, then you must focus on the Amazon Web Services platform and get an amazon certification. Whizlabs are offering a set of courses that will empower you with the latest techniques and help you to enhance your expertise. Choose a certification that fits your demand and start with the dedicated lessons. 
Insights of this Course
Brings all the necessary contents from AWS under one umbrella, describes elaborately, and covers all the topics in a lucrative way.

You can take part in the 9 AWS certification examination, which will save a lot of your money, and cloud experts design all the resources. 

Free resources are available to download and guides you to achieve all the certifications you require. 

You will learn to build, deploy, and manage scalable, reliable, and inexpensive cloud computing services in the AWS platform. 

This course will also help you further achieve aws big data certification as it discusses everything from basic to advanced.
12. AWS Certified Solutions Architect – Associate (Pluralsight)
---
If you have already covered the basics of the AWS platform and dive into more advanced topics, this intermediary aws certification course is an excellent option. AWS holds the maximum share in the market, so if you want to build yourself as a potential candidate for any job in this field, this aws certification course will give you an extra edge over others.
Insights of this Course
You will learn to design highly available and scalable systems in the aws environment. Besides, the security management of these systems will be covered as well. 

It gives you an in-depth idea of all the advanced topics like exploring strategic approaches, monitoring networks, servers, domain name servers, and load balancing.

Brings light on the fundamentals while deployment and designing workload on Amazon Web Services are also discussed elaborately. 

A huge amount of tips and tricks will be shared for achieving the best score in the exams.

You will get the opportunity to learn how to build highly scalable and robust systems in AWS. 

Download all the contents within 10 days for free and enhance your knowledge to get any amazon aws certification or get a promotion. 
13. AWS Serverless APIs & Apps
---
This course entirely focuses on building serverless applications and API integration for enabling aws services. Besides, how can you increase the delivery speed of your web assets will be taught. But it is recommended to open an aws account during the course. Famous web development trainer Maximilian Schwarzmüller designs this aws course.
Insights of this Course
Get hands-on experience in building API using Amazon API Gateway and Lambda, a service of Amazon Web. 

Focuses on Deploying and managing security in the serverless application and user authentication will also be discussed. 

Enables you to learn how to write and run code on-demand in the aws cloud and analyze the developed projects' performance. 

Single-page applications can be hosted without any server, and you will learn to manage SPA throughout this course. 

Also, you will learn to manage data without a database or to manage any data servers. Upon completion of this course, you will get a certificate.  

Besides, Advanced Development Workflows. Integration with AWS Cognito and the rest of API creation without servers will be highlighted in this aws certification course. 
14. AWS CloudFormation Master Class
---
This aws certification training is designed to discuss all the concepts to understand all of these easily. Those looking to pass certification exams like AWS System Architects, AWS Developers, and SysOps/DevOps professionals. Knowledge of EC2, security groups, key-pair, floating IPs, volumes, AWS Billing, will be required to get maximum advantage. 
Insights of this Course
CloudFormation and all the associated concepts will be discussed, and Hands-On examples for practicing will also be provided. 

You will learn YAML, a human-friendly data serialization standard that has made writing AWS CloudFormation Templates flawless and straightforward. 

Parameter, Condition, Resources, Reference, Cross-Stack Reference, Output, Mapping, which are supported by AWS CloudFormation, will also be discussed. 

Highlights on all the features of CloudFormation, and you will also know how to deploy your infrastructure in no time and achieve an amazon certification. 

This course is one of the top-rated courses in Udemy and designed by an AWS Certified Solutions Architect so that you will be in safe hands. 
15. AWS DynamoDB – The Complete Guide
---
If you want to master your skills in one of the great cloud databases and attend any aws developer certification exam, this is the best course. AWS offers a NoSQL serverless database where virtually there is no limit for the read or write operation. You will go through from basic to the most advanced topics of DynamoDB while you can get support directly through messages, community discussion, or prompt. 
Insights of this Course
This advanced-level aws course will require some skills in JavaScript or Node.js. You can cover the optional section included in the course content for learning JS if you want. 

You will learn to build DynamoDB and know-how to reduce the cost in scaling and use AWS SDK to connect highly-scalable web and mobile applications.  

Services like S3, Data Pipeline, Redshift, Apache Hive on EMR, CloudSearch, CloudTrail, Cognito, IAM, and their integration process will be discussed. 

Besides, advanced features like  DAX, Streams, Global Tables, Auto-Scaling, Backup, and PITR will be emphasized to generate sub-millisecond output. 

Introduces security-related topics so that you can learn OAuth 2.0 Authentication with AWS Cognito and Fine-grained access control for secured access. 

Also, data modelling in DynamoDB, techniques for managing and controlling databases are also included in preparing you for the amazon aws certification exams. 
16. AWS Certified Machine Learning Specialty
---
This aws certification training is different from the others already discussed in this list. It combines machine learning with the AWS platform to help you achieve the most challenging amazon aws certification exam, which is AWS Certified Machine Learning – Specialty exam. Focuses on providing in-depth knowledge of machine learning, model tuning, and engineering. This 9 hours long course comes with a 30 minutes assessment exam for evaluating yourself. 
Insights of this Course
The course is divided into four different segments: engineering, exploratory data analysis, modelling, and machine learning implementation and operations. 

Besides, more advanced topics like Kinesis data streams, Data Pipelines, Athena and Quicksight, Apache Spark, SageMaker, and basics of Deep Learning as well.

You will learn regularization techniques alongside evaluating models of ML, and high-level ML services like  Translate, Polly, Transcribe, Lex, Rekognition will be discussed. 

A wide range of future engineering techniques will be taught, including imputation, outliers, binning, and normalization. 

Emphasizes the importance of Amazon SageMaker and highlights the built-in algorithms like XGBoost, BlazingText, and Object Detection.
17. AWS Certified Big Data – Specialty
---
This aws certification course focuses on big data and prepares you for the AWS Certified Big Data Specialty exam. All the topics related to data will be taught in this course, from data collection to data security. Simultaneously, the basic knowledge of the AWS platform and experience in creating EC2 Instances, Security Groups, and IAM permissions are required before enrolling in this aws training and certification course. 
Insights of this Course
Big data is the most common word when it comes to the cloud, and this course enables you to manage and generate a huge amount of data in the AWS platform. 

Many kinds of reliable data streams and data wirehouses will be discussed, including Kinesis Firehose, RedShift, and Kinesis Streams.

You will know how to collect data, manage and analyze data sources, create storage, regulate security protocols, and how you can generate the visualization. 

Ensuring security while transferring big data remains the biggest challenge in cloud computing, and this course teaches AWS Snowball as a transport solution. 

Introduces Amazon Elasticsearch so that you can measure the performance of your applications through monitoring and troubleshooting. 
18. Advanced Architecting on AWS
---
This aws course concentrates on the AWS Solutions Architect Professional certification exam in the first place. You will learn to design the architecture for providing AWS solutions at the enterprise level. Besides, you will know how you can manage multiple aws accounts for your company and what is the process of applying the AWS Well-Architected Framework.
Insights of this Course
You will learn to develop large data stores in the aws cloud, and this course discusses billing implications so that you can connect multi-region VPCs.

Let's you know the security protocols, and at the end of this course, you can protect your infrastructure from distributed denial of service attacks.

Discusses the connection between on-premise hardware resources and cloud data centers to improve the performance of the system.

This amazon aws certification course highlights the architectural design of large scaling websites and mobile applications in depth. 

Discusses various encryption methods and ensures that you can understand the design you need to protect data or specific process. 

Gain the ability to evaluate and comment on the architectural design for implementation, deployment, and provisioning of any application in the aws cloud. 
19. AWS Serverless Analytics
---
Amazon is releasing new services to highlight the features and ability of a serverless paradigm. As a result, new doors are becoming open for people who want to dive into the deep of Amazon services like S3, IAM, VPC, and Security Groups. This course focuses on lab and hands-on training while you will need an aws account for practicing the lab problems. 
Insights of this Course
This course is not appropriate for beginners as it is designed for intermediates, expert AWS experts, or administrators. 

Since 2016 Amazon is trying to transform into the serverless model, and you will learn Athena and QuickSight alongside Redshift Spectrum and Glue for data computation and analytics. 

You will be taught to control Serverless Storage, Serverless ETL, Serverless Analytics, and Serverless Reporting for removing the boundary of hardware infrastructures.

AWS Glue will be discussed in depth in this aws certification course so that you can use it for schema Discovery, ETL, scheduling, and integrating tools. 

The development of a centralized Data Catalogue will be taught. This course also focuses on handling query data in Athena Engine to help pass the aws developer certification exam. 

Besides, learn how to source data from the warehouse, apply security, join data, and other functions. You will get a certificate upon completing the course. 
20. AWS Lambda and the Serverless Framework
---
Framework always helps you while developing a project. It can save a lot of time for you that you can use for incorporating exclusive features. This course focuses on AWS Lambda and other frameworks. This course will also make you able to write the Lambda function according to the requirement. This aws training and certification is designed for people who want to build a career around AWS's serverless architecture. 
Insights of this Course
This aws certification course's unique feature includes the chance of deploying three real-life projects incorporated with S3, API Gateway, DynamoDB, and CloudWatch. 

You should get used to using the command line interface as you will be using it a lot of time during the course, while basic knowledge in Python or NodeJS will be required. 

Introduces REST API for controlling AWS API Gateway and Lambda. Besides, scheduling will also be discussed using EC2 automation.

This course also highlights the process of generating high-quality thumbnails using Python Programming language to interact with S3.

A huge amount of code is included in the content that you can use to build your templates. A certificate will be provided once you complete the course. 
Finally, Insights
---
On-demand cloud computing can reduce your expenses greatly and produce a sustainable output for generating better results. As a part of this, cloud computing has revolutionized the way of operations, and even small businesses are transforming to join the cloud.
As the maximum shareholder of the cloud, Amazon is an excellent platform for computational resources. Also, an aws big data certification is required for handling big data. Besides AWS Marketplace, Security and Compliance, Storage, Database, and Serverless Cloud Functions have helped AWS to reach the peak over other competitors.
If you plan to start your career in the cloud, you should enroll in any of the discussed amazon aws certification courses above. These aws certification courses can help keep you on the right track and empower you to reach the ultimate goal.