The widget is one of the unavoidable parts of the Android system. You must see the time, date, weather, etc. on a particular part of the home screen that is not like an app. That is exactly a widget. Well, widgets are designed to make some of our tasks easier and quicker. There are different categories of widgets, and the functions are mainly based on what you need most often. For example, watching the time and date or listening to music. We have to do these kinds of tasks so often that getting them near our fingertips has become more comfortable. That's why you need some Widgets, and today we are going to talk about some of the best Android Widgets you can try.
Best Android Widgets You Shouldn't Miss
---
20 Android Widgets I have chosen from different categories. You will find widgets for weather, clock, calendar, music, battery, flashlight, task, todos, and others. All of them are free to use and include a lot of customizable functions. Hopefully, you will find some perfect widget for your home screen, and you should look for the info for that. So, spend a few minutes to learn the functions of the widgets and enjoy their performance.
1. Weather & Clock Widget for Android
---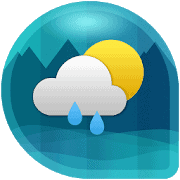 Your home screen won't be a complete one without a weather and clock widget. If you think you modify the home screen with the best looking Android clock widget with weather reports, then I have something for you. It is Weather & Clock Widget for Android, a popular, fully flagged widget. This widget will always let you customize most of the options it includes. You can choose the widget design from a collection. Also, it is possible to change the color and size of it. Seems interesting, right? It has many more impressive features too.
Important Features
It will ask you to activate the GPS of your device so that it can automatically detect the location.

You will get the report of the weather hourly basis with the most accuracy.

You can search location from the search engine by its name or zip code.

It will show you the weather status for the next 10 days.

You will see temperature both with its Celsius or Fahrenheit unit.

You can customize the size, font, and shape of the clock.
2. Plug In Music Widget
---
You should also have a beautiful music widget on the screen. For that, you can try the Plug In Music Widget. This auto-updated full-featured music widget will enhance the goodness of your music experience. Now, you don't have to find the music app and choose your favorite song to enjoy. Keep this widget on the screen and enjoy a one-touch music experience. You can also customize the playlist, and this widget will follow your command in playing music for you.
Important Features
Just set a number of songs in a list, and it will play them for you.

This widget will allow you to use a transparent background for more fun.

You can use the volume key to go for the next or previous song.

For earphones, it will automatically adjust to your comfortable volume.

It will stop playing music just when you disconnect the earphones.

It's a cross-platform supported tiny sized music widget.
3. Clock
---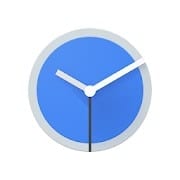 Meet the best android clock widget, which is just called Clock. A clock is a must on your home screen. Because of the clock on the phone in our hands, the necessity of a wall clock is near to be ended. However, this clock widget has become the most used one, as it includes tons of customizable options. You can change the shape, size, and color of the clock if you want. Also, you can change the location of keeping this widget just tapping long on it and drag it to its proper place.
Important Features
You can set alarms with a few taps.

You can customize the alarm sound and other options.

Show you the time of anyplace in the world.

You can set the timer and use it as a stopwatch using this widget.

You can pair this widget with an OS wearing device.
4. Calendar Widget Month + Agenda
---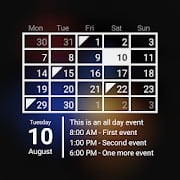 The next one is the best android calendar widget, and you should know that calendar widgets are another must-have for your home screen. Well, Calendar Widget Month + Agenda has come with packed widget functions. You can keep the agenda and have all calendar reports with this widget. Also, you can customize it and change the outlook of it. Using this widget is free, but you have to pay to have access to its premium functions.
Important Features
It shows events from outlook calendar and Google calendar.

You will get a notification for the events you save on Facebook and other social media.

It reminds you about the days you mark for birthday and anniversary.

It will show all the international holidays with the red mark.

This widget is designed just like the HTC calendar widget.
5. Gauge Battery Widget
---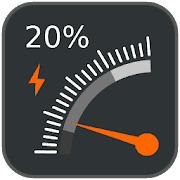 If you think that the default battery widget of your device is not good to look at and something new could be better, then this Gauge Battery Widget. This efficient battery widget is designed with a modern user interface and tons of useful functions. It will always show you how many hours you can use your device with the rest of the power. Also, you can see the percentage of the available power when it is charged and even when it is not.
Important Features
It includes 3 different sizes and high-quality visual graphics.

On the status bar, it shows the temperature and voltage.

You can see the battery status on the status bar too.

It shows you how many hours you can use particular apps with the remaining charge.

Tons of configurable widget color options are available here.
6. Sense Flip Clock & Weather
---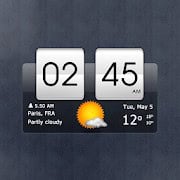 Let me introduce you to another weather widget that can give your home screen a perfect look. It is Sense Flip Clock & Weather, a full-featured customizable widget. In one single widget, you can see the detail of the weather and clock. You can change the size, shape, and color of the widget and the design of the clock. You can set both the analog and digital clock with this widget. Also, it lets you design it with tons of flip animation, stickers, and text.
Important Features
You can choose a widget of 3 different sizes.

It includes facilities of alarm, stopwatch, and reminders.

The icons for the next alarm and stopwatch will be shown.

There are several widget skins available for you.

It will provide automatic weather updates with the next 7 day's report.

This widget shows the temperature with both Celsius and Fahrenheit units.
7. Battery Widget % Level Indicator Free
---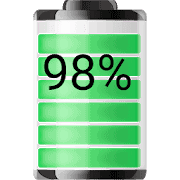 Take a look into the best available battery information Android Widgets app. It is called Battery Widget % Level Indicator from the M2Catalyst developer team. It is packed with tonnes of useful features that provide critical information about the device's battery pack. This battery widget is free to use and operates with very limited system resources. You will have complete freedom to choose from six different live battery widget layouts. It also comes with shortcuts and quick toggle buttons to reach phone settings quickly.
Important Features
More than twenty-seven languages are supported by this battery widget.

The interface of the tool is widely accessible and comes with beautiful themes and color patterns.

It shows the current battery percentage and usage statistics with graphs according to the application consumption rate.

You can make a custom widget showing different data, such as battery percentage, temperature, remaining battery life, standby time, history, etc.

It allows setting notifications and alerts on battery conditions, such as temperature issues, low charge, full charge, critical battery health, and so on.

The widget can make one-tap shortcuts to all the utilities and device settings.
8. Countdown Widget
---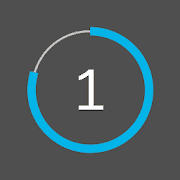 You won't be missing any important events in life if you start using Countdown Widget. It is a widely customizable counting widget app with beautiful visual effects and colorful themes. This is one of the best free Android widgets you can download from the PlayStore. Countdown Widget is free to use with in-app ads. You can always upgrade it to premium for ad-free experiences. It allows counting in the format of days, weeks, months, and also lets you count to a specific day of choice.
Important Features
The widgets are widely customizable, and users are free to implement their own styles.

It supports a huge range of Android devices and optimized for both phones and tablets.

You can directly find out important events from the widgets and also provides smart notifications.

It allows importing dates and important events from the calendar apps.

You can adjust the size of the widgets and arrange them freely on the home screen.

It works on the majority of the Android devices and consumes surprisingly little amount of resources.
9. Ticktick: ToDo, List Planner, Reminder & Calendar
---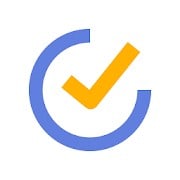 Another popular task and time manager widget can be a very useful part of your Android system. It is Ticktick. Keeping daily planners, todo lists, reminders, and schedules is essential for any busy person. If you are a person with a tight schedule, then you should try this widget to make things easier and smoother than before. This supportive widget can help you to have very quick access to all these things and work like the best Android calendar widgets. Besides, you can customize this widget just like you wish.
Important Features
Made with a very initiative design and simple user interface.

You can Synchronize it across the web, other Android devices, Mac, and PC too.

One-click task taking with voice command facilities are available.

You can enjoy facilities like alarm, reminder, calendar, etc.

You can share lists and other items by collaborating with others.

Prom timers and habit trackers are there for you too.
10. UCCW – Ultimate Custom Widget
---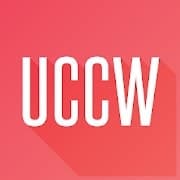 If you want to try the best Android widget maker, you should then go for UCCW, which we know as the Ultimate Custom Widget. Just focus your taste and make your own widget like that. This widget app includes a big editing toolset that you can use to design widgets for different purposes like a clock, weather reports, flashlight, battery, etc. There are thousands of stickers that you can add on the sticker. So, this way would be the coolest one to decorate your home screen with custom widgets.
Important Features
Lets you change the shape and size of the widgets.

It is very easy to add text, sticker, and emojis to the widgets.

There is a huge color table from where you can change the color of the widgets.

Lets you set the widgets anywhere you want.

Lots of graphical objects like pie, barcode, etc. are available to use on the widgets.
11. Transparent Clock & Weather – Forecast & Radar
---
If you are looking for the most useful clock widget, then try Transparent Clock & Widget. This is also known as one of the best weather widgets for Android users. This widget will show you the most accurate weather forecast in your place. Besides, if you want to know about the weather condition of any other place, this app will show you that too. It will keep track of your location automatically and collect the weather status of the most reliable weather station for you. So, you don't have to run without an umbrella on a rainy day, and you can also take precautions for upcoming dangerous storms or other natural disasters.
Important Features
Show you the total weather report includes the temperature, humidity, probability of rain or storm, wind speed, etc.

Lets you know about the weather status for the next 7 days.

The widget will show you the time of sunrise and sunset.

You can check the radar image for a better weather report.

An active search engine is available to find the place soon of what you want to know about weather status.
12. DigiCal Calendar Agenda
---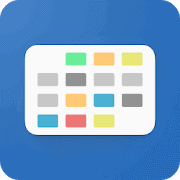 You can design your phone's home screen with the best Android calendar widget, which we know as DigiCal Calendar Agenda. It is a very flexible calendar widget with all the necessary features related to it. You can use the daily planner inclusive of it so that you can do your daily tasks with proper planning. Also, this app will let you change the shape and design of the widget to decorate the home screen just like you like. The other features of this app are also impressive, and you'll soon love to use it.
Important Features
It lets you use any of the 7 clean and efficient agenda views.

If you prefer more customization, it has a lot of functions for that.

You can use any of the 6 calendar Widgets with different designs and sizes.

The widget will show you the global weather forecast.

If you don't like the color of the widget, don't worry. There are 42 different color options available here.

The material design dark theme is here for free to save more energy and make it visible at night.
13. Battery HD
---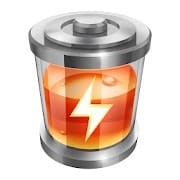 If you want to try battery widgets for Android free, then try Battery HD. Now, you can enjoy your time by listening to music, playing Android games, and watching videos without thinking about the battery. This widget will help your device to keep the battery power long-lasting. Also, this battery saver app will show you the battery percentage to remind you about charging your device. Also, this widget will show you how many hours you can play music, watch a video, and use other apps like Facebook, Instagram, etc. You must be impressed with the other features of this app.
Important Features
It shows you all the battery information in one place.

You can use the dark mode using this widget to save the battery power.

It will make a chart of your average daily battery usage and show it to you.

While charging, this widget will show you how long it needs to be charged.

This widget is designed with a very simple UI, and it can be calibrated.
14. Google Calendar
---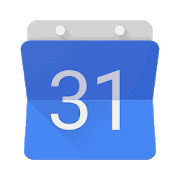 If you want to keep your home screen clear, still having updates of time and date, here is the best option for you. Just use the widget of Google Calendar. By far, it is the best Android Calendar widget with the most number of users. I think I don't have to introduce you to Google. When this widget comes from Google, you can be assured of its better performance with no doubt. To stay updated on the calendar, you can choose a different calendar design from a long list.
Important Features
You can make schedules and get notifications of that.

There is an option to keep your to-dos in this app.

A quick way to see the dates by week, month, and year from the widget.

A direct way to search for flights, hotels, and other things is available here.

Using this widget, you can use the dark theme to change the outlook of your device.

It lets you change the calendar grid-style very easily.
15. Today's Weather – Widget, Forecast, Radar, & Alert
---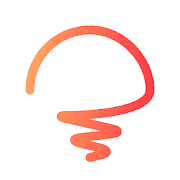 If you want a quick view of authentic and most updated weather conditions then check out Today's Weather. It provides one of the most popular weather widgets ever. This weather app gathers information from the 10 most reliable weather forecast sources. The most fascinating feature of this app is its quick view weather widget. The widget is customizable with numerous data choices on local and international weather. You will love its visual effects along with a detailed presentation in such a small package.
Important Features
It provides weather forecasts from all over the world with quick view capabilities.

This app provides accurate information on the sunrise, sunset, sudden change of weather, full moon night, new moon night, etc., so that you can never miss the beautiful moments.

It provides daily weather notifications with alerts for a sudden change of weather and emergencies.

The app is integrated with a weather radar that shows real-time weather forecasts and visual models of the earth.

You will find detailed reports, such as humidity, dew point, air pressure, temperatures, etc. on the customizable layouts and widget set.

It operates with limited system resources and does not slow down the system.
16. Fancy Widgets
---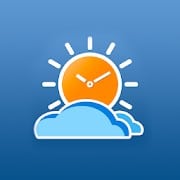 Give your home screen a new look with Fancy Widgets. It is a widget package consisting of weather, clock, location, date, and battery widgets. This helps you personalize your Android device freely. It comes with one of the best Android clock widgets. This app is simple to use, and the UI is widely accessible. It is free to use and does not come with any hidden conditions. The app requires GPS access and internet connection.
Important Features
It comes with both digital and analog-style clocks with customizable date and time formats.

The weather widget gets location updates from the GPS and also can be selected through a search by names or zip codes.

You will get real-time temperature notifications and severe weather emergency alerts.

It allows for changing widget sizes and skin layouts. It also supports easy backup/restore for widget settings.

The battery widget provides battery level information and charging state notifications.

It comes with an interactive calendar with moon phases and multiple location support for clock and weather.
Download
17. Sticky Notes + Widget
---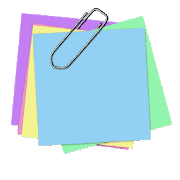 Taking notes of daily tasks are always handy to maintain a scheduled life. Sticky Notes + Widget is such an app that lets you arrange a variety of note based widgets on your device's home screen. It is a lightweight memo and note-taking app that manages interlinked widgets for Android free. The widgets are also enabled with cloud synchronization. This tool comes with ads integration to support the developers. It is easily accessible and does not consume much system resources.
Important Features
You can play with different font styles and colors in the homepage widgets.

The app comes with standard password protection for data safety.

It allows taking handwritten notes and also gives the option to draw in the memos.

The widgets are thoroughly customizable and can be resized by the users.

You can adjust its visual effects such as transparency and organize the folders.

The app features text editing, scrolling, sharing options directly from the widgets.
18. KWGT Kustom Widget Maker
---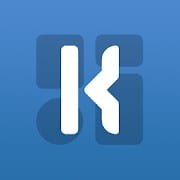 Kastom Industries brings the best Android widgets maker for you, and it is KWGT. You can create your widgets of any functions like battery widgets, clock widgets, weather, and flashlight widgets. You can also create a custom clock widget like either a digital or analog clock. This app will also provide you the endless possibilities to create and design widgets of your wish. Don't you think it is impressive? You can look over more features of this app to learn more about it.
Important Features
This app includes more than thousands of widgets in the featured section for free.

You can try widgets with different shapes like round, oval, triangle, rectangle, star, etc.

It is easy to try 3D flip transformations and skewed texts.

This widget-maker includes zooper-like progress bars.

It shows status bar notification and scalable vector graphics.

It is very easy to change fonts, colors, sizes, and many other options.
19. Minimalistic Text: Widgets
---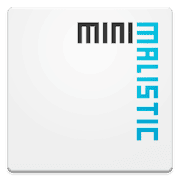 If you want to try a text widget, then I must recommend Minimalistic Text. This app provides all the written information in a very minimalistic way. Also, this widget will show the time, date, battery, and weather information displayed on the screen. You can learn the tutorial of using and forming widgets from the YouTube videos of the same company that has produced this app. Moreover, this app includes tons of easily customizable functions using the layout editors.
Important Features
This app supports almost all the known languages besides English.

This tiny sized app never harms the performance of your device by taking up too much space.

This widget will let you enjoy the access to the SD card.

It includes automatic rendering options and supports wifi variables.

Use layout editors to Customize different times.

Lets you resize the widgets very easily.
20. Flashlight Widget
---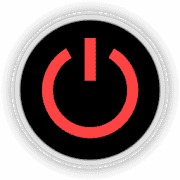 Lastly, it is Flashlight widget, a very useful thing that can be a quick source of light in a situation of darkness everywhere. You can keep the widget just near your finger if you really don't like darkness in the night. Just touch the widget to lighten your place and get rid of the darkness you hate. This small and efficient widget uses the camera flashlight of your device to turn on the flashlight. You can also customize the light ratio by just tapping on the widget for a bit long. Still not convinced? Then you should have a look for more details here.
Important Features
This widget will need access to use the flashlight of the camera.

It takes less than 30 KB, and so, you can call it the lightest widget ever.

As it is just a Widget, there is no app launcher available here.

One press is enough to turn on the flashlight with this widget.

No apps will appear to kill your time when lightening your surroundings is essential for you.
Final Verdict
---
All the widgets you have met here are free to install from PlayStore and use on your home screen. But some of them may ask you to pay for the premium version. So, if you think having more facilities would help you, then go for it. However, you must see that there are widgets for different purposes like a clock, weather, calendar, battery, etc. I don't which you need the most. For what I cannot suggest to you, a few particular Widgets that I think as the best Android Widgets. So, think of which one or two you should have near your fingertips and try them.
Please inform me if I haven't included any widgets that you think are very efficient and useful. Also, share your review of the widget you are trying on the comment section to help others find it. Thank you in advance.