Rhythmbox is known as the default music player for Ubuntu. Many users enjoyed it's very much for playing their favorite song. It has some special features which will blow your mind. There were some bugs in this app with the visualization. The good news is that it has got a new update which will definitely provide a better experience for playing music. Rhythmbox music player app mainly features very good improvements during media player sync, better network streaming. Now, let's see the full features of Rhythmbox:
Full Features of Rhythmbox
Fixed Critical Errors and Internal Bugs.
Fixed Rhythmbox crashed during import.
Command option added.
Very good layout and design.
Play queue UI improvements feature added.
Added Expand playing icon in the entry view
Fixed hangs for a special file type.
Fixed Open settings Crash for this app
Fixed Keyboard navigation tab when searching an entry widget.
More bugs fixed
That's all the main features of Rhythmbox. Now let's see the  installation process in Ubuntu:
The previous version of Rhythmbox . had a problem with the visualization plugins. Now, this is fixed for the newer version. It supports Ubuntu version 14.04, 16.04, 17.04, 17.10. The installation process is so easy you just waste less than 3 minutes to install.
Installation Process of Rhythmbox:
First, you should Open terminal holding Ctrl+Alt+T or by searching for "terminal" from the apps. It only takes a few moments to open up. After opening it, you should run the command to add the PPA in the command window:
sudo add-apt-repository ppa:ubuntuhandbook1/apps
After typing the command you should input your password when it requests you to hit Enter.
After that software updater window will open. It will promote you to upgrade the music playing app.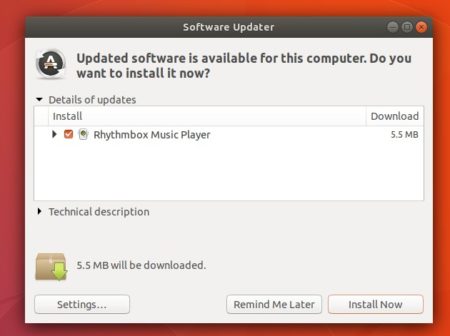 Or You can also upgrade it via command line:
sudo apt-get update
sudo apt-get upgrade
Remove Rhythmbox:
The software removal process is very simple. To use the stock version of Rhythmbox, you should purge the PPA. You can also remove it by downgrading the player via command window at the same time:
sudo apt-get install ppa-purge
sudo ppa-purge ppa:ubuntuhandbook1/apps
If it fails to remove, you can also remove it from the Software and Update utility on Ubuntu.
I think you have got a clear concept about the Rhythmbox music player for Ubuntu. If you like it, share it with your friends. Thank you very much.