Education Technology (edtech) is rapidly changing, and students face challenges in coping with changes. Today's gold standard in the classroom is to access one-to-one computer devices for each student. To choose a classroom computer device, students choose between an iPad and a Chromebook despite Windows PC or Mac by considering cost, portability, and programs.
So, iPad vs Chromebook: which computer device should you choose? For this selection, students need to consider not only affordability but also the capability to complete workflow and durability. We need to compare the head-to-head features of the iPad and Chromebook to decide which device meets the requirement of students, teachers, and school districts.
Although these two types of computer devices have a lot in common. Such as:
Unique operating systems. (iOS and ChromeOS)
Unique classroom management programs (Apple Classroom and Google Classroom).
Better battery life
Portable and lightweight
Highly secure than other computer devices.
Quickly power on.
Easily accessible.
However, there are some similarities between the iPad and the Chromebook; both devices are appreciated for their distinctive features. Today we will compare these two computer devices to find out which device is best for you.
Rivalry Recap: iPad vs Chromebook
---
The first iPad was introduced in the classroom in 2010, and the school rapidly increased the application of digital devices in classroom learning. iPad took place as the common device in the US school within a short period. By 2013, the iPad had captured 94% of the education device market.
In 2011, Chromebook came on the market as a low-cost alternative to Windows laptops, MacBooks, and iPads. Since then, the rivalry between the iPad and the Chromebook has begun. By late 2014, Chromebook's total sales surpassed that of the iPad.
The rivalry had over in 2018 when Apple launched a new tablet targeted at the educational institution users. They introduced low-cost, digital pencil supported, augmented reality (AR), and many sophisticated apps for education device users. Since then, the battle between two companies to capture the market share has been going on.
The iPad and Chromebook market grew significantly in 2020 due to the COVID-19 pandemic. In 2020, Lenovo, the top Chromebook manufacturer, led the market by shipping 87.0 million units, and the iPad also closed the shipment to ship 81.4 million units. The trend continued in 2021, and Chromebook's shipment increased 275% in Q1 2021 over to Q1 2020. According to the Canalys report, Apple also continues to dominate the tablet market worldwide and captured 38.6% market share in Q2 2022.
iPad vs Chromebook: Which is Better for School?
---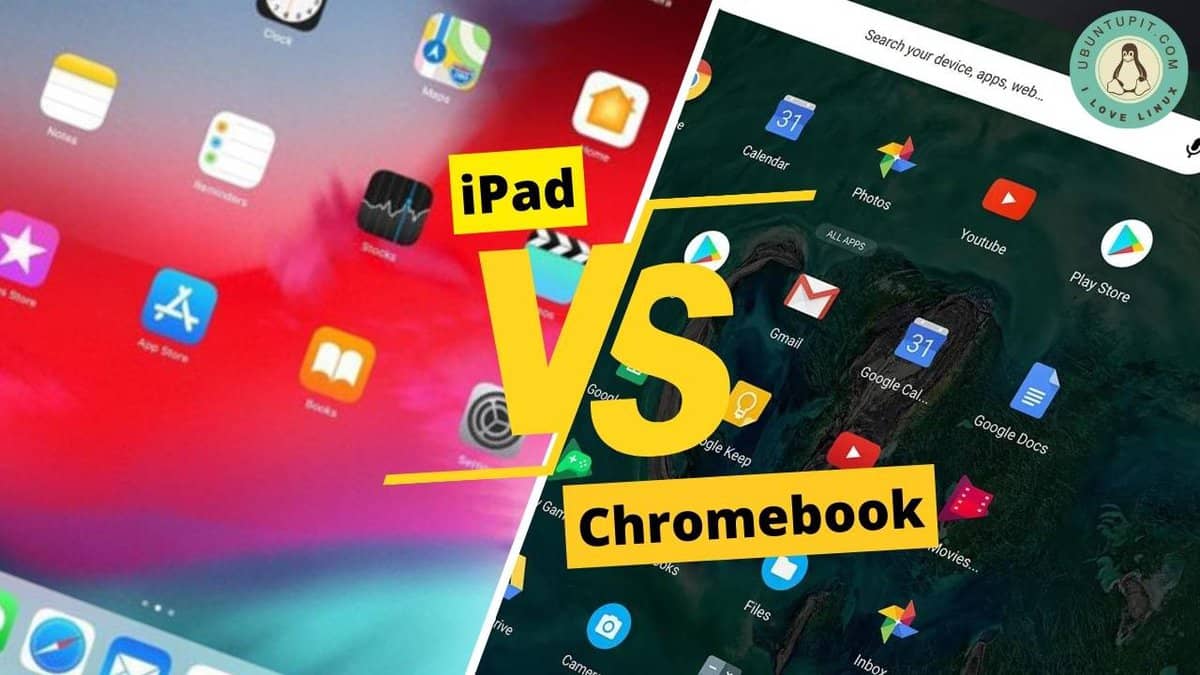 iPad and Chromebook have unique features and capabilities that differentiate between them. So when you are going to comparing between these two devices, you should consider some factors. Let's go through the factors described below and narrow down your selection criteria.
Form of Device
---
When buying a Chromebook or iPad, the device form is an essential factor to consider. A Chromebook is a laptop that runs Chrome OS. Chrome OS is Google's lightweight web-based operating system. This operating system helps to run web-based applications and Google apps.
Though many manufacturers launch Chrome OS-based Chromebooks, it comes in several variants. You may get a traditional clamshell and a convertible (convert into a tablet) Chromebooks. Today every Chromebook has a 360-degree hinge feature that bends its screen around.
On the other hand, the iPad is a tablet that resembles a slat. No input device is integrated with this device. So if you need to incorporate a keyboard, mouse, or Apple Pencil, you have to shell out extra cash for this. Compared to Chromebook, the iPad is slimmer and thicker. Besides, it is portable and easy to carry. So you can use your iPad in any circumstance, even sitting on a bus or standing.
Arguably, the iPad looks more pretty than Chromebook and is made of premium materials like metal and glass. Although Chromebook build quality is good, and you want to buy a premium material build Chromebook, you have to pay more than an iPad.
Age of Students
---
Another fact you need to consider when buying a Chromebook or iPad is the age of the students. Kids can quickly learn to use the touch screen. Even before they learn to read, they learn how to use touch devices. ‍iPad is more touch-friendly than Chromebook. So for entry-level school-going students, the iPad is commonly the best for them.
Besides, iPad has many impressively versatile apps and extensive battery life that keeps the kids engaged in the classroom. Moreover, kids may face difficulty in operating keyboards.
Conversely, Chromebook is recommended for middle and higher-class students. Middle and higher-class students need a keyboard to write long essays and assignments. Chromebook's built-in keyboard helps them easy to type. Moreover, students can access the internet to extract information through Chromebook.
Cost
---
The budget and price of the products is the role-playing factor in deciding to get an iPad or Chromebook for schools. The cost of a Chromebook depends on the model and the number of bulk orders. The price range of the K-12 Chromebook varies from $200 to $600. However, many Chromebook for the education model's price range between $200 to $300.
iPad for education price starts at $309 (usually $329). Post-secondary education students, parents of post-secondary students, and educators save $20 when buying an iPad under the Apple student discount program. However, when buying an iPad, you must shell out extra cash for peripherals and accessories like a keyboard, mouse, etc.
So we can conclude from the above analysis when comparing prices between iPad vs Chromebook, Chromebook is more affordable.
Device Management
---
The students' computer devices must always be in good condition to keep the pace of learning in the classroom. Here Chromebook comes with a unique feature by providing regular application updates to safeguard your computer from malware or virus attacks.
Every Chromebook comes with Auto Update Expiration (AUE, formerly EOL) as the expiration date. Every Chromebook receives regular security patches and updates until the expiration date.
This expiration date is generally given for six to eight years from the date of manufacture. Technically, you can use your Chromebook after the expiry AUE date, but you do not receive any update from Google. However, Google has a good reputation for extending AUE's service for their older devices.
iPad does not concern with this matter even though the older version model may not support the latest operating system from Apple.
Model Options
---
Samsung, Lenovo, Acer, Google Pixel, Asus, and HP are the manufacturers of Chromebook, and every manufacturer launches various models of Chromebooks. So while you will go to buy a Chromebook, you may get more options and far greater specifications.
iPad is the sole exclusive product of Apple. Apple only has four models of iPad with different specification options. The four models are iPad, iPad Mini, iPad Air, and iPad Pro. For school-going students, iPad basic version is widely used. So if you stick with the iPad, you have to satisfy with limited options.
Apps
---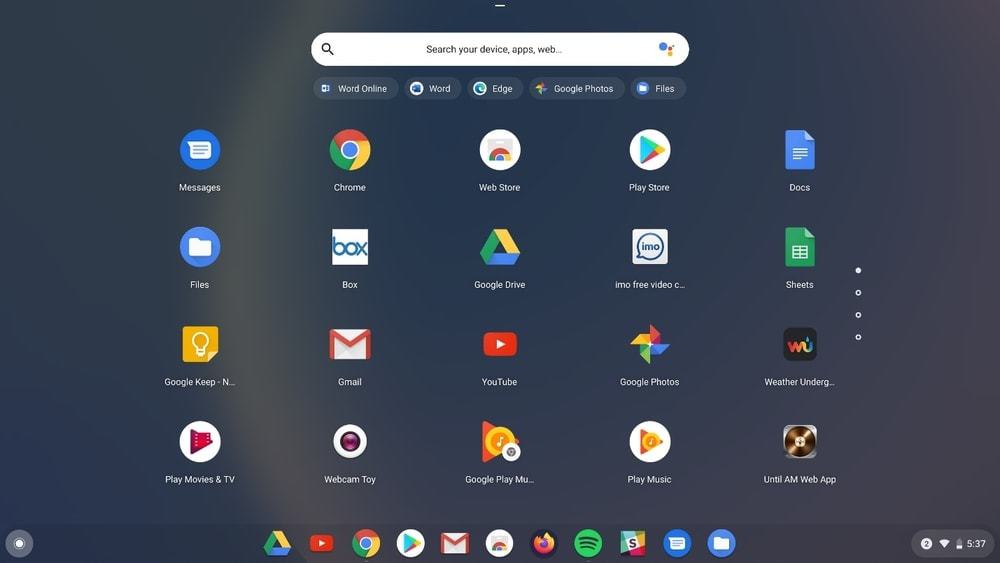 Chromebook is not a complete desktop operating system where you can run thousands of apps. This device runs by web-based Chrome OS, which only supports web-based apps, Android, and Linux apps. Although, some Chromebooks also do not compatible with Linux apps. However, every Chromebook is capable of running Andriod apps and Google Suite.
Moreover, Microsoft Office and Outlook are also available for Chromebook users. Furthermore, entertainment apps like Netflix and Disney Plus are available on Chromebook. In addition, you can download games from Andriod Play Store and Google Stadia on your Chromebook.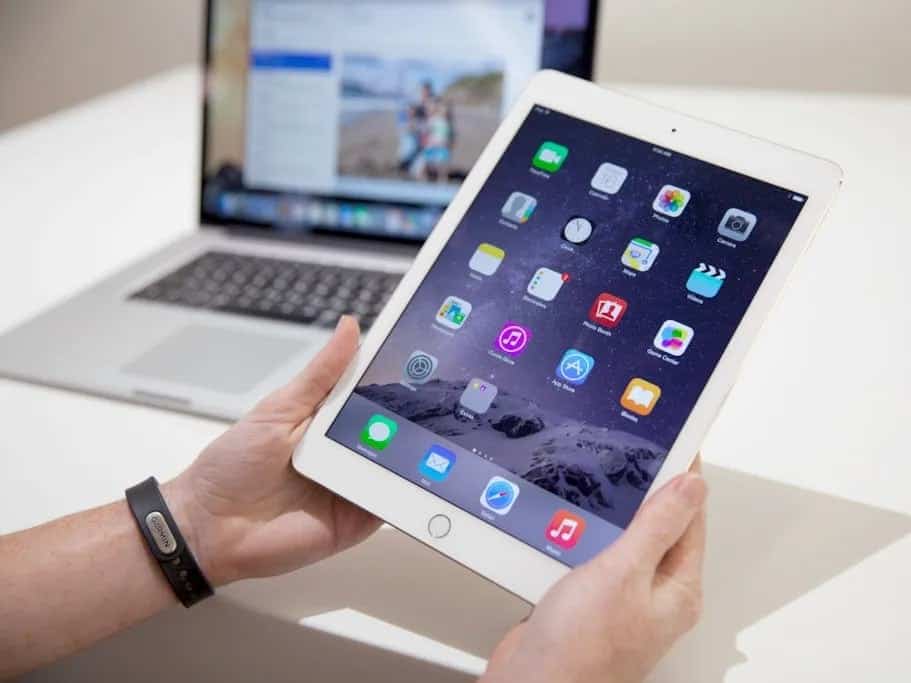 On the other hand, the iPad can access millions of dedicated apps from the Apple App Store. You can find all types of apps in this app store, including Google suite, Microsoft Productivity apps, enterprise-level apps, entertainment, and gaming apps.
If the app is the primary consideration in the selection between the iPad and Chromebook, the iPad is a better choice than Chromebook. However, if you are happy with limited apps and a fresh interface, Chromebook serves better than the iPad.
Performance
---
IPad vs Chromebook: Which of the two has the best performance? The question arises in the mind when it comes to comparing these two computer devices. iPad and Chromebook are resourceful and perform very well even at lower configurations.
Chromebook usually offers more impressive specifications than the iPad. Some high-configuration Chromebooks have Intel Core i5 or Core i7, ample RAM, plenty of storage, and extreme battery life.
Controversy, iPad configuration looks not impressive but is very well optimized. You can efficiently run professional applications on the iPad. The iPad ‍always performs better than other computers with similar specifications.
When you run a powerful application like Lightroom on Chromebook, it struggles more than an iPad. So if you need to get serious work done by running a robust application, choosing an iPad is the best decision.
Security & Privacy
---
Security and privacy are the key concerns when buying an iPad or Chromebook. Chrome OS is widely renowned as the most secure operating system platform. Google is backing up the Chrome OS platform, which has enabled it to build a multi-layer security system. Besides, the applications of this platform can protect any new malware or threats as they are regularly updated.
However, Apple's legal department claim that the Google Chrome browser's ads and extensions may create the possibility of malware attack. Besides, Google has been criticized several times for data trafficking, whereas Apple considers privacy a core component of security. Apple has a dedicated app store, and all apps are security scrutinized. So there is less possibility of breaching the privacy of the Apple products users' data.
Appeal
---
Apple and Google Suits ‍applications make classrooms more interactive. Through these apps, teachers can easily take lessons and accept assignments. Apps help students understand lessons in such easy ways that are not possible in traditional education systems. The teacher can customize the lesson for each student, and the students respond accordingly, which is not possible on paper.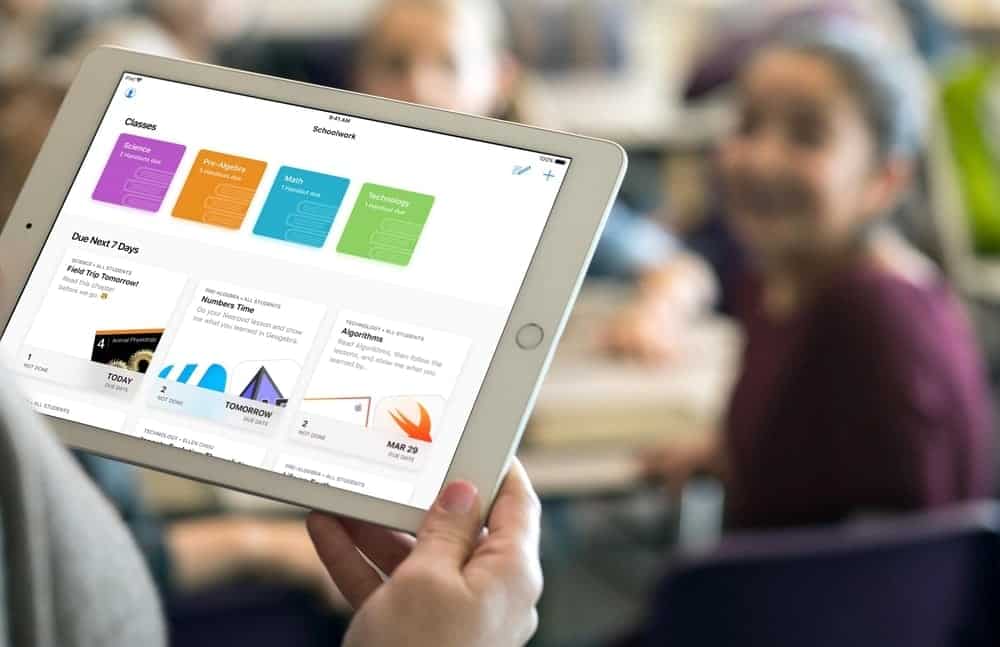 On iPad, there has a dedicated educational app which is called Schoolwork. This app helps teachers to distribute assignments among students and monitor the progress of the students' work. With this app, teachers can customize the learning lessons for every student individually.
Besides, with the Apple classroom app, teachers can control the iPad accessibility of every student in the classroom. Moreover, teachers control students to focus on classroom learning and easily share information with one or all students.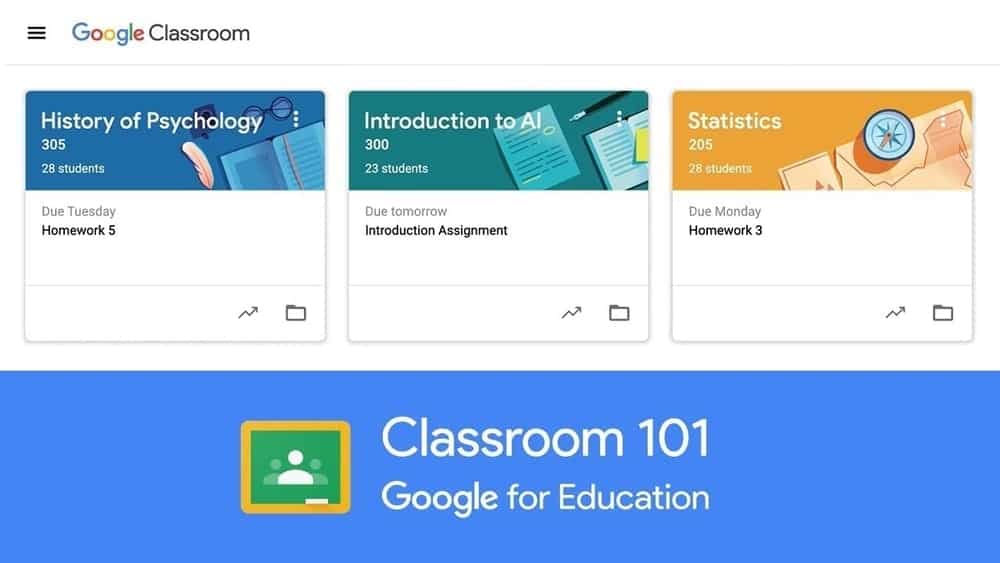 Similar to the iPad's classroom app, Chromebook introduces a Chromebook education license for teachers. This app gives teachers complete control over each Chromebook in the classroom. However, the only downside of this app is its additional costs to implement the system.
Additionally, if you consider the aesthetic design between the iPad and Chromebook, definitely, the iPad looks so cool and more beautiful than Chromebook. Because of the iPad's intuitive touch appeal and user-friendliness, the younger generation prefers the iPad over other tablets. However, Chromebook always develops its design and closes the gap between the appeal of the iPad. So the iPad vs Chromebook appeal debate continues.
Connectivity and Accessories
---
Most Chromebooks have all the options of USB ports, such as USB-C and USB-A, and micro or standard SD card slots. So connecting external peripherals such as a mouse, external display, and external hard drive is not an issue.
Alternatively, the iPad comes with only a lightning port. So when you need to connect external devices on your iPad, you need an additional dongle to connect external accessories.
However, iPad Pro models and iPad Air have a USB-C port. iPad USB-C port not only helps charge your iPad but also helps you connect with multiple devices like MIDI devices and audio interfaces, hubs and docks, external storage, and keyboards.
In addition, some of Apple's exclusive accessories unleash your creativity, such as Apple Pencil and Logitech Crayon. iPad is better for illustrators, while Chromebook is better for regular typing work.
Multitasking
---
Chromebook offers all the common shortcuts that are available in the Windows or Mac operating systems. Besides, it also provides some exclusive shortcuts that are most effective for the Chrome browser.
Moreover, the three-finger trackpad lets you switch the tabs quickly. Furthermore, Chromebook offers many tabs modes, such as a split-screen view and a picture-in-picture mode, and additionally, you can resize and reposition your tab to work efficiently.
After a significant improvement of iOS 11, you can now open and operate multiple apps at once on your iPad. The iPad has a split-screen button on the tab that helps you switch to another app.
Besides, it has slide-over and picture-in-picture viewing options for applying multitasking features. However, the drawback of the iPad is that it has no built-in trackpad input. So you need to satisfy by using drag and drop action to switch between apps.
File Storage
---
Since Chromebook users use Google's Chrome OS, schools and universities can share the content of about 100 TB across all users under the G Suite for Education program. Similar to Windows or Mac OS, Chromebook users can easily save, share and organize their files.
Apple introduces the safest and most secure cloud storage where you can backup your file, photos, and videos. To get this Apple cloud storage service, you first need to set up an iCloud storage account. Every iCloud account holder gets 5GB of free cloud storage space. If you need more, you need to upgrade your free cloud storage plan to a premium one.
iPad vs Chromebook: Which Should You Choose?
---
The dilemma between iPad and Chromebook will continue. We have outlined a lot about these two computer devices that will help you make the right decision. Here we have discussed many factors; at some point, the iPad stays ahead, and the rest point dominated by Chromebook. So the final answer to what I choose depends on your need.
If having a keyboard is vital for your work, then Chromebook is a definite choice. And if you rarely need a keyboard, then buy an iPad. The iPad is the best for you when you consider the touch-friendly tab. Again, if the apps are a vital issue, then the iPad should be arguably the first choice.
But when it comes to budgeting, Chromebooks will be cheaper for you. Also, the Chromebook would be good for the classroom considering the file storage, device management, and multitasking capabilities. Alternatively, the iPad provides the best value while considering performance, appeal, security, and privacy.
Bottom Line
---
The more investment in education technology means, the more possibility of improving the kids' future. Today's majority of schools transform traditional classrooms into digital classrooms. Teachers can easily share their lessons in this class and monitor the students' engagement and progress.
So the demand for computing systems goes up. Currently, the iPad and Chromebook capture the majority of the educational tablet market. So it is a wise decision to pick anyone from iPad or Chromebook.
You will choose between the iPad and Chromebook, which provide better value and a broader approach to education. Higher Ground also helps you to coordinate between your district school requirement.
In this analysis, we broadly compare every factor to make your decision process easy. We hope our details analysis helps you to buy the right tablet for your learning. If you think this analysis is really helpful for making the right decision, then you are requested to share this in your circle.
So many friends can get benefit from your sharing. Besides, you are most welcome to give your feedback about your vote on iPad vs Chromebook in the comment section below.