Even years ago, Chromebook was considered an obsolete form of the laptop whose tasks were only confined to browsing online, checking emails, streaming low-quality videos, and playing low-end games. However, with the advent of the latest technology and the users' behest, the Chromebook has finally turned into a formidable piece of device to all the users with a transformation from clamshell design to sleeker or even opted for 2-in-1 design.
Customers were deterrent from splurging money in buying Chromebook, whereas they had the option to buy high-end laptops like MacBook or Windows. However, with the rise of the demand for using Chrome OS, particularly when Android and Linux incorporated it, suffice it to say that Chromebook has garnered huge attention. The recent Chromebook will align with other laptops not because of its affordable price but also for its durability, multitasking, and sublime battery life.
Best Chromebook Laptops
---
I am going to review on top 15 best Chromebook based on Chromebook for students, kids, touch-screen, affordable price, light-weight, and the fastest processor. Chromebook for students require strong durability and low-costing, whereas Chromebook for kids requires anything that will be resistant to damage. Cheapest Chromebook will be cheaper than its powerful competitors, whereas the fastest ones will be accountable for long battery life and number of cores.
1. Google Pixelbook Go
---
CPU: Intel Core m3-Intel Core i7 | RAM: 8GB-16GB | Graphics: Intel UHD Graphics 615 (built-in) | Display: 13.3-inch with 1080p touch screen, Full HD (1920×1080) | Weight: 2.3 pounds | Storage: 128GB-256GB (either eMMC or SSD)
+ Ultra-thin design, lightest Chromebook (2.3 pounds)
+ Outstanding battery life
+ Super quiet 'Hush' Keyboard
+ Bright and Colourful display with built-in touch screen
– Limited port availability
– Quite expensive for the mid-to-high-end ranges
– The touch screen is sticky, and the cursor gets shaky
– Unavailability of Biometric login
Google has always remained persistent in keeping its own-manufactured Chromebook innovative. Therefore, Google Pixelbook Go is not an exception. This clamshell laptop, which neither can be folded into a laptop nor tablet for its inconvertible structure, has superseded the fame of its predecessor Google Pixelbook for its originality and robust features. With a thickness of 0.5 inches and weight up to 2.3 pounds, this magnesium-fitted body, coupled with a reverberated base, is easy to handle and move.
The formidable strength of the "Pixelbook Go" battery of the battery stand-alone any recent laptops in the market. The battery showed terrific response by lasting between 11 hours and 15 to 30 minutes as promised righteously by Google.
Moreover, a twenty-minute charge can supply a power of 2 hours standby. One of the phenomenal features is the addition of the 'Hush Keyboard' that allows you to use the keys silently without making a clicking noise. The keyboard has a hidden backlit option.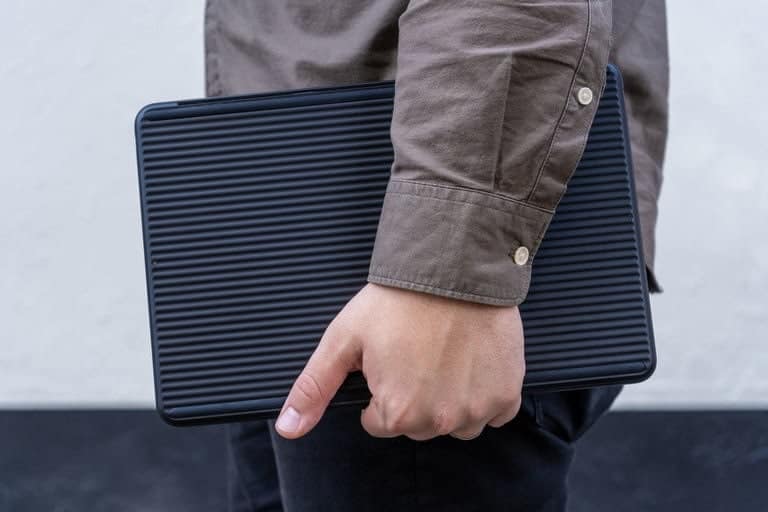 With an 8GB RAM and Intel Core i5-8200Y processor, this Chromebook can spontaneously keep 30 Google Chrome tabs open as well as run five 1080p YouTube videos concurrently. Thus, making this Chromebook one of the fastest Chromebook in this genre.
However, the touchscreen feature is not perfectly formulated and has only 2 scant USB-C ports for external output. The astonishing features included a 1080p webcam and dual front-firing speakers for better video and immersive sound, respectively. However, the abrupt missing of biometric fingerprint lacks subtlety.
2. ASUS Chromebook Flip C434
---
CPU: Intel Core m3-8100Y, (i5 and i7 will be arriving soon) | RAM: 4GB-8GB | Graphics: Intel UHD Graphics 615 (built-in) | Display:14.0-inch with 1080p touch screen, Full HD (1920×1080) | Weight: 3.1 pounds | Storage: 64GB-128GB (eMMC)
+Thin display bezels
+Amazing bright and vivid display with 14-inch touch screen
+Well-performed keyboard
+Backlit option for typing at night
+Above average touchscreen
+Longstanding battery life
+Balanced performance
– Speakers are poorly downward-facing; the sound gets blocked and muffled
– Very poor durability if dropped from a certain height
Asus Flip C434 is one of the best Chromebooks, which evolved brilliantly as a successor to the previous version, C302CA. This 2-in-1 Chromebook, with its massive 14-inch screen, has been surrounded by very thin-skinned bezels that are perfect enough to enjoy the film or any video in a larger frame. Furthermore, a screen-to-body ratio of 87%, brilliantly paired with three bezels around the screen, can easily fit this vast display into its compact chassis.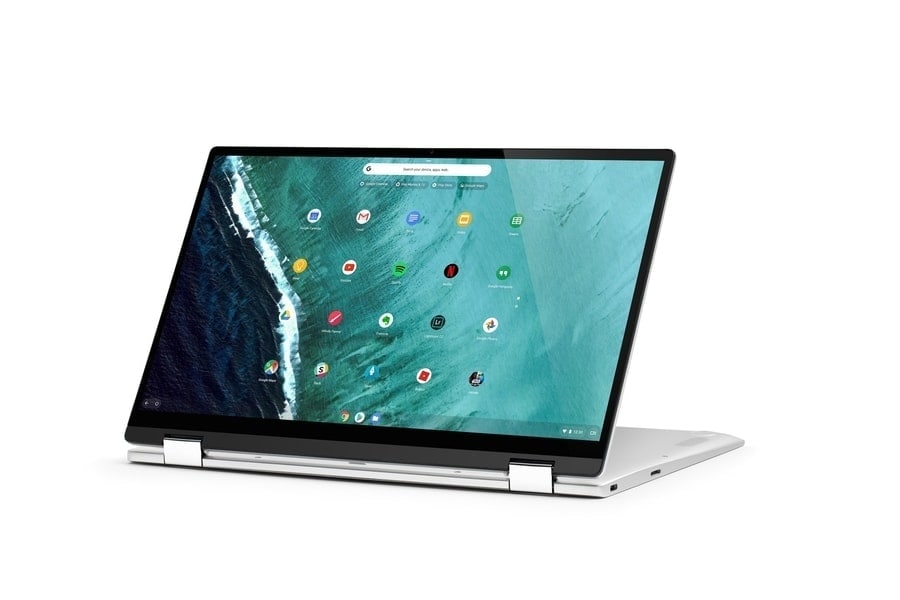 Flip C434 offers an incredibly bright and vivid display, which is even more enhanced and improved than its predecessor, Clip 302CA. C434 scored 93% in the sRGB color gamut test above the passing score (83%) and superseded 302CA (76%). In terms of brightness, Flip C434 turns out more gleaming than the average Chromebook (235 nits) with 286 nits but lags behind Chromebook x2 and Flip C302CA.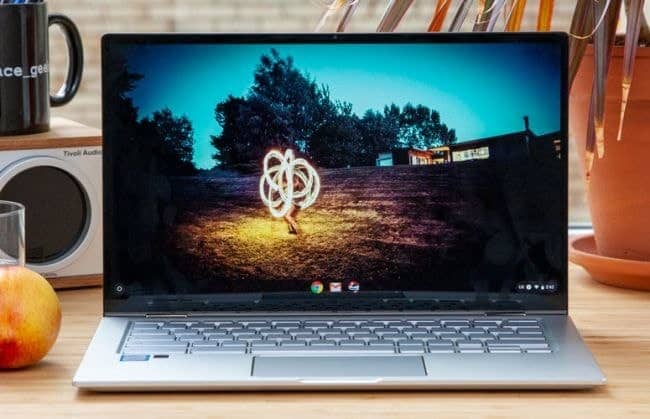 The touchscreen performs well when moving fast to and fro both in laptop and tent mode. A keyboard is another finest addition to its value. The keys are large and spaced adequately to help you type smoothly.
Trackpad trembles a bit but responds quickly as you command. With m3-8100Y CPU and 4GB of RAM, this fastest Chromebook manages to run 18 Google Chrome tabs, including 3-4 1080p YouTube videos streamed in the background spontaneously.
The battery's life was remarkable, with a duration up to 9:58 hours, surpassing Chromebook Pro (8:05) and Chromebook x2 (8:50). However, the sound quality was subpar as the sound emitted from the down-facing speakers was muffled.
This Chromebook needs special caring and attention as the durability of Flip C434 is terrible. Dropped from 2-4 feet on a concrete or carpet results in severe damage to the body and the breakdown of keys and screen.
3. Lenovo Yoga Chromebook C630
---
CPU: Intel Core i3-8130U Quad-core Intel Core i5-8250U | RAM: 8GB | Graphics: Intel UHD Graphics 615 (built-in) | Display: 15.6-inch with 1080p touch screen (4K option available), Full HD (3840×2160) | Weight: 4.1 pounds | Storage: 128GB (eMMC or SSD)
+Powerful performance due to range of processors from Intel Core i3 to i5 processor
+Variety of ports
+Elite aluminum chassis, which is rigid and hard
+Backlit light varies from manufacturer
+Touch display is precise and responsive
– Heavy (4.1 pounds) and big
– Average keyboard, keys are a bit stiff
– The display is less bright, and the 4K display is not up to the mark
– Very poor battery, especially in 4K mode
This understated and elegant Chromebook comprises an elite form of aluminum that gives extra resistance to fortify any damage. Besides, it is devoid of any form of creaking. With the help of a sturdy 360-degree hinge, you can flip the keyboard off to turn it into tab mode or laptop mode. Having multiple ports, including one USB-C in each side, one USB 3.0, and a headphone jack in the right side, help you get connected to any source.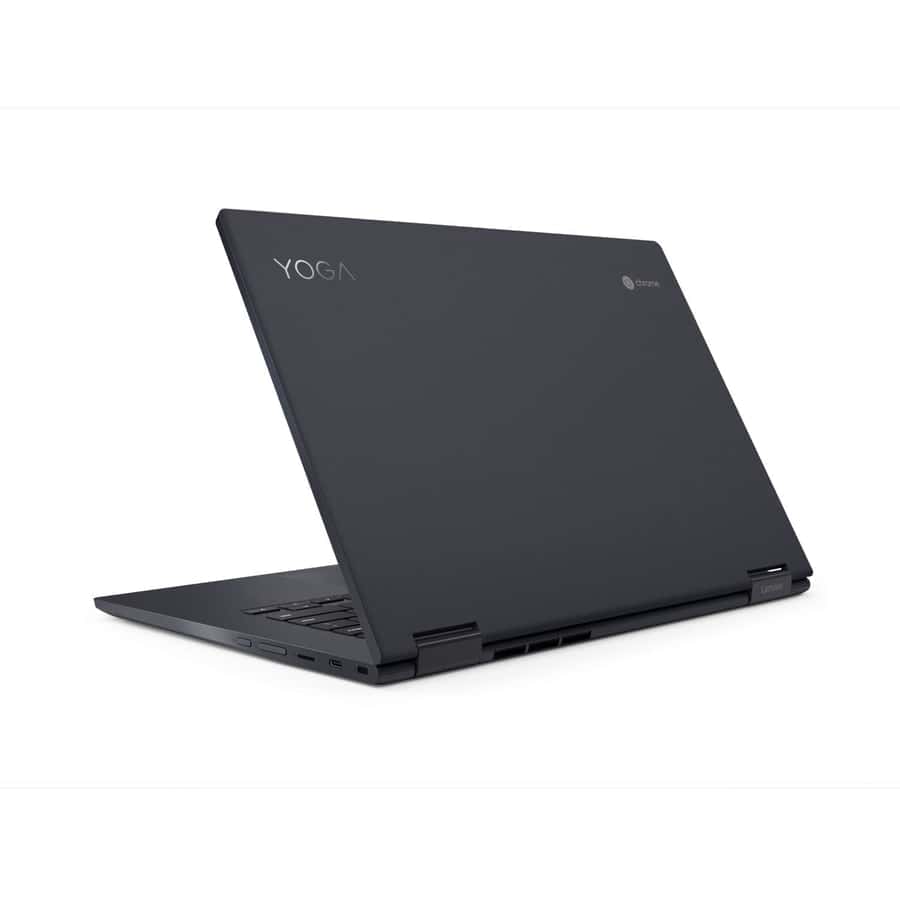 The omnipotent performance of the U processor of this fastest Chromebook is worth looking for. This CPU can open 23 Chrome tabs with 2 YouTube videos and two tabs streaming videos on Twitch without stuttering.
It showed a versatile performance in benchmark and JetStream JavaScript test, overtaking Pixel Slate and Pixelbook. U series processor of C630 resembles the proper laptop grade, whereas the Y processor used in Pixelbook is destined to serve low-power Chromebook with no presence of fans.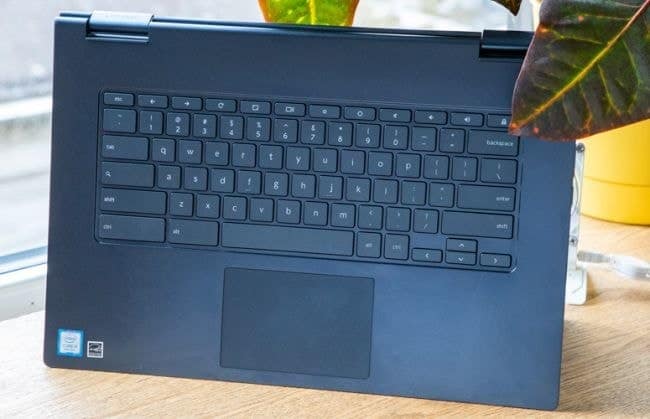 Yoga C630 introduced the world's first 4K display in their Chromebook, listing it on the top 20 best Chromebooks. Alas, both 1080p and 4K displays show latency in their brightness and color.
The sRGB color gamut and brightness test failed to show its potentiality for bringing out the outstanding brightness. Moreover, the battery life for 4K is too short to sustain longer than 6:53 hours, which shows that it compromises its superiority to Pixelbook and Pixel Slate.
4. Google Pixelbook
---
CPU: Intel Core i5-7Y57 & i7 of M series | RAM: 8GB-16GB | Graphics: Intel HD Graphics 615 (built-in) | Display: 12.3-inch with LCD touch screen, Full HD (2400×1600) | Weight: 2.4 pounds | Storage: 128GB-256GB (either eMMC or SSD)
+Sublime design
+Full Android support
+Option for the Stylus pen
+Perfect battery life
+Lightest Chromebook
+Brilliant performance
+Vivid and luminous display
+Awesome keyboard
– Scant ports
– Stylus sold separately
– No biometric login
– Very expensive
– Speakers located underneath the keyboard, poor sound
Pixelbook came to the limelight of the best Chromebook by subordinating any other dominating Chromebook or Laptop with its ravishing beauty, as well as its versatility. It is one of the few Chromebooks with this stylish look for its combined brushed aluminum frame with a rubberized palm rest structure. Rubberized palm rest ensures that your device won't slip off while on the lap, and your palm won't let go of the device due to excessive sweating.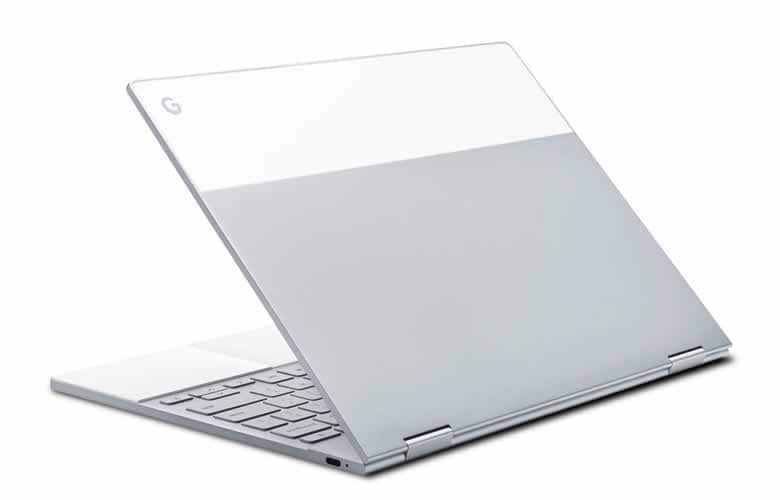 The key part of the Pixelbook is its superb performance, which requires little input of power due to its M series processor. Both i5 dual-core processors with a 4MB cache (3.3Ghz) and Chrome OS together can outnumber MacBook Pro or Windows Surface.
It made a score 140 in the JetStream JavaScript benchmark, which turns out highest for any high-end Chromebook. The Pixelbook won't even plunge when 20 tabs are open with 1080p YouTube videos are being played. Surely, this can beat the other fastest Chromebooks in 2020.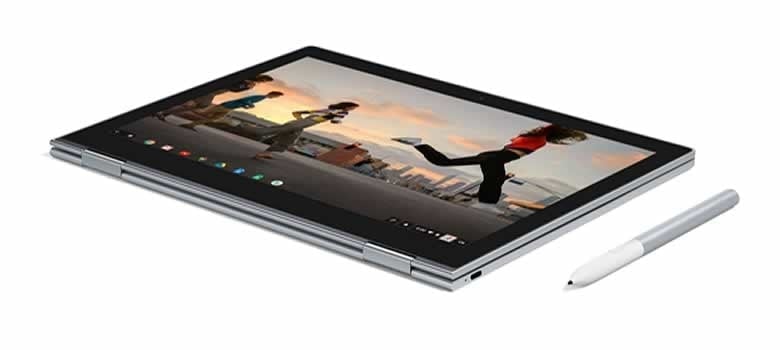 Pixelbook's keyboard is another milestone for this Chromebook. The spacious distance between keys to keys with 0.8mm travel is easy to enjoy typing. The Glass trackpad is swift and responsive to single and multi-touch gestures.
The backlit keys, with their satisfying clicking sound, help you type without derailing from the keyboard. It can also produce 235 PPI with perfect color accuracy, which means that you can enjoy any video of any resolution at 2400×1600 pixels.
Pixelbook is undoubted an expensive Chromebook to date. The stylus pen is also excluded from its original price, but it is worth buying it separately. The amazing touchscreen responds very elegantly underneath this pen.
A button on the pen navigates you to the Google Assistant option. However, Stylus runs with non-rechargeable AAAA batteries and is too bulky to erase anything. Besides, the battery lived for 7:40 hours, which is quite impressive, but not as Google promised (10 hours).
5. HP Chromebook x2
---
CPU: Intel Core m3-7Y30 | RAM: 4GB | Graphics: Intel HD Graphics 615 (built-in) | Display: 12.3-inch QHD (2400×1600) | Weight: 3.1 pounds (keyboard attached) | Storage: 32GB (either eMMC or SSD)
+HP x2 includes keyboard and active pen with its original price
+Elegant Ceramic white portion for maximum durability
+Bang & Olufsen premium speakers for excellent sound
+Amazing crisp and brightness with higher resolution
+Accurate and excellent response of the touchscreen
+Abundance of ports
+Outstanding typing experience with keyboard
– Backlit missing
– x2's display wobbles a tad
– Heavy with the keyboard attached
– Thick bezels
x2 is the perfect example of how the latest Chromebook should be presented. Although it is a lightweight Chromebook with 1.62 pounds, it gains weight by being magnetically attached to a keyboard. Its exterior is coated with a ceramic-white portion that uses anodized electrodeposition to provide extra strength and durability. It's filled with a decent number of ports such as; 1 USB-C in both sides, microSD in the left, and a 3.5mm audio jack in the right.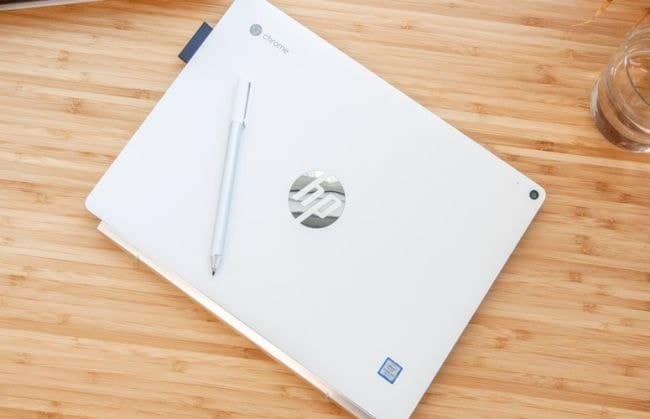 Chromebook x2 offers a decent-quality resolution (2400×1600), backed up by luring brightness and a sharp display. Thank Gamma technology HP uses, which adjusts the color distribution during the dark scenes. It surely provides one of the best displays as same as Pixelbook and Surface Pro.
The exceptional touchscreen is the main reason for it to be the best Chromebook in 2020. It responds immediately as you move up, down, or flick multiple tabs without freezing. Chromebook x2 is the elite example of what qualities the best touchscreen should possess.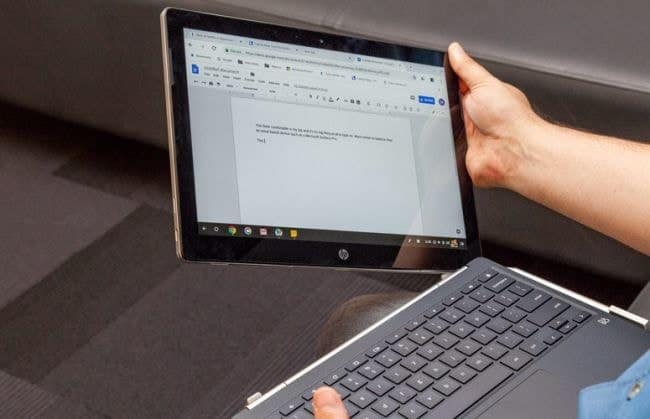 With the keyboard attached magnetically, the little-heavy screen wobbles a bit on the keyboard. Thick bezels surrounding the screen are never expected in this big-budgeted Chromebook as the resolution cannot be enjoyed to its fullest.
However, you will get a pen inclusive of this price with which you can write, draw, or command through Chrome OS. Chromebook x2's keyboard offers an immense pleasure of typing at any given posture, so does the touchpad.
6. Google Pixel Slate
---
CPU: Intel Celeron, Intel Core m3-Intel Core i5-8200Y & i7 | RAM: 8GB-16GB | Graphics: Intel UHD Graphics 615 (built-in) | Display: 12.3-inch with LCD touch screen, Full HD (3000×2000) | Weight: 1.6 pounds without keyboard and 2.9 pounds with keyboard | Storage: 64GB-256GB (SSD or eMMC)
+External storage option
+Elegant design
+Very impressive touchscreen
+Handwriting recognition
+Incredible battery life.
– Loss of Bluetooth connection
– Poor graphics and performance
Pixel Slate fits seamlessly in the modern corporate offices due to its ambient dark Midnight Blue body. Its anodized aluminum chassis is strong enough to withstand any force. The 12.3-inch display can produce a great detail of color and a resolution of about 3000×2000. The brightness is spectacular when viewed from decent angles.
It has probably one of the best touchscreens, which skim through Google Doc or anything quite spontaneously without any halt. Without the keyboard attached, this massive functional device weighs around 1.6 pounds. Hence, it is the lightest Chromebook indeed.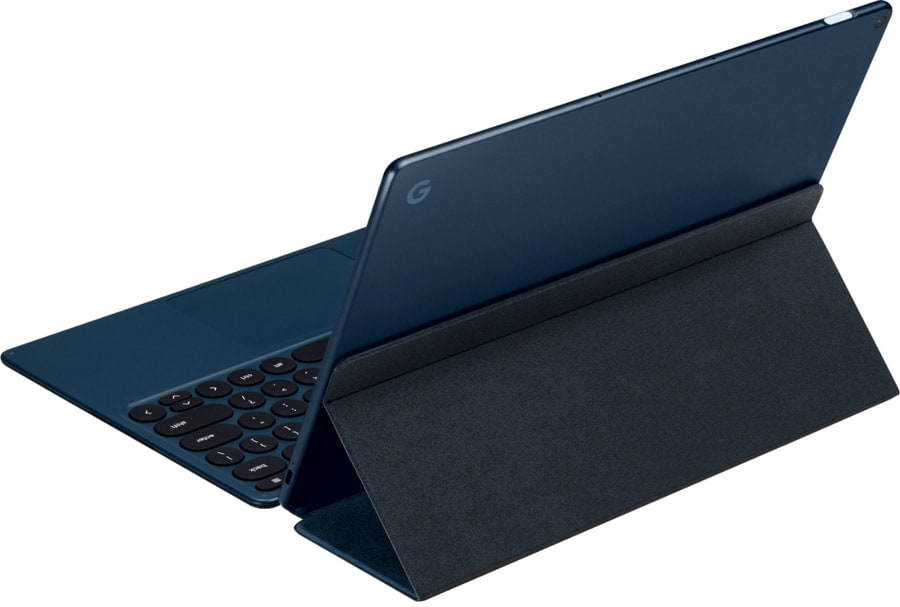 Its touchscreen is one of the best touchscreens, which response tremendously fast to any swipe-up gestures. However, it sacrifices its performance to the JetStream test with a score of 146.84 behind Surface Pro 6 and iPad Pro.
Games involving high-end graphics like PUBG undergo stuttering in this Chromebook. A USB 3.0 adapter can be connected to a Type-C port with many ports to identify any external storage. It will recognize the device and transfer data, unlike most Chromebook or iPad.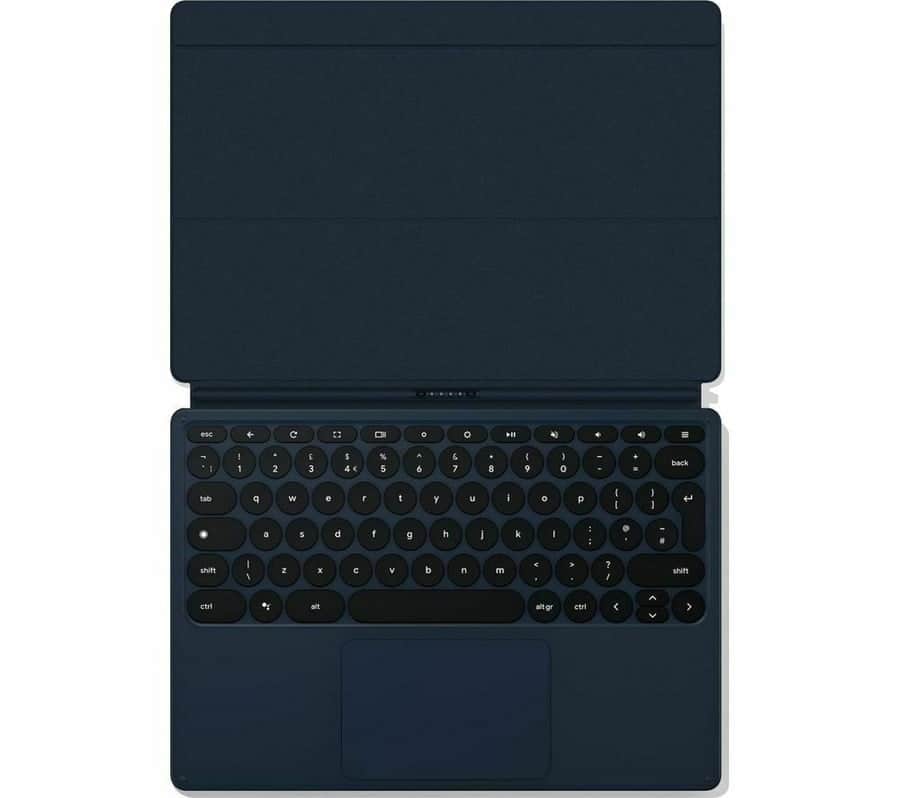 Al, Pixel Slate's Google assistant, recognizes your handwriting and transcribes your handwriting into any note-based apps. This unique feature enables it to be listed in the best Chromebook list without any doubt.
You can also circle on an image, and it can bring out the best possible outcomes. However, Bluetooth seems to disappear quite frequently in certain headsets, according to Google representatives. The headphone and keyboard cannot get hold of Bluetooth for longer if used together.
7. Acer Chromebook Spin 311
---
CPU: Intel Celeron N4000 | RAM: 4GB | Graphics: Intel UHD Graphics 600 (built-in) | Display: 11.6-inch with HD touch screen (1366×768) | Weight: 3.3 pounds | Storage: 32GB-64GB (eMMC or SSD)
+Multiple ports
+Amazing flip mechanism
+One of the best touchscreen
+Easy and responsive touchpad and keyboard.
+Gorilla glass protection
+Affordable
– Thick bezels
– No biometric login
– Unbalanced color and contrast
– Quite bulky compared to its screen size
Acer is always known for its versatility and creativity when applying them from longer battery life to ergonomic design, metal, robust flip mechanism, and touchscreen mechanism.
Being made from Gorilla glass, Spin 11 doesn't impede touchscreen performance as it responds brilliantly when swiped in any direction more easily. Crafted with a diamond-print panel on a matte-black chassis, especially on the top and bottom, it ensures that it owns the highest durability.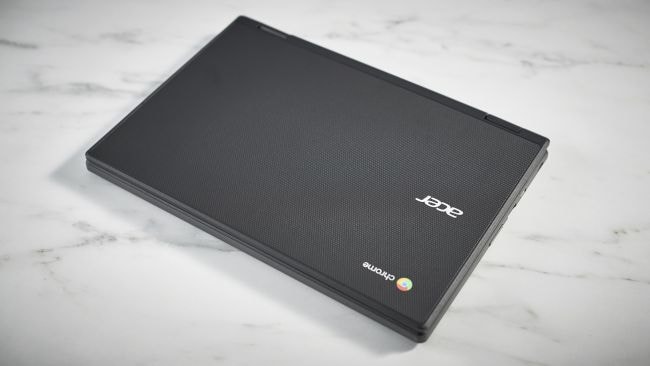 The flipping mechanism is worth noticing as the touchscreen flips so smoothly behind the hinges to transform into a tent mode that the keyboard gets automatically disabled so that your accidental touch or type on the screen won't lead to any unnecessary mishaps while watching Netflix or documentaries in a tablet mode. You will get to see a decent number of ports uniformly distributed, such as; 2 USB-As, a MicroSD slot, an audio jack, and 2 USB-Cs.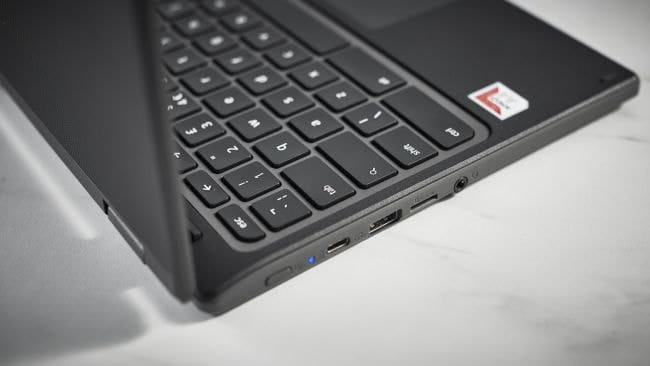 One of the most tempting features is its battery, which lasts more than 8 hours and takes only 2 hours to get fully charged. However, bulky bezels surrounding the screen create more difficulty watching anything bigger as the resolution is already poor.
It is devoid of biometric login, same as Pixelbook. The color and contrast don't match up properly as too often; the brightness needs to be increased to get decent detail of the picture.
8. Acer Chromebook Spin 11
---
CPU: 1.1-2.6GHz Intel Celeron N3350 | RAM: 4GB | Graphics: Intel HD Graphics 500 (built-in) | Display: 11.6-inch with full HD touchscreen and IPS display (1366×768) | Weight: 2.96 pounds | Storage: 32GB (eMMC)
+Very sturdiest body, perfect for younger students
+Lots of ports
+Gorilla glass protects the screen
+Affordable price with a stylus included
+Good battery life
– Subpar sound quality
– Dim display with less brightness
– Android apps dysfunction
Modern Chromebook never excludes students from their lists because students often search for a cheap, portable, resistant, and stylish Chromebook in design. Fortunately, Spin 11 has to offer a lot. This understated Chromebook has a plastic cover all over the body surrounded by silver cross-hairline patterns if not highly decorated or superbly built. Hence, it is sturdiest enough to withstand any damage, together with a strong touchscreen made of Gorilla glass. Therefore, the screen doesn't wobble.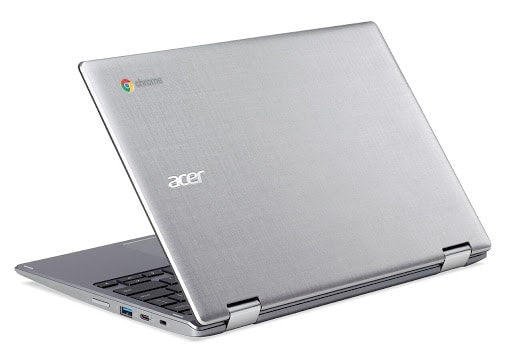 Both keyboard and touchpad perform decently when used all day long, mainly in your educational institution or for your coursework or dissertation. Students' fingers don't lay off from the keyboard since the keys are well-spaced and big enough to type.
Touchpad also responses well and quickly. However, clicking on the touchpad is cumbersome as you have to press harder to get the outcome. However, getting a stylus included in the main price tag is an extra advantage.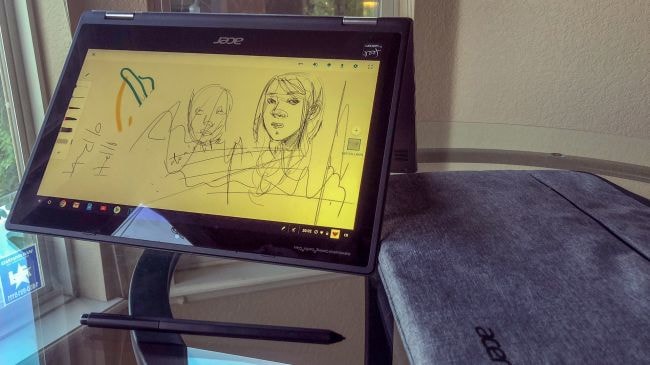 The performance of this cheap laptop is apparent to Chromebook fans. You can easily open 13 tabs with three 1080p YouTube videos running in the background along with a game running at the same time without a hitch. However, the display lacks proper brightness and often gets grainy and pixelated.
The lacklustre speakers will not produce any soothing sound. Some Android apps seem to down perform in this Chromebook due to their compatibility and optimization issues. Despite all of these drawbacks, Spin 11 has achieved the best Chromebook title for students to provide all the comforts they need.
9. Samsung Chromebook 3
---
CPU: 1.6Ghz Intel Celeron N3060 | RAM: 2GB-4GB | Graphics: Intel HD Graphics 400 (built-in) | Display: 11.6-inch, LED display (1366×768) | Weight: 2.5 pounds | Storage: 16GB-32GB (eMMC)
+Plastic-built chassis for durability
+Easily portable
+Cheapest
+Powerful display with huge brightness
+Longer battery life
+Awesome graphics performance
– Inferior sound quality
– Awkward buttons layout
– Bottom gets warm
Every reason, Samsung Chromebook 3 ranges from classy design, portability, and excellent graphics to perfect brightness to become a demandable Chromebook. Made from plastic, the Chromebook, with its elegant "metallic black" along with silky-smooth palm rest, gives huge protection against any hit, as well as makes It rather easy to fit in your palm. A rigid hinge with the ability to flip the display to 180-degree exempts the keyboard from any flexing.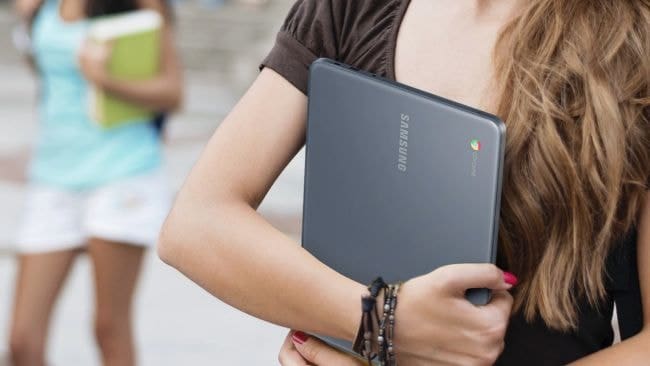 Even in the Chromebook drop test, Samsung Chromebook 3 showed enormous durability, even falling from a height between 2.5 feet and 4.5 feet on a carpet. Astonishingly, the Chromebook didn't even have any sign of wear.
With the same processor with 4GB of RAM and 32GB storage, it keeps 10 browsers open while editing Google Docs and playing YouTube videos. In addition, Intel Graphics performed tremendously well by rendering 2000 fish at 23fps.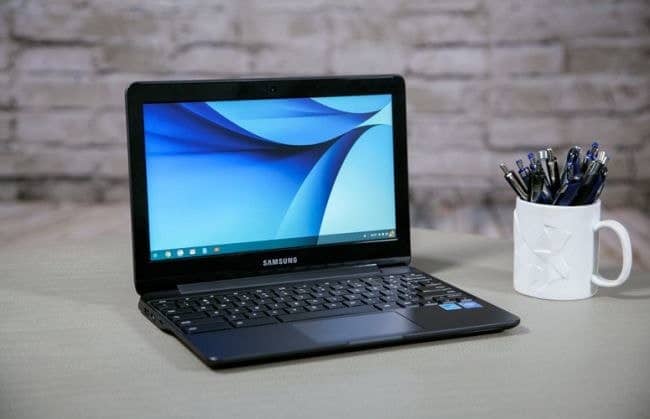 Even Chromebooks' integrated Intel HD Graphics 400 can spontaneously put up some of the most high-end games and apps. The wonderfully engineered battery lasts nearly 10 hours, and Samsung further claims that this battery doesn't drain steeply over the years, unlike other batteries.
Unfortunately, Chromebook 3, as one of the best Chromebooks for students, has a poor layout of the keyboard as the backspace button underneath the power button often pushes fingers and shuts the whole device.
10. Dell Chromebook 3189
---
CPU: 1.6GHz Intel Celeron N3060 X2 | RAM: 4GB | Graphics: Intel HD Graphics 400 (Braswell) | Display: 11.6-inch with IPS touch screen (1366×768) | Weight: 3.16 pounds | Storage: 32GB-64GB (eMMC or SSD)
+Outstanding durability
+Incredible battery life
+Solid audio performance
+Touch screen is responsive
– No USB-C port
– Very poor performance
– A tad heavy
Dell products always come with perfection, and Dell Chromebook 3189 is not an exception. At an affordable price, Dell offers a rugged chassis that is built up of black polycarbonate metal. This body was tested by MIL-STD, which guaranteed that it could withstand any harsh temperature, sand, dust, vibration, or any sudden dropdown from 30 inches onto a wooden floor.
The rubberized edges, as well as two rubber strips at the bottom, avoid any sliding. It is deemed one of the best Chromebooks for students due to its ability to adapt to any adverse condition, which is more like the case for the students.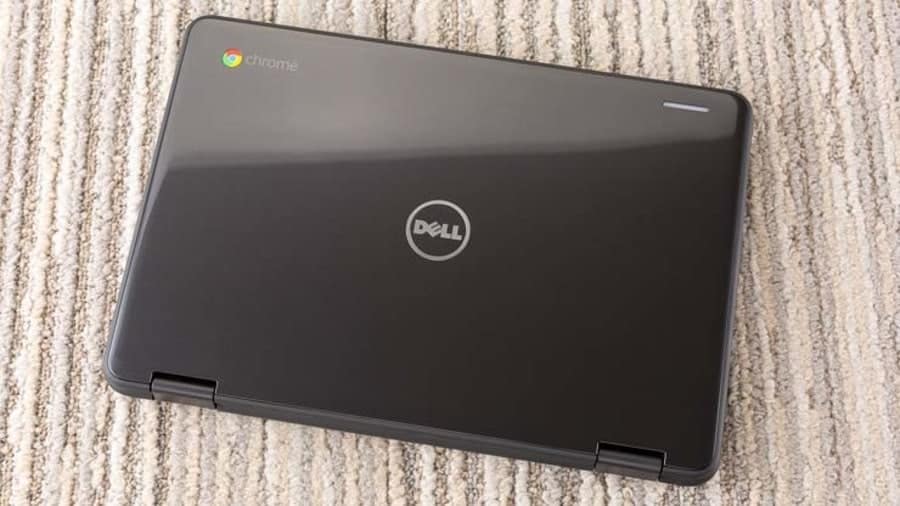 Although one of the most appealing Chromebook from Dell is not equipped with an HD display, its average 1366×768 resolution without HD's aid puts the N3060 processor at ease results in, it can render a better performance still not up to the mark.
However, this doesn't suppress the display's quality as the display can produce a better quality image, which is perfect. In addition, the touchscreen is decent and very responsive.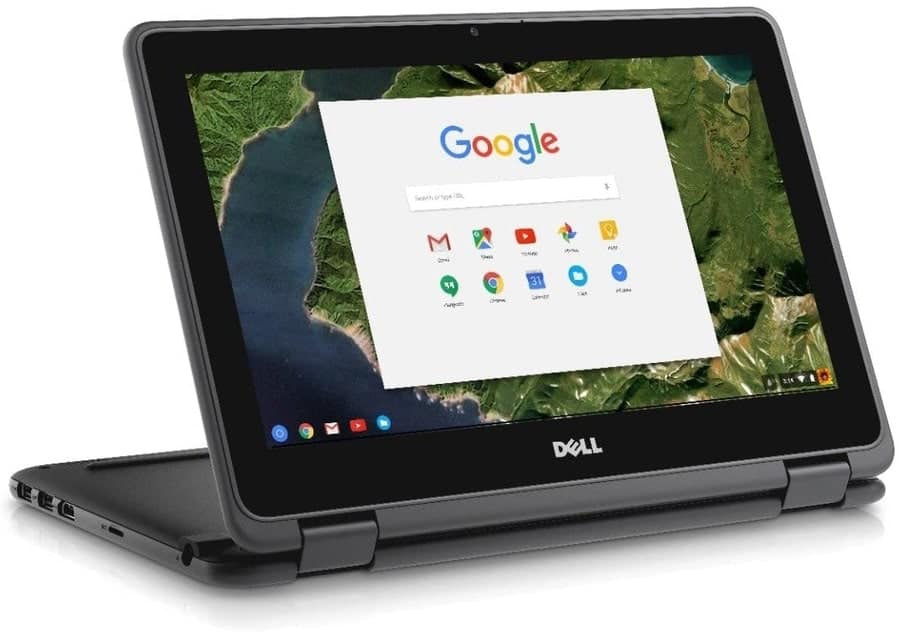 The 42WHr permanent battery located behind the chassis can supply the Chromebook for 11:30 hours, which is outstanding and longer than Asus Flip (10:23). The absence of HD helps prevent the draining of the battery.
Therefore, it serves the purpose of the educational usage of this device. However, the opening of more than 3 tabs with a streaming video can lead to a severe lagging, and there is no USB-C port that lacks subtle connectivity.
11. Lenovo Chromebook C340
---
CPU: 1.1GHz-2.6GHz Dual-core Intel Celeron N4000 | RAM: 4GB | Graphics: Intel UHD Graphics 600 (built-in) | Display: 11.6-inch with IPS touch screen (1366×768) | Weight: 2.65 pounds | Storage: 32GB-64GB (eMMC flash storage)
+Very cheap
+Attractive two colors
+Good touchpad
+Longer battery life
– Dull performance
– Poor strength
– Low-resolution display
– No backlit
Lenovo series gained the fame of launching a premium quality Chromebook with modern specs. However, it wasn't delineated to the high-end device; rather, Lenovo C340 is the perfect example of what a simple Chromebook should possess, from elegant colors to its cheap offers.
Initially, two colors are available, including the gorgeous Sand Pink. In addition, the rugged-type hinges support the display to fold into tent or laptop mode without any obstruction, and all of them come at a lower price indeed.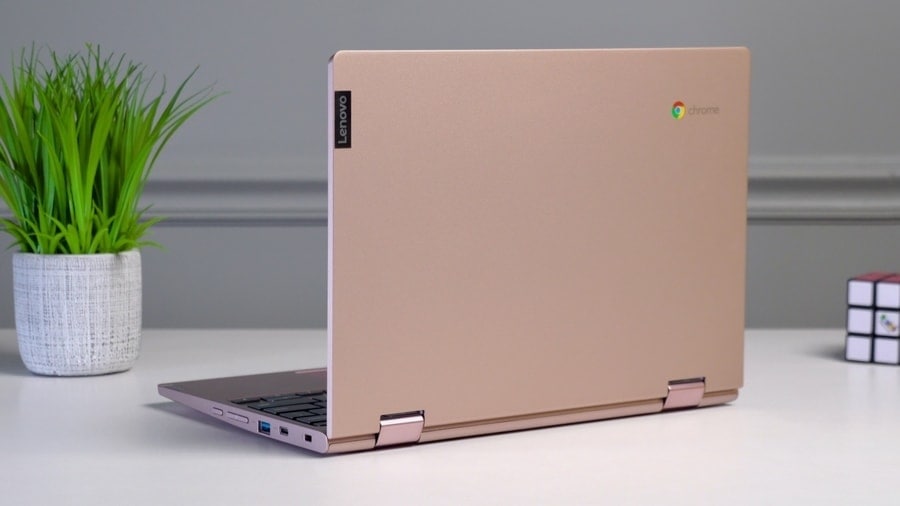 It could be one of the cheapest Chromebook, but it offers a lot of features that are usually available in the high-end Chromebook. For example, the touchpad responds quite impressively to both one and two fingers taps, and without applying hard pressure, you can glide it smoothly. You won't hear the click sound at all.
Most of the high-end Chromebook come up with lots of ports, and so is Lenovo C340. There is one USB 3.1 Type-C port and one USB 3.1 Type-A port on each side, along with a microSD card slot and an audio jack on the left side.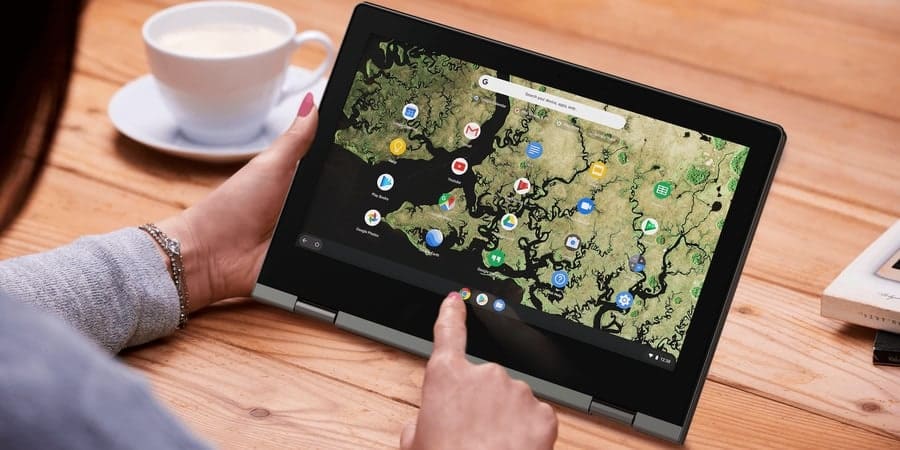 The whole body is not durable as other premium Chromebook since the chassis is not made from any special material. This device's biggest downside is its petty display, which barely produces any decent resolution and brightness.
More often, the display gets pixelated and blurry. Keys without backlit cause distraction when typed in darkness. However, its battery lasts about 10 hours, which is well enough to keep you busy with Netflix or casual gaming.
12. Acer Chromebook 314
---
CPU: 1.1Ghz Dual-core Intel Celeron N4000 | RAM: 4GB | Graphics: Intel UHD Graphics 600 (built-in) | Display: 14.0-inch with LCD display (1366×768) | Weight: 3.75 pounds | Storage: 32GB (eMMC)
+Terrific and gorgeous design
+Excellent battery life
+Very cheap with all the features of the best Chromebook
+Bright and crisp screen
+Good speakers
– No biometric login
– No Touchscreen in the basic model
– Quite large and reduced compactness
Acer Chromebook doesn't compromise its performance to its price and affordability. On the contrary, the brand-new Acer Chromebook 314, as one of the best cheap Chromebook, stuns the customers with its ravishing and elegant design, which will make you doubtful of its real price.
Primarily, it comes in two colors, but the gorgeous metallic sliver color shines through its black bezels, as well as its black keys on the keyboard result in an accurate transition of the contrast of this Chromebook.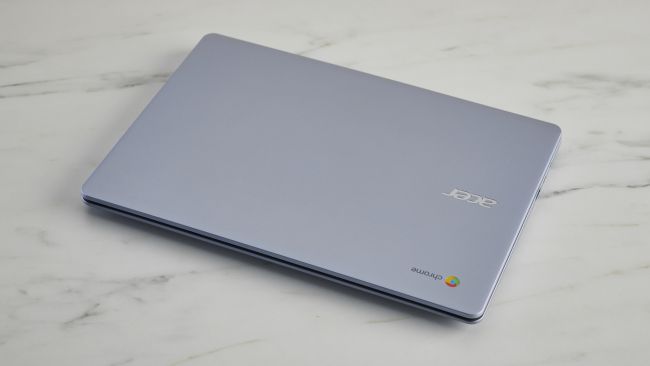 The 14-inch display has been utilized promptly in this Chromebook since the two thinner bezels surround both sides, along with the mid-sized bezel at the top and the thicker one below the screen. As a result, watching movies or any entertainment is worth its display's perfect infrastructure.
In addition, the keyboard keys are well-spaced and make a click and clack sound, which feels terrific in the ears. Finally, although the basic model suffers from the lack of touchscreen, adding a bit of cash can get you an accurate-designed touchscreen.
Acer 314 offers a conspicuous performance in terms of performance, unlike any of its siblings at this price. You can throw multiple tasks, including writing, calculating, arranging DOC files, browsing in several tabs, and lastly, watching one or two 1080p YouTube videos at the same time, but it causes no lag at all.
Moreover, it takes only 8 seconds to boot after you turn it on. Therefore, it saves your time both in the office and at work. However, this model's lack of a touchscreen is unbelievable, and you need extra money to add that feature.
13. HP Chromebook 14
---
CPU: 1.83GHz-2.25GHz Intel Celeron N2840-N2940 | RAM: 2GB-4GB | Graphics: Intel HD Graphics 500 (built-in) | Display: 14.0-inch with 1080p with an option of touchscreen, Full HD (1366×768) BrightView | Weight: 3.74 pounds | Storage: 16GB-32GB (eMMC)
+Affordable and light-weight
+Crisp and vivid screen
+Decent trackpad with huge space
+Excellent keyboard
– Case being plastic causes flex and creak
– Average battery
– Not petty performance
When you hear the name of HP, you always expect its products to be expensive. But this long-awaited Chromebook 14 has taken possession of the best Chromebook due to its affordable price with a long 14-inch display, as well as its astonishing device.
The weight doesn't seem heavy against its display's size. In addition, you will get one of the best responsive keyboards in this cheapest Chromebook, which keys are spacious and well-spaced. Keys barely flex even after a hard press.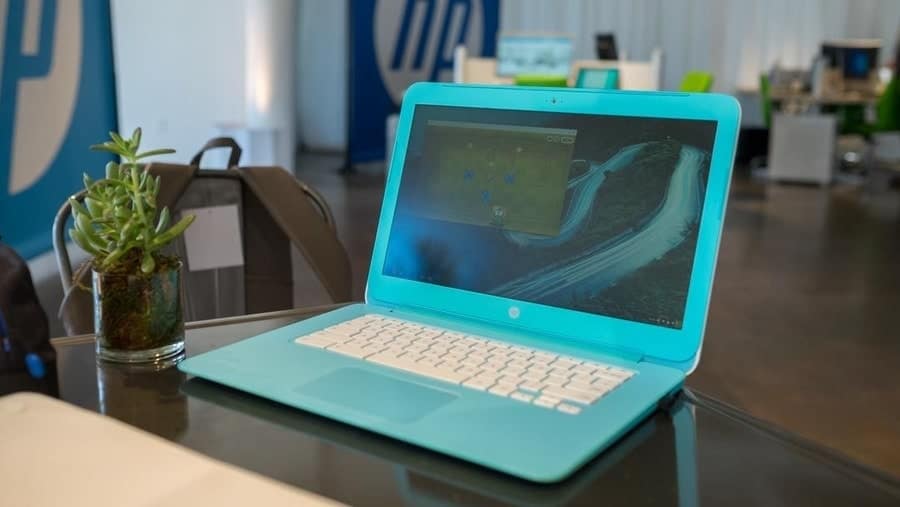 A white-colored keyboard tray with the white chiclet-style keys lying on a sky-blue chassis shows a perfect combination of a stylish design. You will find a nice and responsive trackpad that will offer a large space to scroll. No wonder that the whole trackpad is a key, which means that you can click anywhere on it. The HP is offering a 1080p display in this cheaper Chromebook, which is hard to imagine.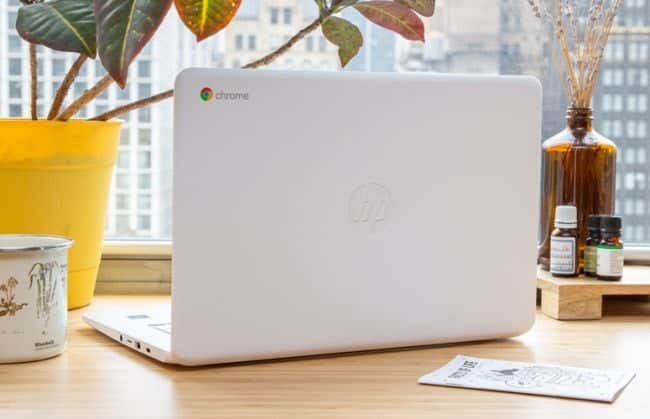 You have an option to choose either HD or FHD panels but bear in mind that this Chromebook doesn't come with a touchscreen as it is optional, and the resolution also varies from (1366×768) to (1920×1080) with a WLED backlit option.
However, the screen is crisp and bright but still not as impressive as some of its competitors. Moreover, the processor plummets when more than 10 pages are opened along with 1080p videos.
14. Acer Chromebook Spin 15
---
CPU: 1.1GHz-2.5GHz Intel Pentium N4200 to Intel Core i5-i7 | RAM: 8GB-16GB | Graphics: Intel HD Graphics 615 (built-in) | Display: 12.3-inch with 1080p touch screen, QHD (2400×1600) | Weight: 4.85 pounds | Storage: 64GB-512GB (eMMC)
+Bigger screen with affordable price
+Responsive touchscreen
+Good keyboard with dedicated keys
+Decent battery life
+Sturdiest hinge
+Plastic-made good for children
– Poor graphics and subpar performance
– Slight audio distortion
– Average trackpad
Acer Chromebook Spin 15 possesses one of the biggest displays yet less heavy body. In addition, spin 15 will rescue you from glaring at two monitors simultaneously, which is very hassling for a lot of users who do professional work.
However, I have preferred this Chromebook for kids, particularly for its durability, bolstered by its sturdiest hinges. These hinges will allow it to flip easily into any mode without causing any resistance.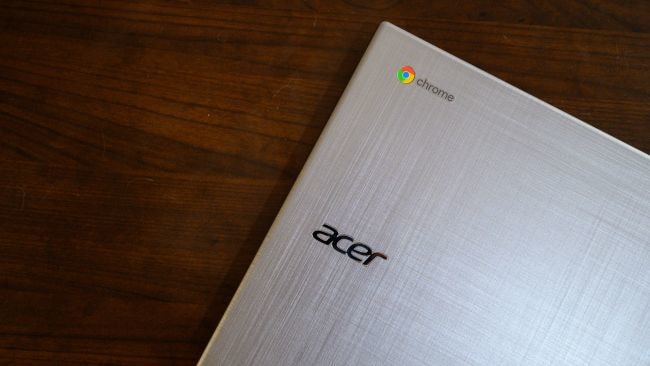 These hinges also protect it from collapsing in tent mode. It is mostly made from plastic, and it also embraces the lid with a crosshatch pattern to supplement extra protection against children as they tend to drop it or spill over it.
The keyboard is finely manufactured to give comfort to its users. Having dedicated keys, including volume, browser, and brightness, help the children use them easily. It's massive, and In addition, it allows you to get a perfect touchscreen that responds brilliantly.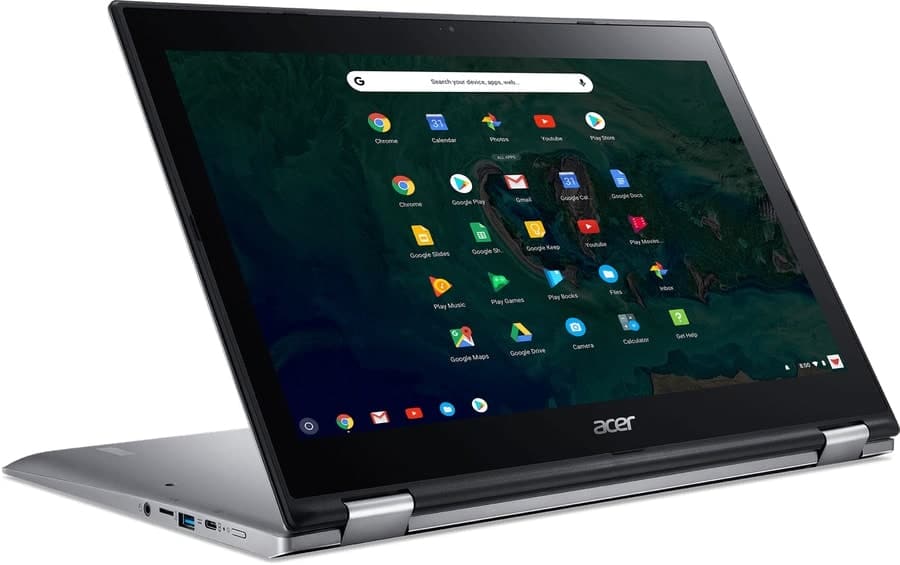 It's rare to expect a similar battery strength as the company promised, but Spin 15 proved it right by lasting 13:45 hours against the Acer's promise. Hence, it's considered one of the best Chromebook for kids.
However, this Chromebook offers a lacklustre performance when multiple tabs are open, but that doesn't bother a kid at all. In addition, its Integrated graphics cannot play some high-end games but manage to play most of the low-end games.
15. Dell Inspiron Chromebook 11 (3181)
---
CPU: 1.6GHz-2.48GHz Intel Celeron N3060 | RAM: 4GB | Graphics: Intel HD Graphics 400 (built-in) | Display: 11.6-inch with TrueLife LED IPS touch screen, Full HD (1366×768) | Weight: 3.17 pounds | Storage: 32GB-64GB (eMMC)
+Splash to impact resistant
+Compact
+Amazing battery life
+Split screen functionality
+Multi-tasking capabilities
– Quite heavy
– Downward speakers sound poor
– downgraded performance
– No USB-C port
Don't fall for its exterior look, as its glossy reflective lid will confuse you, whether it's a toy or a real Chromebook. It is built on a chassis supported by grey polycarbonate material, which consolidates its resistance against any impact or splash. Hence, young kids can easily use it without fretting a bit. Although this Chromebook is compact, it turns a little worried for tender kids due to its heavyweight.
The 360-degree hinge allows it to change into 4 modes: classic laptop mode, tablet mode, tent mode, and the stand set-up. The latest Chromebook can perform multi-task, and Chromebook 11 proves it by providing a split-screen functionality that is enjoyable for young kids who wish to see anything at any time. 42 WHz integrated battery with 3-cells offers you 11:36 hours battery life sufficient for daily usage.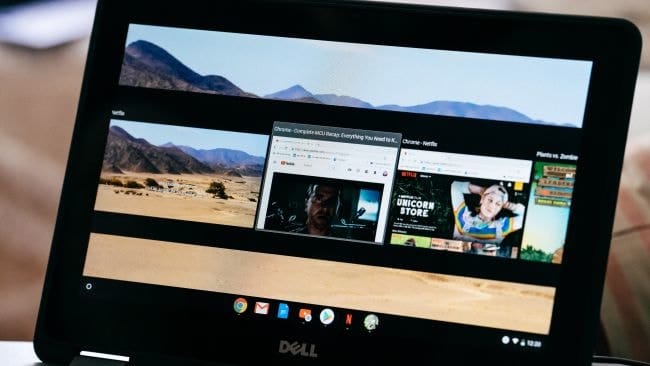 This Chromebook is denigrated for its inability to run a few tabs while listening to music in the background and streaming a YouTube video simultaneously, but that doesn't deprive it of the best Chromebook for kids. Besides, this Chromebook doesn't have any USB-C, common in most of the best Chromebooks these days.
The brightness level is very dull and gets dark when watching the black tones. The speakers are amateurs too. Despite some of these cons, thanks to Dell for bringing this best Chromebook for kids for its durability and compact size.
Finally, Insight
---
Finally, all my reviews are done with subtlety and yet free from bias. My preference for the fastest Chromebook will be Google Pixelbook and Lenovo Yoga C630. Google Pixel Slate with 1.6 pounds without a keyboard is the perfect choice for the lightest Chromebook.
My preferred Chromebook for best touchscreen, students, kids, and a cheap price will be HP Chromebook x2, Samsung Chromebook 3, Dell Inspiron 11, and Acer Chromebook 314, respectively. These Chromebooks are among the best Chromebook in 2020 for their versatility.
The top Chromebook list is not yet to end as the technology is advancing every day, and more Chromebook will be added to the list. So if you want to share your opinion about this review on Chromebook or add anything up, please leave it in the comment section below. Thank you.